Hi friends!
I snuck away to The Abacos, Bahamas for a few days the weekend before last. The Hubs had such a great time flying us to the Bahamas last year, that he has been itching to do it again. And who am I to shoot down a tropical vacation?
This is the last view of the Florida coast before heading over water.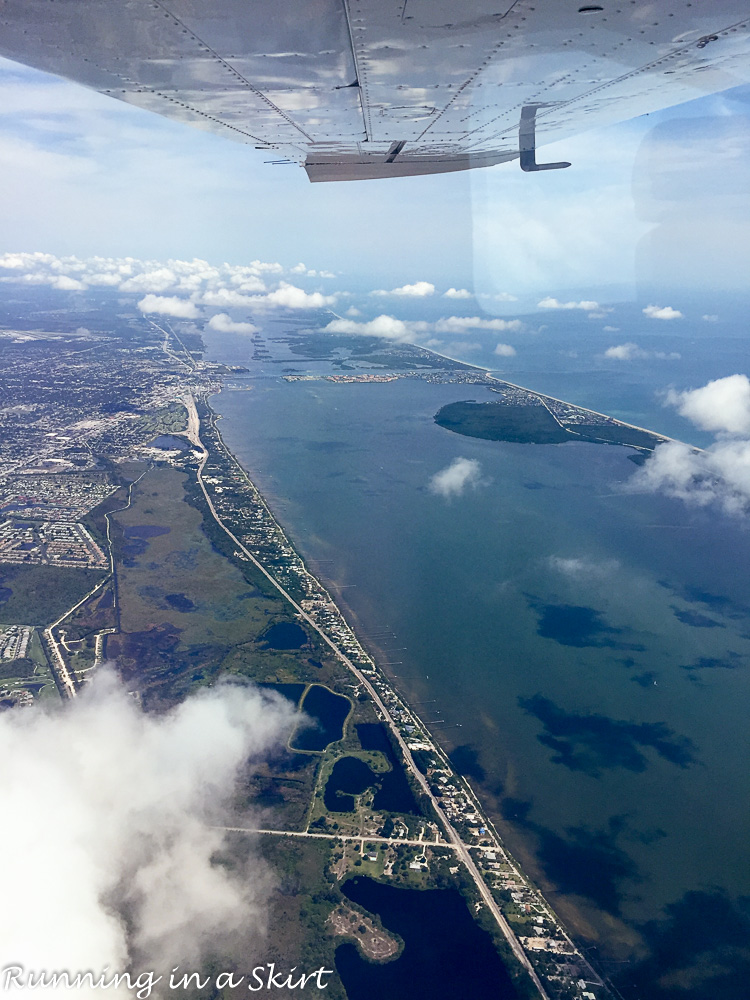 This time I was riding in the back because we brought our good friends Dan and Sommer with us!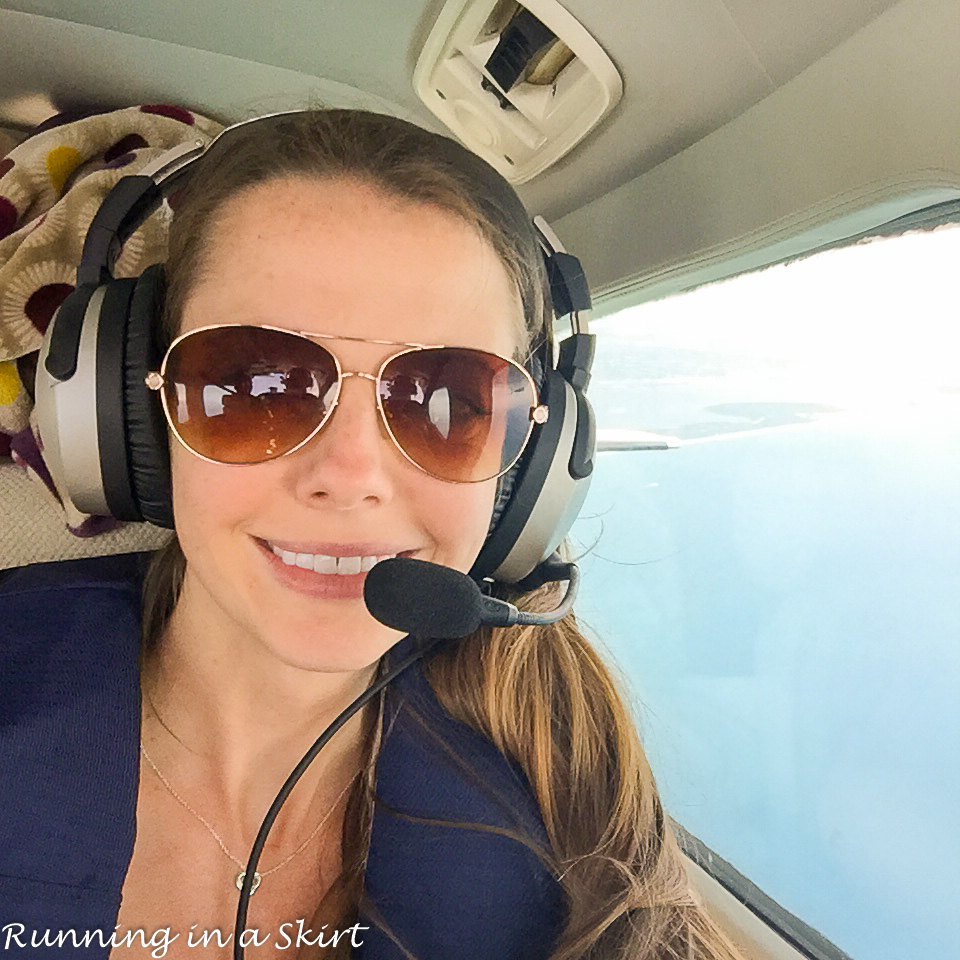 The Abacos Bahamas
We left Asheville at sunrise and arrived to Elbow Cay by mid-afternoon and were welcomed by palm trees and blue ocean water. I don't think I'll ever get enough of views like this.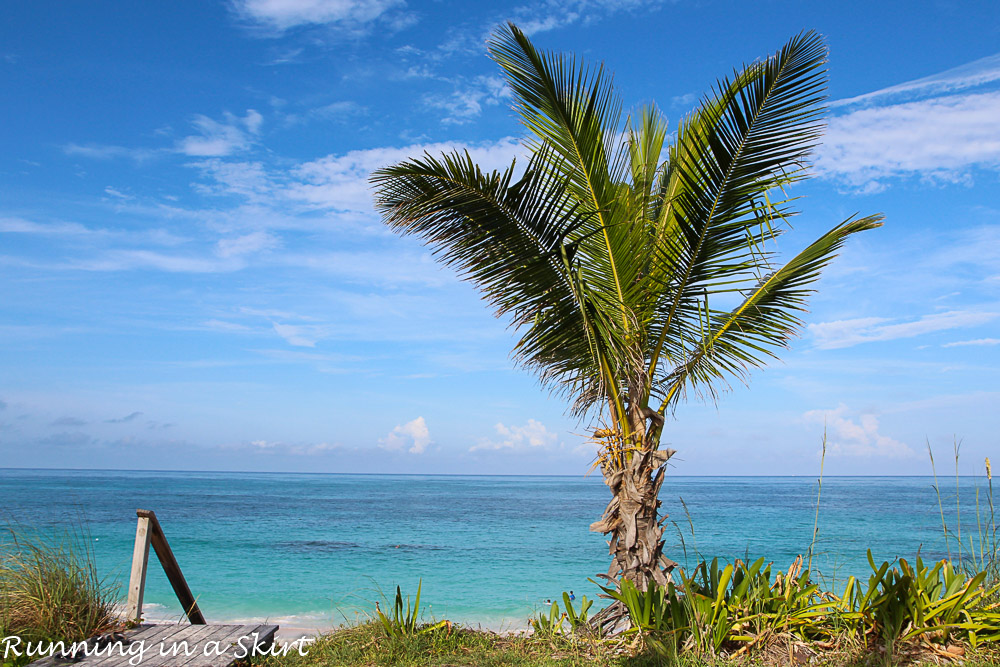 We spent the afternoon showing Dan and Sommer around Hope Town and Elbow Cay by golf cart. Renting a golf cart is a must if you are staying on the island. It's the only way to get around. Check out this sign... we aren't the first Asheville peeps to visit!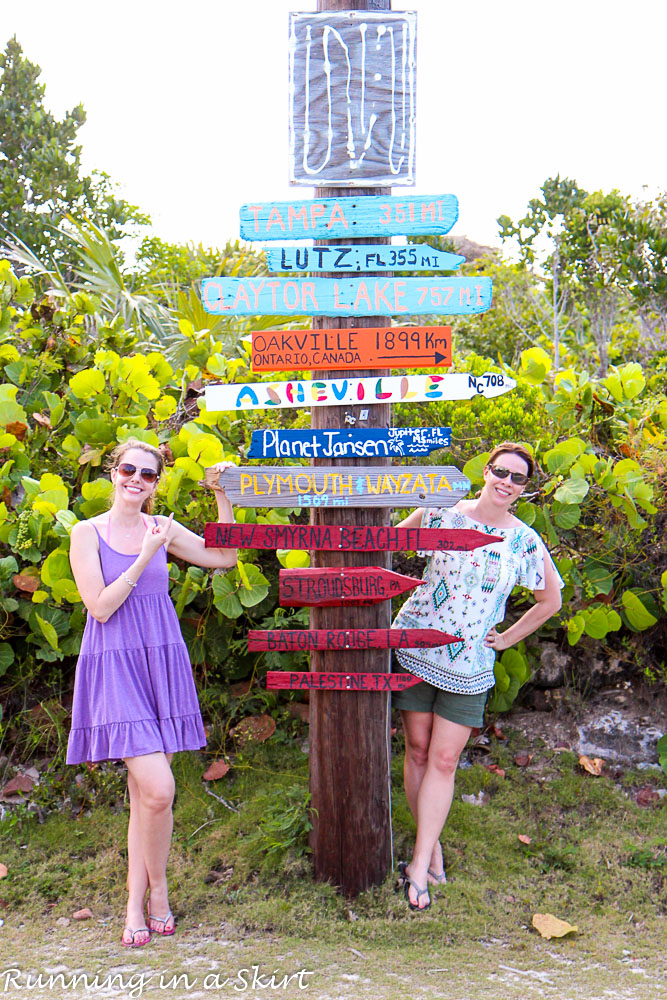 Next up is On Da Beach Bar to check out the sand and dip our toes. Cue the Kenny Chesney music!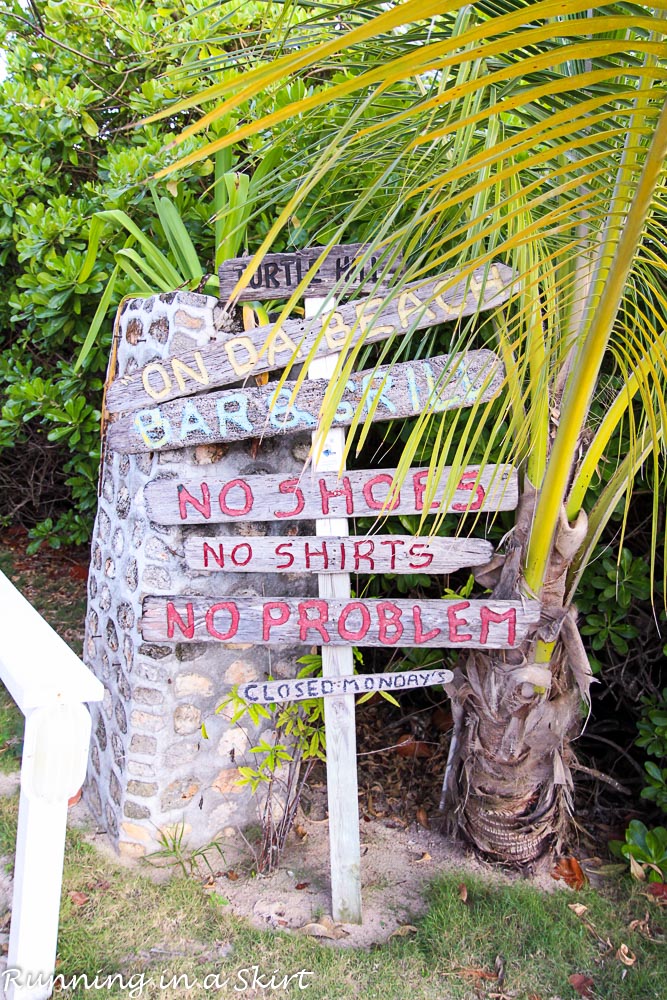 The sand has a pink hue and is just as pretty as I remembered.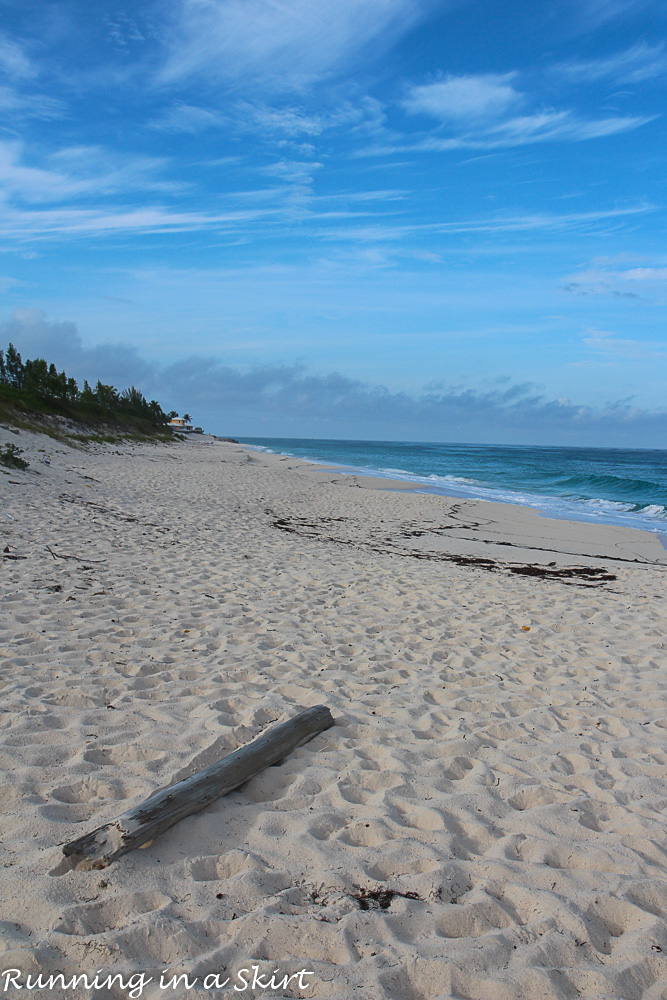 This part of the island has crashing waves, but farther up it is calm and protected by a reef.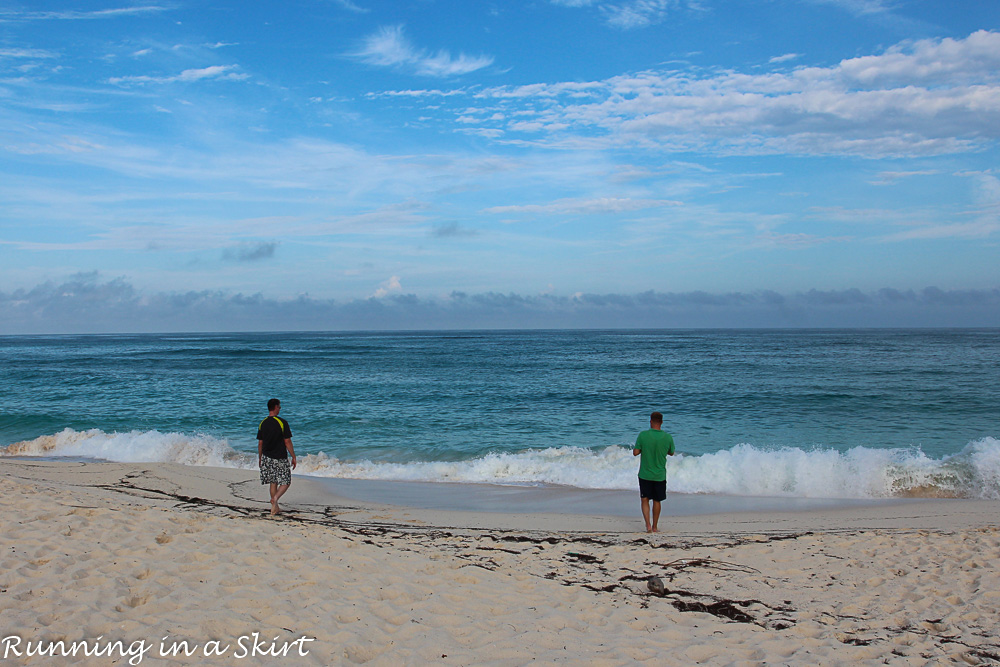 The day ended with a quiet dinner at our hotel and a good nights sleep after a long day of travel!
The next morning we woke up early because we were all excited about this...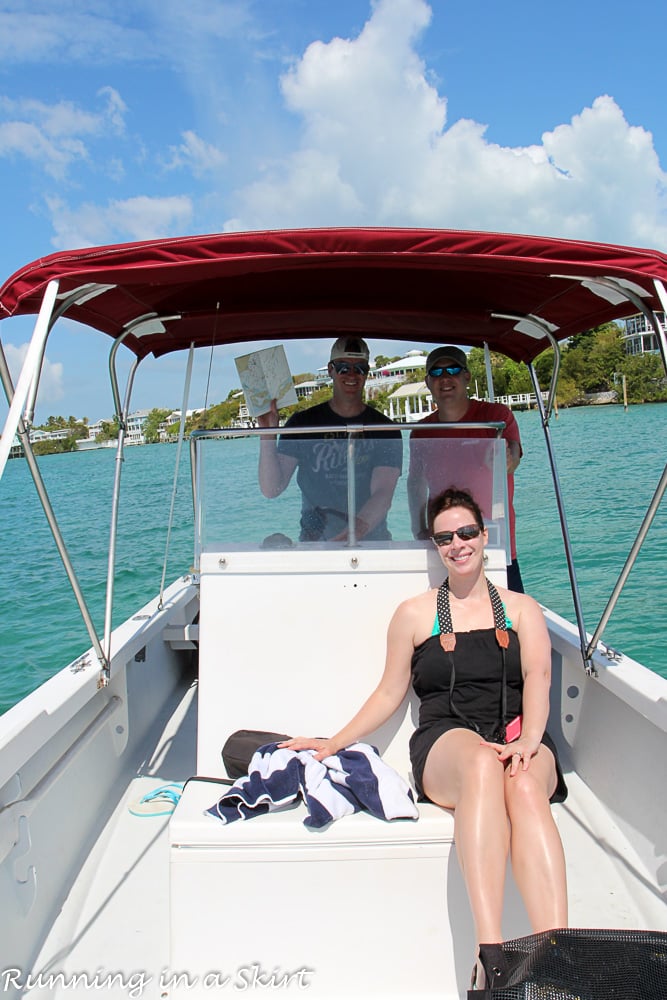 After not having a boat or golf cart on our first trip to the Abacos Bahamas, we decided to rent both this time! It was worth every penny because it made the sea of Abacos our playground for the long weekend.
First up, we stopped at Mermaid's Reef which turned into one of the coolest snorkeling experiences any of us ever had.
The fish are used to being fed so they completely surround you. I've never seen anything like it in my life. It was like swimming at Sea World.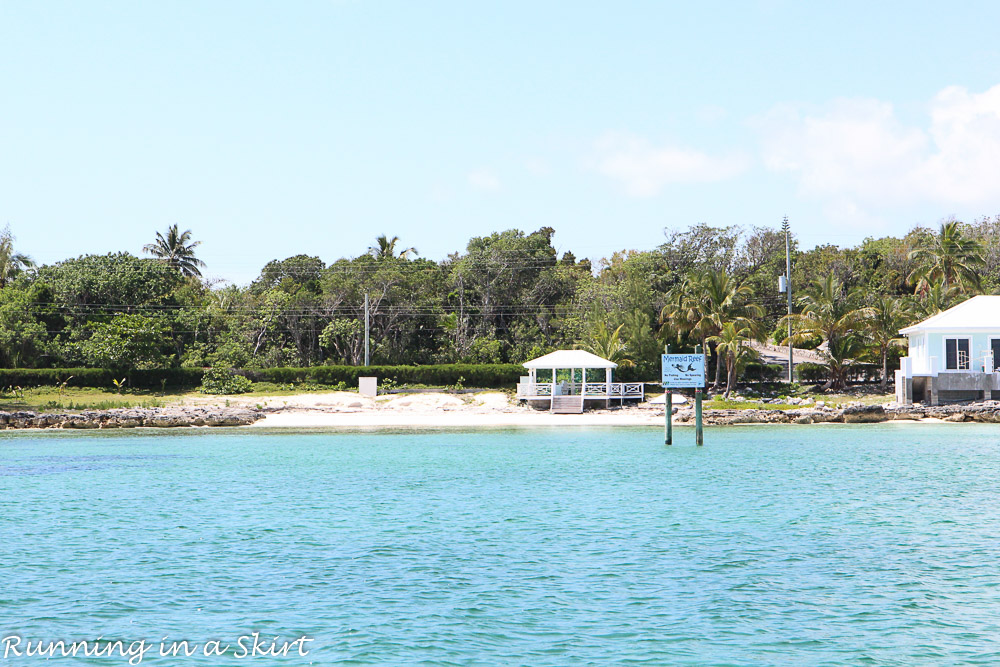 After a long morning of snorkeling we boated over to Man-O-War Cay.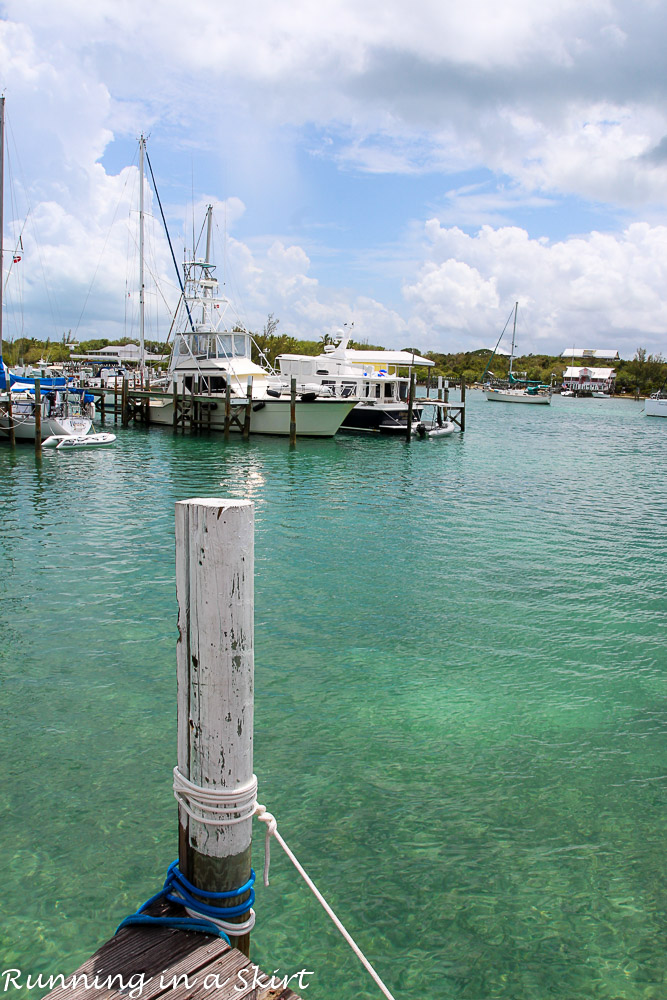 We stop at Dock and Dine, which is a casual restaurant right on the water.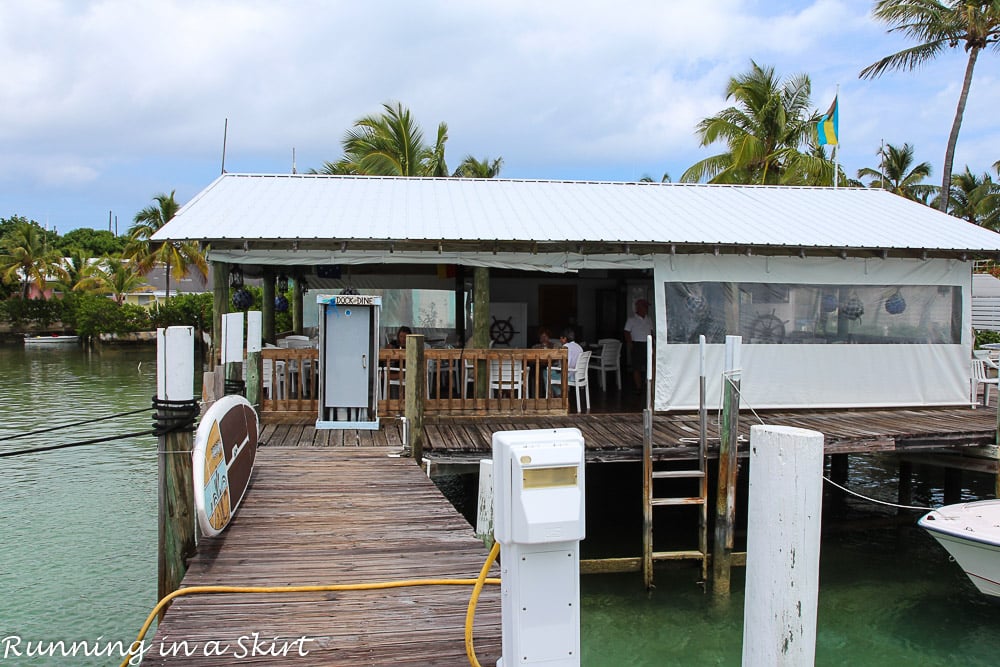 Casual atmosphere aside, the food was amazing!
Best cracked conch of the trip...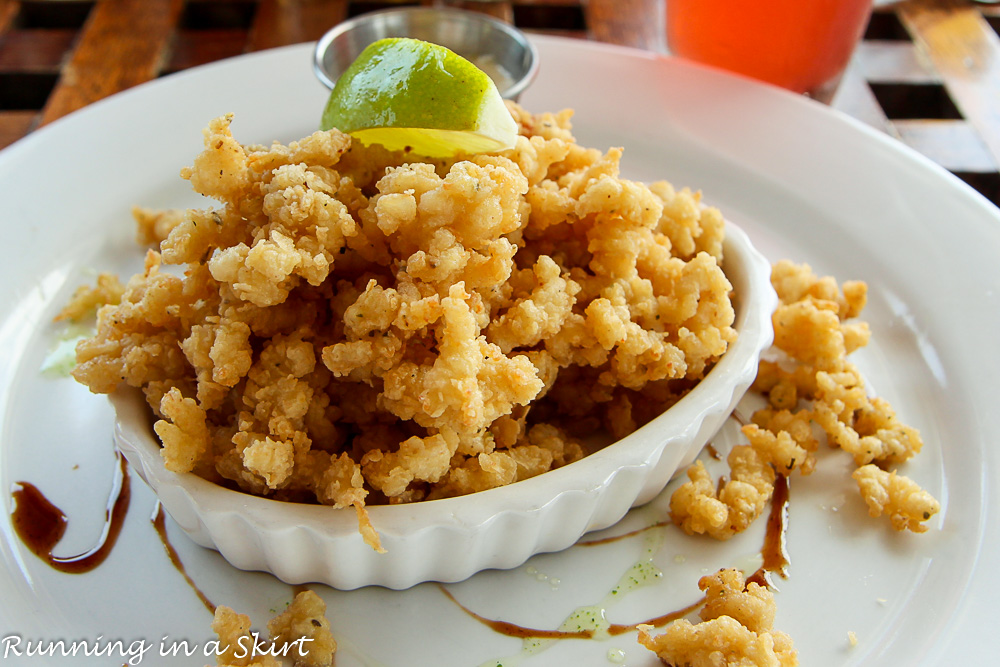 ... plus an amazing conch burger...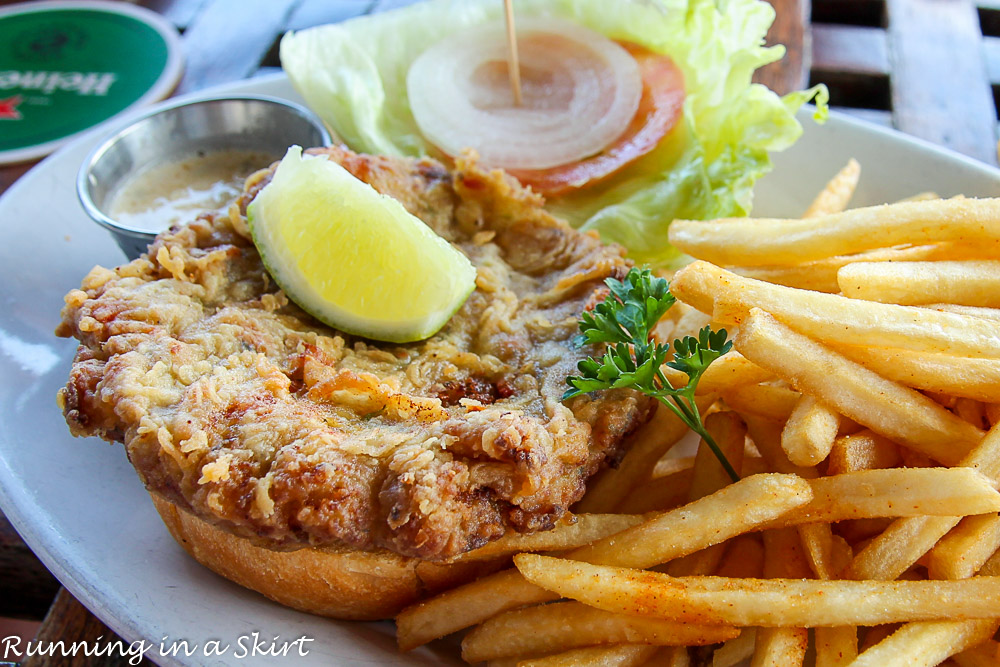 ... and an equally delectable fish sandwich with authentic fried plantains.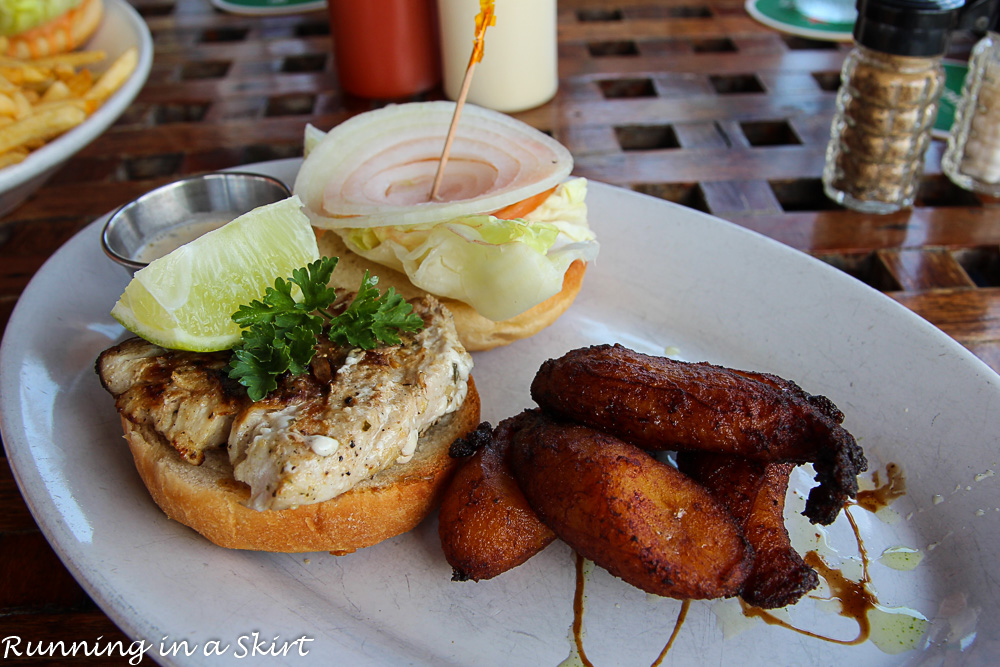 And oh yes... PINK Beer! A Bahamian specialty for the ladies.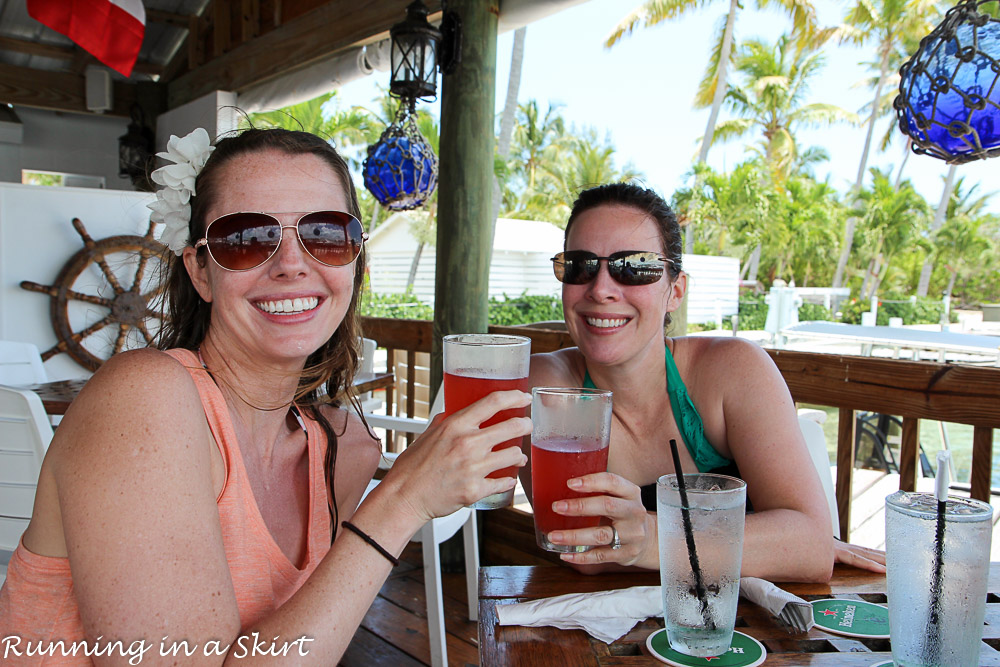 We ended up spending a long time at Dock and Dine waiting out some thunderstorms, but eventually toured Man-O-War Cay including the Sail Shop and the front row of shops.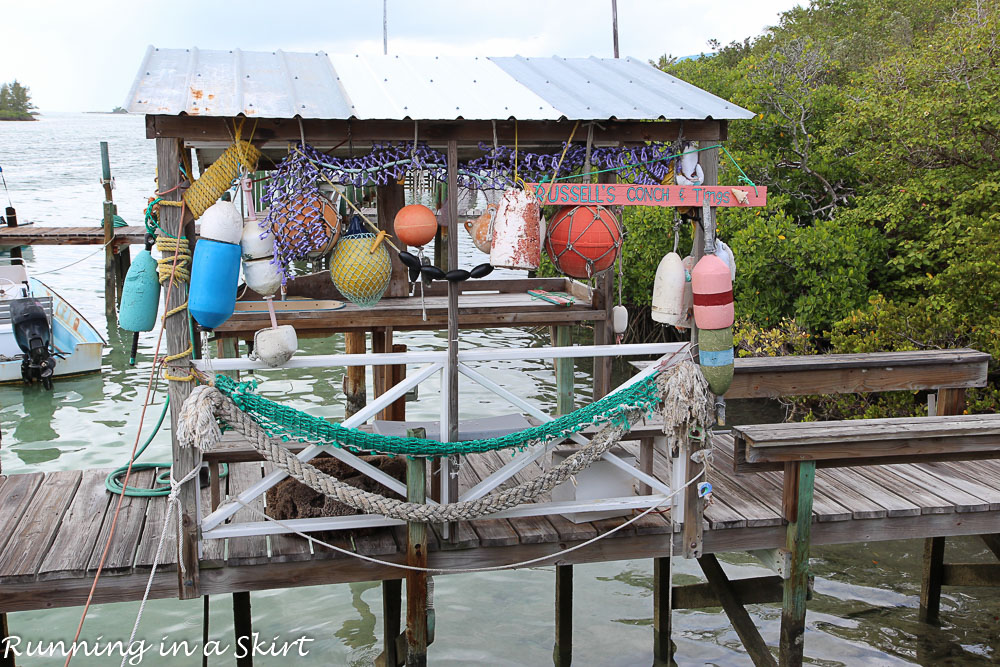 We saw a break in the weather, jumped back in the boat and raced across the ocean to get back to Elbow Cay before the next storm hit. It was a little crazy, but all worked out in the end. Once we got back we situated ourselves under cover to watch the storms for the rest of the afternoon. Most people might be disappointed by this, but my weather geek self loved the storm watching.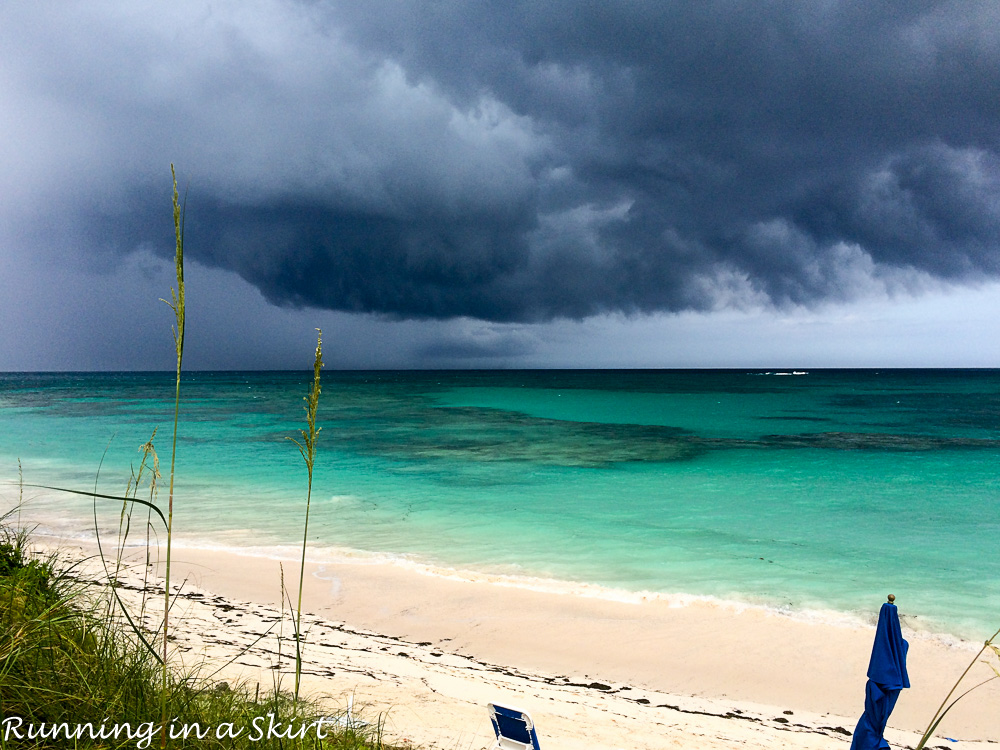 The evening ended with another pretty sunset and....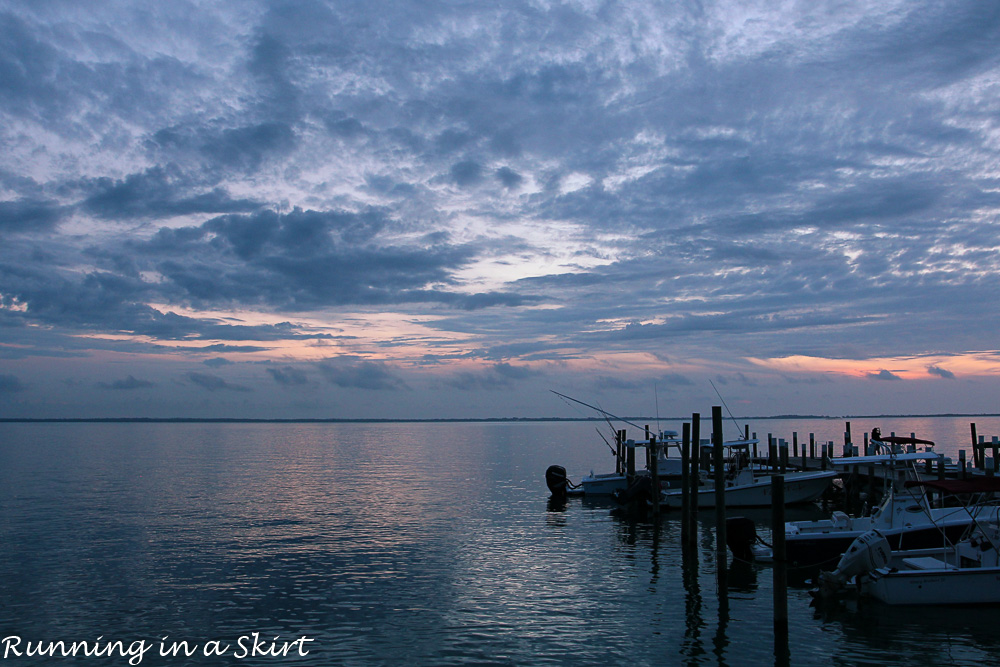 ... a SHARK spotting! We were all standing on the side of a wall waiting for our dinner reservations when we saw these two sharks swim by. YIKES! We obviously did not go and swim in this area after seeing that.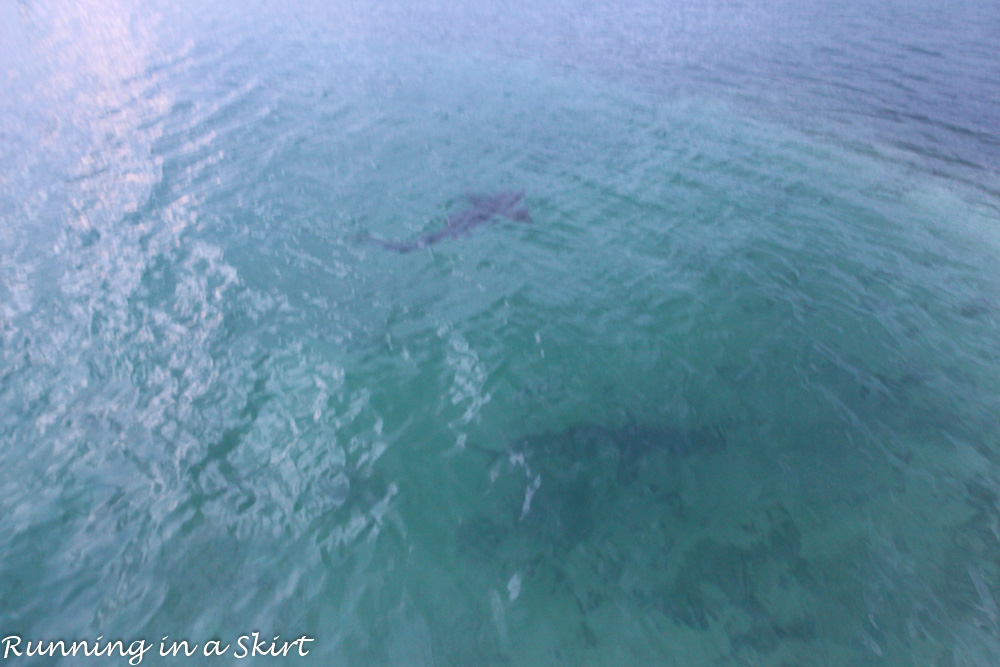 The next day started off early again with some more snorkeling and boating. By afternoon we found ourselves a good way south of home base at Pete's Pub. All the little restaurants and beach dives in the area have their own docks. This place is set up for boating!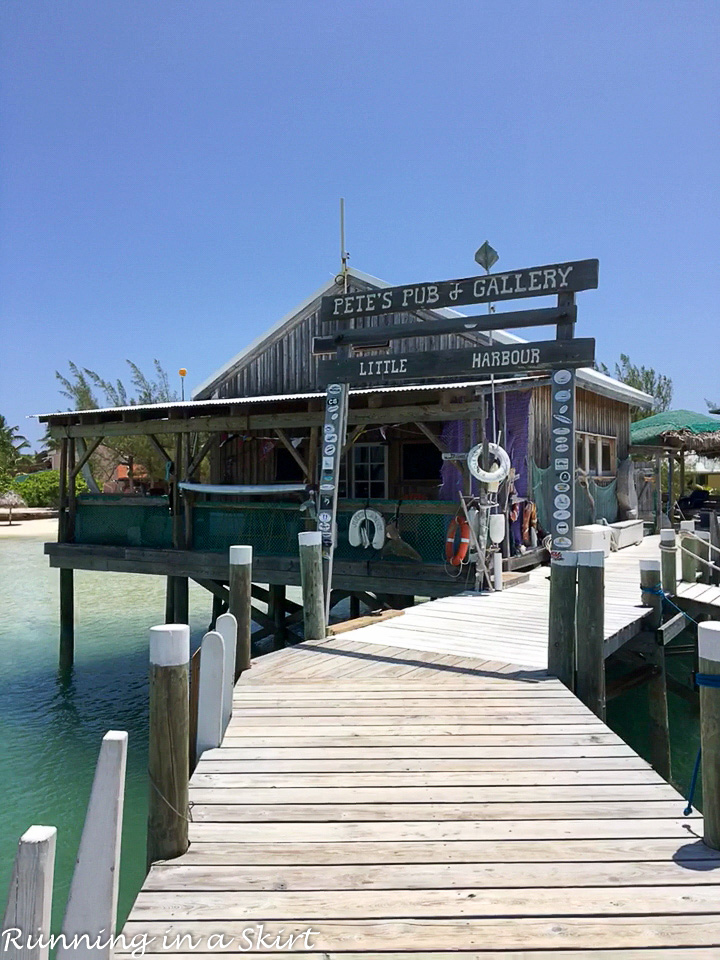 Pete's Pub is a toes in the sand, hole in a wall gem of a place. The food was seriously amazing and we had the best time watching the waves and sitting in the shaded, sand covered picnic area. While we were there I had the feeling that all other beach bars I've been to around the world were trying to capture the magic this place has. Pete's Pub is the real deal.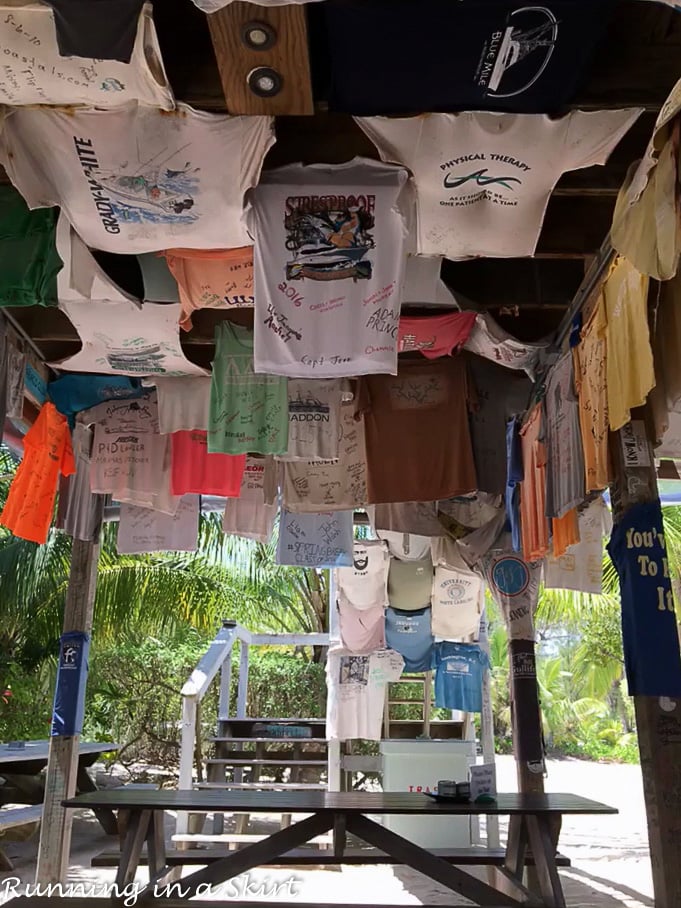 We ended the day with some beach lounging an another sunset!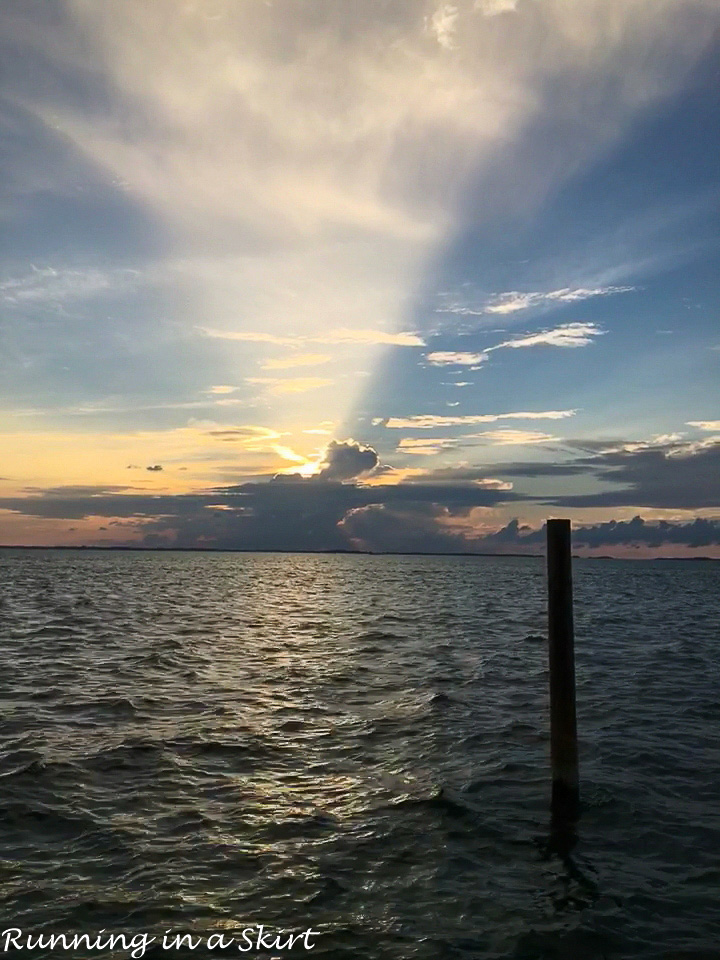 On the final day in the Abacos, we made our way to a harbor near Scotland Cay and Great Guana Cay.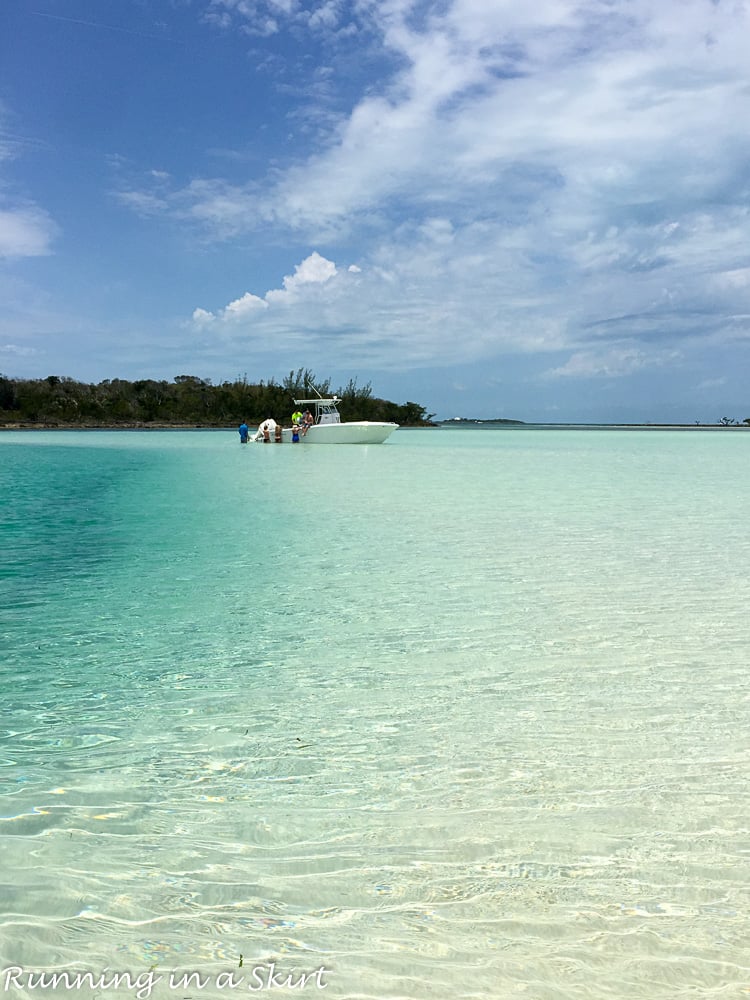 Words cannot even describe how amazing this place is. There is knee deep, crystal aqua water for as far as the eye can see. We honestly could have stayed there all day if we wouldn't have fried from the hot sun. I put on SPF 50 like it was my job and I was still getting burnt!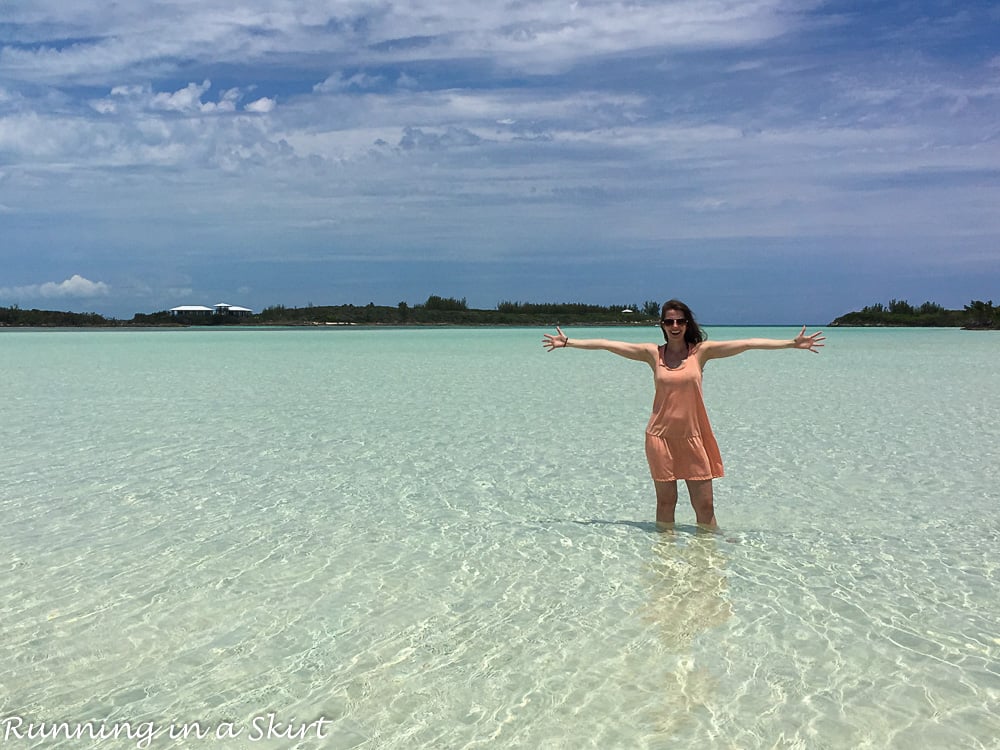 After spending as much time as possible at Scotland Cay, we boated up to Great Guana Cay to see the famous Nipper's Beach Bar. Apparently it's crazy on Sundays, but we were there on a Monday so it was pleasant and not rowdy at all. I'm certain none of us would have enjoyed it at all on the crowded party day, but on a quiet Monday it was nice!
It was on another stunning beach with a snorkeling reef.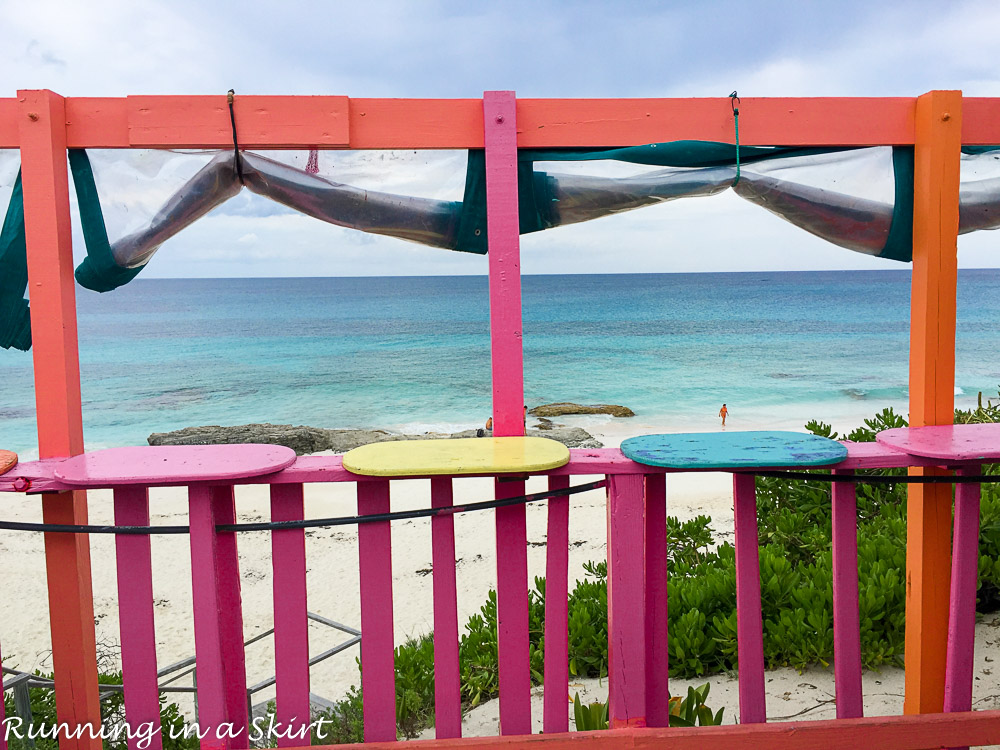 We ended the day at Lubber's Quarters. We wanted to go to Cracker P's, an Abacos institution, but it was closed on Mondays. Luckily the restaurant next door was open!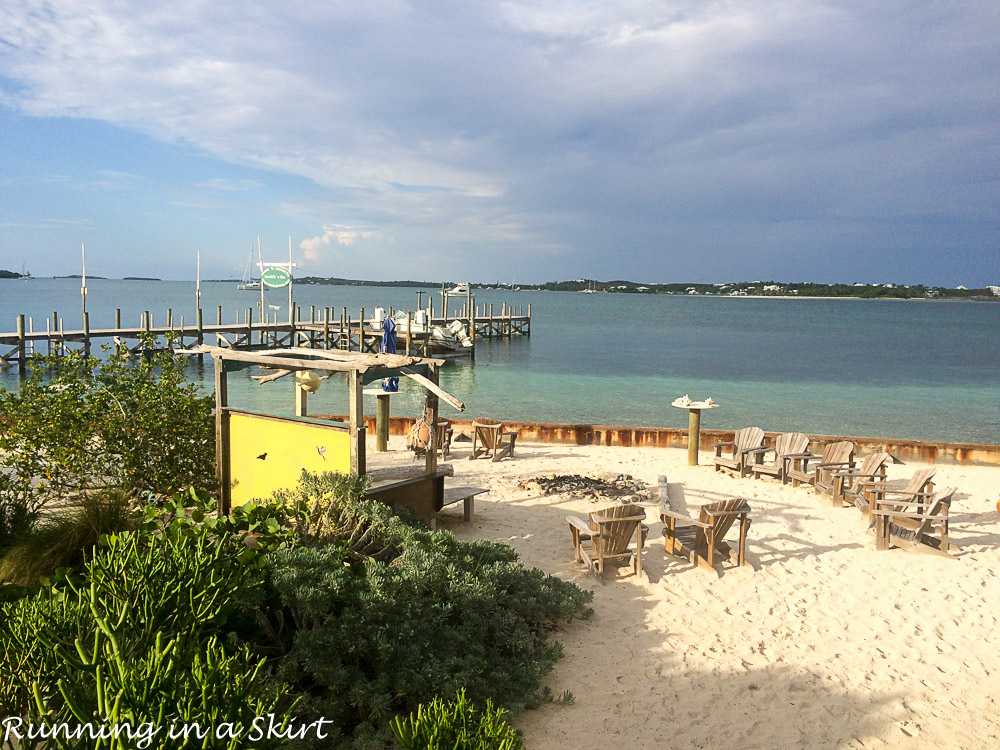 Everything we saw was so photogenic. It's the busy season but never felt crowded at all.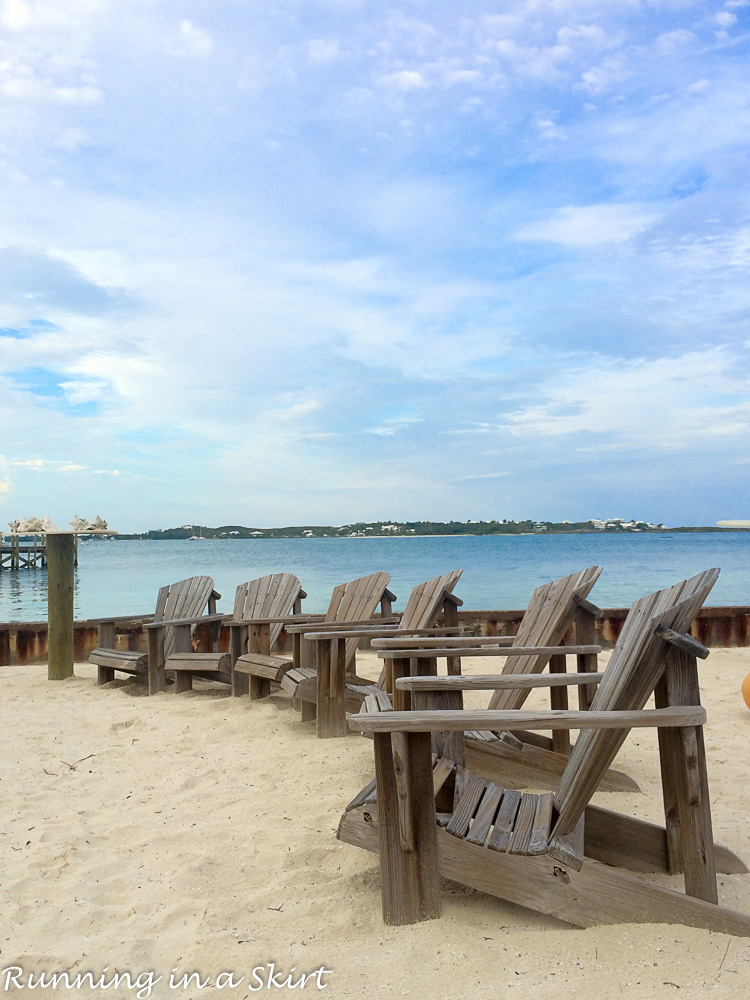 Our trip ended with another sunset back on Elbow Cay.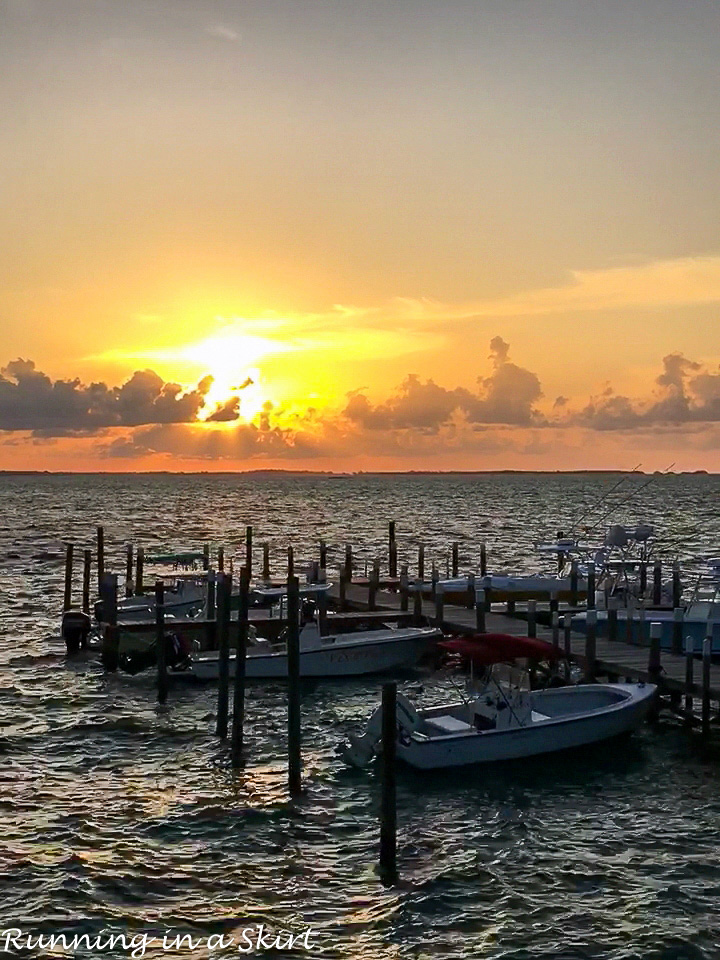 I loved every minute of this trip! Sadly this is the only picture we got of the four of us. It's terrible quality, but will have to do. Good friends are the best.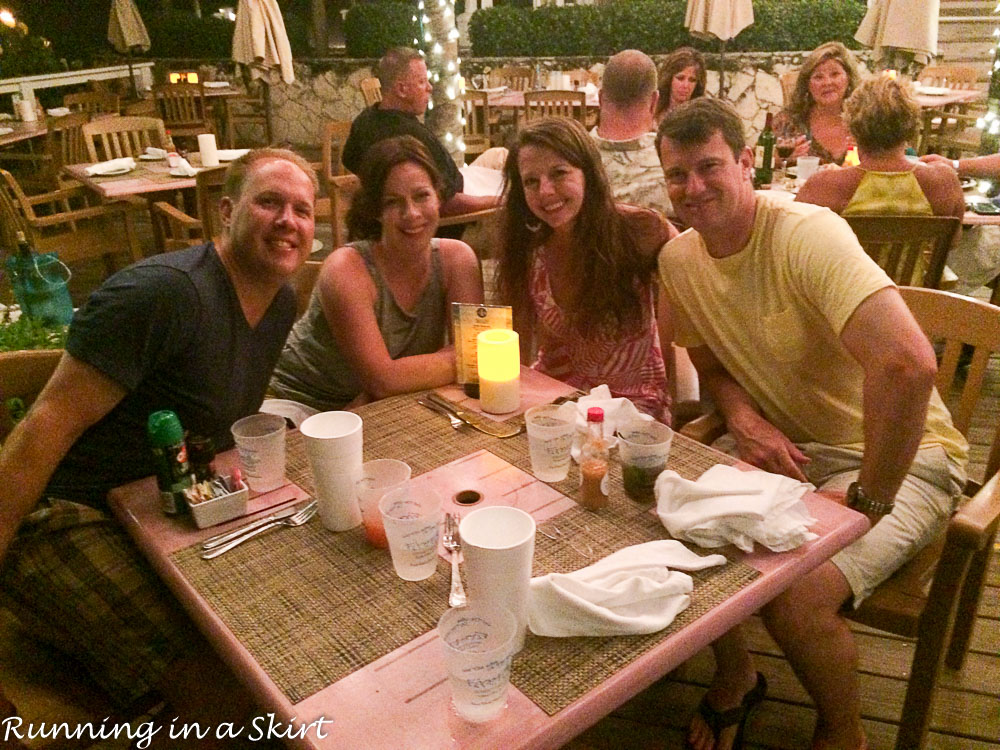 I honestly wasn't expecting much from this trip, because we had just been to Elbow Cay last August and while it was so pretty, the island didn't blow me away. This time we got some transportation (boat and golf cart!!), good company and the entire trip changed. The Abacos Bahamas are now one of my favorite places to vacation. It is so pretty and when you can Cay hop there is so much to do!
Next time we go we'll hit up Craker P's and the swimming pigs! I hope you enjoyed my little trip roundup. Next week I'm going to share my top 10 things to do in the Abacos Bahamas, so you can plan your next trip or just come along for mine.
Thank you so much for reading today! See you tomorrow for a two ingredient mango "ice cream" and some fun health facts about my favorite fruit.
I'm linking up with Thinking Out Loud Thursday & Travel Tuesday.
Your turn!
Have you ever visited somewhere and liked it more the second time?
Have you ever been boating?