Hello! Hello! And happy Fashion Friday!
With summer officially here, I'm excited to be diving head first into my favorite fashion season. I'm a sucker for light summer dresses, white eyelet, shorts and all things colorful! To inspire your outfits for this new season, I'm teaming up with several other fabulous fashion bloggers today to showcase 8 ways to wear shorts.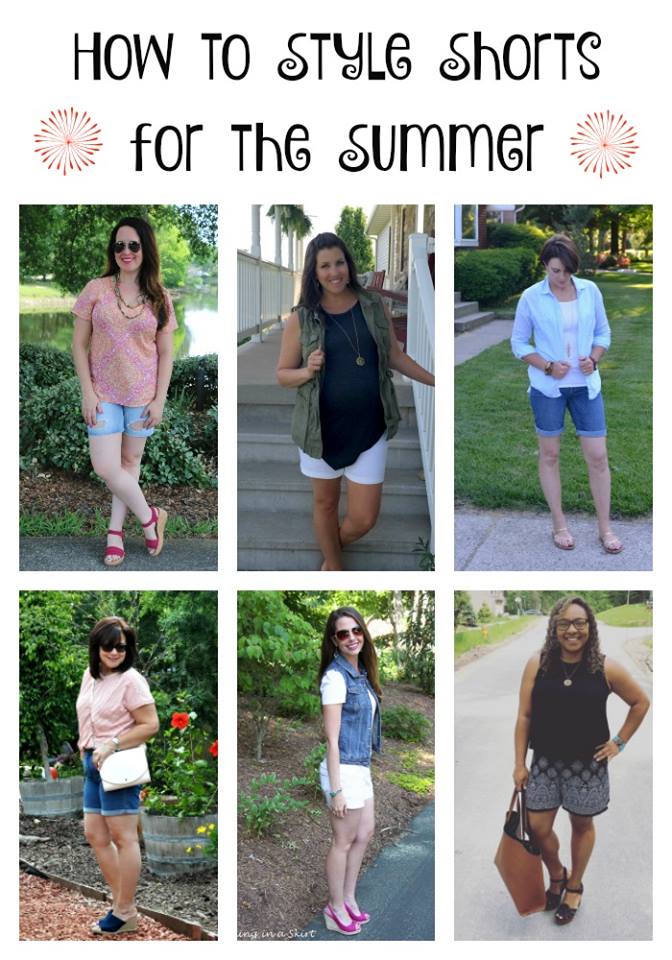 BonBon Rose Girls / Momma in Flip Flops / Lemon Lane Style
The Chic Mom / Running in a Skirt/ Dude Mom
8 Ways to Wear Shorts
Now I'm the first to admit the older you get the harder shorts are to pull off. Growing up in Florida I basically lived in shorts almost year-round and had dozens of pairs even through college. Not sure I should admit this, but way too short shorts and a tank top was my uniform at UF. Luckily my fashion tastes have grown since then.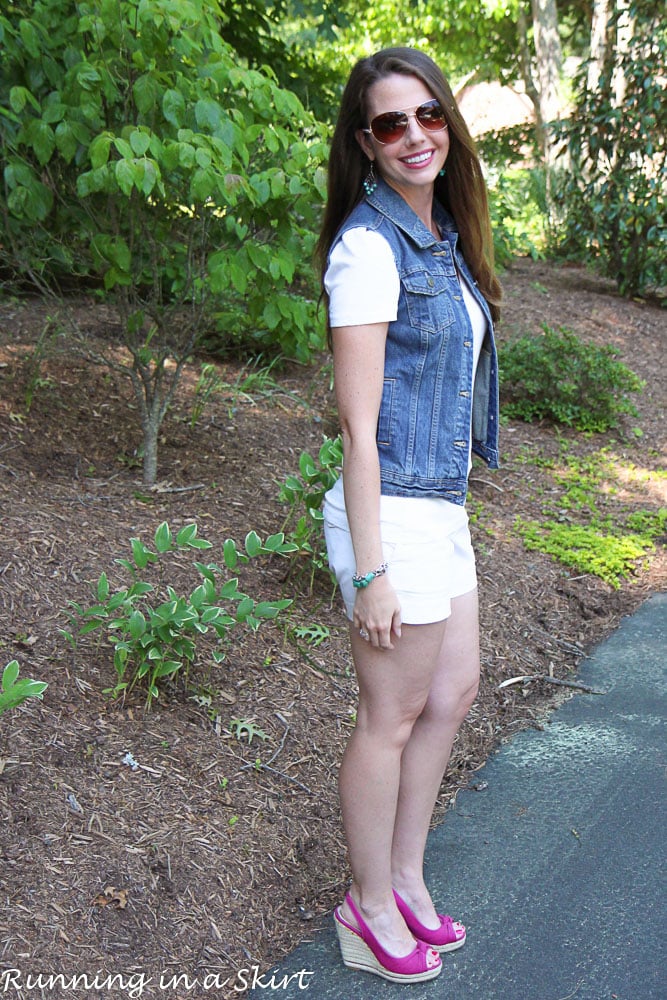 I still love wearing shorts, but now I try to find a more refined way to pull them off. They certainly need to be bit a longer and actually have some style.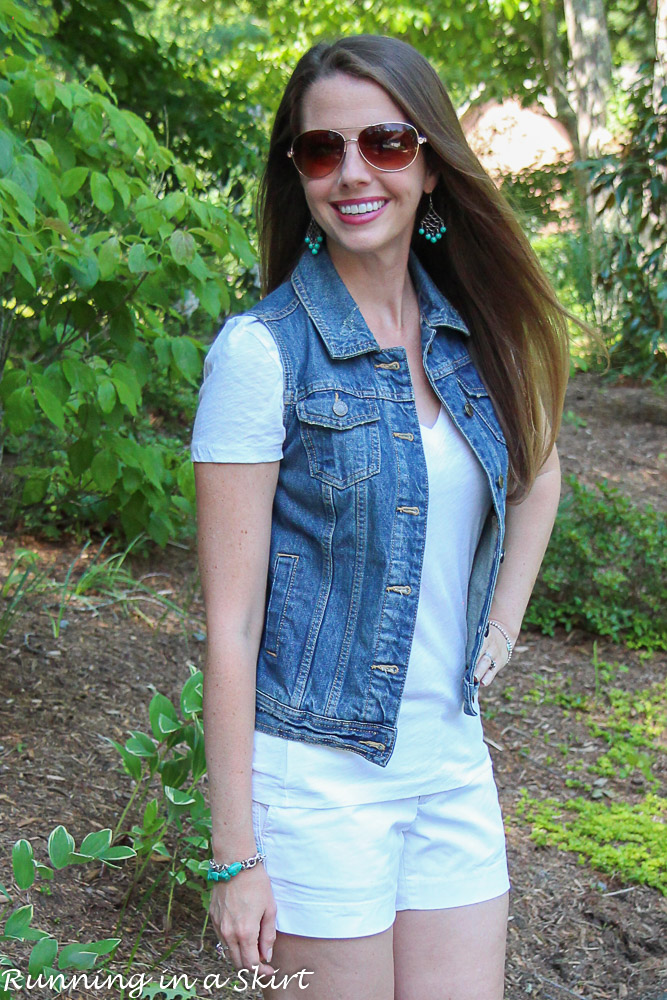 This summer I'm pairing my white shorts with a vintage v-neck t-shirt and my denim vest. I got the denim vest late last summer (seen HERE & HERE) and I can't get enough of it. It's a great way to make a simple outfit look current and I love the way it pairs with my favorite summer dresses.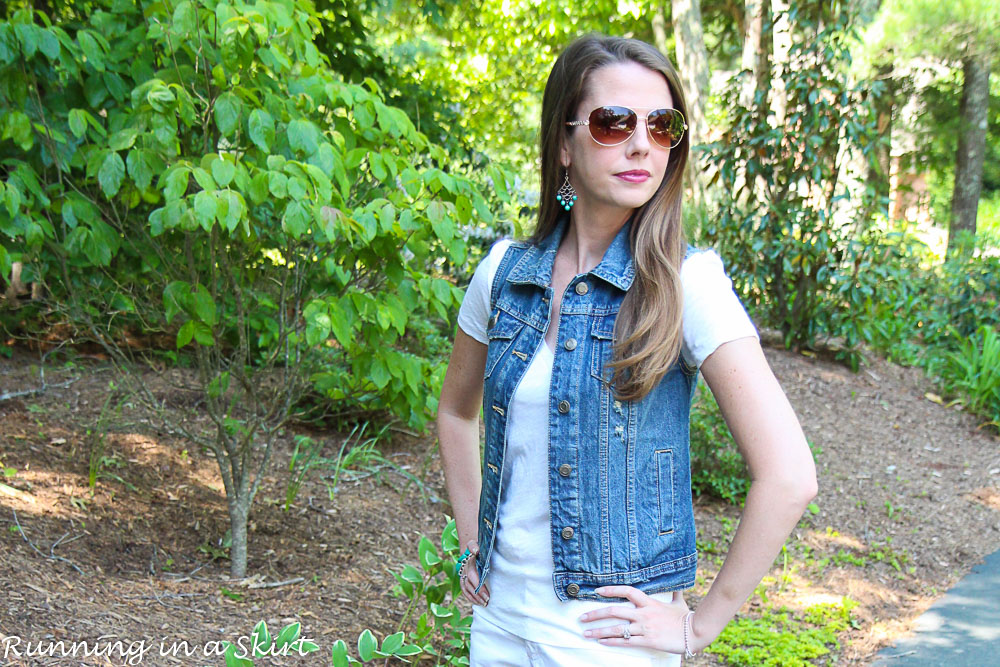 To add a pop of color I pulled out my pink canvas espadrilles and turquoise earrings and bracelet. I wanted to add some color without making it too matchy-matchy.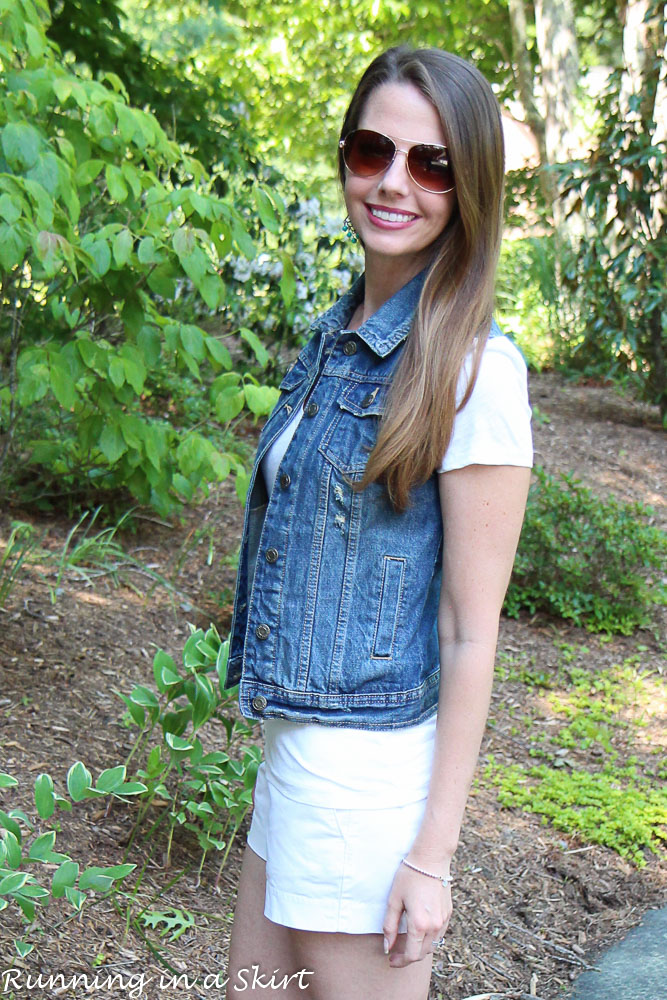 As I mentioned, I know shorts can be hard to pull of, but I believe that if you find a pair that fits right and is the appropriate length almost anyone can wear them. I've put some suggestions below for some shorts in different lengths. Pick ones that match your body type and personal comfort level.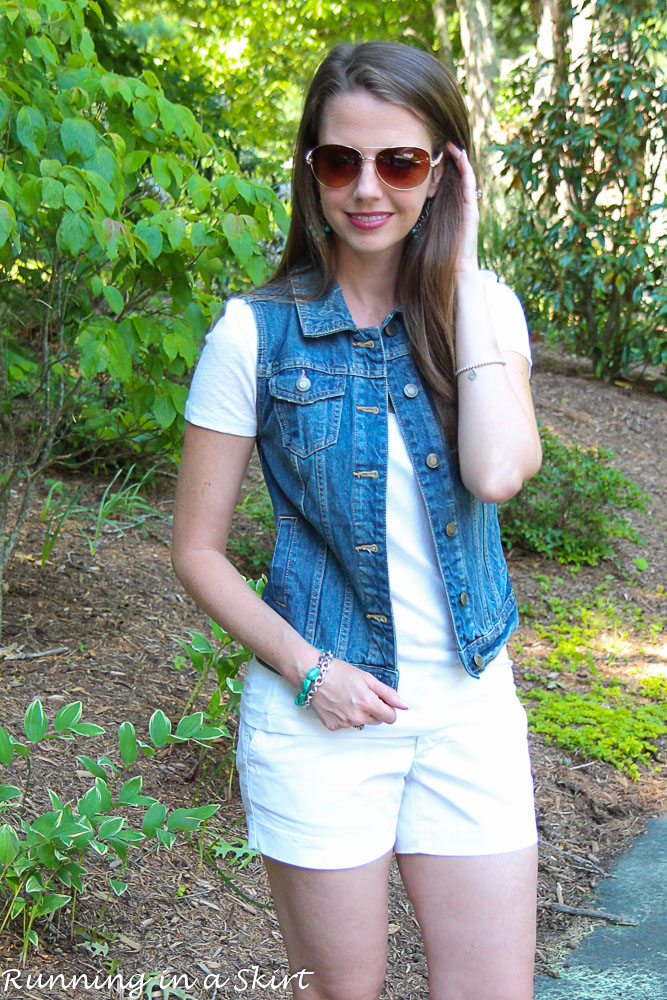 Also, never underestimate the power of a good heel to make your legs look better. And if shorts really, really aren't your thing - this outfit would also look great with a pair of white cuffed jeans. Either way, this is my favorite current ways to wear shorts.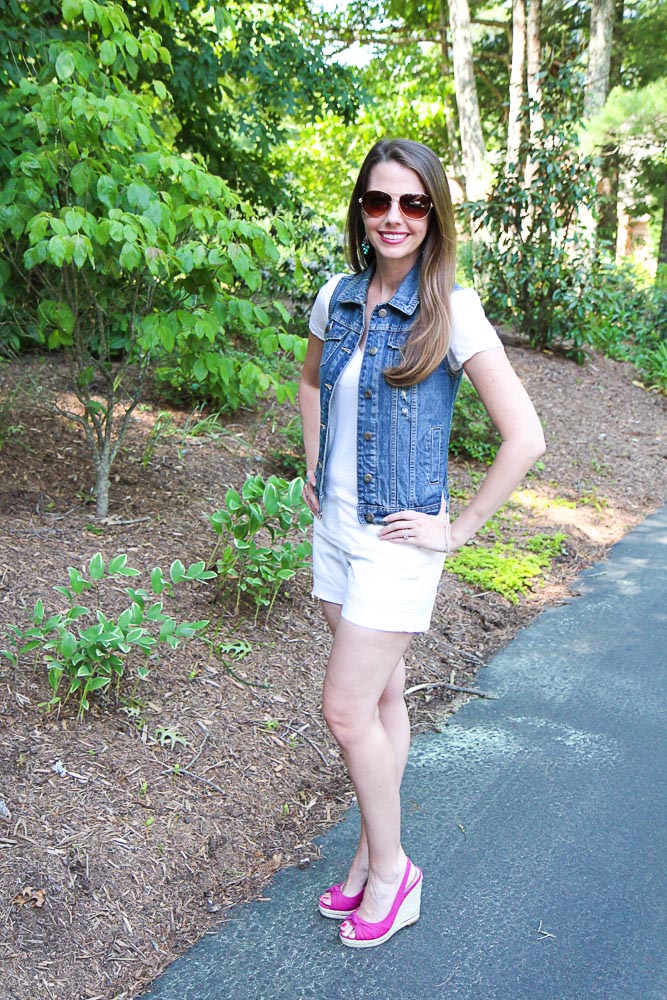 Shop the Look:
Denim Vest: Target, similar HERE or HERE <-- Old Navy, less than $25
White Shorts: Banana Republic, similar HERE or HERE or HERE <--- swoon! With the scallop hem. Longer versions HERE <-- 7"Chino or HERE <---Bermuda Shorts. Cuffed Jeans HERE or HERE <--- less than $20
V Neck Shirt: LOFT, similar HERE or HERE
Shoes: White House Black Market, similar HERE or HERE.
Earrings: Similar HERE
7 More Ways to Wear Shorts
Make sure to check out these other bloggers for more great summer shorts inspiration!
And to round up the 8, check out these posts from my site...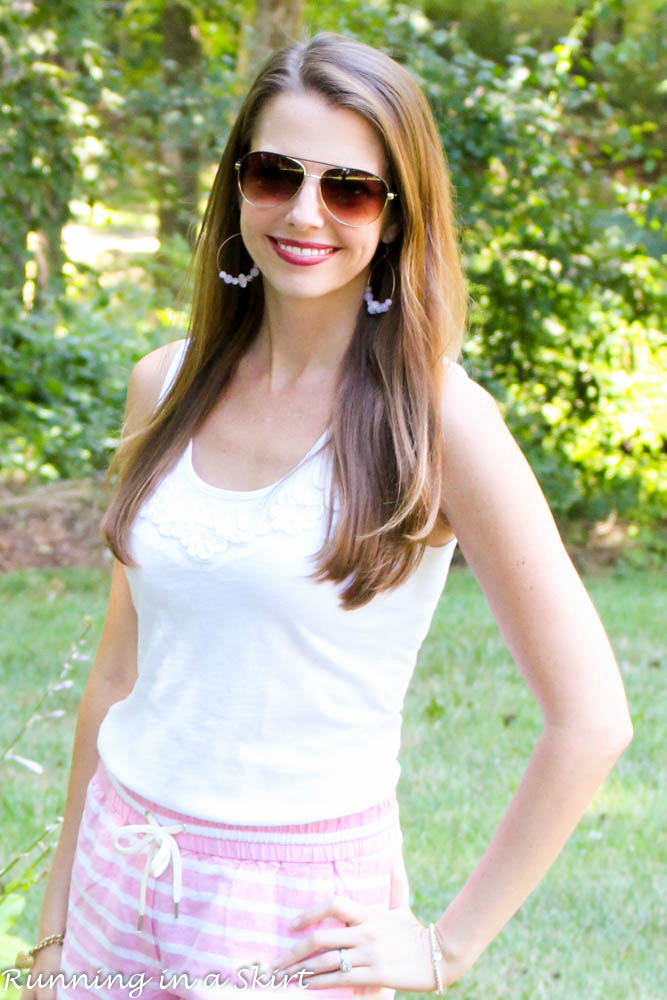 Black and White Polka Dot Shorts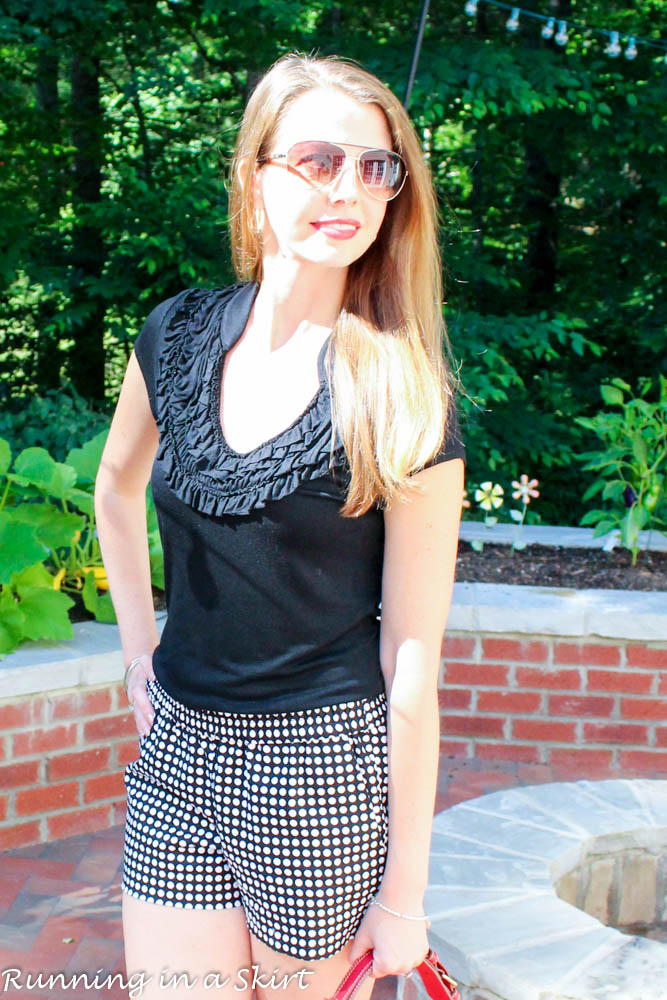 So nice to see you today. Have a great weekend and come back Monday for some thoughts on how to sleep better when you travel and on vacation.
This post is not sponsored, but contains affiliate links. I do make a small commission for clicks and purchases. It cost you nothing. Thank you for supporting Running in a Skirt.
I'm linking up with: Nicole for the Fit and Fashionable, Jolynne Shane for Fashion Friday, Turning Heads Tuesday. Thank you so much for the lovely linkup ladies
Your turn!
Do you wear shorts?
What's your favorite thing to wear in the summer?