Our recent Bahamas trip took us to Elbow Cay Bahamas and Hope Town Harbor Lodge. Come along for sea, sand and sunset views!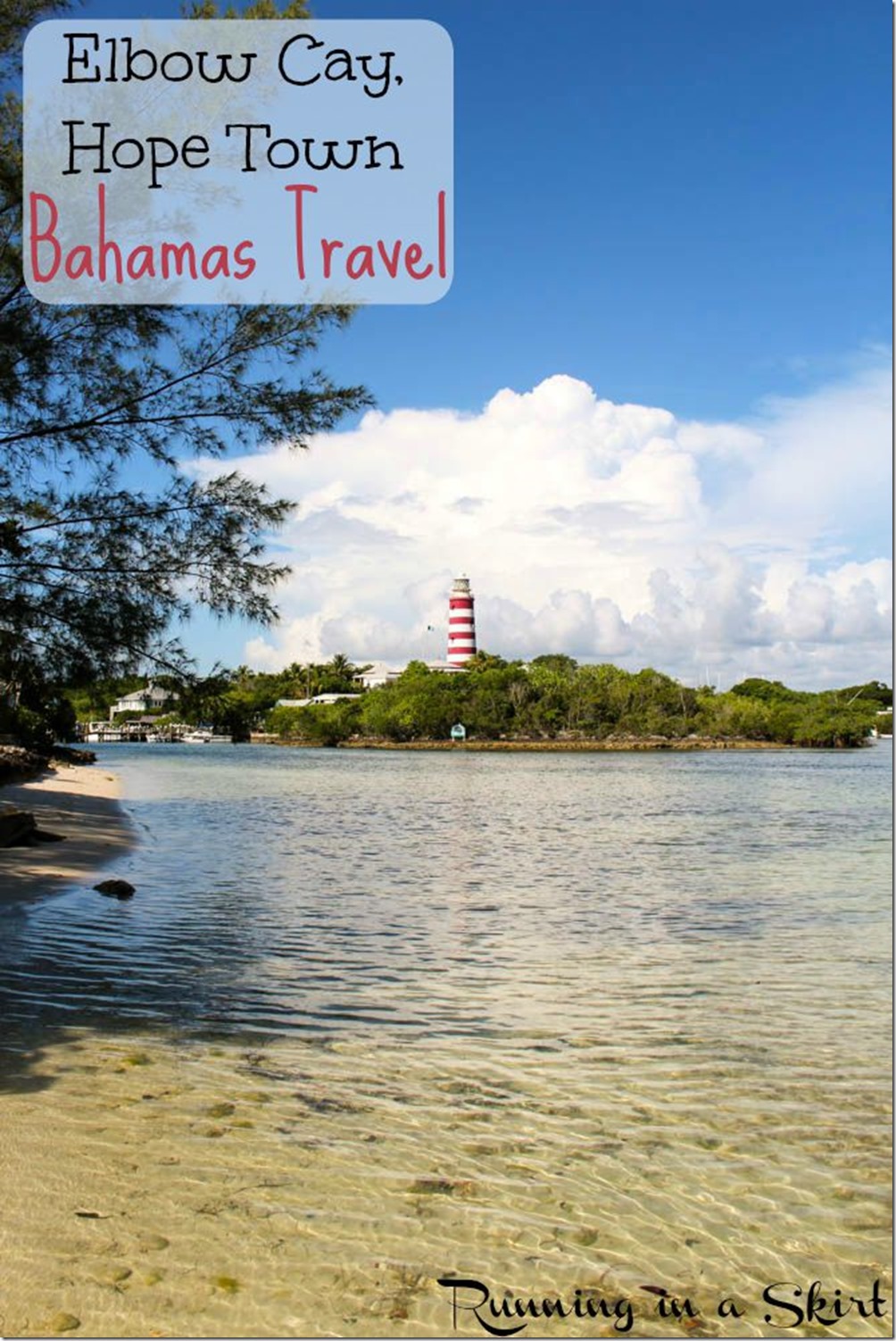 Hi friends!
Today I'm picking up the story of our recent Bahamas trip to the Abaco islands including Elbow Cay Bahamas and Hope Town Harbor Lodge. If you are just catching up, the highlight of the trip was the Hubs flying us himself!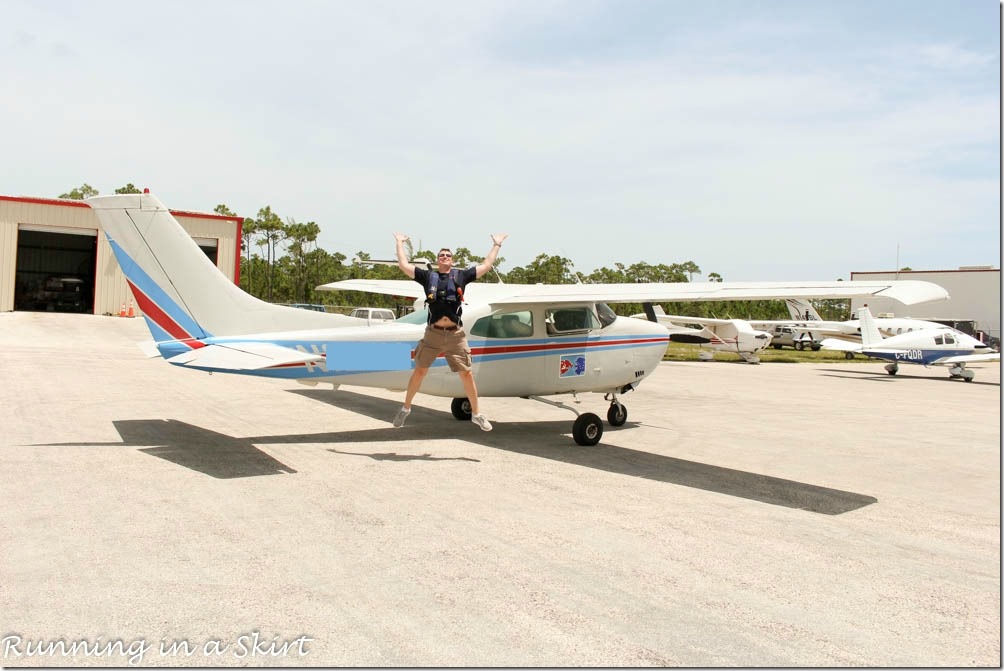 I'm picking up the story today from when we left the airport in a cab. Elbow Cay does not have a runway, so we land at nearby Marsh Harbor. Elbow Cay is a tiny, safe island with a great small town charm. It has only a few cars and the main form of transportation is golf carts and bikes!
Elbow Cay Bahamas, Friday
A cab drops us off at a small dock and we wait for a ferry to take us from Marsh Harbor to Elbow Cay. We find a delightful takeout restaurant nearby and enjoy delicious food with views and great company. We are immediately blown away at how kind the people are!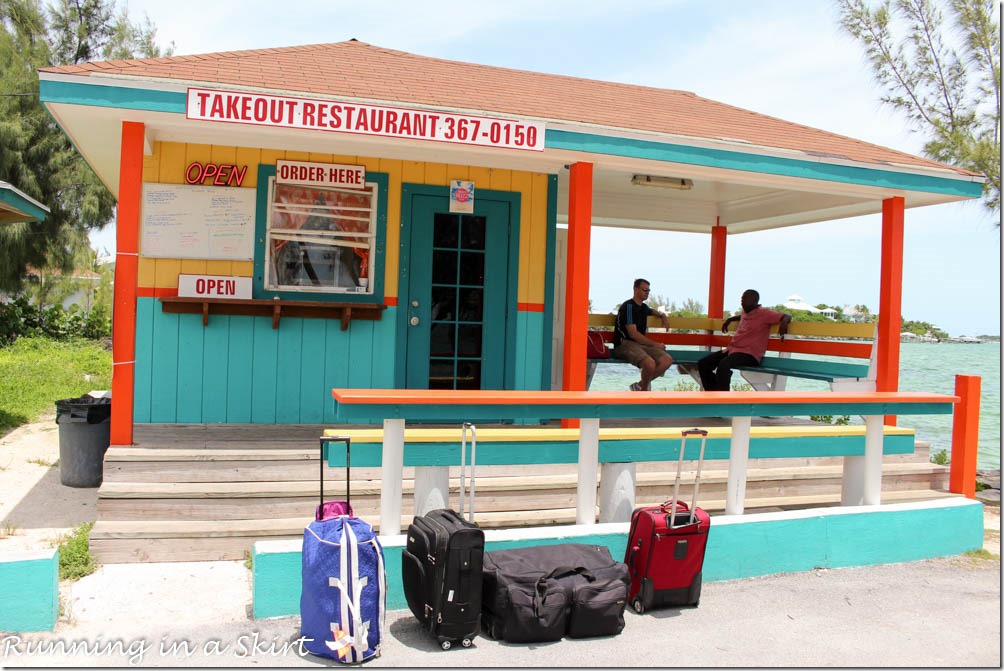 Once the ferry arrives we take a quick 15 minute boat ride across the harbor. Our hotel, Hope Town Harbor Lodge has it's own dock.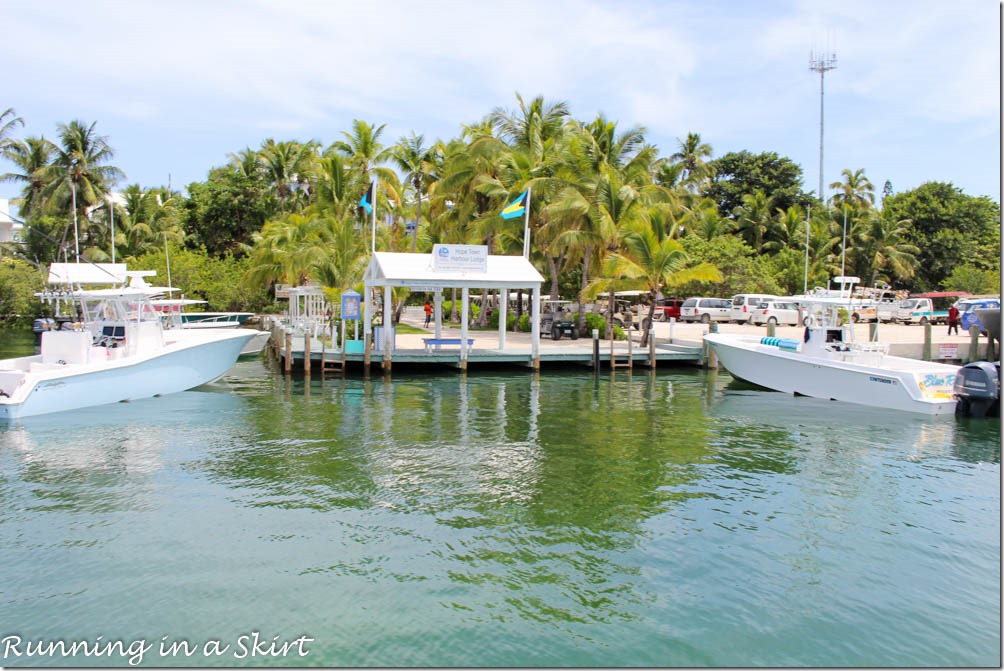 We quickly check into Hope Town Harbor Lodge and are pleased with our recently renovated room.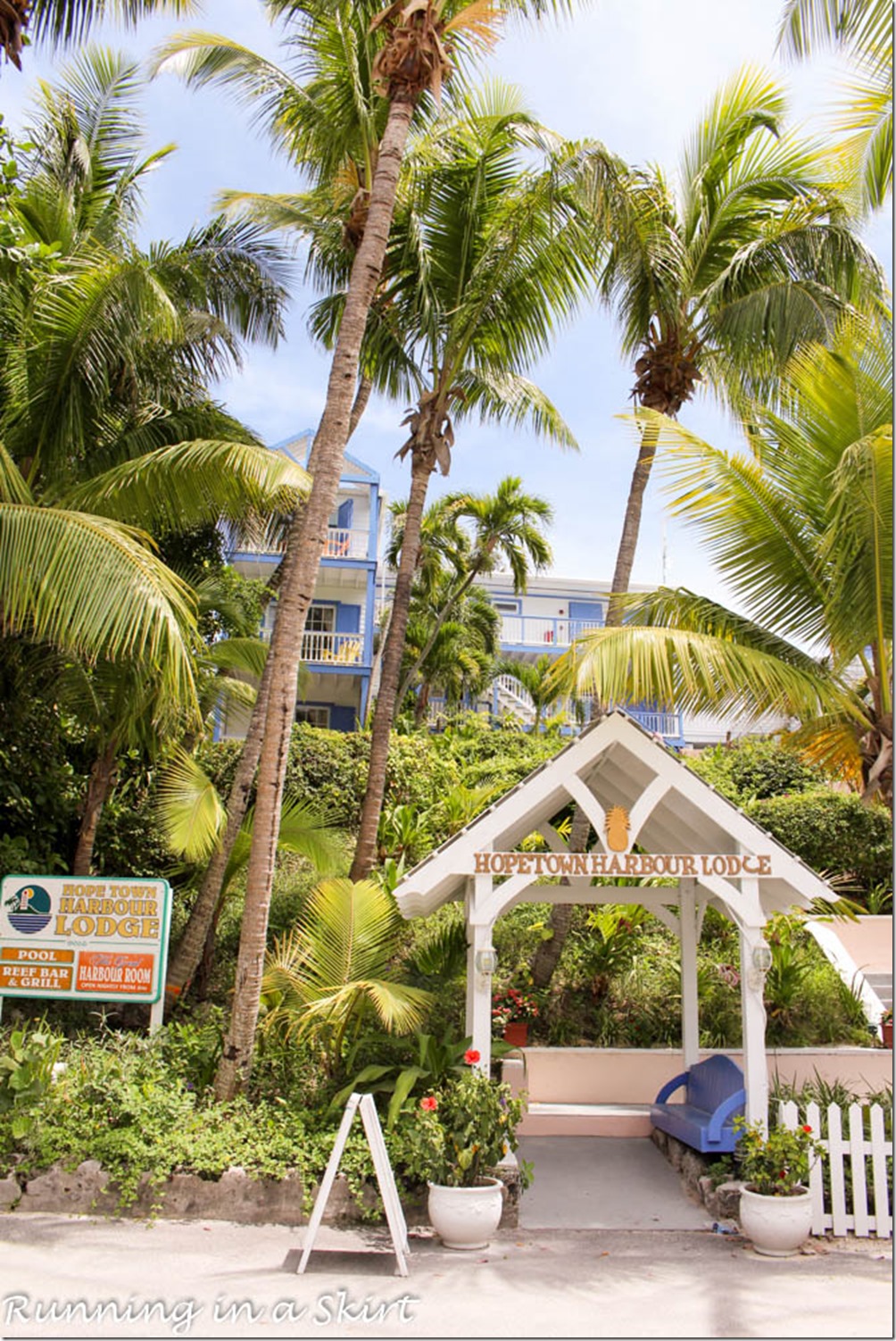 Plus you can't beat being steps away from a pink sand beach! I had never seen anything like it before.
The best part of about Hope Town Harbor Lodge is this beach and the snorkeling reef that is perfectly positioned from the beach. The area in the ocean that looks brown is the reef.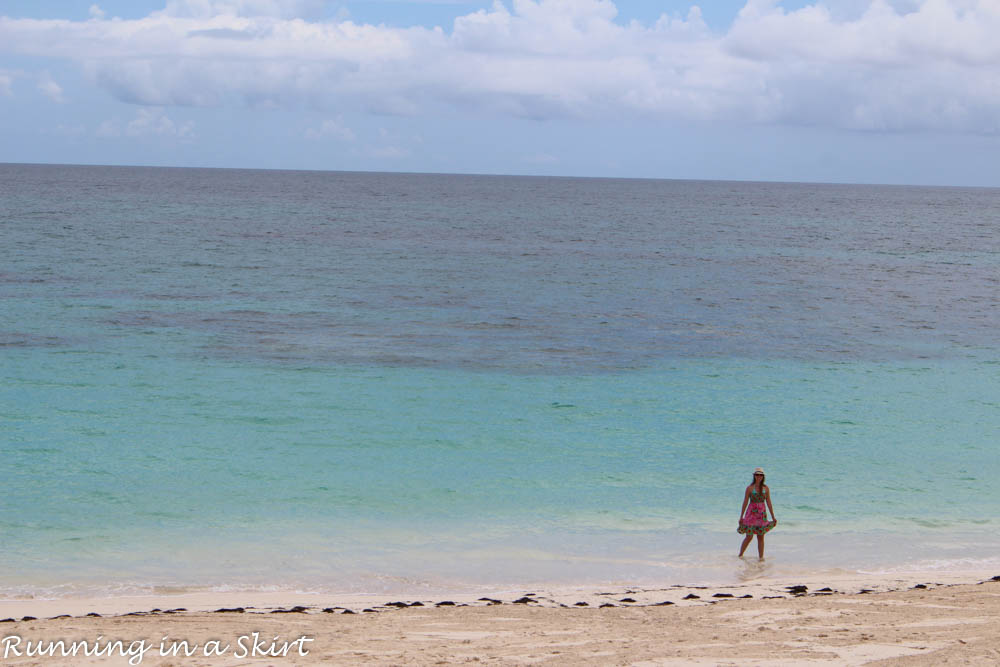 The water is not quite as vivid blue as Turks and Caicos, but still gorgeous! We immediately go outside and enjoy beach time.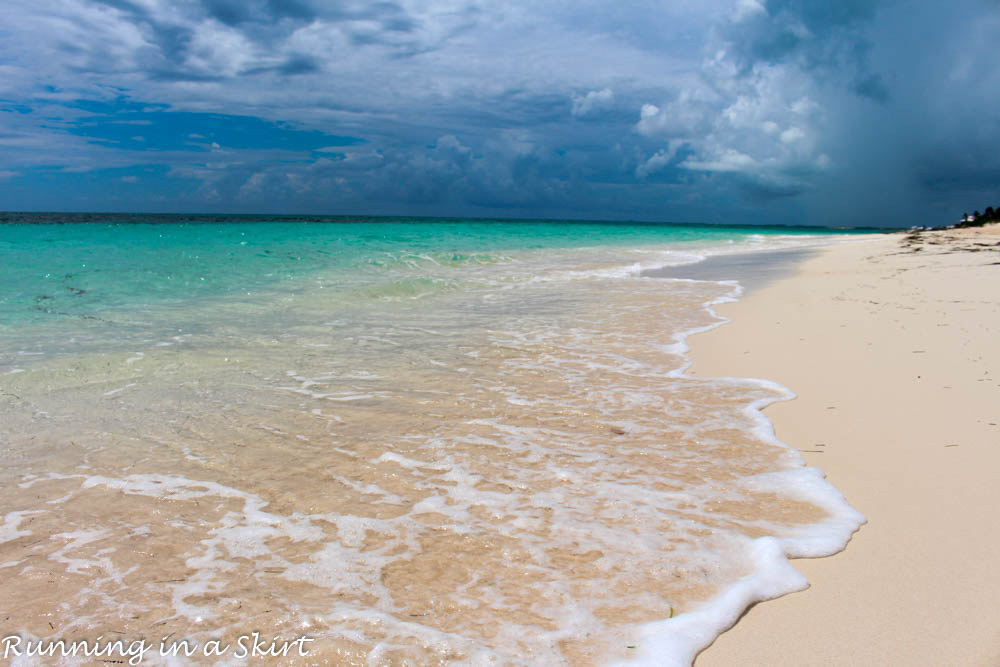 Dinner rolls around fast and since we are very tired (the plane and ferry zaps my energy!) we decide to enjoy dinner at the hotel. This is the deck outside of our room!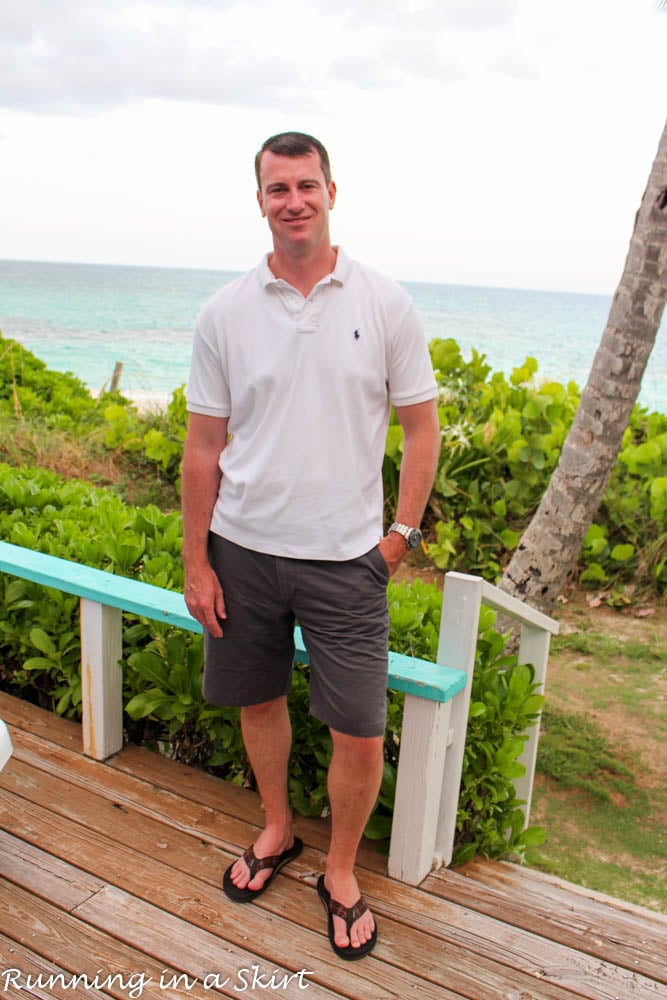 Dinner is delicious and we go to bed early with big plans for the next few days!
Elbow Cay Bahamas, Saturday
Day 2 starts off with a walk around the harbor! Elbow Cay and Hope Town is known for this iconic red and white striped lighthouse.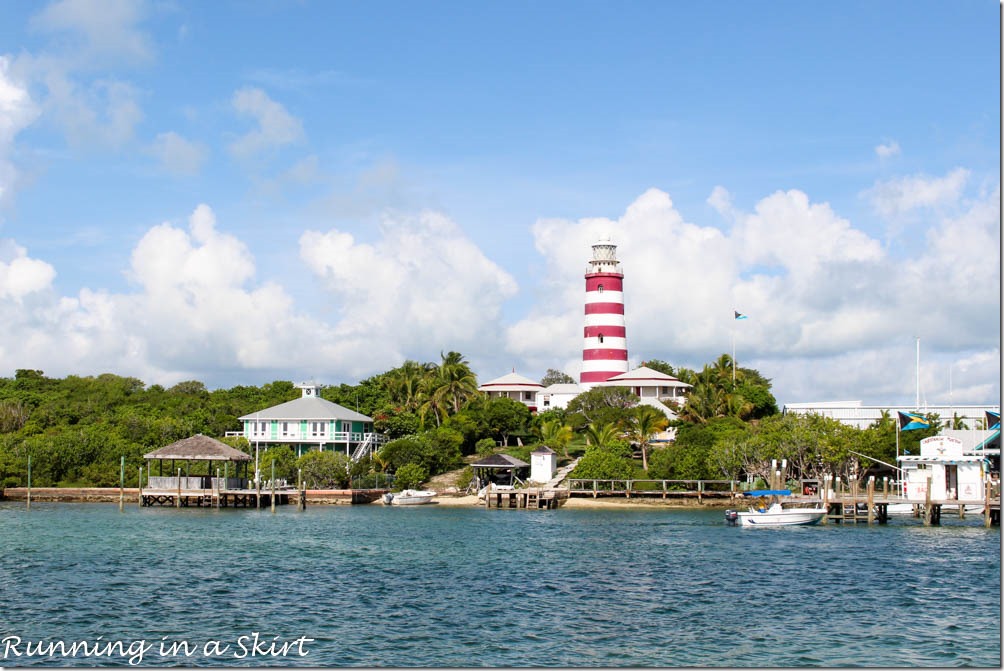 We get coffee and muffins at the most delightful coffee house, Hope Town Coffee house and then walk around downtown.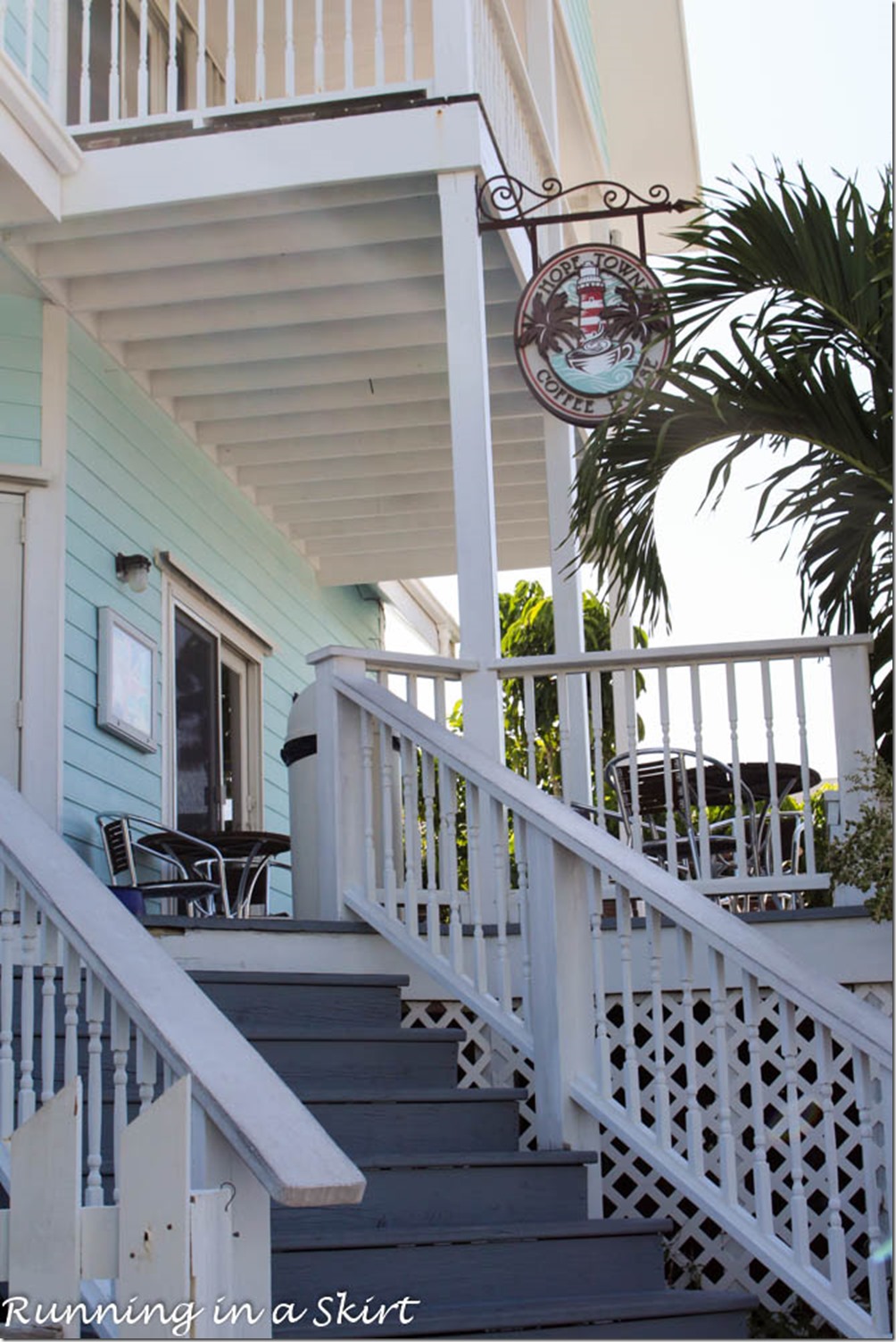 We end up renting bikes to get around and have a much more enjoyable ride back to the lodge. Hope Town is known for everyone getting around on golf carts instead of cars, but they are all rented out for the season, so we make due without.
The rest of the day is spent enjoying the beach, snorkeling at the beach reef, getting ice cream and relaxing!
For dinner we get a ride to Abaco Inn. It's a hotel and has more gorgeous views about 10 minutes away. Luckily any of the restaurants will come pick you up if you eat with them.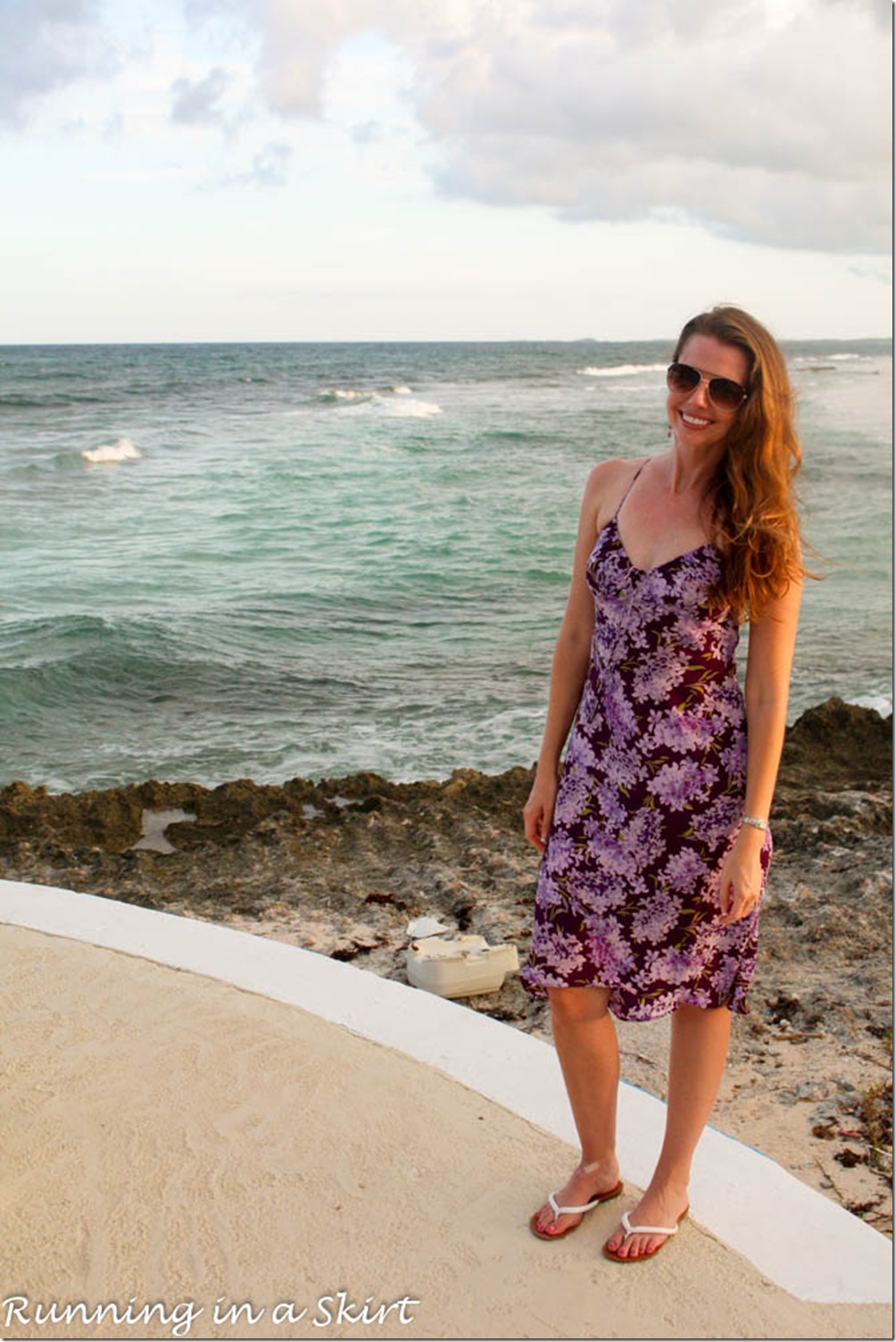 I enjoy watching the Atlantic waves crash into the rocks.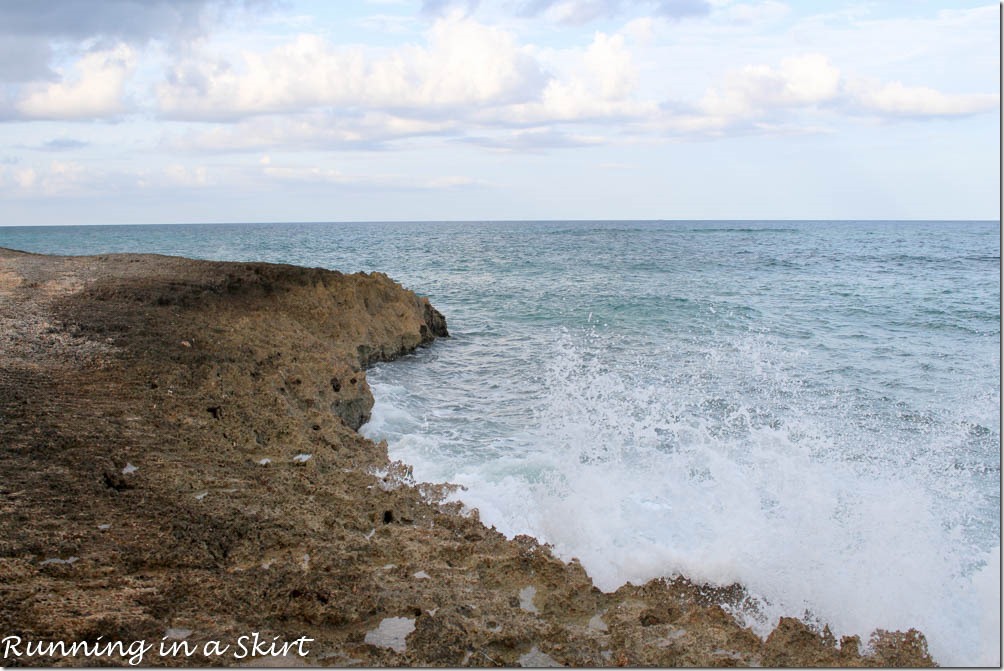 It kind of reminds me of Hawaii.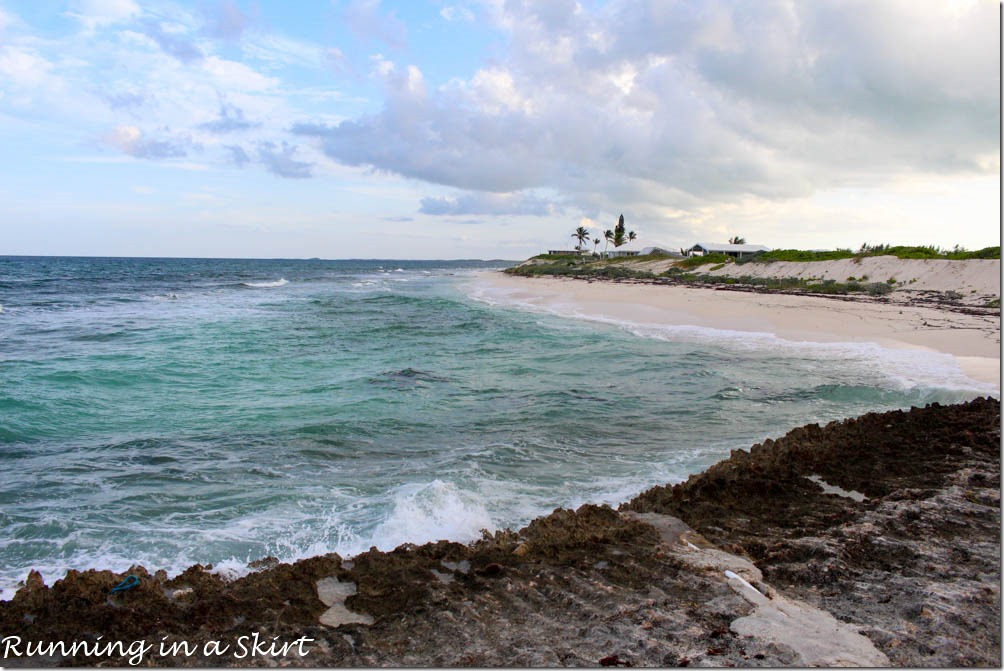 Before dinner, we cross the street and find a perfect sunset watching spot.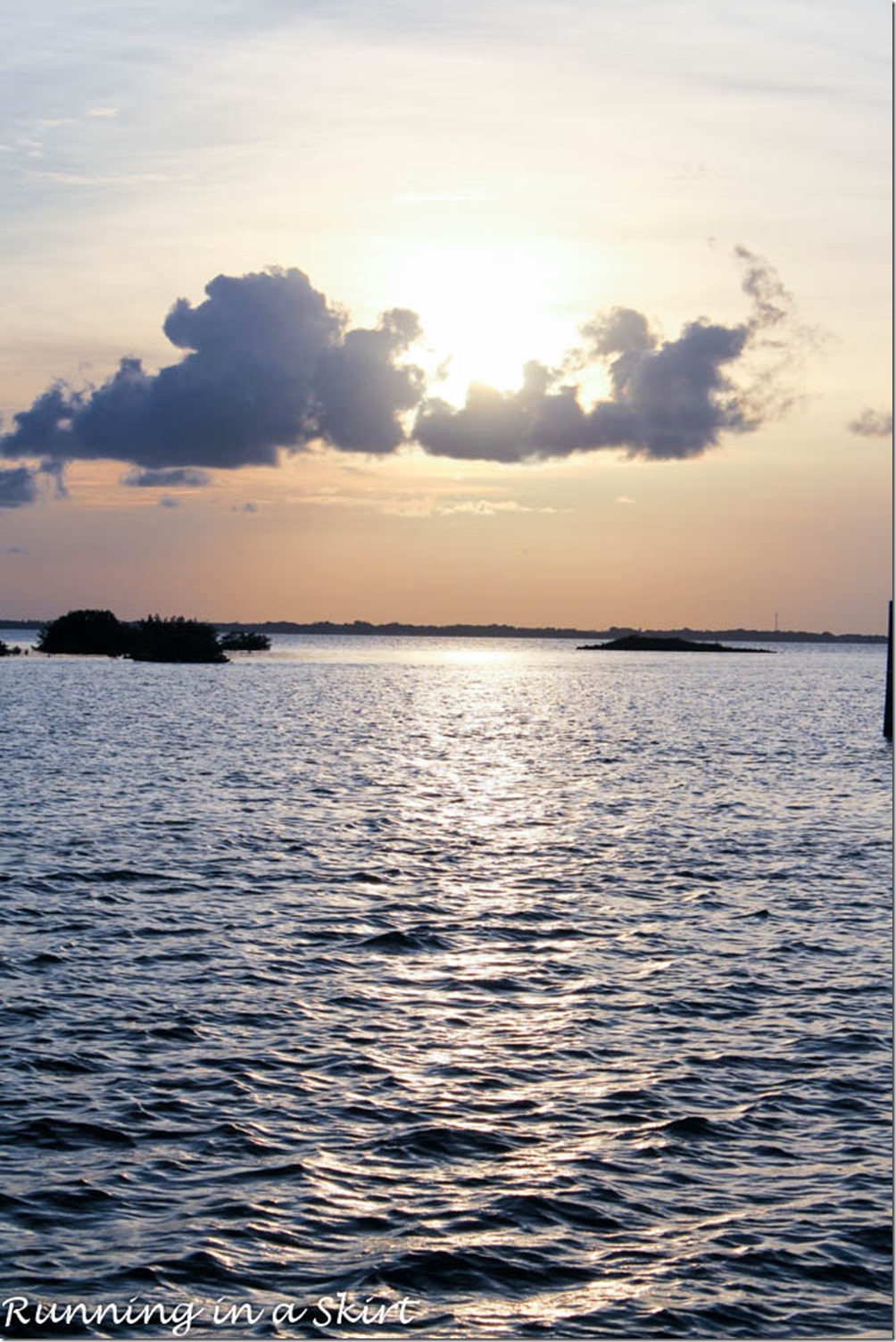 The clouds are a little low, preventing a perfect view, but the sky still lights up with such color!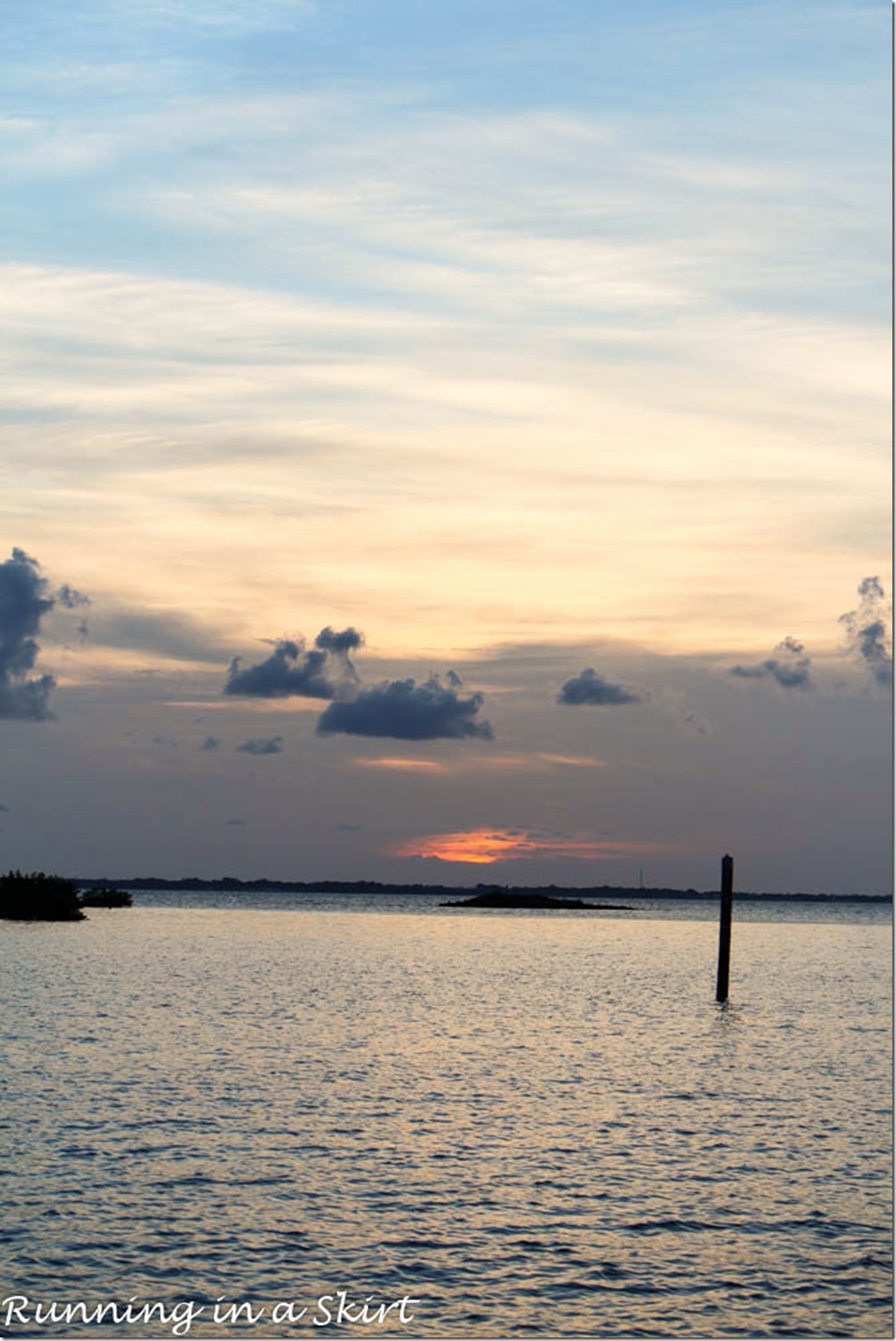 Plus the spot seems almost like a secret.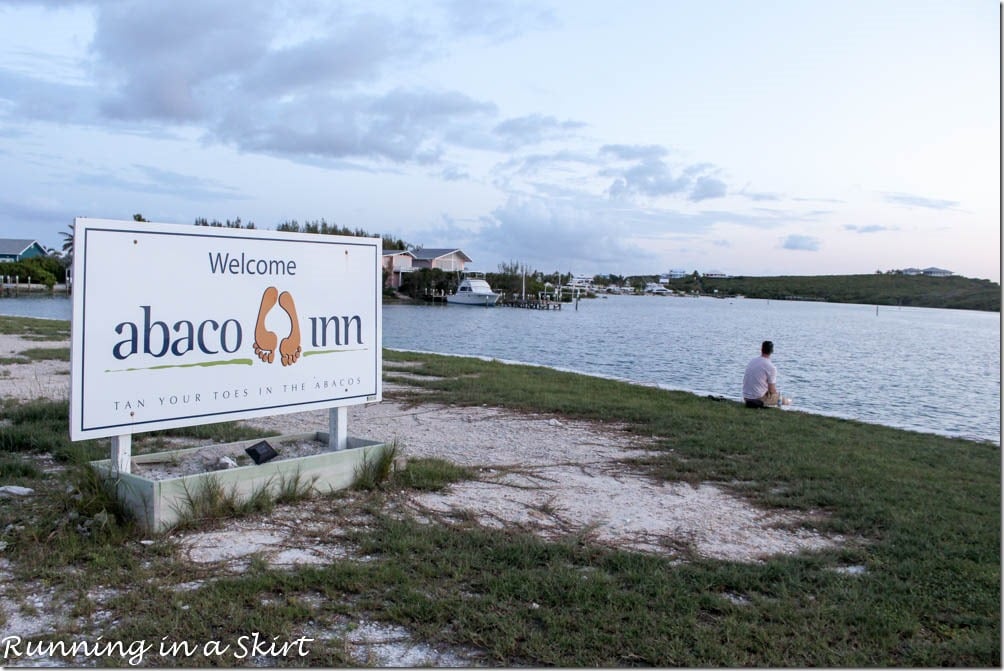 We enjoy a delicious dinner! It's even better than the Hope Town Harbor Lodge before getting a ride back to our hotel and calling it a night!
Elbow Cay Bahamas, Sunday
By Sunday the Hubs and I are ready to explore. We heard about a gorgeous beach on the South side of island called, Tahiti Beach. Being the adventurers we are, we HAVE to go.
Our hotel suggests we call the restaurant closest to Tahiti Beach, Sea Spray and eat lunch there, then walk or ask them to drive us to Tahiti Beach.
After dodging morning rain showers, we do just that!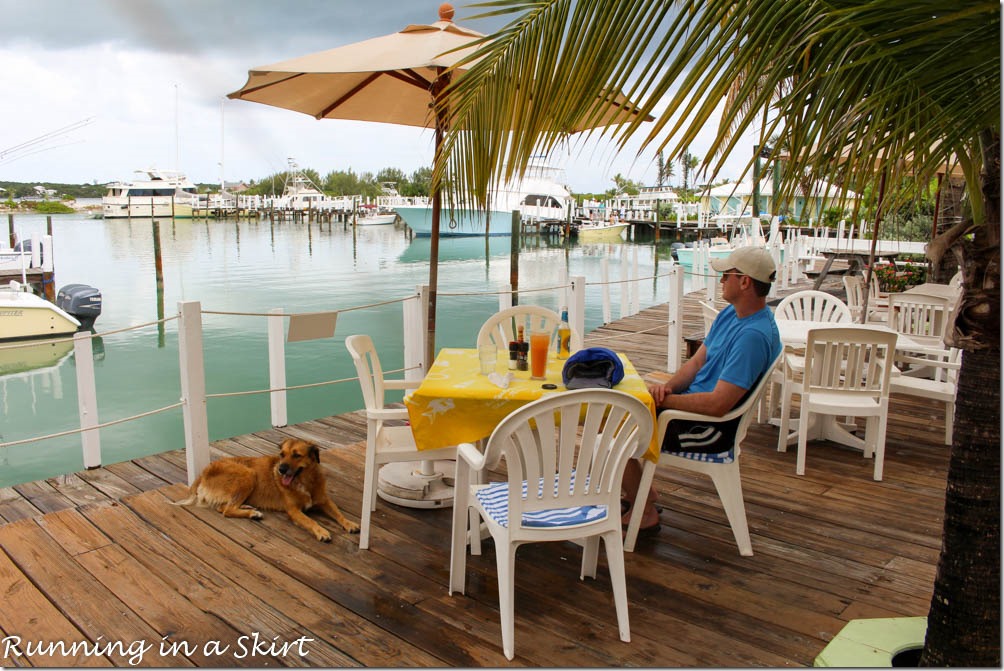 The hotel drops us off at Tahiti Beach, and it does not disappoint!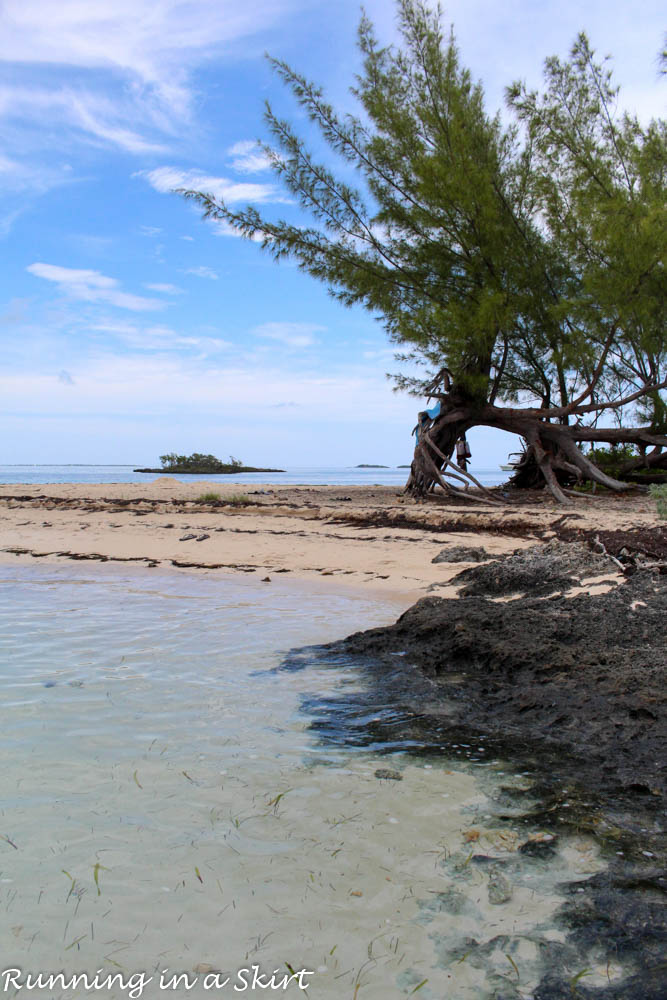 The circle of palm trees and shallow bay make you feel like you are in another world.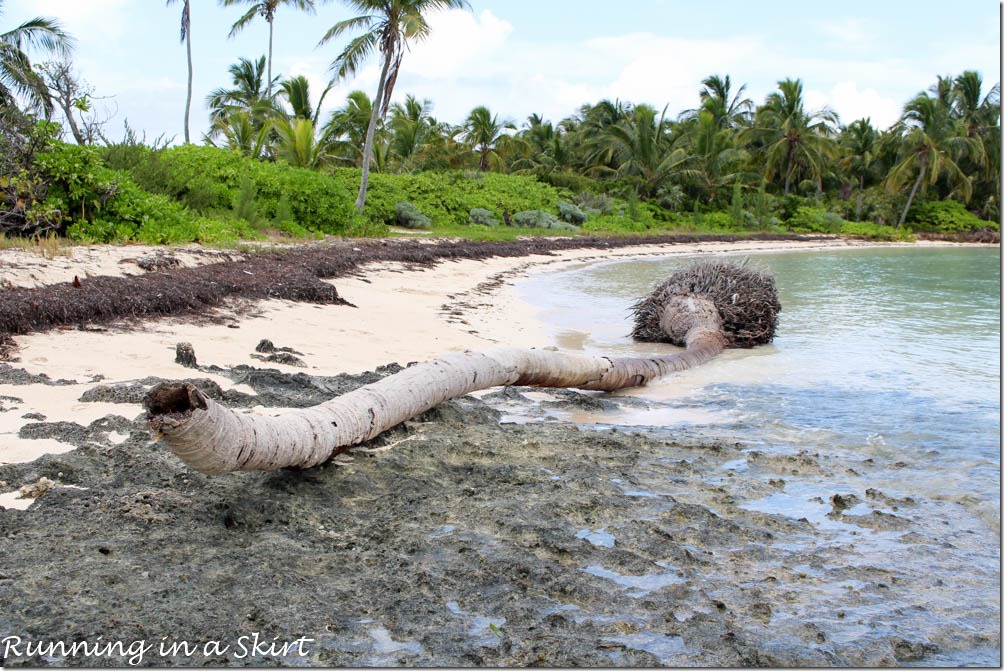 The water is shallow for hundreds of yards and there is perfect pink sand bar in the middle. See the hubs walking around in the shallow water?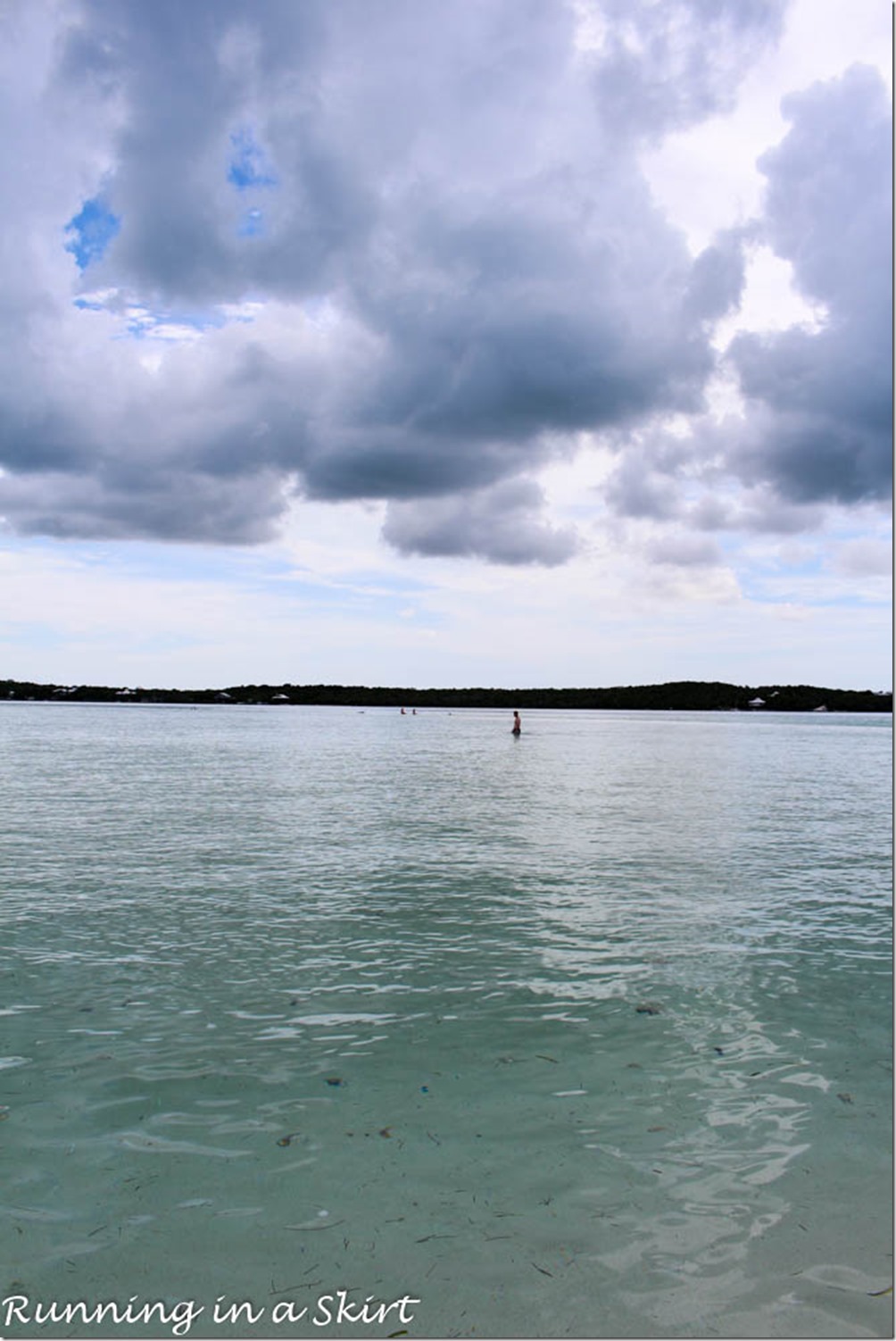 I, of course, take approximately 2,602 pictures and just as I'm putting down my camera and heading out into the water…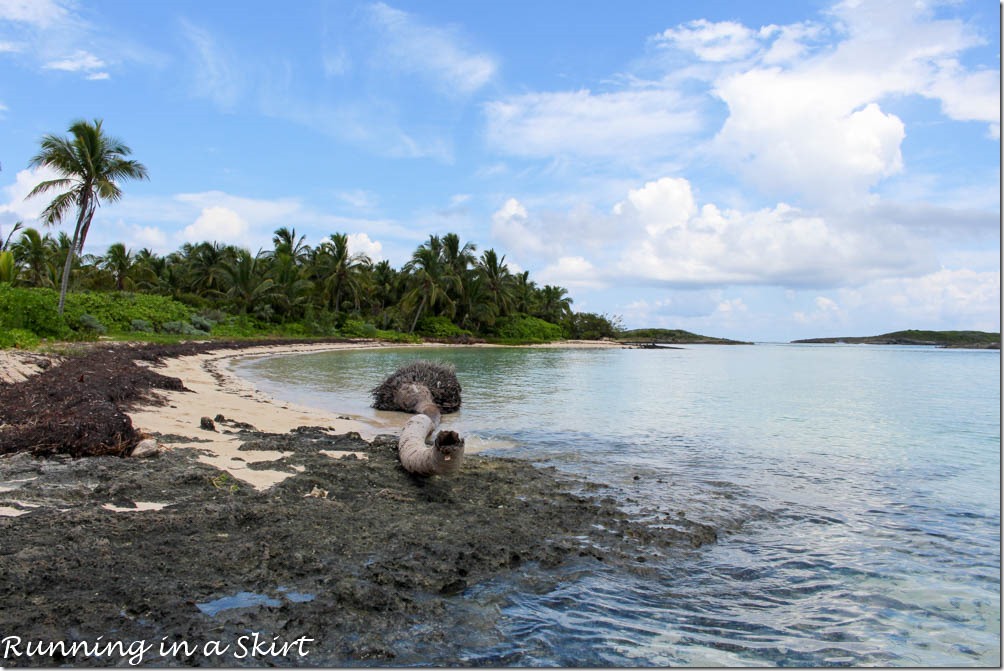 … I see this. The most beautiful and threatening storm cloud.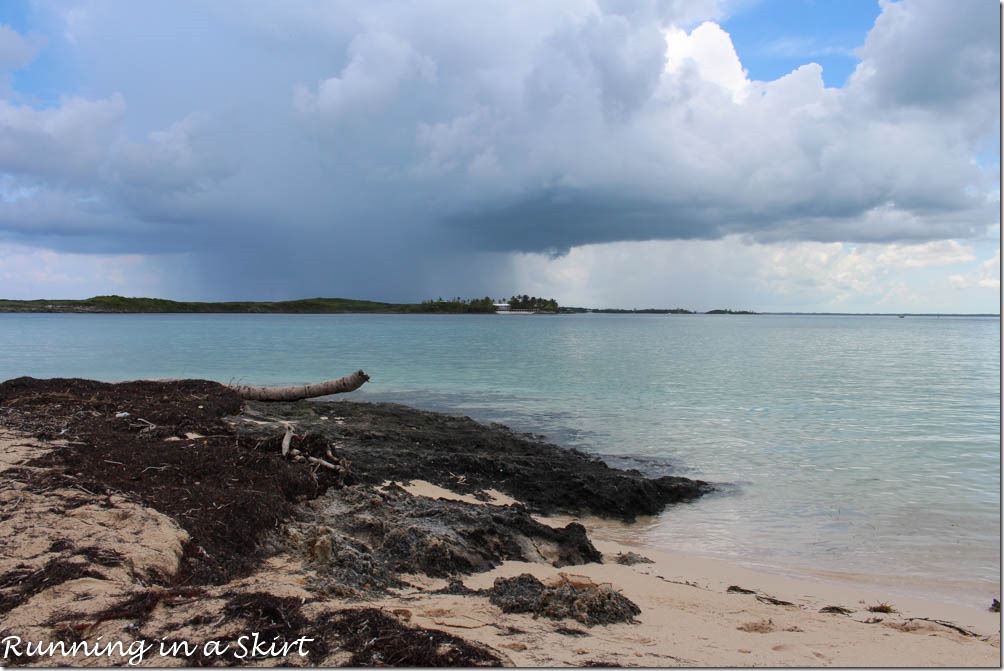 Soon after we hear thunder, so we disgruntedly get out of the water. I could have spent all day here!
Our rides seems to forget to pick us up, so we walk back to where we had lunch and they give us a ride back to our hotel. It ends up being challenging to get around without a golf cart! It was just a little too far and TOO steamy to ride our bikes.
For dinner we get another ride to Firefly Resort. I immediately fall in love with the place and find out the owners are owners of Firefly Sweet Tea vodka basked out of Charleston, SC.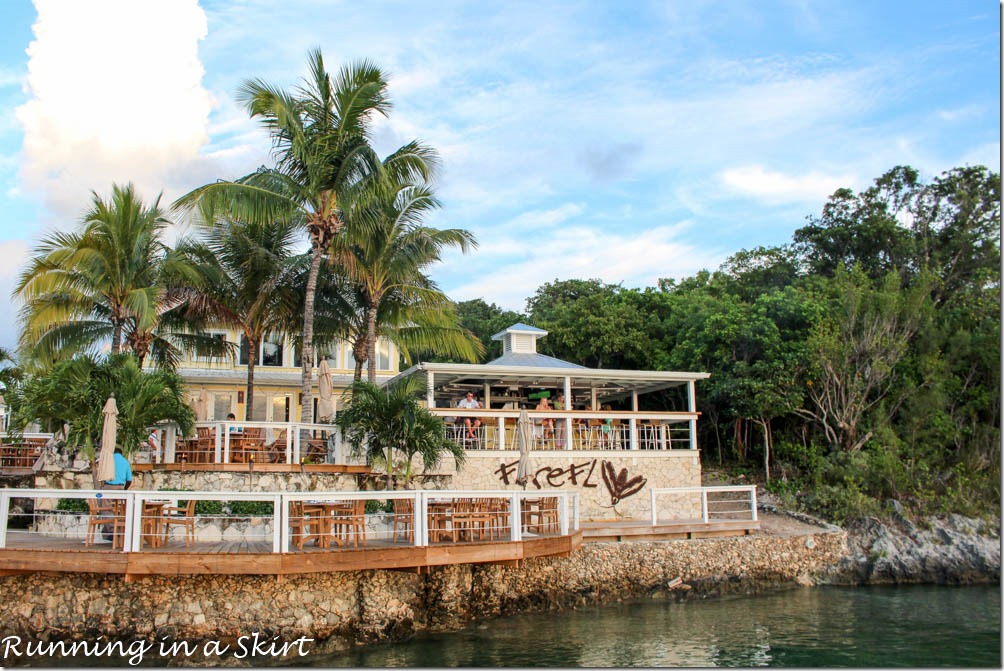 The place has a Charleston/ Southern culture meets the Bahamas that I could not get enough of.
We find a seat on their deck and spot one of the most gorgeous sunsets I've ever seen!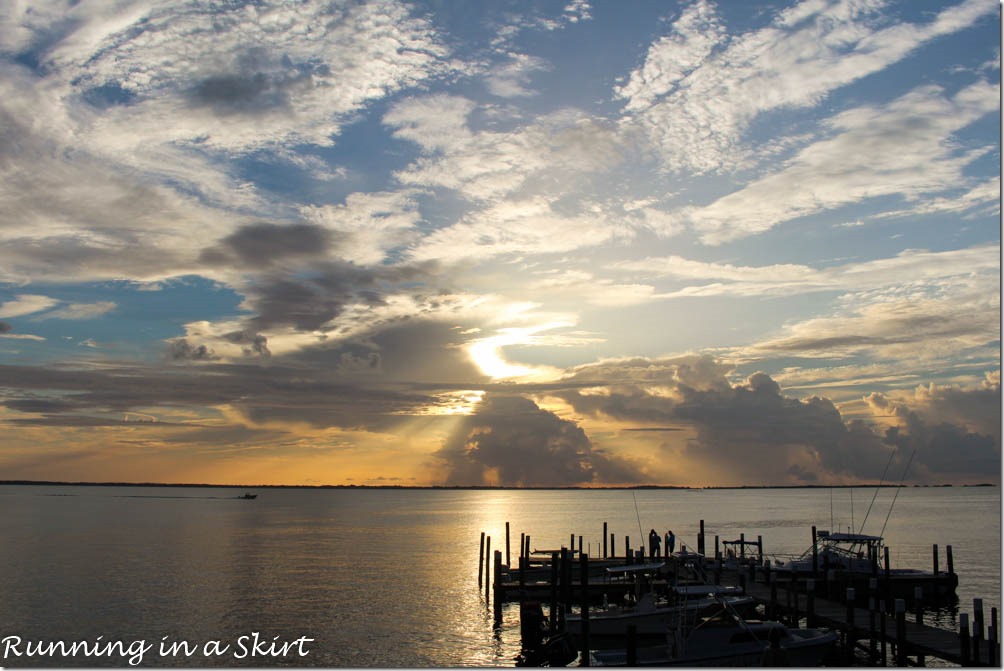 The sun is almost picture framed by clouds and it is absolutely breathtaking!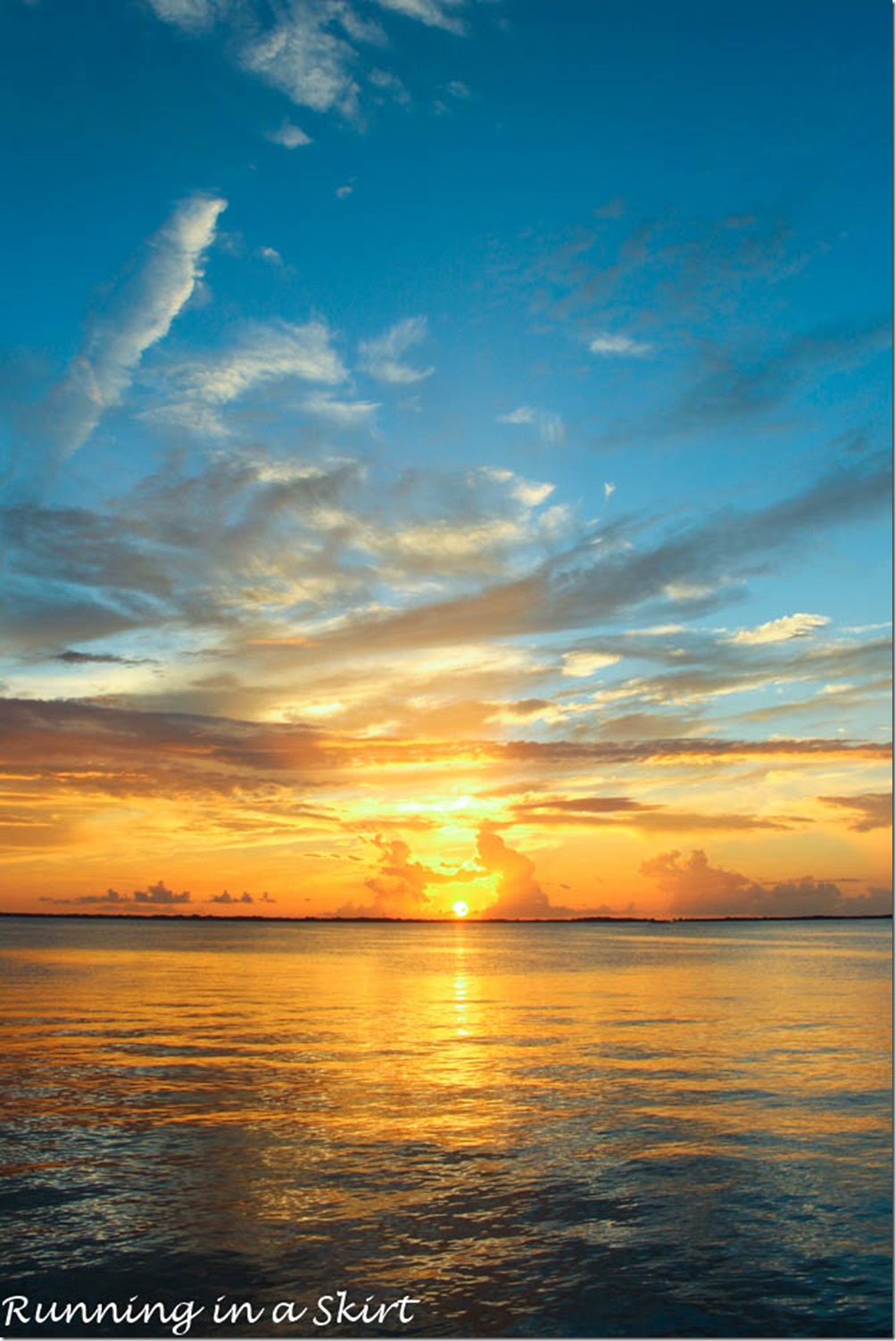 As the sun finally sets it sends off these gorgeous coral colors that perfectly contrast with the blue.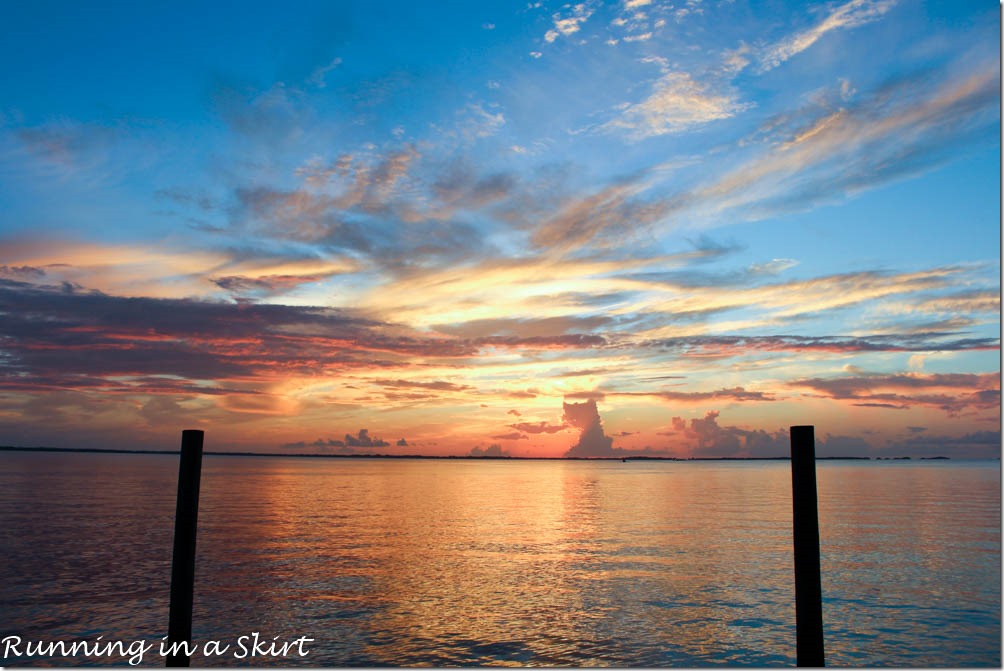 Big surprise, but I take way too many pictures again!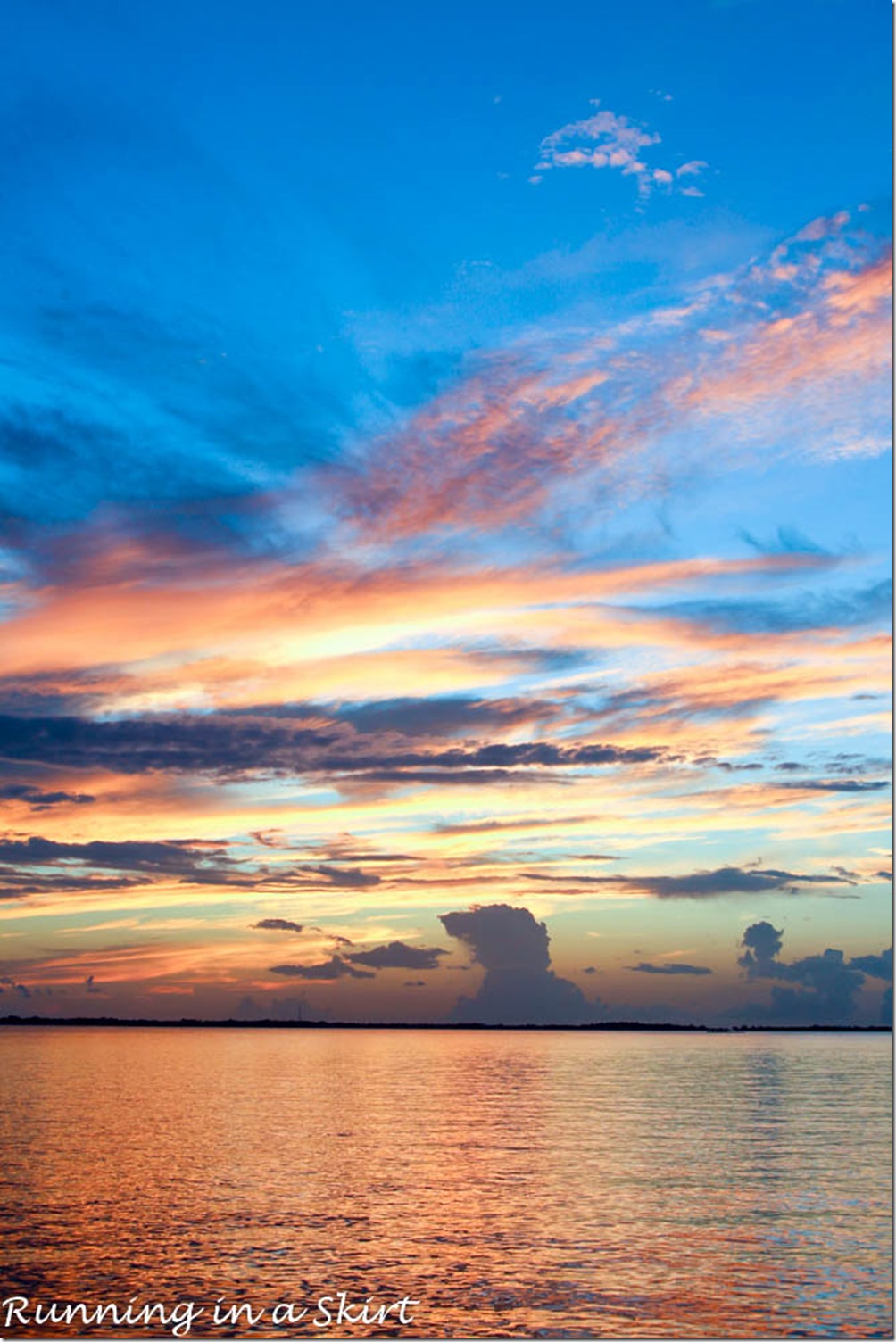 We finally sit down for dinner and continue to enjoy the views until it turns dark.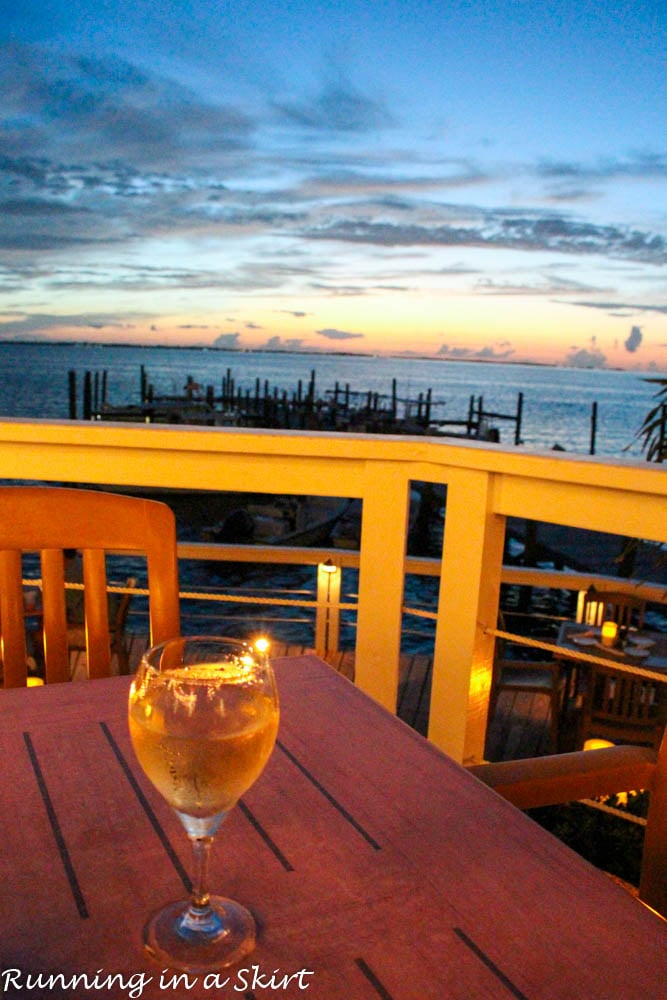 This sunset is one I will always remember! Dinner is delicious and the best we had so far on the island.
Elbow Cay Bahamas, Monday
Monday we wake up and decide to use our bikes to explore the island. We find a few more hidden beaches.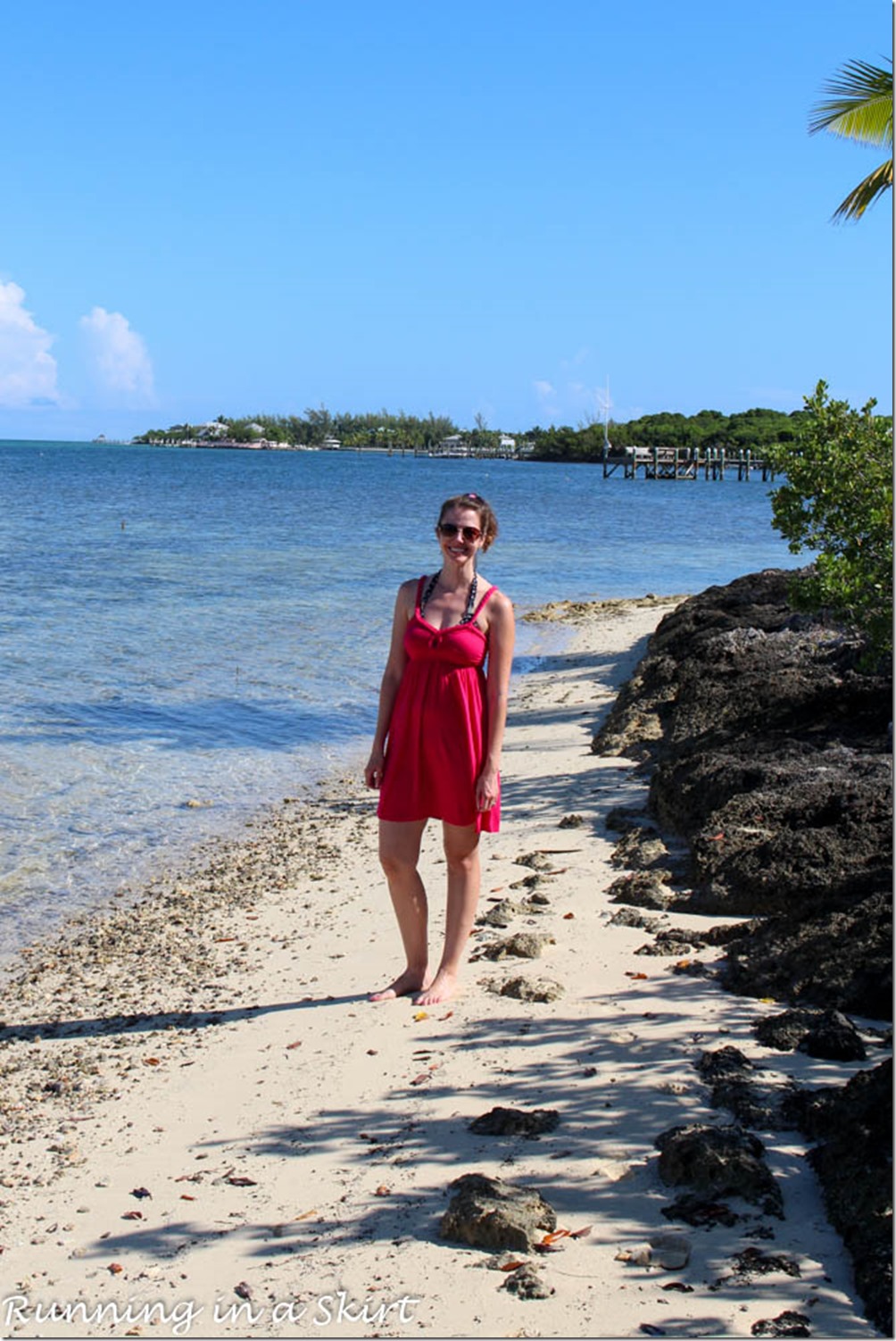 It's a very quiet, sleepy place, so we saw many views like this with nobody else in sight!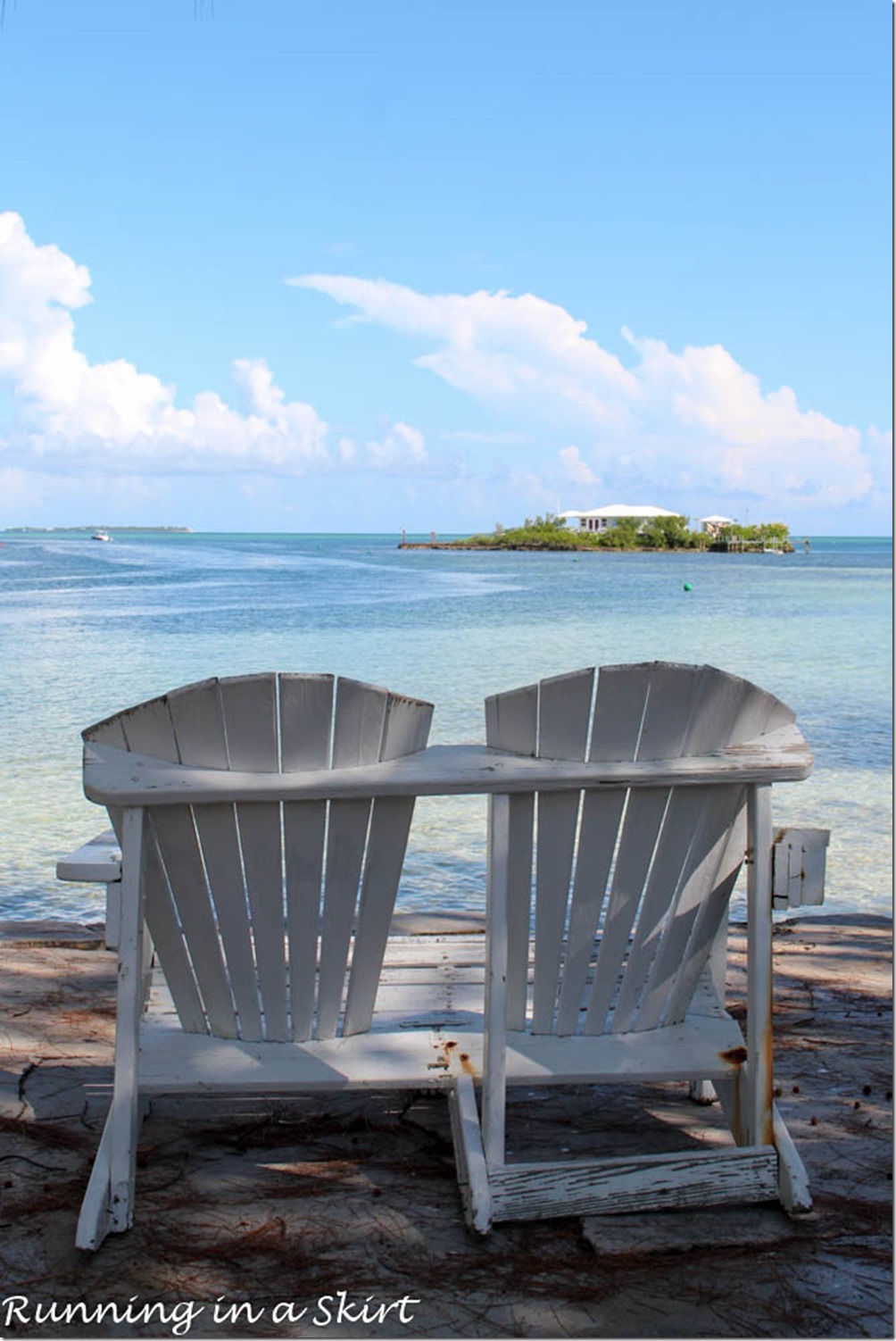 The lighthouse served as a great landmark to get our bearings.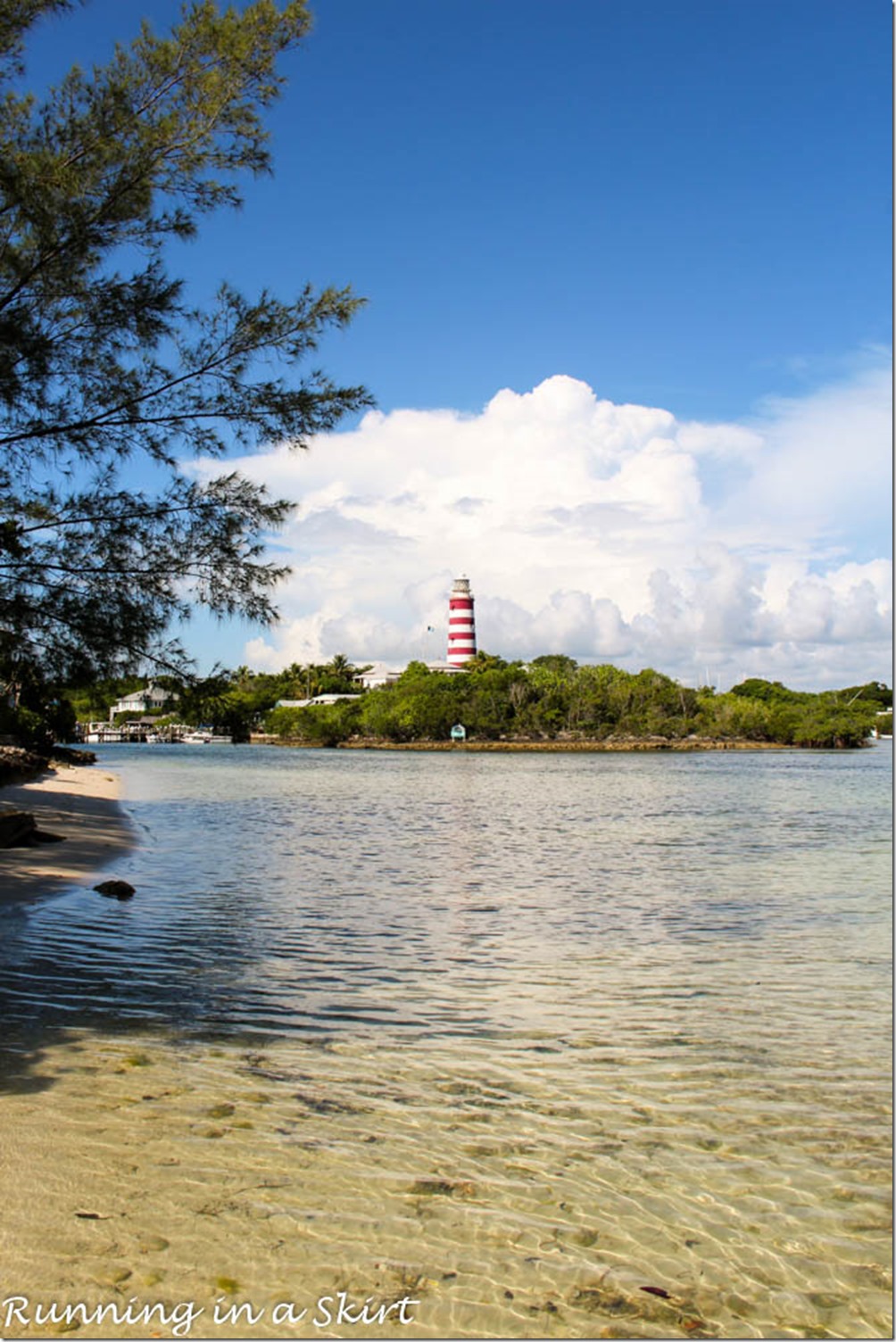 After a couple of hours riding, we are hot and ready for the beach! We spend the rest of the day dodging storms and enjoying the water.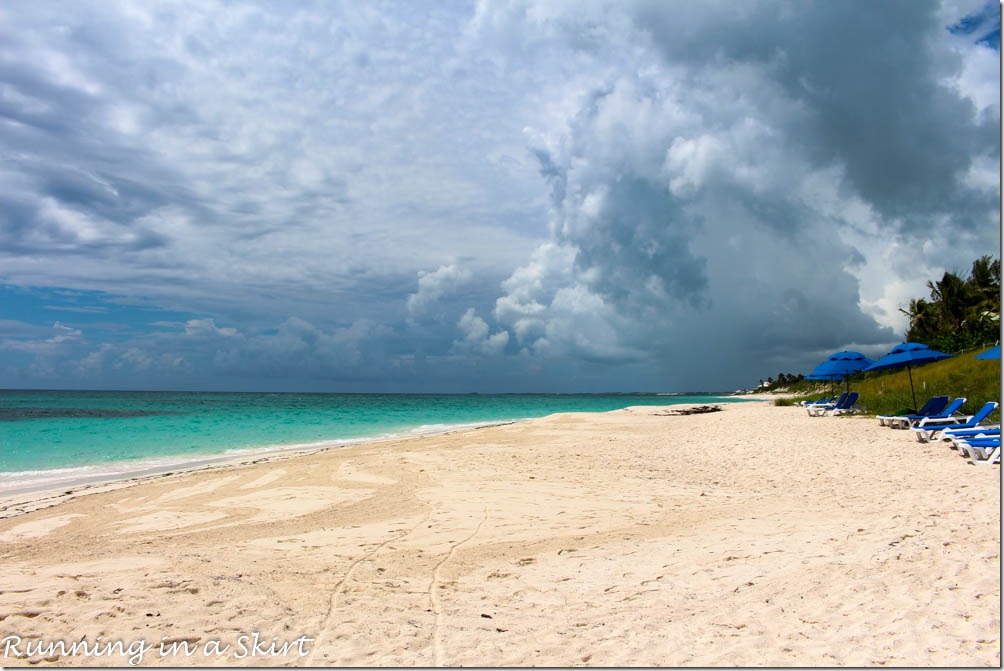 There are only a very small handful of restaurants on the island, so we decide to go back to FireFly for our last night dinner.
The sunset is gorgeous once again, but not quite as epic as the night before.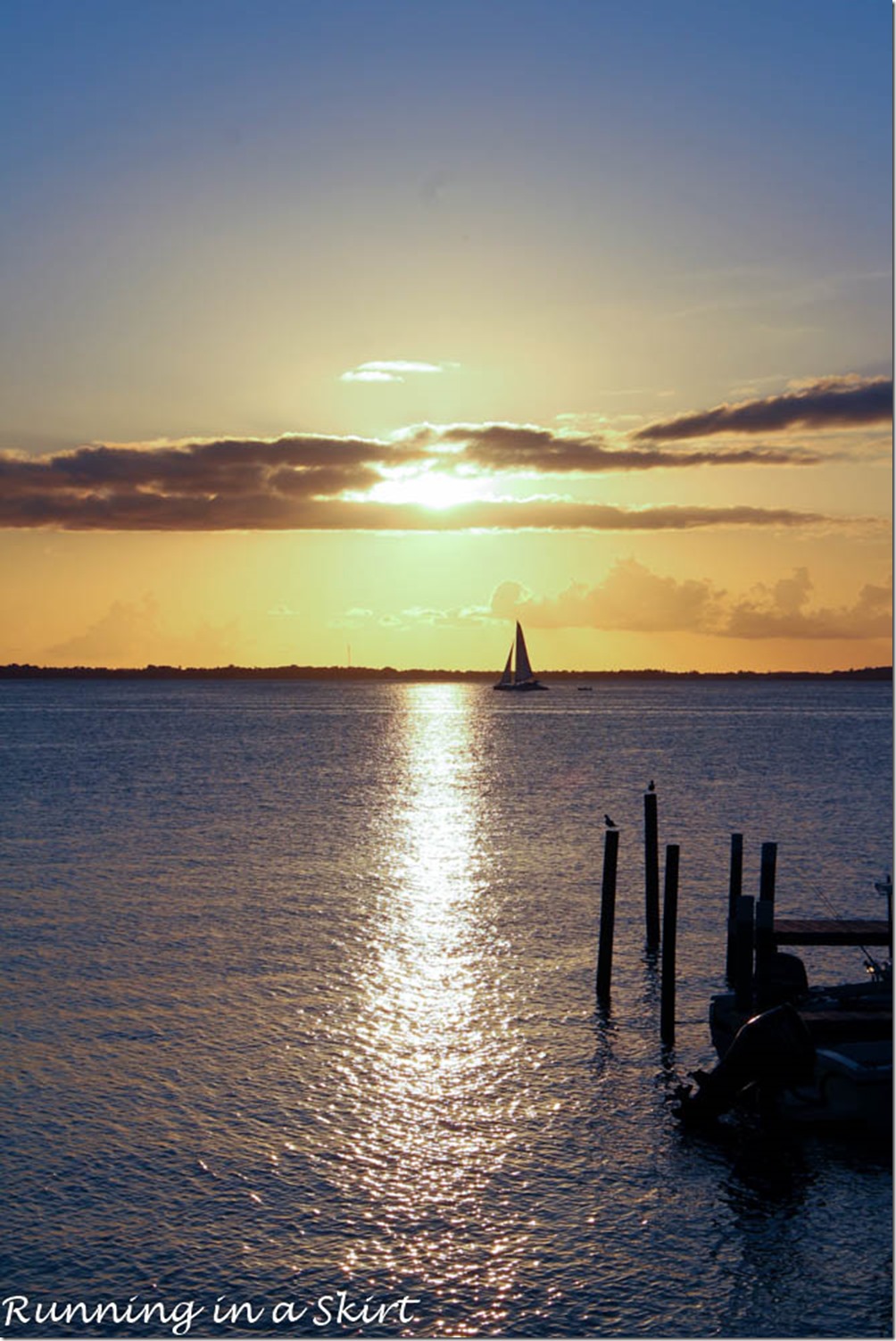 I still really enjoy the way to coral color reflected to the clouds higher up.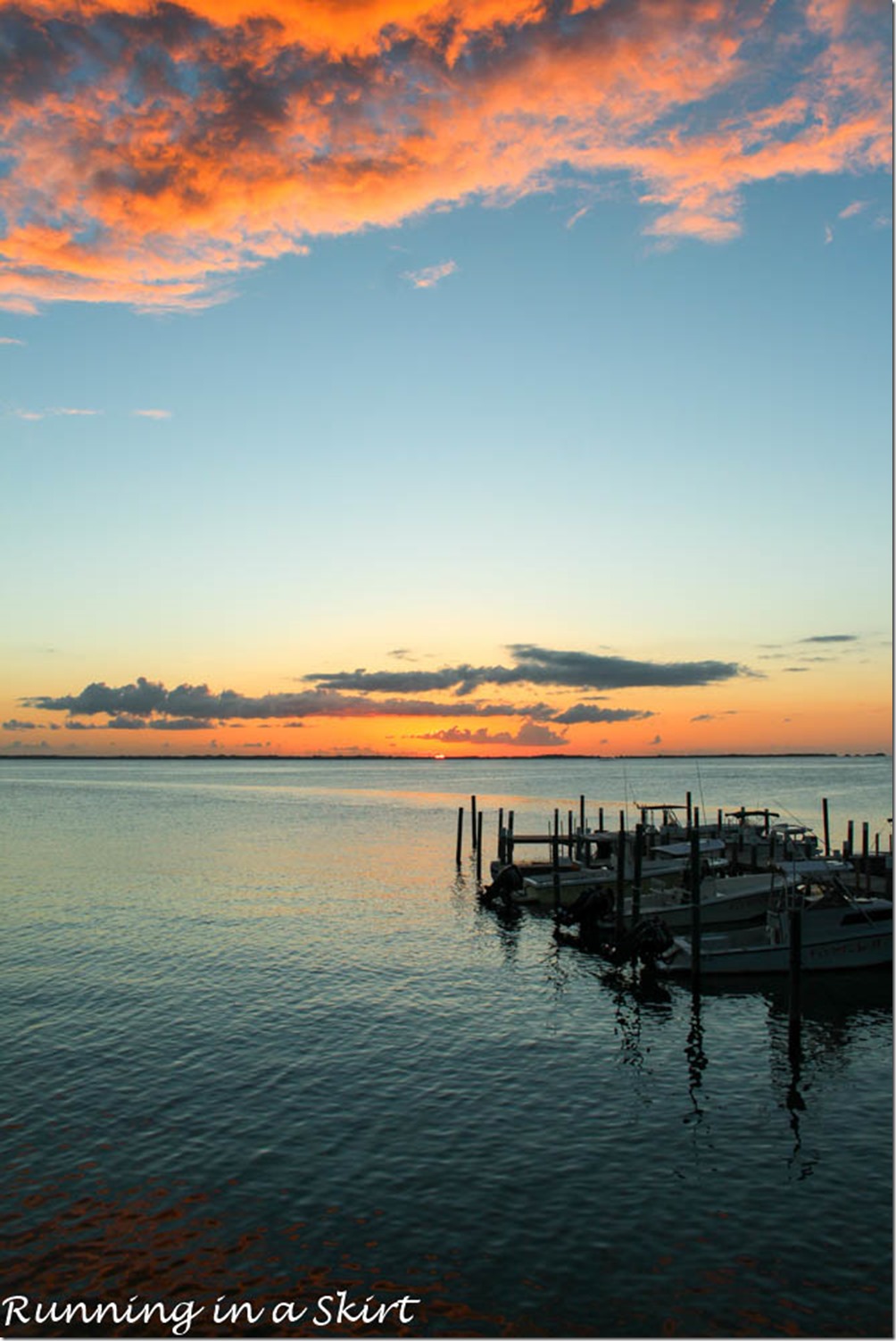 We end our trip with more delicious seafood and a great night's sleep! In the morning we wake up super early to catch the ferry back to Marsh Harbor and fly home!
Tips for Going
If you are going to Elbow Cay, Firefly had the best food we had, followed VERY closely with Abaco Inn. We also really enjoyed our lunches at Hope Town Harbor Lodge and Sea Spray. There aren't a lot of options to eat, but we enjoyed almost everything we had.
The lodge is very old, but they have been updating it. The highlight of staying there is being steps away from the pink sand beach and being on a great snorkel reef.
Be cautious going this time of year because the community starts to shut down for the hurricane season. We encountered all sorts of problems trying to do anything, because so much was closed. I would also book a golf cart and a boat months in advance to make sure you get one. They go fast and our trip would have been even better with our own cart.
Bring bug spray, I got eaten alive!
Reflections
What an adventure. Elbow Cay is a truly unique place. I loved how small town and safe it feels. Unlike most other places I've been in the Caribbean I never once felt unsafe. The lack of cars gave it a real charm. I enjoyed that the island was so small and you could see the entire thing in a few days. The pink sand beaches and clear water are breathtaking!
Thanks for stopping by today, tomorrow I'm sharing a recipe for absolutely divine watermelon salad. It's part of my final farewell to summer!
Your turn!
Would you like a vacation with so little to actually do?
Favorite sunset ever… GO!
I'd have to say, the sunset at my wedding in Hawaii. That one will always hold the top spot. But the sunset at Firefly on Sunday, followed by the sunset in Costa Rica along an infinity edge pool and the one on a sail boat in Key West top the list too!