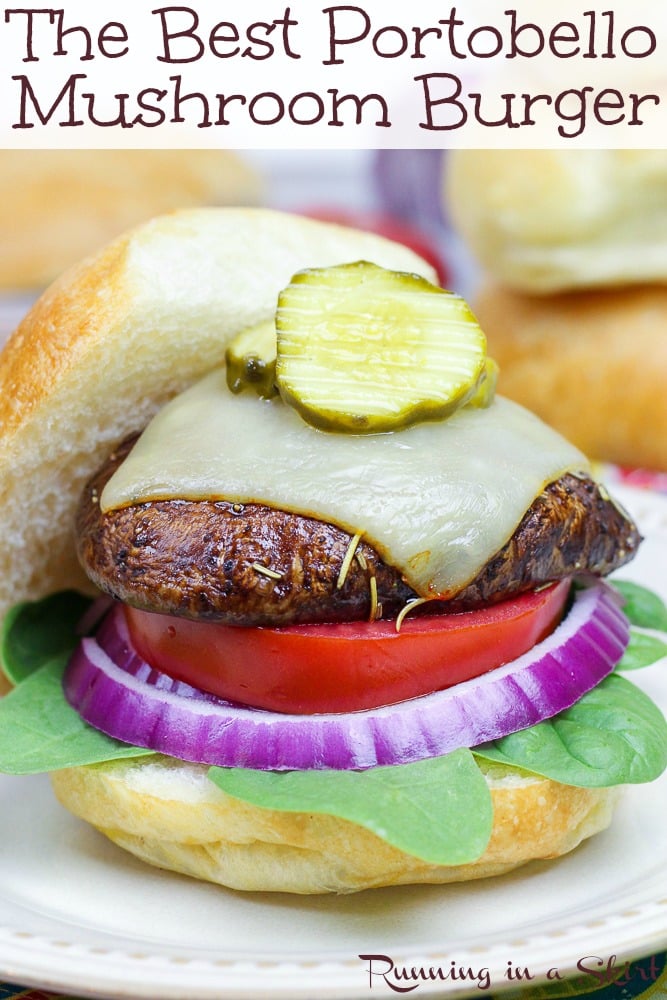 This is the best Portobello Mushroom Burger recipe you'll try all summer! This savory mushroom burger is flavored in rich balsamic vinegar, soy sauce and spices and then grilled or oven baked to perfection.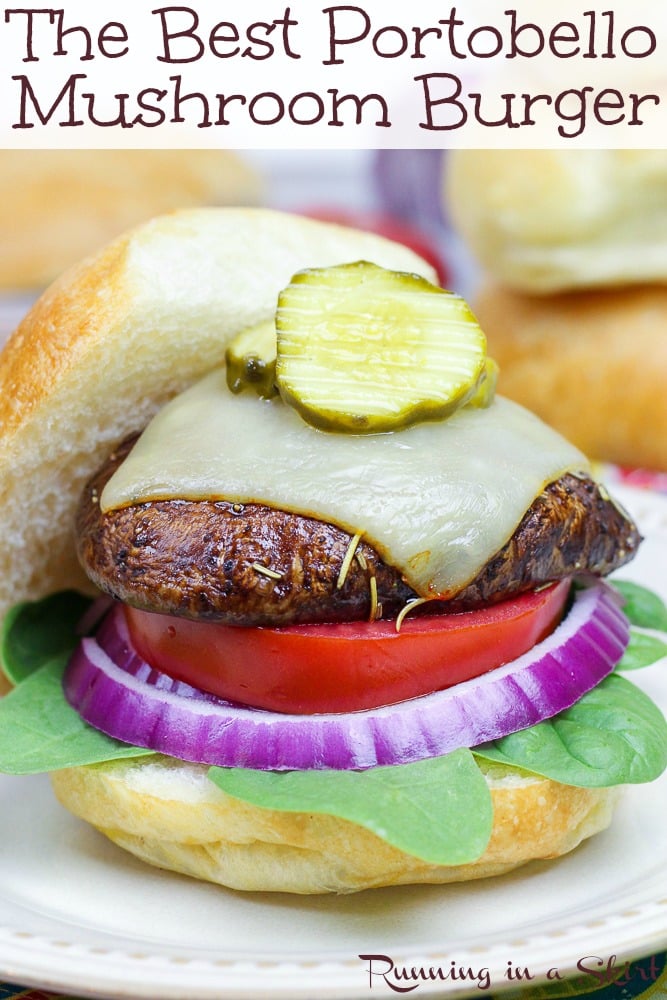 The Best Portobello Mushroom Burger recipe
Summer is here! I'm also looking forward to getting back in the kitchen and first up is my absolutely divine twist on a burger using a big juicy, perfectly marinated portobello mushroom... in fact, this just might be the best Portobello Mushroom Burger recipe you'll ever try!
This recipe is so good because of the simple marinade that includes balsamic vinegar, soy sauce or liquid aminos and the perfect blend of spices like rosemary. My secrets ingredient is adding a bit of classic steak seasoning to the marinade to give it that familiar feeling and taste from meat.
This burger recipe can be left vegan OR you can add a slice of cheese on top. Either way it's one of the simplest ways to have a delicious veggie burger this summer.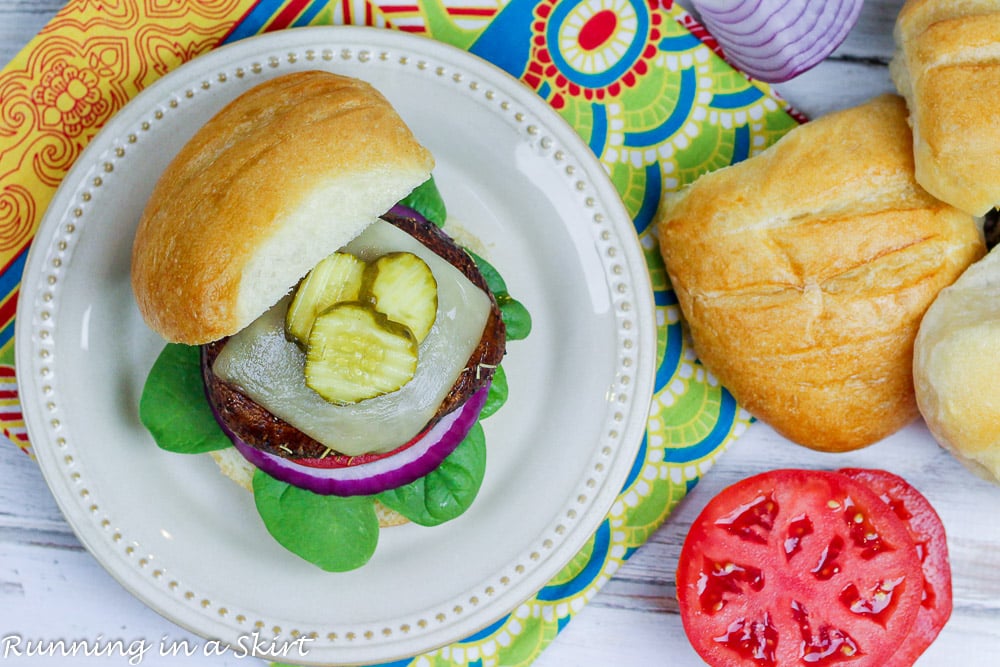 Why You'll Love this Portobello Mushroom Burger...
Since I don't eat traditional burgers, I'm always looking for a fun twist on burgers for an easy cookout. Making homemade veggie-based patties is great, but these burgers are even easier because nature does all the work for you. With its size and meaty texture, the portobello mushroom is destined to go on a bun!
These are a 100% crowd pleaser with meat-eaters and vegetarians alike. I made them for the first time earlier this year and the Hubs has been requesting them since.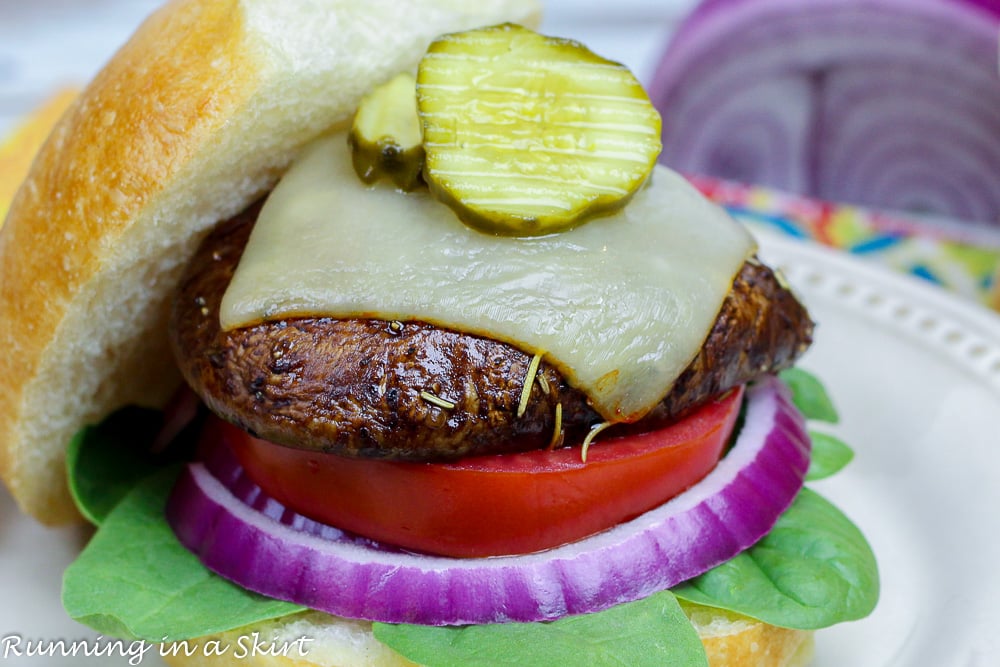 The big portobello mushroom caps are marinated in a steak-like seasoning blend (no meat, of course, just spices.) It's filled with rich balsamic, salty liquid aminos or soy sauce and even a hefty dose of rosemary. Portobello mushrooms taste amazing on their own but in a rich balsamic marinade, they become magical.
It's really the portobello mushroom marinade that makes this dish the Best Portobello Mushroom Burger recipe.
I think that the combination of flavors really makes this dish appetizing to anyone. They are super approachable and make the entire dish taste so rich.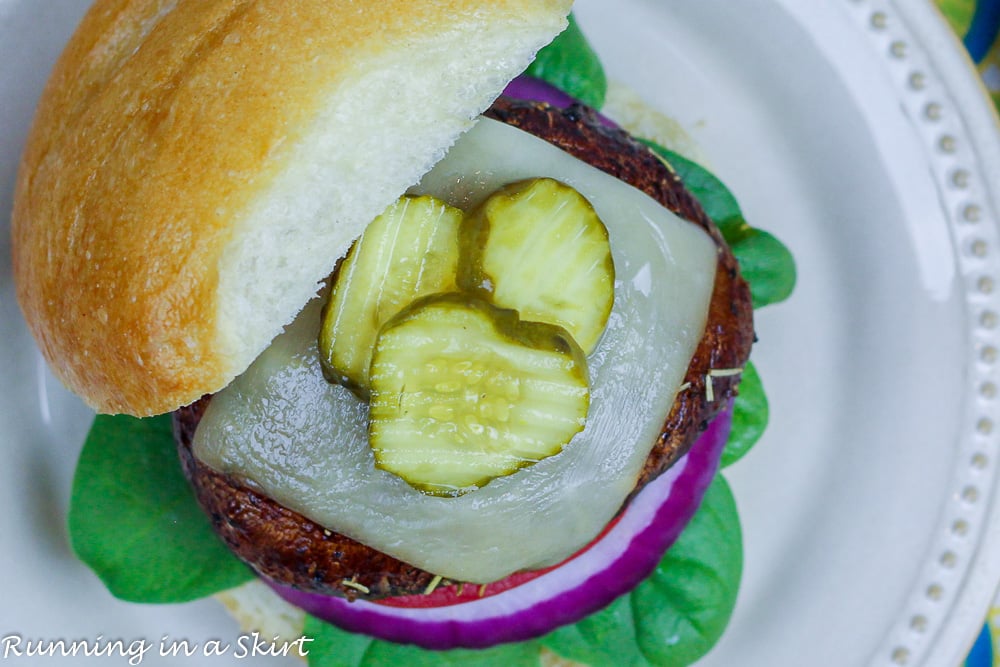 If you are vegan, you can easily omit the cheese and add avocado. Since I'm not, I added a slice of Muenster, which compliments the flavor of the portobello mushroom. Plus I've found non-veg heads are much more likely to like a vegetarian dish if you put cheese on it.
Just sayin...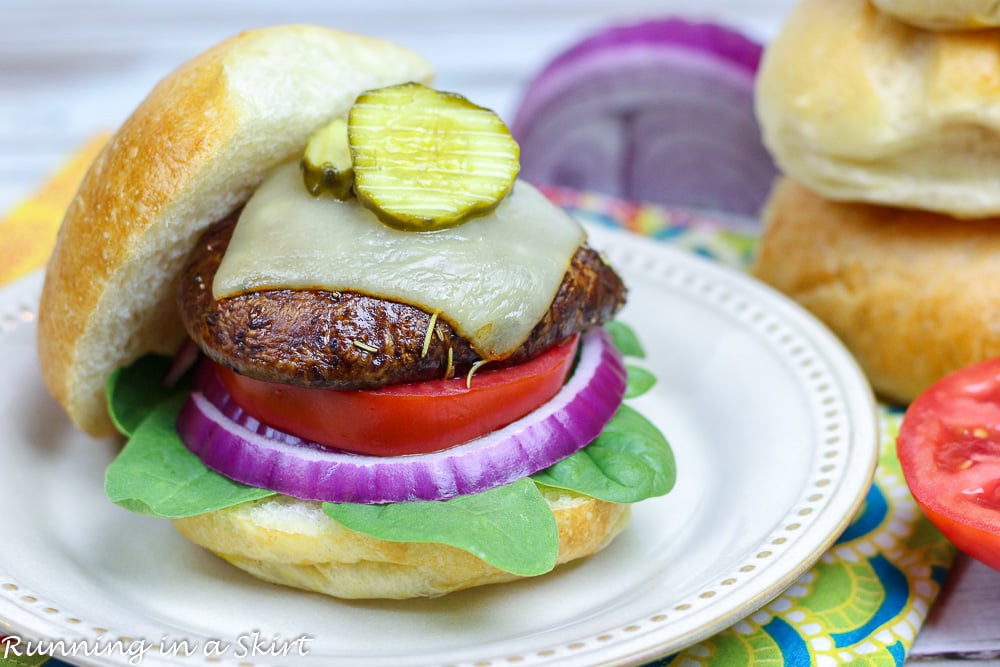 So how do you make zesty vegetarian burgers?
Ingredients:
Portobello Mushrooms
Liquid Aminos or Soy Sauce
Favorite Burger Fixings
How to make the Best Portobello Mushroom Burger recipe...
Clean the portobello mushroom caps.
Mix the marinade.
Marinade the burger in a ziplock bag.
Grill to perfection!
Stack with your favorite burger fixings!
If it's not a good day to grill you can also easily make these on the oven or stove top.
Don't ya' just want to grab one of those fresh pickles? I know I do.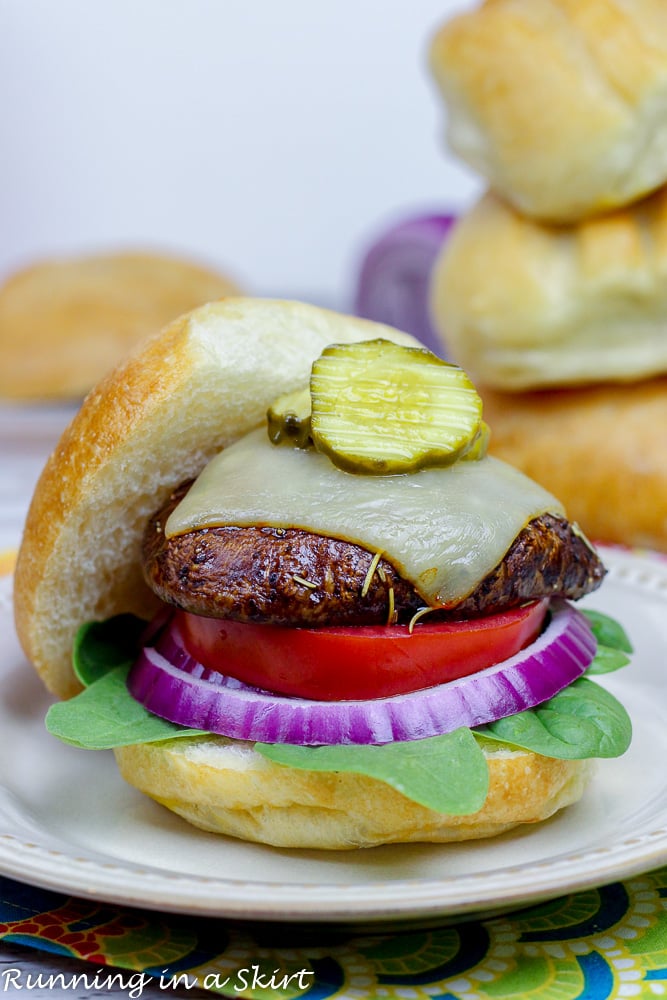 I'll be looking forward to making these all summer and I hope you'll consider adding them to your menu too!
More vegetarian grilling ideas...
Pin for later!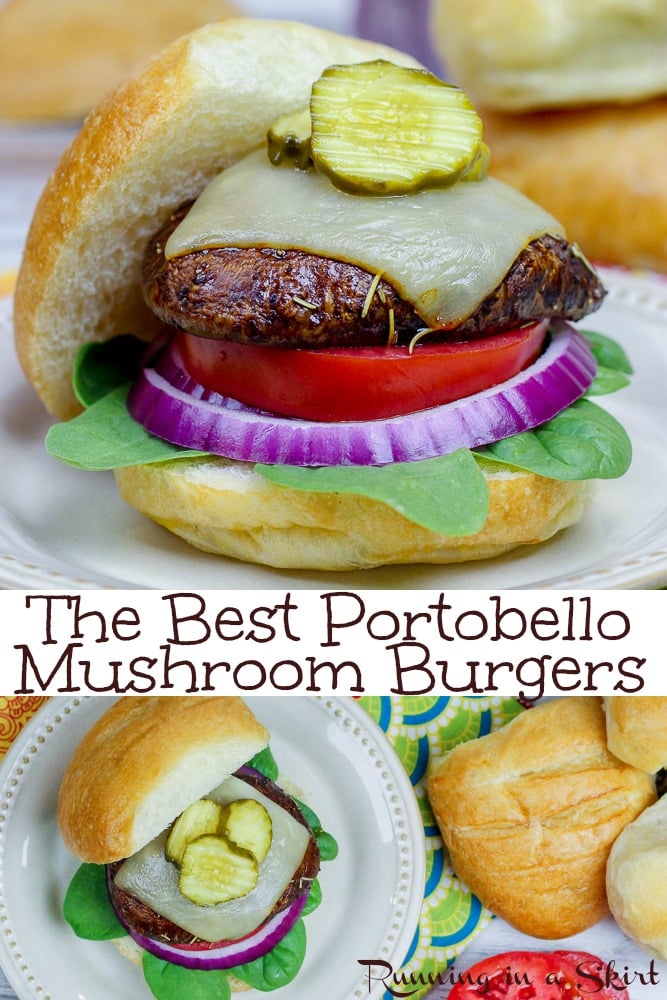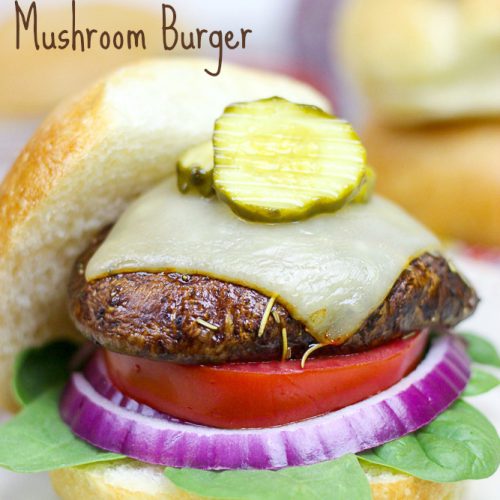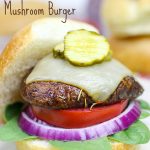 The Best Portobello Mushroom Burger recipe
Grill, Smoke or pop these Portobello Mushroom Burgers in the oven!
Ingredients
2

large portobello caps

,

stems and gills removed
For the Burgers:
2

buns

muenster cheese

sliced tomato

sliced red onion

pickles
Instructions
Remove the stem and black gills from the portobello with a spoon. Wipe the portobello off with a wet paper towel to clean it.

combine the marinade ingredients in a large ziplock bag. Put the cleaned portobello in the bag and place in fridge. Leave for 30 minutes to 4 hours.

To grill: heat the grill to medium heat and cook for 5-7 minutes on each side. Add the cheese immediately after taking off of grill while still hot.

To cook in oven: Preheat oven to 425 degrees. Once heated, cook in a dish for 10-15 minutes or until tender. Add the cheese after you remove from oven while still hot.

To smoke: Smoke for 30 minutes - 1 hour before finishing on a grill with medium heat. Top with cheese right after taking off of grill.

You can also toast the buns on the grill!

Assemble like a traditional burger.
Notes
The 75 calories are just for the mushroom.  Add any bun and cheese you like for the total of your entire burger.  That should be around 300 calories depending on what you pick.
Nutrition
Calories:
75
kcal
Carbohydrates:
7
g
Protein:
4
g
Fat:
4
g
Saturated Fat:
1
g
Sodium:
972
mg
Potassium:
324
mg
Fiber:
1
g
Sugar:
5
g
Vitamin A:
26
IU
Calcium:
10
mg
Iron:
1
mg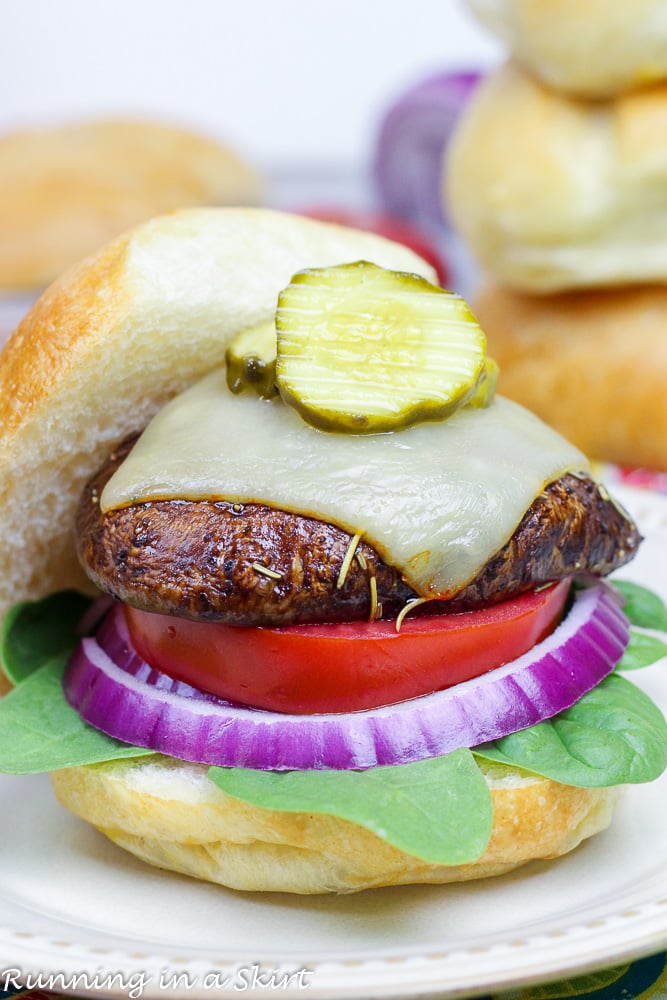 Your turn!
What's your favorite non-meat burger?