I'm taking you back to the Abacos and sharing my the best eats from my recent trip! These are some of the best Abaco Restaurants and eats.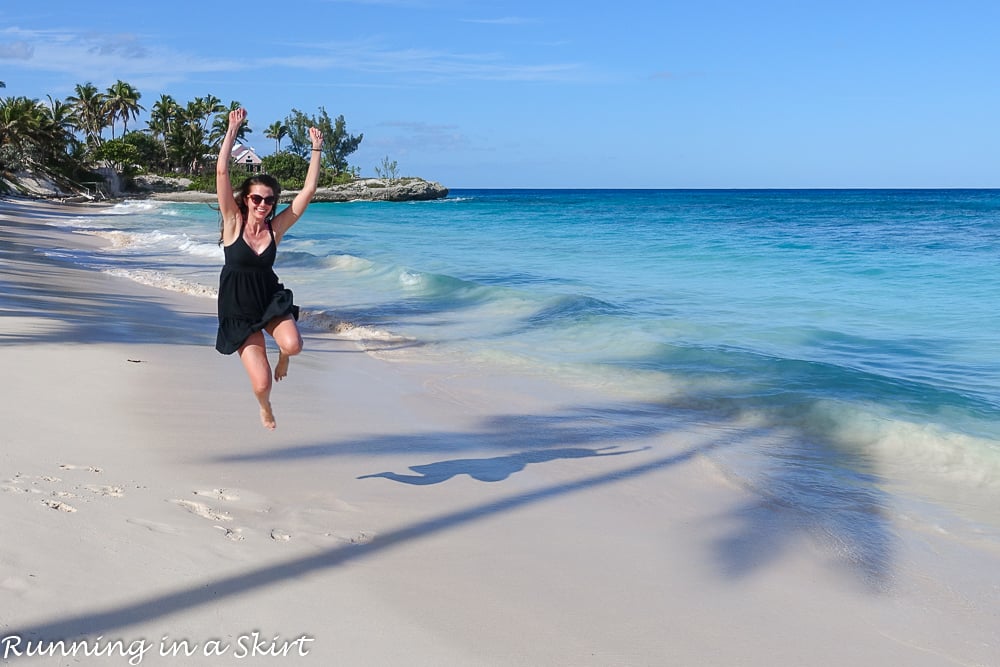 Hello! Hello!
Oh how I'm dreaming of tropical beaches right now! Instead of sharing a new recipe like I normally do on Thursday, I thought I'd take you back to the Bahamas and post some of the fabulous eats I had while I was there. I went to the Abacos (which is part of the Bahamas) in late April and had an amazing time. I've been there three times and it never disappoints.
If you are just reading about my trip... catch up here first if you'd like. I gave some background on the area and my history with visiting it.
Great Abaco Restaurants and Eats
Marsh Harbor Conch Man
Conch salad is kind of like the Caribbean's version of a ceviche. It's fresh conch mixed with citrus juices, tomatoes, onions and peppers. It's incredible.
In my previous trips to the Abacos I wasn't able to find good conch salad, so I did a little research before we left this time and read about the "Conch Man" on Marsh Harbor, which is the main island in the area. It's basically a one man business who gets fresh conch straight out of the ocean and makes the salad at his roadside stand.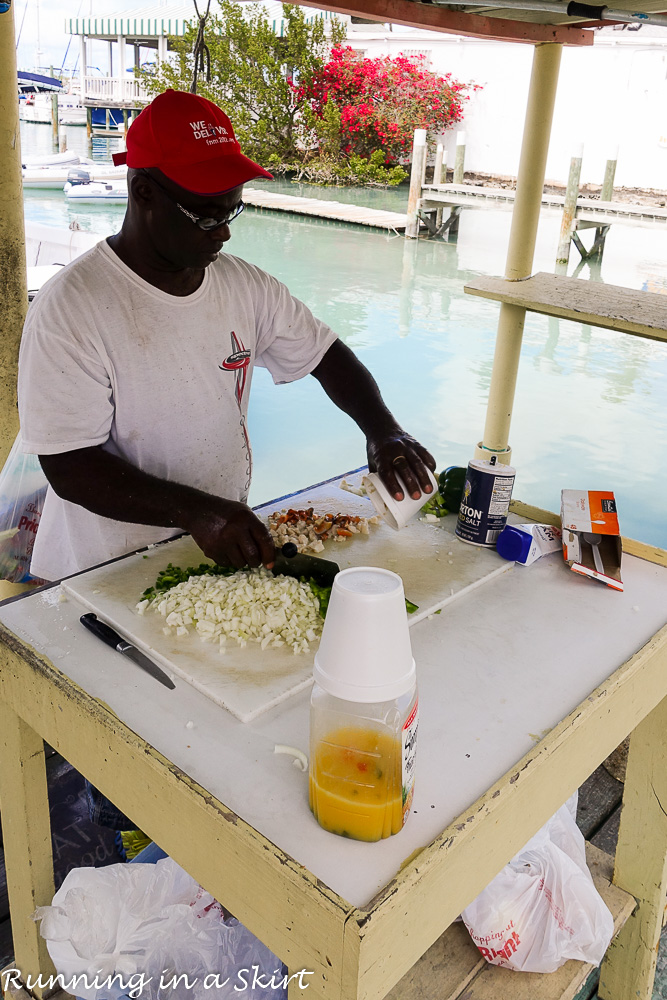 It's nothing fancy, but tastes incredible. The next time I go I'm figuring out how to get this more than once.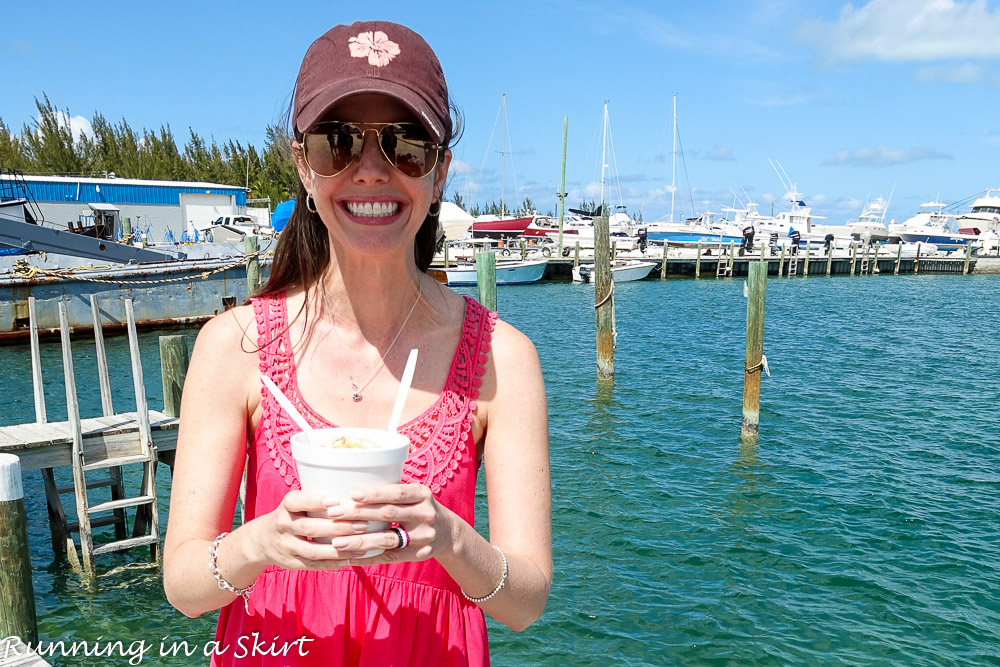 Fresh Fruit
I had a light breakfast most days in our villa with fresh fruit! Just look at this papaya. I dream about stuff like this back in the mountains.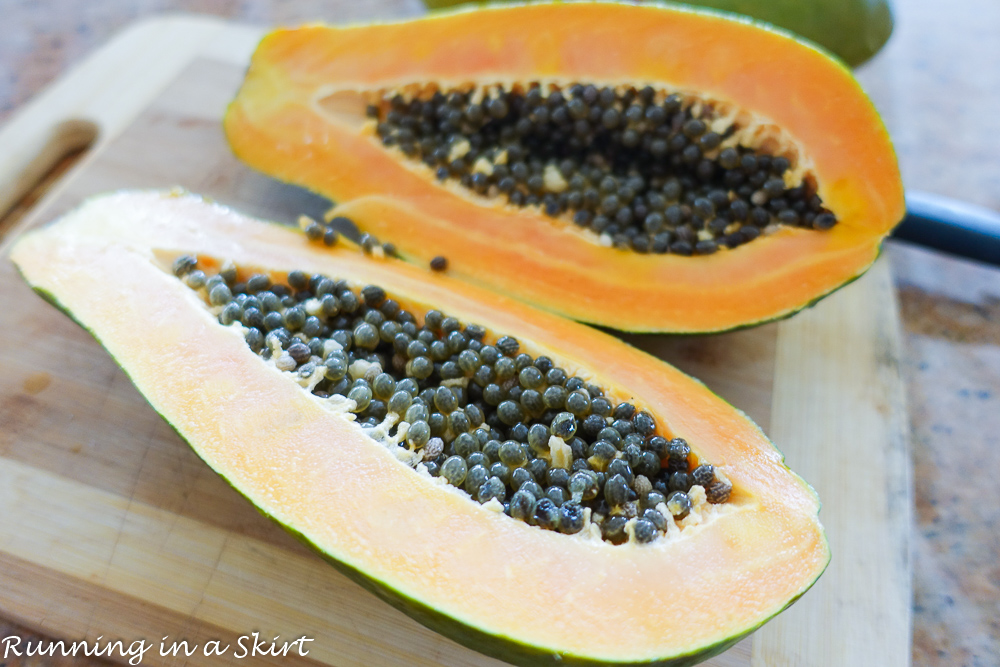 Pete's Pub
I mentioned how much our little group loved this restaurant/bar in my last post, but I just gave you a little teaser with this menu shot. The place may be in the sand, but it doesn't mess around with the food. It's technically on the main island, Marsh Harbor but literally feels like the Bar at the End of the World from the Kenny Chesney song.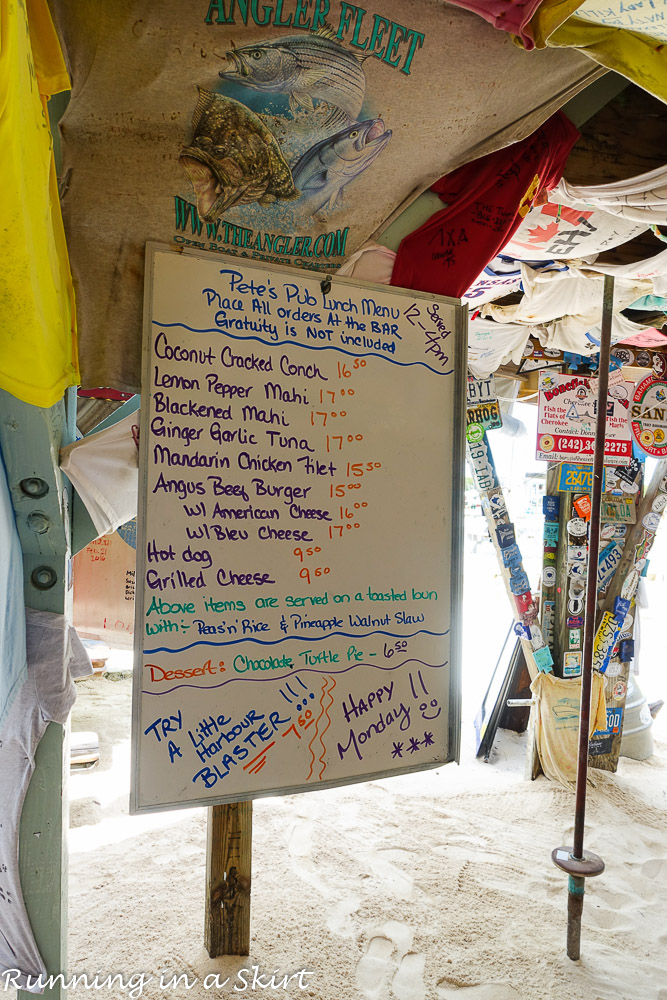 I got this tuna sandwich with fresh soy and wasabi. The sides are peas and rice and slaw with pineapple chunks. It was absolutely divine. This is the stuff foodie dreams are made of.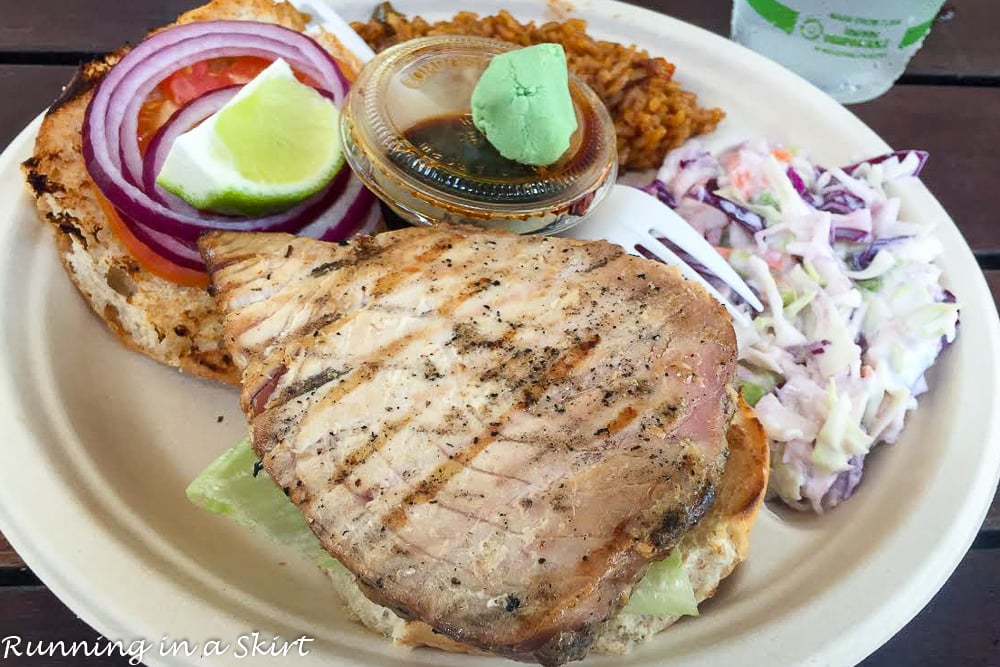 Also, if you happen to go get the Bahamian Blaster. Just trust me :-).
Nippers
Nippers is on New Guana Cay and is a place for a good party. Our group prefers to go on off hours and days and have our own fiesta though. Just check out the views. The Nippers drinks aren't bad either.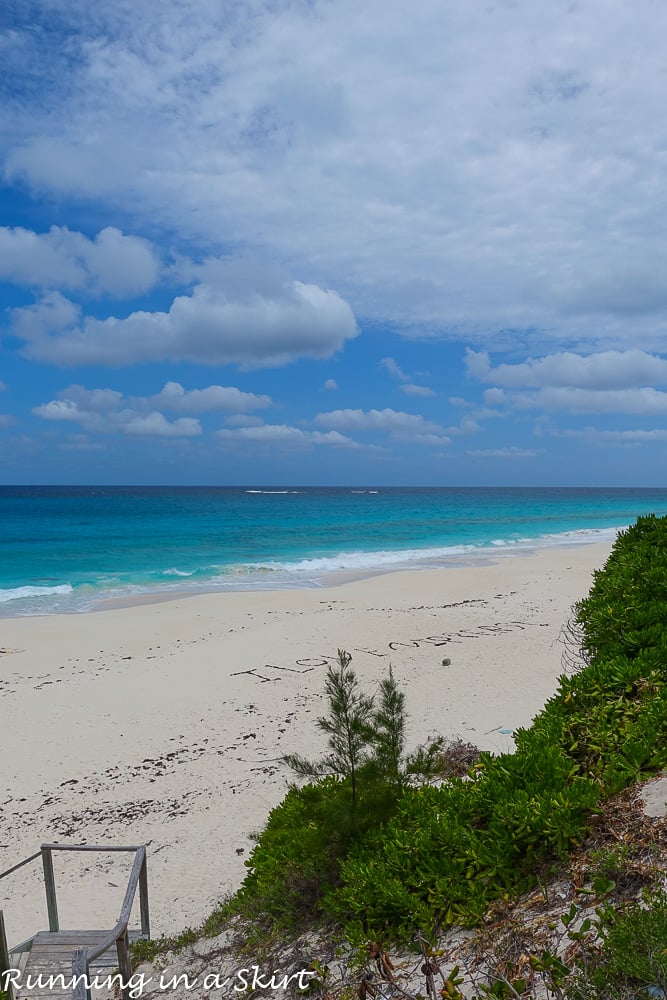 So this meal is hands down more fried food than I've eaten all year, but it was totally worth it!
This was Buffalo Lobster....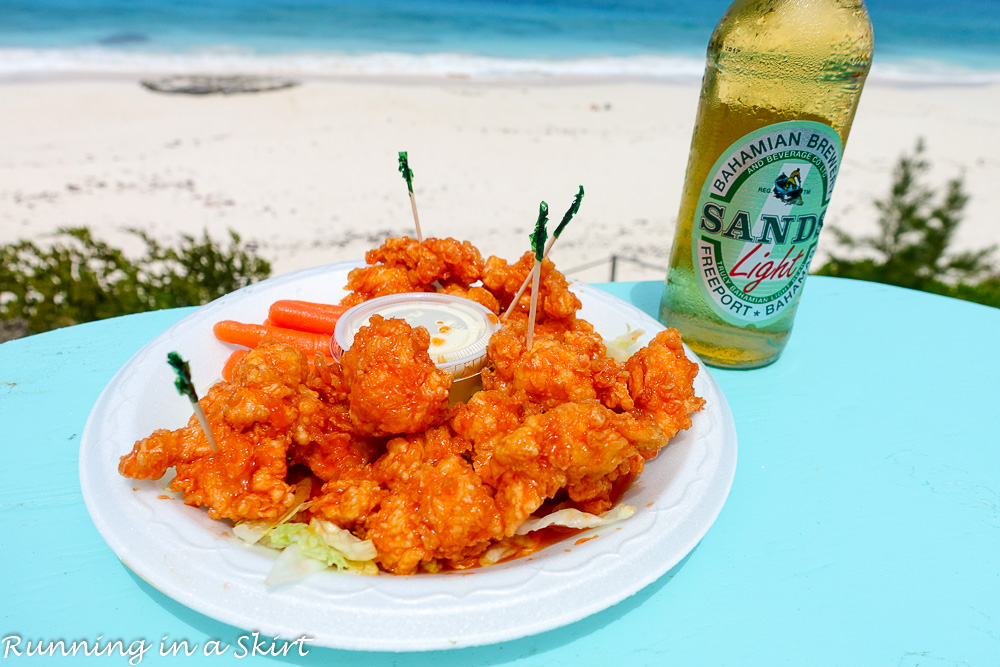 .... and this is classic Cracked Conch.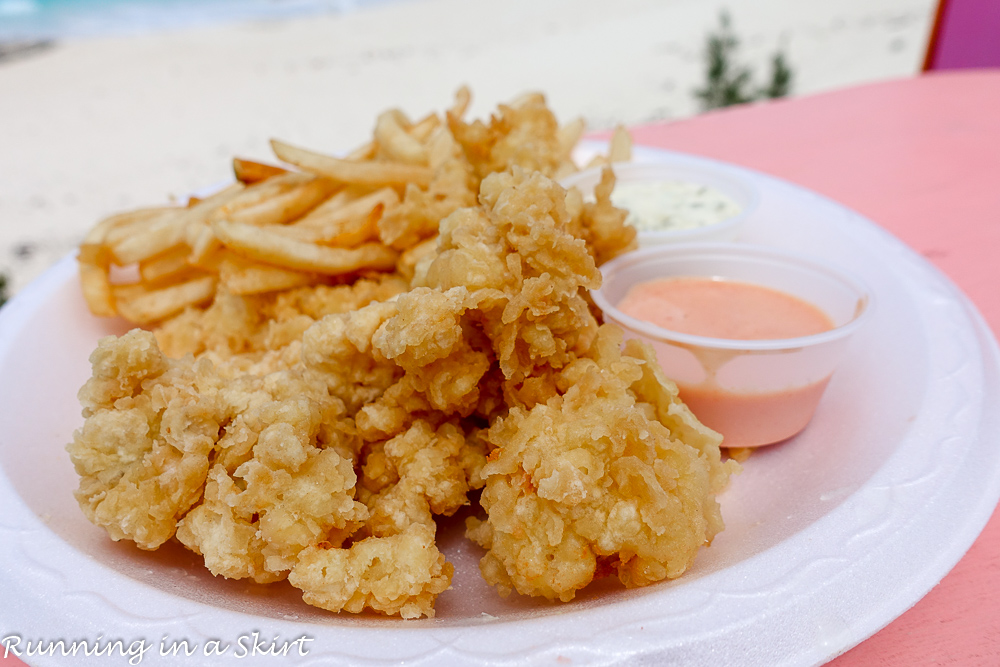 They were a total indulgence, but I enjoyed every bite.
Hope Town Inn & Marina
We actually had one day on this trip that got completely rained out. We heard locals say that it felt like a tropical storm because it was so bad!
Luckily our hotel had a great restaurant so we hunkered down for the day playing cards and games. A few of the highlights was the Apple Cinnamon French Toast...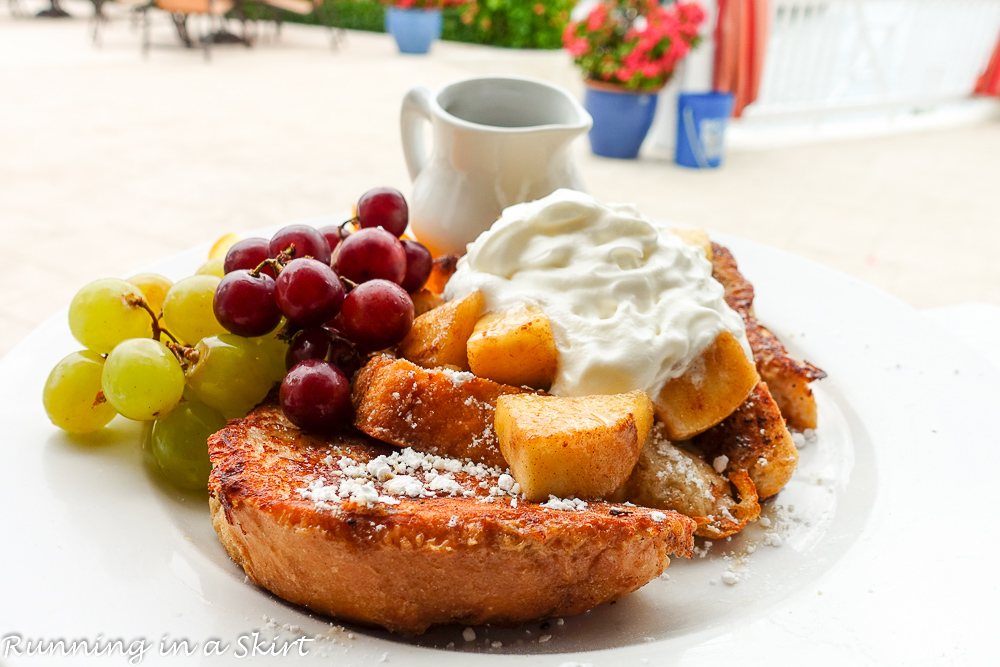 and Classic Conch Stew and Johnny Cakes.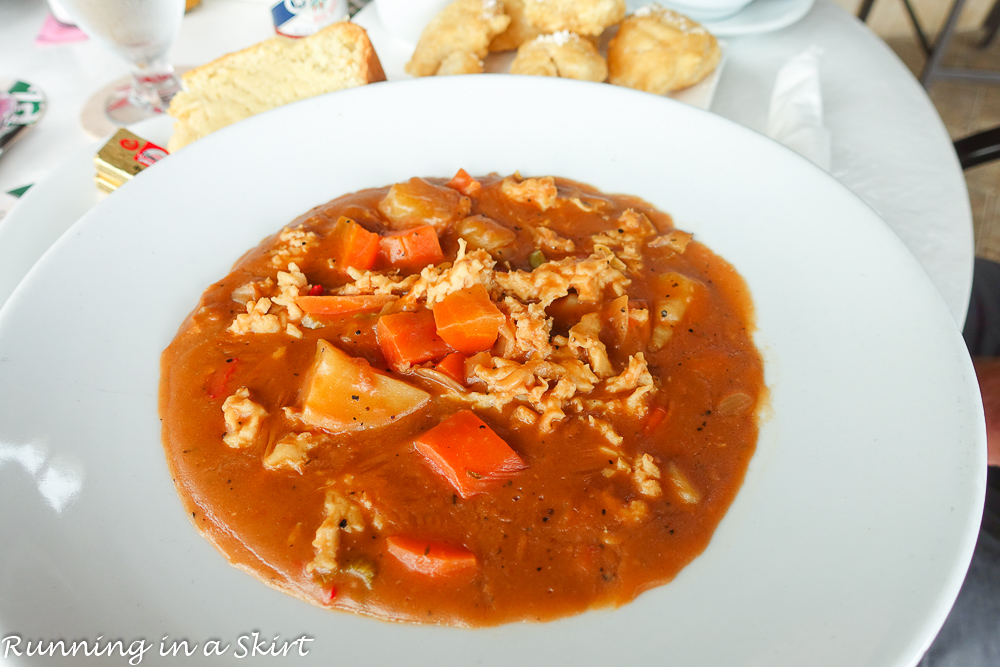 My favorite was these fish tacos!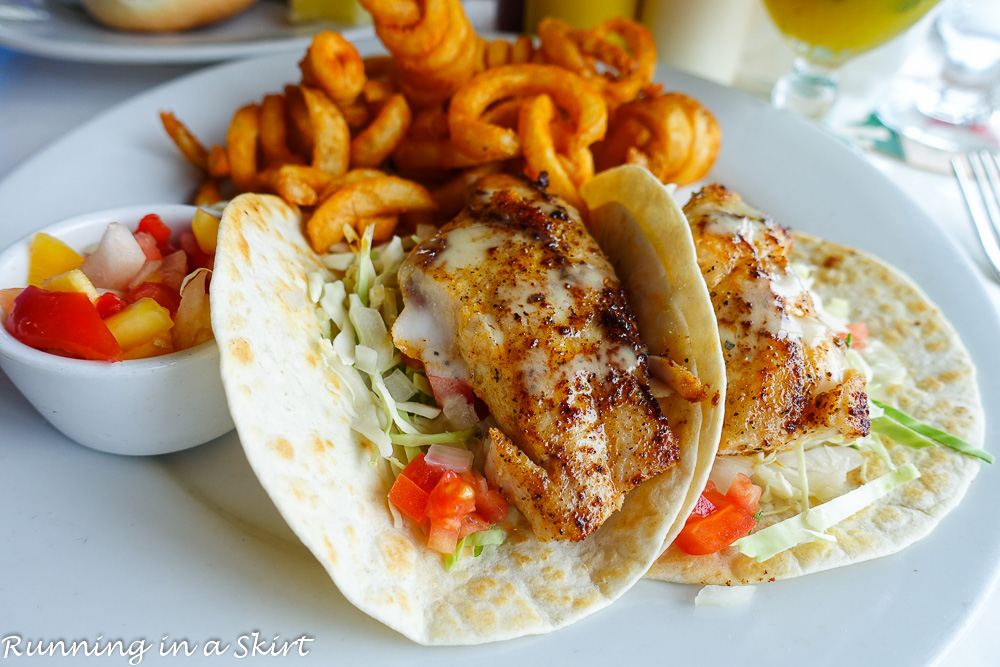 And this fish sandwich tasted really good too.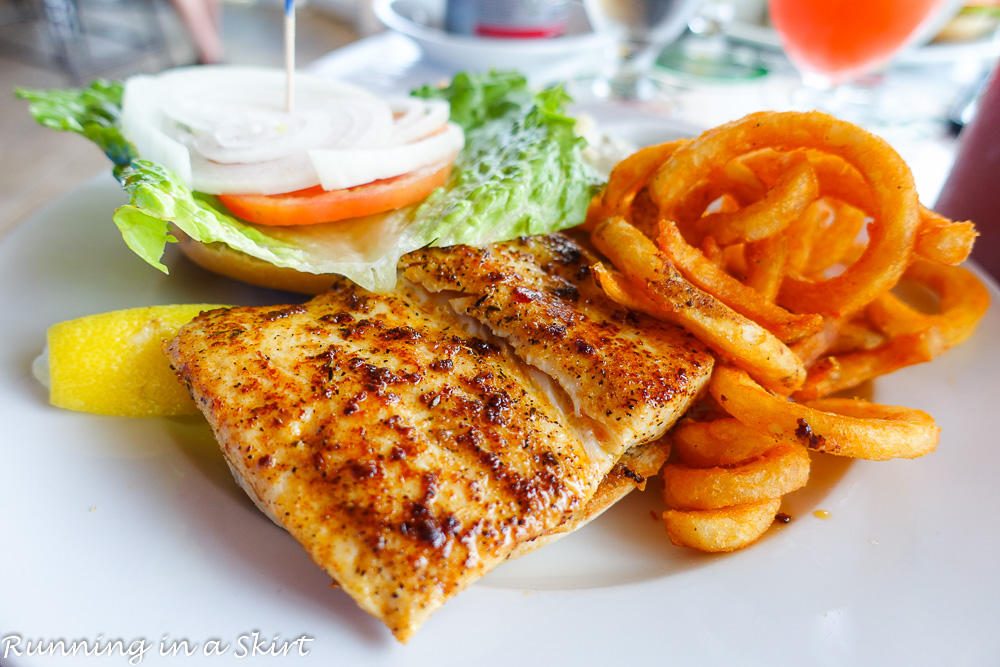 Sip Sip Wine Bar
Elbow Cay (where we stay) has a small collection of about 8 really cute restaurants. The entire place is pretty remote, so the choices are limited but that's part of the charm as well!
On this trip we went to the wine bar for a quick meal! I got a Bahamian Cheese dip....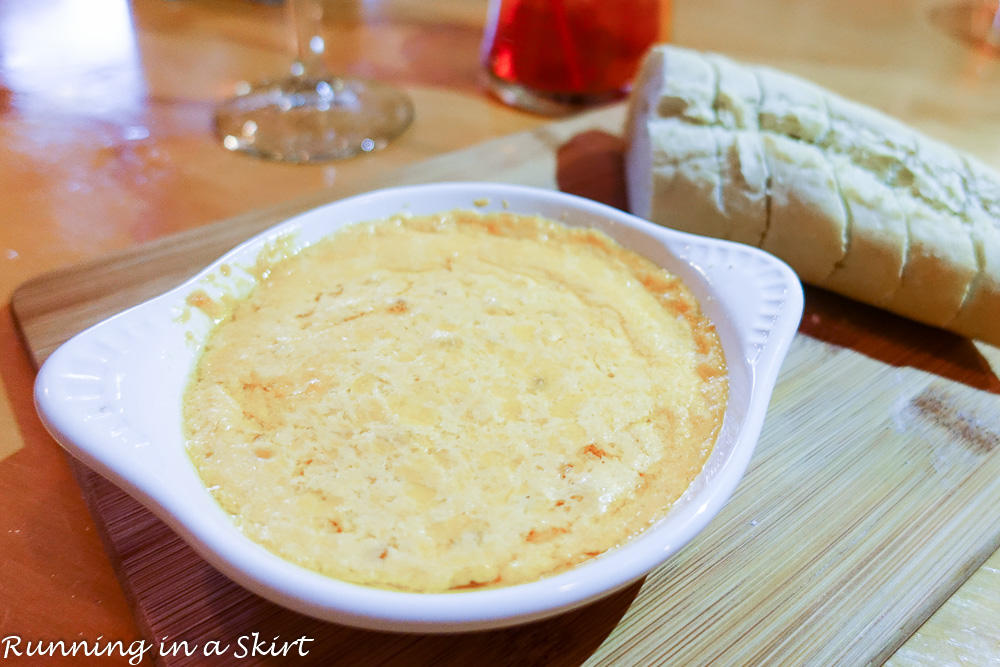 ... and a Beet and Goat Cheese Salad. I was dying for something green by this point! lol!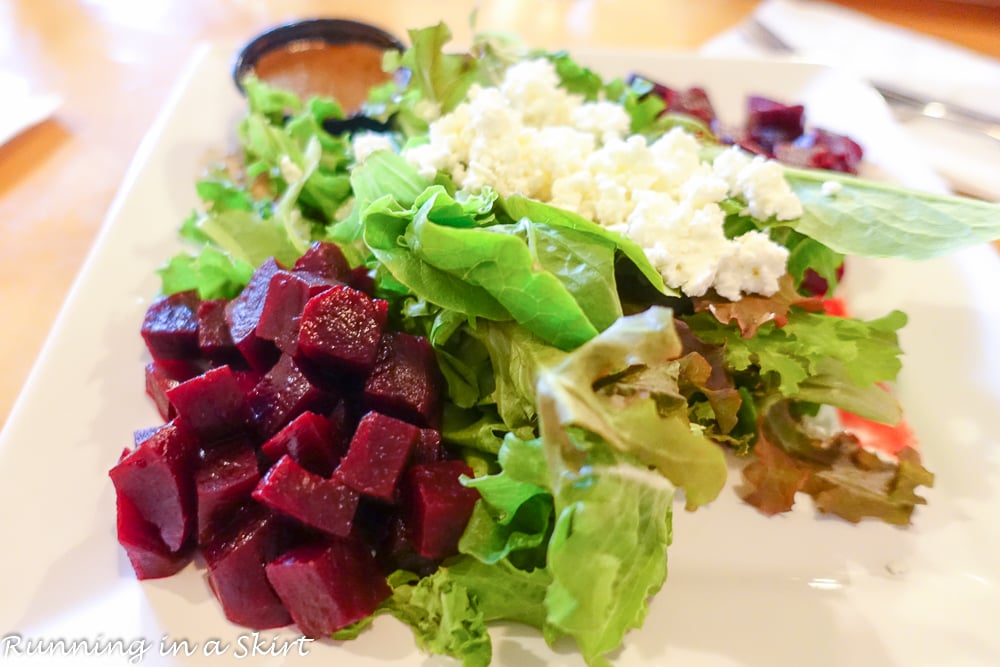 Firefly Sunset Resort
Firefly Sunset Resort is one of the two nicer restaurants on Elbow Cay. I love the vibe and sunsets there.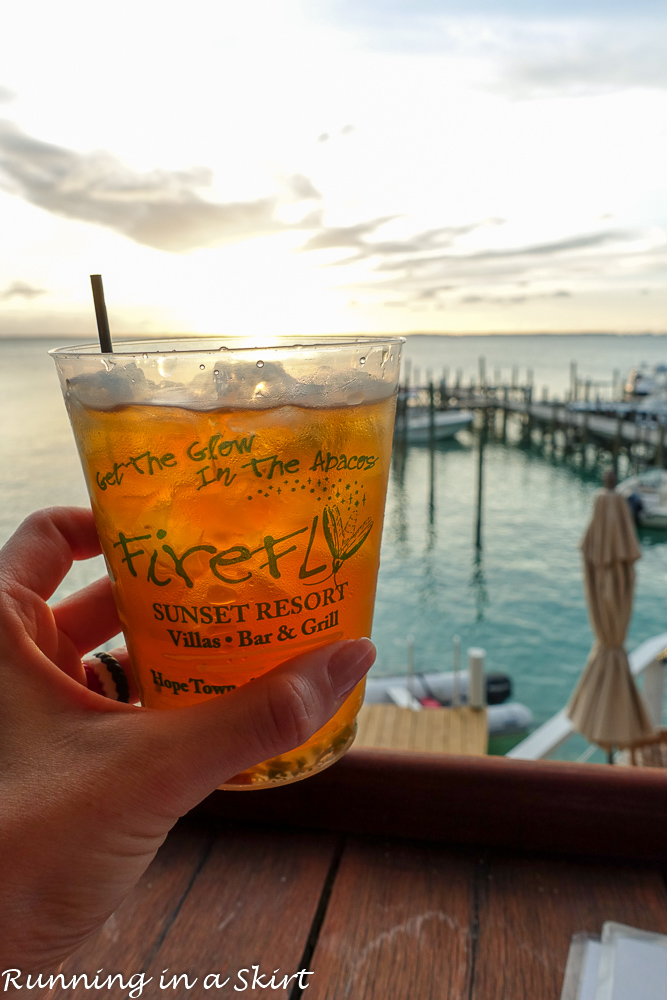 The first time we ate there I got Carribean Lobster, which was so sweet! It was a little dark so the photos aren't the best but you get the idea.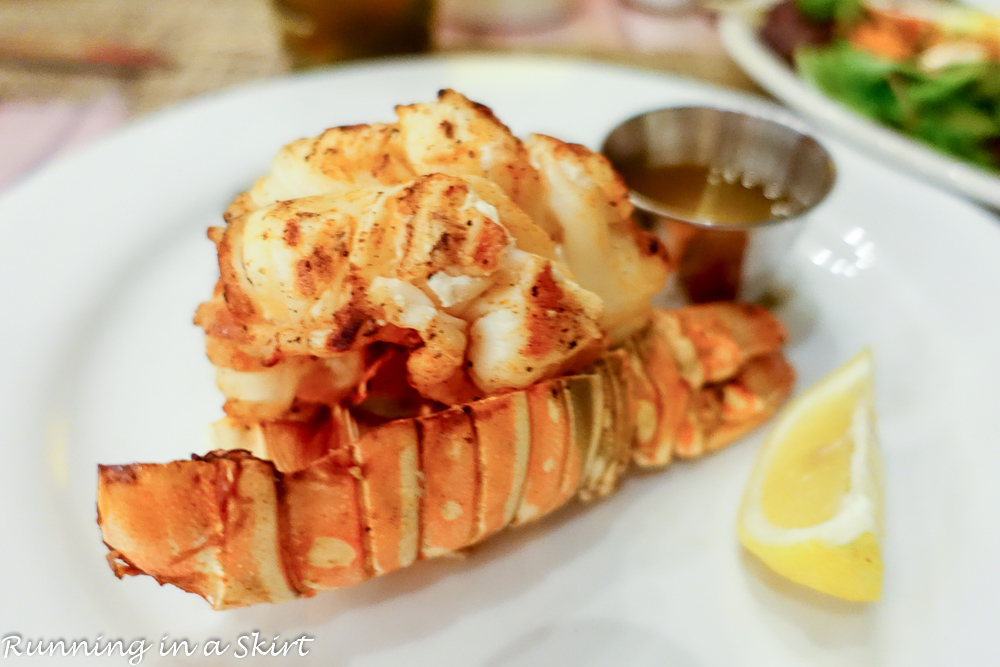 The second time we ate there was on our last night and by then I was stuffed so the Hubs and I shared some Conch Chowder...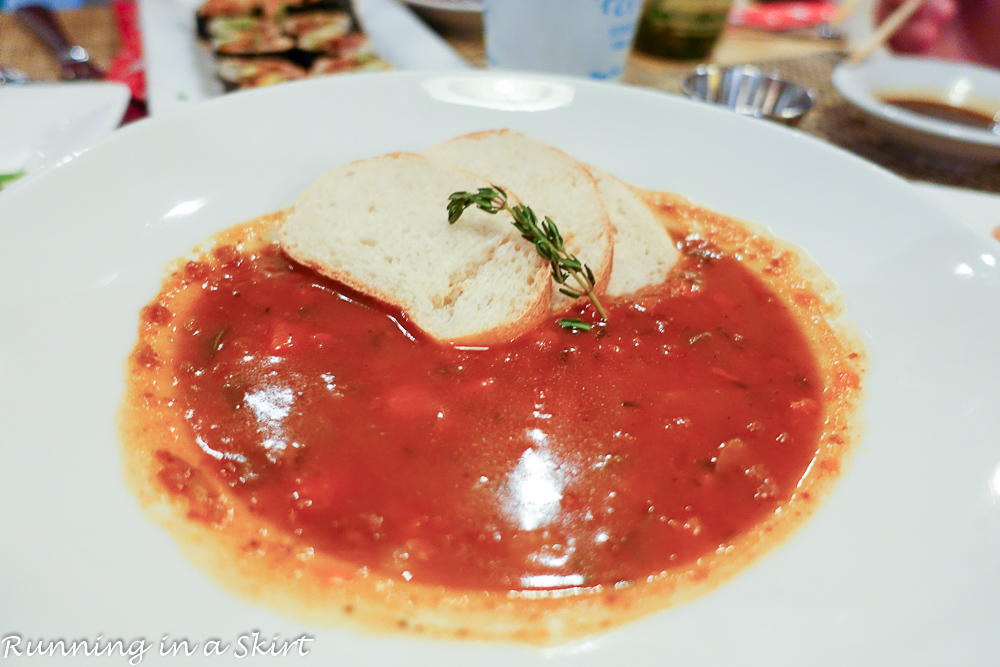 ... and a sushi roll. It was sushi night so we couldn't resist.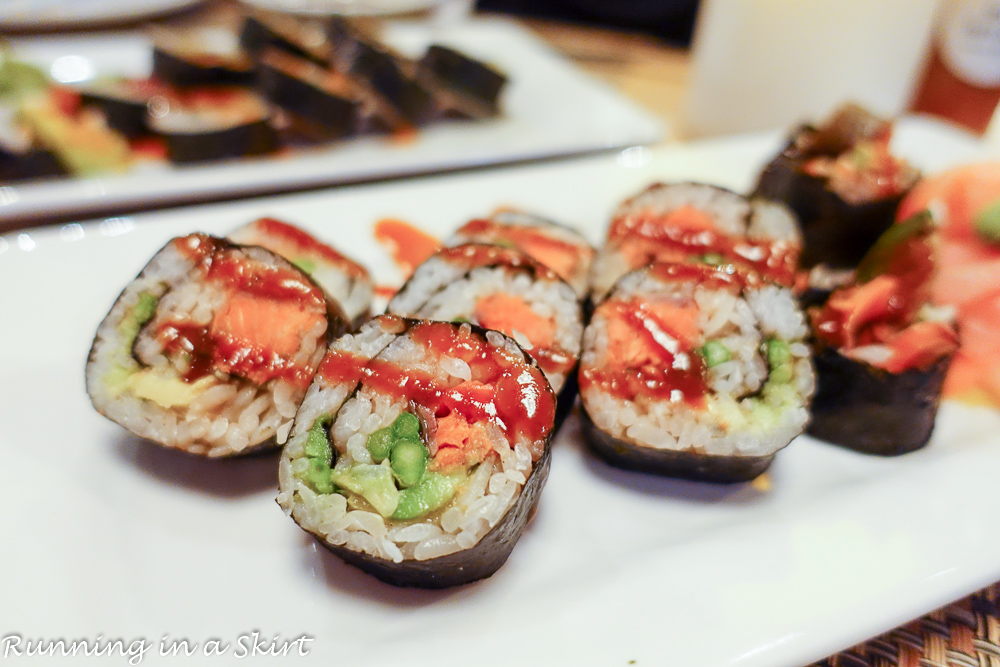 And every good vacation needs dessert! How about a slice of key lime pie?!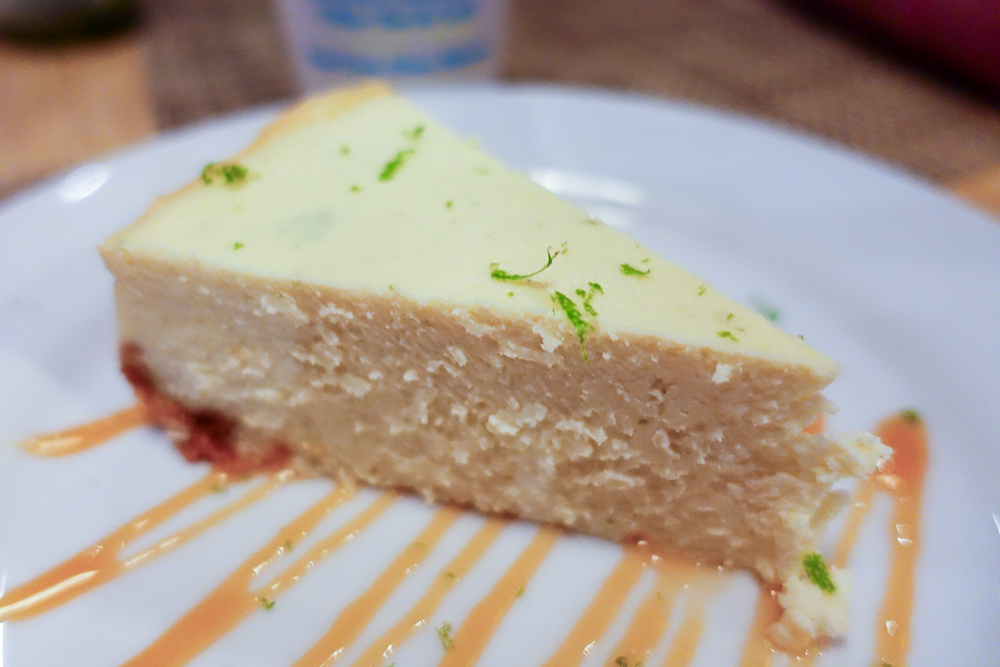 Other favorite Abaco Restaurants
A few of my other favorite Abaco restaurants are Dock and Dine and Abaco Inn! I actually think Abaco Inn is the best place to eat on Elbow Cay, but it's so dark that the photos always turn out awful. When you go get the lobster and make sure to watch the sunset from across the street.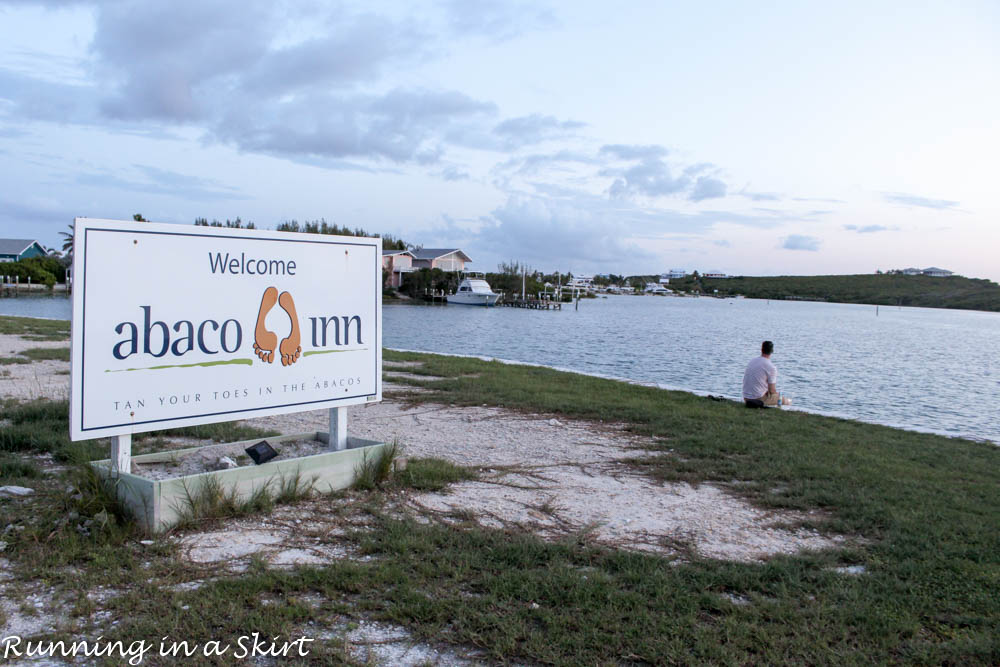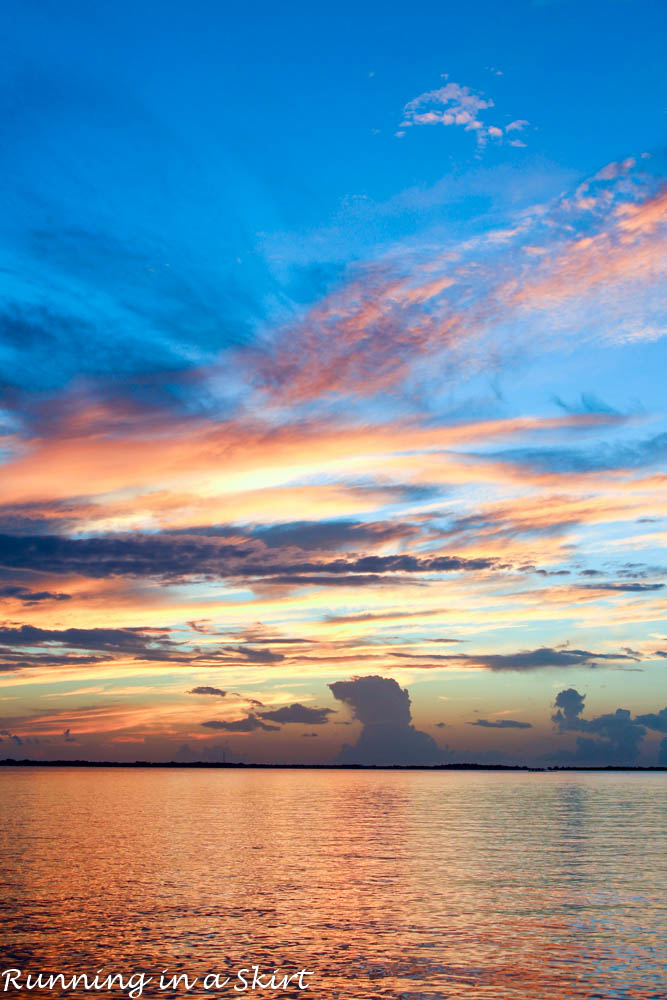 If you are heading to the area I would add both to your list though! Here are a few eats from my last trip to Dock and Dine.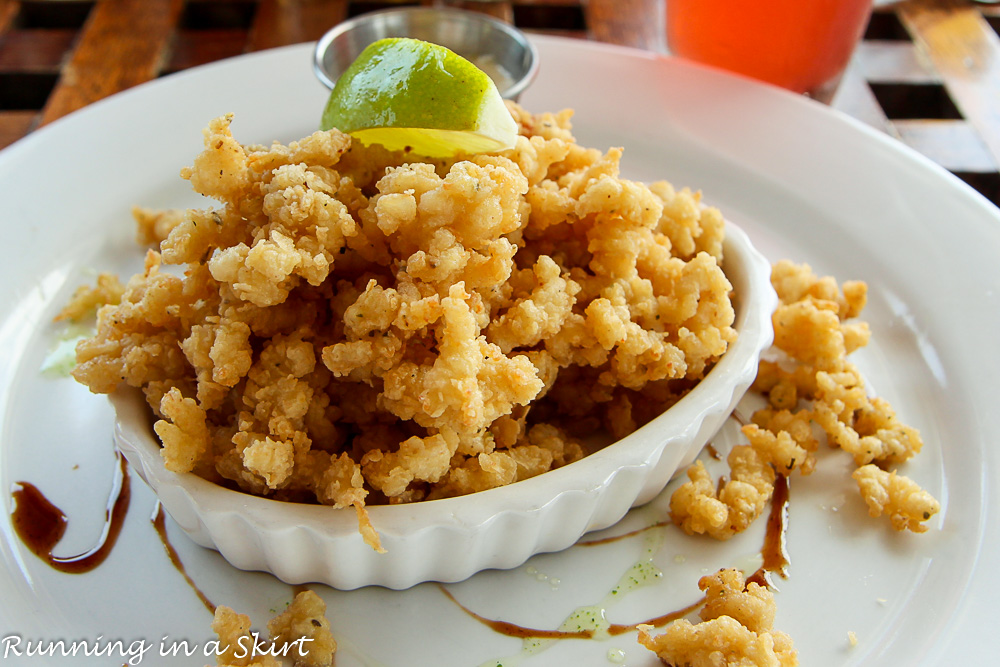 I also really enjoy the Hope Town Coffee House on Elbow Cay. They have great coffee, tea and breakfast items.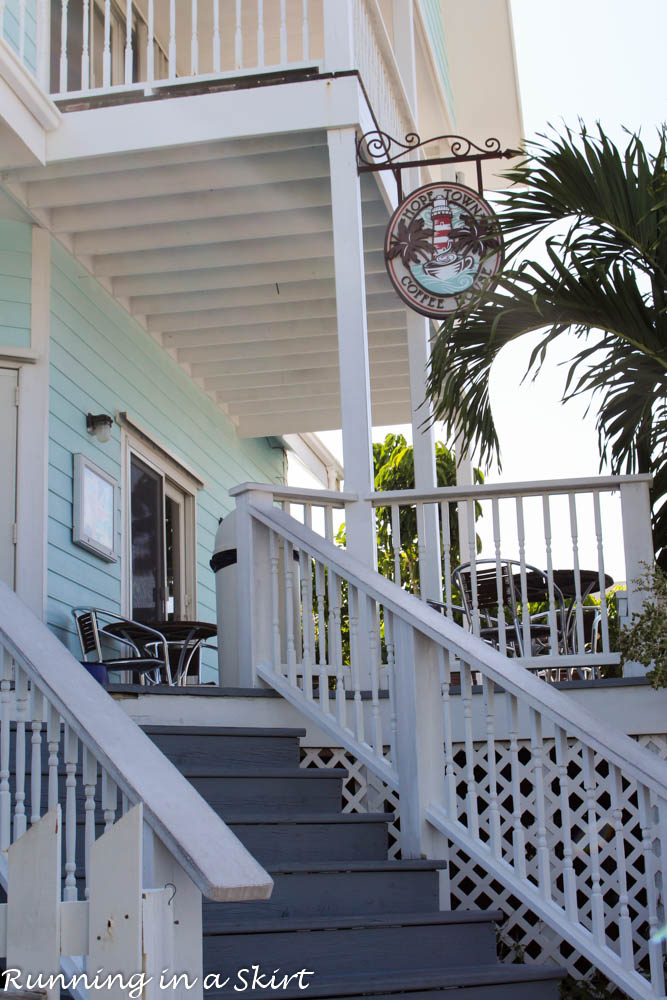 A few I haven't tried yet are Harbour's Edge, Sea Spray and Cap'n Jack's, both on Elbow Cay! They both have pretty water views. Other places to try are Lubber's Landing and Cracker P's which is on Lubber's Quarters. Hopefully next time we can make it happen.
On a side note, I did notice that this would be a hard place to eat if you were a true vegetarian or vegan. Since I eat seafood and fish, I never had trouble finding something on the menu... but some places didn't have anything if you didn't eat that. And yes, I came home and ate greens and quinoa all week when I got home! And yes, they also tasted incredible.
Want to read more about the Abacos?
Like this post about Abaco Restaurants? Find it later by pinning this to your favorite Pinterest Board.

Thanks for stopping by today! Tomorrow I'm sharing another great cold shoulder pink shirt for Fashion Friday!
Your turn!
What would you eat first?
Who wants to go back?
I'm linking up this post about Abaco Restaurants with Thinking Out Loud Thursday and Marvelous Monday.