Happy Fashion Friday!
I hope everyone had a great week. Mine had some ups and downs. I got sick on the last leg of my New York trip and have been nursing it all week. I went to the doctor yesterday and am hoping I'll start feeling better today. I haven't actually gotten a virus/cold in several years, so I guess I was long overdue but it was a major bummer to get sick on my trip. I had forgotten how much it stinks to feel sick!
I've had some fun posts on the blog this week including a new video (Cauliflower Potato Salad!) and my Bahamas Recaps. Here are the links in case you need to catch up!
Fashion Friday
I went into Marshall's the other day to pick up something for the Hubs and this adorable shirt was sitting on the end of the isle calling my name. I shouldn't be surprised though... I can't seem to walk into that place without walking out with something good.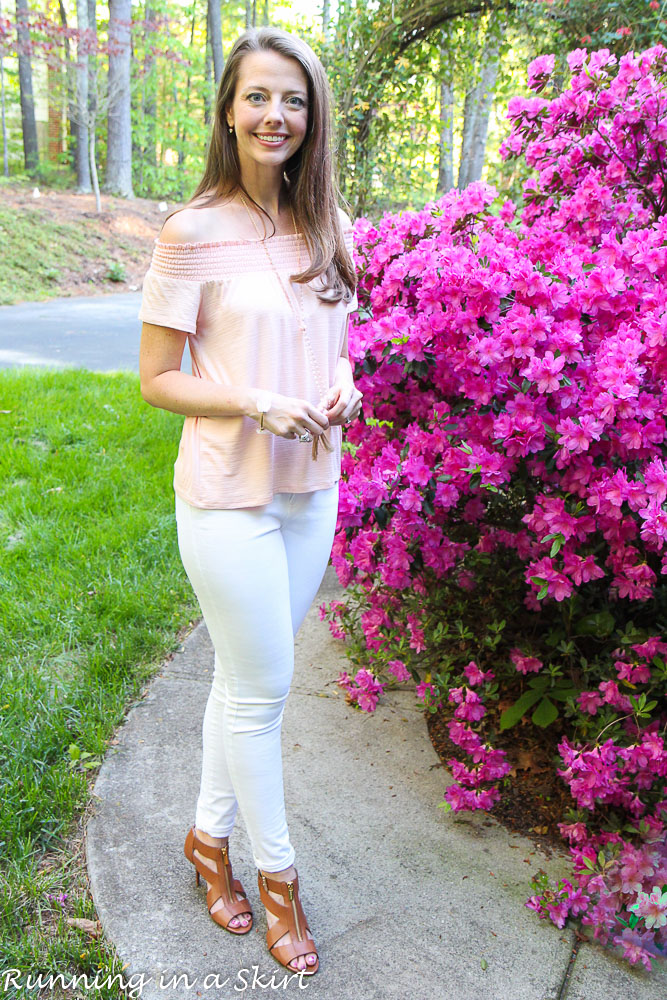 I'm normally drawn to wearing summer dresses but this fresh shirt grabbed my attention! The pale pink is just about perfect. This color is so hot this year.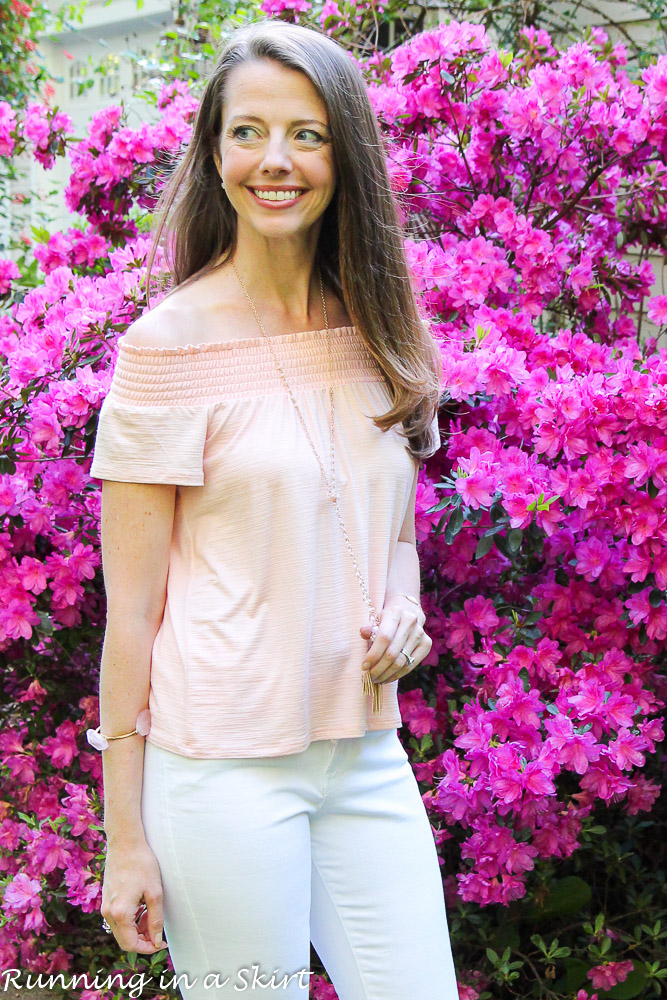 I paired it with my new white jeans, heels and some perfectly matching jewelry I already owned and I instantly had a fresh look for spring. This off the shoulder look is perfect for this year and would look great at a party or dinner.
You could also dress this shirt down with shorts and flats later this summer.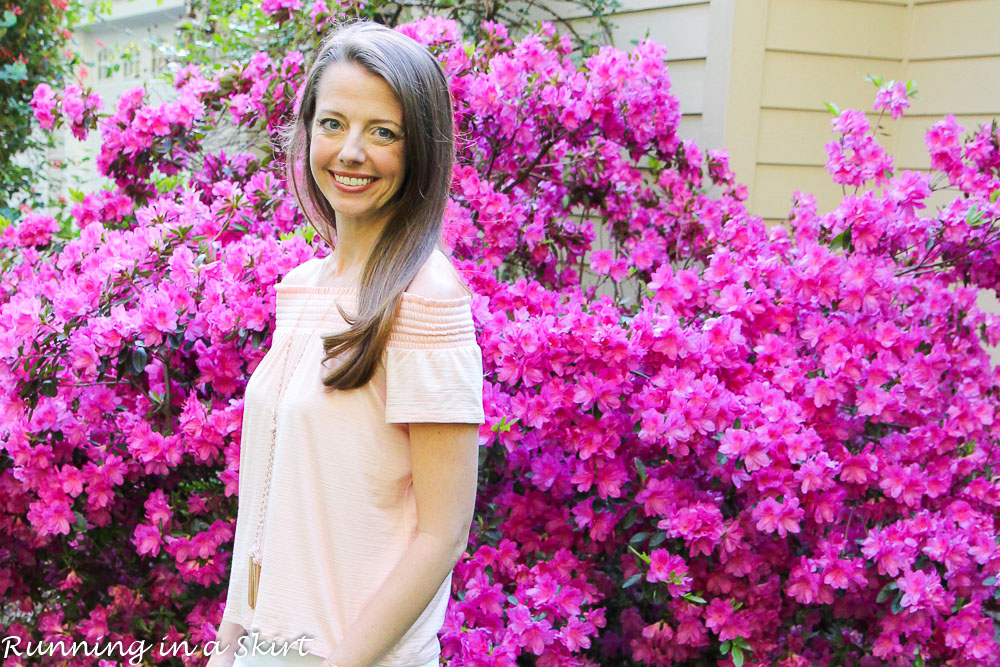 And yes, that's my crazy gorgeous azalea. I've let it almost grow wild for years and it brings me so much joy.
And so does this outfit! I hope it's given you a little fashion inspiration for the week.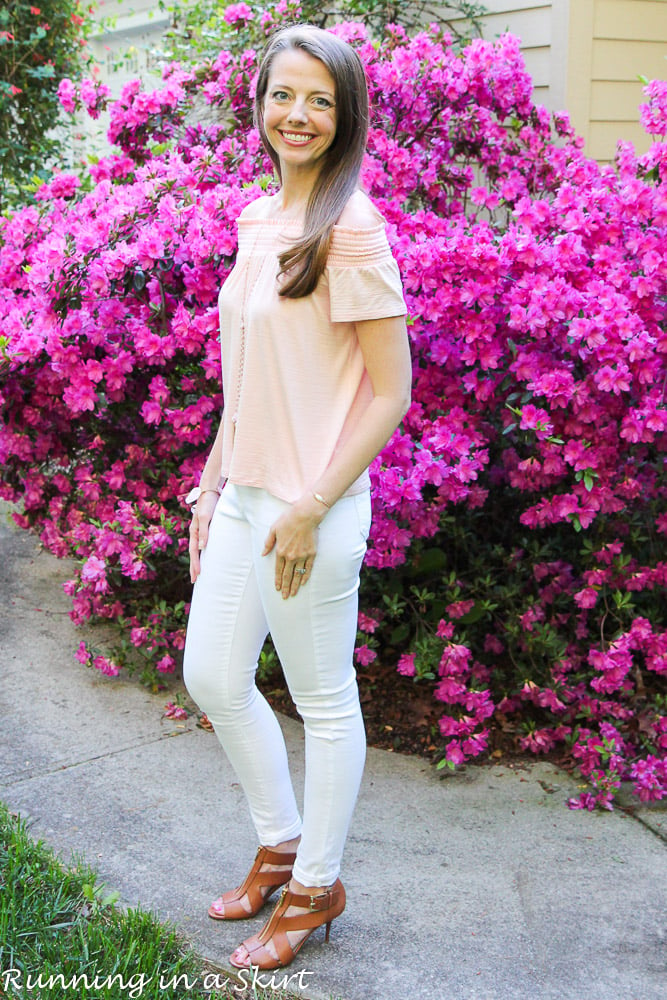 I couldn't find this exact shirt online, but I found three VERY similar and three different price points depending on your preferences and budget. Happy Shopping!
Shop the Look:
Shirt: Marshalls, similar HERE <--- ShopBop under $25!, HERE <-- Rebecca Minkoff or HERE <---BP Nordstrom
White Jeans: Old Navy
Heels: Michael Kors (old), similar HERE
So nice to see you today. Have a great weekend and come back Monday. I'll be sharing what I've planted in my garden this year.
This post is not sponsored, but contains affiliate links. I do make a small commission for clicks and purchases. It cost you nothing. Thank you for supporting Running in a Skirt.
Your turn!
What are you doing this weekend?
I'm linking up with: Nicole for the Fit and Fashionable, Jolynne Shane for Fashion Friday, Turning Heads Tuesday. Thank you so much for the lovely linkup ladies