Get sweaty with my Kettlebell Full Body Workout!
I'd like to thank Mirum Shopper for sponsoring this post with a fabulous kettlebell full body workout. As always, I only post about things I think you will enjoy hearing about and all opinions are my own. Thank you for supporting posts like this that allow me to publish Running in a Skirt for free daily.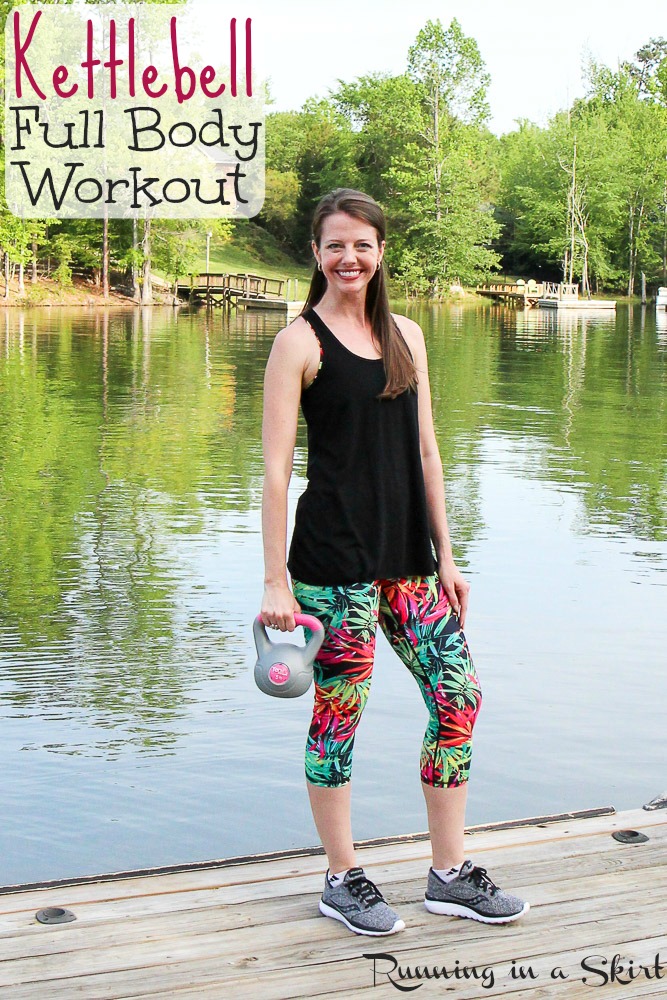 Hi guys!
With warmer weather here, I've been taking my workouts outside! I can't get enough of being in nature this time of year, even if it means getting sweaty. One thing I've been doing is this Kettlebell Full Body workout. A kettlebell is an easy, portable fitness accessory to take with you if you want to add some weights to your workout, no matter where you are. If you don't have any, here's a great set!
The kettlebell is so fabulous because most of the exercises you do with it are full body, meaning you get more bang for your buck! It allows you to get in a great workout in less time. It's also a unique way to break out of your workout routine and keep your muscles engaged.
The one good thing about this workout is it's sure to make you sweat... especially if you are doing it in 85 degree weather by Lake Murray in Columbia. Here are the moves to get you started and some suggestions to keep that sweat at bay!
Kettlebell Full Body Workout

20 Overhead Swings
Squat with the kettlebell between your legs. Using your core, hips and quads swing the kettlebell overhead.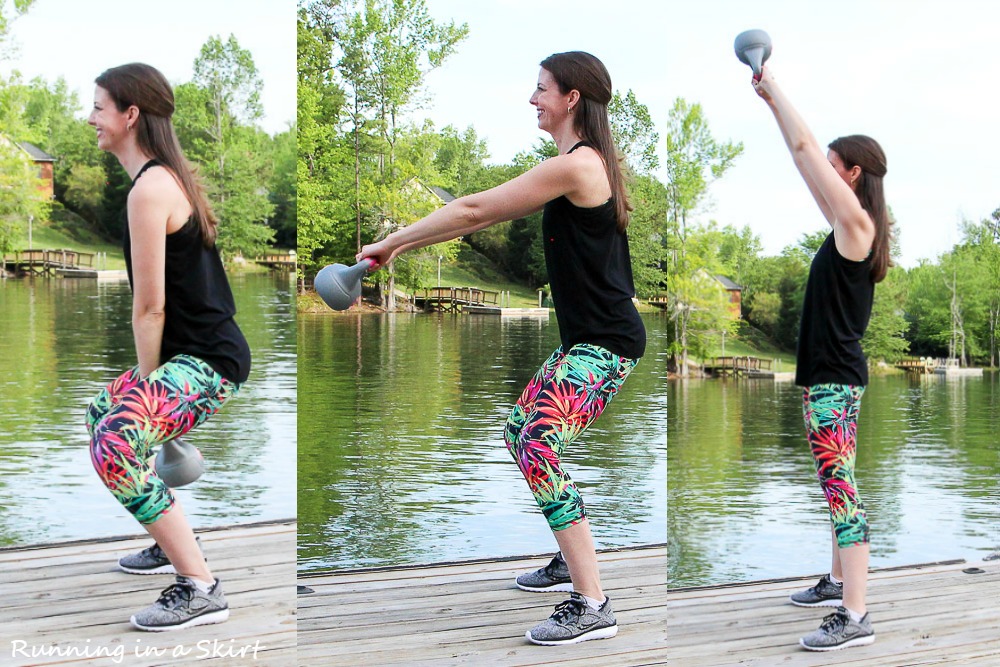 20 Plie Squats to Overhead Raises
Squat with your legs turned out until you reach 90 degrees, careful to not allow your toes to go over your knees. Raise up and lift the kettlebell overhead. Make this move even better by exploding into a jump out of the squat.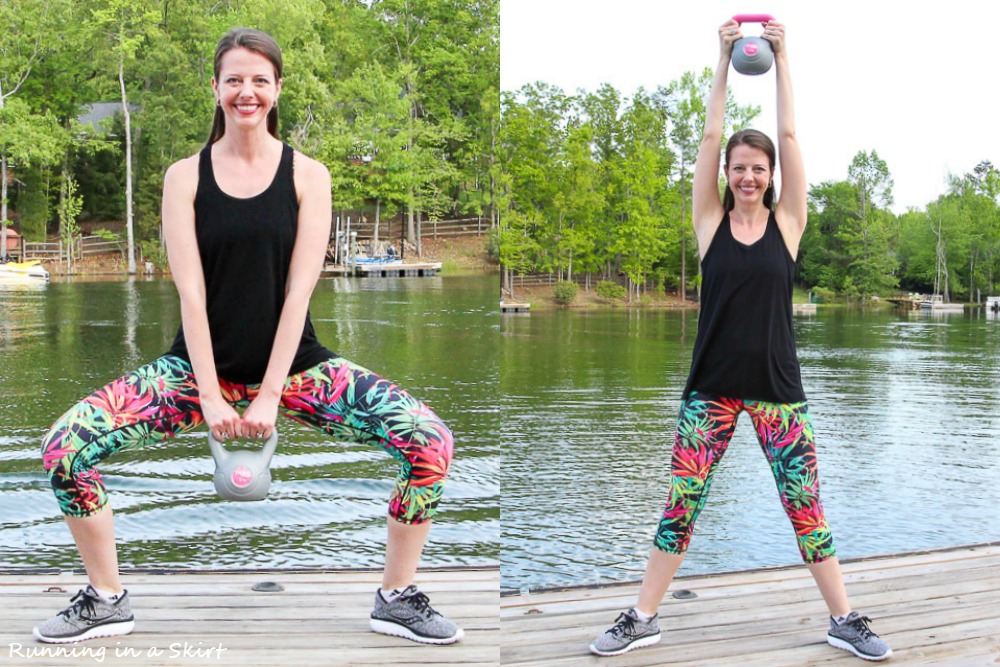 20 Front Lunges
Lunge forward, not allowing your knee to go past your ankle. If possible lightly touch your back knee to the ground. Repeat on each side 20 times.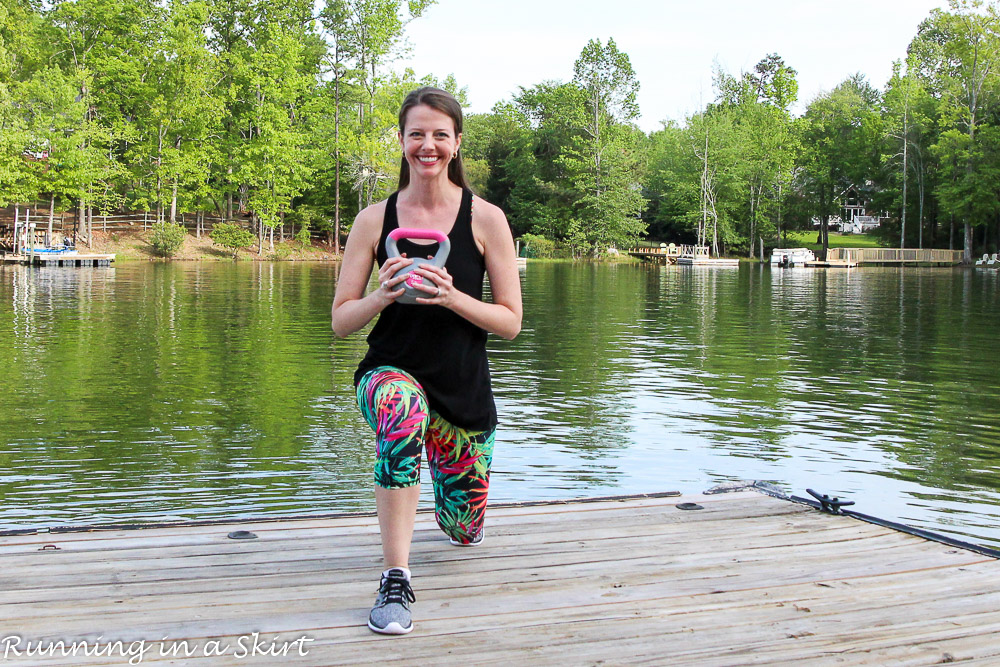 10 Windmills
Start with your legs in a V and your arm up. Your leading leg should be turned out. Hinge your hip back and slide your arm down your leg focusing on the kettlebell above. Do 10 on each side!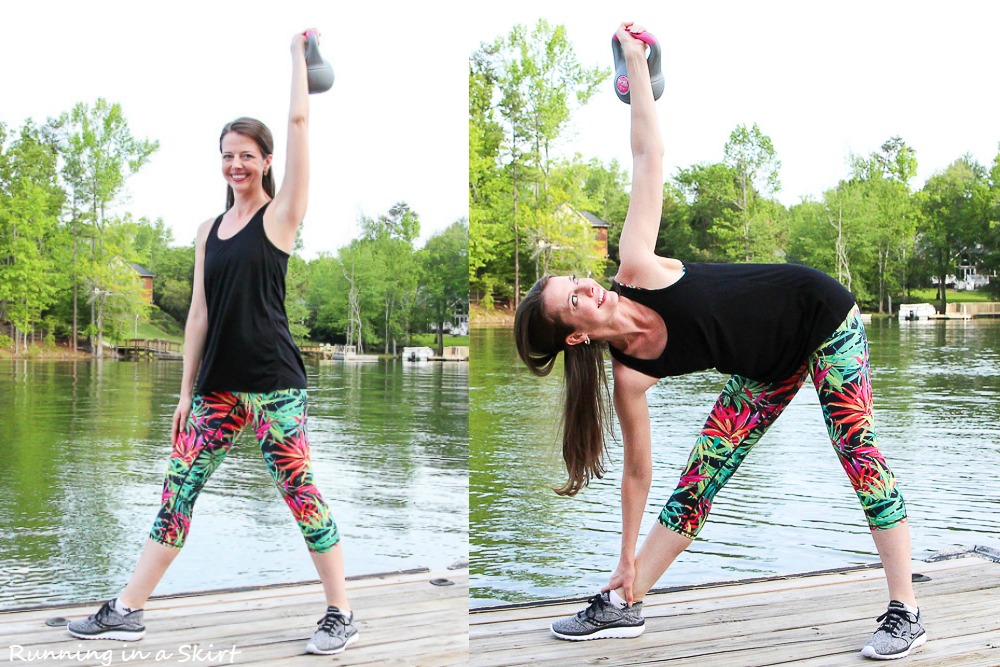 20 High Pulls
Start with your legs hip width apart and the kettlebell on the ground. Bend your knees, grab the kettlebell and power up. Repeat 20 times with each arm.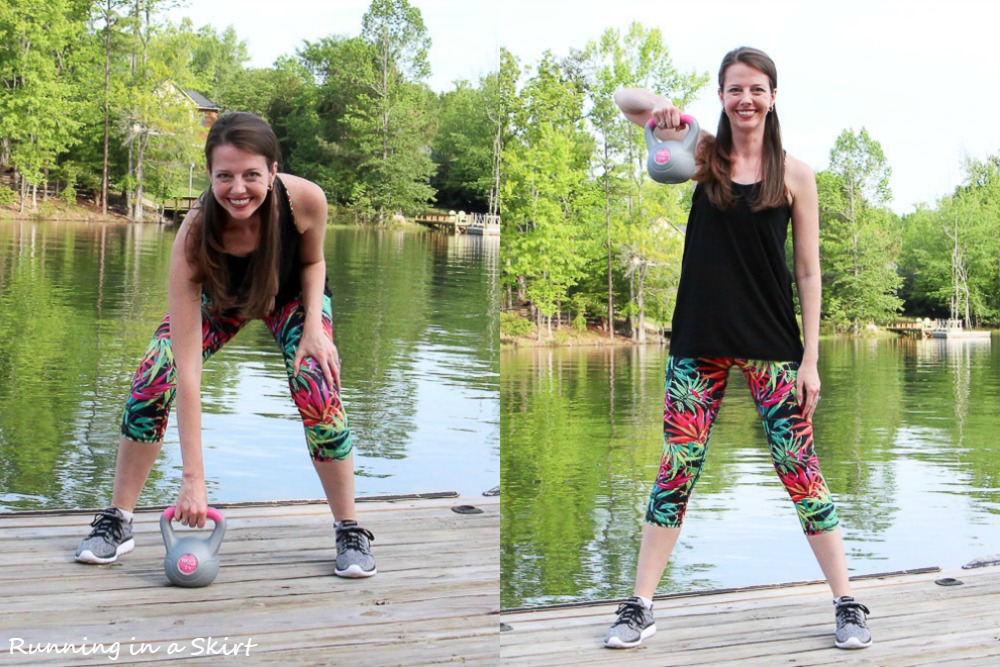 100 Crunches
End with some great ab work! Do standard crunches, using the kettlebell as a weight. Then do Russian Twists as shown below. Do 50 standard crunches and 50 Russian Twists, breaking it up into two sets if you need to.
[fusion_builder_container hundred_percent="yes" overflow="visible"][fusion_builder_row][fusion_builder_column type="1_1" background_position="left top" background_color="" border_size="" border_color="" border_style="solid" spacing="yes" background_image="" background_repeat="no-repeat" padding="" margin_top="0px" margin_bottom="0px" class="" id="" animation_type="" animation_speed="0.3" animation_direction="left" hide_on_mobile="no" center_content="no" min_height="none"]Get sweaty with this Kettlebell Full Body Workout from Running in a Skirt Click To Tweet
Now if that workout doesn't make you sweat, I don't know what will! And seriously doing this workout outside in Columbia was a full on sweat sesh for me.
I'm a firm believer that sweat can cleanse the soul. Between yoga, running, hiking and workouts like this I try to get sweaty more days than not. It makes me feel strong and fit. I enjoy getting sweaty, but who wants to actually stink? Check out this quiz from CVS... it will give you an ideal deodorant considering your lifestyle and sweaty habits. It also generates a workout for you. They are making the deodorant choice simple!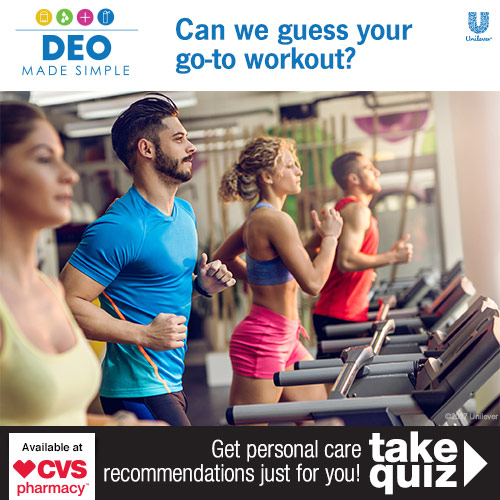 I got and use the clinical category of deodorant and my ideal workout is squats-- woop! I'm a serious sweater when I workout so I always reach for Dove Cool Essentials Clinical Protection Antiperspirant Deodorant on days where I know I'm really going to be breaking a sweat. It offers strong antiperspirant protection and contains moisturizers for smooth and soft underarms. It provides prescription strength protection for up to 48 hours!
On calmer, non-workout days I adore Dove Invisible Clear Finish Dry Spray Antiperspirant because it stays off my clothes! It has a great clean, floral fragrance and literally leaves no marks even on black! In fact, it's proven to leave no white marks on 100 different colors.
If those aren't right for you, there are so many other choices and categories of deodorant at CVS including....
Dry Sprays... Degree® Men Cool Rush Dry Spray Antiperspirant, AXE Night Dry Spray Antiperspirant, Dove Invisible Clear Finish Dry Spray Antiperspirant
Clinical... Degree® 5 in 1, Dove Cool Essentials Clinical Protection Antiperspirant Deodorant
Antiperspirant... Dove Advanced Care Beauty Finish Antiperspirant Deodorant (provides softer underarms in just three days!), Degree® Women's UltraClear Black + White Antiperspirant
Deodorant... Dove Men+Care Clean Comfort Deodorant Stick, AXE Phoenix Deodorant Stick, Degree® Men Arctic Edge Deodorant
The dry sprays are great if you are on the go, antiperspirant is perfect if you are sweaty, the deodorant is ideal if you are worried about odor and the clinical is fabulous if you are super, duper sweaty like me!
That's a lot of choices, so make sure to do the quiz to figure out which one works for your needs!
Using Dove Cool Essentials Clinical Protection Antiperspirant Deodorant on workout days means I can feel great getting my fitness on... teaching my sweet nephew Owen about the joys of fitness at a young age!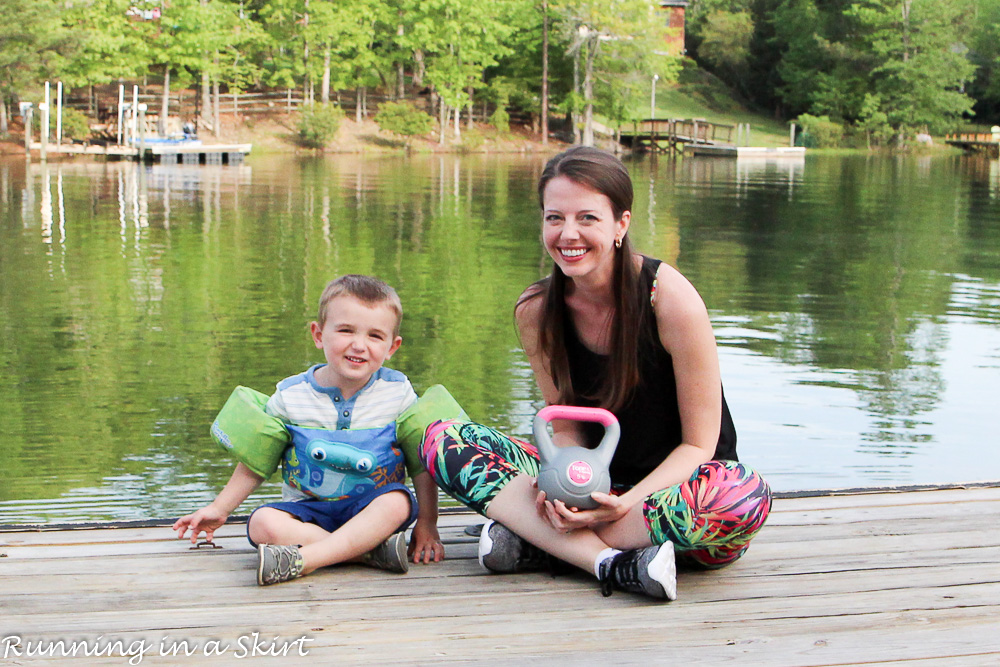 He's definitely going to be on team kettlebell when he grows up!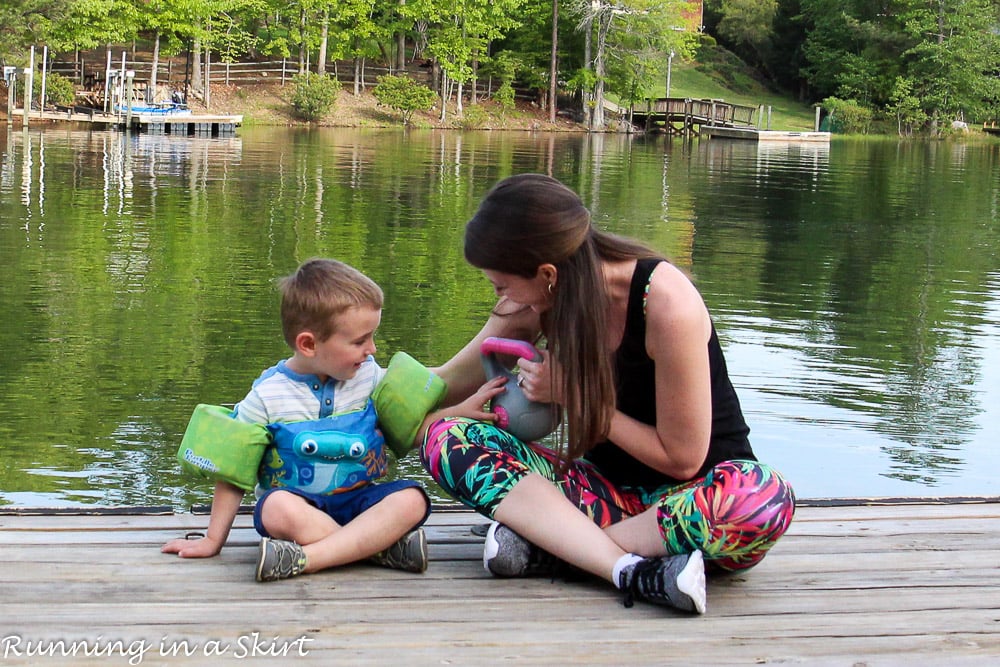 Let's get swinging with this Full Body Kettlebell Workout!
Click To Tweet
This week you can save big on select Dove or Degree® deodorant products at CVS! Using your care you can get buy 1, get one 50% off now until Saturday the 20th!
Thanks for making Running in a Skirt part of your day! Come back tomorrow for a tour of my garden this year.
Your turn!
Do the quiz and let me know what workout and deodorant you got!
[/fusion_builder_column][/fusion_builder_row][/fusion_builder_container]