Happy Tuesday peeps! Let's catch up...
After a few questionable days, I'm finally starting to feel better. I'm hoping to try to go on some walks this week and ease back into running next week. When a cough is involved, I try not to mess around and go back to my routine too soon especially since I have asthma.
Tonight, I'm serving at the moderator in a panel discussion with two local bloggers who are releasing cookbooks... YumUniverse and the No Meat Athlete. Both their books focus on a plant-based diet and I'm excited to learn more from them. If you are local, it's at 7 o'clock at Malaprops.
My party I was planning on hosting last weekend got moved to this weekend because of the sickness running through the house (nobody wants that!) and I'm looking forward to doing some planning for it this week. There's lots of great food to make.
And finally I got all my New York photos edited and posts written... they'll be taking over the blog for the rest of the week. I'll be sharing the highlights tomorrow, the best eats Thursday and a Broadway themed Fashion Friday. I'm kind of excited.
What I'm Growing This Year...
Because of my frequent traveling, I actually planted my garden a little earlier this year. It's been so warm, that that it's done fine so far. Normally I'd be worried about a late freeze, but this year has been so warm.
Makena and I thought it would be fun to share what I planted and give some updates as the season goes on. She's practically a master gardener now... ya'know! 🙂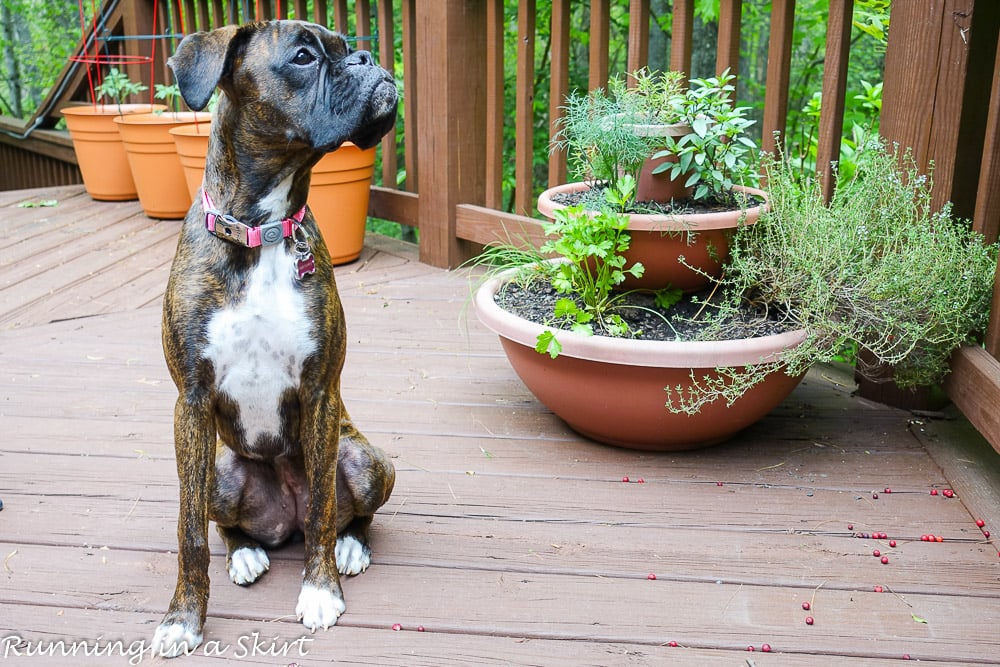 For my flowering post I did a combination of red, purple, yellow and white! Last year I thought I'd try to be edgy and artistic and got everything in a dark purple and a month into the season I was missing the bright and cheerful plants... so I went back to my roots.
The plants are still pretty tiny... but I should soon get a big red flower at the top and bottom. I'll share more photos when it grows in. This is a tough spot for me because it gets some sun, but not a lot... so we'll have to see how these do.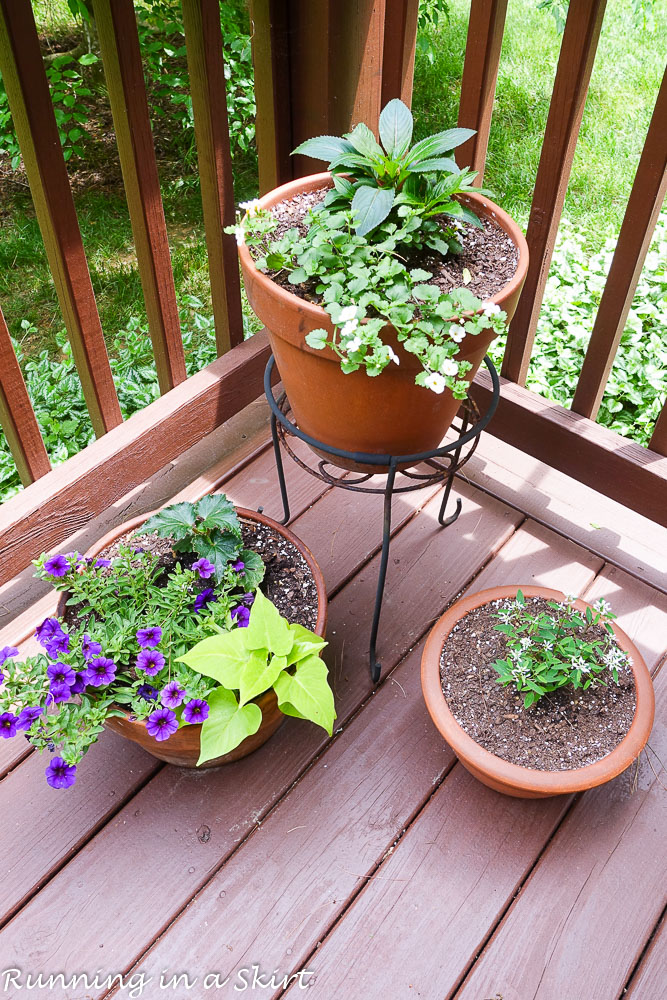 I also got these gorgeous planters! I got two for each side of my deck. So cheerful.
For my deck boxes I did this combination! There are two red ones and two yellow ones.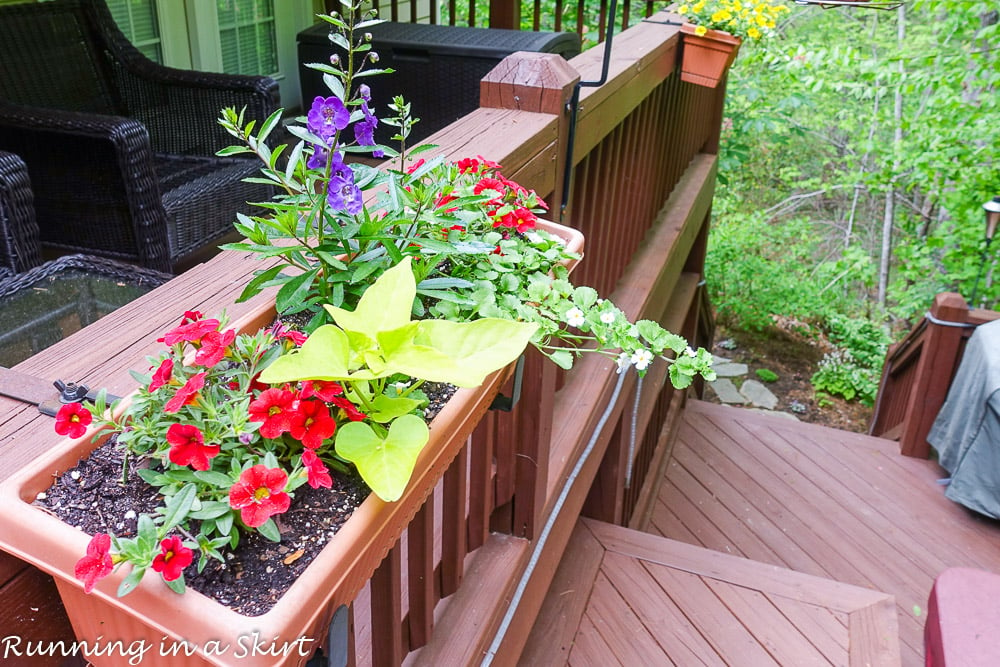 I also did this stunning red petunia along my pathway to my raised bed.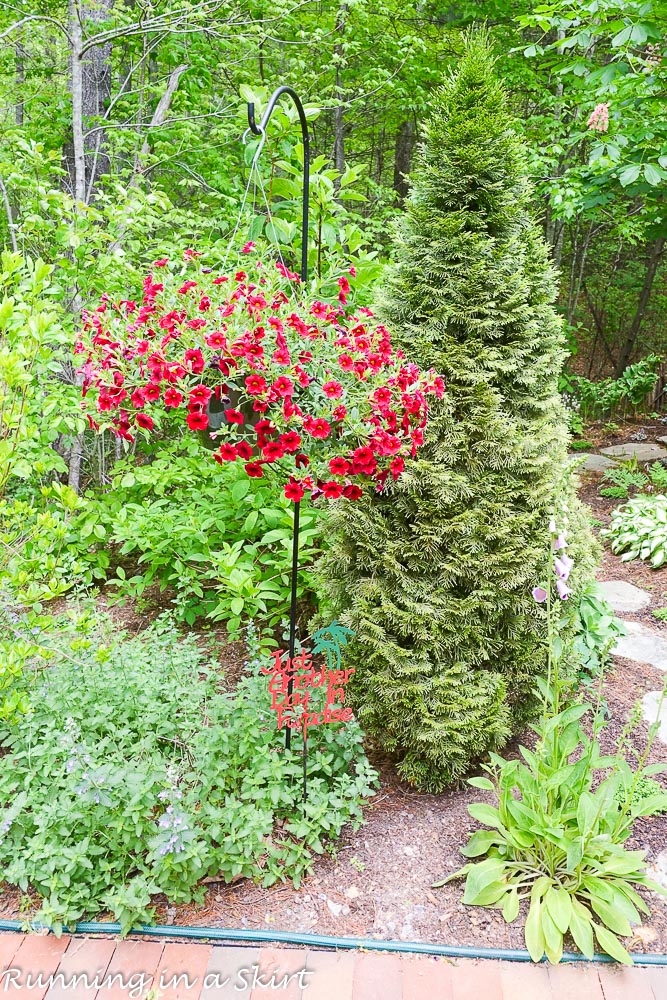 The flowers are pretty, but my favorite part of gardening is fresh herbs and vegetables all summer long. I was actually bummed because our New York trip kept us from going to the Herb Festival this year, which is where I normally get my plants. It's one of my favorite things to go to in Asheville, so I was sad! But traveling one me over.
This year, it was so mild that my thyme, oregano, rosemary and chive plants all came back. In really cold winters, I'll need to replant.
I also put fresh parsley, cinnamon basil and dill.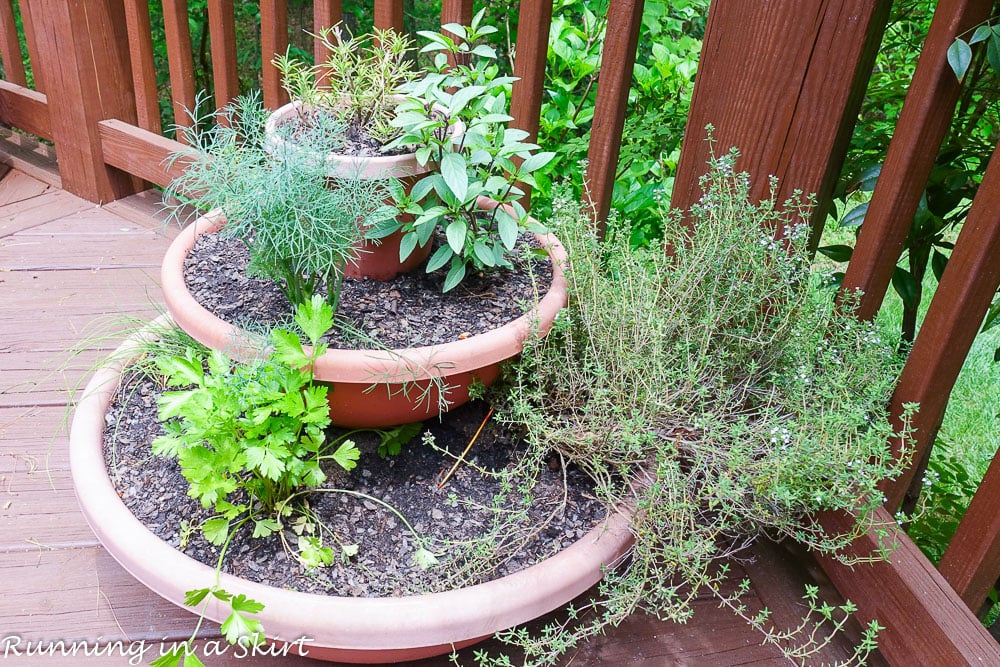 I never seem to have enough basil, so I planted a big pot of it this year. Maybe I'll finally have enough... MAYBE!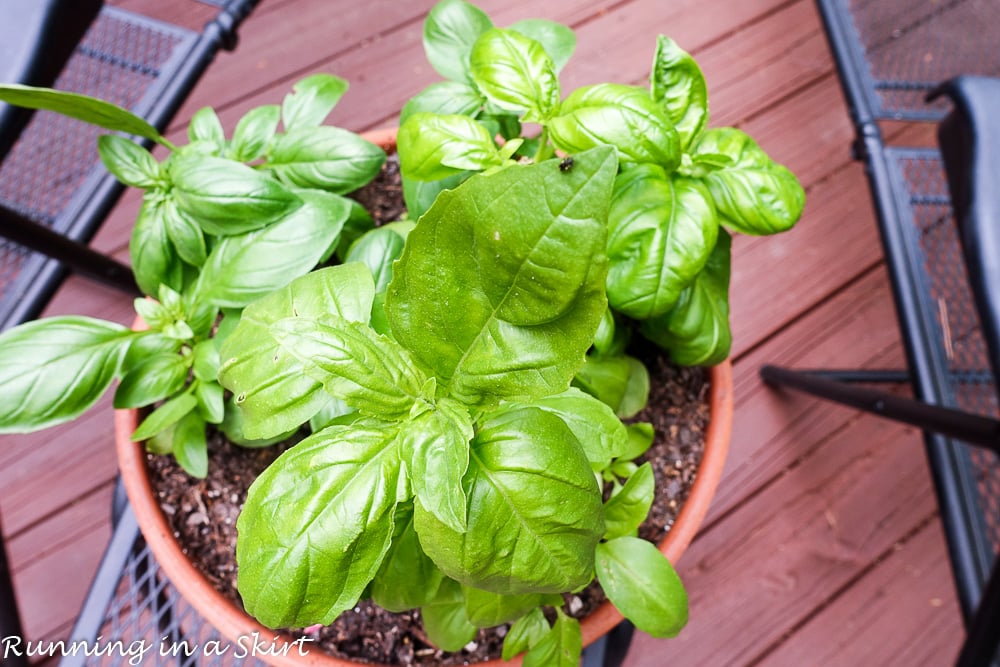 I added a few things this year including fresh lettuce...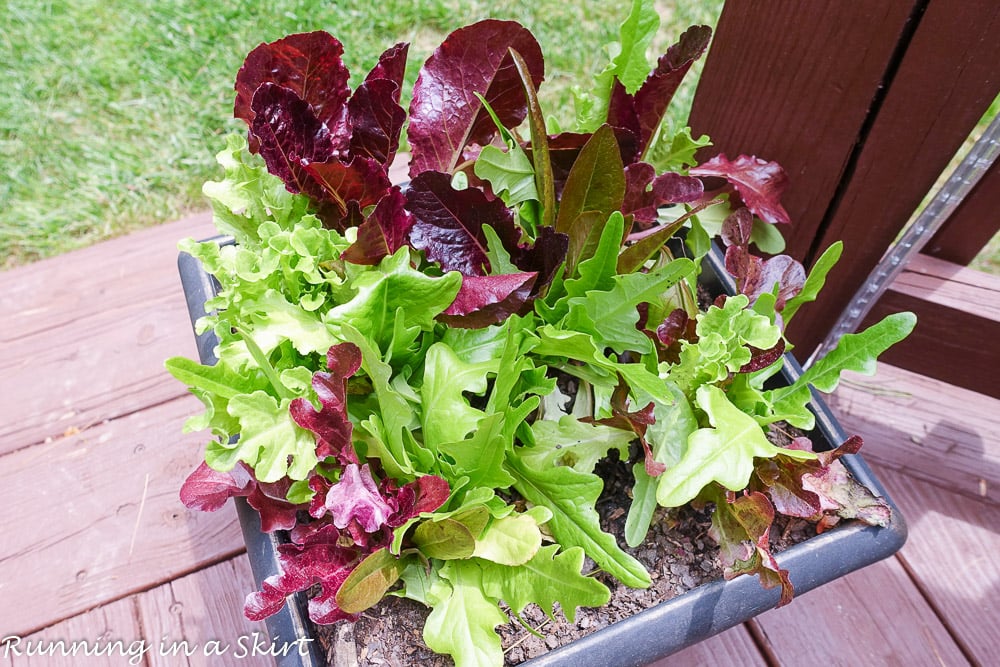 ... and this leaf basil. We'll see what happens!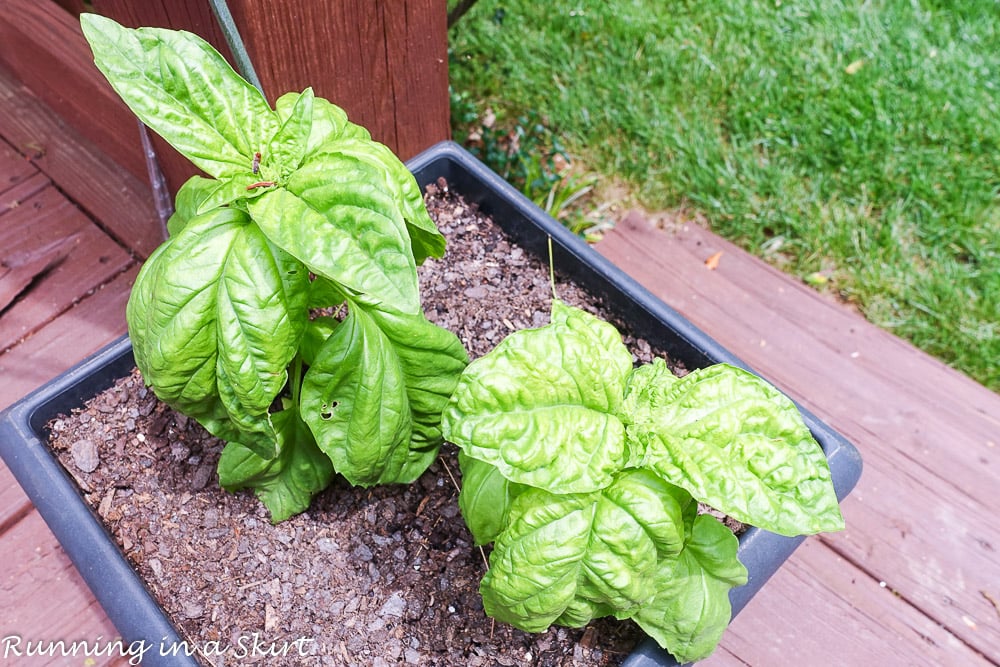 For my vegetables I did tomatoes in pots. They are so finicky that I like to keep them on my deck where I can watch them and away from the rest of my garden. I have yellow pear, plum and cherry!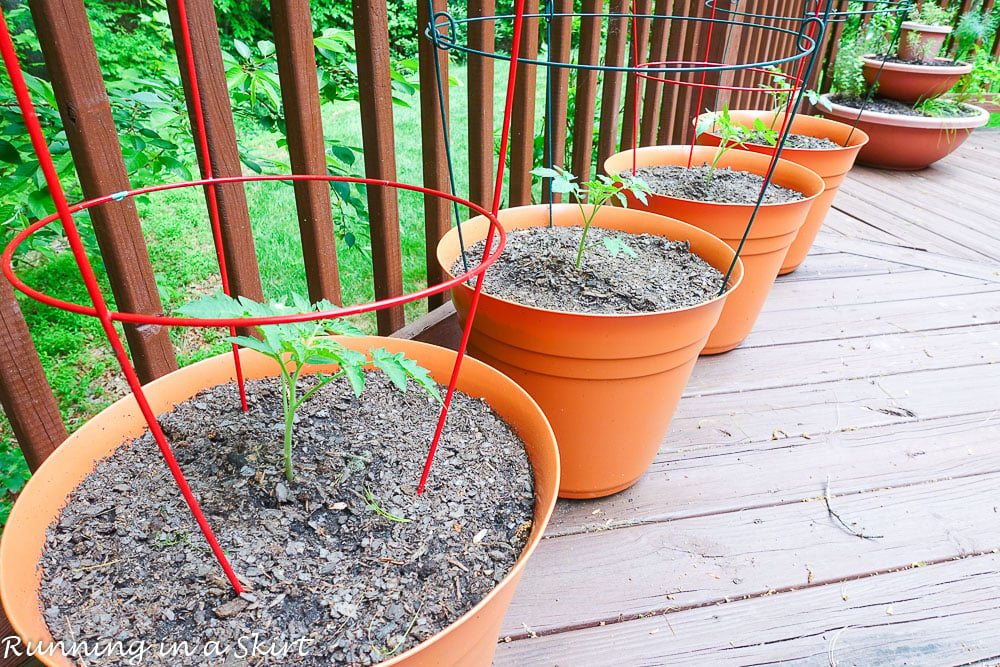 I'm super excited about my raised bed garden.
This year I did a few new things. In this shot you see the kale, squash and zucchini. I also planted some broccoli seeds in that corner that looks bare. The kale and broccoli are new for me.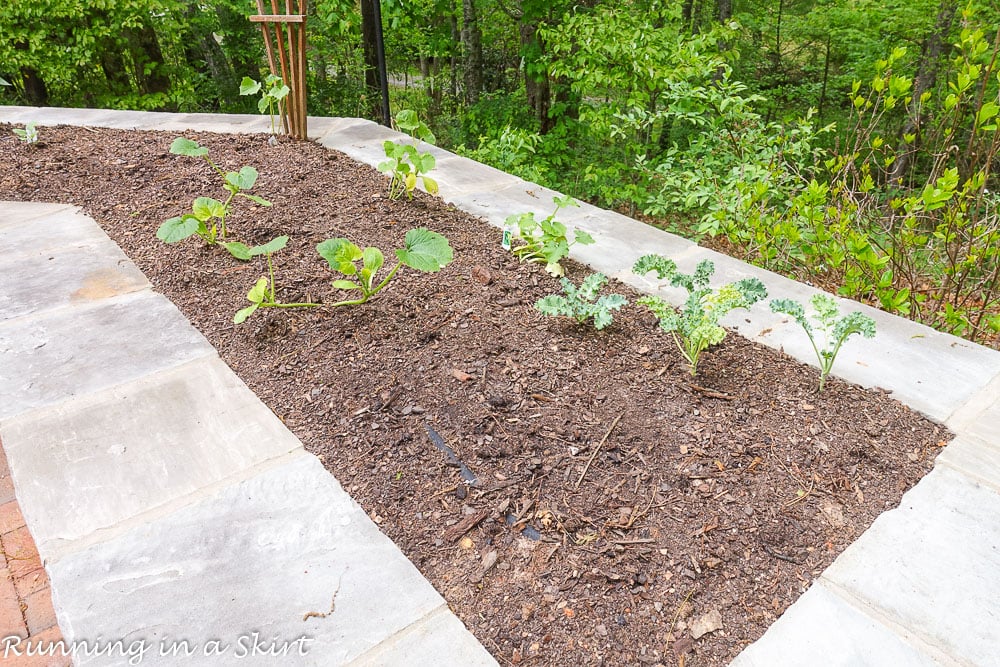 On this side I have a bunch of green bean seeds (which are always a favorite) and peppers! This year I scaled back and did poblano, banana and bell.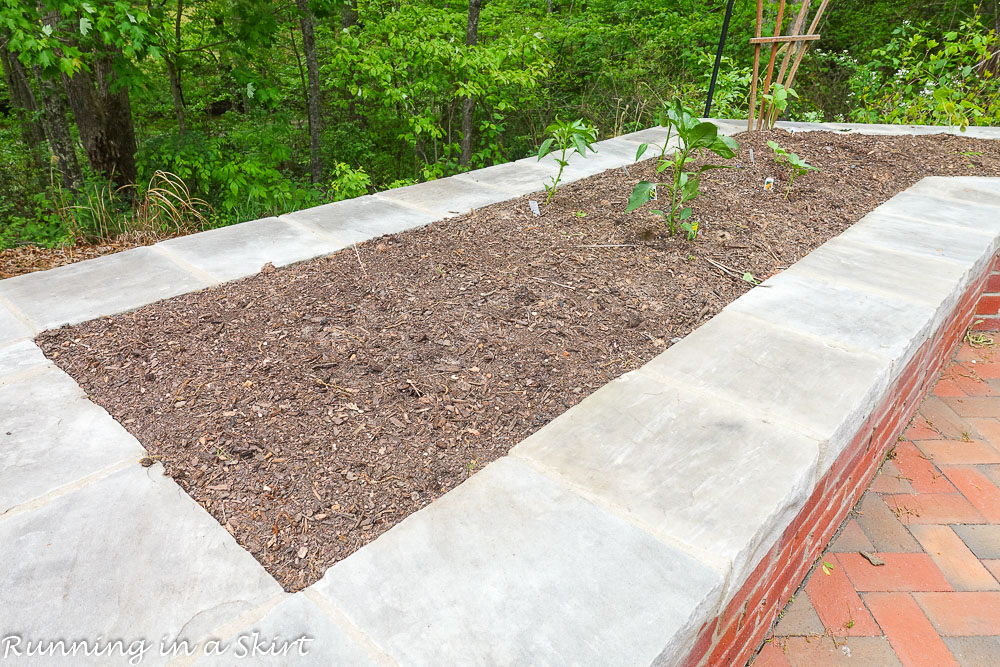 In this shot you can see my one eggplant plant! That's another one I haven't grown before, so it's an experiment.
You also see my cucumber plant. Right in front is where I put my rainbow carrot seeds. Last year they worked really well so hopefully I'll get more this year.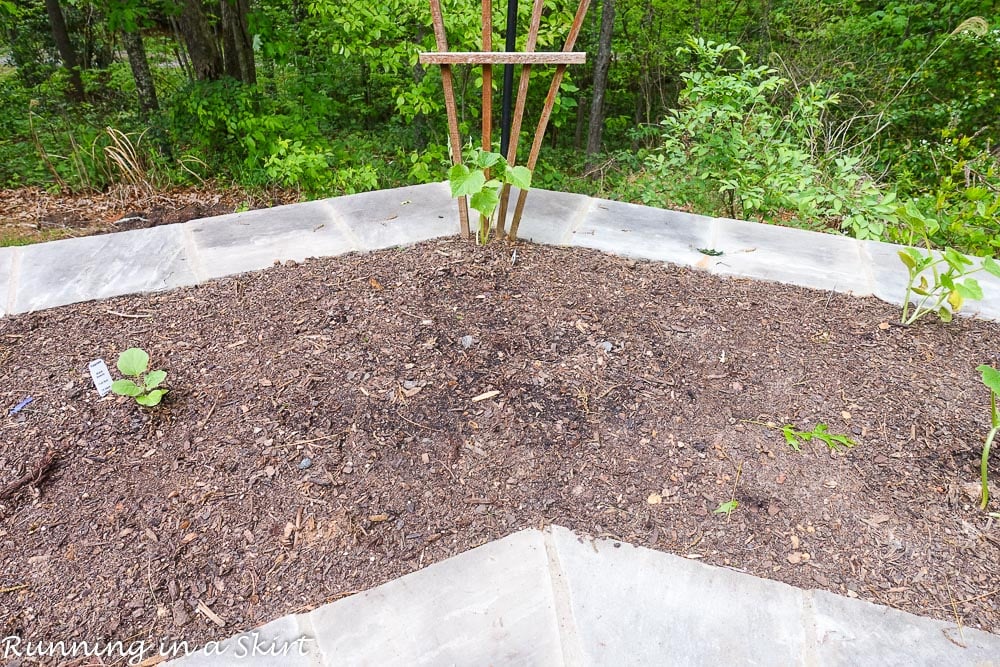 So it looks like my gardening assistant approves! Now I just need to teach her to stop eating the dirt in the pots- doh!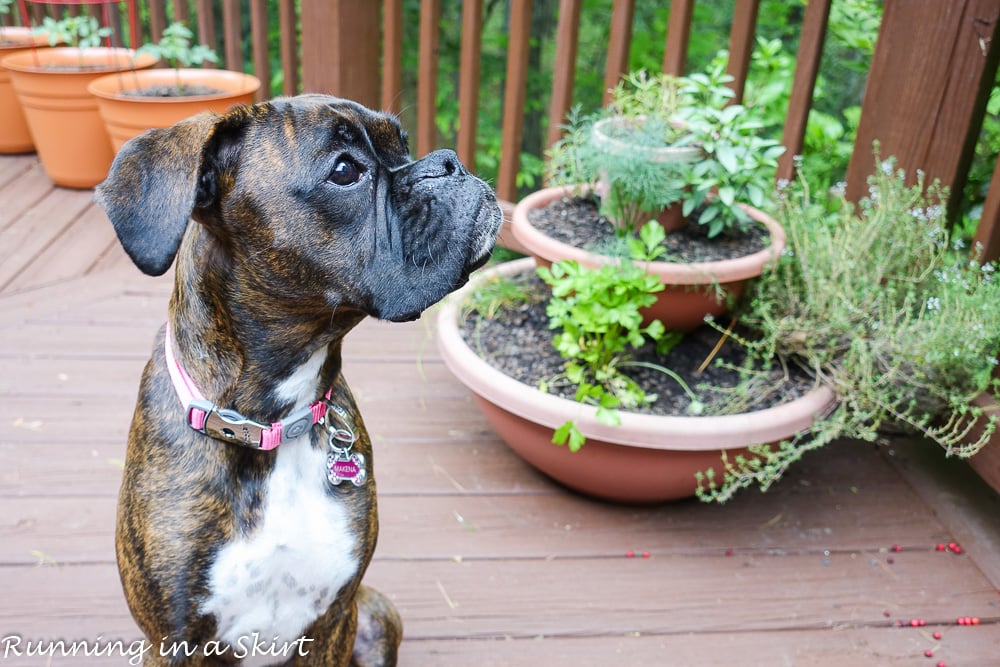 Hope you are having a great Monday.
Thanks for stopping by today! Tomorrow I'm sharing my first of three posts on my trip to New York.
Your turn!
Do you do any garden stuff or flowers?
I'm linking up with Marvelous Monday and Foodie Friday.