Hi guys!
The weekend before last, I went to New York City! The Hubs had a work meeting on Monday and Tuesday so we went early and made a weekend out of it.
I had been to NYC once before, but only for a few hours passing through and didn't even stay in the city... so it felt like a totally new destination to me. I wanted to hit some of the traditional tourist spots and feel like I conquered the city! Despite getting sick the second half of the trip, I still feel like I did that.
This adventure was extra special because my best friend Sarah, her husband Andrey and my other dear friend Rebecca met me there for part of the trip. So here are my NYC highlights...
NYC Highlights
Empire State Building
One thing I really wanted to do was "go to the top of something tall!" In the days leading up to our trip the weather looked really gloomy and rainy, so I wasn't sure if I'd even be able to see any views at the top of the skyscrapers because of the clouds. Luckily I woke up Saturday and the skies had just enough blue to make it worth our while to go!
I settled on going to the top of the Empire State Building because of it's iconic status...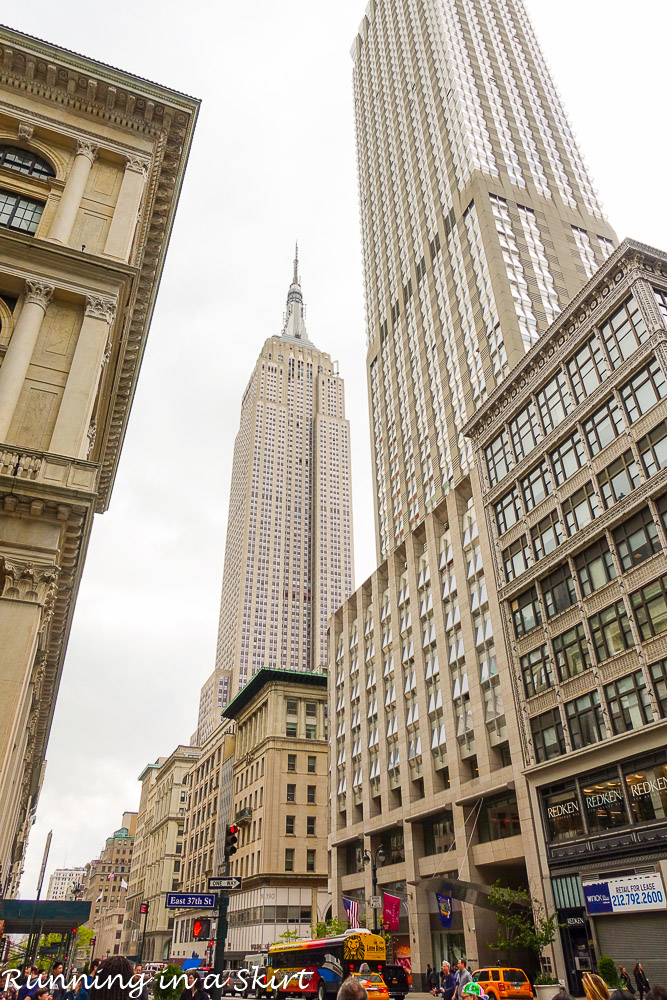 After a few lines and one epic elevator ride I made it to the top!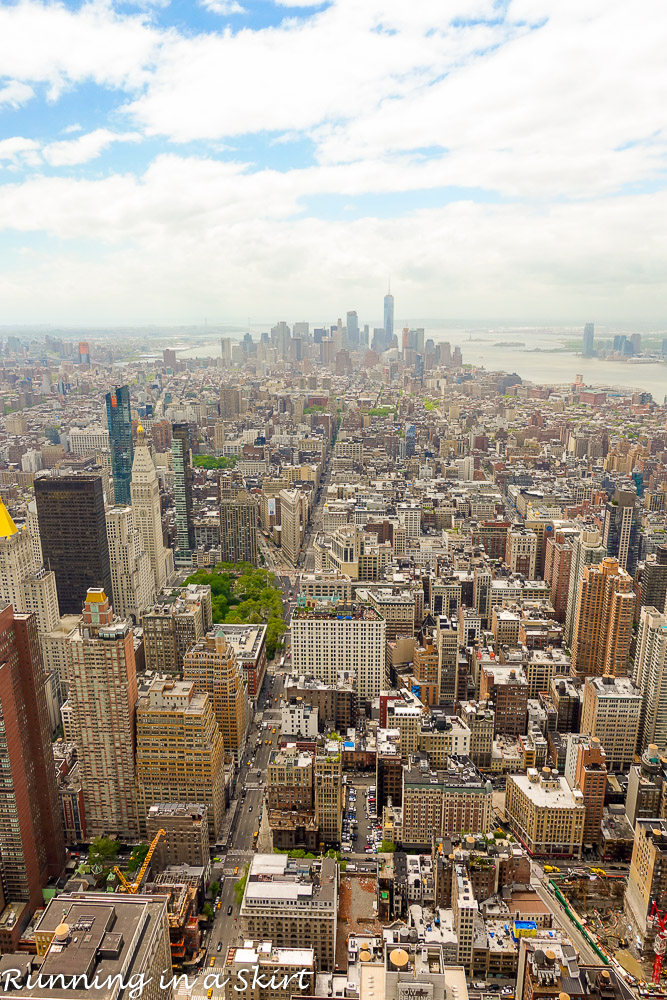 I've got to tell you it's not as romantic as on Sleepless in Seattle, but it's still pretty cool.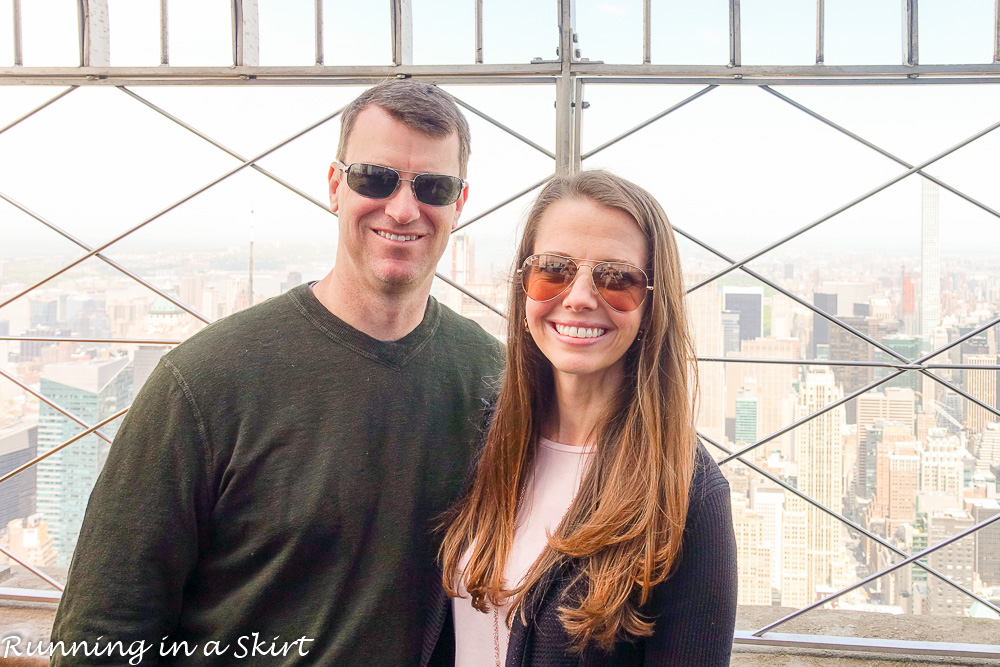 Check out those views!
(That's my friend Rebecca!)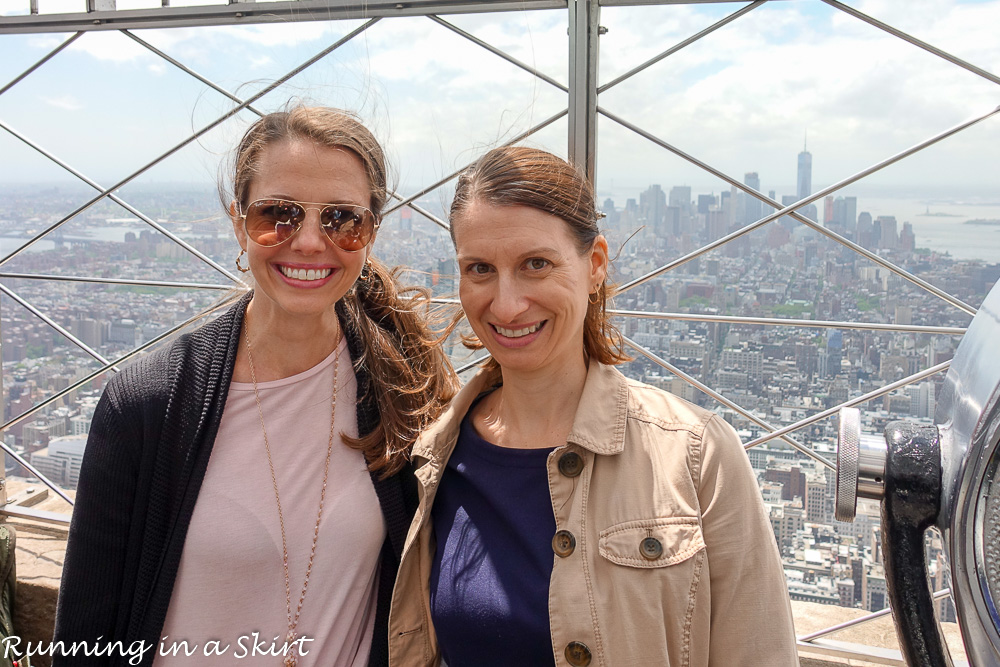 Rebecca lived in NYC many years ago, so she was able to point out all the sights to us which made the whole experience even better.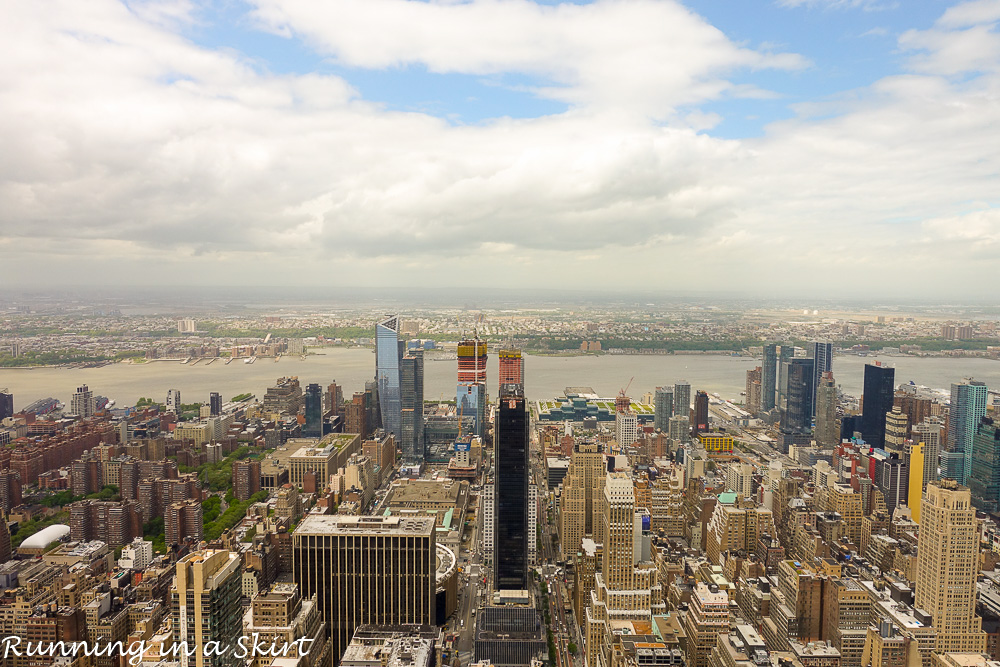 It is a great way to begin a trip in the city because it gives you some perspective on where you are. Just pick an off time to beat the lines!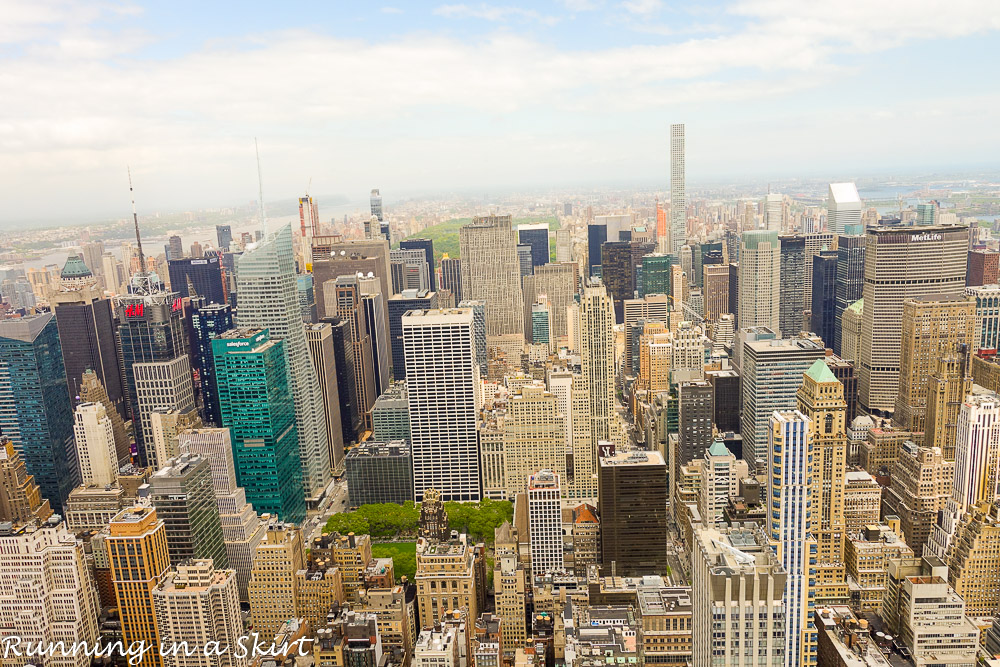 Central Park
So everyone knows there is a big park in the middle of the city, but I never imagined it to be this beautiful or magical!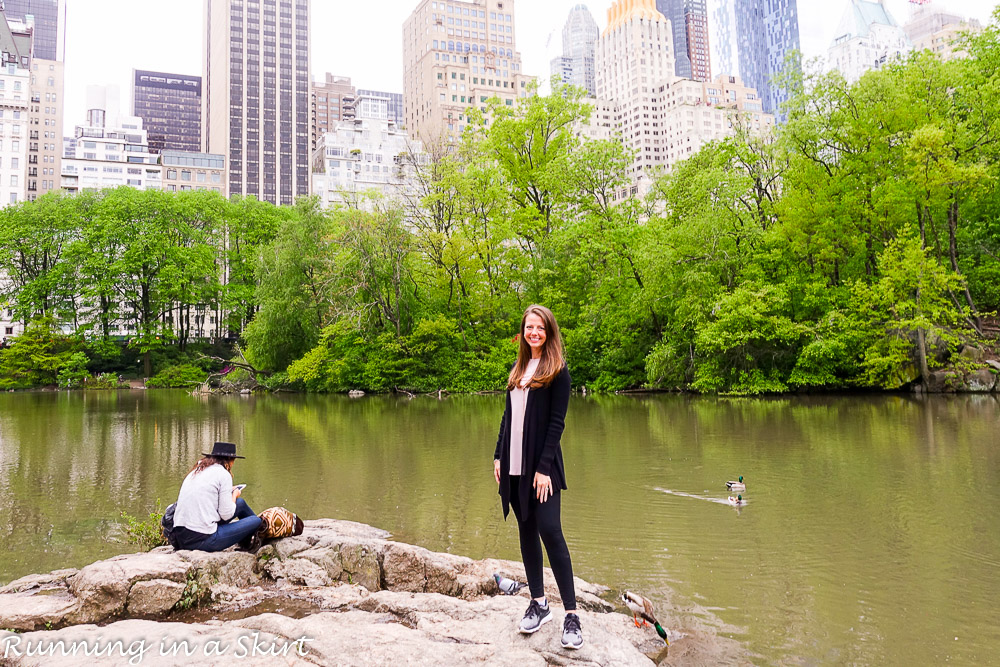 It feels like you are instantly transported to another land.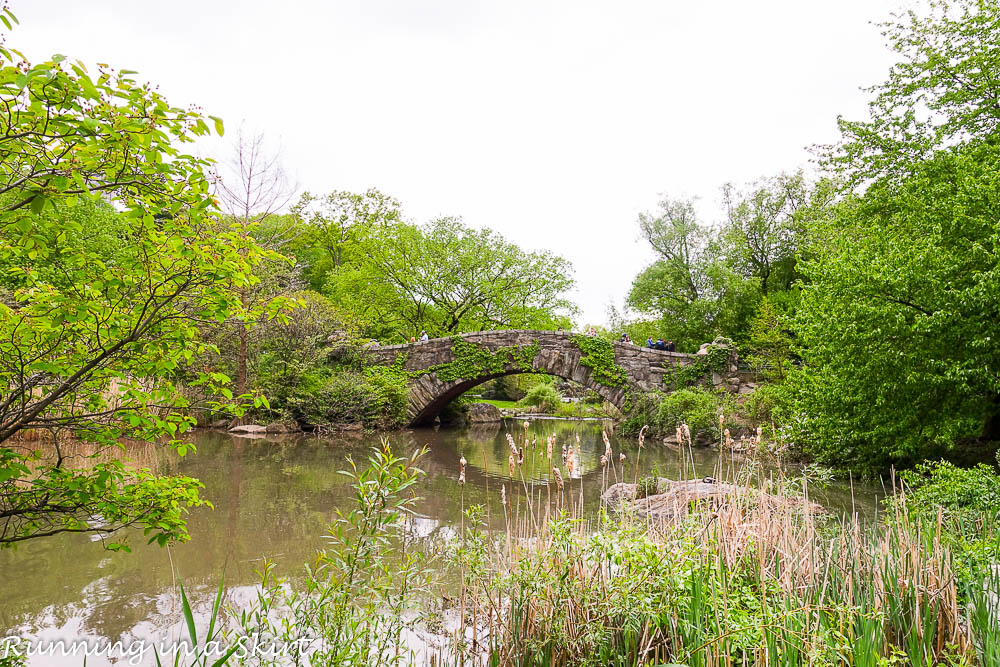 Even though it was rainy and cloudy I explored for awhile with the entire crew. It was so nice to see these girls who I've basically known all my life.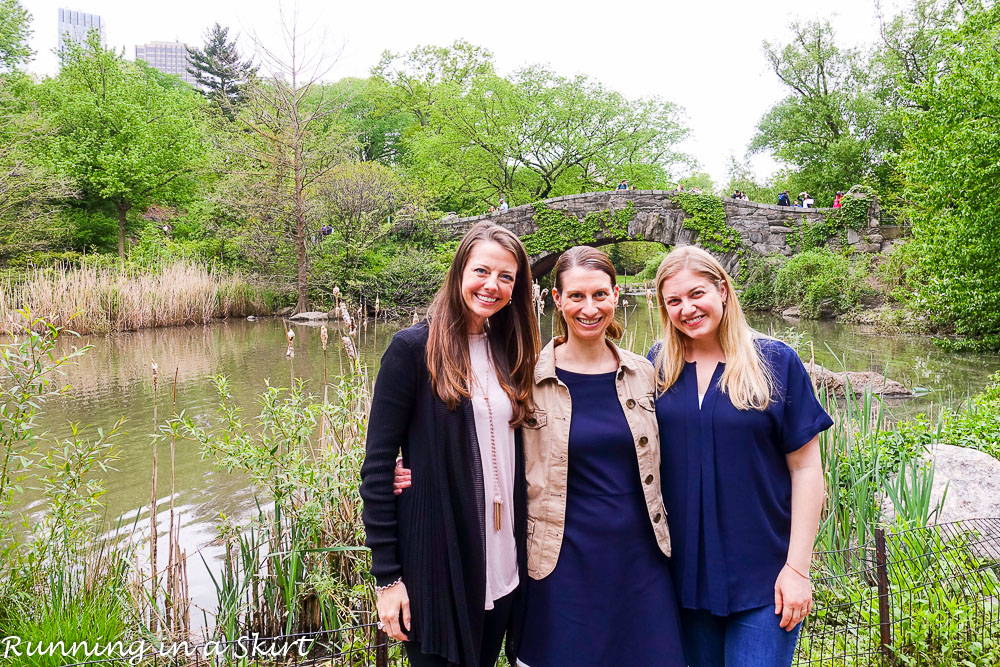 Eventually we stumbled on one of the oldest carousels in the world. Being the big kids we are... we jumped on! Best $3 you can spend in the city.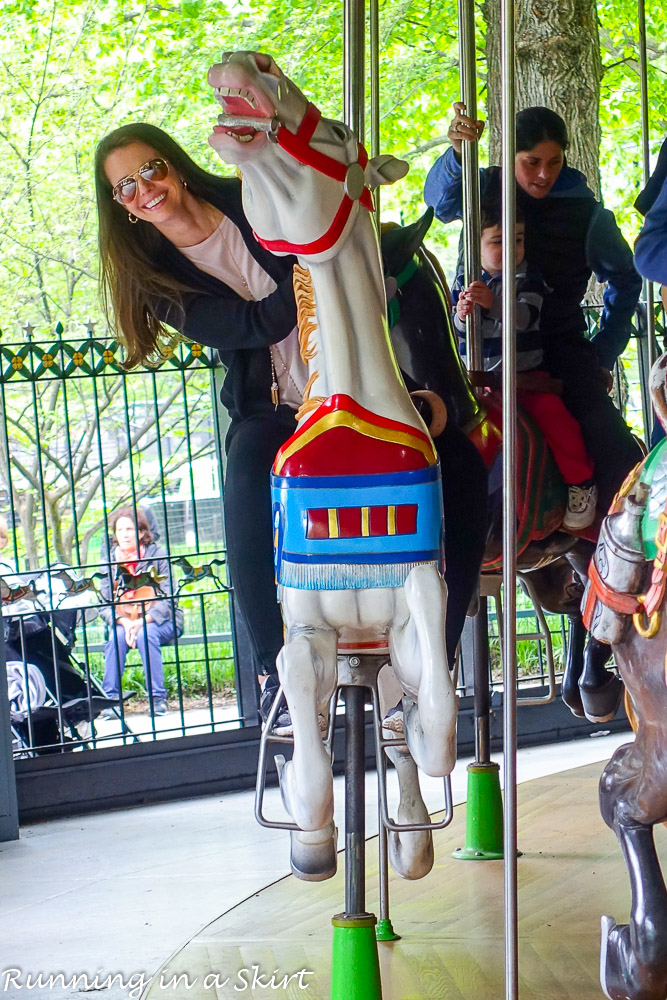 Later in the trip the Hubs even surprised me with our own carriage ride! It was cheesy, but I loved every minute of it. In my opinion sometimes the touristy things are worth it and this was one that I really enjoyed.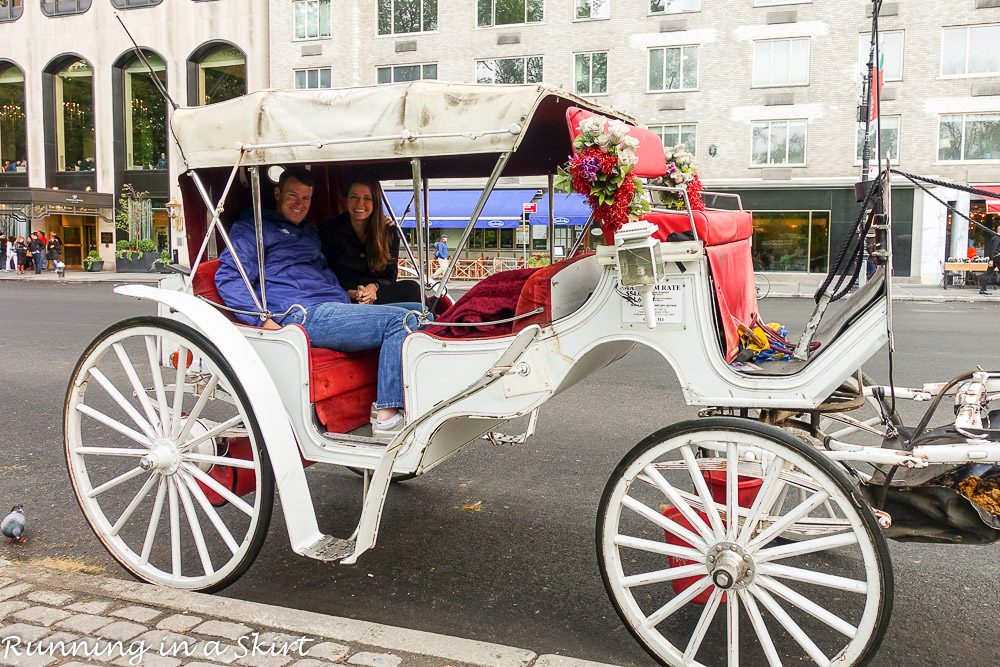 Times Square
We got really lucky because the group the Hubs was meeting with picked a lovely hotel right off Times Square! We could not have asked for a better location for our first trip. We were literally a few steps away from the crazy... but tucked away enough to where it didn't keep us up at night.
If you haven't been to Times Square, one thing that will surprise you is just how bright it is, even in the middle of the night. I couldn't decide if I loved it or hated it... but it's something you've got to see at least once in your life.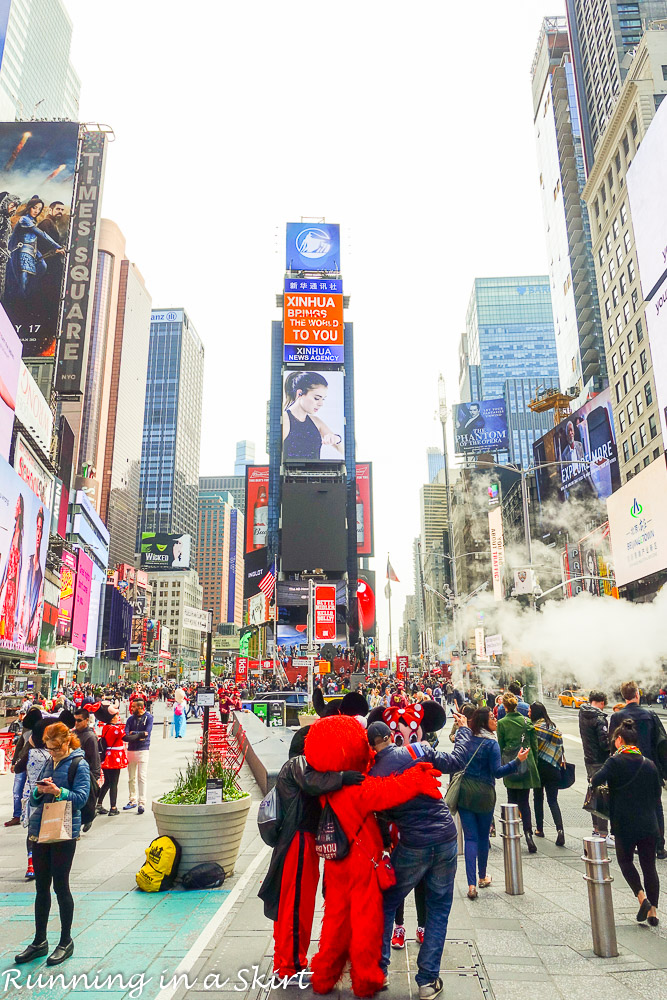 Broadway Show
Being a lover of musicals, the one thing I HAD to do in New York was see a play! After extensive internal debate I settled on seeing "The Great Comet." We went with Sarah and Andrey and had a blast.
The show is more modern, very innovated and recently got nominated for a bunch of Tony's! Since I booked the tickets before the nominations came out, I felt pretty in tune with what was cool- lol.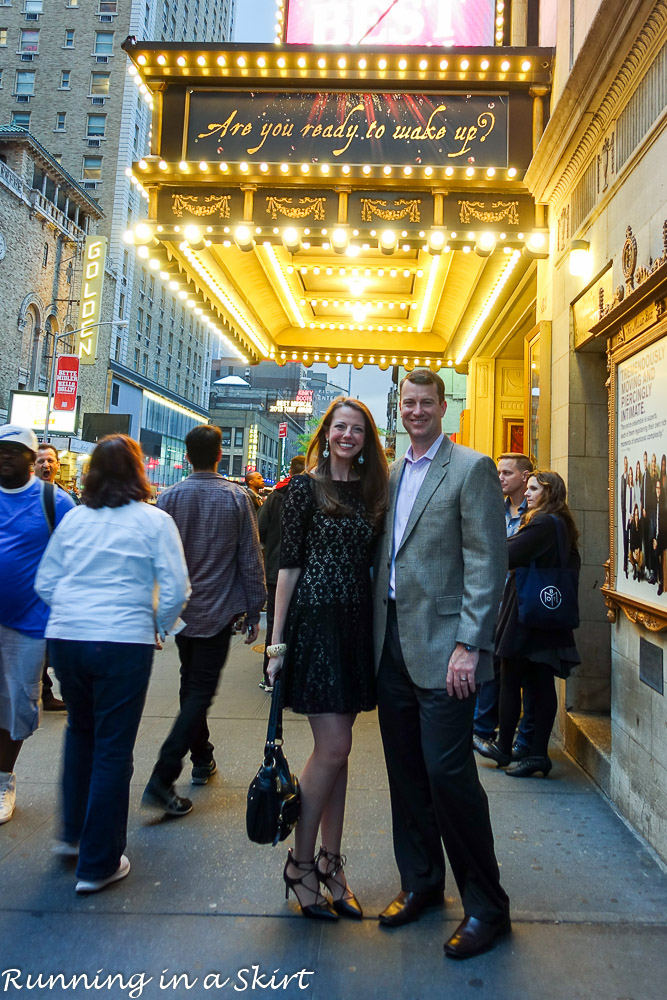 High Tea at The Plaza
On my first day in the city our group stumbled into The Plaza hotel just to look around. I spotted their iconic garden room and instantly wanted to have high tea there! What's more New York than that?
Since we didn't plan ahead, we couldn't go that day but got reservations on Sunday.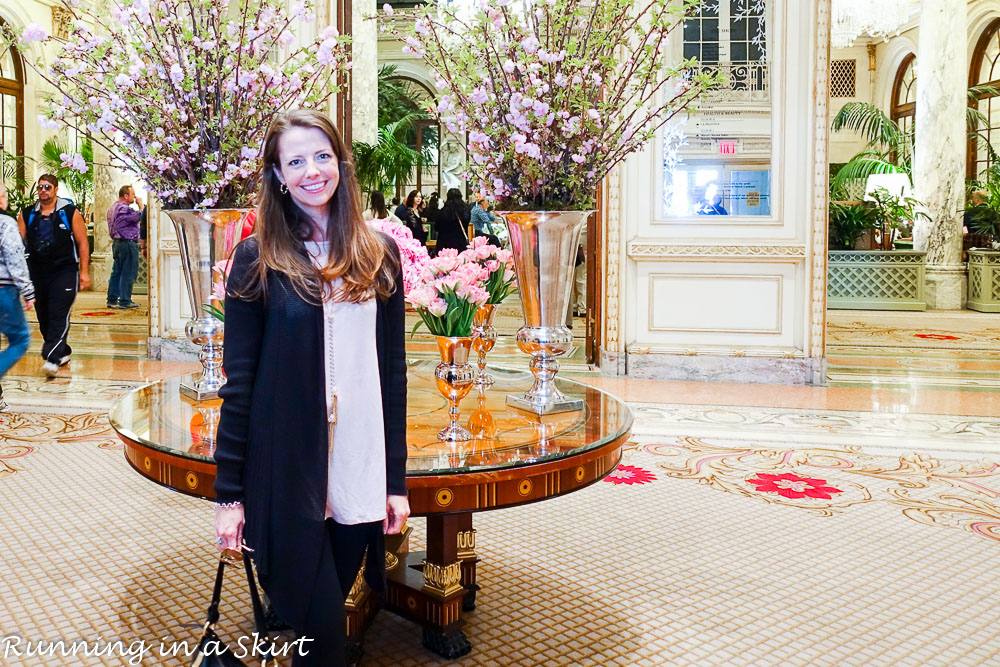 So Sunday, Sarah and I left the boys to go do boy things and we had high tea!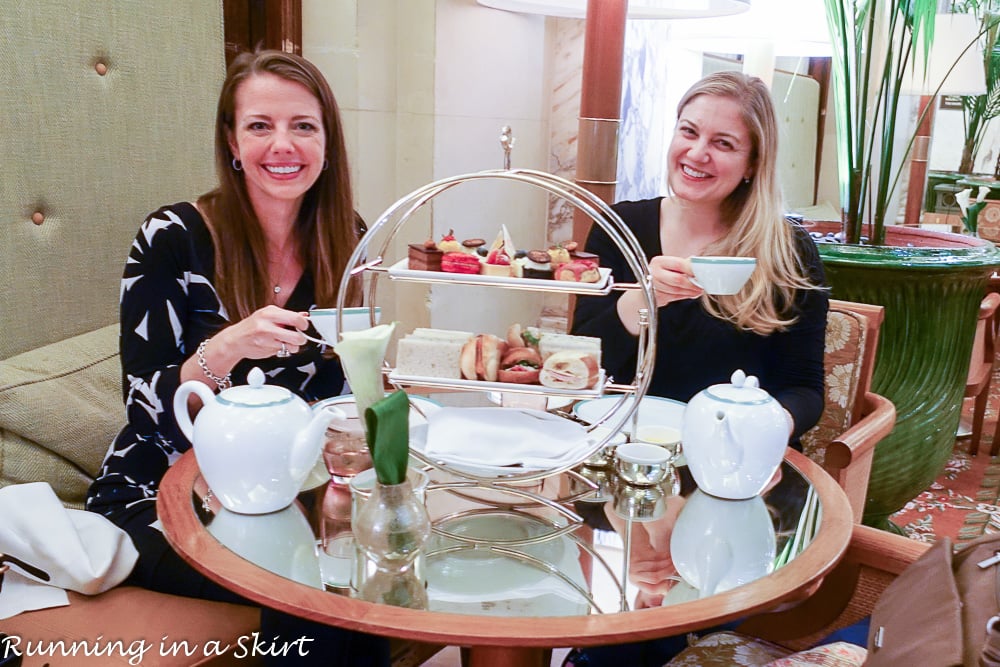 We could not stop gushing about all the cute things and how swanky it was. It was a total indulgence, but worth it!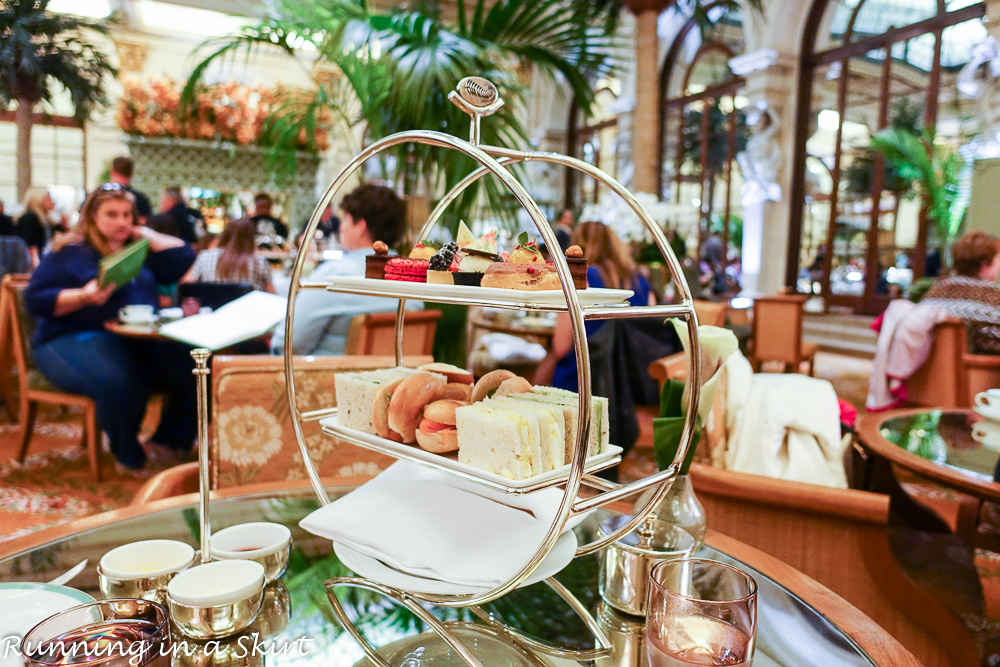 Look at all the adorable treats!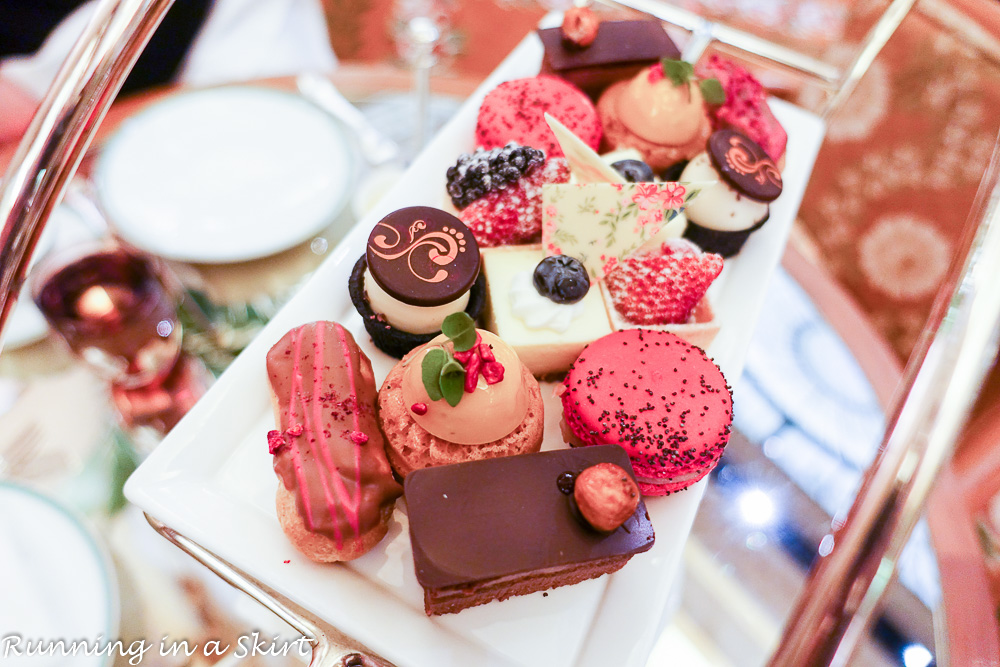 Sarah and I had a wonderful time catching up and will remember this experience for a lifetime.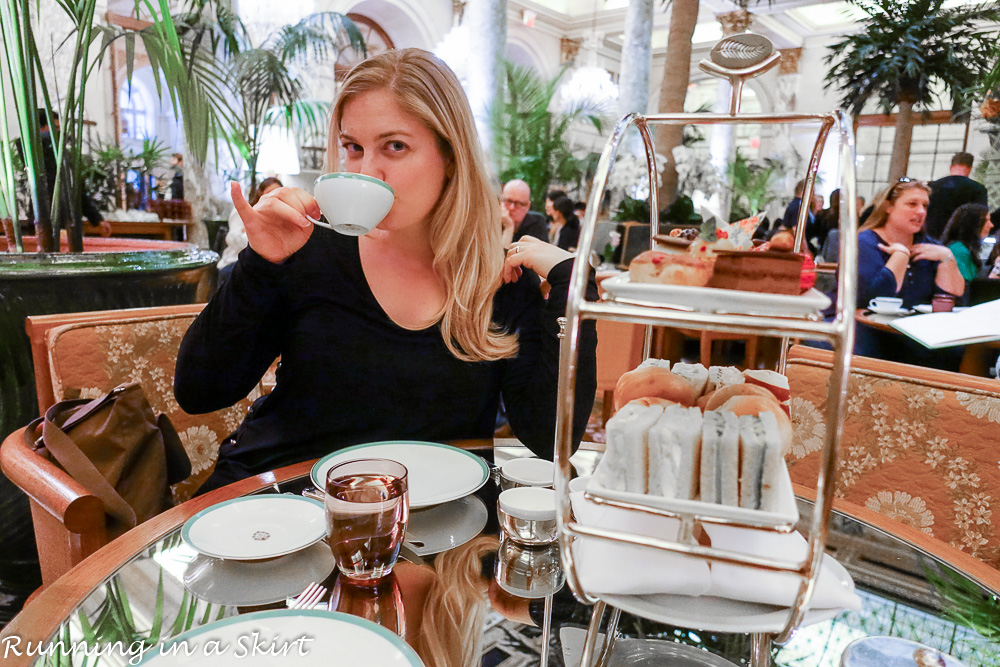 We joked that we created and checked off a bucket list item all in one weekend by going to High Tea at The Plaza!
9-11 Memorial
Another thing I really wanted to do in New York was see the sight of the old World Trade Towers and explore the new museum. Like everyone in our country I was deeply moved by the attacks and wanted to pay my respects.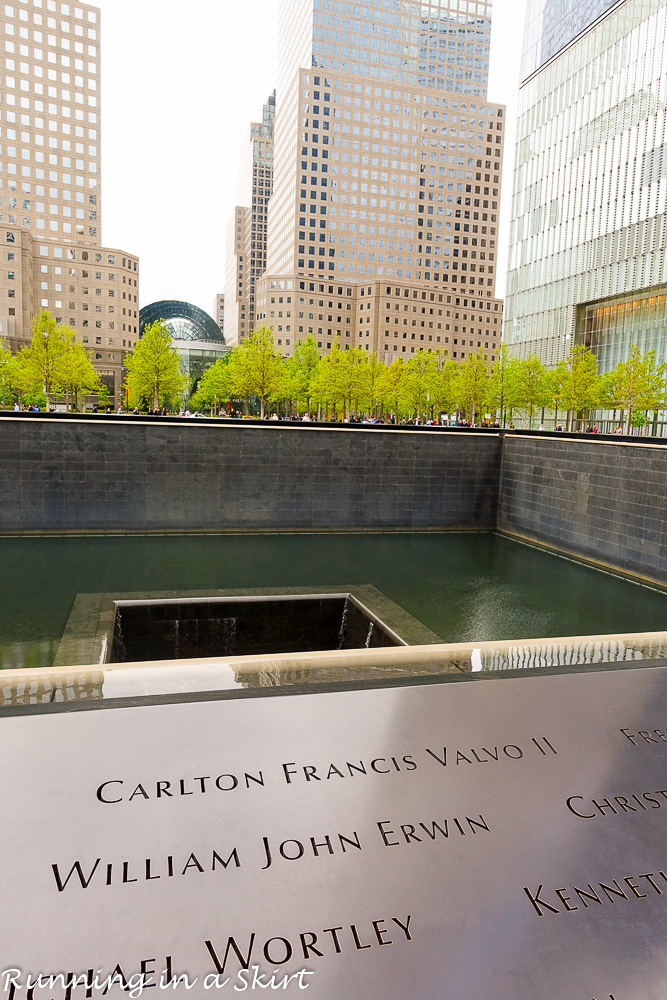 I got chills standing in that spot looking up at the Freedom Tower. It's such a beautiful structure.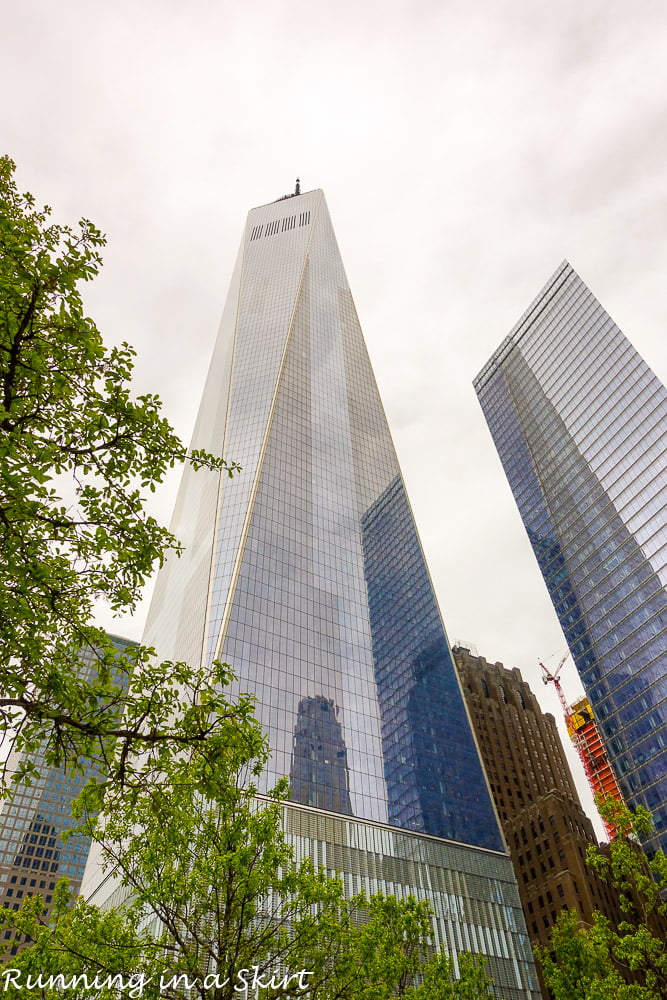 The Hubs and I also explored the 9-11 Museum on our own. We took our time and really allowed the experience to sink in. I didn't take a bunch of photos inside because it seemed disrespectful, but if you go to New York I high recommend doing it. It was one of our NYC highlights.
The Highline
I ended up getting sick for the second half of the trip while the Hubs was in meetings, so I didn't get to do all the things I wanted to do by myself including going to a fitness class and running in Central Park. But I still made the best of it. One afternoon, I wanted to get some fresh air so I took an Uber to Chelsea Market and The Highline. The Highline is an old rail line that still runs elevated above the city.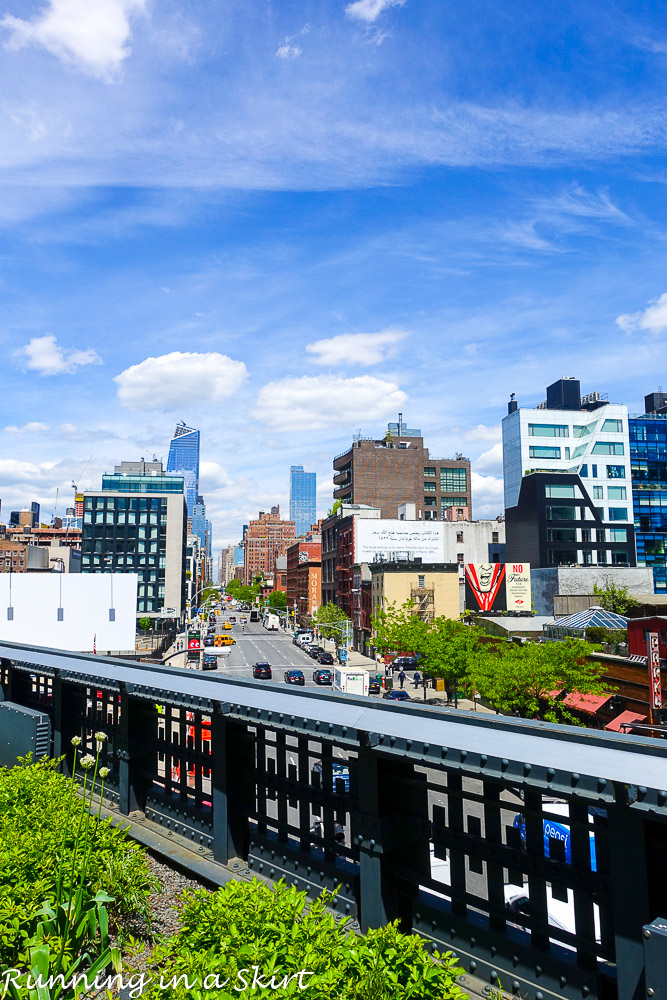 It's been converted to a pedestrian walkway with beautiful landscaped areas and places to sit.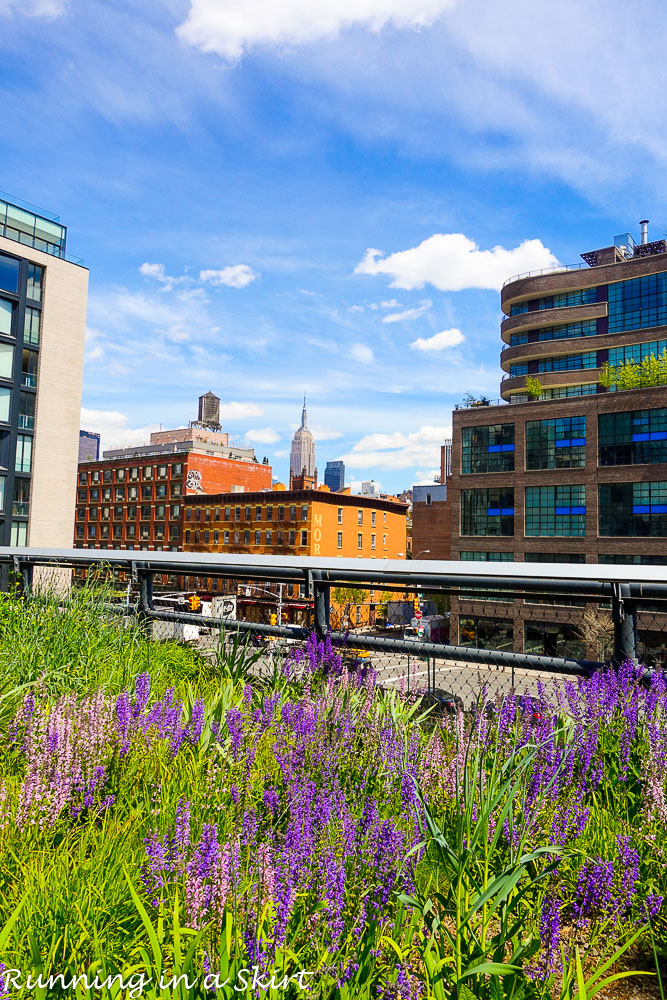 It had the most lovely views of the city and I actually got my favorite photo from the whole trip on it!
It was a great way to get a little fresh air without being on the congested roads when I wasn't feeling well.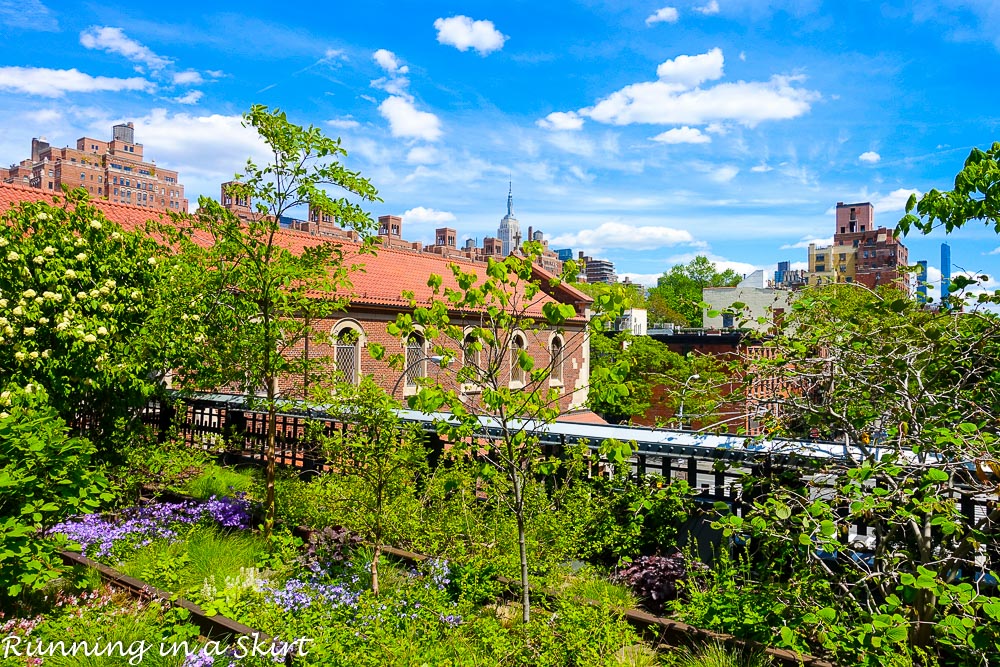 Chelsea Market
I had heard cute things about the Chelsea Market, so I decided to stop there for lunch when I was on my own.
It was packed with so many food vendors and shops! They were mainly healthy, interesting choices including this stand where they make their own tahini. If I had a way to get this home (I didn't check a bag) I totally would have bought some.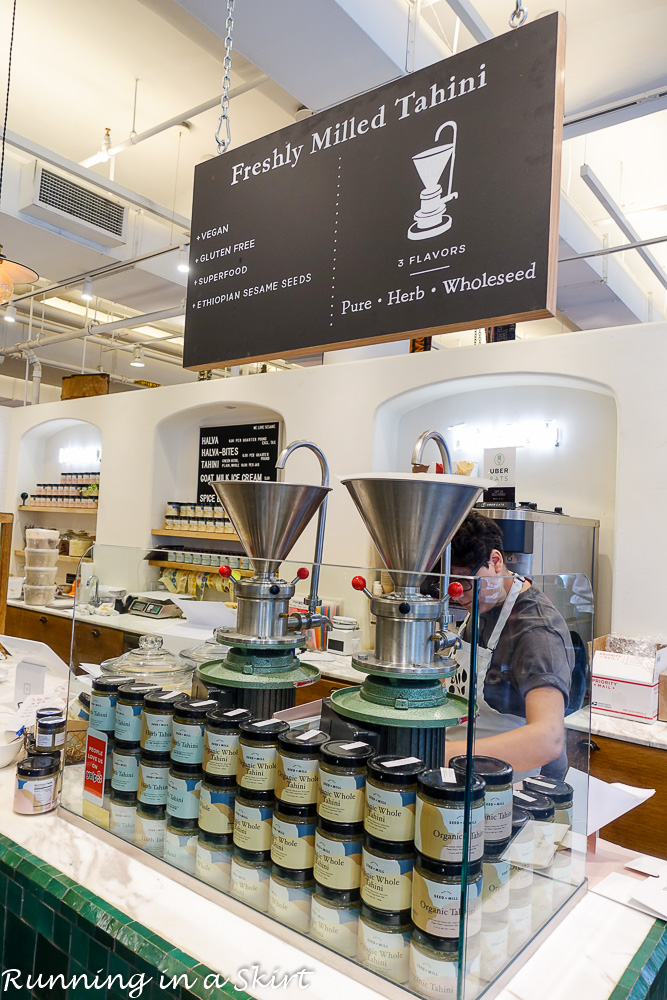 I ended up getting these really cool Asian inspired tacos! I'm actually sharing all the eats from my trip in a post tomorrow... so make sure to come back.
Other Highlights...
Other random highlights from the trip include seeing Bryant Park... which was so charming and great for people watching.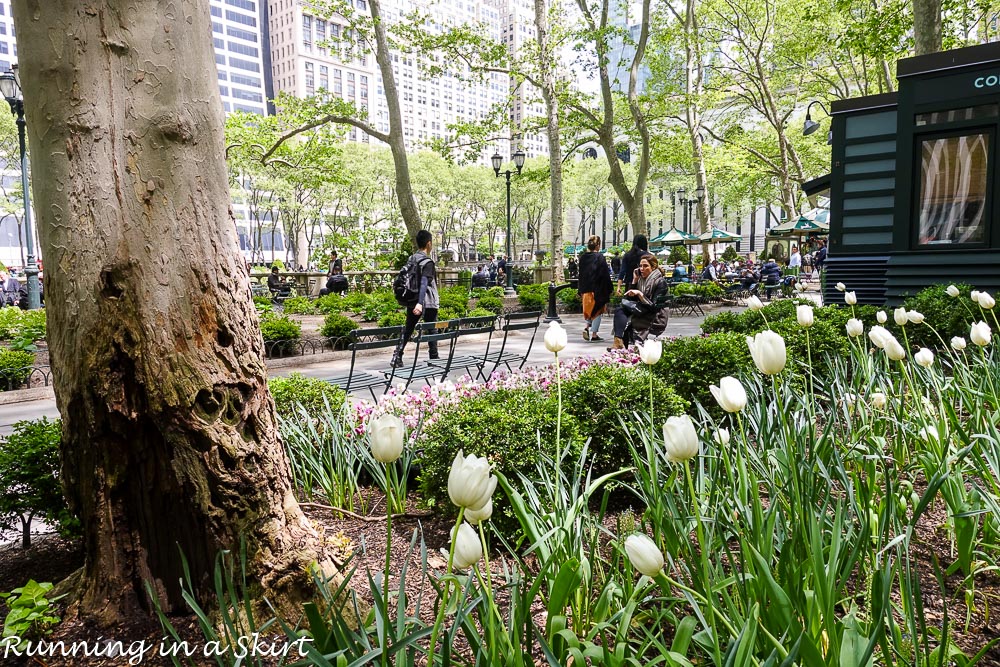 As someone who loves nature, I was really drawn to the areas of the city that had a little greenery.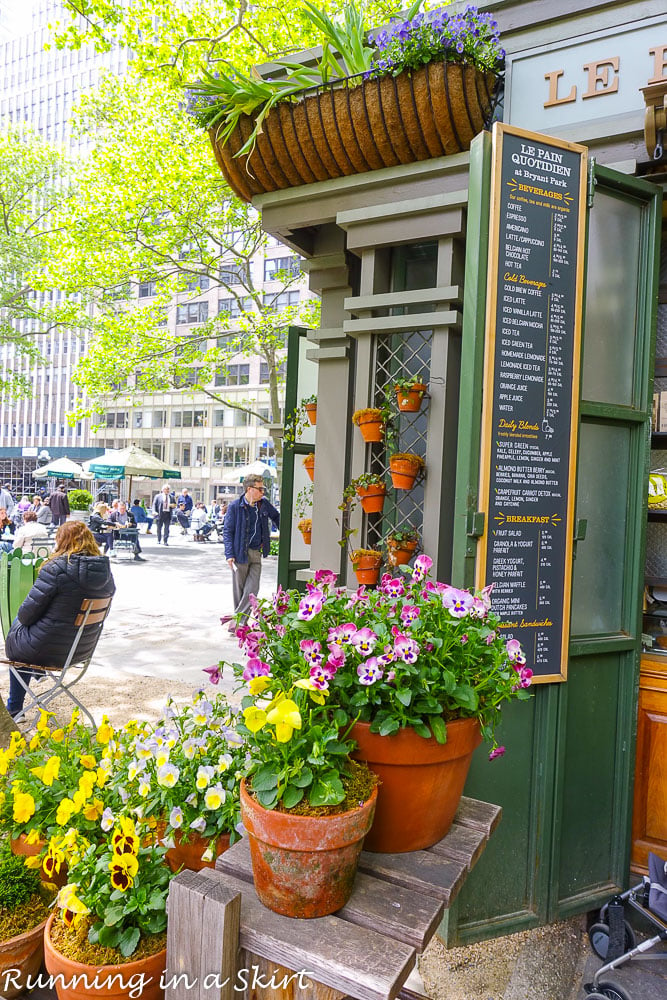 I also loved this view of the Rockefeller Center... which of course had more flowers.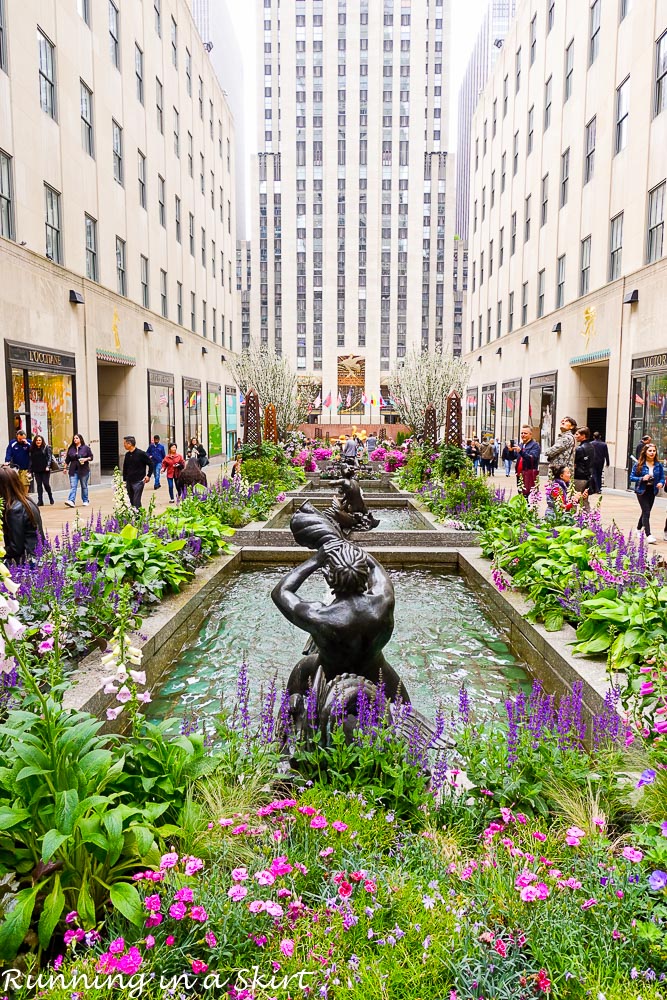 I'm coming back to go ice skating in winter here one day!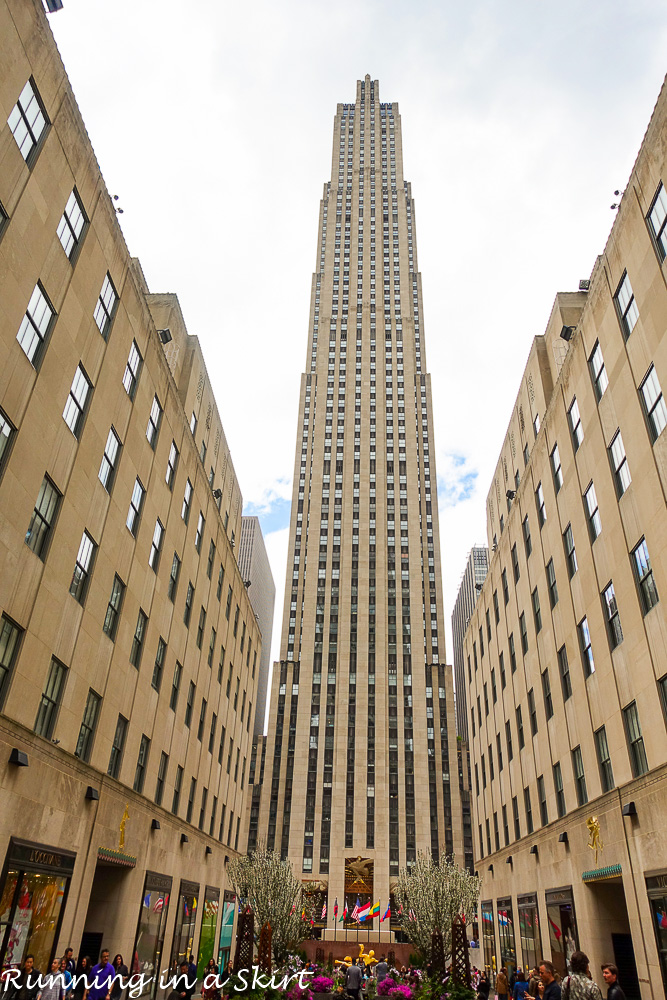 AND... I was passing the Radio City Music hall on Sunday and saw a crowd making all taking pictures and pointing at this platform. I read the sign below and immediately recognized Derek and Julianne Hough from Dancing with the Stars! I had a fangirl moment and joined the crowds taking pictures of them taking a picture. lol!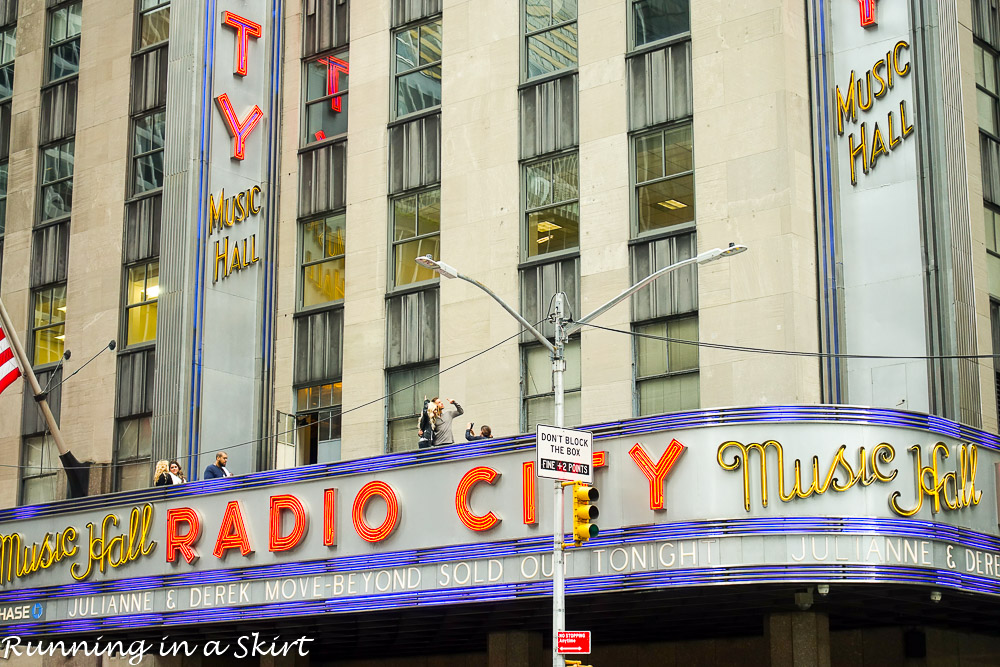 So those are my NYC highlights! As a lover of wide open spaces, green vistas and beaches... I wasn't expecting to like the city much but it completely won me over. I can see why people love NYC so much... it's captivating and has such great energy. I loved how much there was to do!
I did get sick on the trip, but luckily we had jammed packed a bunch of stuff into the first few days so it didn't feel like a total bust. I feel like I conquered the city, but can't wait to go back again. I have a whole list of shows I'm itching to see now that I know how easy it is to go.
As I mentioned above tomorrow I'm sharing all the great eats I had in the city including more from High Tea at the Plaza, NYC pizza, authentic bagels, poke bowls and even smoothies!
Like this post about NYC Highlights? Pin this to your favorite travel board to find later.


Thanks for stopping by today! Come back tomorrow for my favorite NYC Eats.
Your turn!
Been to New York City? What was your favorite thing to do there?
I'm linking up my post about NYC highlights with City Trippin.