Curious about healthy finds at ALDI? I was too! I created a healthy ALDI grocery list to make shopping a breeze. This ALDI food shopping list can make shopping at this fabulous store a bit easier.
I'd like to thank ALDI for sponsoring this post today about healthy finds in their store. I only write about companies I love and know you would like to learn about too. As always, all opinions are my own. Thank you for supporting posts like this that allow me to publish Running in a Skirt for free daily.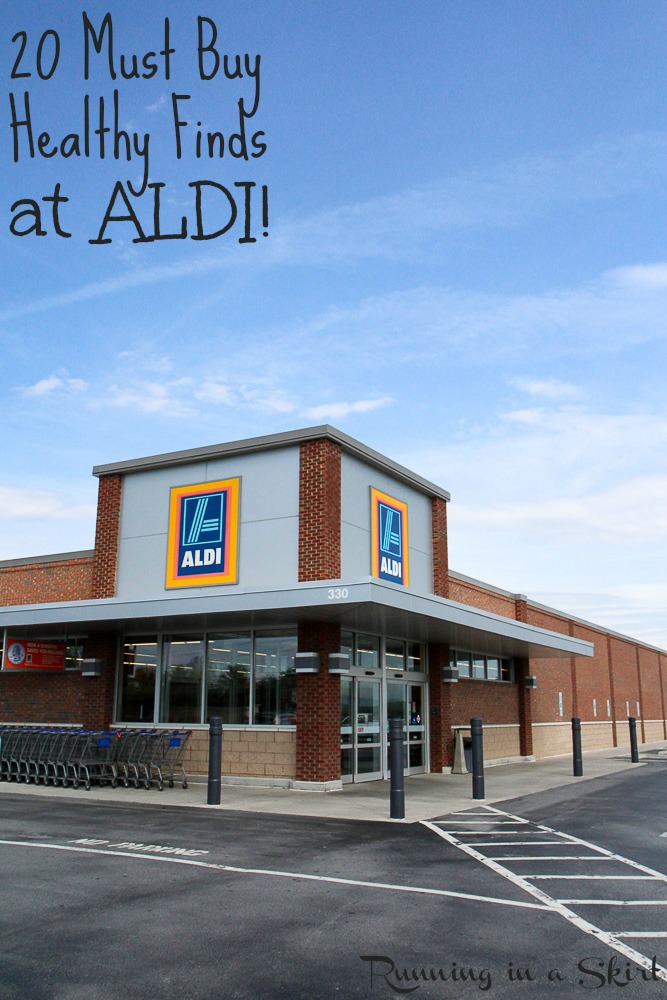 ALDI Shopping List
Who else gets frustrated at the cost of groceries these days? I remember in college buying a couple of bags of food for $20 bucks. The same amount of food seems to cost $50 or even much more now. It seems like you get less and less for your money each year.
That's why I've been all about shopping at ALDI lately. Every time I walk into the store I am blown away by the amount of quality, healthy and even organic food at fabulous prices. You can literally walk away with a cart full of groceries for a fraction of the price. Your ALDI food shopping list can be long and the price will stay low.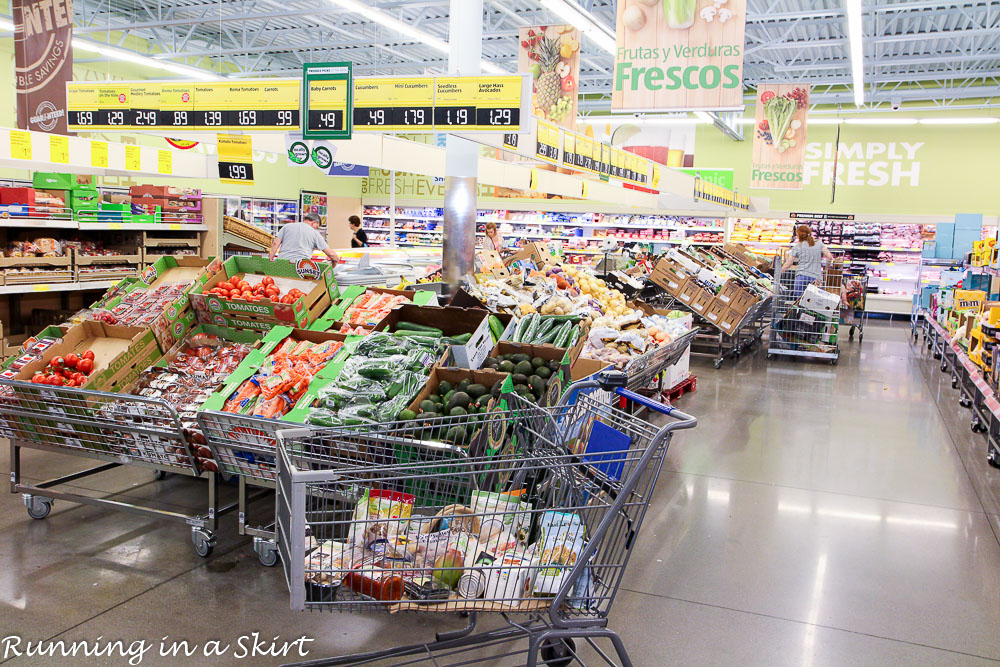 Before I explored ALDI myself, I wasn't sure about how much healthy food they had in the store, but they are stocked with all kinds of goodies that I know you guys would love. It's like they filled the shelves just for us healthy living peeps! Lots of great options for a plant-based diet too.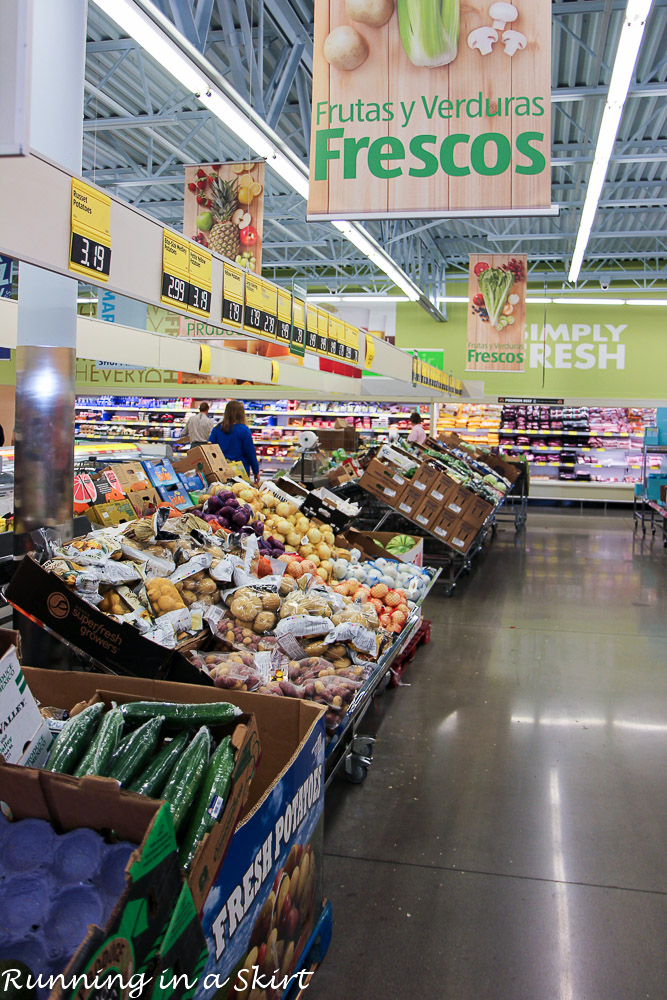 Because of that, I wanted to create a healthy ALDI grocery list so you could know what to look for when you went into the store. I feel like I've already done some of the legwork shopping, so I thought I'd save you some time.
The goal was to come up with my five favorite things, but I could not even begin to narrow it down... so I did 20! Just call me an overachiever :-)! Look at all that GOOD foooooood.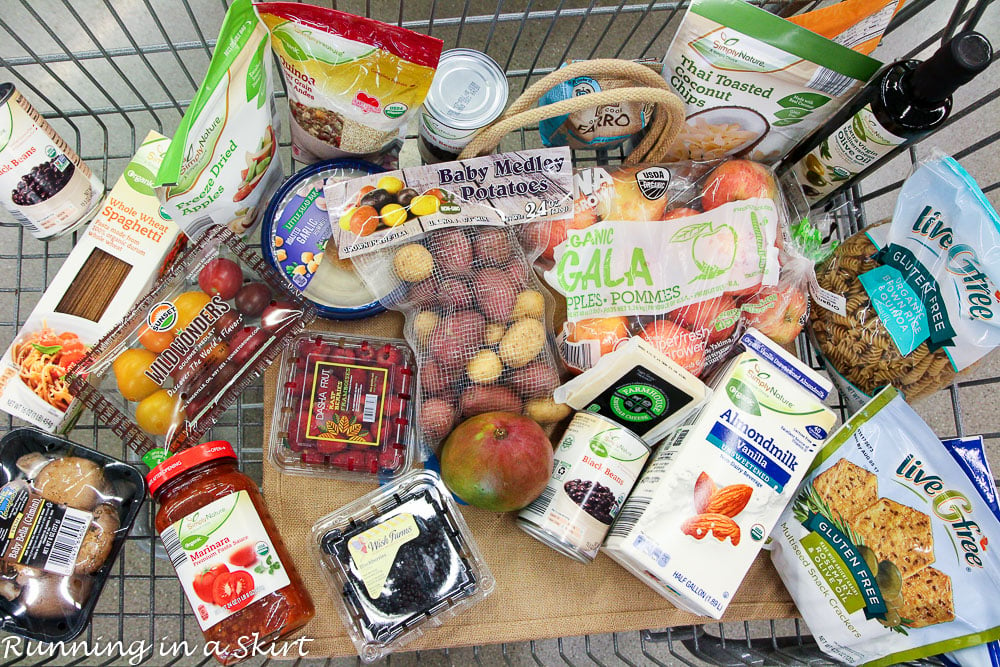 Before we get into the details, I wanted to share a few general things to look for when going into the store. ALDI costs less because they cut the unnecessary costs and use their own store brands which honestly are just as good, if not better, than national brands. Store brands I keep an eye out for are the SimplyNature line which is often organic. The SimplyNature line is natural and free of artificial colors, flavors, or unnecessary enhancers.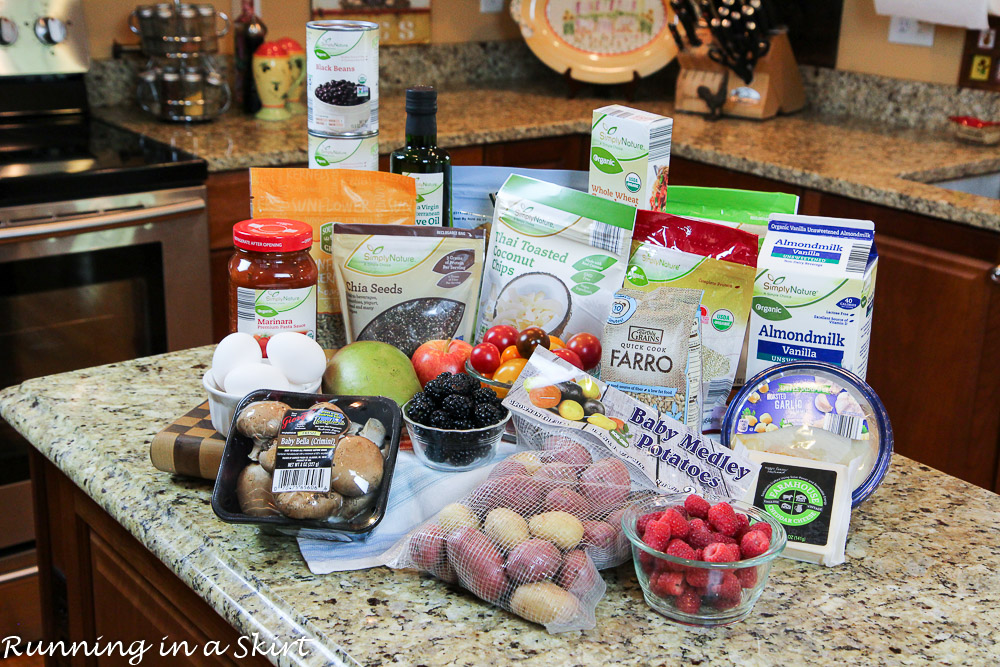 I'm also a fan of the Fit & Active line which offers products with less fat, sodium or calories. I'm not gluten-free, but I really like some of their gluten-free line which is called liveGfree! And finally I'm a sucker for gourmet food, so I also watch out for their Specially Selected line which features a delicious selection of premium products like fancy cheese, coffees and pastas.
With that in mind, here are my favorites for a healthy ALDI grocery list.
Healthy ALDI Grocery List
SimplyNature Frozen Fruit
ALDI has a great selection of frozen fruit and even organic frozen fruit! Their SimplyNature Organic Strawberries and Blueberries are always in my cart because you can't beat their prices.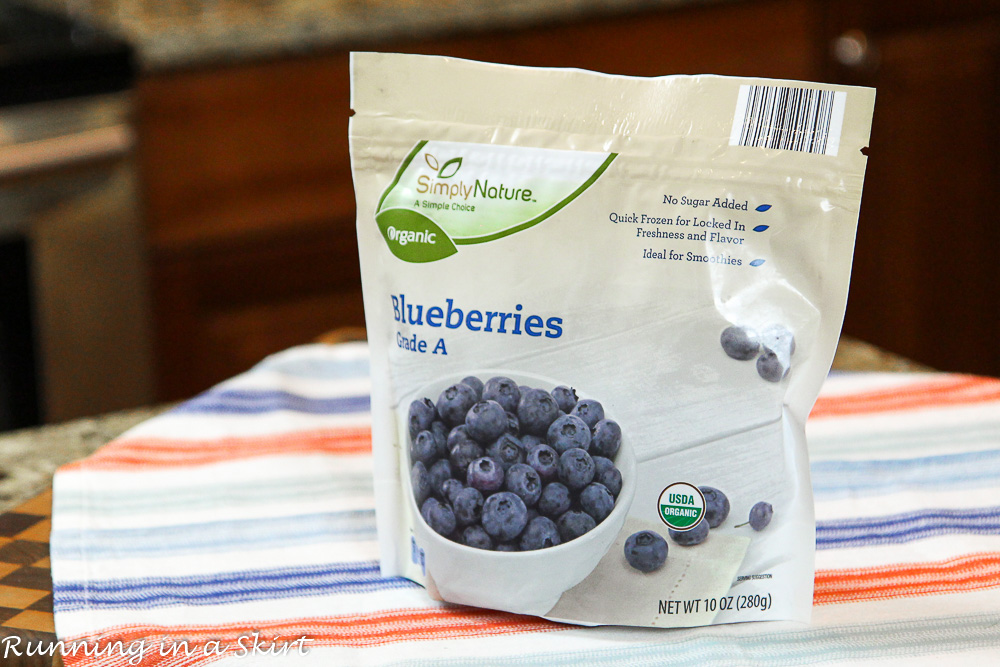 I use them to make smoothies like my Strawberry Mango Smoothie or Blueberry Oatmeal Smoothie.
SimplyNature Freeze Dried Fruit
Have you guys had freeze-dried fruit yet? Ohhhh how I adore it. I like to keep it around for traveling when it's not practical to take actual fruit with me. It's also tasty in an oatmeal bowl when you don't have fresh fruit on hand.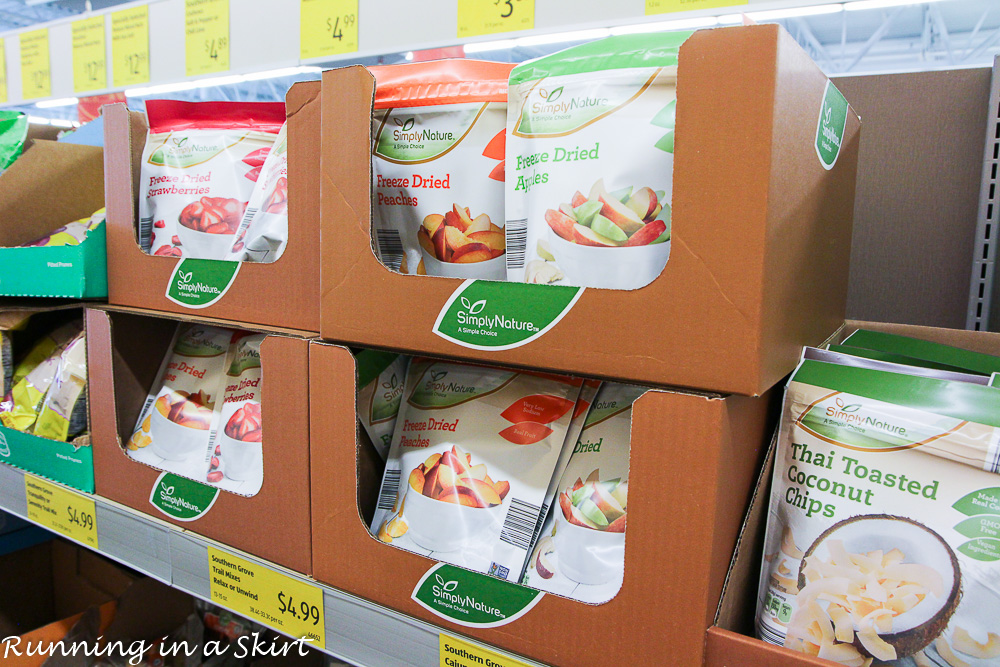 ALDI stocks freeze-dried apples, peaches, and strawberries in their SimplyNature line.
SimplyNature Thai Toasted Coconut Chips
You must pick up the SimplyNature Thai Toasted Coconut Chips when you go to ALDI. Use them as a smoothie bowl or oatmeal bowl topping and then send me an email to tell me how much you love me. :-).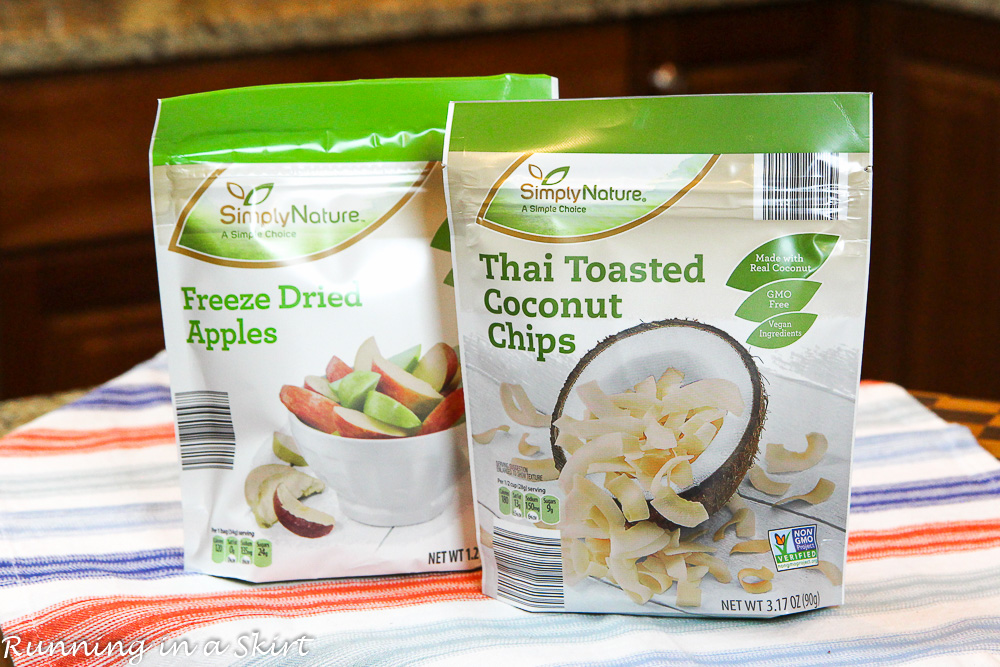 SimplyNature Chia Seeds
ALDI has THE best price on chia seeds. The SimplyNature Chia Seeds are so much less than where I was buying them before and they look and taste exactly the same.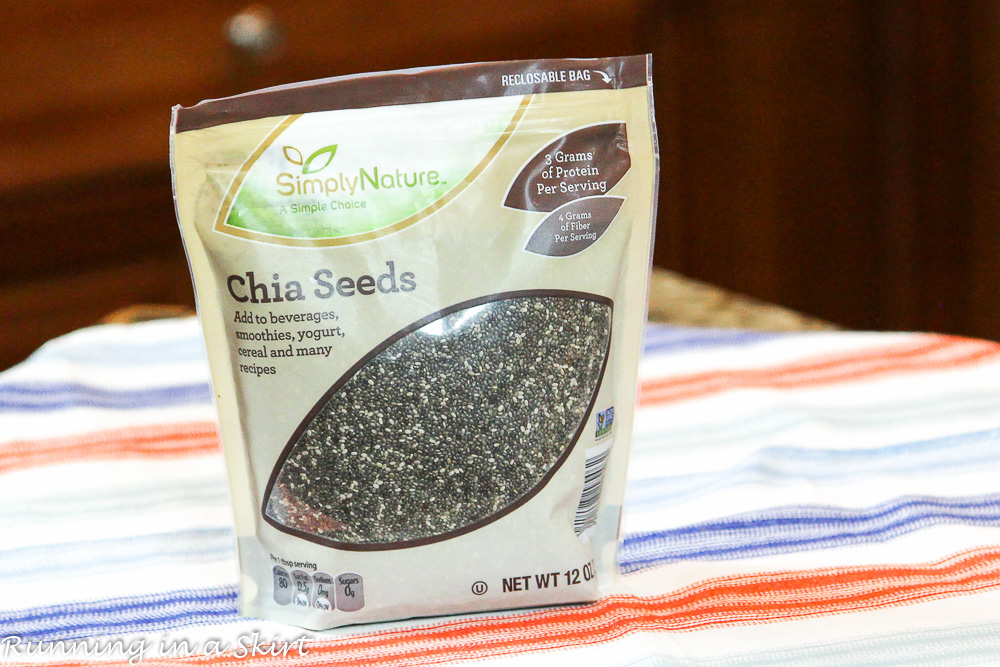 Use the chia seeds in smoothies, yogurt or even my Strawberry Shortcake Overnight Oats!
I have also found hemp seeds and flax seeds at fabulous prices in my store.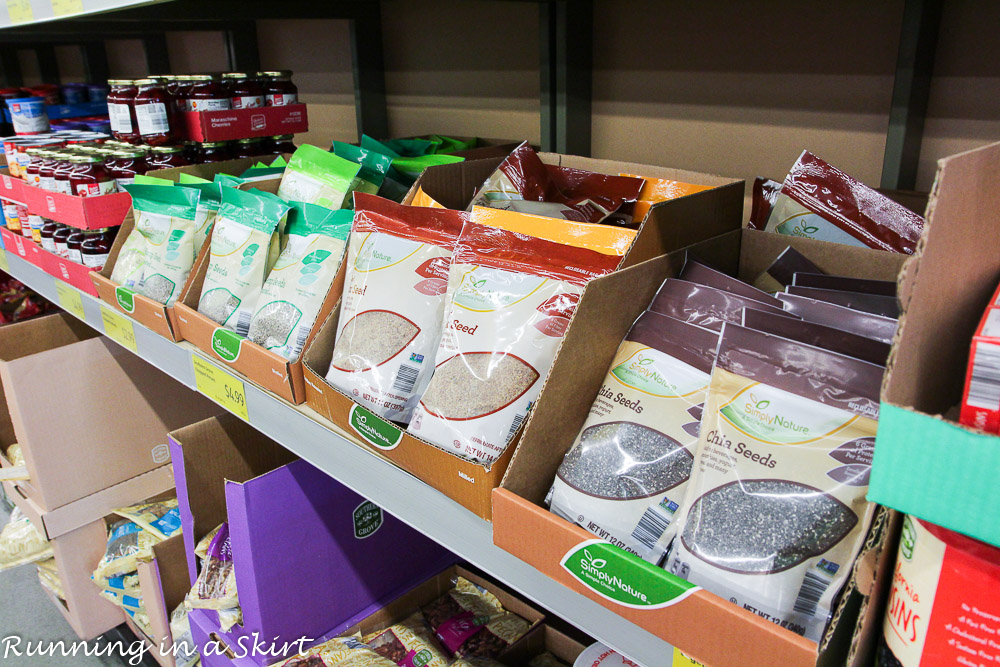 Southern Grove Nuts
Another thing to add to your healthy ALDI grocery list is nuts and seeds. They have large bags of unsalted almonds at a fabulous price. They also stock shelled pistachios for a great deal. Use the pistachios in my Pistachio Hummus.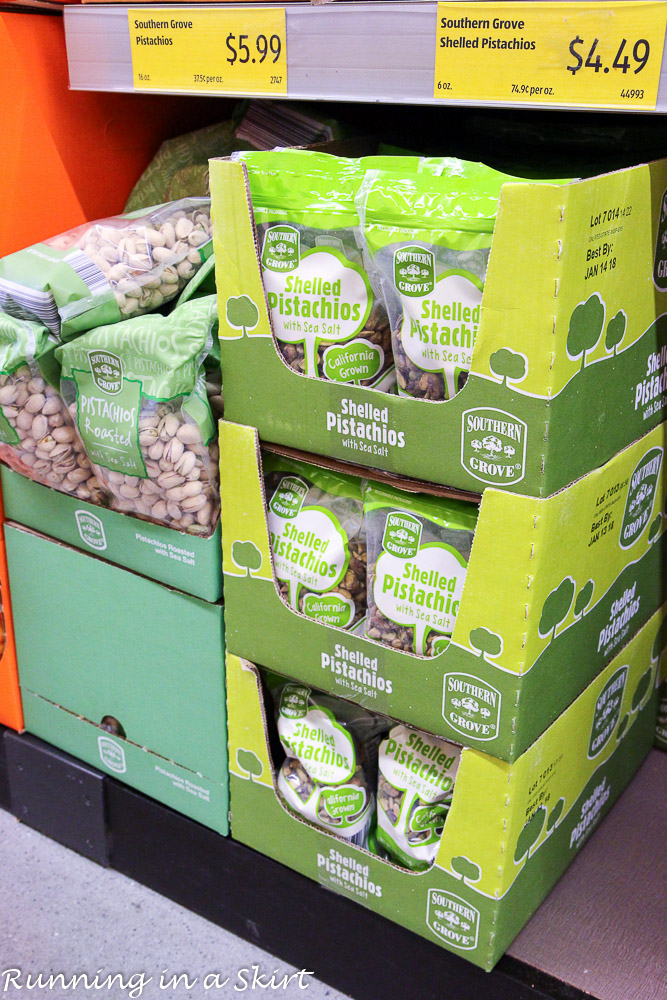 I like to buy these Southern Grove Sunflower Kernels for my salads.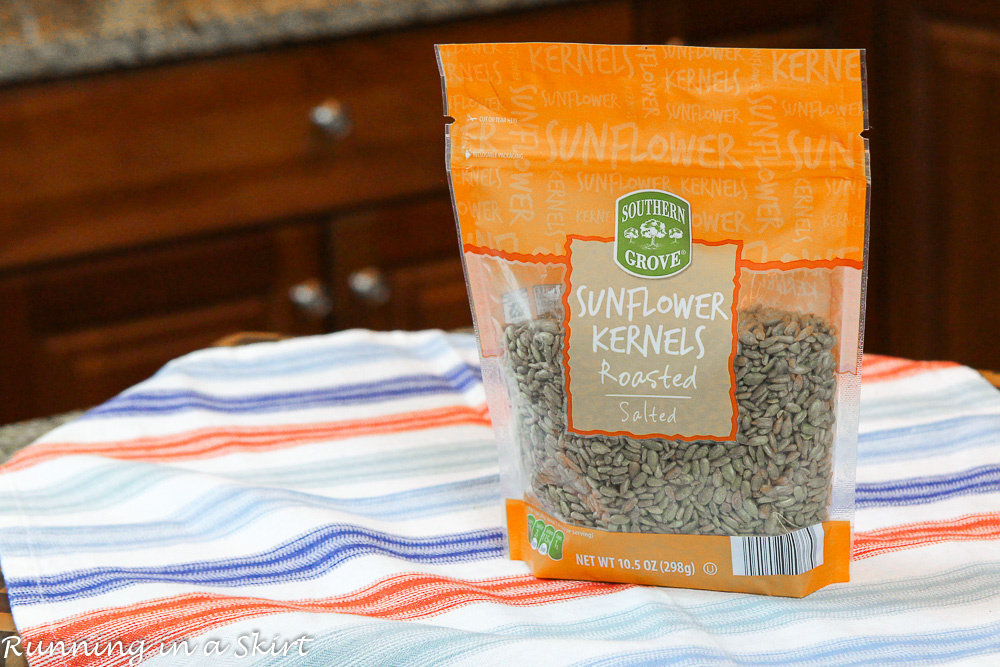 Fresh Fruit
I'm going to be completely honest with you here... I used to think ALDI didn't have fresh fruit. Boy was I WRONG! They not only have fresh fruit, but have tons of choices.
The last time I went, I found mango, grapes, kiwi, apples (several different varieties,) pears, plantains, pineapple, oranges (different kinds,) watermelon, honeydew, lemon, plums, peaches, limes, and the most beautiful selection of berries!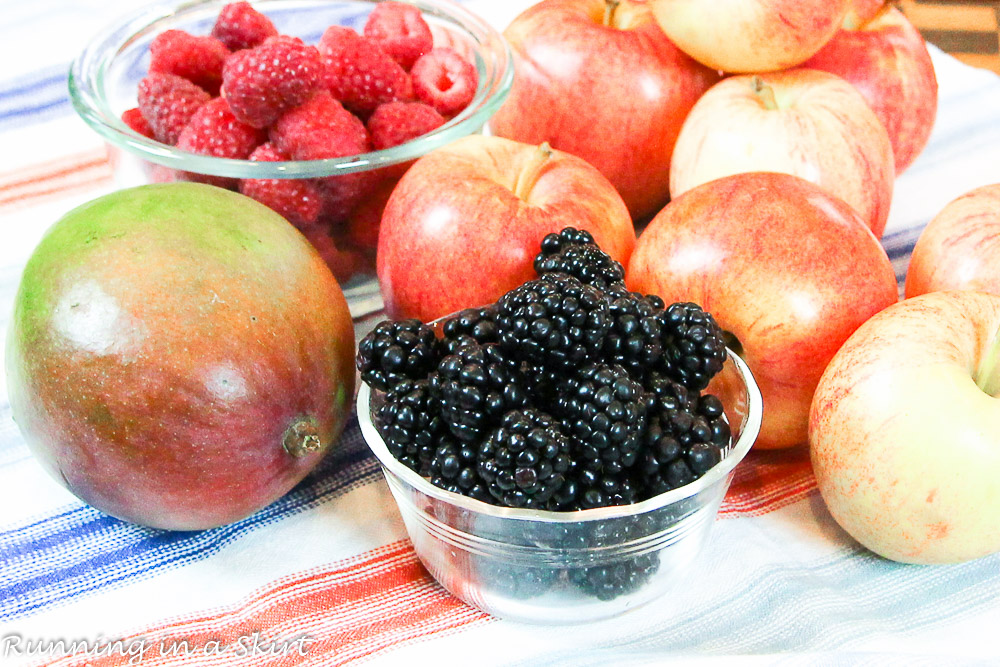 These berries looked and tasted amazing and cost much less. They also have organic choices. SCORE!
Fresh Vegetables
I also like to stock up on fresh vegetables and add them to my healthy ALDI grocery list.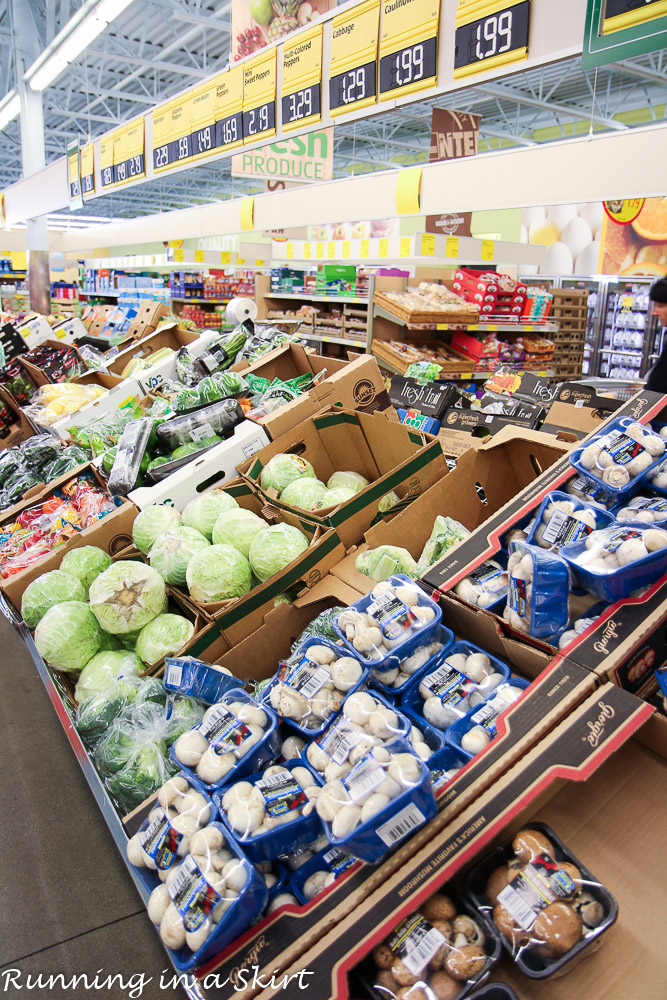 Most recently my store had cucumber, tomato (several different types including multi-color ones,) carrot, peppers (lots of kinds,) celery, lettuce, greens (including organic spinach, kale AND salad kits) mushroom, broccoli, cauliflower, jalapenos, green beans, asparagus, yellow squash, zucchini, Brussels sprouts, corn, green onions, onions (red, white, yellow) garlic, potatoes (large variety) and AVOCADO! Some of these items come in organic as well.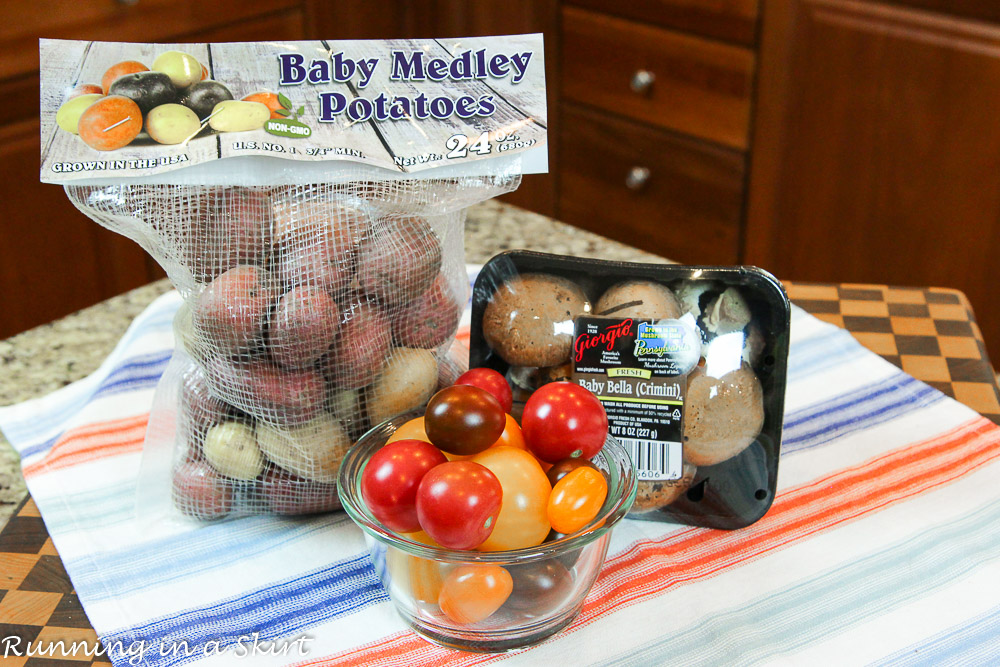 That pretty much covers the bases for most things I make!
SimplyNature Pasta
ALDI also has some healthier choices for pasta! They stock SimplyNature Organic Whole Wheat Spaghetti.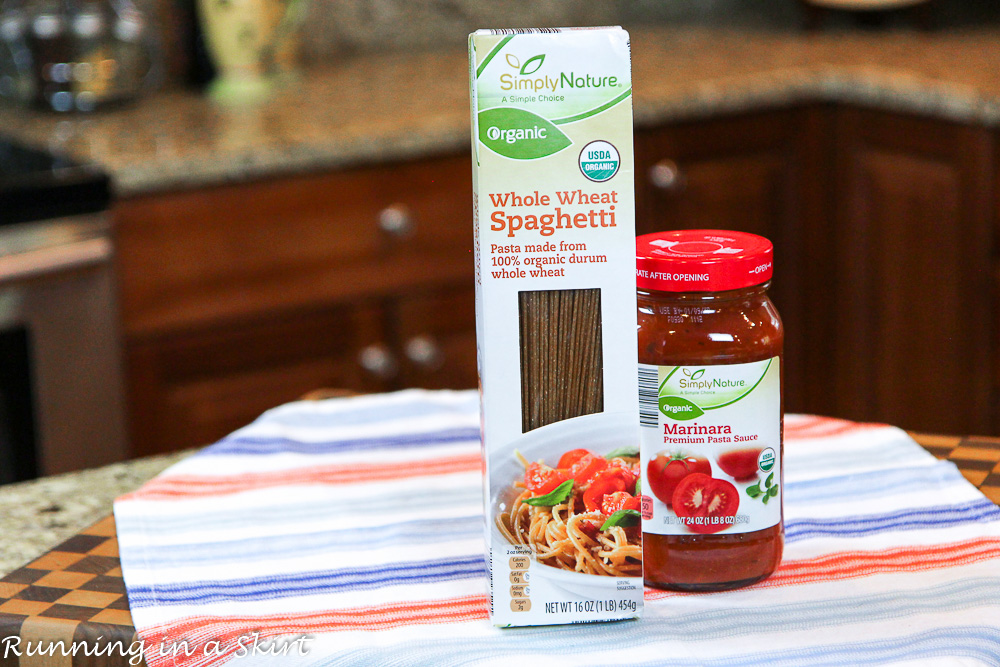 I'm also a fan of their liveGfree Organic Brown Rice and Quinoa Pasta.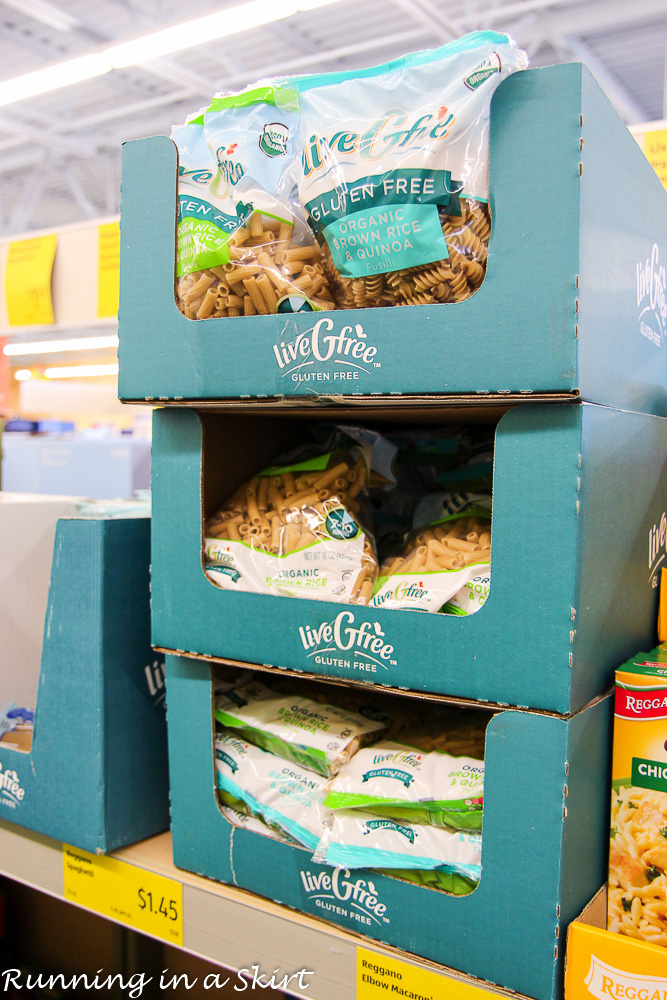 SimplyNature Organic Marinara Sauce
As much as I like making my own sauce, I still keep quality jarred marinara around the house. It's such an easy shortcut for a fast dinner. This SimplyNature Organic Marinara Sauce has a short list of ingredients that I can pronounce and is clean and healthy.
Plus it tastes really good!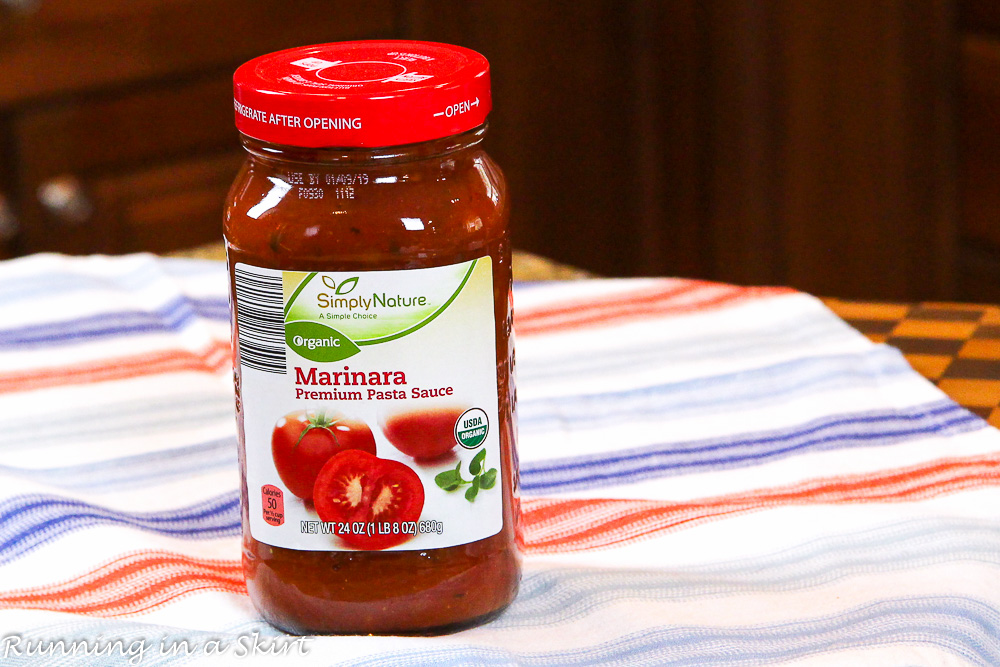 Use it with the pasta above and a big platter of roasted veggies like mushrooms, squash and onions.
Millville Oats
I'm not sure you can have a healthy grocery shopping trip without getting oats! ALDI stocks all kinds (instant, old fashioned, steel, etc.) at a fabulous price.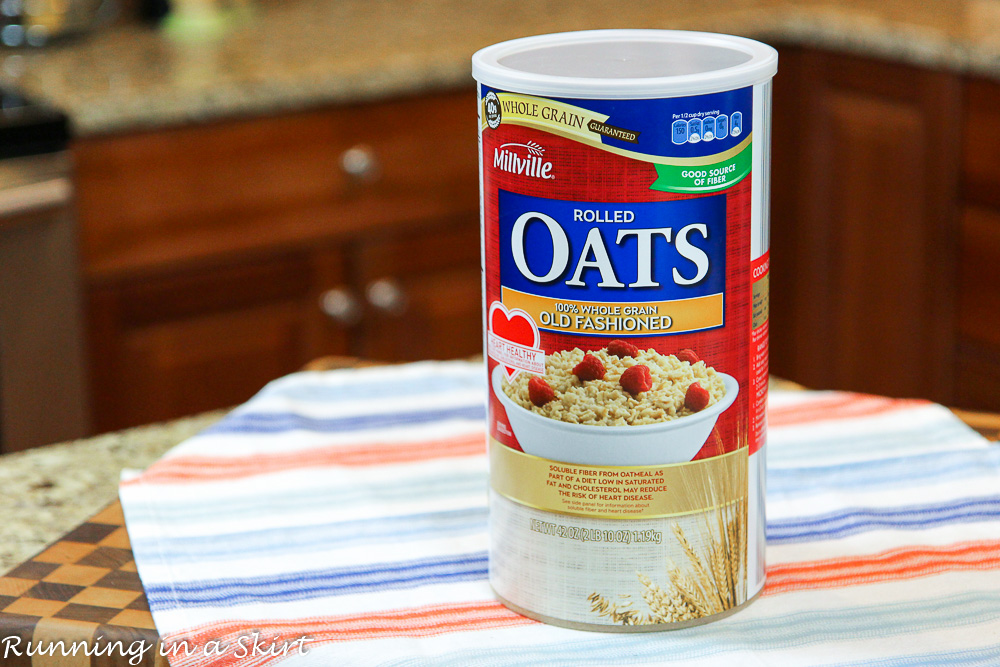 SimplyNature Organic Quinoa & Other Grains
Quinoa is a staple in my diet because it has protein in it, it's versatile and delicious! ALDI's quinoa is part of their SimplyNature line and is a fabulous deal.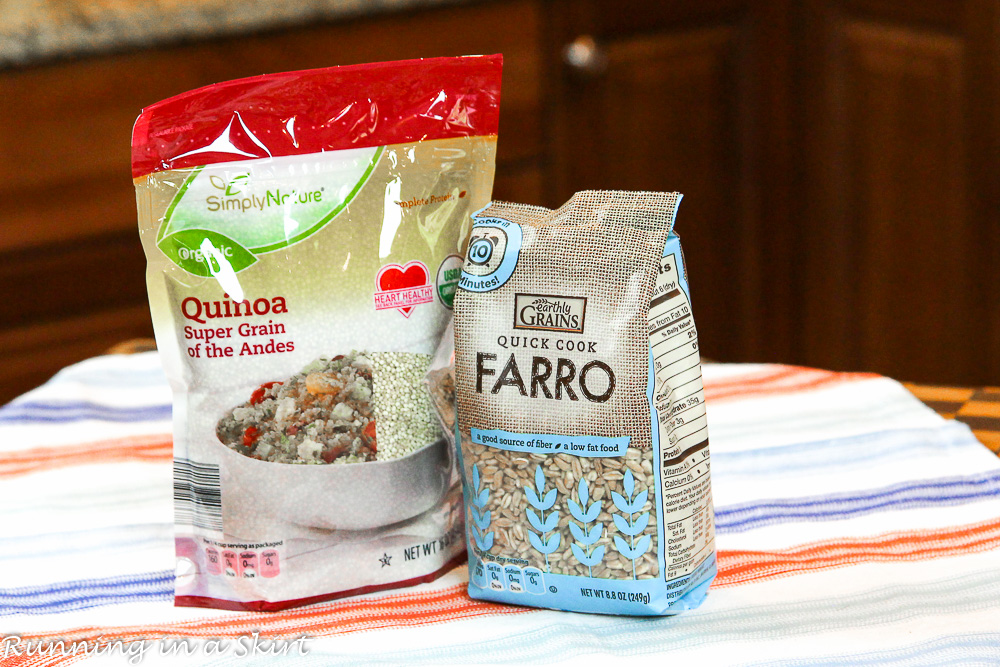 They also keep Earthly Grains quick-cooking barley, farro, and bulgur! Use the quinoa to make Grilled Vegetable Quinoa Salad and the farro to make Farro, Mushroom, and Walnut Stuffed Acorn Squash.
Eggs
Eggs are a great source of vegetarian protein and you can't beat the price at ALDI! And I will always see cage-free and organic eggs there.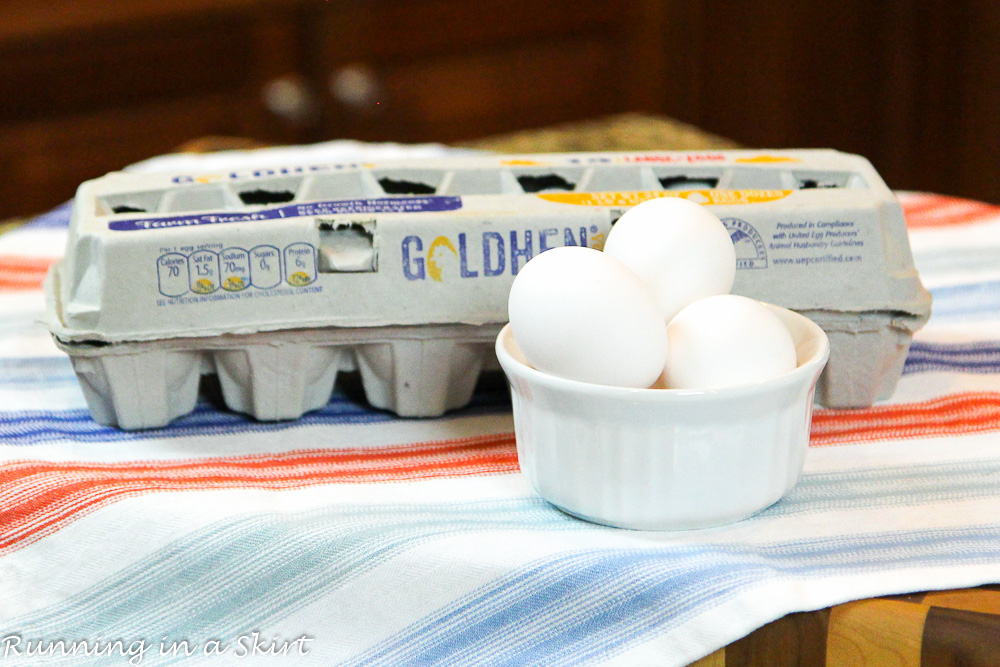 Use the eggs to make my Crustless Kale, Mushroom and Feta Quiche.
SimplyNature Organic Olive Oil & Coconut Oil
ALDI stocks SimplyNature Organic Coconut Oil at a great price. They also have a good SimplyNature Organic Extra Virgin Olive Oil which tastes good and is at the amazing price point.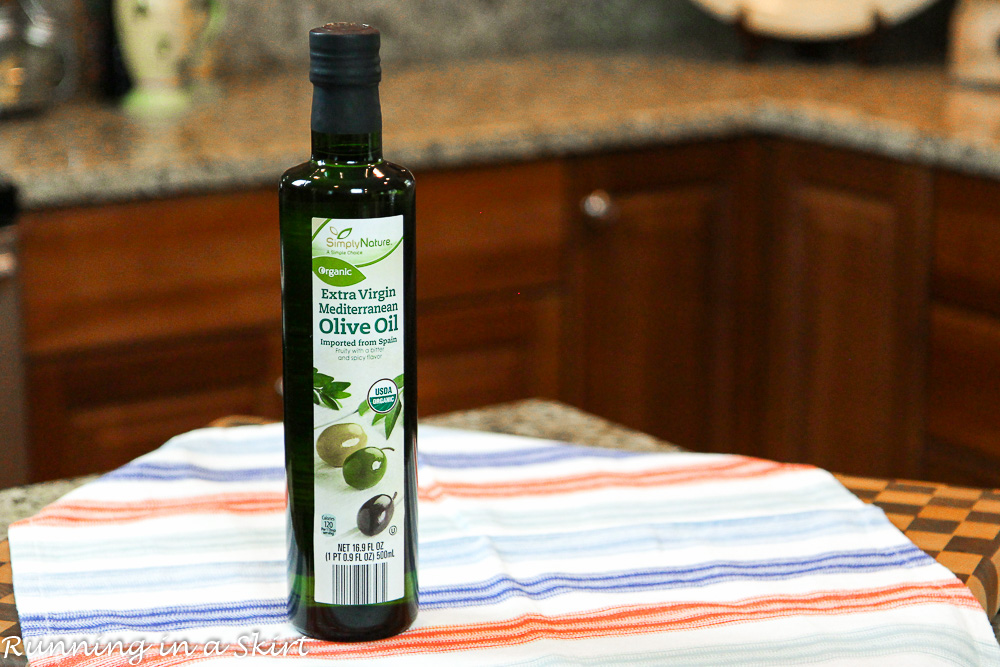 SimplyNature Organic Apple Cider Vinegar
Apple Cider Vinegar is a great healthy addition to your diet. I like ALDI's SimplyNature Organic one.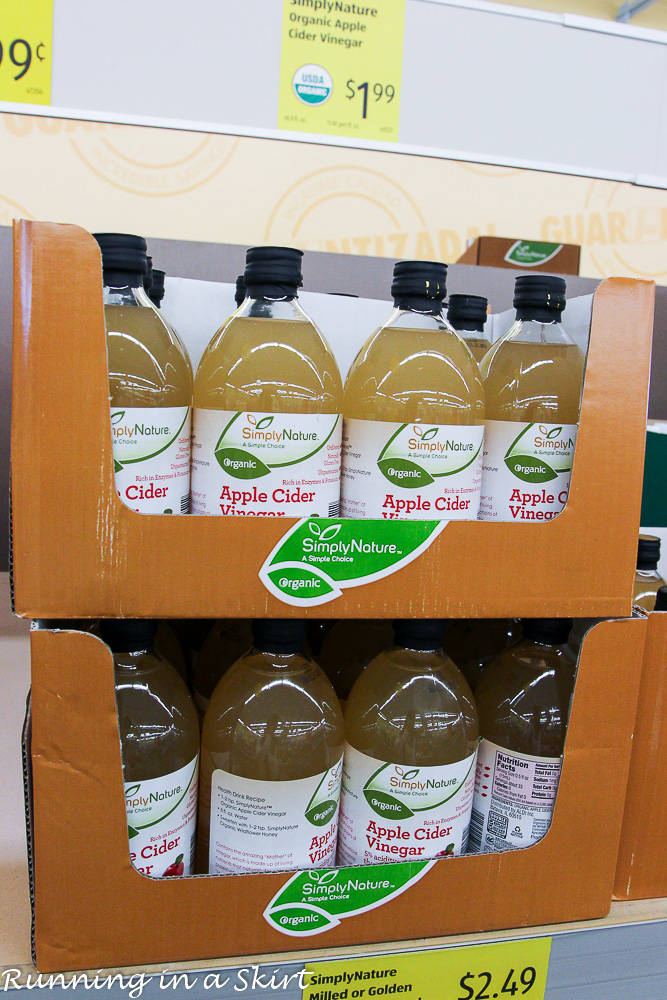 Beans
Beans are another great source of vegetarian protein. They carry both dried and canned versions of a variety of types. My favorite is SimplyNature Organic Black Beans. I use several cans of these a week, so I always stock up.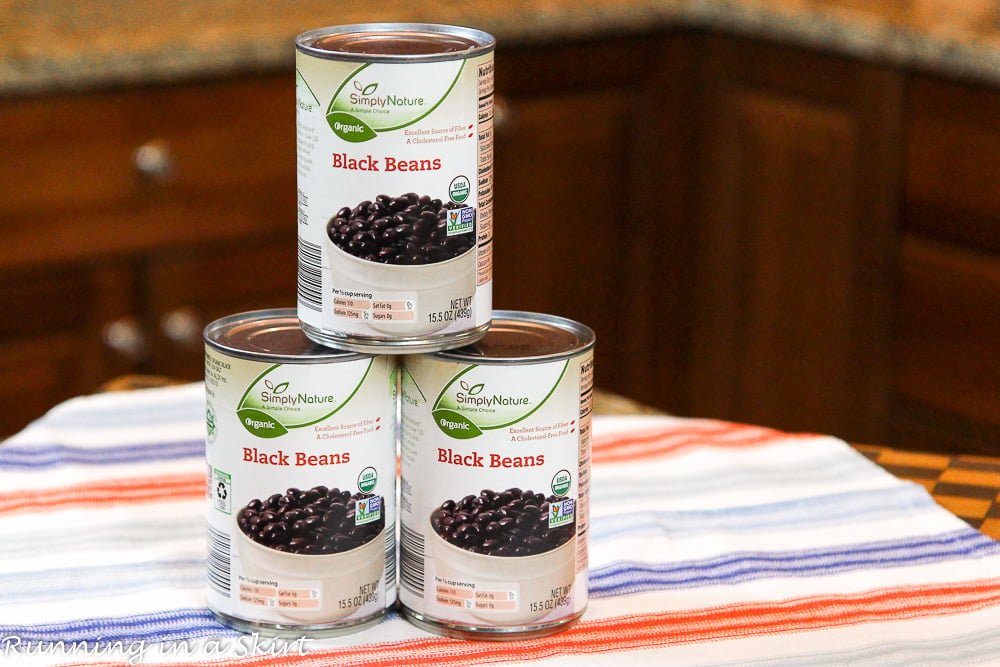 Use them in my Black Bean and Avocado Quesadilla or my Black Beans and Rice.
Little Salad Bar Hummus
I like the hummus from ALDI just as much as anything I get in other stores. It comes in several different varieties, although I'm partial to the pine nut flavor and the garlic flavor.
SimplyNature Organic Almond Milk
We go through a LOT of almond milk in my house, so any savings is a win for me! ALDI stocks just about any variety you would like in their SimplyNature Organic line.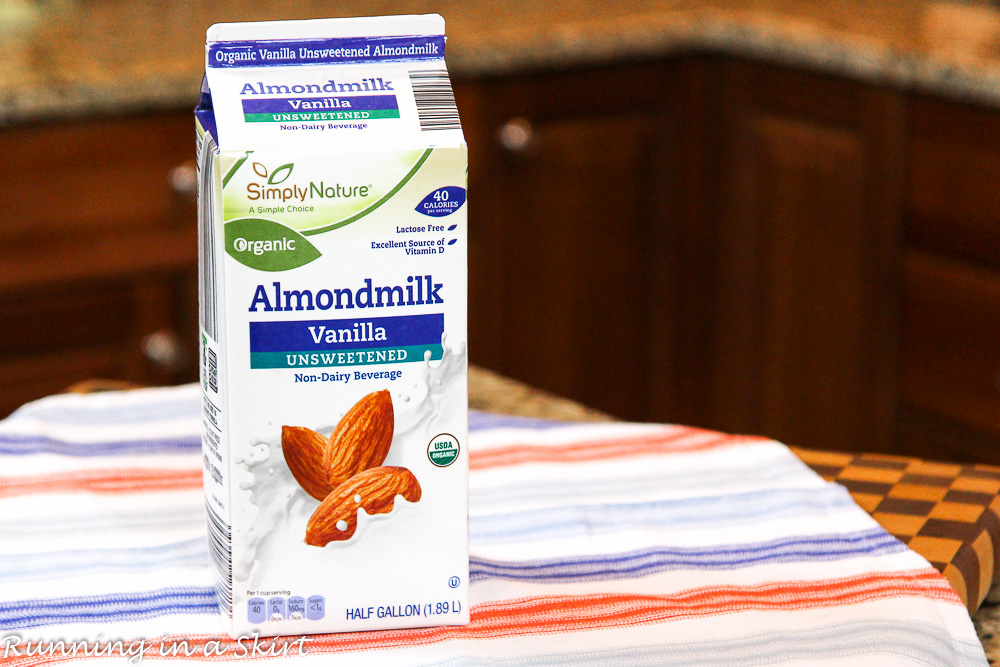 Friendly Farms Greek Yogurt
Greek Yogurt is another staple in my house! ALDI stocks flavored and plain versions as well as individual cups with all kinds of yummy flavors. I will usually buy a big container of plain Greek yogurt at half the price I can get it for elsewhere.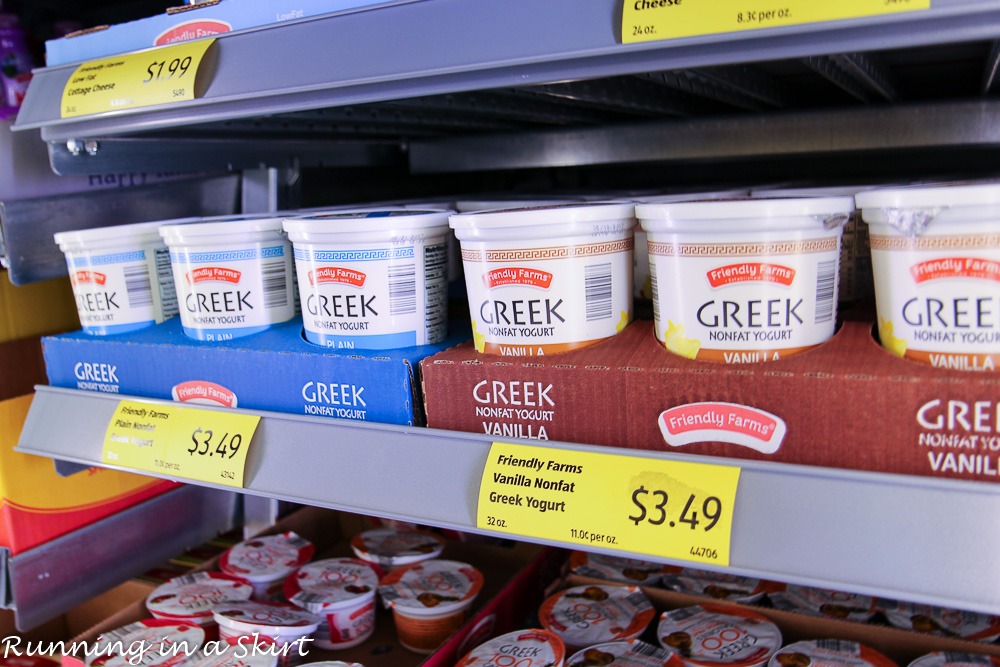 Use it in pastas, smoothies or my Clean Eating Honey Cinnamon Banana Bread Muffins.
liveGfree Gluten Free Multiseed Snack Crackers
I don't eat a lot of chips or crackers, but these liveGfree Gluten Free Multiseed Snack Crackers have won me over! I like them because the seeds actually give them some nutritional value. They are great with some sharp cheddar cheese and an apple for a snack.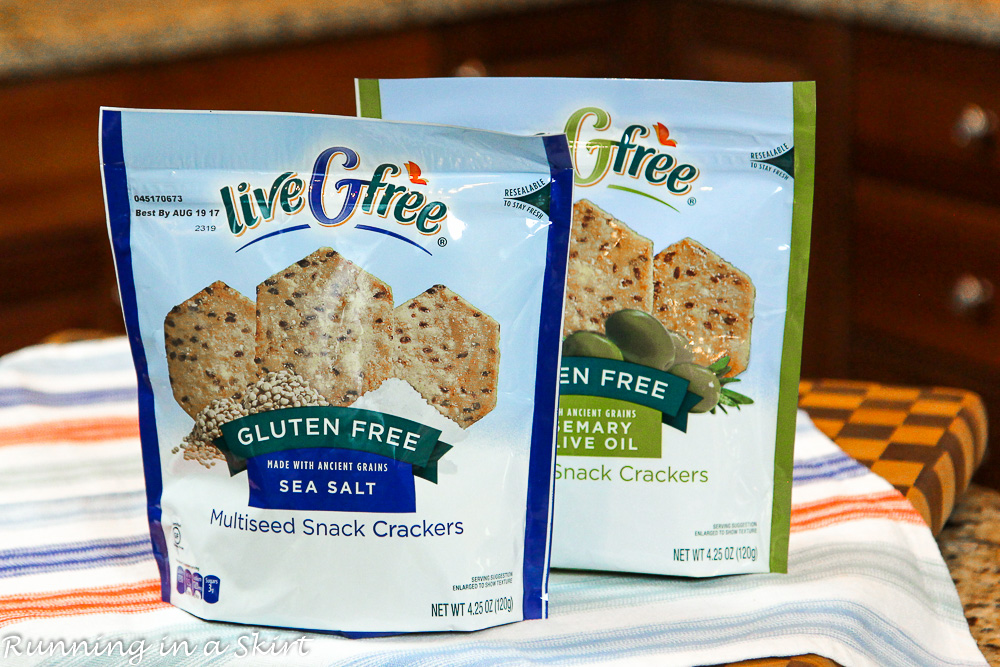 All the Cheese
So... you know I'm not getting out of a grocery store without buying some cheese! ALDI has fabulous specialty cheeses at crazy good prices. They even have goat cheese, feta, and brie.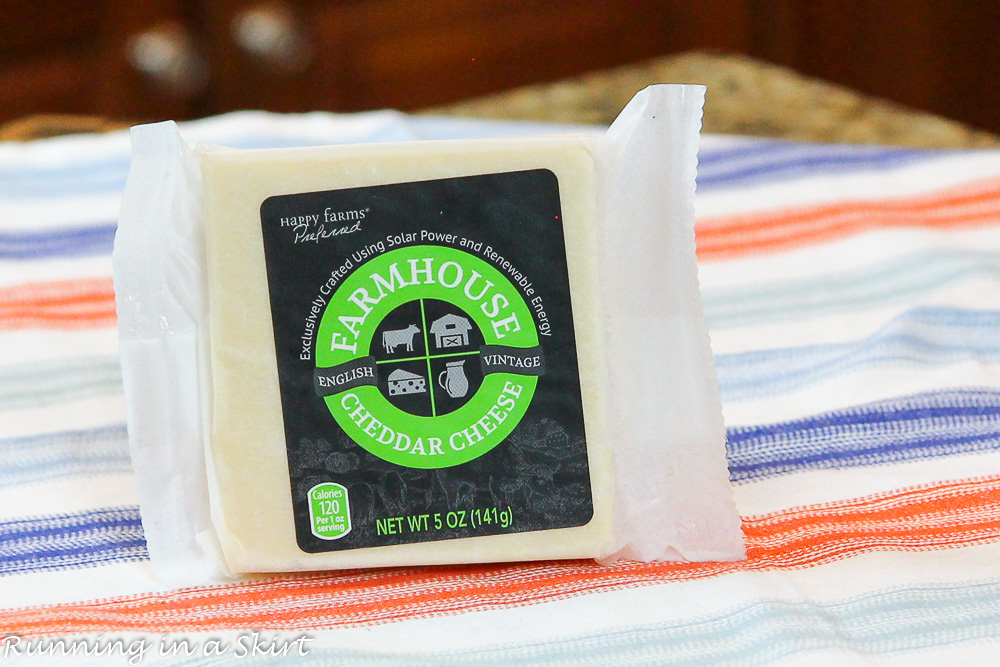 My personal favorite is this Farmhouse Cheddar Cheese. It's divine and makes me happy!
Healthy ALDI Shopping
So happy with my healthy ALDI shopping list! This healthy ALDI grocery list honestly just touches on a just few of my favorites. There are many more including frozen veggie burgers, organic frozen vegetables, peanut butter, dark chocolate, and wine! They also have frozen seafood and for those of you who eat meat, they have fresh organic grass-fed beef.
Just don't forget to bring your own bags and a quarter to rent your cart when you go.
You will put a quarter in the cart like this, but then get it back when you return the cart. They do that so they don't have to pay someone to get carts out of the parking lot. It's just another way they are saving you money.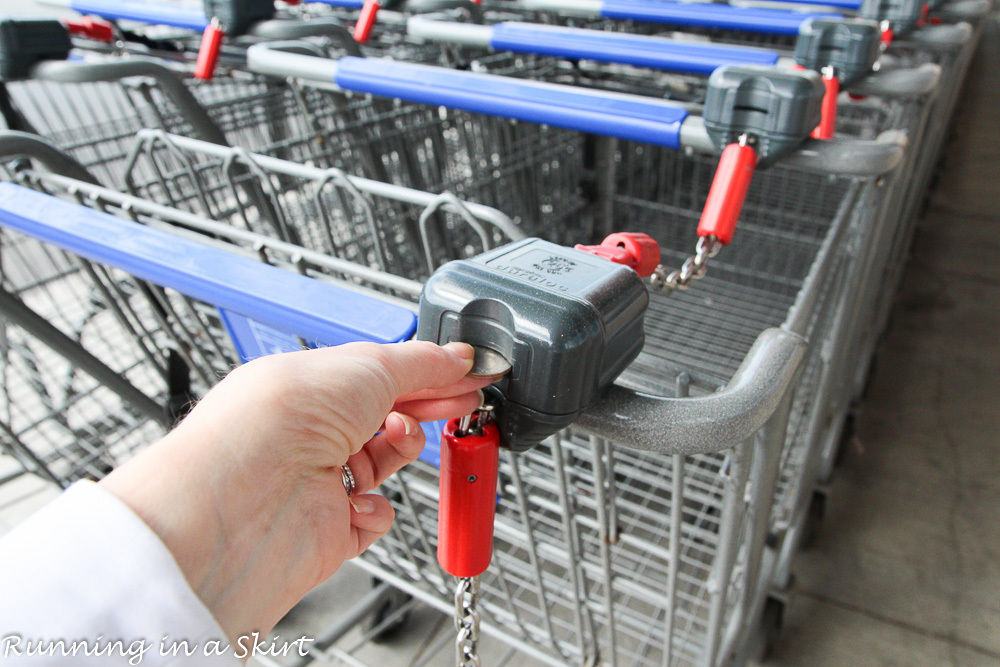 I hope I sold you on giving ALDI a try! I really think they have some fabulous stuff these days and it's worth a look. ALDI healthy food is easy to find and is at such great prices.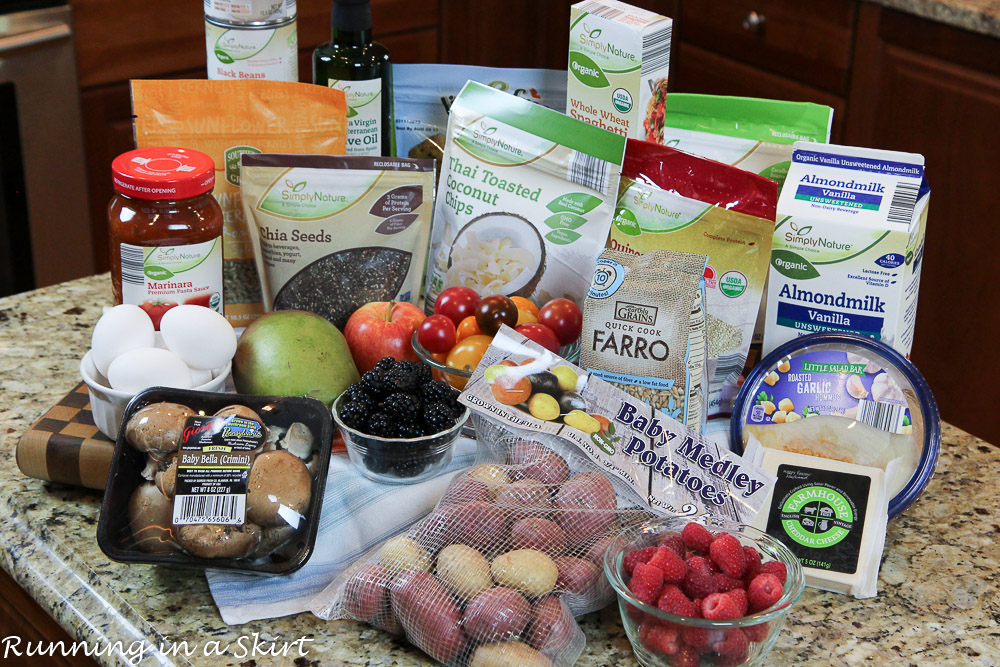 I didn't mention exact prices, because they can vary depending on where you live.
Like my healthy ALDI grocery list? Find it later by pinning this to your favorite Pinterest board! Thank you so much for the support.

Thanks for stopping by today! Tomorrow I'm sharing a few of the first photos from my recent trips!
Your turn!
What do you like buying from ALDI?