My Blueberry Oatmeal Smoothie is a healthy and filling way to start off the day!
This post is sponsored by ALDI. Thank you for supporting posts like this that allow me to publish Running in a Skirt daily. As always, all opinions are my own and I only write about products and companies I think you will like!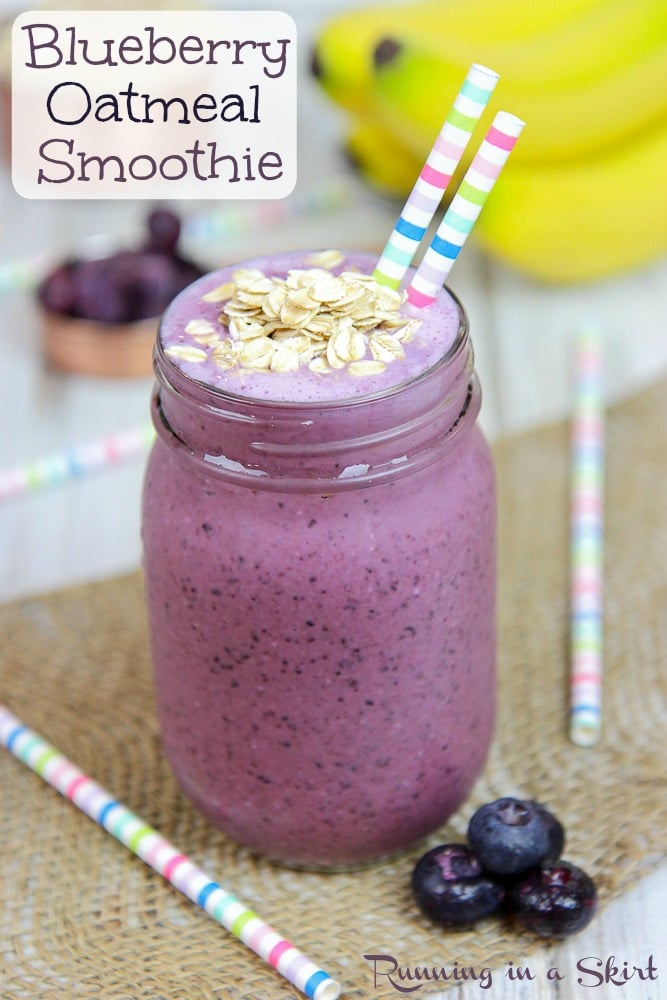 Hi everyone!
I know it's super cold out, but the New Year always means smoothie season for me! It's such a great way to pack in a bunch of nutrients in a fast and simple package. A healthy breakfast has never looked or tasted as good. And with my tips in this post, smoothies have never been cheaper to make. So basically I'm solving two of your New Year's Resolutions here... to eat better and save money.
This year, I'm rethinking the classic smoothie with my Blueberry Oatmeal Smoothie.
[fusion_builder_container hundred_percent="yes" overflow="visible"][fusion_builder_row][fusion_builder_column type="1_1" background_position="left top" background_color="" border_size="" border_color="" border_style="solid" spacing="yes" background_image="" background_repeat="no-repeat" padding="" margin_top="0px" margin_bottom="0px" class="" id="" animation_type="" animation_speed="0.3" animation_direction="left" hide_on_mobile="no" center_content="no" min_height="none"]This Blueberry Oatmeal #Smoothie is filling, healthy and delicious! #vegetarian Click To Tweet
This baby is filling, healthy AND totally delish! And just look at that super dreamy purple color. You know when food is naturally this colorful, it's got to be good for you.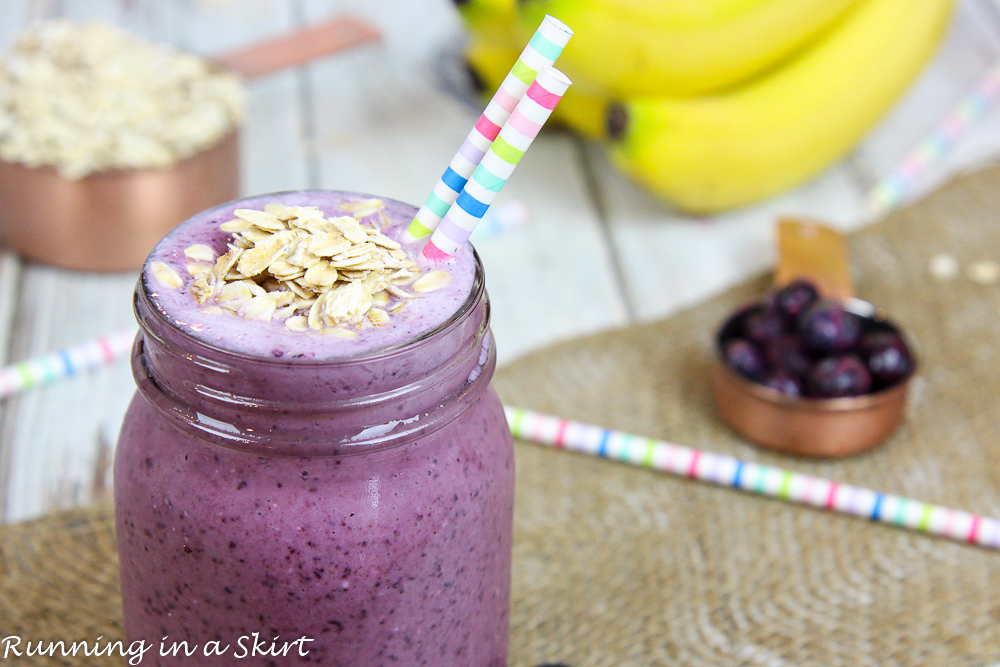 The secret for this smoothie is putting actual oats and chia seeds in the smoothie. It really bulks up the drink to keep you full longer, which I know is common complaint among smoothie non-believers.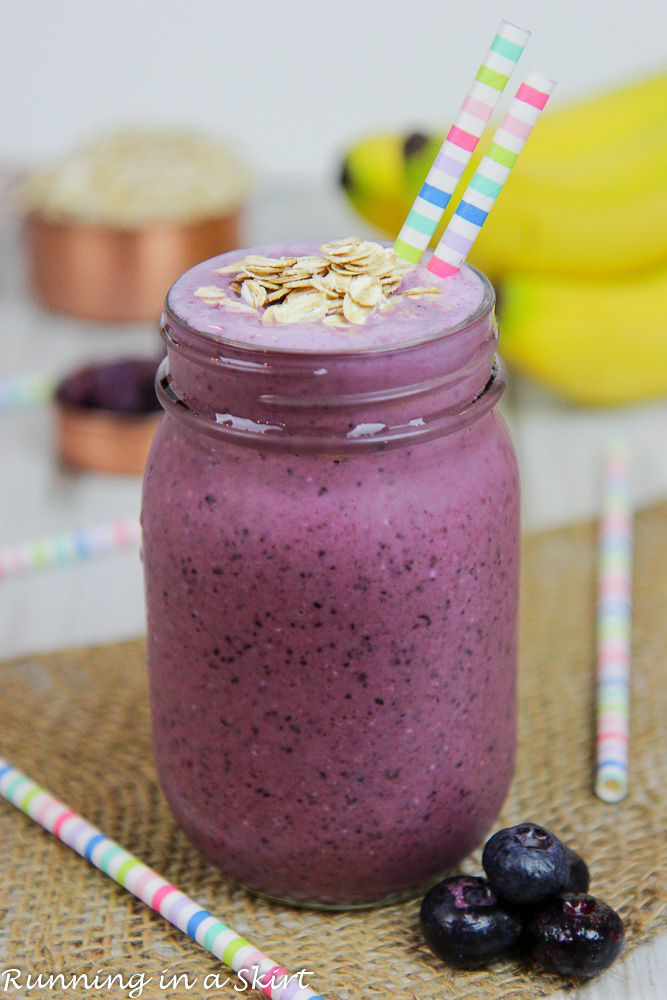 To make the smoothie I used ingredients that I found at my local ALDI store. I was really impressed by some of their store brands, including the SimplyNature line, which featured lots of organic products.
ALDI stores are a great place to shop to save big on your grocery bill.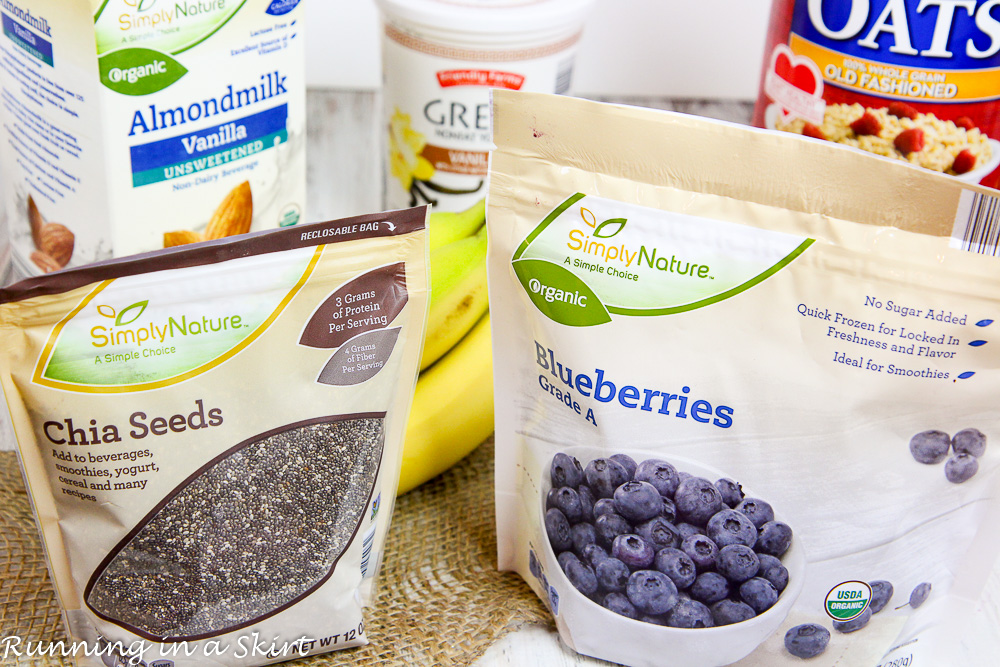 I did my own Try and Tell experiment to see how a couple of the ALDI store brands compared to national brands.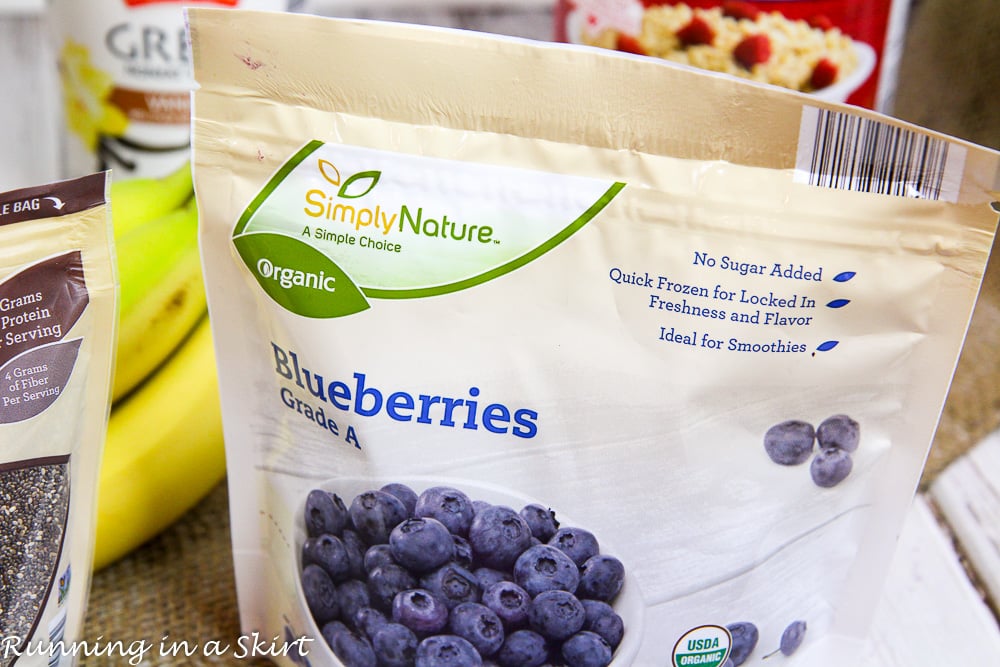 The SimplyNature Organic blueberries were just as plump as the national brand.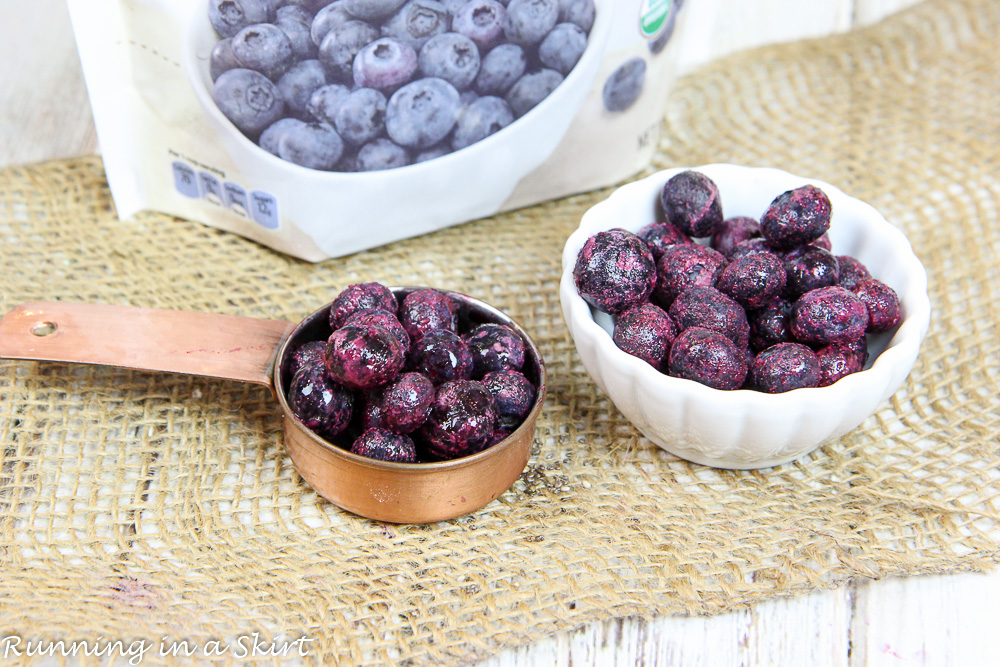 And the SimplyNature chia seeds looked identical!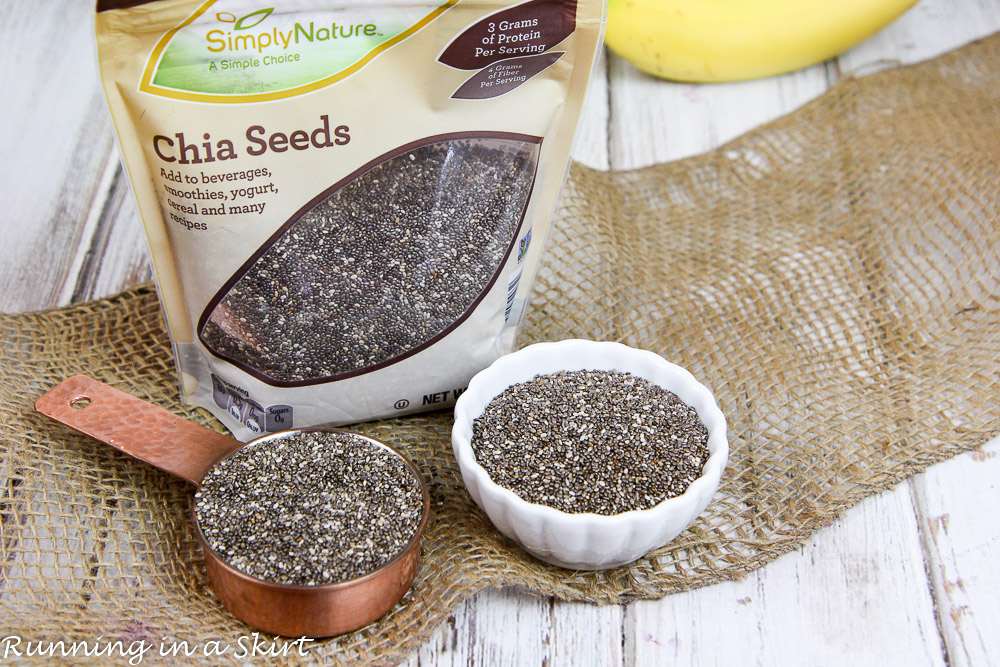 The difference really comes down to the price! I bought all the ingredients for my Blueberry Oatmeal Smoothie from ALDI for under $17* <---makes smoothies for a week or longer. While the same products at another grocery store cost me around $23! That savings really adds up over time.
*Price and availability may vary
ALDI stores are basic by design, but it's a really nice, streamlined and pleasant grocery experience! Sometimes less is more. The products are easy to find and I am really impressed by some of their store brands like the SimplyNature line which features products with no artificial colors or flavors, the Fit & Active line which has products with less fat, sodium and calories and the Specially Selected line which includes gourmet products like fancy cheese! <---y'all know how much I love cheese!
For those of you who are gluten free, look out for the liveGfree line, which is extensive including snacks, granola bars, baking mixes, breads, pastas and even frozen meals.
The stores consist of 90% of their own store brands to save you money!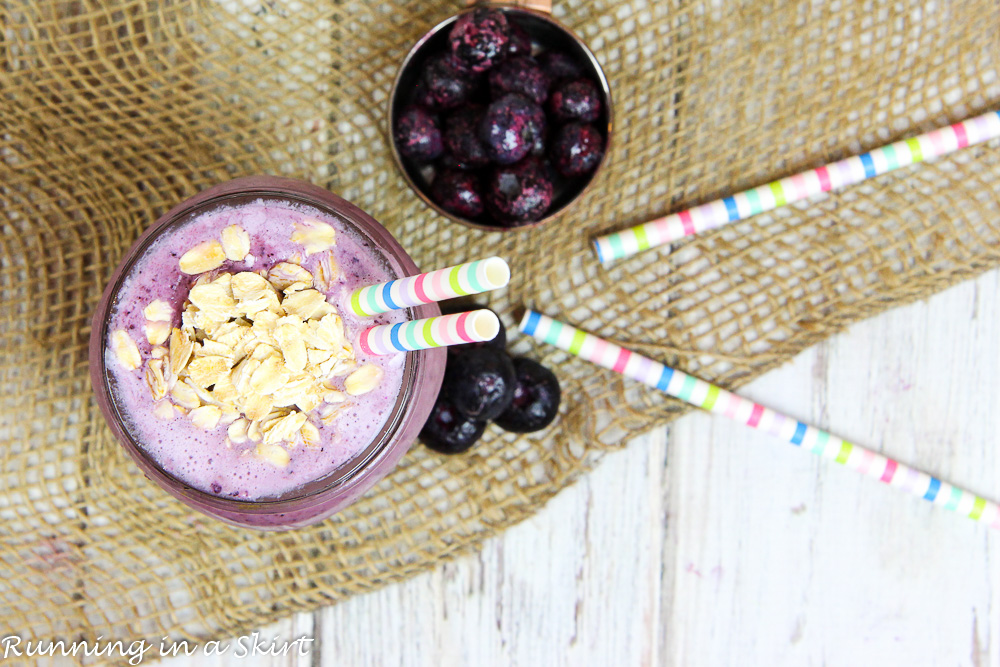 ALDI store brands are tested in the ALDI Test Kitchen several times a year to ensure high quality! They even guarantee quality and freshness.
This Blueberry Oatmeal smoothie could not be better!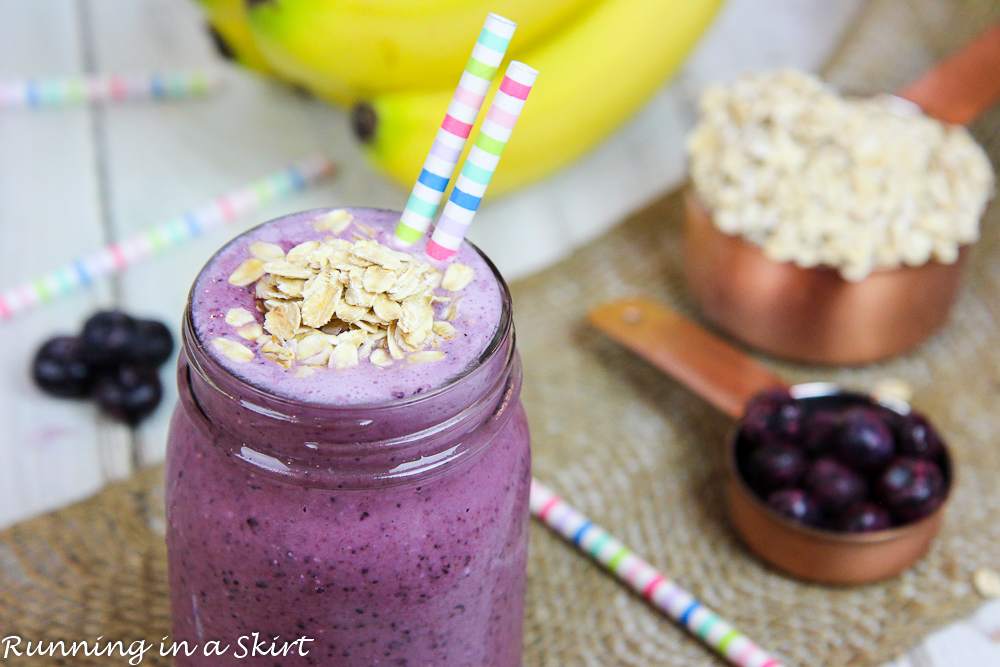 Check out this video to learn more about ALDI and a demonstration of how to make my Blueberry Oatmeal Smoothie!
My Blueberry Oatmeal Smoothie is bit unexpected because of the oats, but give it a try! The smooth and filling consistency will win you over. Plus you can't go wrong with the natural protein punch from the oats, chia seeds and greek yogurt.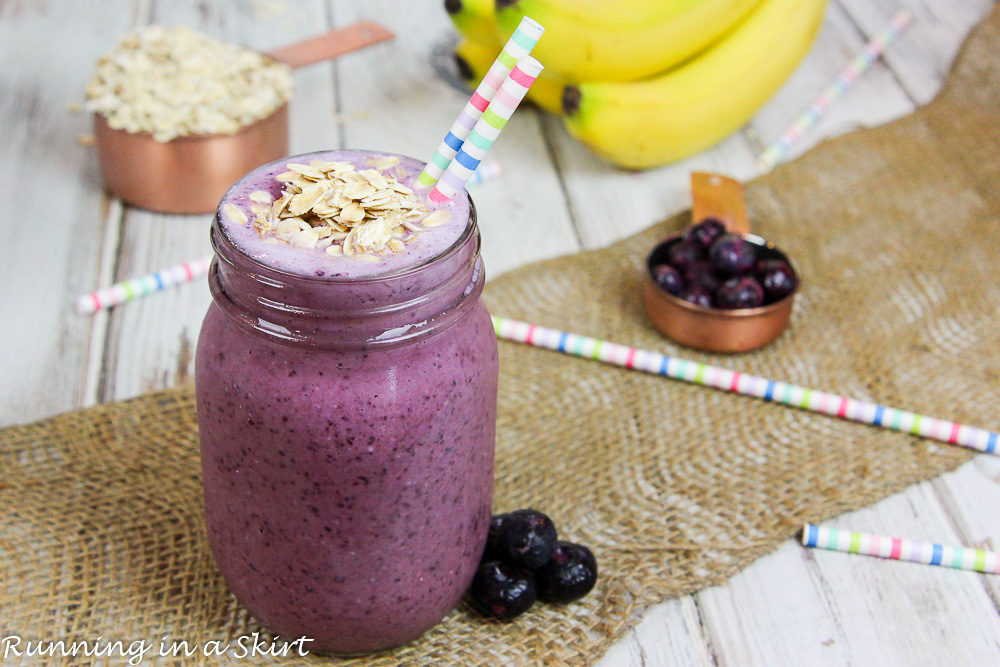 I hope you enjoy this great smoothie as much as I do! I you try it share using the hashtag, #ILikeALDI.
Blueberry Oatmeal Smoothie
My healthy and filling Blueberry Oatmeal Smoothie is a great way to start the day!
Ingredients
¼

cup

rolled oats

1

teaspoon

chia seeds

½

cup

almond milk

¾

cup

frozen blueberries

½

frozen banana

½

cup

vanilla greek yogurt
Instructions
Soak the oats and chia seeds in the almond milk for 10-20 minutes.

Put the almond milk mixture, plus all the other ingredients in a blender and mix until smooth.

Serve immediatly.
Notes
You can skip the soaking step if you don't have time, but it leads to a better textured smoothie.
Nutrition
Calories:
320
kcal
Carbohydrates:
60
g
Protein:
14
g
Fat:
5
g
Saturated Fat:
1
g
Polyunsaturated Fat:
2
g
Monounsaturated Fat:
1
g
Trans Fat:
1
g
Cholesterol:
4
mg
Sodium:
200
mg
Potassium:
488
mg
Fiber:
8
g
Sugar:
32
g
Vitamin A:
100
IU
Vitamin C:
16
mg
Calcium:
197
mg
Iron:
2
mg
Like this? Find it later by pinning this to your favorite Pinterest board!


Want more healthy smoothie ideas?
Try some of my 15 Fun & Fabulous Healthy Smoothies


Don't forget to find these great products at your local ALDI store!
This is a sponsored post written by me on behalf of ALDI.
Thanks for stopping by today! Tomorrow I'm sharing a new Things I'm Loving Lately.
Your turn!
Which store brand of ALDI products would you like to try?