Happy Fashion Friday!
How was your week? I don't know about you, but it felt nice to fall back into routine this week after the holidays. I love all the holiday stuff, but regular life is pretty nice as well.
This weekend I'm going over to one of my former co-workers house for a pot luck dinner. I'm making my delicious Four Cheese and Spinach lasagna <--- Need to post the recipe! I've been looking forward to seeing some friends I haven't seen in a while, so that should be fun.
For Fashion Friday I'm featuring a new cream/ winter white sweater I got for Christmas from my MIL. She is basically responsible for all of the cutest items in my closet. I am so blessed.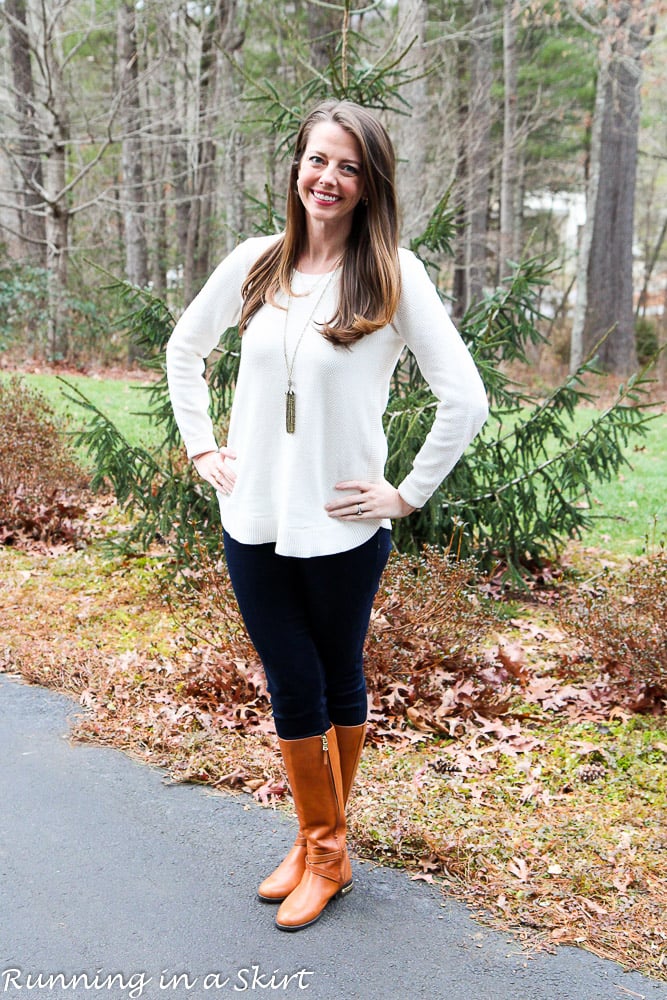 I love wearing cream in the winter as it seems so bright and airy when the skies are so cold. I'm much more likely to choose it than basic black.
The sweater came from LOFT and it's such a nice addition to my closet. I love the length and how it will go with so many things. I've basically been wearing it on repeat. You could even use it as a laying piece.
I really love how it's long and flowy without losing shape or being frumpy.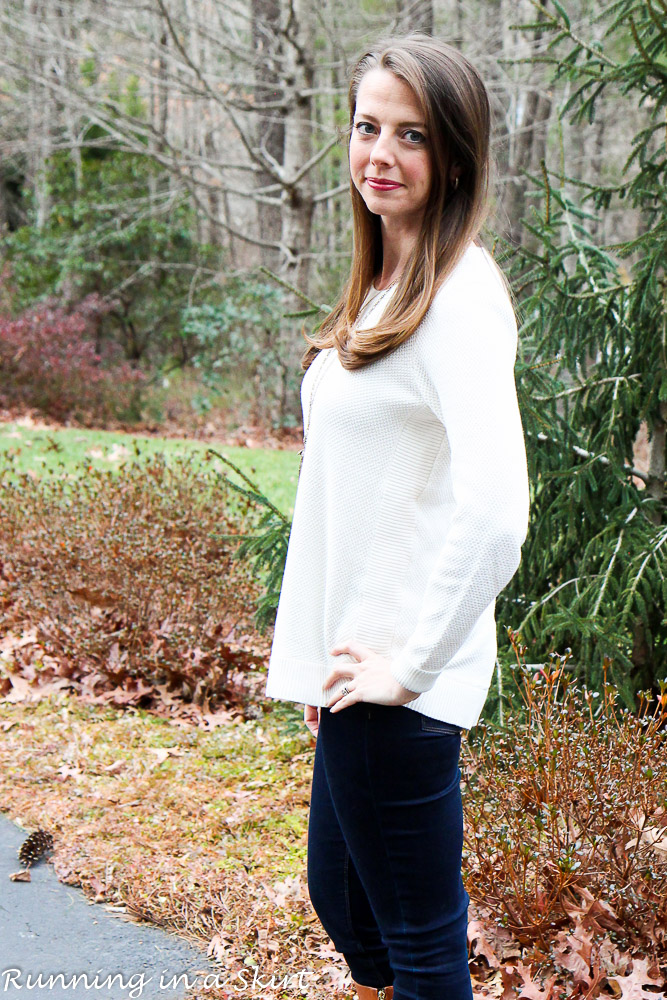 To winterize the look I added my dark wash denim jeggings from White House Black Market. These were my absolute favorite purchase of last fall.
I also added my favorite Ralph Lauren brown boots. I know these are a couple seasons old at this point, but they were a splurge and look just as good as the day I got them. I swear every time I wear them I get a compliment on them. Now that's a good pair of boots! I firmly believe that some items are worth the investment.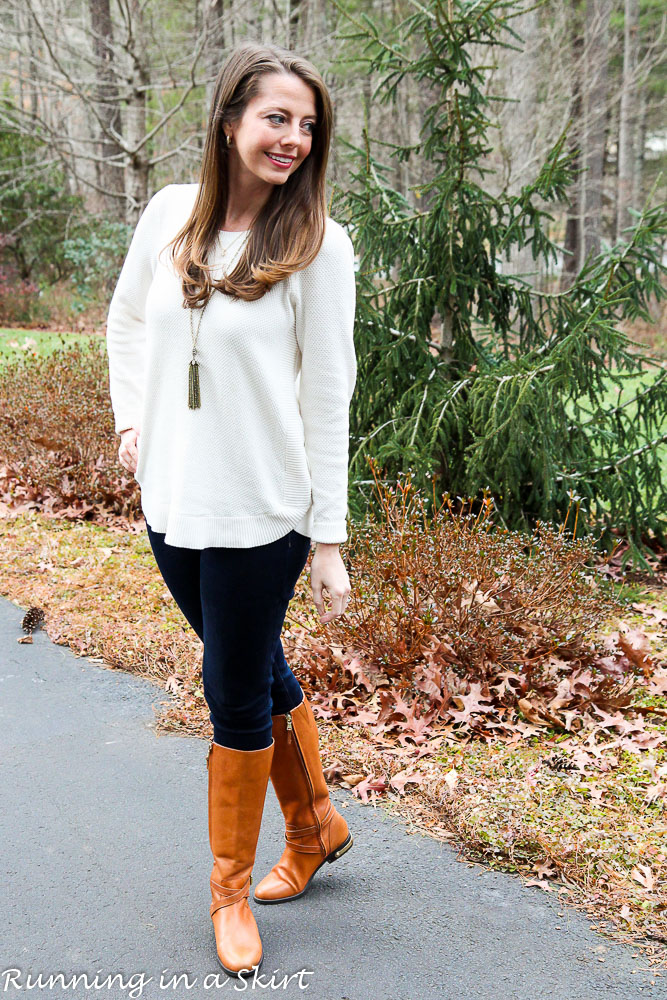 For accessories I layered my Mom's diamond pendant with a very current tassel necklace. I'm not sure I will ever grow tired of the double necklace look.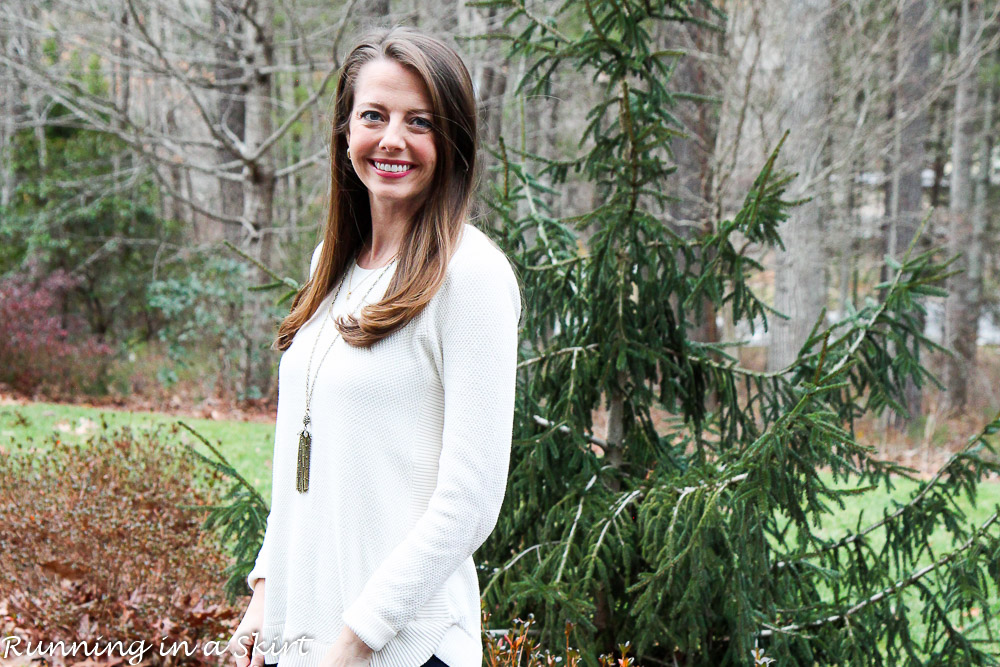 If you don't like the winter white the sweater also comes in black, the gorgeous blue color, grey and green. It's a fabulous piece that will easily carry into spring.
Happy shopping and I hope you weekend is amazing.
Shop the Look:
LOFT Shirttail Tunic Sweater, sweater also comes in black, blue, grey and green!
White House Black Market Jeggings
Tassel Necklace - similar HERE
Ralph Lauren Boots - similar HERE or HERE
So nice to see you today. Have a great weekend and come back Monday for a Blueberry Oatmeal Smoothie with a new video!
This post is not sponsored, but contains affiliate links. I do make a small commission for clicks and purchases. It cost you nothing. Thank you for supporting Running in a Skirt.
I'm linking up with: Nicole for the Fit and Fashionable, Jolynne Shane for Fashion Friday, Turning Heads Tuesday. Thank you so much for the lovely linkup ladies
Your turn!
Did you get any clothes for Christmas?
Winter white? yay or nay?