All the flavors of your favorite dessert in a healthy breakfast! You'll love my Strawberry Shortcake Overnight Oats recipe.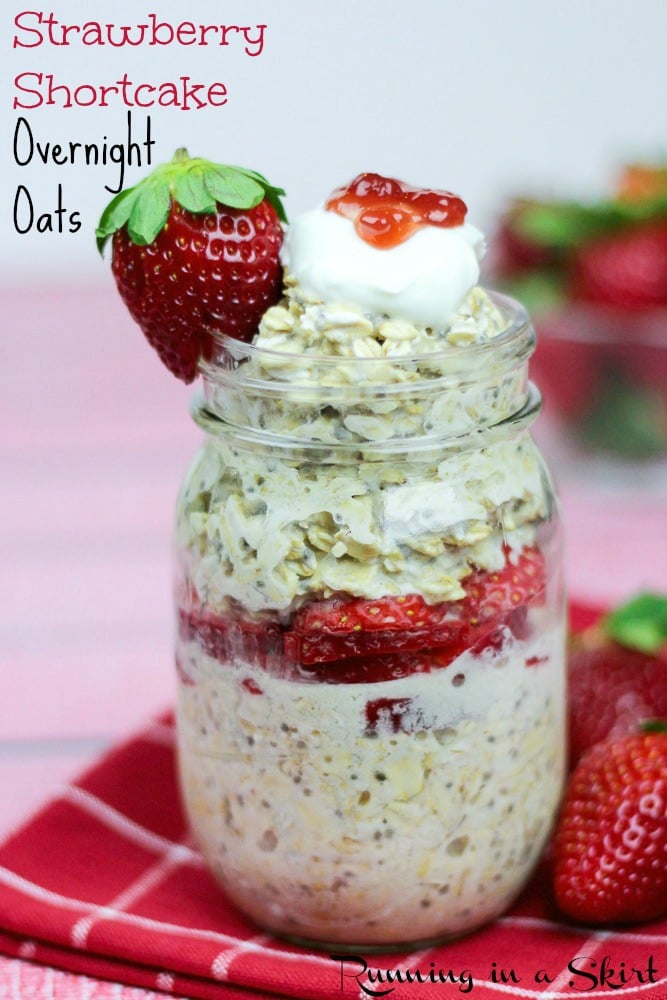 Hi friends!
I have to admit, there used to be a time long ago when I let oats sit in the pantry for way to long. I just wasn't in the habit of making them and they would go bad. So sad.
I've changed my ways and oats are now on the menu almost daily. They are such a powerhouse food, it's hard to ignore them.
The best part about them is how customizable they are. Think Chunky Monkey Overnight Oats, Peanut Butter and Jelly Overnight Oats, Pumpkin Pie Baked Oatmeal, Chunky Monkey Baked Oatmeal or Apple Cinnamon Baked Oatmeal. There are hundreds of ways to mix it up.
For this version I decided to go with one of my all-time favorite desserts and make a healthy breakfast... Strawberry Shortcake Overnight Oats.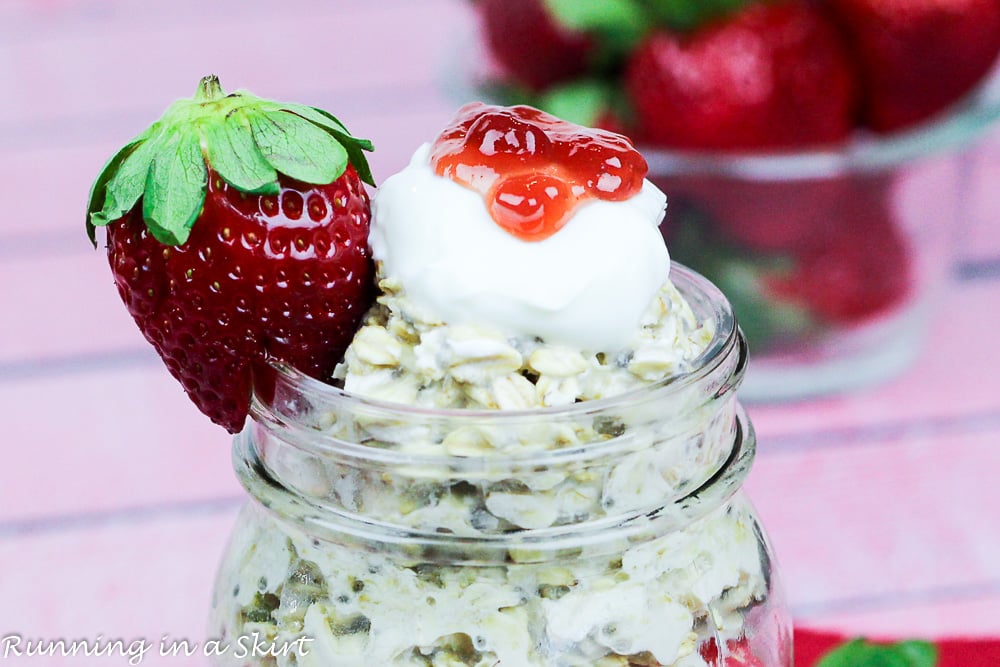 Each spring, like clockwork, I always had strawberry shortcake. The Florida strawberries were in season in March and April and my Mom followed with fresh strawberry shortcake. She of course added a Sara Lee pound cake AND sugar to the strawberries. But she was Southern like that.
I'll still make her version on a special occasion, but for a day to day treat this Strawberry Shortcake Overnight Oatmeal is perfect!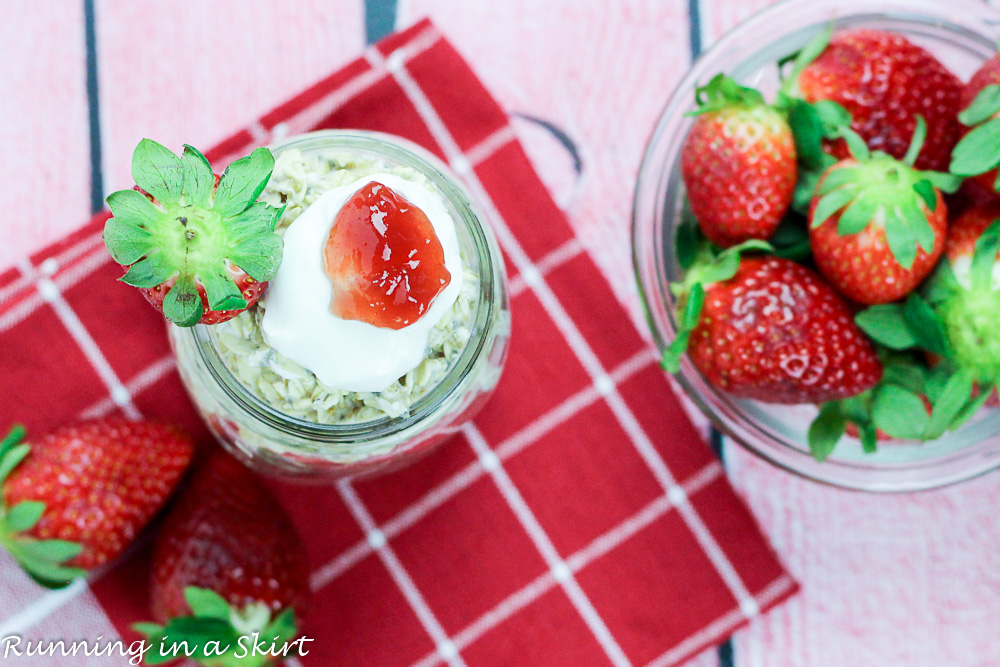 It's doesn't have shortcake, per say, but the cake flavor comes from adding extra vanilla to the oats.
Instead of cool whip or whipped cream, I added a dollop of vanilla Greek yogurt. You could also do plain yogurt if you don't want the added sugar.
It's topped off with a small portion of just fruit strawberry jam to imitate that strawberry juice you get in the shortcake.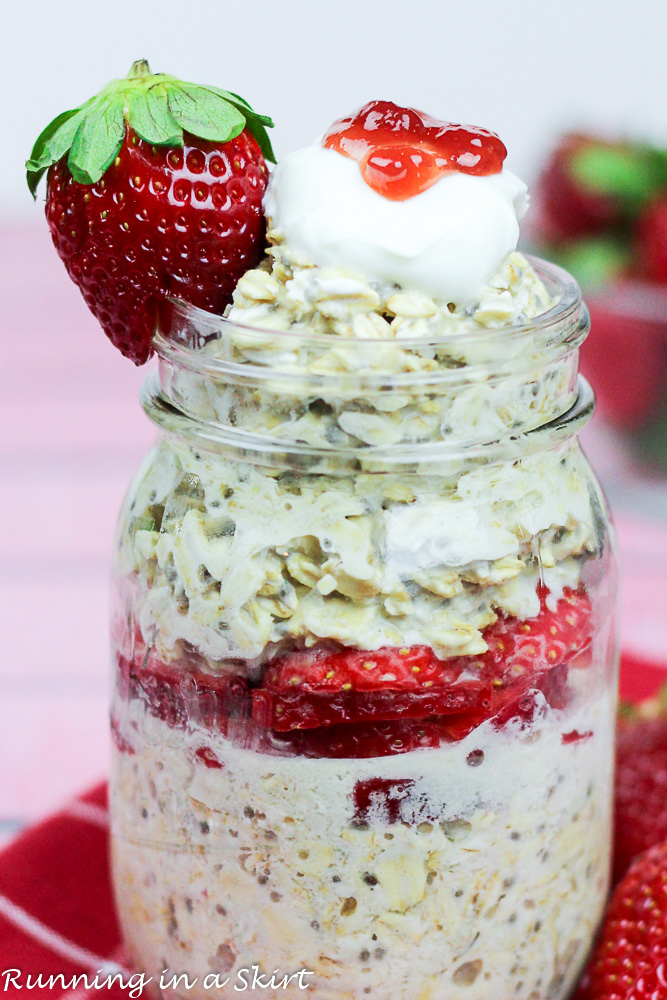 You can mix it all together or serve it stacked up all pur-ty like this. Either way, my Strawberry Shortcake Overnight Oats recipe is a winner.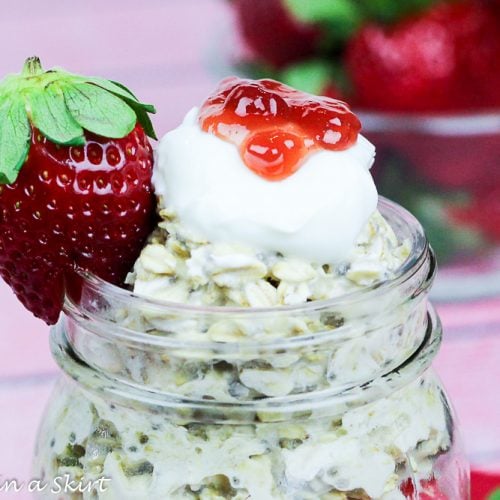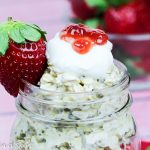 Strawberry Shortcake Overnight Oats
All the flavors of your favorite dessert in the healthy breakfast!
Ingredients
1

cup

oats

1

cup

almond milk

¼

teaspoon

vanilla extract

1

teaspoon

chia seeds

2

tablespoons

vanilla Greek yogurt

1

teaspoon

fruit only no sugar jam

4

large fresh strawberrys

,

sliced
Instructions
Mix the oats, almond milk, vanilla extract and chia seeds in a seal-able container. Refrigerate overnight. If you are pinched for time a couple of hours will do.

Top with Greek yogurt, strawberry jam and fresh strawberries.
Notes
The picture in the mason jar is two servings.
Nutrition
Calories:
388
kcal
Carbohydrates:
61
g
Protein:
15
g
Fat:
10
g
Saturated Fat:
1
g
Cholesterol:
1
mg
Sodium:
339
mg
Potassium:
293
mg
Fiber:
10
g
Sugar:
5
g
Calcium:
367
mg
Iron:
4
mg
Like it? I'd love for you to pin my Strawberry Shortcake Overnight oats to your favorite Pinterest board? Thank you so much.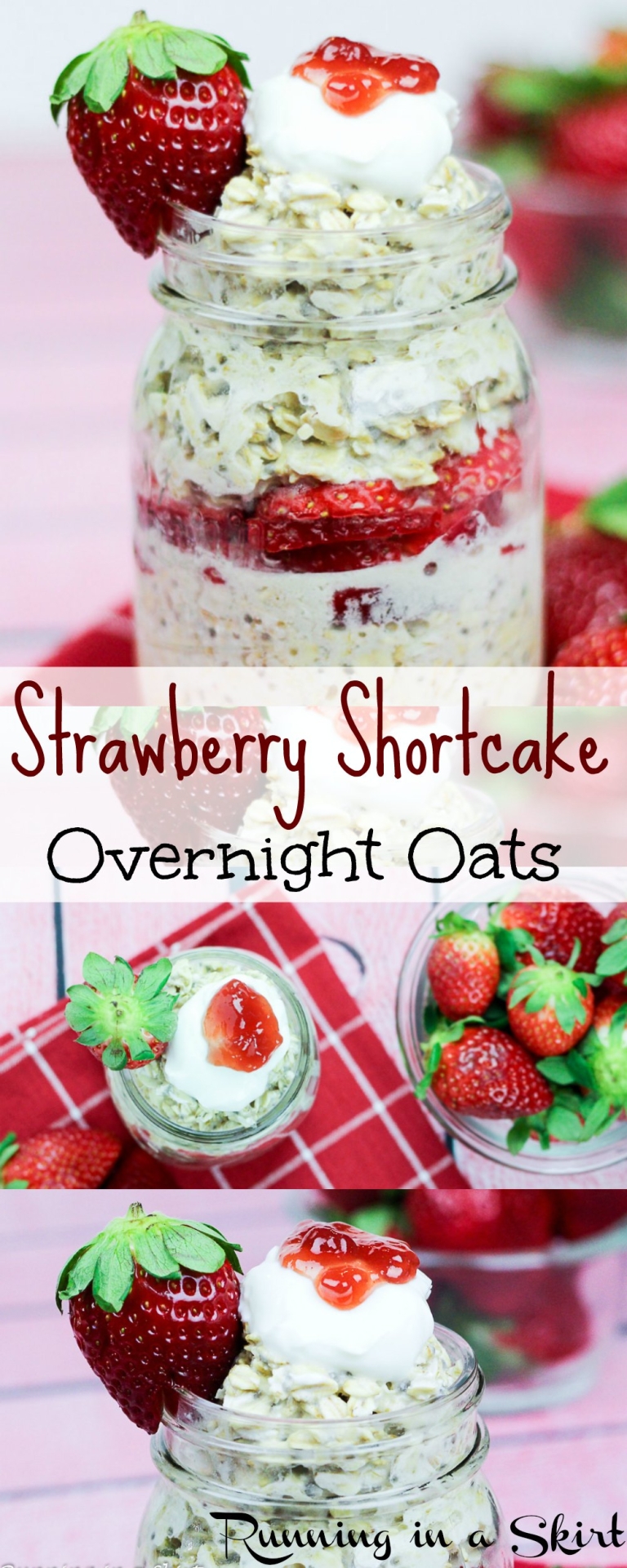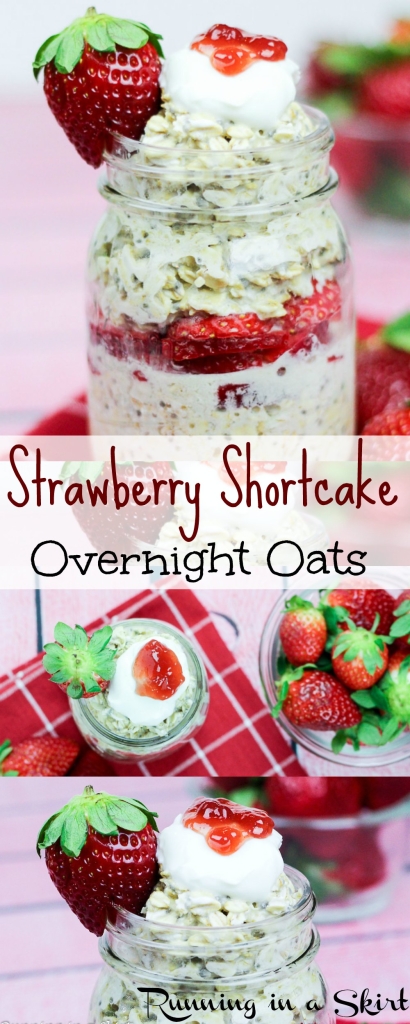 Thanks for stopping by today! Tomorrow I'm sharing a fun new outdoor workout. Can't wait!
I'm linking up with: Meatless Monday with Sarah and Deborah, Meatless Monday with Annmarie, Delicious Dish Tuesday, What's Cookin' Wednesday, Full Plate Thursday with Miz Helen, FoodFriDIY, Foodie Friday, and the Weekend Potluck. Thanks so much ladies for the link up parties!
Your turn!
Overnight oats? yay or nay?
How often do you go through a box of oats?