The all-time best lunch sandwich in perfect overnight oats form! You'll love my Peanut Butter and Jelly Overnight Oats.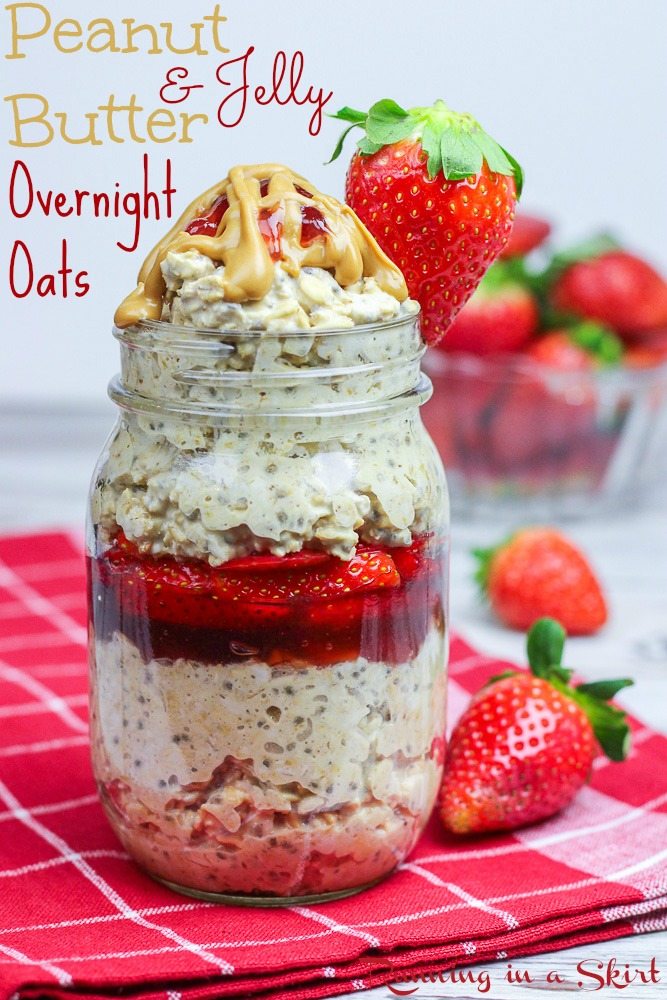 Hello! Hello!
My parents made a deal with me in high school. They gave me an allowance each week, which included my lunch money. The rules were I could spend the extra money on my lunch at school or make my own at home and keep the money. I guess they were trying to teach me not to eat out too much or to save? I'm still not sure...
It's no big surprise that my high school self (who loved to SHOP even more than I do now) made my lunch every day and pocketed that money for bigger and brighter things, like all the clothes from the movie Clueless. <--- totally dated myself, yikes!
My specialty-- a Peanut Butter and Jelly sandwich. I probably ate one everyday for almost four years and never got sick of them. I still love Peanut Butter and Jelly, although I try to health-ify it these days with better whole grain bread, natural peanut butter and just fruit jelly choices. It's such a classic combination.
Peanut Butter and Jelly Overnight Oats
So I had an idea! Taking my beloved Peanut Butter and Jelly and turning it into overnight oats.
Enter my Peanut Butter and Jelly Overnight Oats.
Ta-da!!!!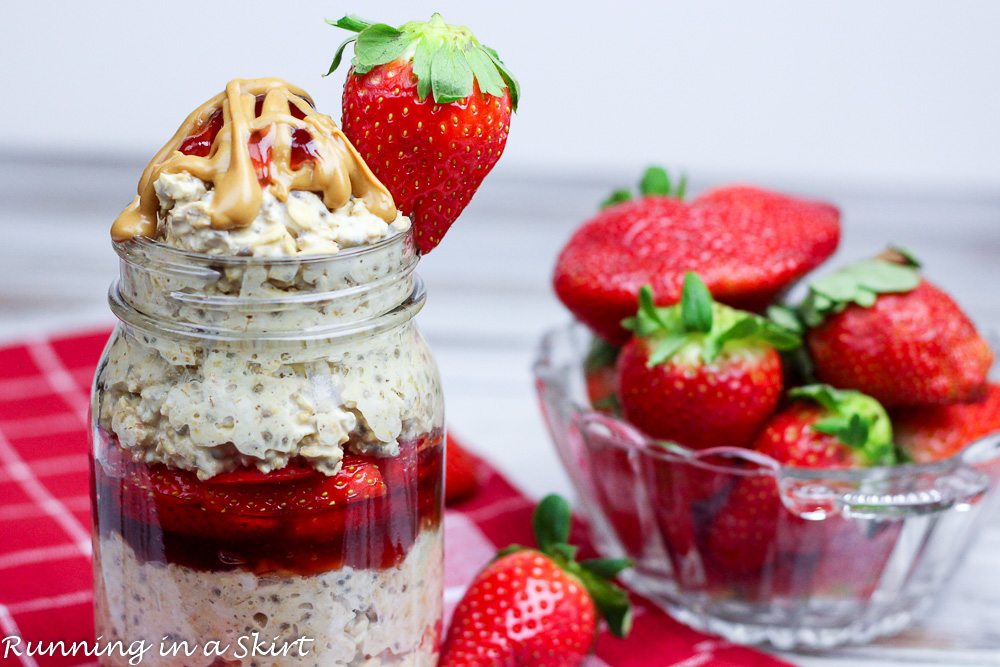 Peanut Butter and Jelly Overnight Oats = Breakfast Perfection
I am beyond thrilled with the way it turned out. I used powdered peanut butter in the overnight oats to easily get the peanut butter flavor in the oats. If you don't stock powdered peanut butter, I currently have this type in my panty although I'm also a fan of this one.
I layered it with fresh strawberries and quality strawberry jelly made out of just fruit.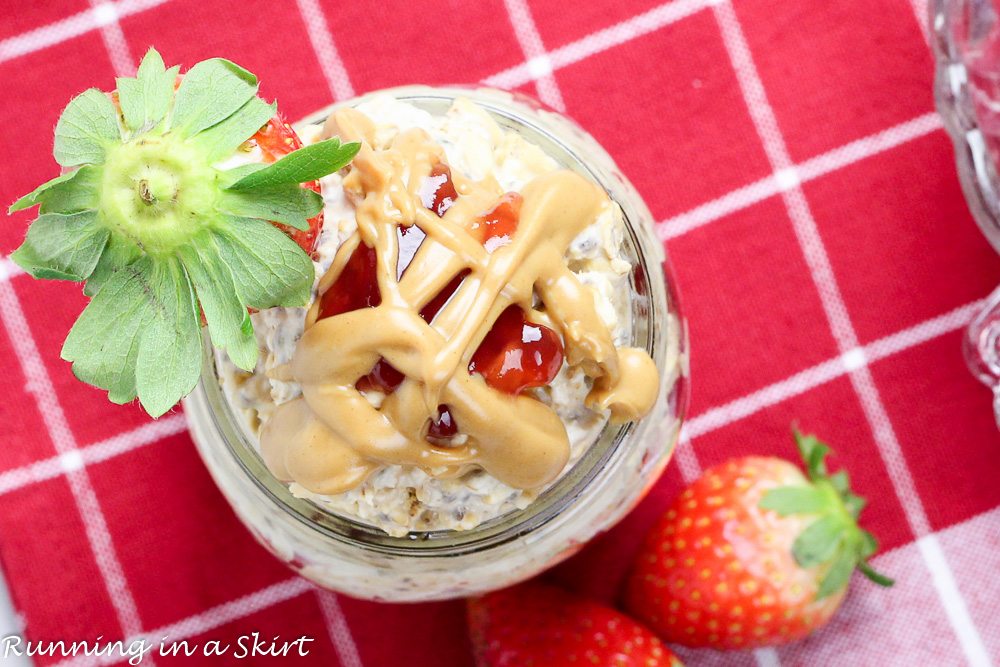 My Peanut Butter and Jelly Overnight Oats is crowned with a lattice of real melted peanut butter and an additional dollop of jelly. I love the combination of powdered peanut butter and real peanut butter.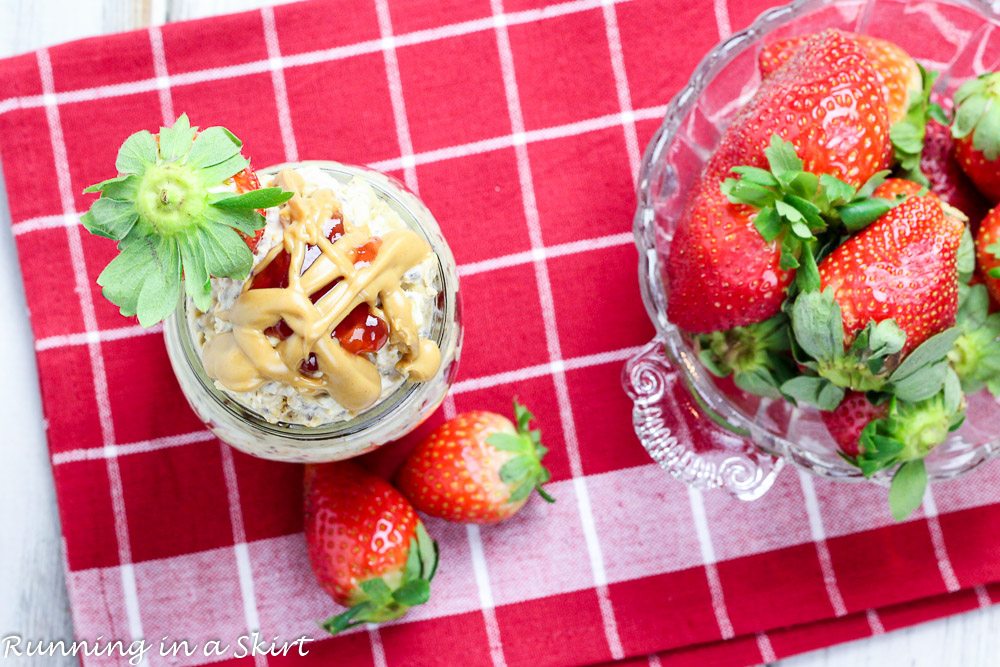 I even added a super food punch with some chia seeds in the mix. This is truly a grown up version of my high school favorite.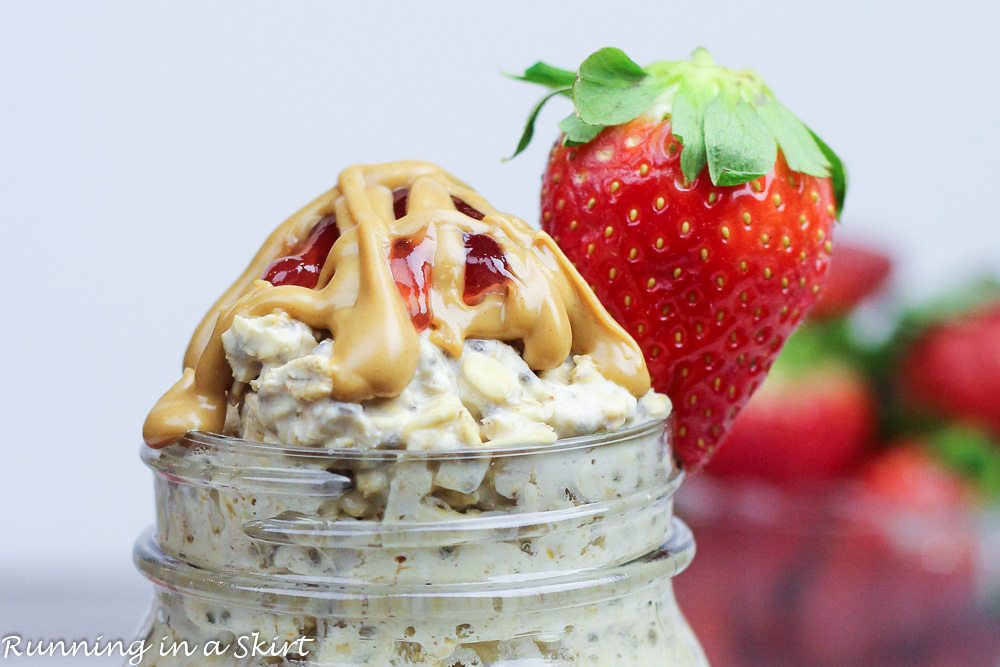 So next time you have peanut butter and jelly think of me AND this fabulous Peanut Butter and Jelly Overnight Oats recipe.
Enjoy!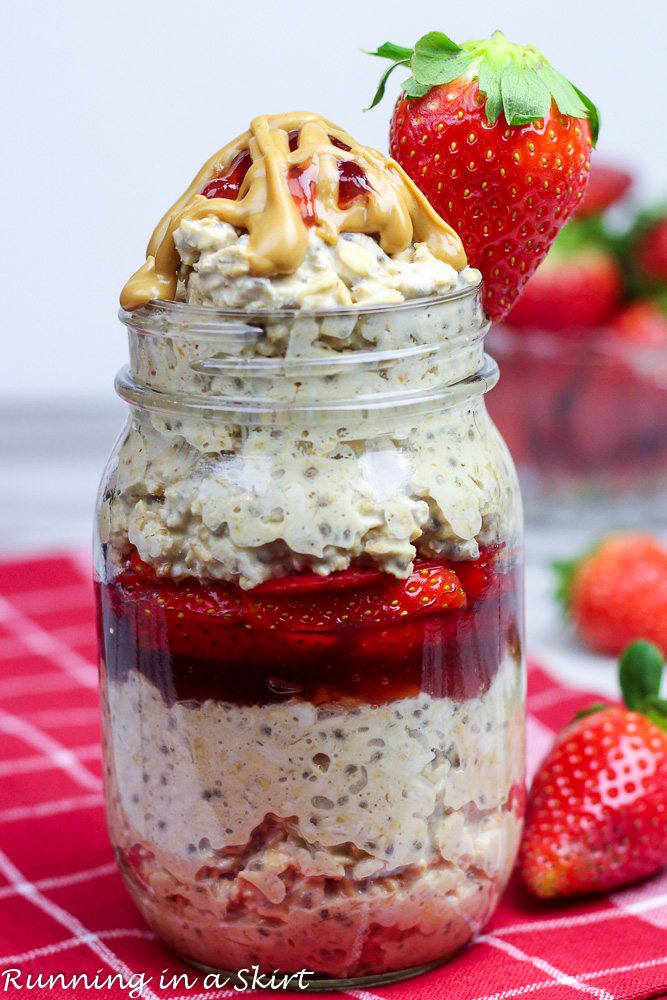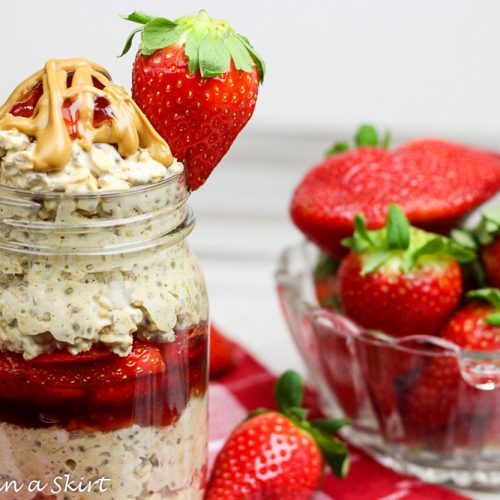 Peanut Butter and Jelly Overnight Oats
Peanut Butter and Jelly Overnight oats: the all-time best lunch sandwich in perfect overnight oats form!
Ingredients
¾

cup

old fashioned oats

¾

cup

unsweetened vanilla almond milk

½

tablespoon

chia seeds

1

tablespoon

dried peanut butter

2

tablespoon

low sugar

,

natural, fruit only strawberry preserves

2

sliced strawberries

Toppings: additional jelly

,

sliced strawberries and real melted peanut butter
Instructions
Stir the oats, almond milk, chia seeds and dried peanut butter together in a container that seals. Allow to sit in the fridge overnight.

In the morning layer the oats, jelly and sliced strawberries.

Add additional jelly, sliced strawberries or melted peanut butter to top for additional flavor.
Notes
Serve with extra peanut butter and jelly toppings if desired!
Nutrition
Calories:
336
kcal
Carbohydrates:
51
g
Protein:
13
g
Fat:
9
g
Saturated Fat:
1
g
Sodium:
696
mg
Potassium:
257
mg
Fiber:
10
g
Sugar:
4
g
Vitamin C:
14
mg
Calcium:
294
mg
Iron:
3
mg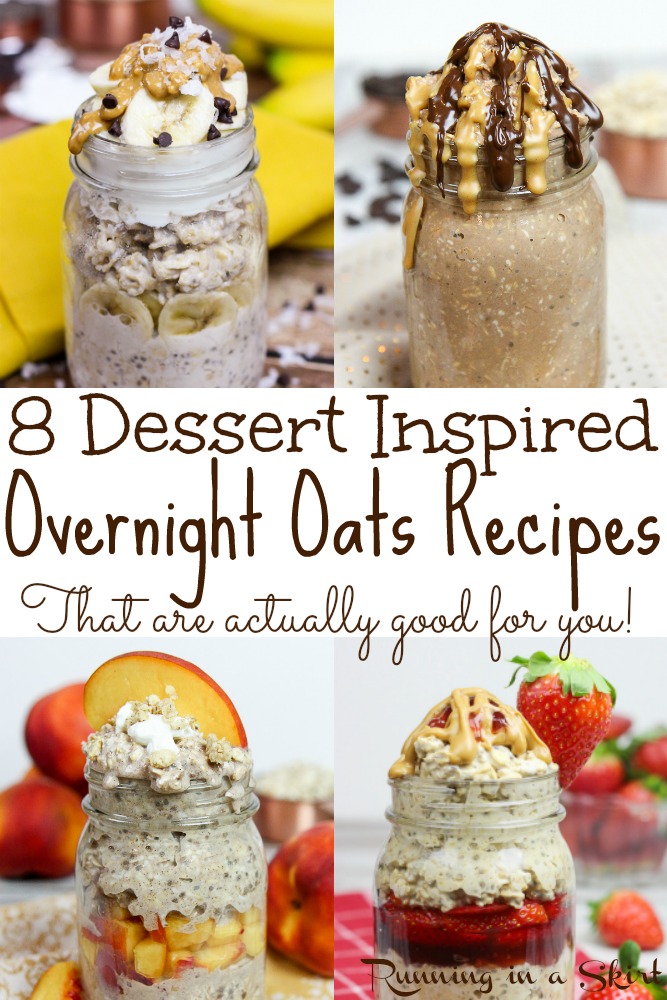 A few of my favs are Chunky Monkey Overnight Oats & Peach Cobbler Overnights Oats!
Are you also a Peanut Butter Banana Toast fan? Turn it into overnight oats as well with these Peanut Butter Banana Overnight Oats from Lorie at lemons + zest!
Like it? Help me out by pinning it on Pinterest! I would love if you could pin this to your breakfast, overnight oats or recipe board! Thank you.


As always, it's so nice to see you today. Come back tomorrow for a cute spring Fashion Friday!
Your turn?
Do you still eat PB & J?
How much peanut butter does your family eat?