There is something about spring and salads that go together in my world. In the fall I am all about soup, but when the weather warms up again I crave crunchy lettuce and colorful veggies.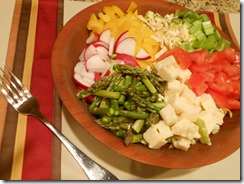 Yes, I crave salads sometimes.
Please don't hate me.
Combine the veggies with a homemade dressing and you can almost feel the warm weather arriving. Think heavy on the balsamic with a touch of thyme, lemon and honey. Delish!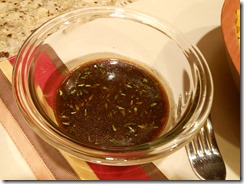 The spring vegetables like asparagus and a super elegant fancy white cheddar cheese really elevate the taste and make this one special salad recipe!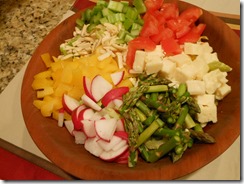 And don't you LOVE the way chopped salads allow you to get the perfect taste in bite?
Asparagus and White Cheddar Chopped Salad
with Balsamic-Thyme Vinaigrette
Makes: 2 dinner size salads or 4 side salads
Salad Ingredients: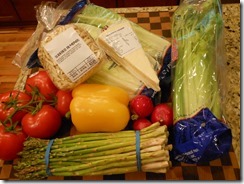 2 romaine Hearts – chopped (do not use rough end)
1 small yellow bell pepper – chopped
4 radishes – chopped
20 skinny asparagus spears – chopped
4 celery stalks – chopped
½ cup sliced almonds – toasted
5-8 ounces aged white cheddar cheese – cubed (CHEESE! The star of the show!)
Dressing Ingredients:
3 tablespoons balsamic vinegar
¼ cup olive oil
1 teaspoon fresh thyme leaves
2 teaspoons honey
¼ lemon squeezed for juice
¼ – ½ teaspoon salt
black ground pepper
Directions:
1. Chop the lettuce, veggies and cheese.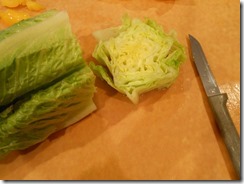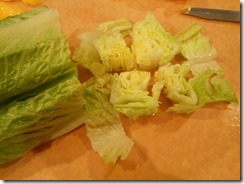 2. Lightly toast the almonds.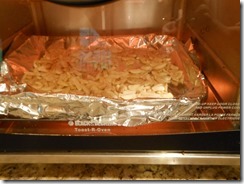 3. Wisk all ingredients in bowl for dressing. Combine well. The honey may be a bit sticky at first.
4. Arrange salad in fancy wedges for show!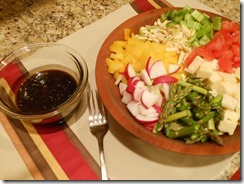 The combination of pungent cheese and sweet spring veggies is pretty awesome!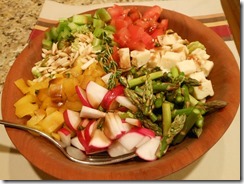 My biggest salad secret though—if you aren't trying to impress anyone, just make it in a giant bowl so you can stir the dressing around well and always get the perfect bite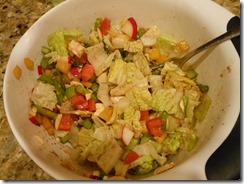 Not as fancy.
But this is how I roll.