Make mealtime EASY with my 4 Ingredient Caprese Pasta Salad with pesto!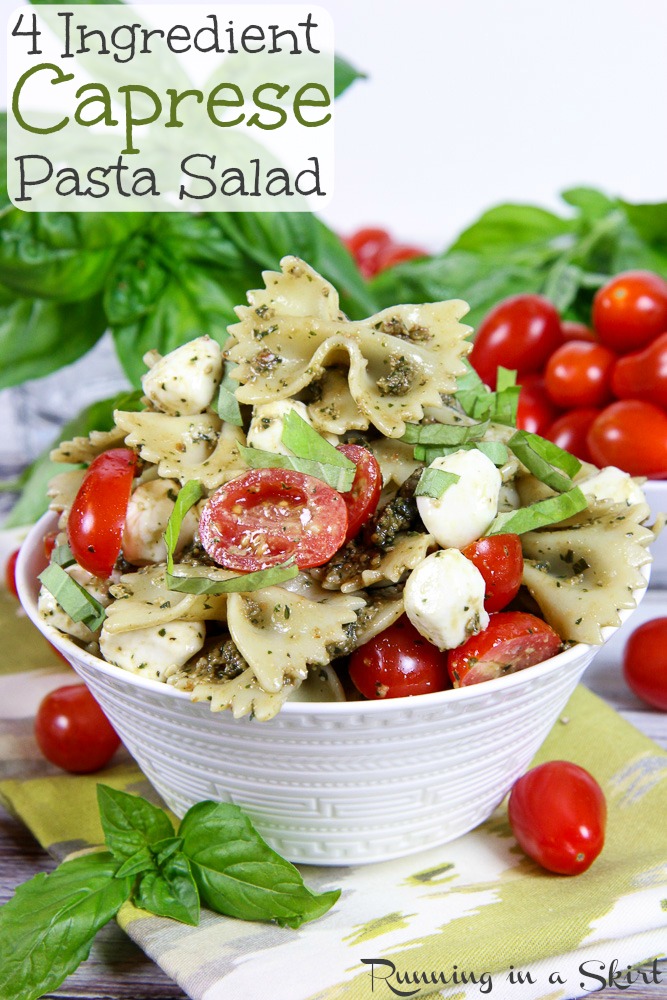 Caprese Pasta Salad
I have a soft spot for this Caprese Pasta Salad. My 4 Ingredient Caprese Pasta Salad with pesto is the perfect no-fuss simple summer meal.
Mid- August hits and I generally feel a little melancholy. I love everything about summer and I start to get sad that it's winding down. I'm the sucker who loves the heat. That usually means I find an hour to sit in the warm sun, going to the Farmer's Market and buy ALL THE HEIRLOOM TOMATOES, and even insisting on eating all my meals outdoors. I know it will still be a while before it turns cool in the mountains, but I try to squeeze out as much of the season as possible. If only I could stop the pumpkin mania for a few more weeks, I'd be content.
So this recipe is an ode to all things simple and summer.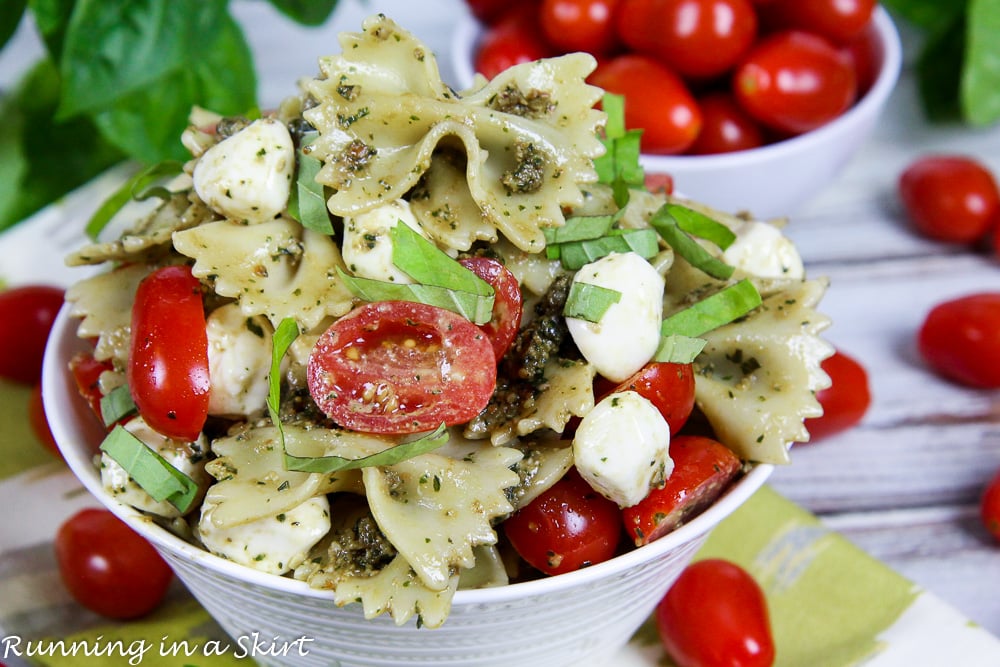 Why You'll Love this 4 Ingredient Caprese Pasta Salad with Pesto...
There are a lot of delicious things to make in summer, but Caprese is at the top of the list for me. The Hubs and I will enjoy it as a full meal on occasion when August hits and the tomatoes and so ripe and juicy. Whether you enjoy it on a plate or in this Caprese Pasta Salad, it's perfect for the season.
This pasta salad takes the fuss out of it and makes it a hearty meal ANYONE will love. Who can go wrong with a 4 ingredient recipe?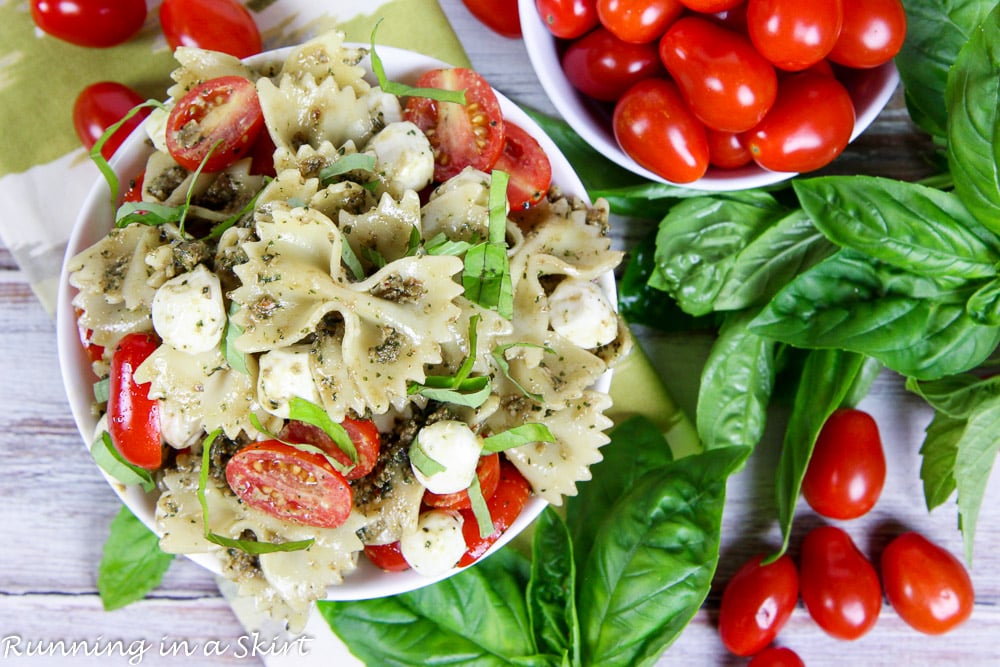 Ingredients:
All you need to make my Caprese Pasta Salad with pesto is your favorite pasta. You can go as healthy or unhealthy as you'd like! I like this protein pasta or this chickpea pasta. But your favorite works well too. I've even made it before with frozen cheese tortellini... which you can imagine was kind of a dream.
The other ingredients are fresh mozzarella bites, pesto, and more fresh basil. The extra basil is even optional if you happen to be making this when basil is not in season.
Use your favorite store-bought pesto if you are in a hurry OR make my Basil Almond Pesto is you have time. Either way, the flavors of summer totally pop in each bite. You get the tomato, basil, and cheese together and it tastes just like a long summer night.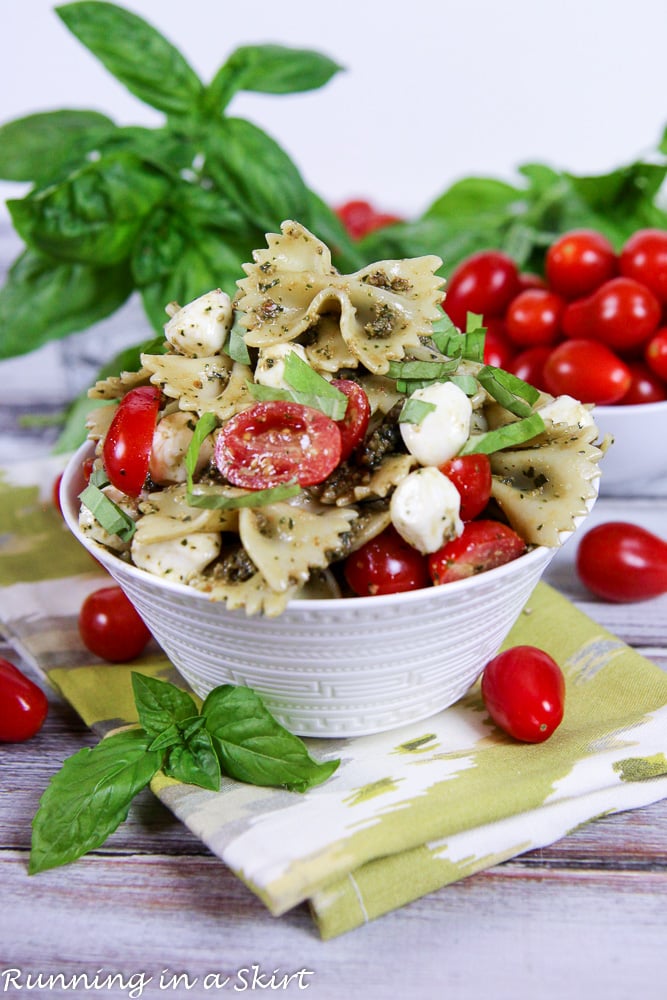 How to Make Caprese Pasta Salad:
Boil your pasta according to package instructions and set it aside to cool.
Cut your tomatoes in half and slice your fresh basil.
Stir together the pasta, pesto, fresh basil, and tomatoes.
Serve at room temperature or chilled.
I even made the Caprese Pasta Salad with pesto recipe in a big batch so you could make it once and eat it for a few days OR bring it to a potluck. From experience I know it's a hit!
And even though the flavors are more summery I've even brought this to a Christmas party before because of the red, white, and green. It's SO easy to make if you need a dish in a pinch.
I hope you enjoy this taste of summer - Caprese Pasta Salad with pesto -as much as I did. Excuse me while I go play some Kenny Chesney and pretend I'm at the beach. 🙂 As always, I'd love to hear what you think in the comments.
Love caprese? Also try...
Like this Caprese Pasta Salad with pesto recipe? Pin it here!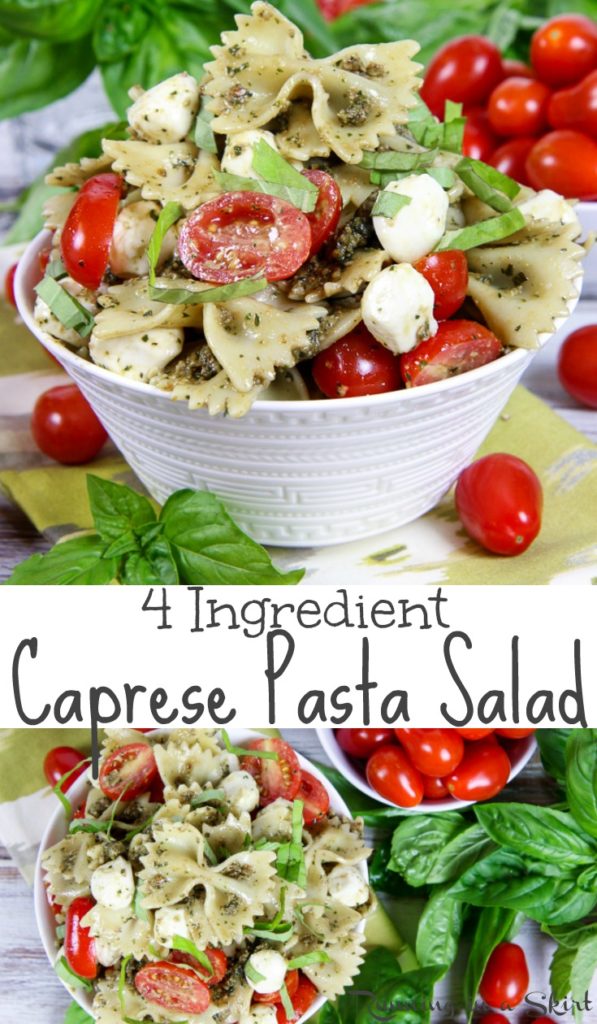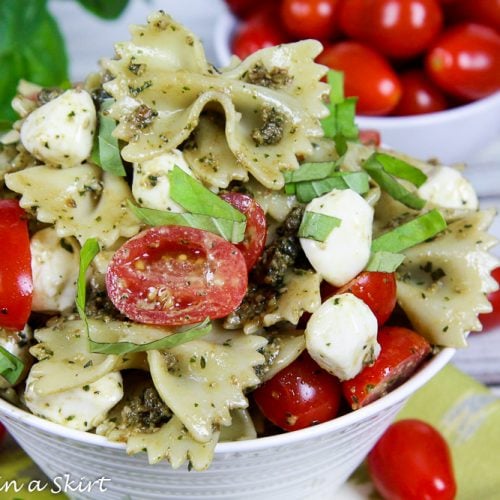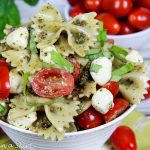 Caprese Pasta Salad with Pesto
This dish is perfect for lunch, dinner or a potluck!  My Caprese Pasta Salad with pesto is only 5 Ingredients and comes together in less than 20 minutes.
Ingredients
12

ounces

bowtie pasta

2

pints

cherry tomatoes

8

ounces

fresh mozzarella pearls

1

cup

fresh pesto ***

optional: chopped fresh basil

salt & pepper to taste
Instructions
Cook the pasta according to the package instructions and set aside to cool.

Once the pasta is cool toss the cherry tomatoes, mozzarella pearls and fresh pesto together. Adjust the salt and pepper to taste. If in season toss and garnish with additional fresh chopped basil.
Notes
*** Use my recipe for fresh Almond Basil Pesto or your favorite packaged kind.
Serve this room temperature or chilled.
Nutrition
Serving:
8
g
Calories:
384
kcal
Carbohydrates:
40
g
Protein:
14
g
Fat:
19
g
Saturated Fat:
6
g
Cholesterol:
25
mg
Sodium:
483
mg
Potassium:
374
mg
Fiber:
3
g
Sugar:
5
g
Vitamin A:
1395
IU
Vitamin C:
27
mg
Calcium:
215
mg
Iron:
2
mg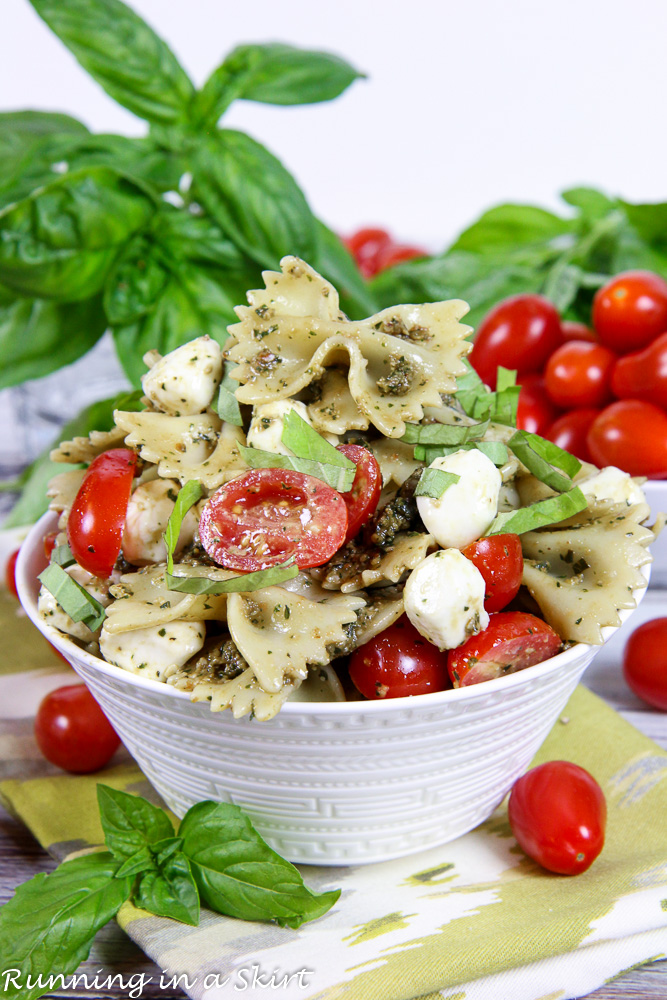 Your turn!
Are you more of a summer or fall person?