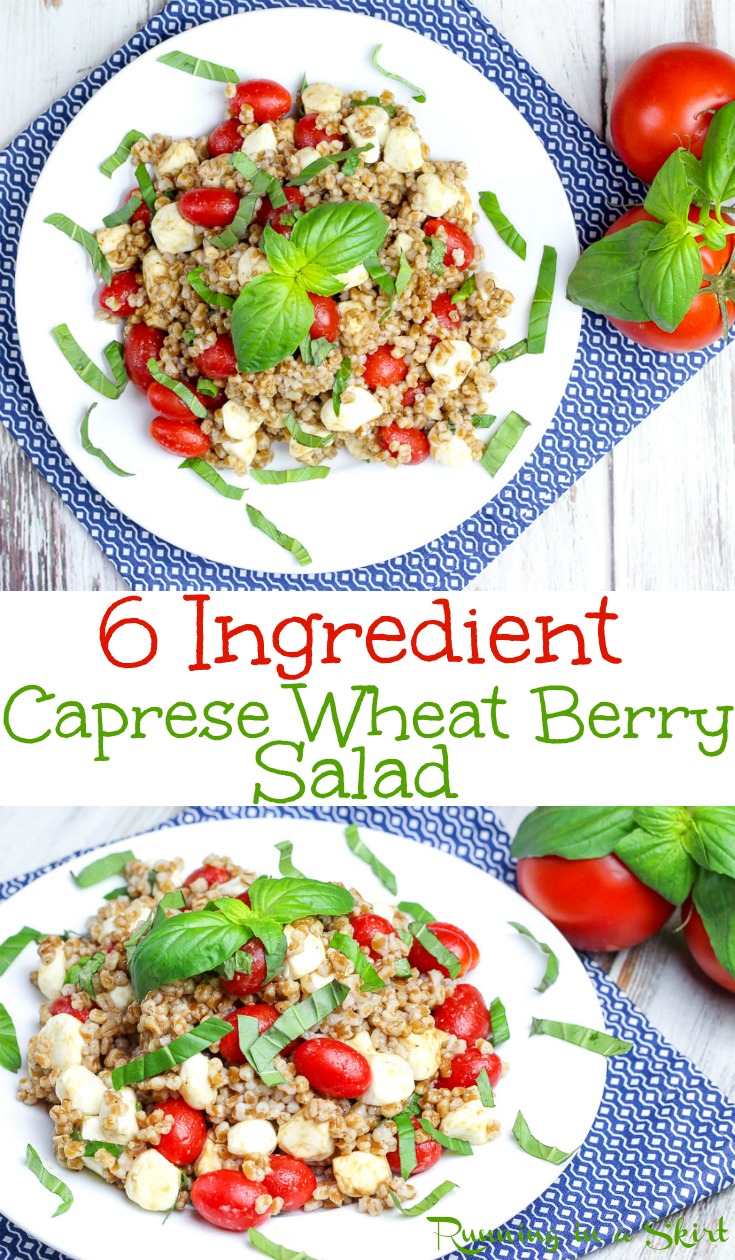 Wheat berries are so good! They are a high protein, high iron... totally delicious grain. Try them in this summer in my Caprese Wheat Berry Salad recipe.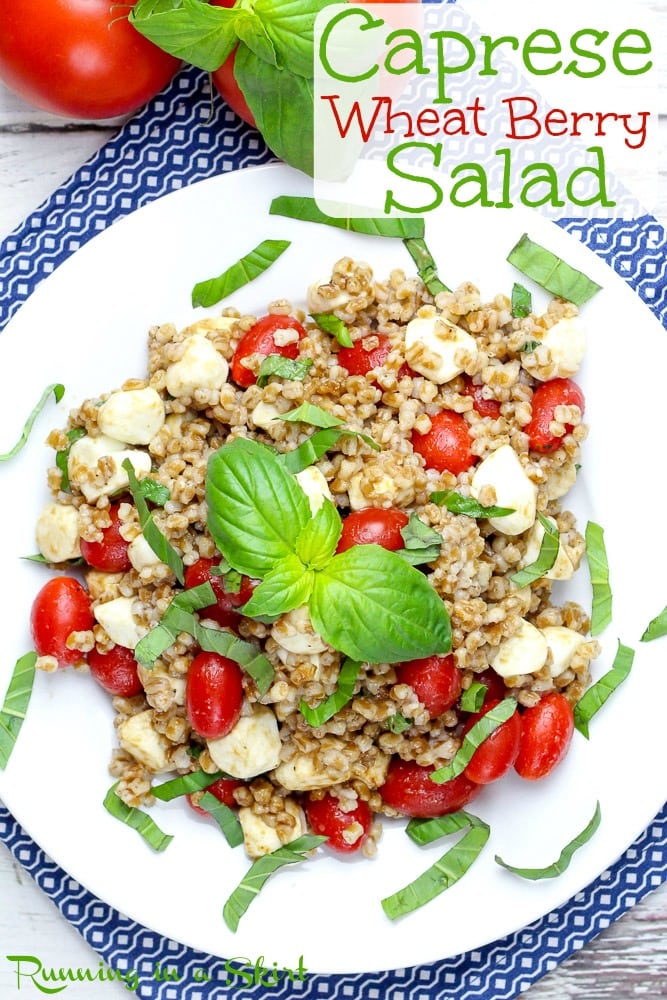 Hello friends!
I've started pursuing new grains. You guys know I love quinoa and all, (would I be a legit healthy living blogger if I hated quinoa? <--- don't answer that 🙂 ) but I've been on the search for something different especially since the Hubs turns his nose up to quinoa. After doing some research I bought some wheat berries. If you guys haven't tried it yet, you must. It has this rich nutty flavor that is simply amazing.
I've been experimenting with some simple wheat berry salad recipes and I finally made up the perfect starter recipe. My Caprese Wheat Berry Salad recipe is rich with fresh mozzarella, summer-ripe tomatoes, and basil straight from the garden!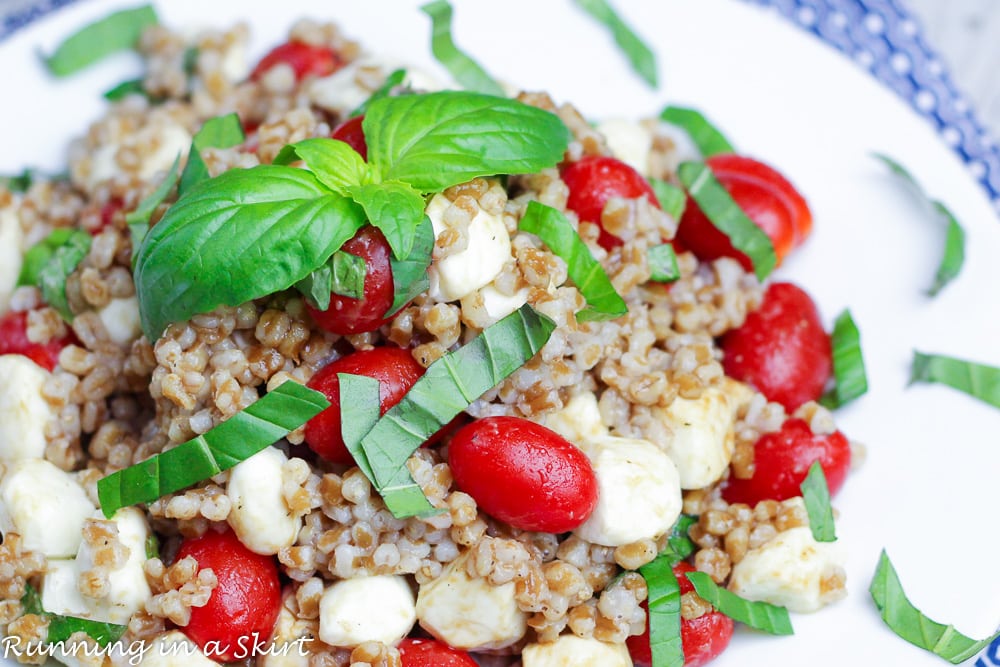 Here's how to make my Caprese Wheat Berry Salad recipe...
Cooking with wheat berries is pretty easy and it is actually very similar to rice or quinoa. You boil the water, add the grain, cover and simmer. It takes a little while to let the wheat berries soften, but all that time is completely hands off kitchen time. You can be doing something else while they cook.
Wheat berries are high in iron, protein, manganese and can help support heart health.
You can make this salad with any grain like quinoa or farro, but I really love these fun little wheat berries.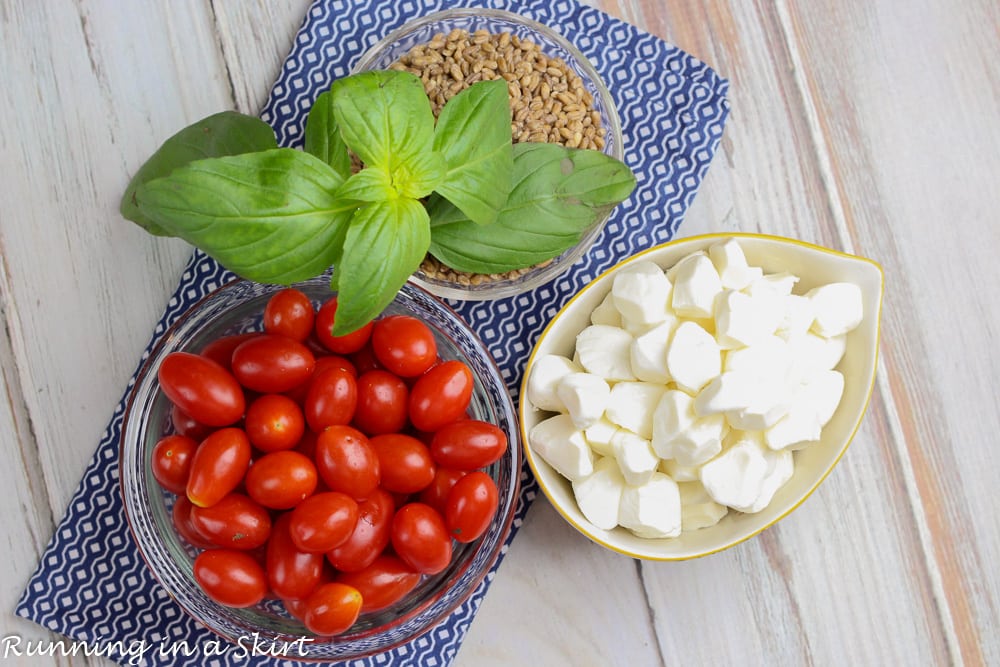 To complement the wheat berries I add my favorite summertime flavors... crisp cherry tomato, creamy fresh mozzarella and sweet, fragrant basil. Would it really be summer without these flavors? I'm not so sure.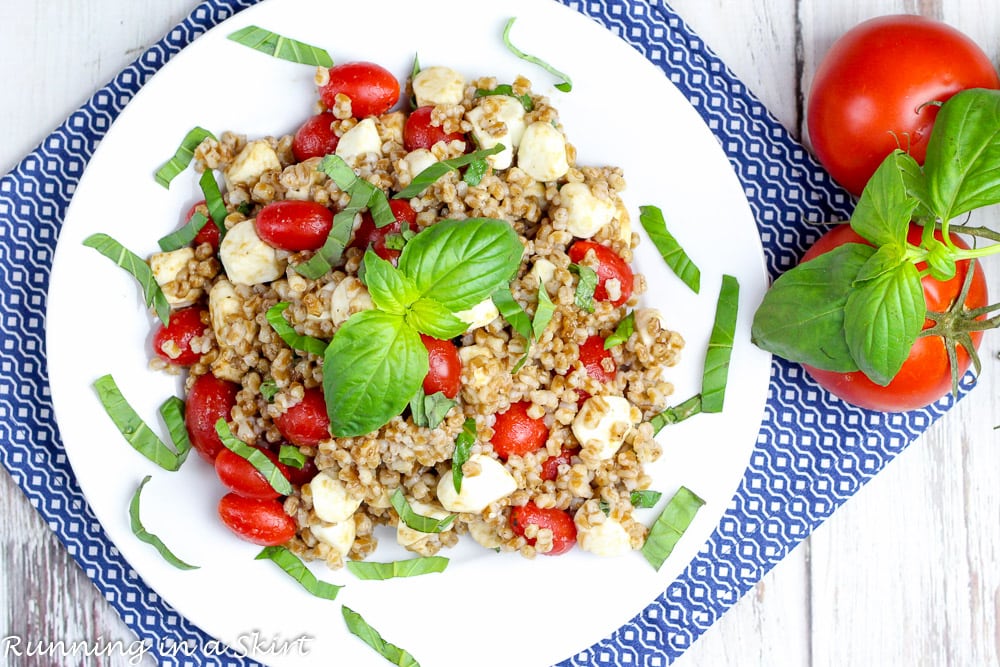 I top off my Caprese Wheat Berry Salad recipe with a nice pinch of sea salt, fresh cracked pepper and a rich balsamic vinegar. Just enough to give it some flavor, but not enough to overpower the nutty wheat berry.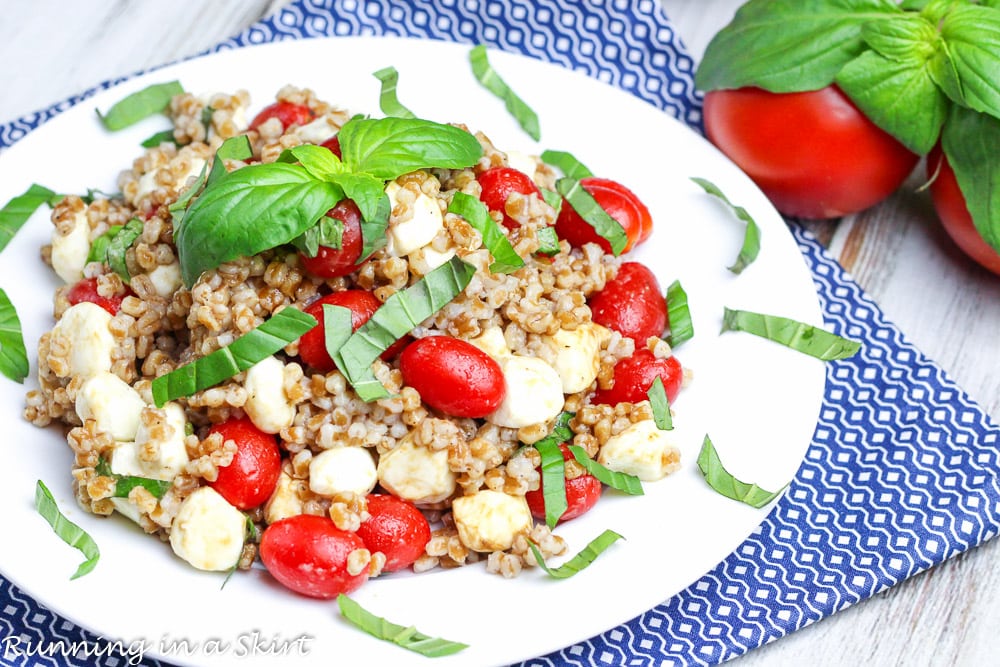 The end result is a vegetarian meal, high in protein and packed with flavor! And those little wheat berries? The Hubs loved them! #victory
I hope you enjoy this recipe as much as we do. Happy cooking!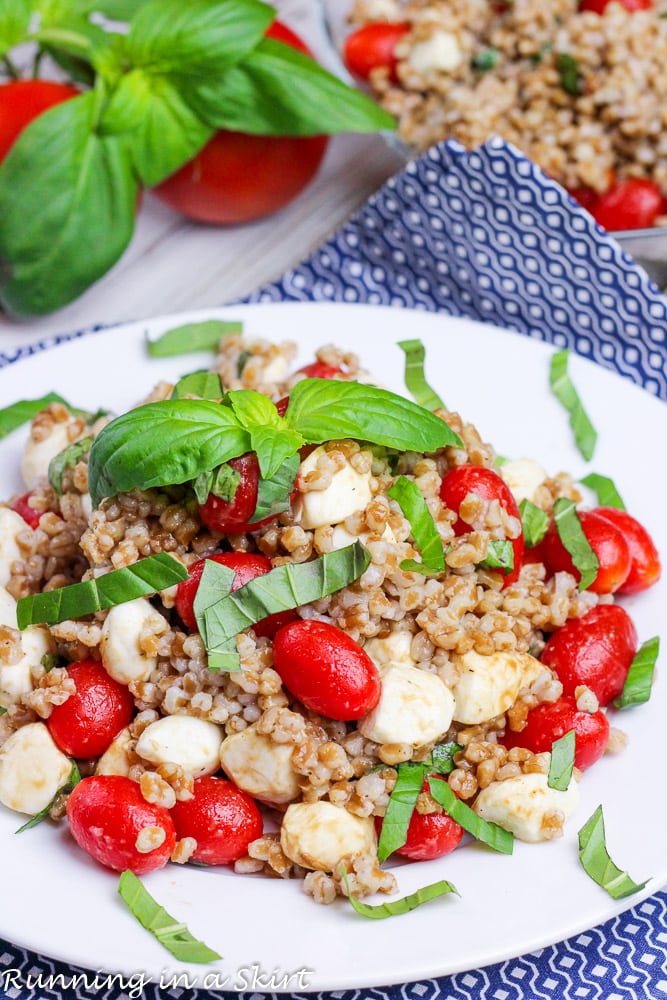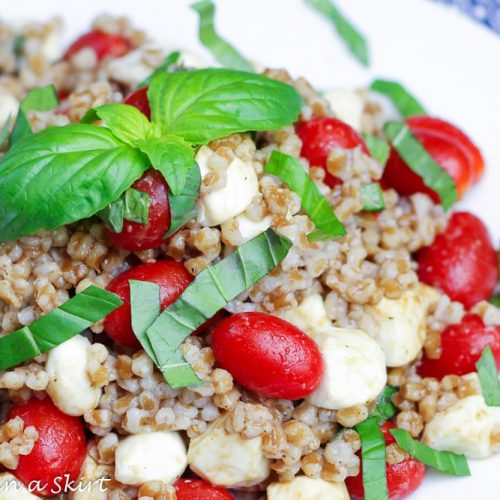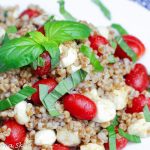 Caprese Wheat Berry Salad recipe
This Caprese Wheat Berry Salad recipe has all the flavors of summer - fresh mozzarella, ripe tomatoes, and garden basil!
Ingredients
1

cup

wheat berries

1

pint

cherry tomato

,

halved

8

oz

pearl mozzarella balls

½

cup

fresh basil

,

chiffonade

¼

cup

high quality balsamic vinegar

½

tablespoon

high quality olive oil

salt & pepper to taste

garnish: additional basil and balsamic reduction
Instructions
Cook wheat berries in water or broth according to the package instructions. If using water or unsalted broth, add a pinch of salt to the water.

Once cooked, allow the wheat berries to cool to at least room temperature.

Stir in the remaining ingredients.

Garnish with more basil and a balsamic reduction if you have it!

Serve room temperature or chilled.
Notes
You can substitute farro or quinoa for the wheat berry.
Like my Caprese Wheat Berry Salad recipe? Pin this to your favorite Pinterest board!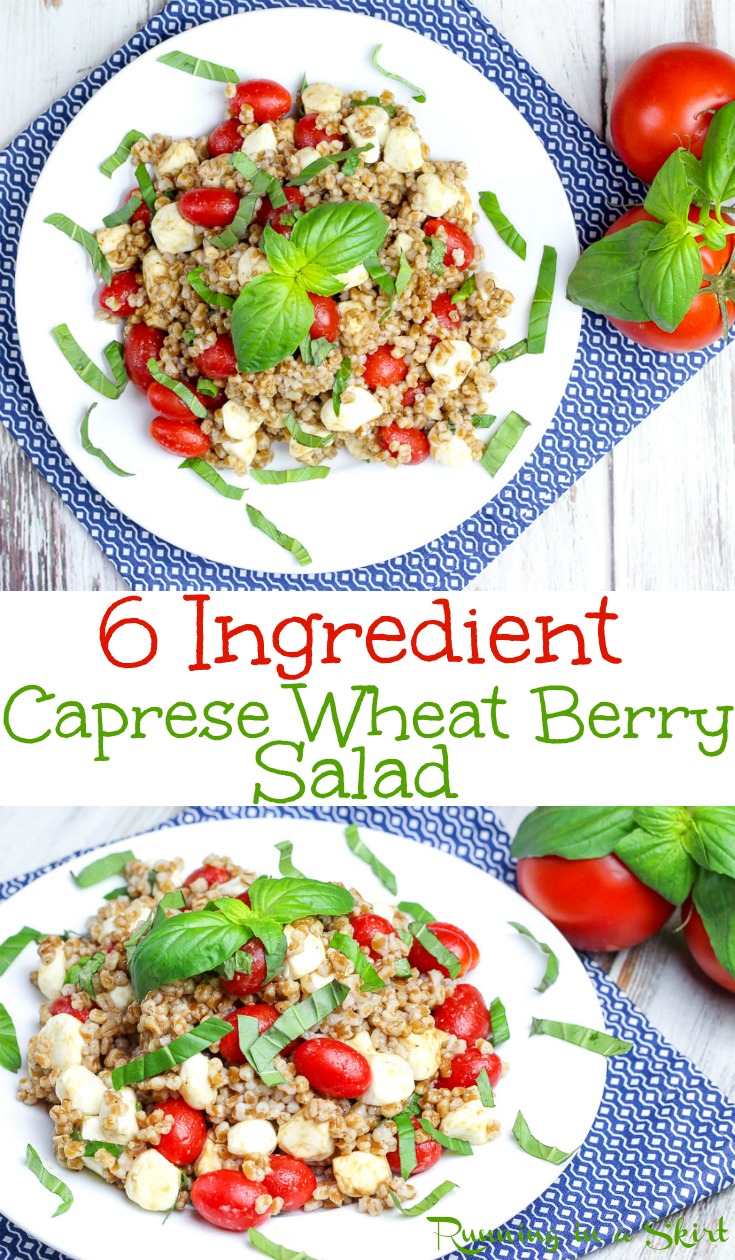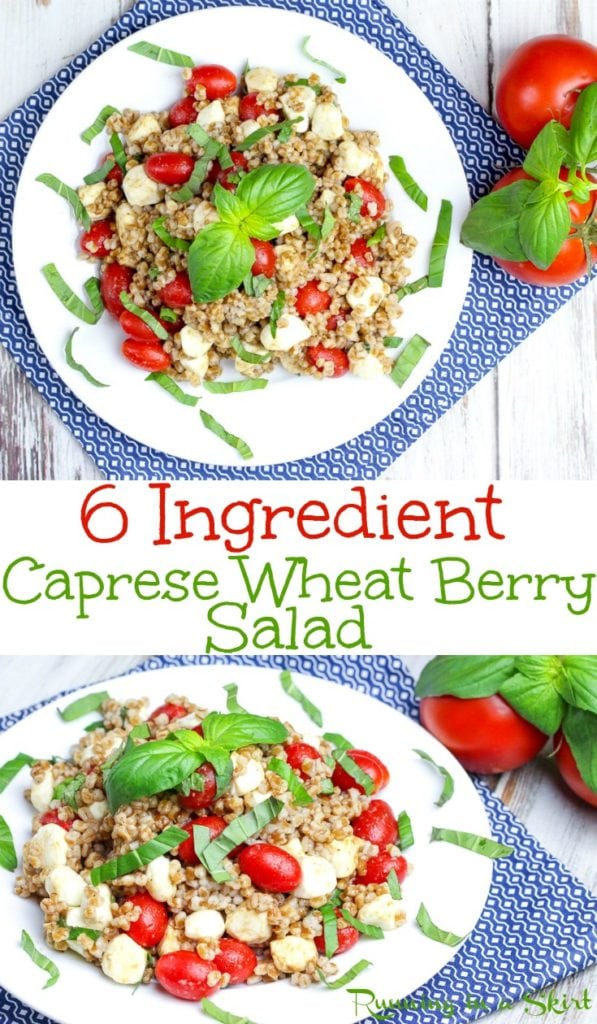 Thanks for stopping by today! Come back tomorrow for this months Currently...
Your turn!
Have you ever tried wheat berry?