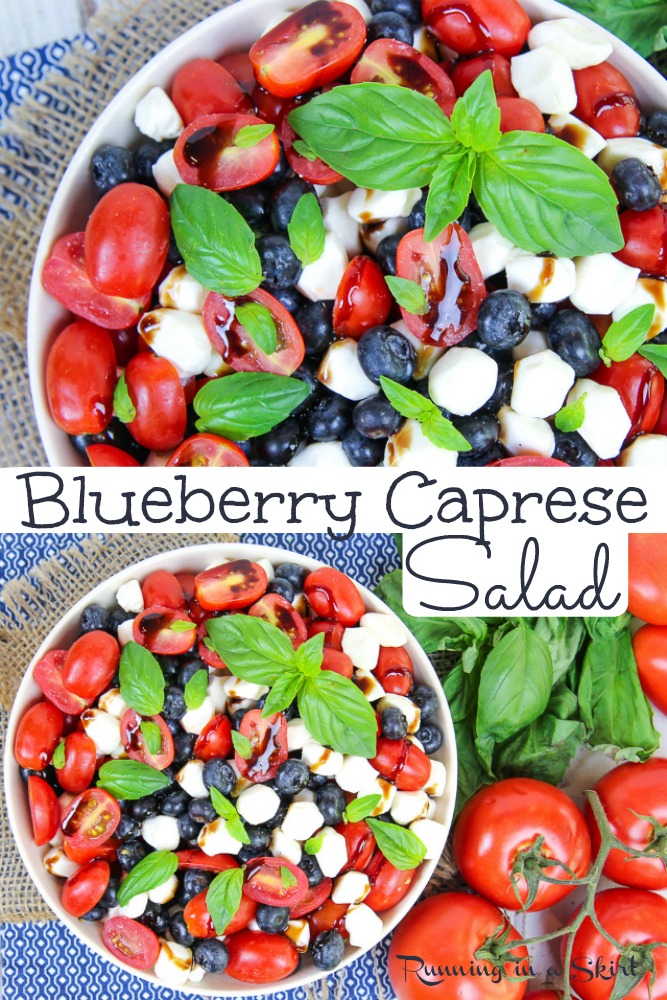 Blueberry Caprese Salad is the perfect simple summer salad that takes only a handful of ingredients and 10 minutes to make. It's red, white, and blue colors shine for a patriotic side to enjoy on the 4th of July, Memorial Day, Labor Day, or ANY summer night.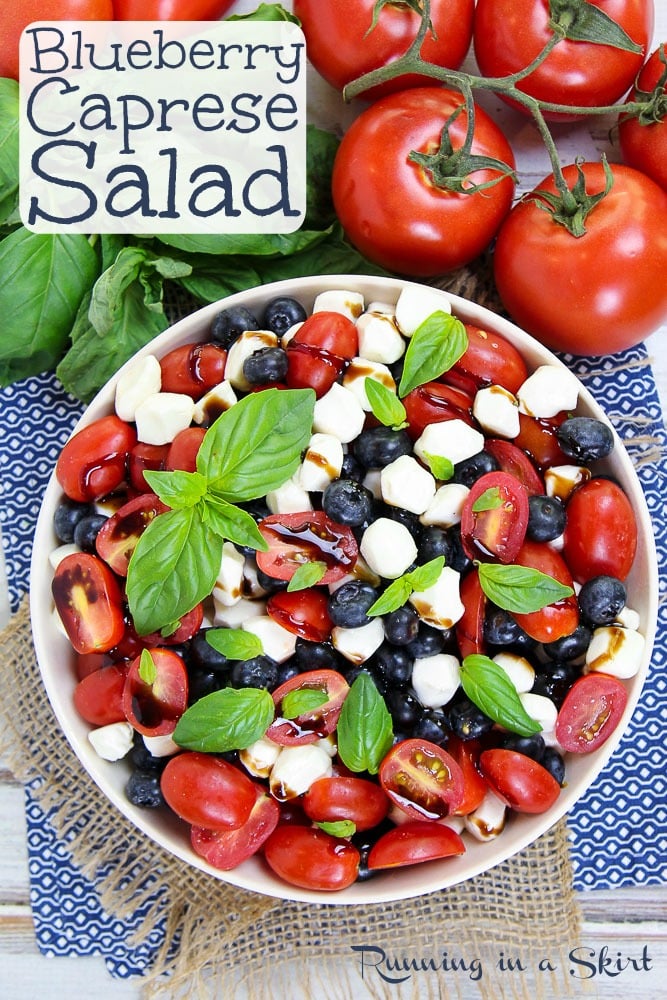 Blueberry Caprese Salad
This Blueberry Caprese Salad is THE salad of summer including all of your 4th of July, Memorial Day, and Labor Day parties! This red, white, and blue dish taste and looks delicious in the most patriotic way.
Summer salads are my jam and Caprese is at the top of the list. From June to August I basically have an obsession with the combination for fresh tomato, creamy mozzarella and fragrant basil. This season I decided to kick it all up a notch by adding BLUEBERRY for a Blueberry Caprese Salad that is just SCREAMING for a place on your 4th of July table.
Blueberries add loads of antioxidants to this dish and sweet burst of flavor that pairs perfectly with this classic dish. It's such an unexpected and surprisingly tasty twist.
Isn't it red, white and blue foodie perfection?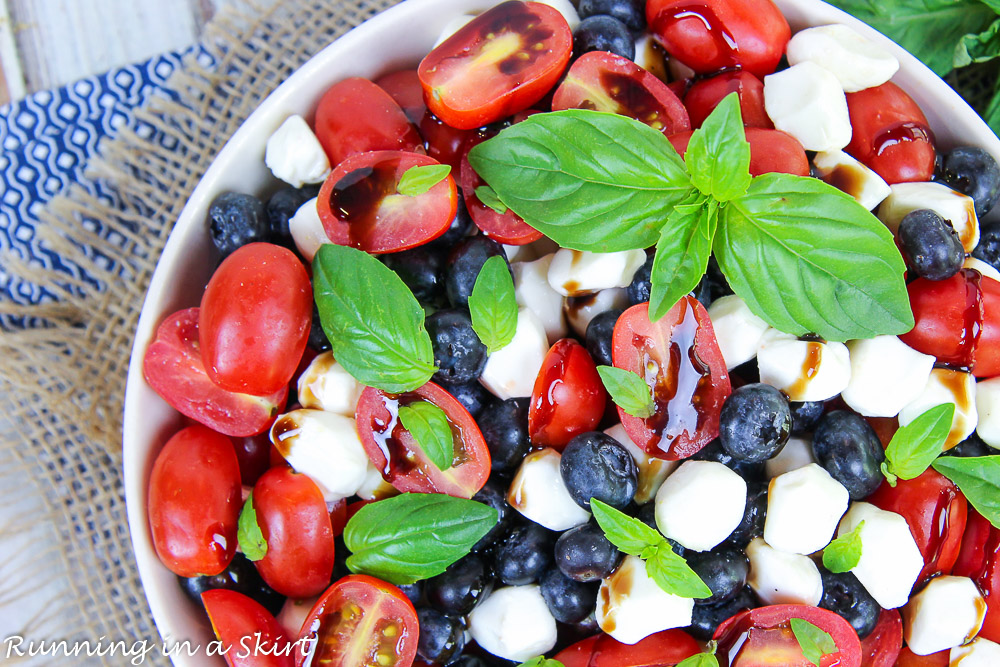 Why You'll Love this Blueberry Caprese Salad...
Summer cooking for me is all about using the bounty of fresh fruits and vegetables that are in season. I am especially fond of dishes, like this Blueberry Caprese Salad, that is more assembly only and doesn't require you to turn on the stove or oven. I basically want to spend my short three months of summer OUTSIDE not inside cooking.
This summer salad could not be easier since all you do is toss the ingredients together and serve it with your best olive oil and balsamic reduction. The gorgeous bowl looks like you spent forever making something nice when it really only takes 10 minutes to throw together.
What is Caprese Salad?
Caprese salad is a simple Italian salad featuring fresh mozzarella, tomatoes, and sweet basil. It's seasoned with salt, pepper, and olive oil. It often has balsamic vinegar with it! This version adds blueberry to make it a perfect festive Independence Day dish.
Ingredients:
Summer ingredients shine in my Blueberry Caprese Salad! You can make this any time of year but the flavors really burst with fresh tomato and blueberry.
Tomato: Buy whatever looks the freshest at the store. There is nothing like summer tomatoes.
Fresh Mozzarella: For this, I like to use the mozzarella pearls but if you can find that you could cube a larger ball of fresh mozzarella.
Blueberry: These add an unexpected sweetness and give us the red, white and BLUE coloring.
Fresh Basil: I get mine out of my garden but you can find this in most grocery stores.
Good Olive Oil: I like a rich Extra Virgin Olive Oil for this.
Balsamic Glaze: You can make your own reduction from simple balsamic vinegar OR buy a pre-made balsamic glaze. I LOVE this one.
Caprese Substitutions?
You could substitute other fruit for the blueberries like peaches or strawberries. The blueberries are perfect for getting that 4th of July coloring though.
You could also serve this on a bed of fresh greens like arugula or spinach.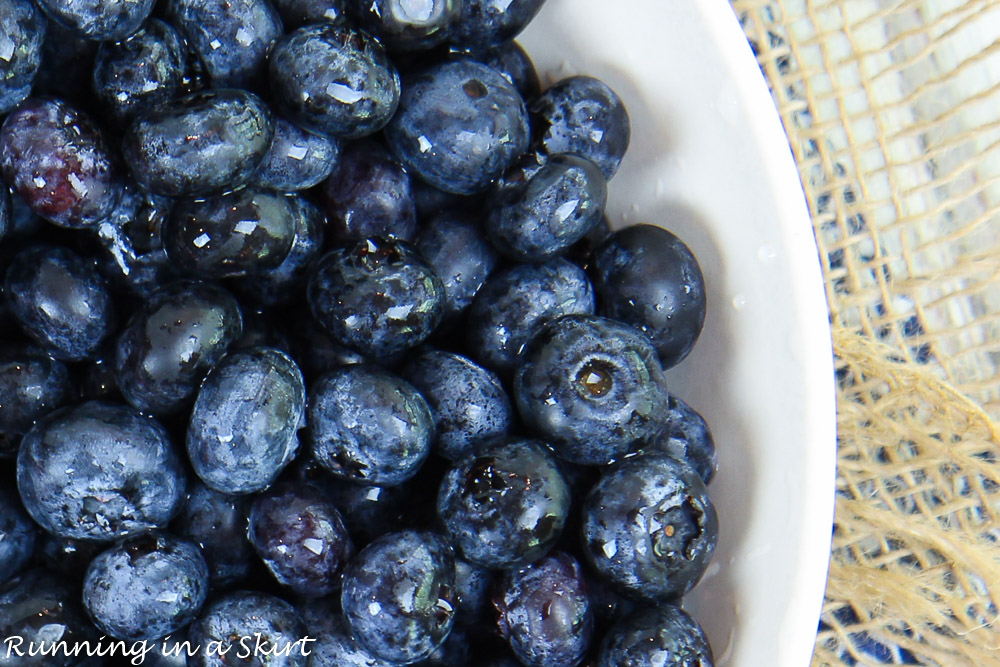 Instructions:
Here's how to make my Blueberry Caprese Salad!
Slice the tomatoes in half.
Toss the mozzarella, tomatoes, and blueberries together. Top with fresh basil.
You can drizzle the olive oil and balsamic on top OR serve it plain like this and let everyone top their own at the table. It's a great use for that pretty olive oil jar you never use.
Either way, you serve it this fresh summer salad is sure to be a hit.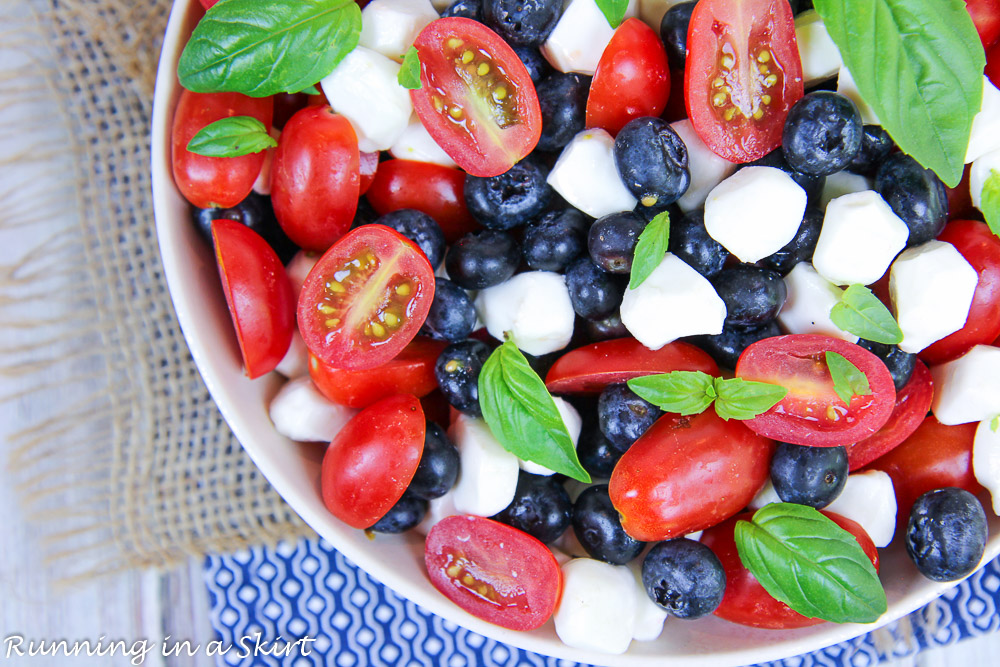 Make it a Meal:
Curious what should you serve with a caprese salad? Try some of these summer favorites?
Is Caprese Salad Healthy?
YES! This Caprese Salad is healthy and features two superfoods... tomatoes and blueberries. The tomatoes are full of vitamin C, fiber, potassium, Vitamin K1, and Folate. They are a dietary source of the antioxidant lycopene, which has lots of health benefits including being linked to a reduced risk of heart disease and cancer. Blueberries are full of fiber, Vitamin C, Vitamin K, and Manganese. They are a perfect antioxidant food.
An entire serving of this salad is just 250 calories. If you are watching calories you can cut back on the cheese and olive oil. 🙂 Adding fresh greens like arugula or spinach to the bottom of this salad makes it even more nutritionally dense.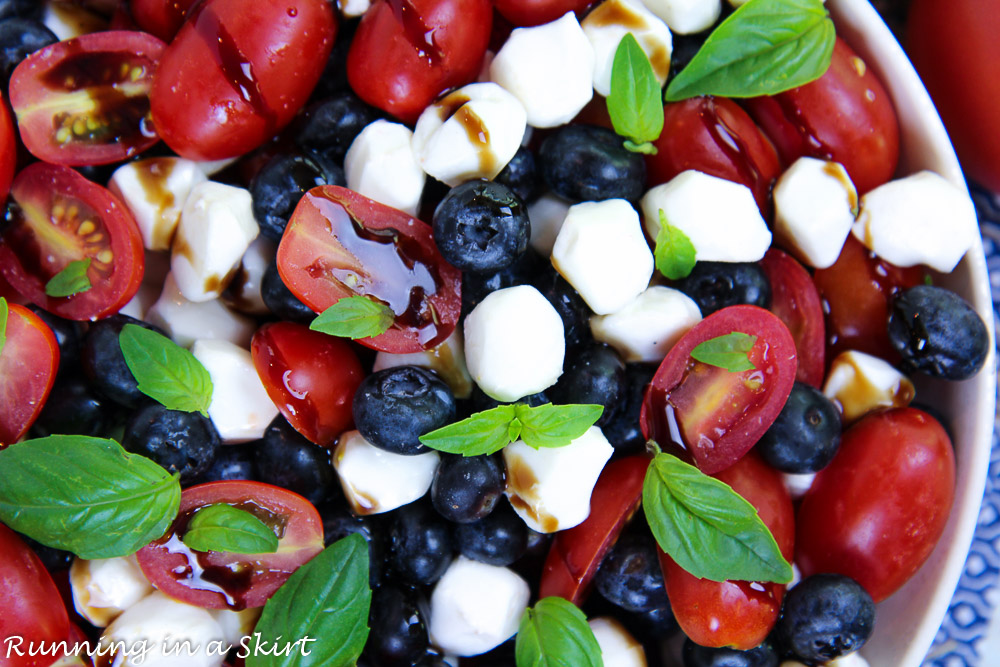 I adore this simple summer Blueberry Caprese Salad and know you will too. It's festive, fun, and something everyone will love. Give it a try and let me know what you think.
More Caprese Recipes
I told you I have a caprese problem!
If you make this recipe, I'd love to hear what you think! Leave a comment and a star rating ★ below. Make sure to follow me on Instagram, Pinterest, and Facebook too!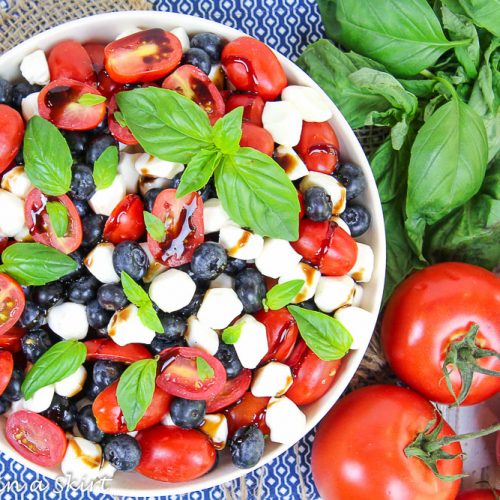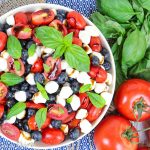 Blueberry Caprese Salad
This festive and delicious Blueberry Caprese Salad is the perfect red, white and blue salad to celebrate summer parties like Memorial Day, 4th of July or Labor Day.
Instructions
Toss the blueberry, tomatoes and fresh mozzarella together. Divide into four plates or bowls.

Drizzle with the olive oil, balsamic glaze and top with the fresh basil.
Notes
I like to leave the balsamic glaze and olive oil on the table for each person to drizzle as much as they'd like on it.
Nutrition
Calories:
256
kcal
Carbohydrates:
15
g
Protein:
14
g
Fat:
16
g
Saturated Fat:
8
g
Cholesterol:
45
mg
Sodium:
369
mg
Potassium:
329
mg
Fiber:
2
g
Sugar:
9
g
Vitamin A:
1061
IU
Vitamin C:
31
mg
Calcium:
302
mg
Iron:
1
mg
Pin for later