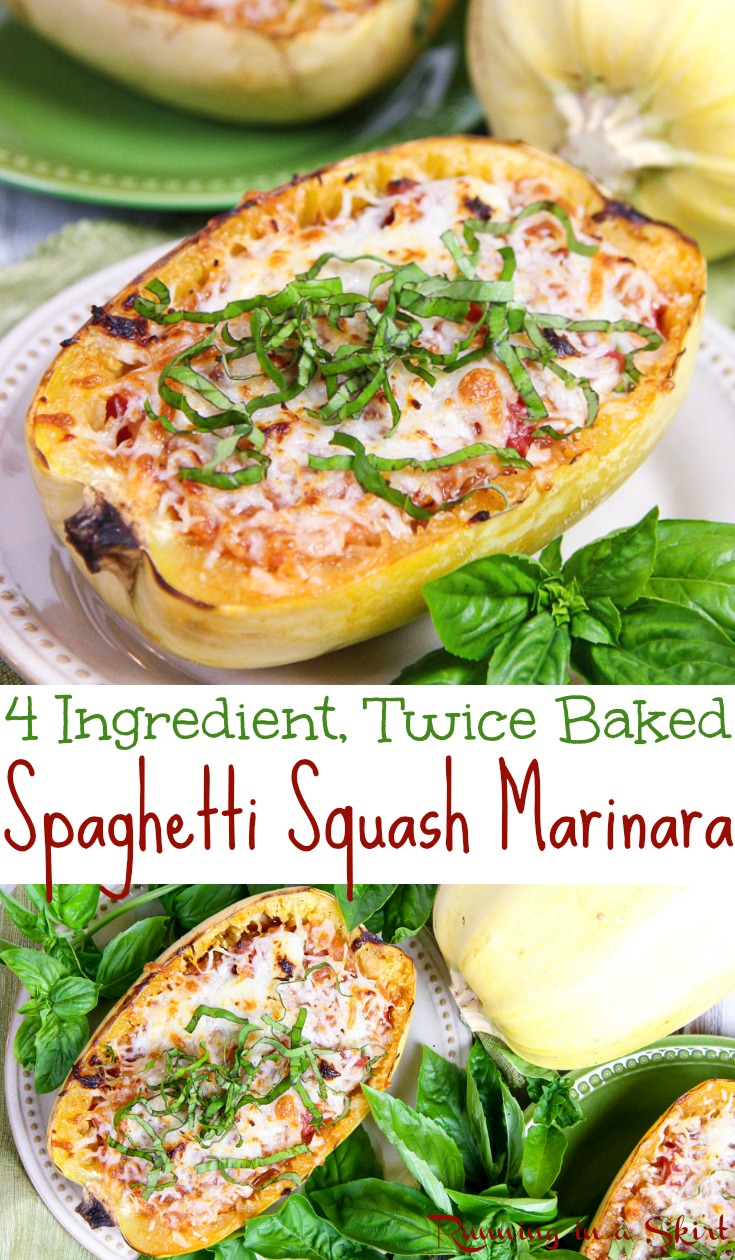 Need a new fast meal for your dinner rotation? Try my Twice Baked Spaghetti Squash Marinara recipe!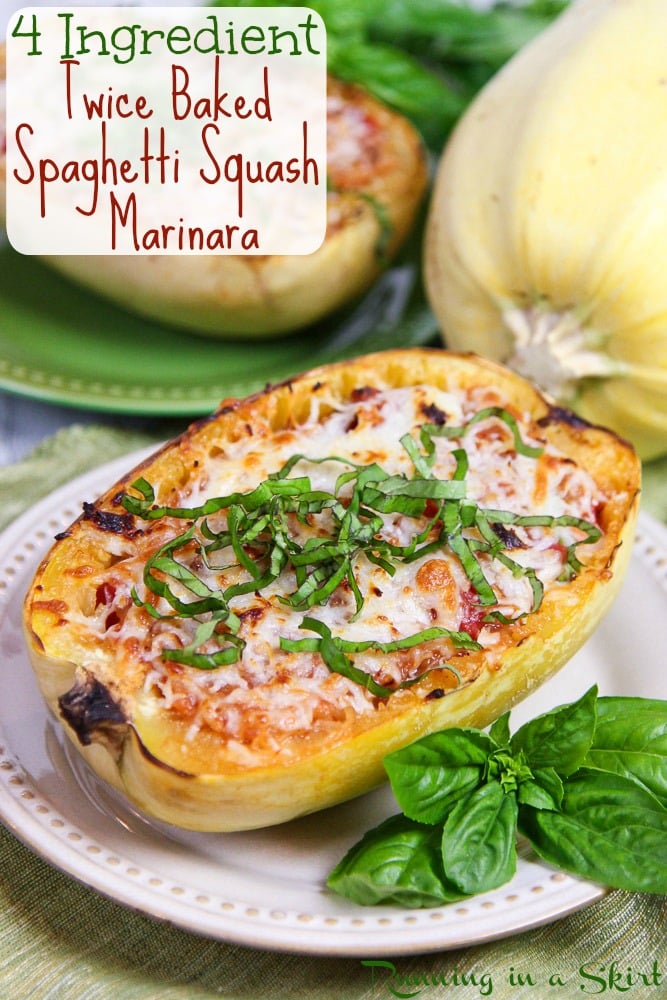 Hi guys!
Ohhhhhh I had the best weekend. I had a houseful of some of my oldest friends in town for my girls baby shower and it was so lovely. I literally had people fly in from across the country and world to celebrate the twins. I'm putting together a full post to share with you Friday.
In the meantime, I thought I'd share one of my FAVORITE new recipes I've created... my Twice Baked Spaghetti Squash Marinara recipe. I made this for the blog and then proceeded to make it once every few weeks since then. It's one of those recipes that SO easy to make it's easy to add to your dinner rotation.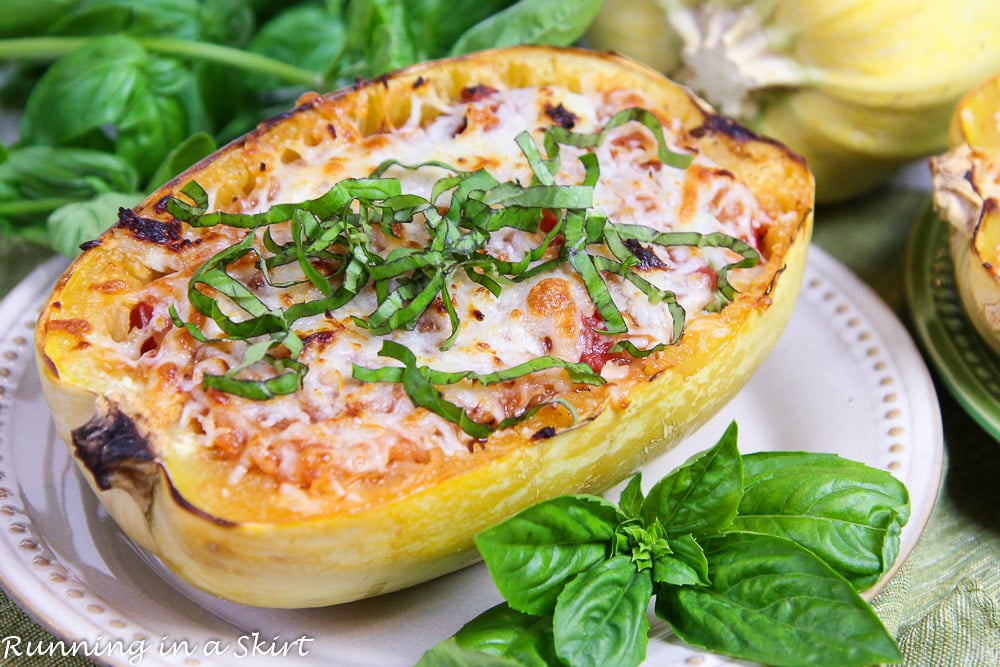 Here's Why You'll LOVE my Twice Baked Spaghetti Squash Marinara recipe...
If you aren't familiar with spaghetti squash, it's a hearty, tough-shelled squash that shreds like spaghetti noodles when you take a fork to it after you bake it. There are so many ways to use it, but I think it's the most fun to eat when you stuff it back into the hard shell and twice bake it like a potato.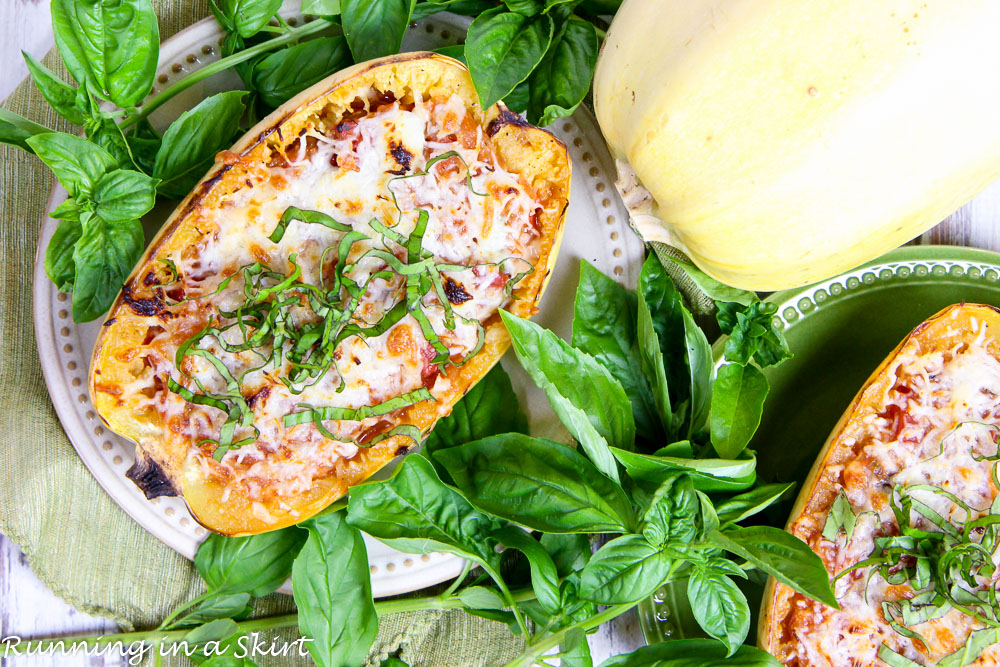 So for this Twice Baked Spaghetti Squash Marinara recipe, all you need is one spaghetti squash. My life hack for this post is to pierce the tough squash with a knife and pop the entire thing in the microwave for a few minutes before you even attempt to cut it in half.
Next, you cut it and place both sides face down on a baking dish. It takes a while to fully cook it, but it's hands-off time and you can even that part ahead of time.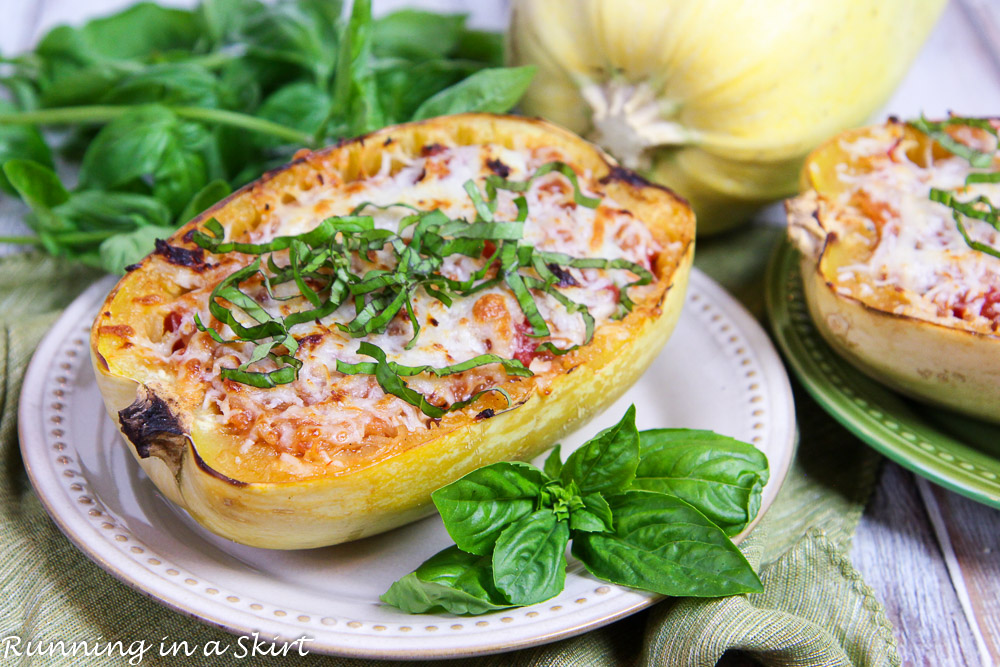 After the squash is tender, you scoop out the seeds like a pumpkin and use a fork to clear out the "noodles" being careful to keep the squash shell intact. I then add them to a large bowl with canned tomatoes, marinara sauce, and a little cheese! I'll hand huge handfuls of fresh basil if I have it.
The last step in making my Twice Baked Spaghetti Squash Marinara recipe is to stuff the squash mixture back into the shell and add a nice topping of cheese! You can even make the entire dish to this point ahead of time and at dinner pop the finished product in the oven. Just add a little more cooking time to account for them being in the fridge.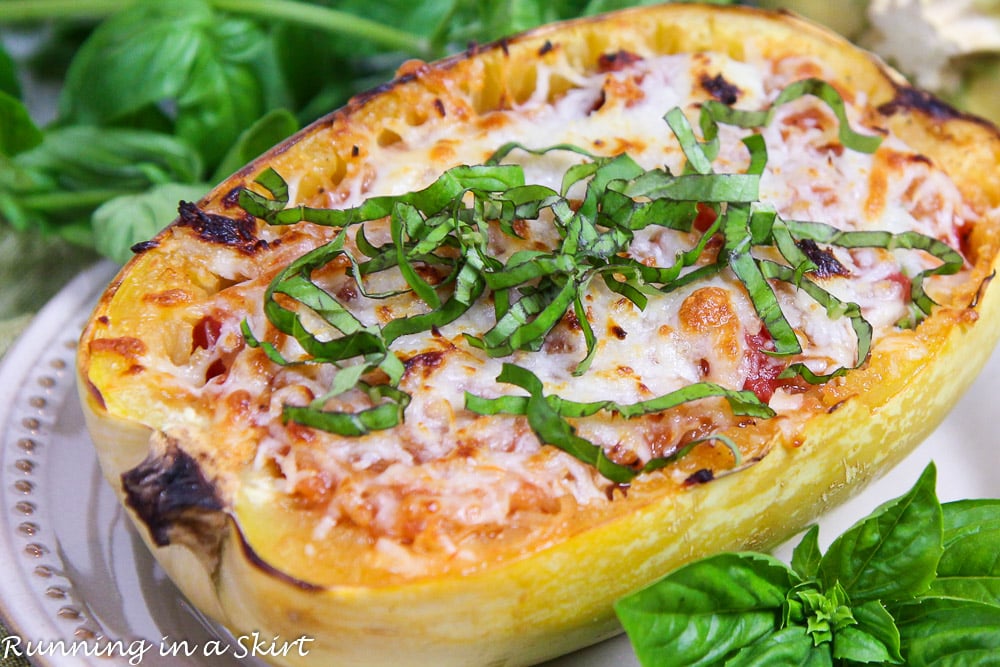 My Twice Baked Spaghetti Squash Marinara recipe bakes up bubbly like a baked ziti but this pasta-free version is so much lighter and low carb. Plus you get all sorts of wonderful vitamins from the squash!
I knew it was a hit when the Hubs said, "This is my favorite dish you've made in a while!" WOOP!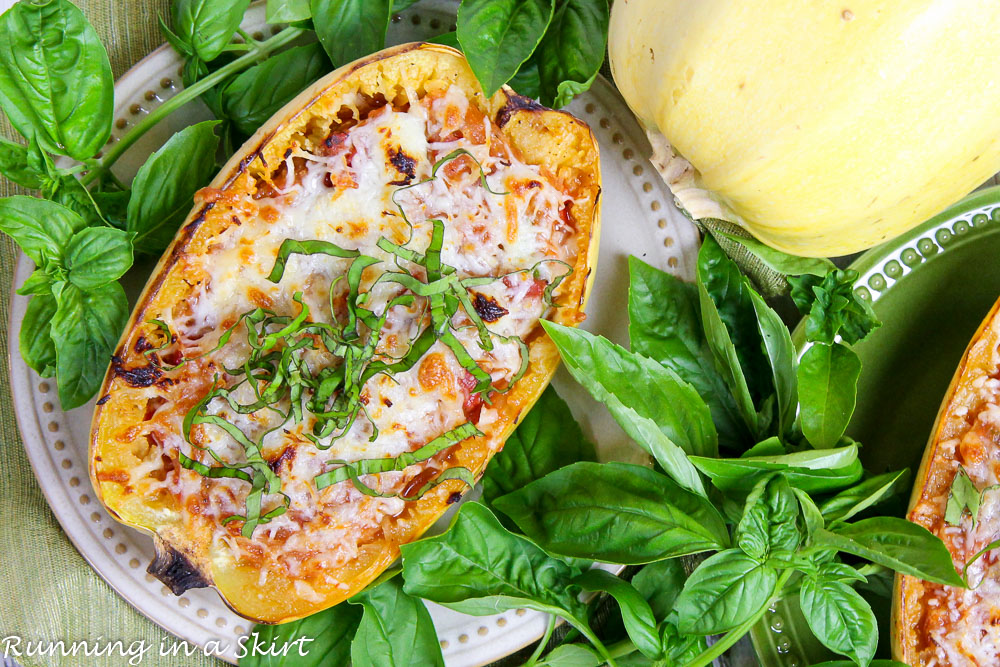 I hope you will give my Twice Baked Spaghetti Squash Marinara recipe a try! It's quickly becoming a family favorite of ours and I'm sure you'll love it too.
Also try these squash recipes...
Like my Twice Baked Spaghetti Squash Marinara recipe? Pin for later!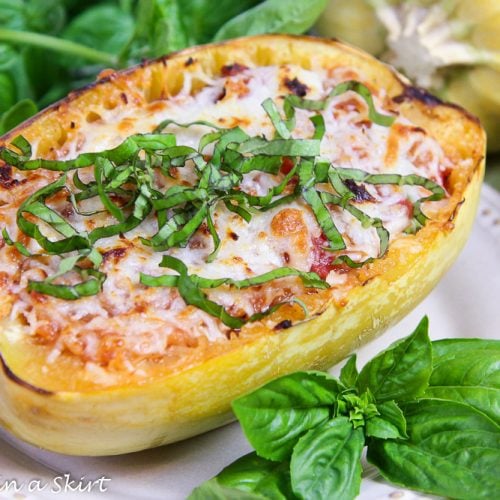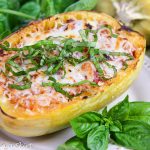 Twice Baked Spaghetti Squash Marinara recipe
This four-ingredient Twice Baked Spaghetti Squash Marinara recipe will become one of your favorite go-to meals!
Ingredients
1

spaghetti squash

1

14.5 ounce can fire roasted tomatoes

,

drained well

½

cup

marinara sauce *

¾

cup

mozzarella cheese *

,

divided

extras: fresh basil, dried basil or Italian seasoning, garlic powder & parmesan cheese!
Instructions
Preheat the oven to 375 degrees. Line a baking sheet with foil. Spray it with cooking spray.

Carefully pierce the whole spaghetti squash with a sharp knife. Put the squash in the microwave for 3-5 minutes or until it is easier to cut. Carefully slice it in half.

Place the squash flesh side down on the baking sheet. Bake for about 45 minutes or until the squash is tender and comes apart in spaghetti-like noodles easily. It will take a little more time for a larger squash and little less for a smaller one.

When the squash is cooked flip it over and carefully remove the seeds. Use a fork to separate the squash being careful to leave a little around the edges and to not hurt the squash boat. Put all of the noodles in a bowl.

Add the canned tomatoes to the spaghetti squash. Add a little bit of marina sauce until you have enough to cover all your noodles. The exact amount will vary due to the variable size of spaghetti squash. Toss ½ cup of the cheese. If you want to be creative also add fresh or dried basil, garlic, and parmesan cheese.

Refill the squash halves with the marinara mixture. Sprinkle the top with the remaining mozzarella cheese.

Bake for 7-9 minutes or until the cheese on top is melted. To get a golden brown color you can turn to oven up to broil for a few minutes. Just be careful not to burn the squash.
Notes
*The exact amount of sauce and cheese will vary due to the size of your squash.  Just add enough until the noodles are covered but not soggy.
**Try  my homemade Crock Pot Marinara Sauce
Nutrition
Calories:
292
kcal
Carbohydrates:
38
g
Protein:
15
g
Fat:
11
g
Saturated Fat:
5
g
Cholesterol:
23
mg
Sodium:
679
mg
Potassium:
764
mg
Fiber:
8
g
Sugar:
16
g
Vitamin A:
1101
IU
Vitamin C:
14
mg
Calcium:
429
mg
Iron:
2
mg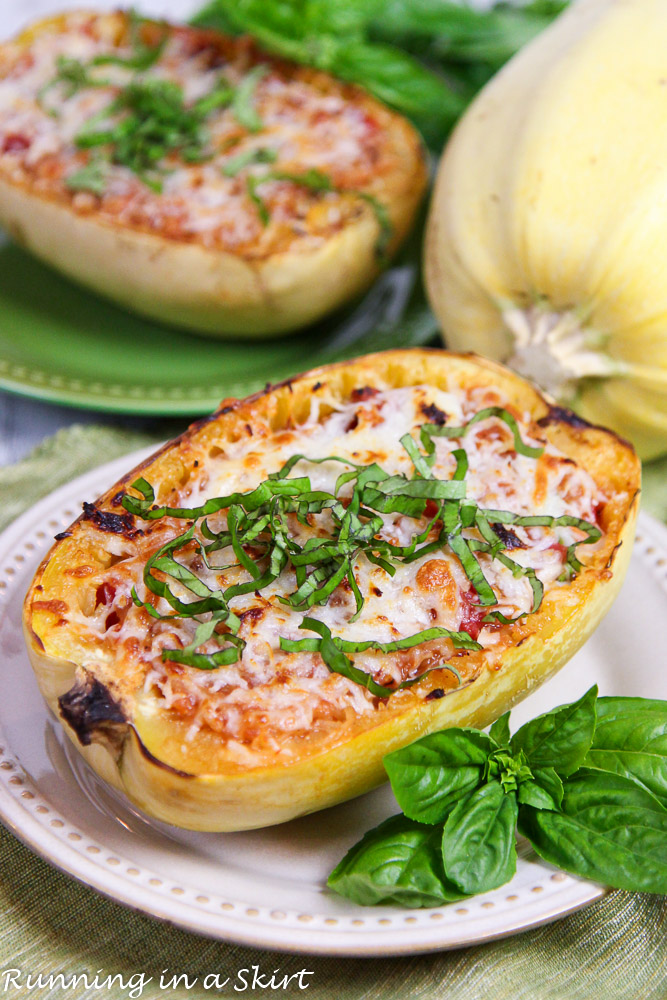 Your turn!
What's your favorite way to enjoy spaghetti squash?