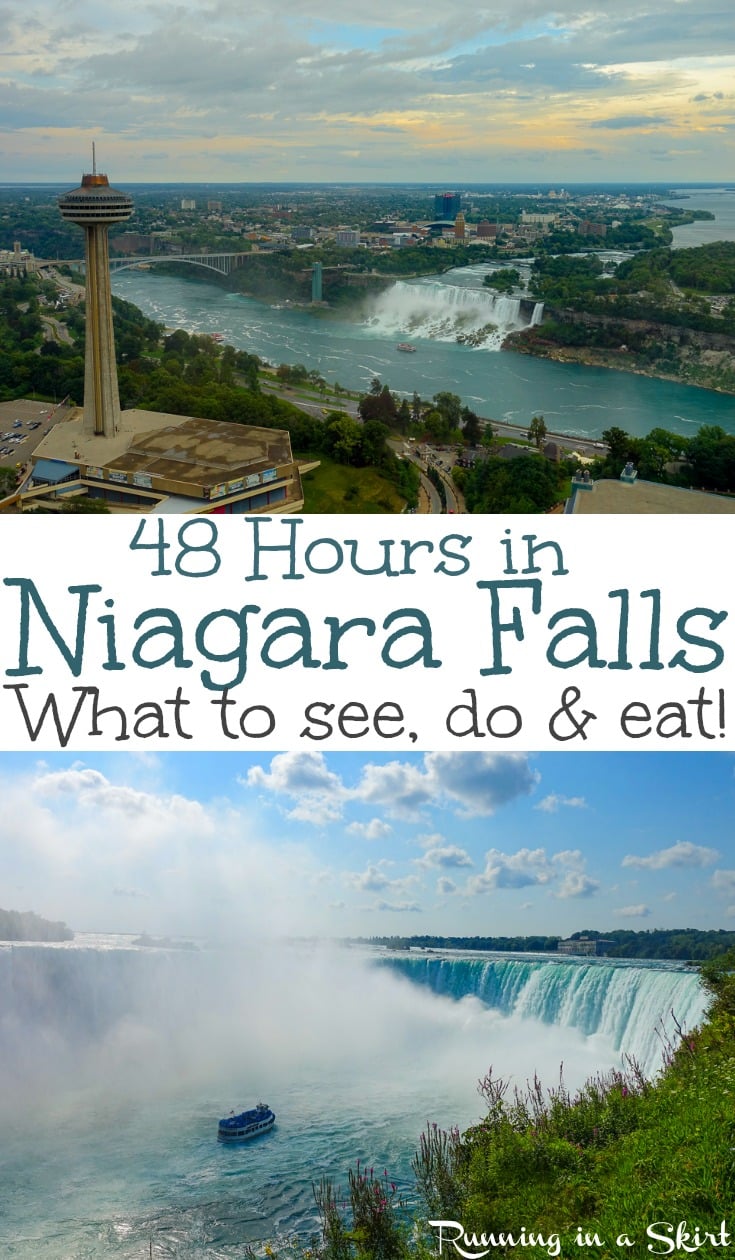 Have 48 Hours in Niagara Falls? Here's what to see, do, and eat including good restaurants in Niagara Falls Ontario!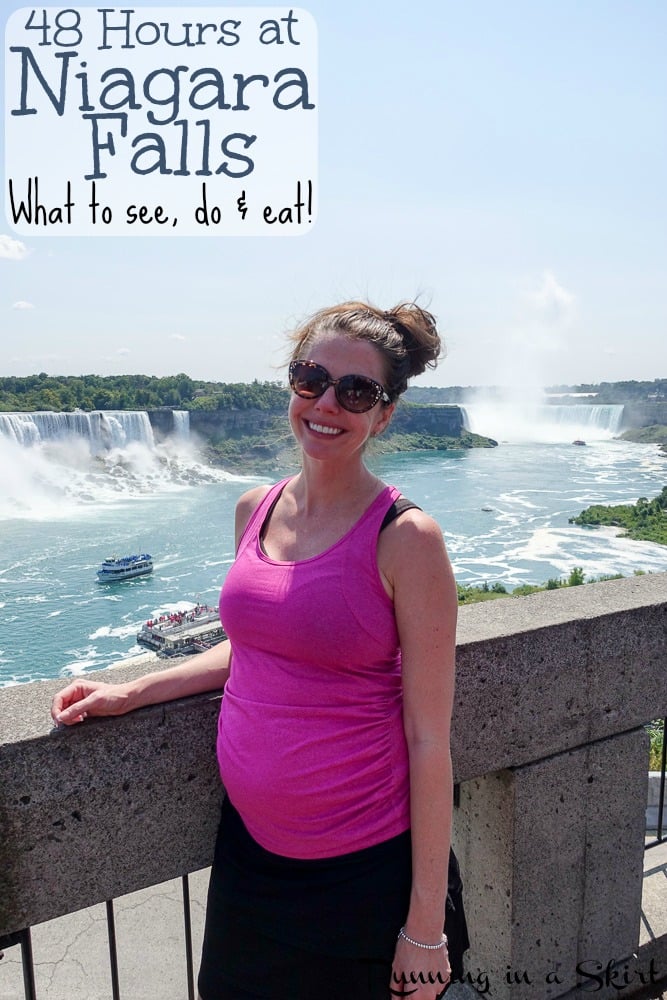 Hi everyone!
The Hubs and I spent 48 hours in Niagara Falls last week before our Pittsburgh baby shower for a mini babymoon. I wanted to take a bigger trip to Europe this summer, but once I figured out how tired I actually was being pregnant with twins (holy exhaustion!) I decided that probably wasn't the wisest idea. I still couldn't fight my wanderlust though, so we started looking for something that we could do for a few days that would feel special. I had never seen Niagara Falls or been to Canada so we decided to do that as part of our trip and go on our last mini beach vacation alone later in September. I'd check a bucket list item off the list and get to add a new country to my count. 🙂
Since we flew ourselves, we actually had to leave a day early because the weather was supposed to be stormy on the day we were supposed to fly. We actually ended up with a little more than 48 hours in Niagara Falls, but our first day we took it easy because the weather was bad and I had turned my ankle the previous day. And yes, I really am that clumsy these days.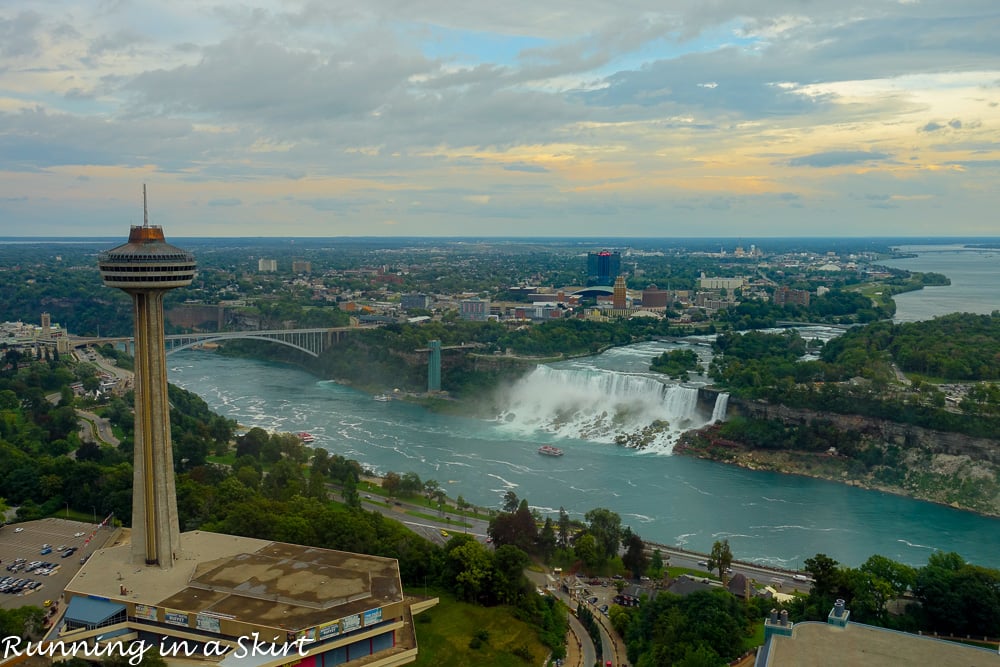 Even with resting on day one, we had just enough time to explore the highlights at the falls and the nearby adorable town of Niagara on the Lake. If you aren't familiar with Niagara Falls, it's actually made up of three different falls. The photo above shows the American Falls. The much smaller falls to the right of the large one is called Bridal Viel Falls. Both of those are on the American side. The photo below shows Horseshoe Falls which are actually in Canada.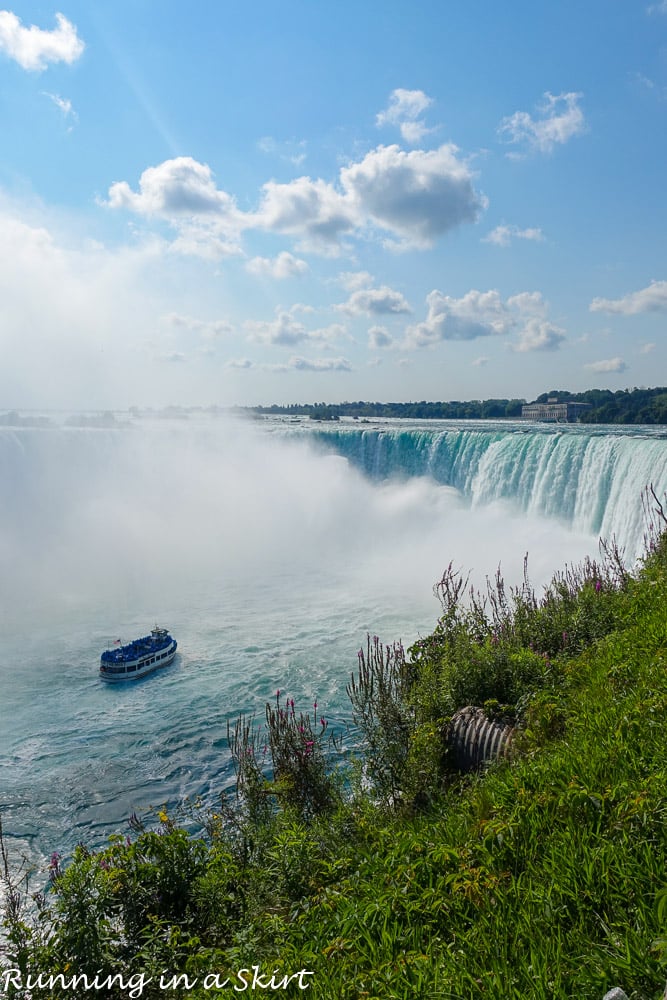 As always, I thought I'd take you along for the fun to curb your wanderlust or help you plan a trip of your own one day. Here's what to see, do and eat with 48 Hours in Niagara Falls!
48 Hours in Niagara Falls
Day 1
Day 1 in Niagara Falls was pretty chill. We weren't planning on having the extra time and my ankle was hurt so we ended up enjoying the view from our hotel room quite a bit. It was incredible. We could see all three falls very well from our room. The storms actually created some beautiful colors in the sky too.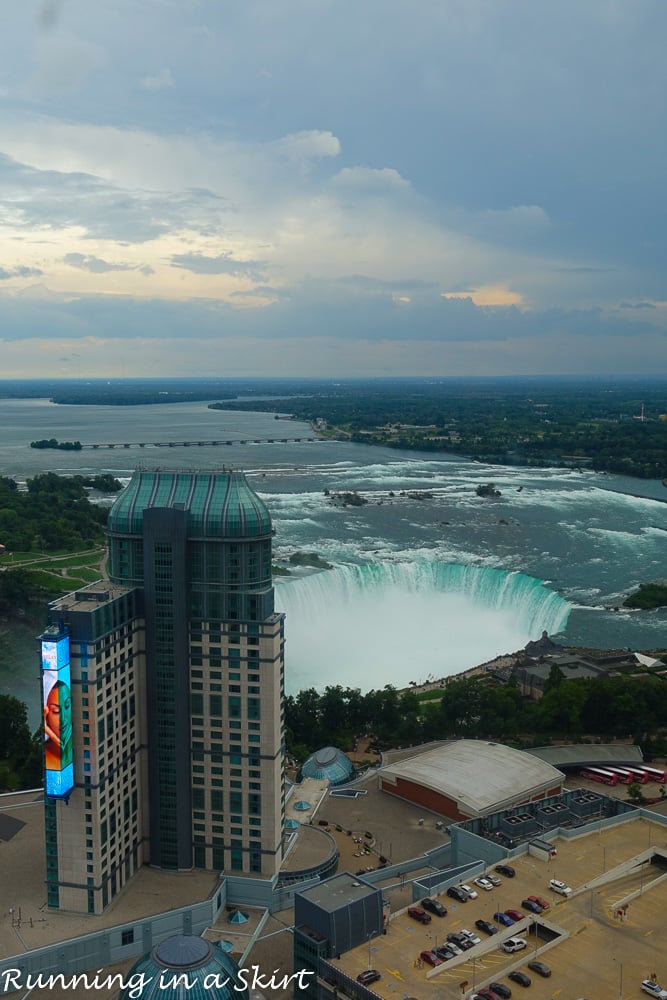 I'd heard the restaurants in the tourist area weren't great so we got in our car for lunch to find something better. I found a French restaurant in their downtown area with great Yelp reviews called Paris Crepes Cafe.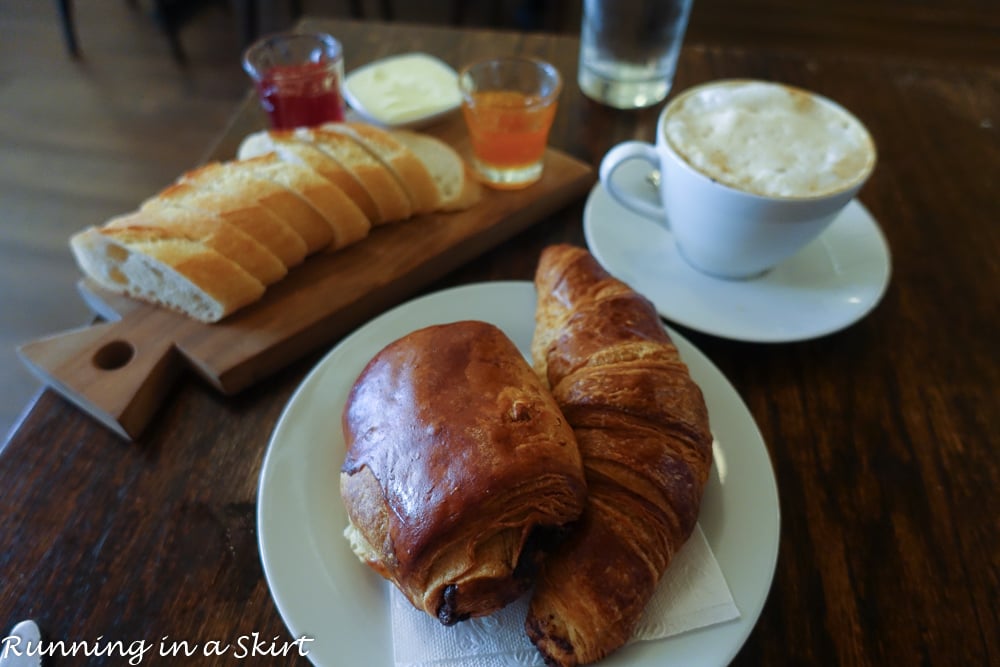 The Hubs and I shared a savory and a sweet crepe and it did not disappoint!
In fact, this meal ended up being the most memorable of our trip. They also serve a different menu for dinner and we wish would have gone back.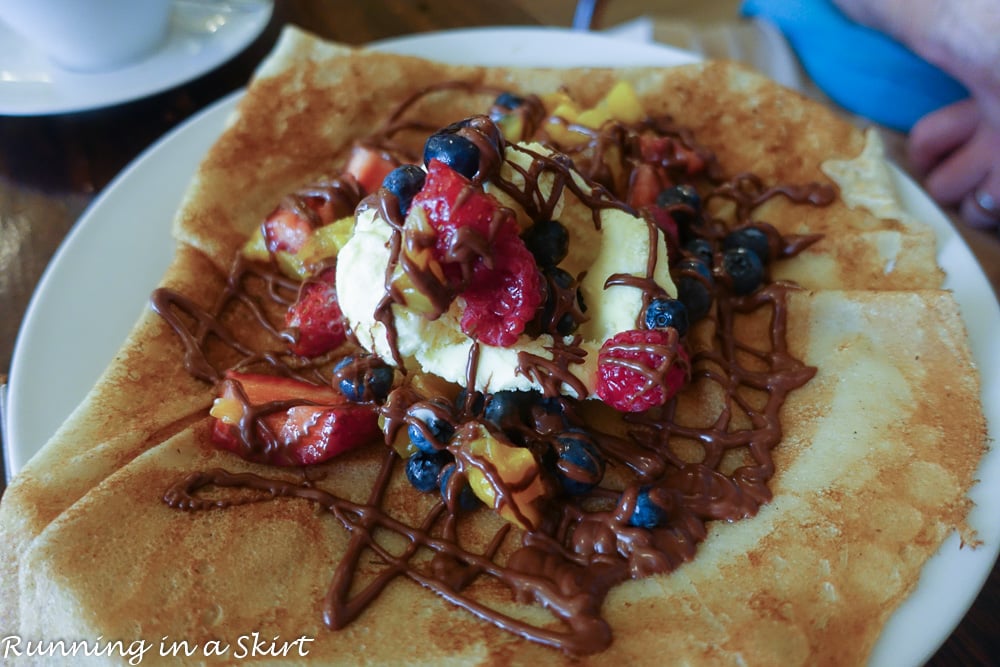 After lunch, I got my nails done, which was nice and relaxing after rushing into town the day before. It also kept me from walking around too much on my foot!
For dinner, we had another delicious off the beaten path meal at the Tide and Vine Oyster House. I found it on Yelp again and it was in an unassuming strip mall about 10 minutes from the touristy stuff. The Hubs and I shared all sorts of yummy dishes including the clams...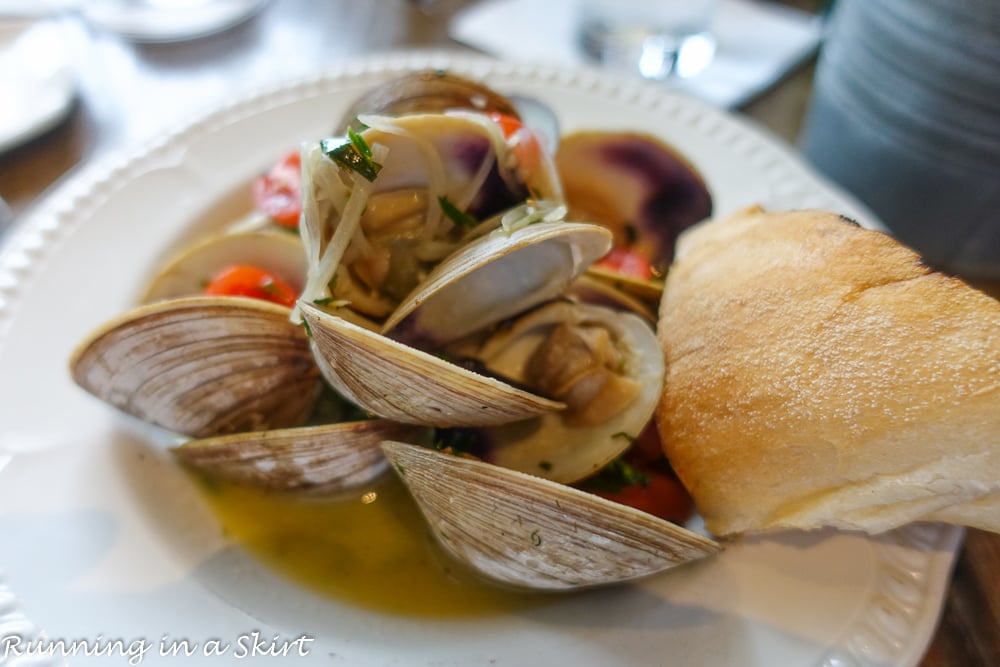 ... and lobster risotto! We had a lovely evening enjoying our meal. This was by far the best dinner of our trip.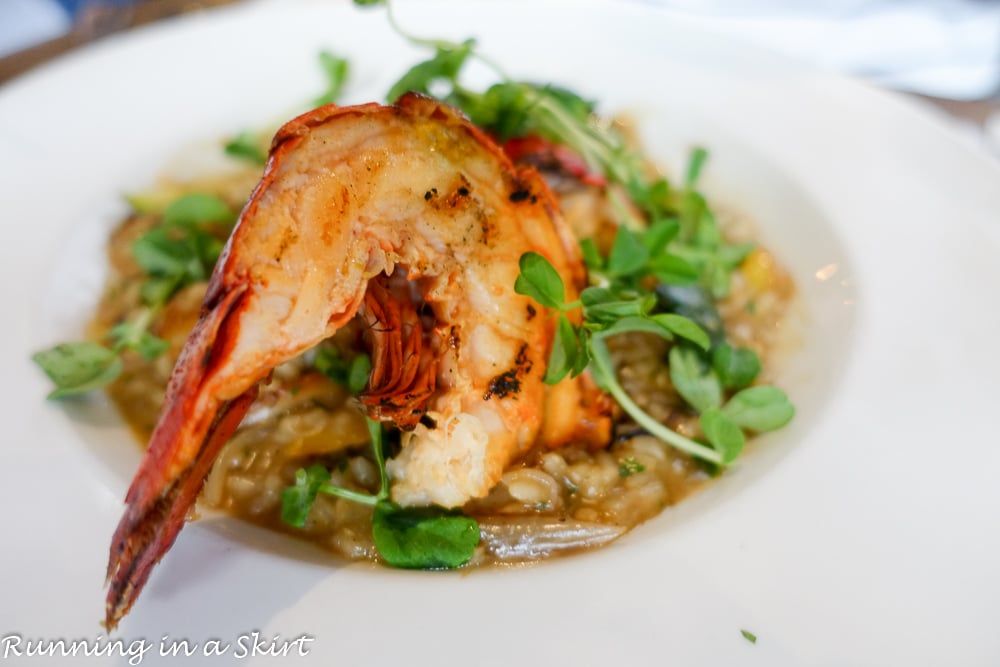 After dinner, we went back to the room and watched the fireworks over the falls from there. I tend to run us around like crazy on trips seeing things, so it was nice to actually have a relaxing day for a change!
Day 2
Day 2 started what was supposed to be our vacation. The storms stopped and my ankle was feeling a little better, so we decided to drive to Niagara-on-the-Lake to look around. Niagara-on-the-Lake is a super charming well-preserved 19th-century village surrounded by the gorgeous Lake Ontario, sprawling wineries and lots of pretty nature. It's a world apart from the crazy tourist hoopla surrounding Niagara Falls.
Since I'm pregnant, we had to skip the wineries (booo!) and instead we opted for a walking free car tour of the town. I was blown away by how beautiful it was and how many flowers were everywhere. I had serious garden envy.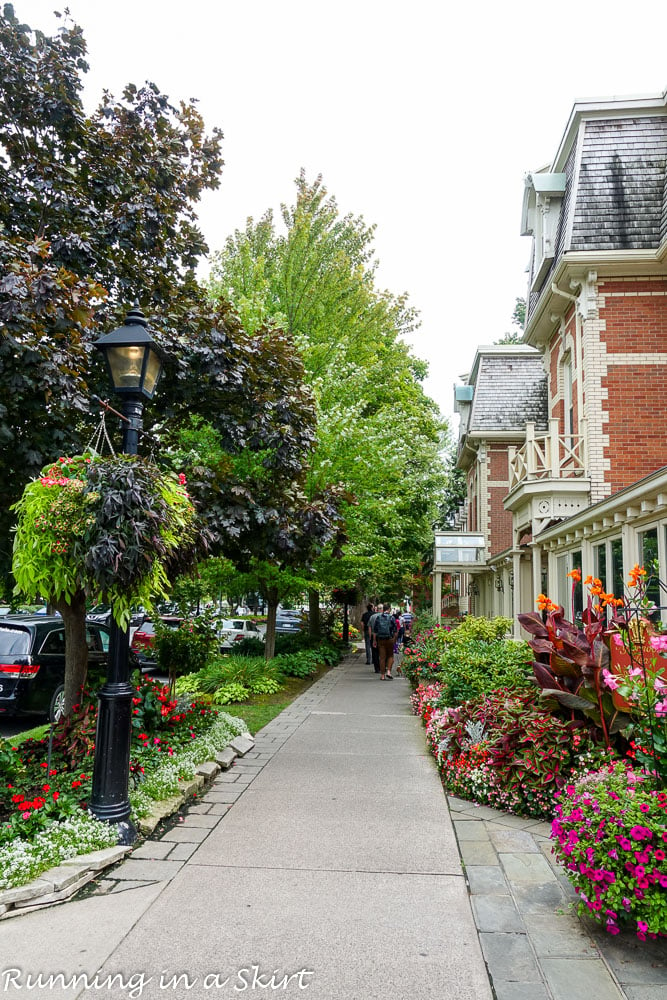 Instead of lunch, we opted for an early high tea at the Prince of Wales Hotel.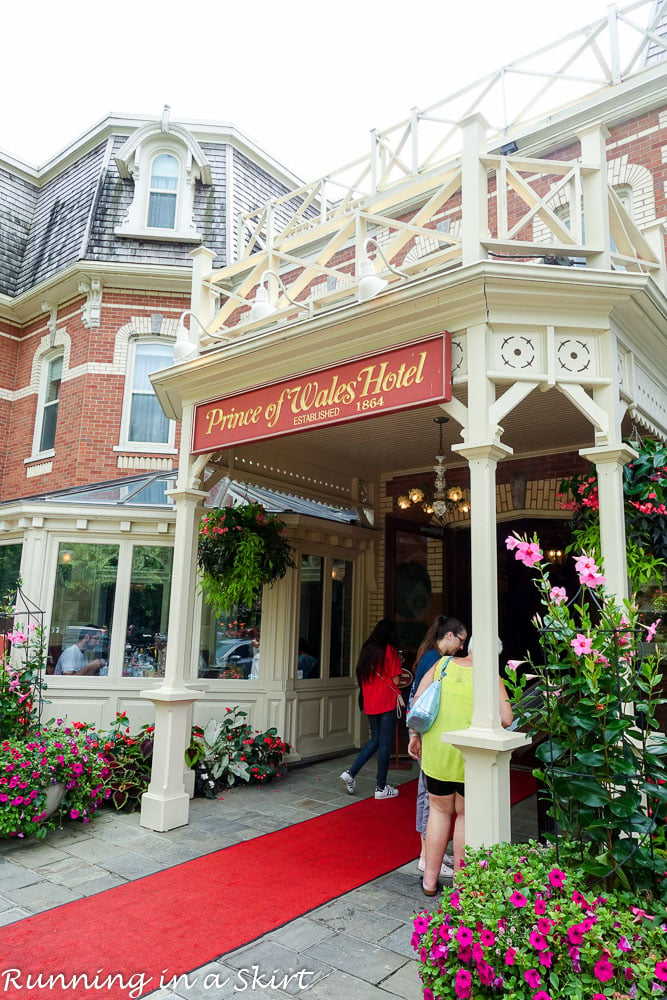 I'm such a sucker for a high tea and I could not resist when I saw online that they did it here.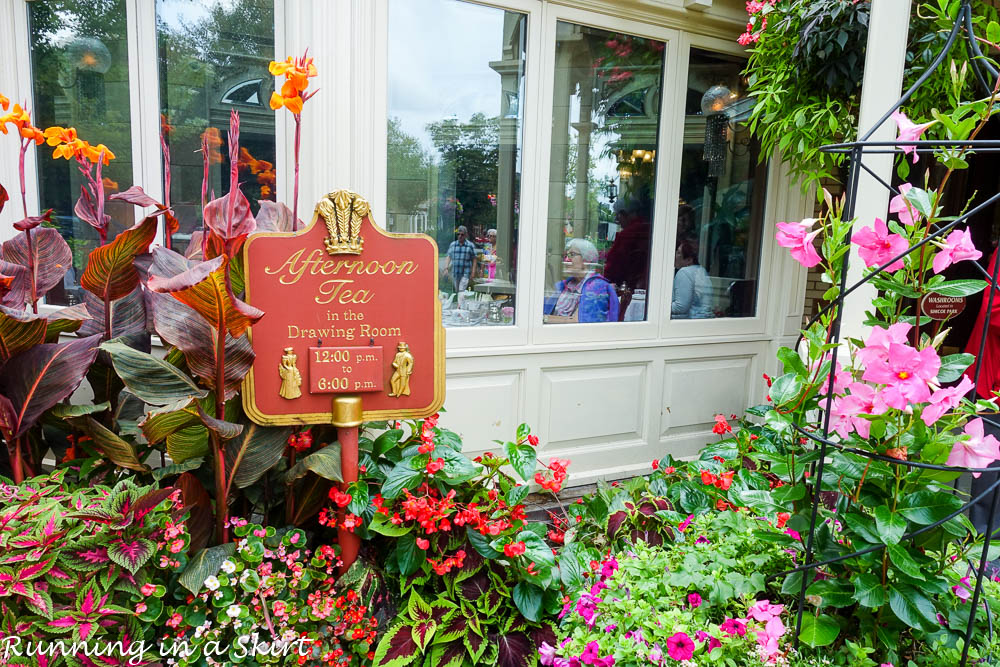 The tea started with a gorgeous selection of beautiful teas. I opted for a calming one that was supposed to boost your immune system.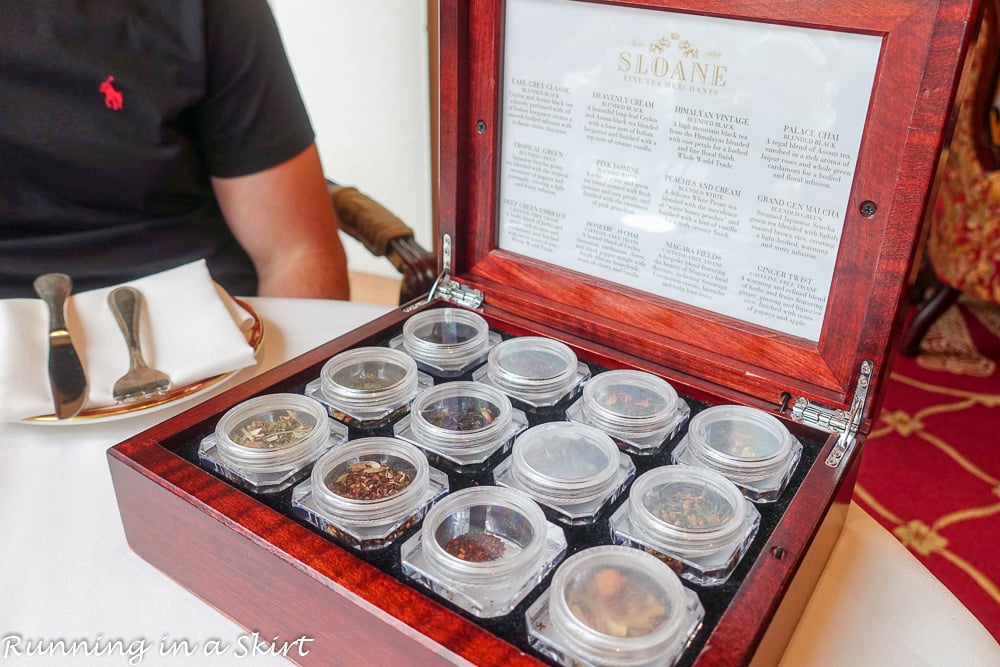 Our first course was a pretty cheese plate.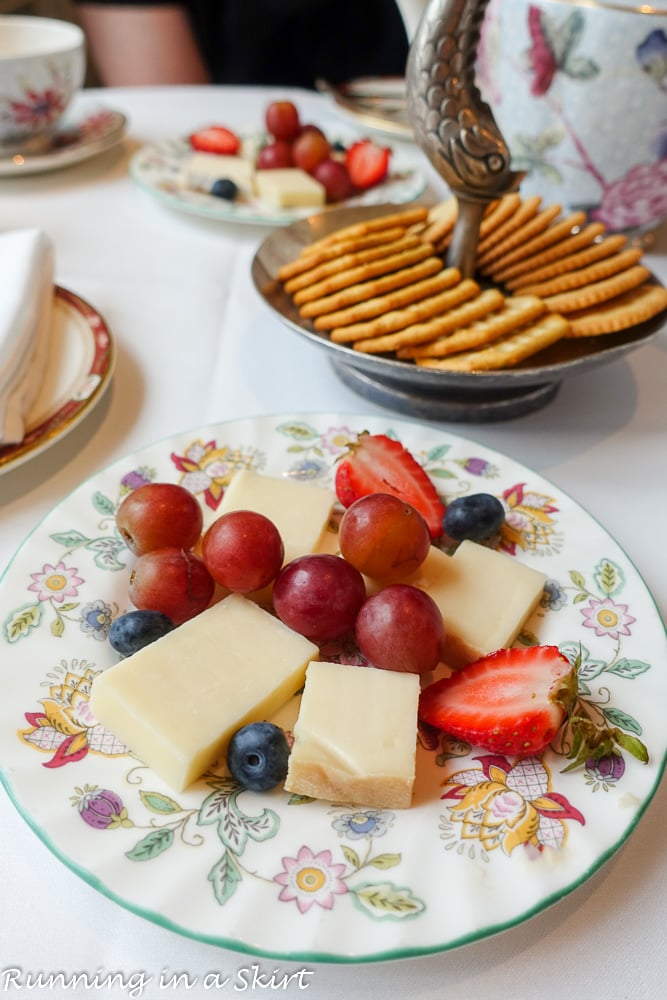 That was followed by an indulgent tower of finger sandwiches and desserts.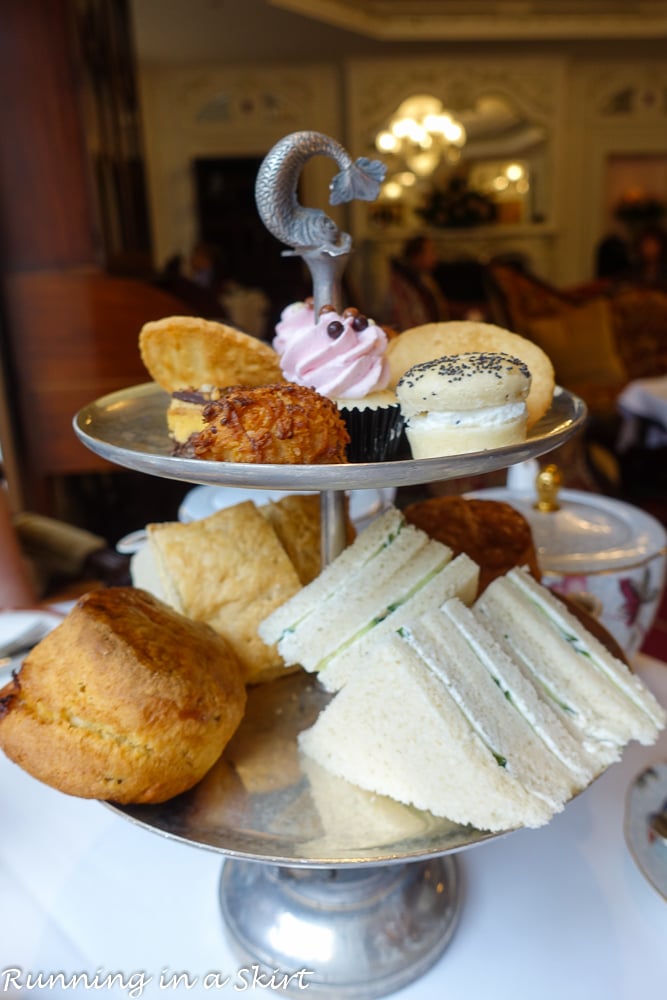 They were so decadent and delicious! The inside of the historic hotel was filled with fresh cut roses, gorgeous antiques and gave you the feeling of stepping back in time. I know time is limited with only 48 Hours in Niagara Falls but this is a special place worth seeing.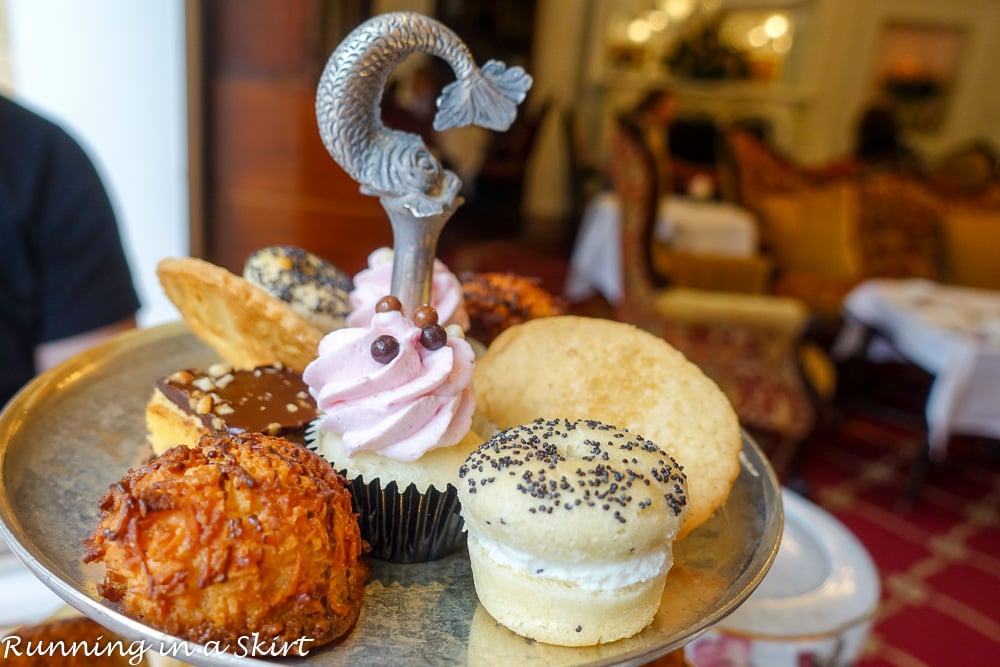 The tea was absolutely perfect and I adored every second of it. After tea, we walked around the town for just a bit until my ankle started hurting again.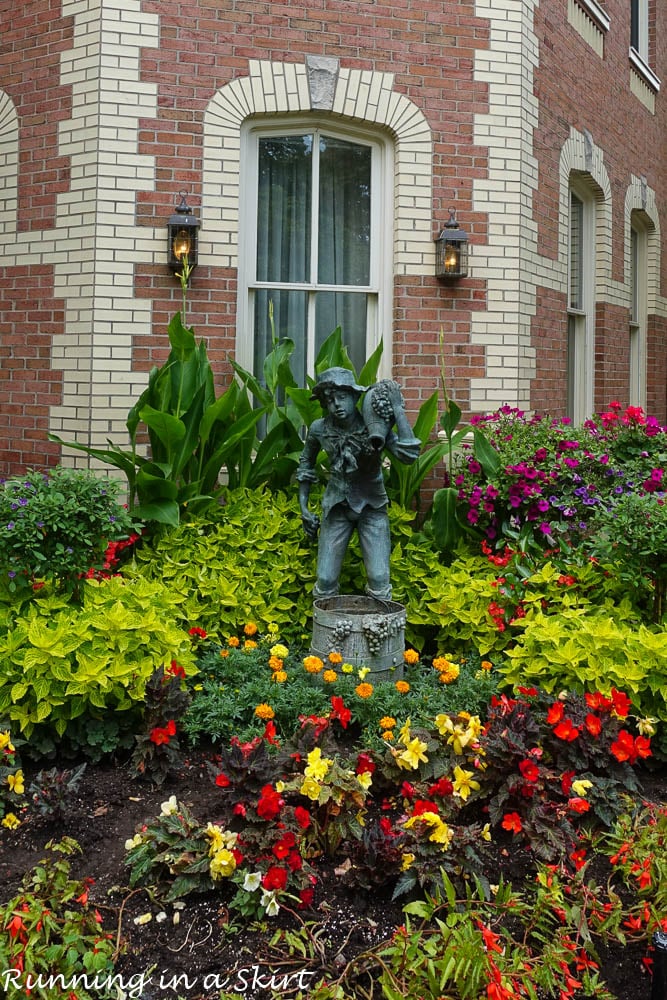 The shops had all sorts of fun unique things and I came home with a pretty pair of handmade earrings.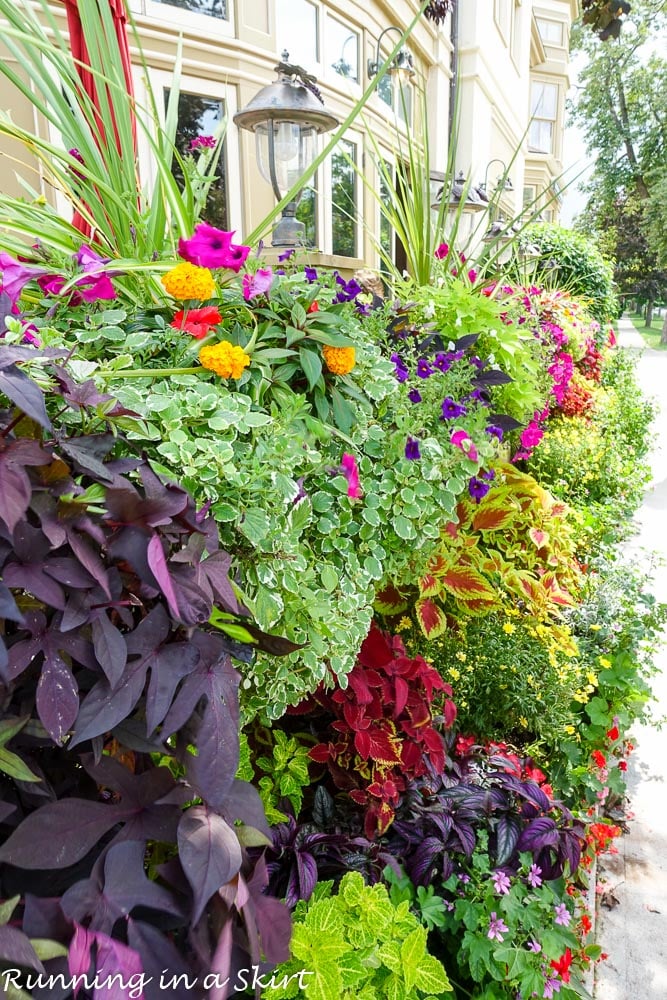 Before we left the area we stopped to get a peek at Lake Ontario.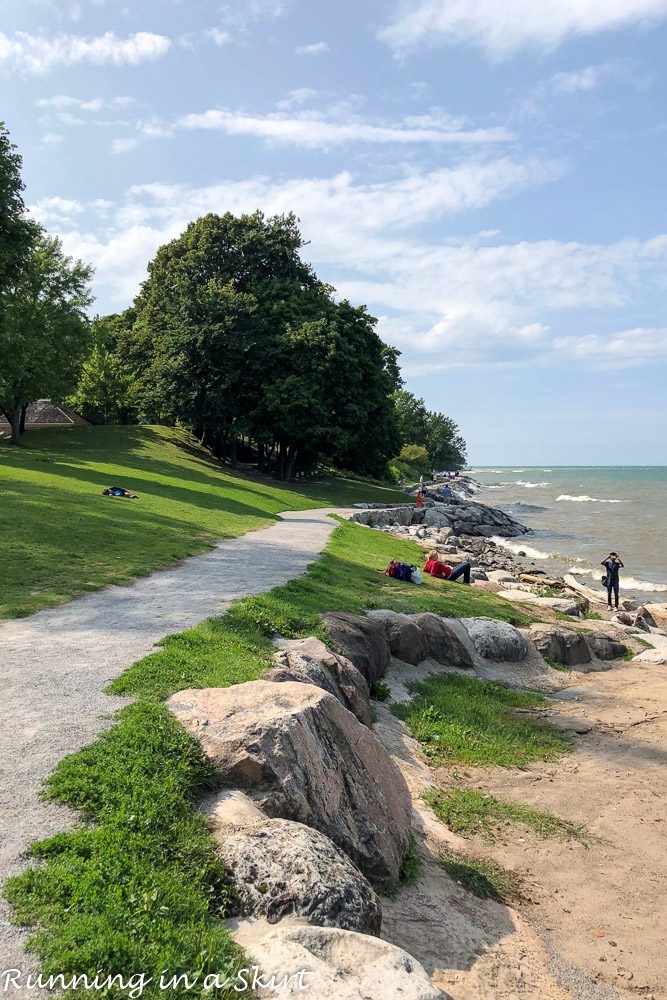 The views were gorgeous and I loved this area so much more than the touristy area around Niagara Falls itself. At least a half day or more in this area with 48 Hours in Niagara Falls would be perfect... more if you love wine!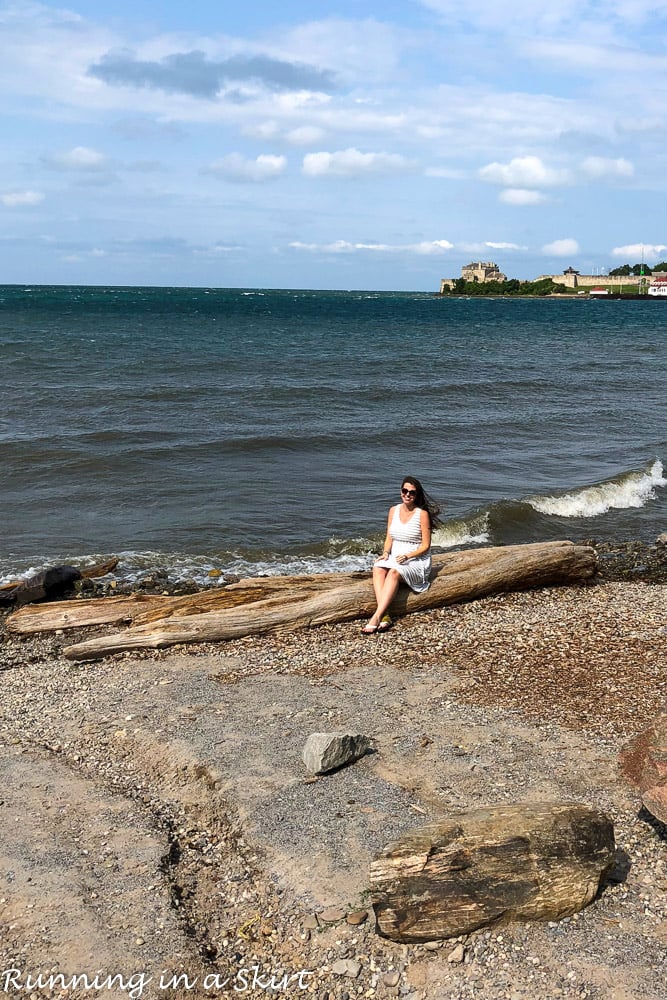 For dinner, we decided to opt for a more traditional Niagara Falls meal with a view!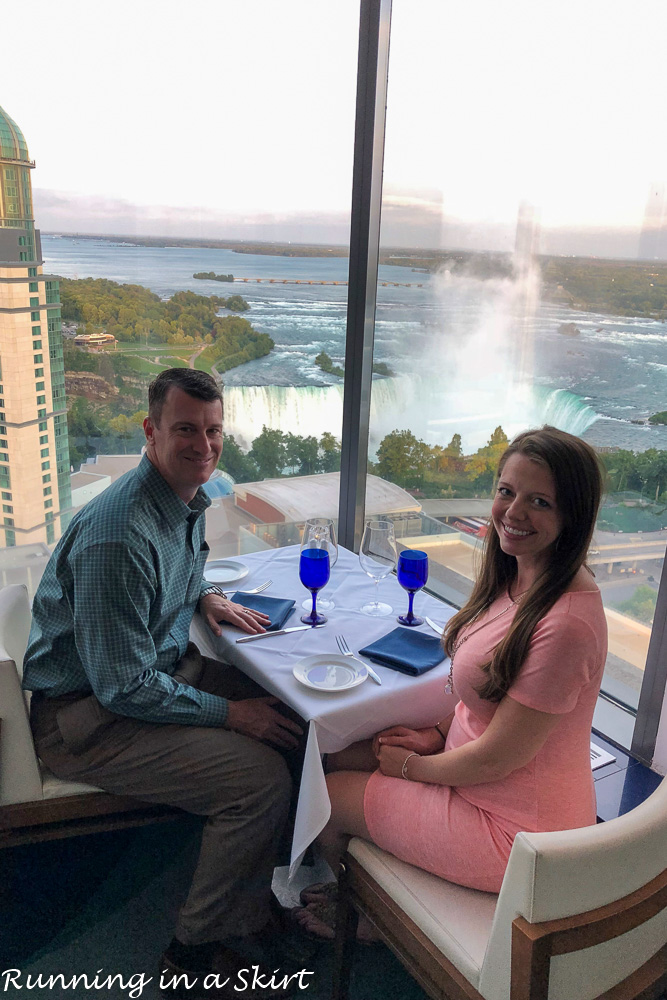 We ate at the Watermark Restaurant which has one of the prettiest views of the falls.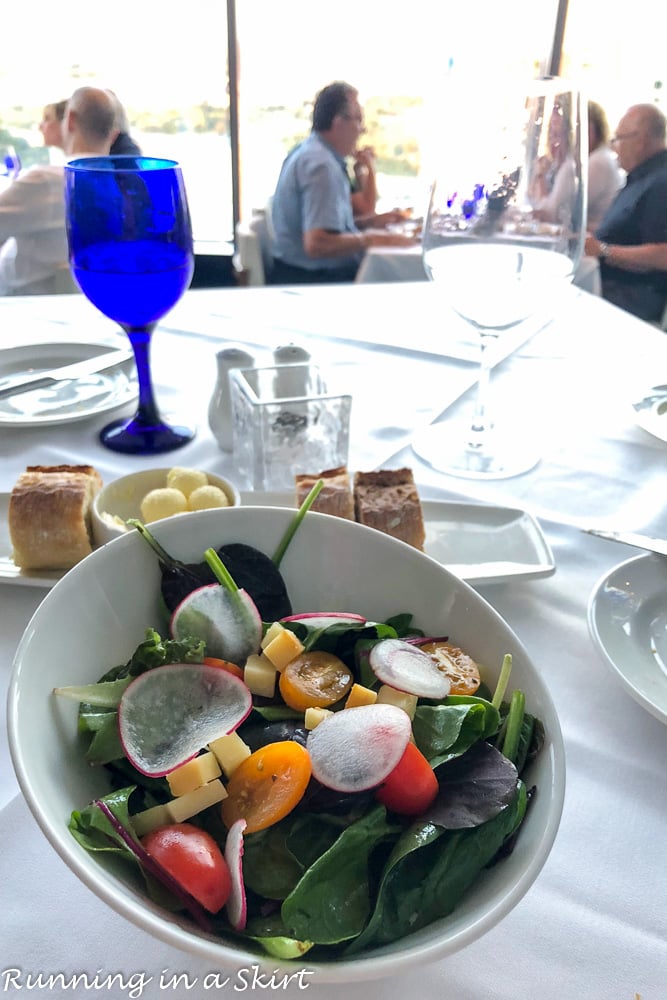 The food looked really pretty but was just OK. The quality just wasn't as high as the prices.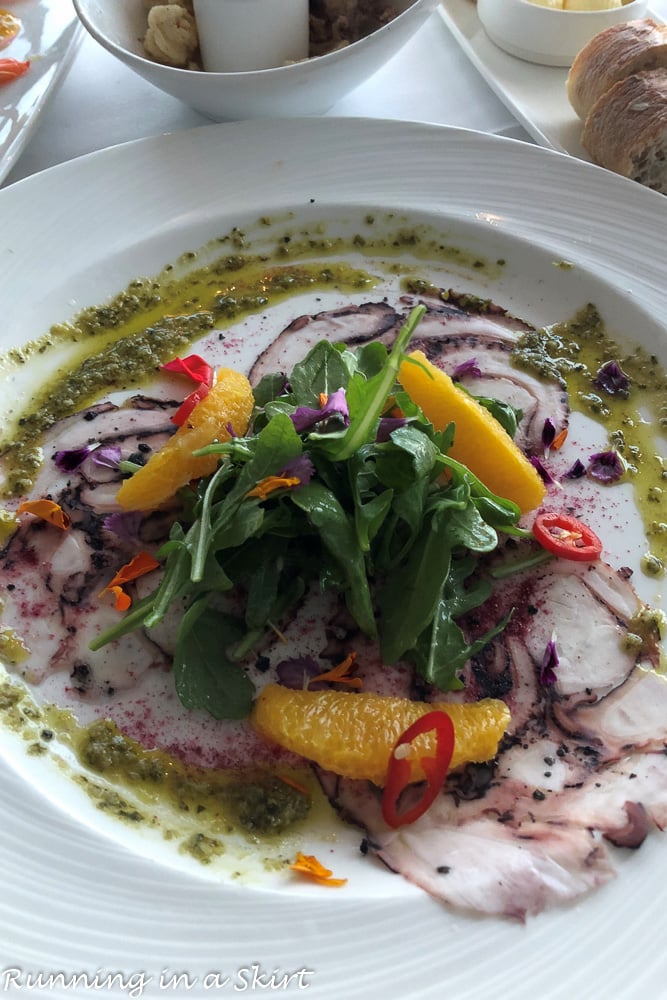 However, the service was lovely and the view made the evening very enjoyable. Plus we felt like we got a more authentic Niagara Falls experience.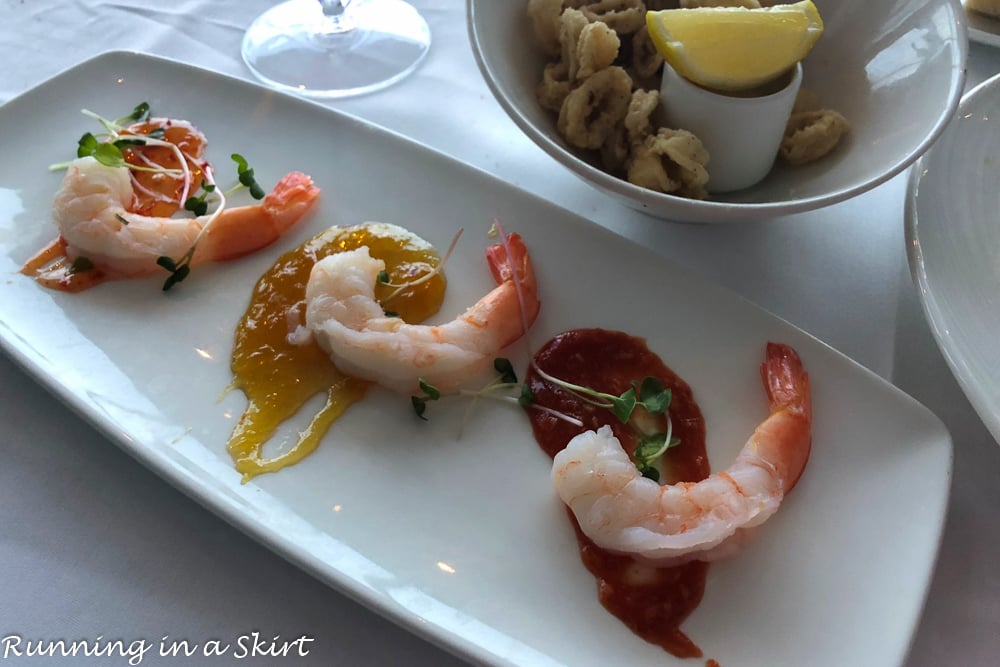 Day 3
Finally, by day 3 my ankle was feeling even a little better and we decided to tackle all the touristy stuff surrounding the falls. Since I was still trying to limit walking we booked a group bus tour to take around. Our first stop was where Horseshoe Falls begins.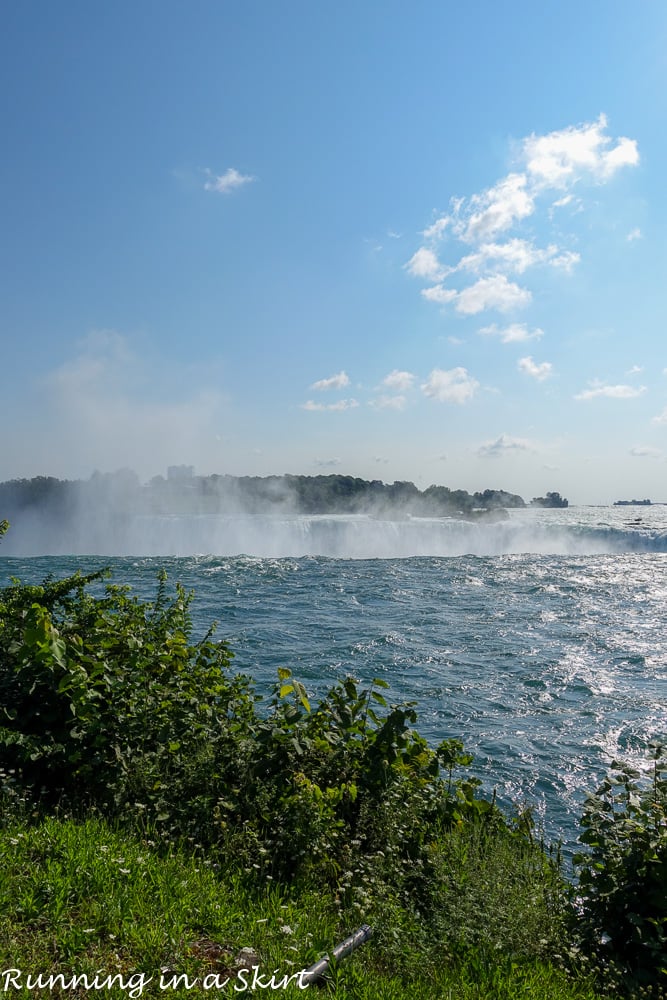 I loved seeing the power of the water and was mesmerized by this view.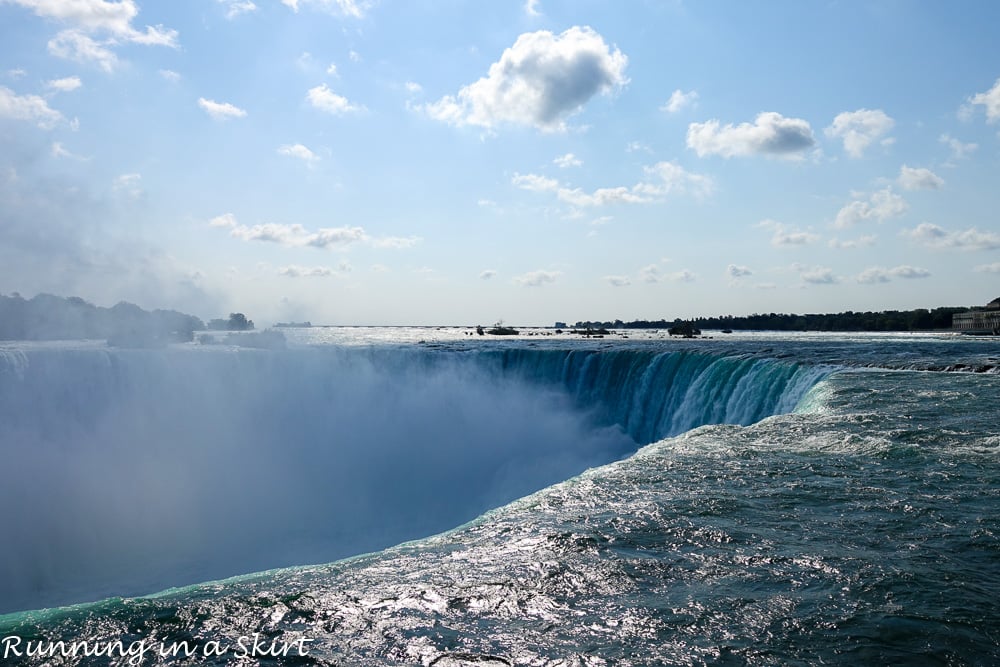 The mist coming off the water was constant and beautiful.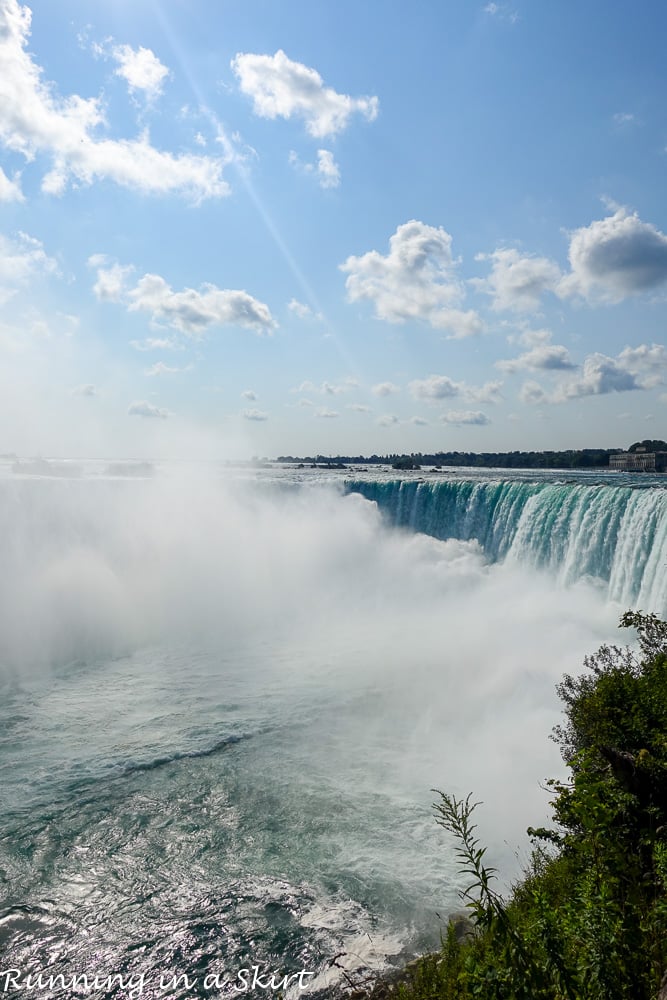 Next up on our tour was an indoor experience in 4-D called Niagara's Fury. I honestly could have totally skipped it and just enjoyed more time looking at the falls in real life! Perhaps kids would enjoy it though. Our bus tour was guiding the day, so we went with the flow.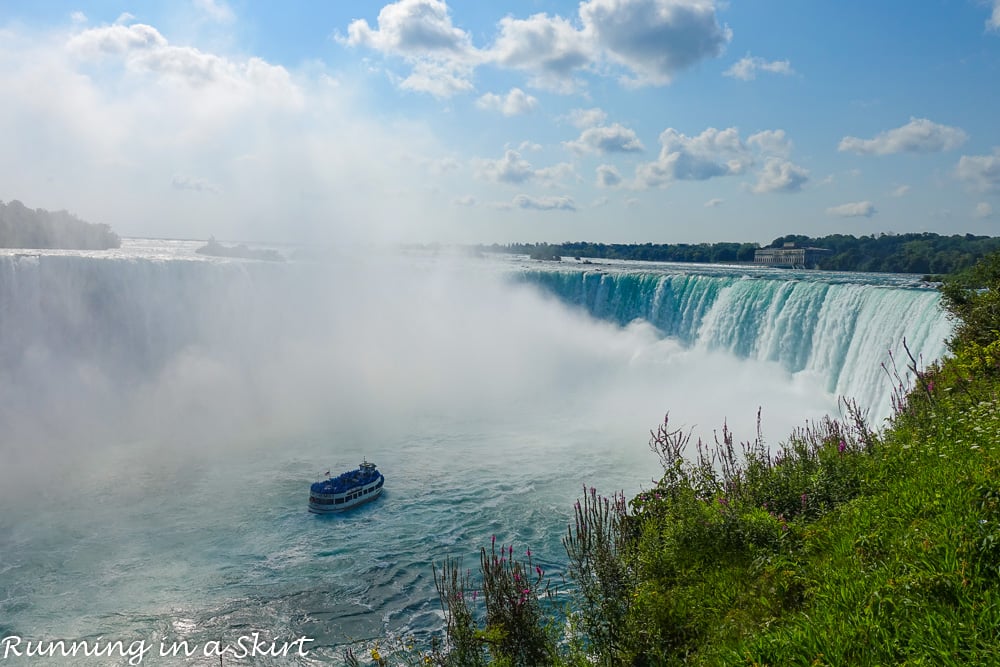 After Niagara's Fury, our guide led us to the Journey Behind the Falls which took us to water level at the bottom of the crashing mist.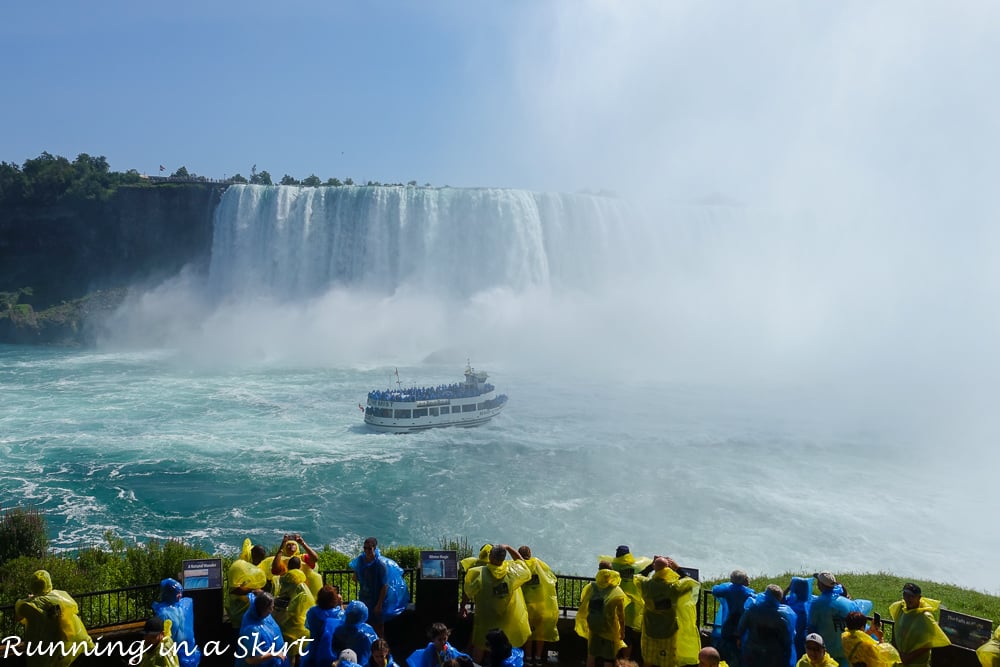 It was nice and wet, so we got one of the cheesy ponchos to wear which kept me surprisingly dry.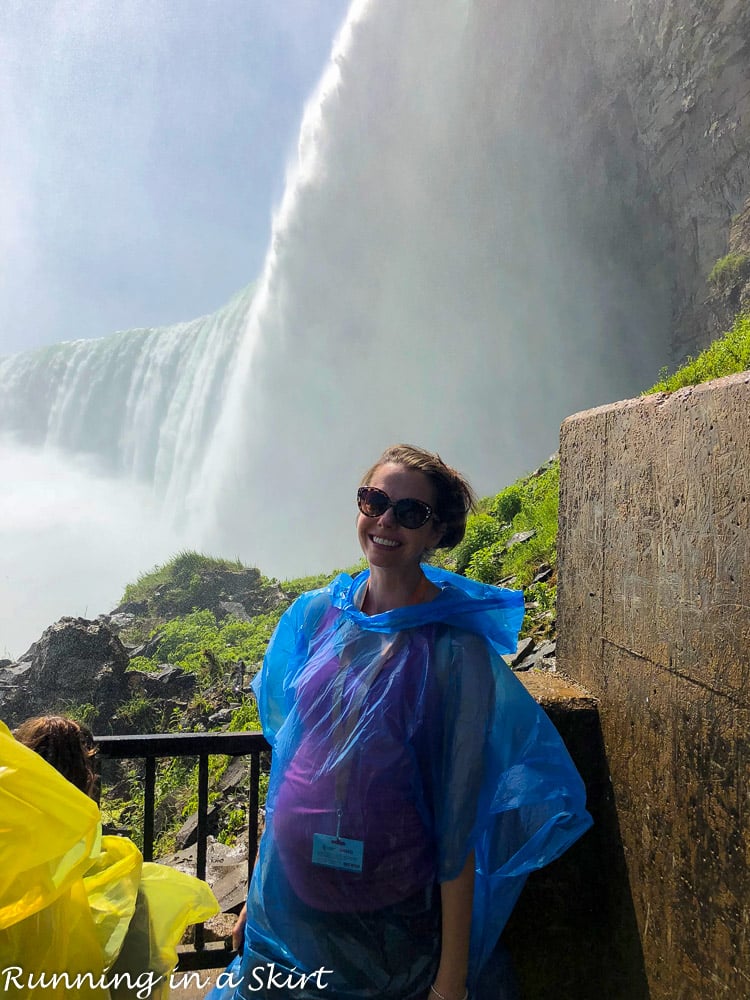 I was blown away by the power of the water at this point. You could look up and see right where it was crashing over the rocks.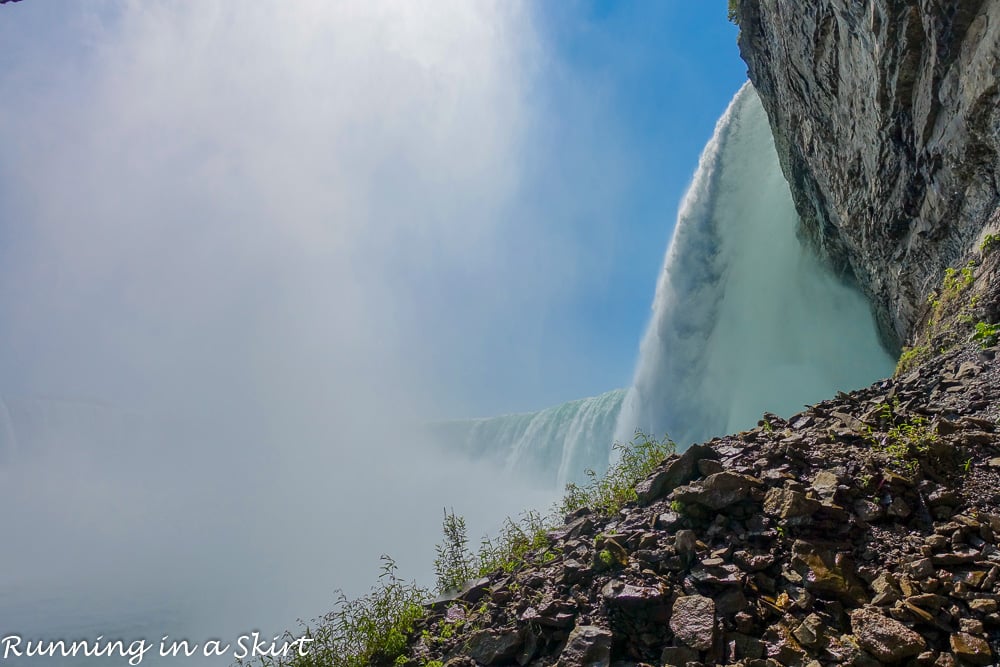 The power and view was nothing short of incredible.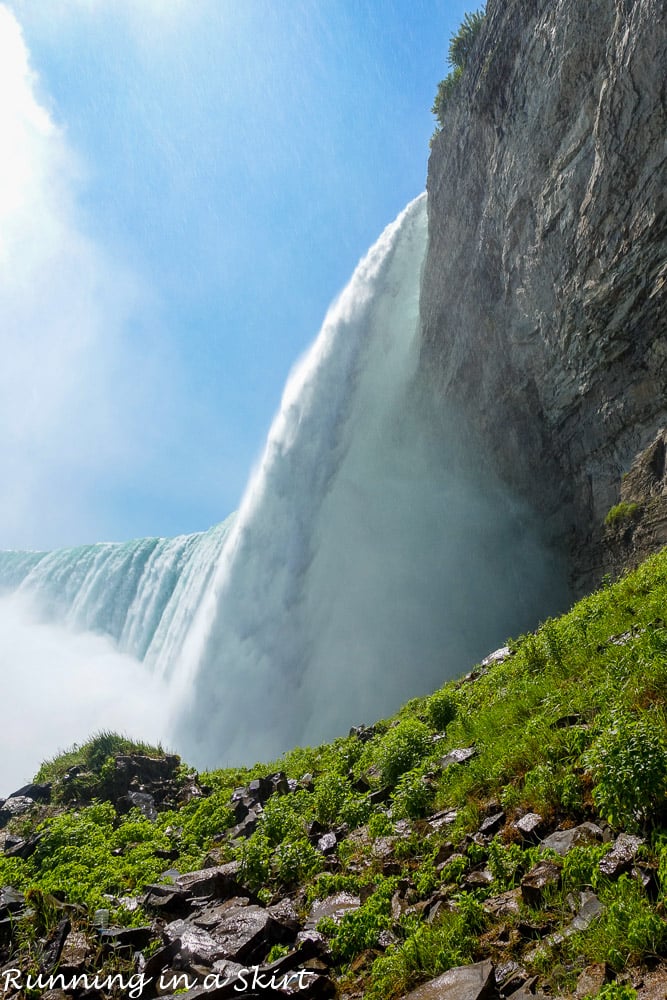 This was my favorite part of the tour and I wished we could have stayed longer!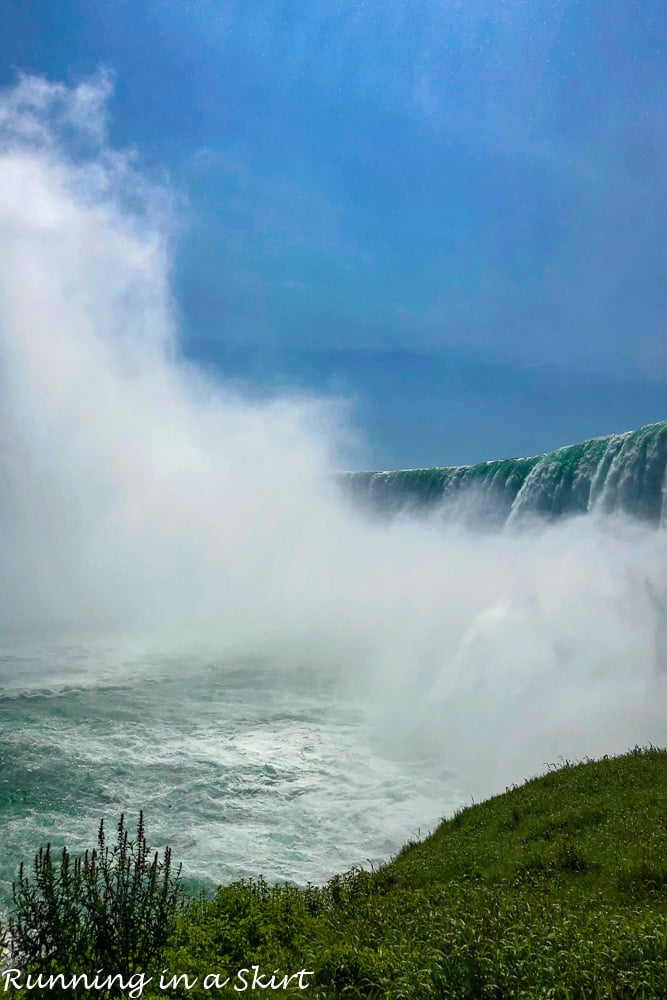 The Journey Behind the Falls also took us through a tunnel where they had carved out openings to see what it looks like from the back side of the waterfall. You can't really see it in this photo, but it was also pretty powerful. If you ever go, I highly recommend doing this! It was one of my favorite things in our 48 hours in Niagara Falls.
Next up on the tour was the classic Hornblower Cruise, which is Canada's version of the Maid of the Mist. Little did I know how many people they packed onto the boat!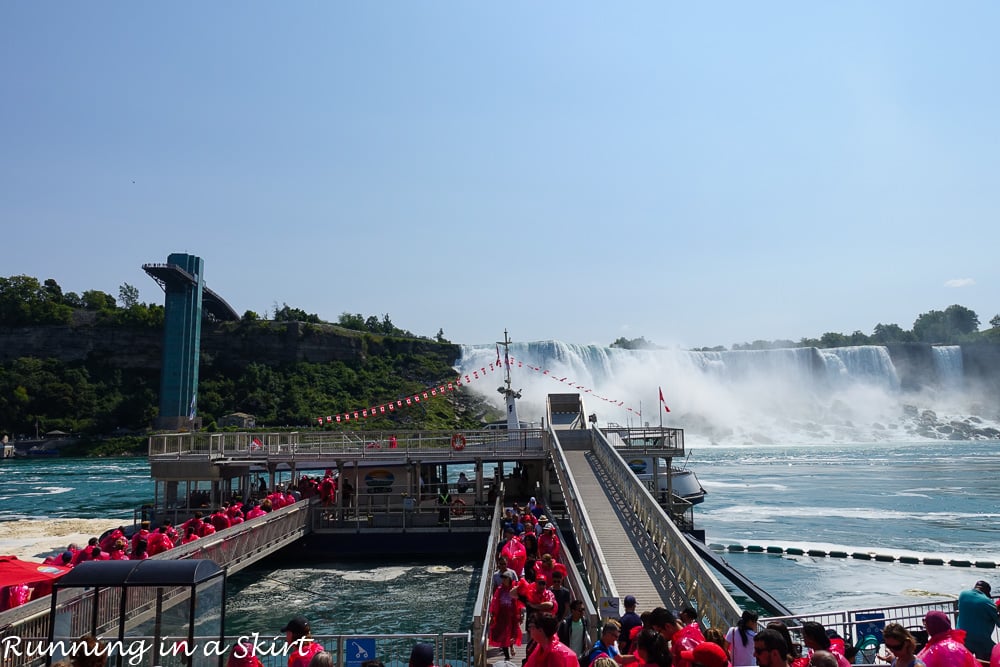 There were nearly a thousand and we just happened to be some of the last people on the boat, so it was a little overwhelming and impossible to get a good spot. I don't do well in crowds, so I wished I had prepped a little better for that.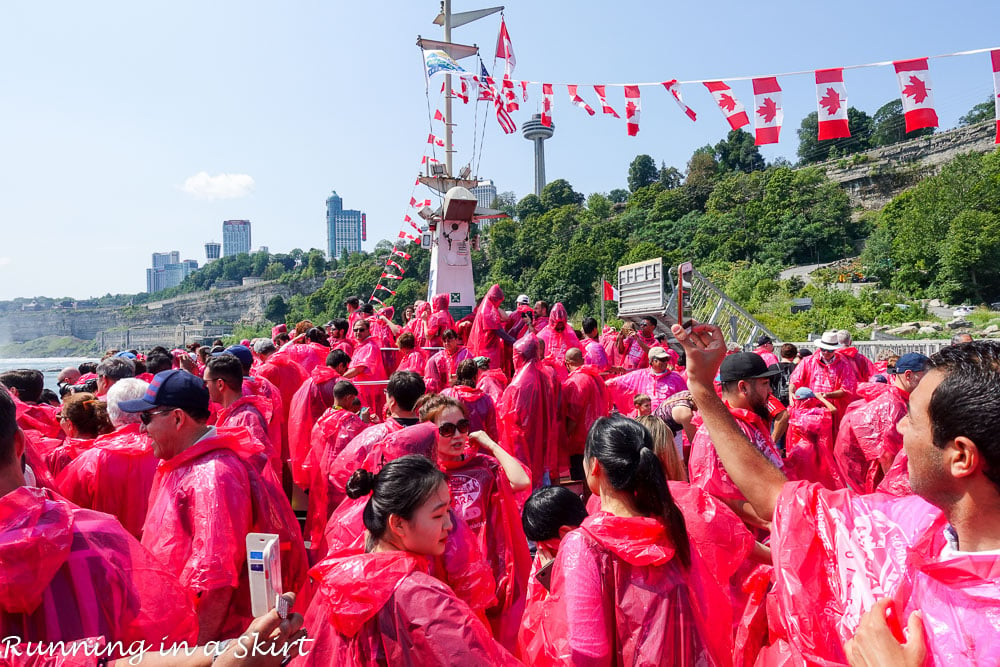 Here are the American Falls from the boat but by the time we got to the Horseshoe Falls I had so much water in my eyes I could hardly see. Plus my camera didn't really take any good photos with all the moisture. I'm glad I did this classic experience, but honestly, it wasn't nearly as exciting as it seems. The Journey behind the Falls actually gave me a much better perspective of the water.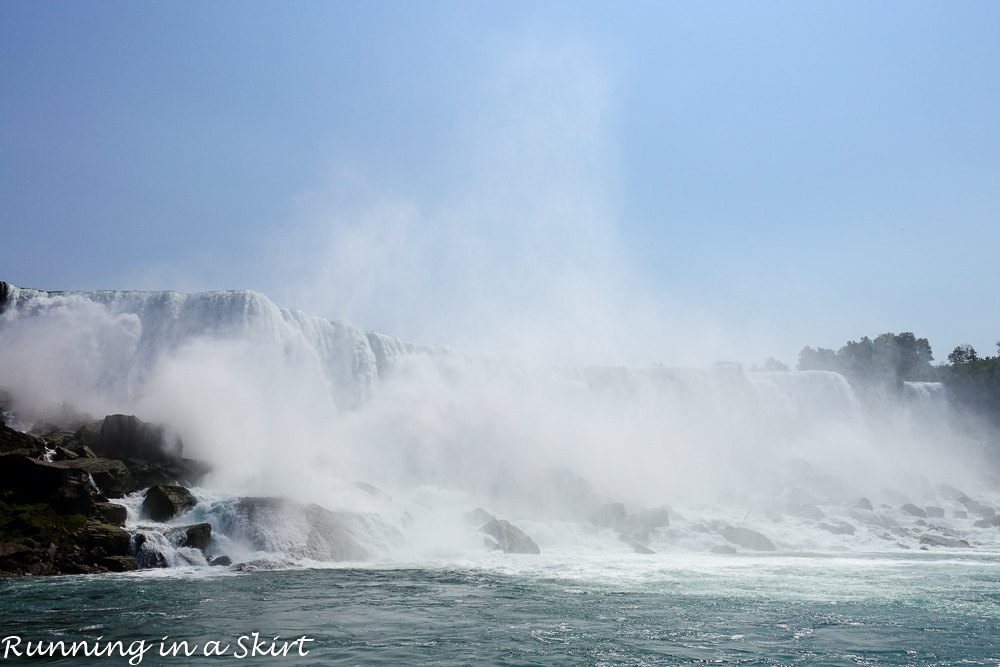 After drying off we got a quick lunch and continued on the tour. We got all sorts of history from the guide and saw a lot just from the bus but the two coolest other things we saw were the natural Whirlpool area and the White Water Walk.
Here's the Whirlpool...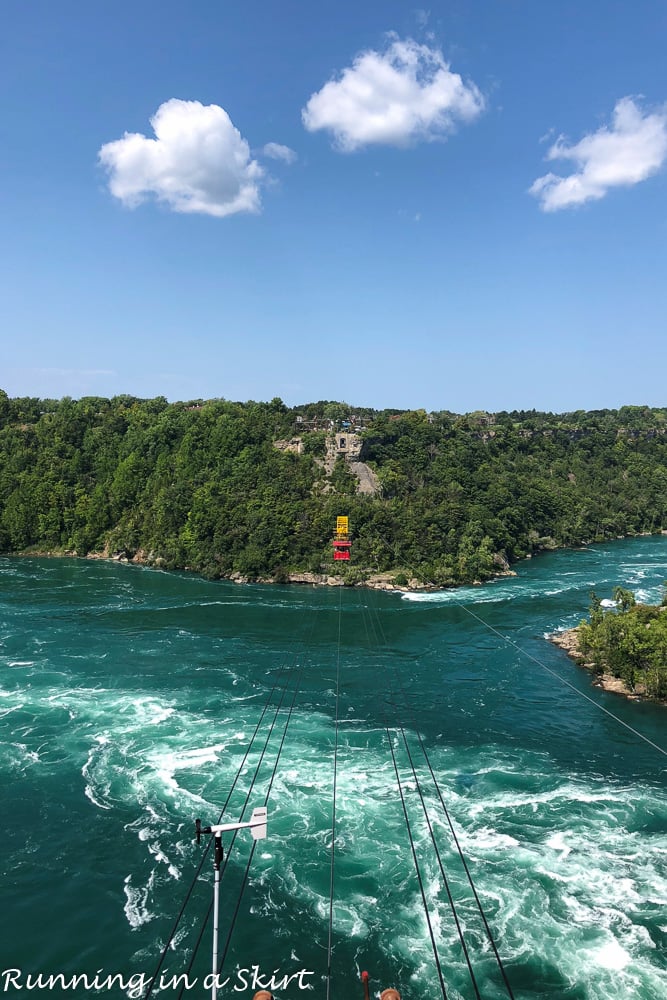 This water is actually moving in a circular manner naturally and is so gorgeous! The blue color is intoxicating.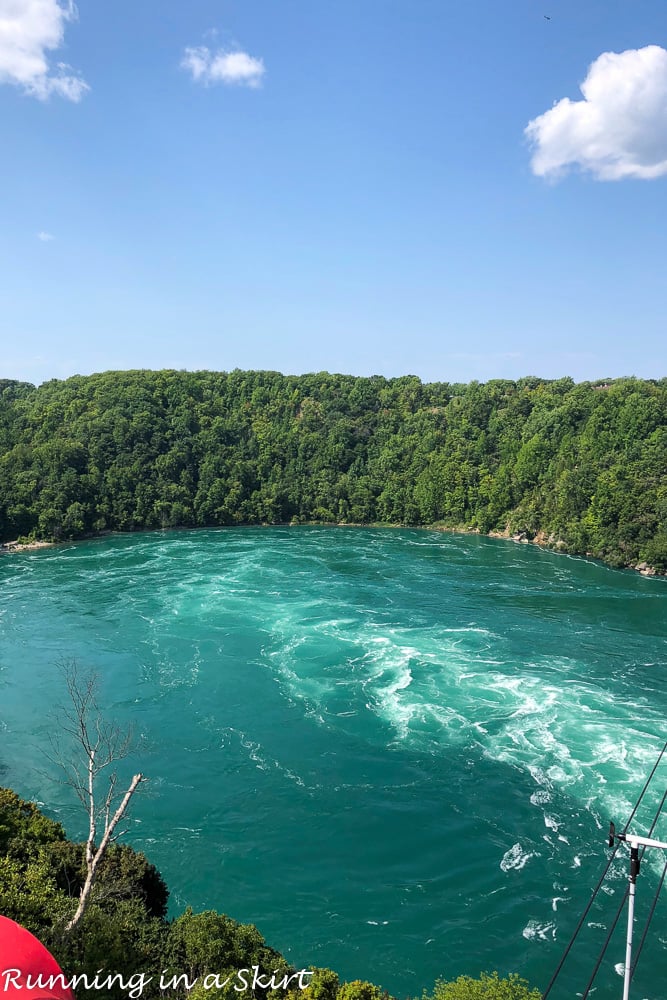 The final stop was the White Water Walk, which is a boardwalk along the water downstream from the falls. It's an area with class 6 white-water rapids, which are considered un-navigable. It was a gorgeous area though and totally worth the stop.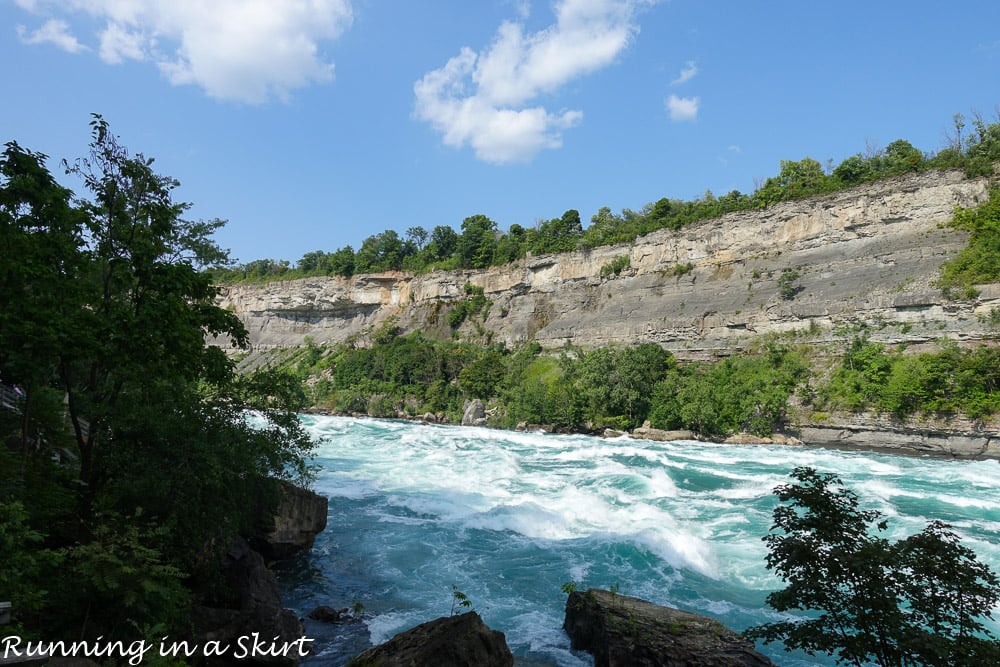 I'm normally not a fan of group bus tours, but doing one let us see as much as possible in a day with as little walking as possible for my ankle. They also had one of those skip the line things as part of the package, so I'm sure that made doing so much in a day possible. I always feel like I want more time at certain things and I'm always the last person back on the bus after trying to squeeze in those last photos on tours like this though. I'm pretty sure the bus driver was annoyed at me! If I had to go back I'd do it on my own and focus my time on just enjoying the free walking path along the falls, the Journey Behind the Falls, the Whirlpool area, and the White Water Walk. The parts of Niagara Falls that are still natural are stunning. There is so much built up with concrete around it, it made me wonder how gorgeous it would have been if they had left a more natural park around it like at Iguazu. There is also a ton of really cheesy touristy stuff everywhere that is not my cup of tea, so we just skipped it. Even with those thoughts, it was worth the time and effort to see and I really enjoyed it. I thought 48 Hours in Niagara Falls would be just enough time to see enough of it and it was.
The next day we got up and headed to Pittsburgh for our shower! By the end of the weekend, my ankle was doing a lot better. It wasn't hurt that badly... it was just really bad timing. We still made the most of it and I really enjoyed seeing such an iconic place.
Your turn!
What would you do with 48 Hours in Niagara Falls?
Do you like touristy stuff or nature more?