Cooking delicata squash has never been easier with my 4 Ingredient Maple Rosemary Delicata Squash.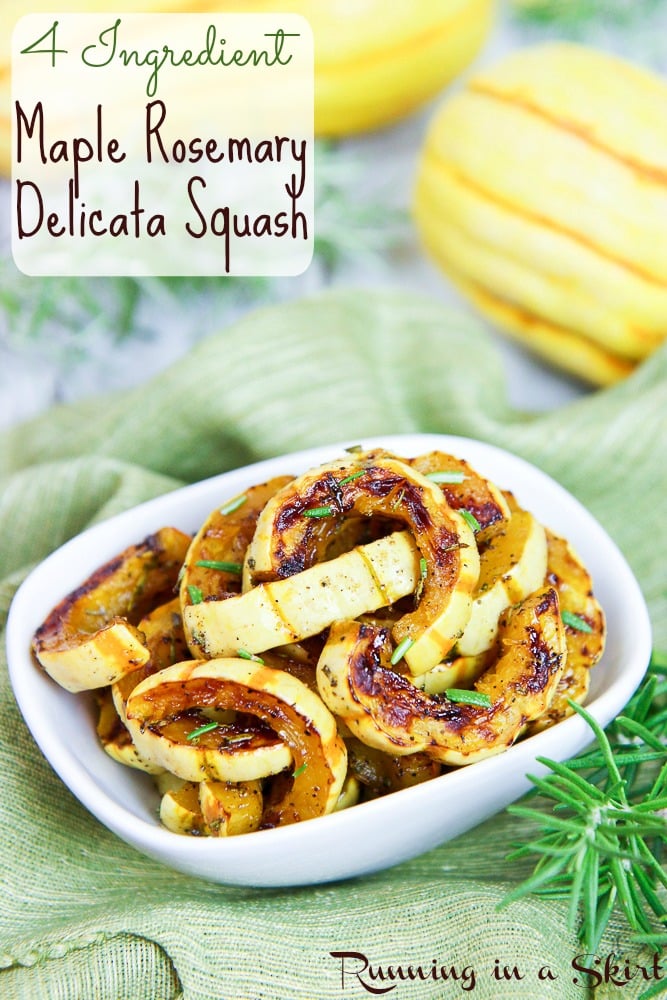 Hi everyone!
I'm still on vacation in the Florida Keys (are you following the fun on Instagram???!! Because you should be!,) but before I left and really for most of the fall/winter I've been all about finding new to me varieties of squash to try. Sure I love butternut squash and spaghetti squash as much as anyone, but it seems like there all sorts of different and fun varieties these days. I decided to expand my horizons. I figured it was truly my foodie and healthy living blogger responsibility... ya know?
One of my absolute favorite finds has been the delicata squash. It's soft, buttery and so naturally sweet. It rocked my little world.
Luckily cooking delicata is really simple and faster than many varieties of squash. My favorite way is my 4 Ingredient Maple Rosemary Delicata Squash.
This is what delicata squash looks like. If you don't see it at your store, ask your produce manager and they might be able to start getting some in for you. I seem to have more luck finding it at some of the higher end, healthier grocery stores.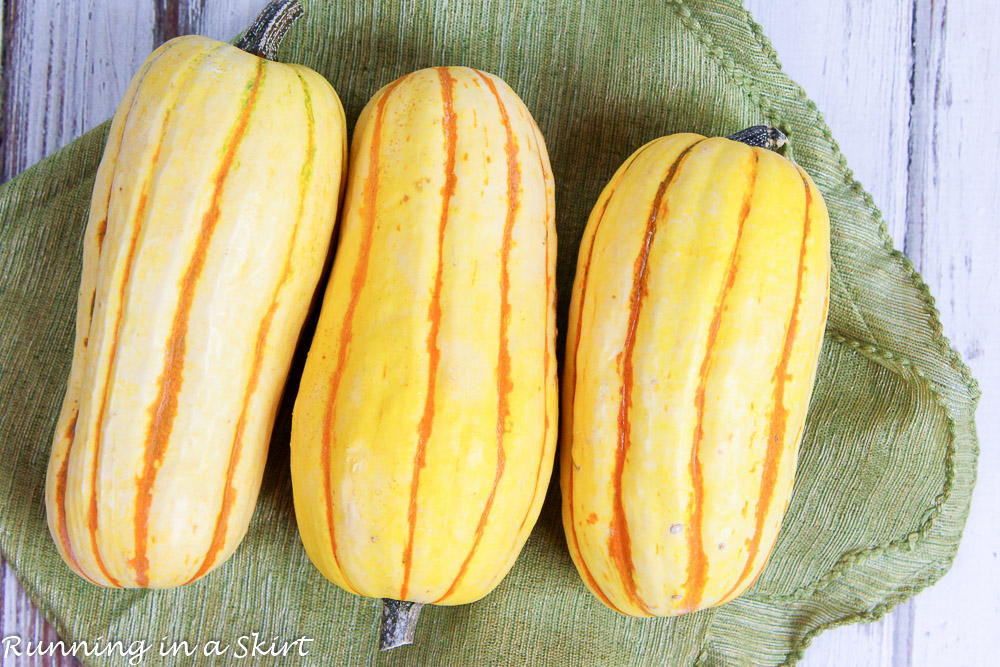 Now unlike butternut squash or spaghetti squash, the skin of a delicata squash is pretty soft. You can easily slip a sharp knife through it without the struggle and fear of losing fingers. No need to peel them either, the skin is entirely edible.
To cut it for this recipe you just slice off the two ends and then cut the delicata squash length wise.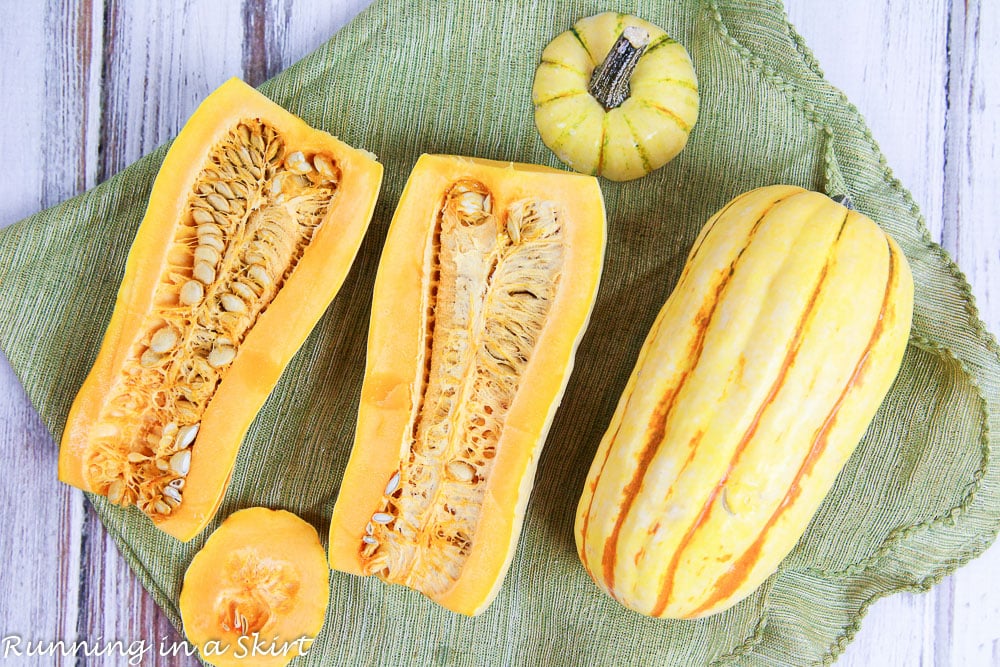 Next you scoop out the seeds like a pumpkin and cut it into quarter inch slices. Easy- peasy!
Now you are ready for cooking delicata squash.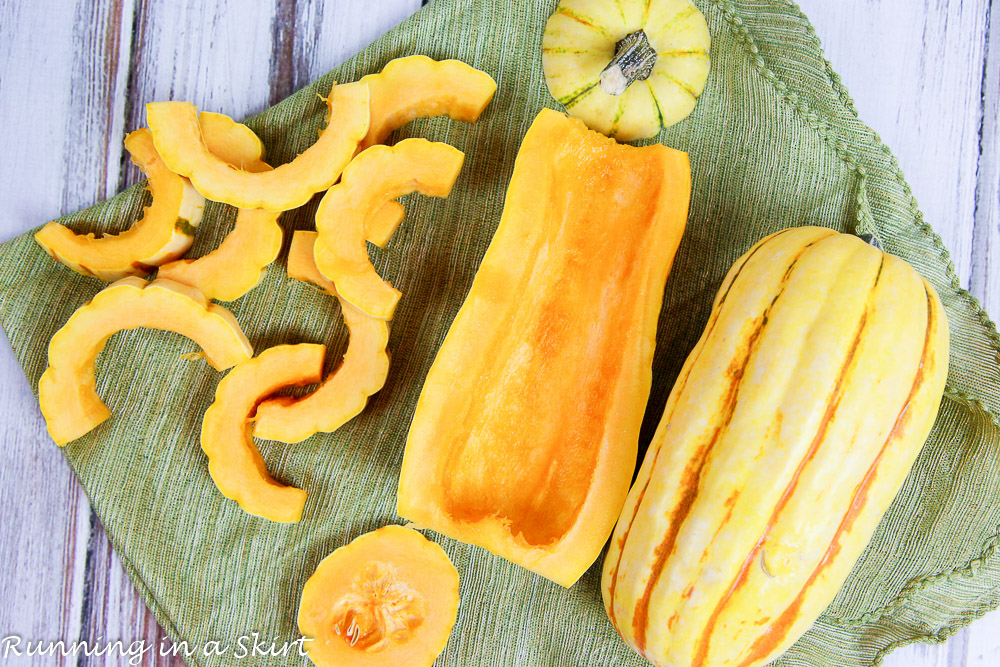 For my 4 Ingredient Maple Rosemary Delicata Squash I simply toss the magical slices of squash-y goodness in olive oil, rosemary and a little maple syrup. You don't need much because the squash is already sweet, but I do love the flavor it gives it. It also allows the squash to get those yummy brown roasted corners.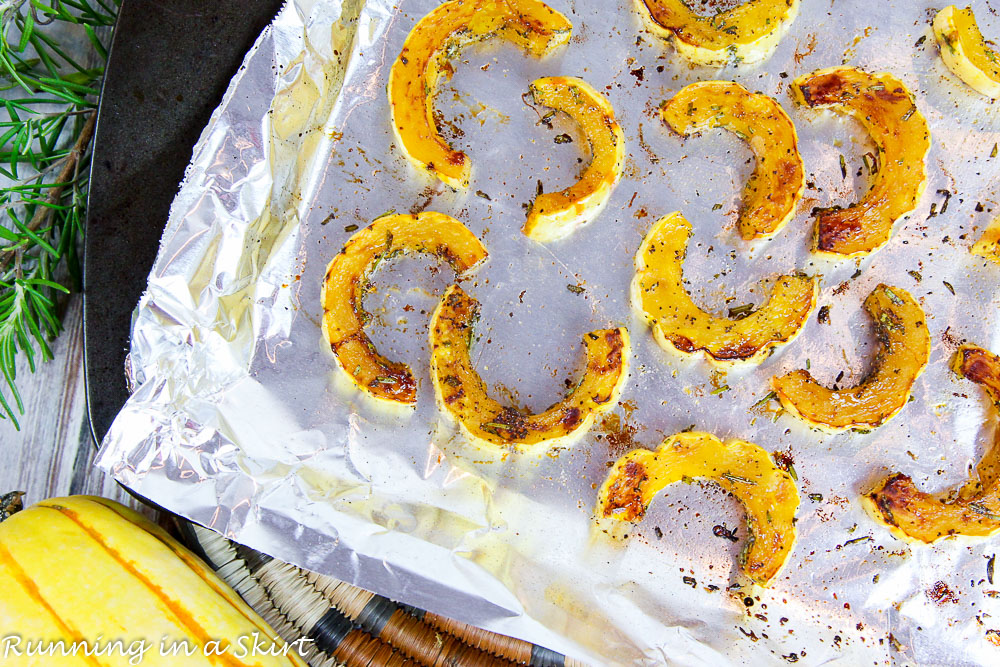 For cooking delicta squash you just pop it in the oven like any other roasted veggie. To get both sides a bit golden, flip the slices once during the cooking time.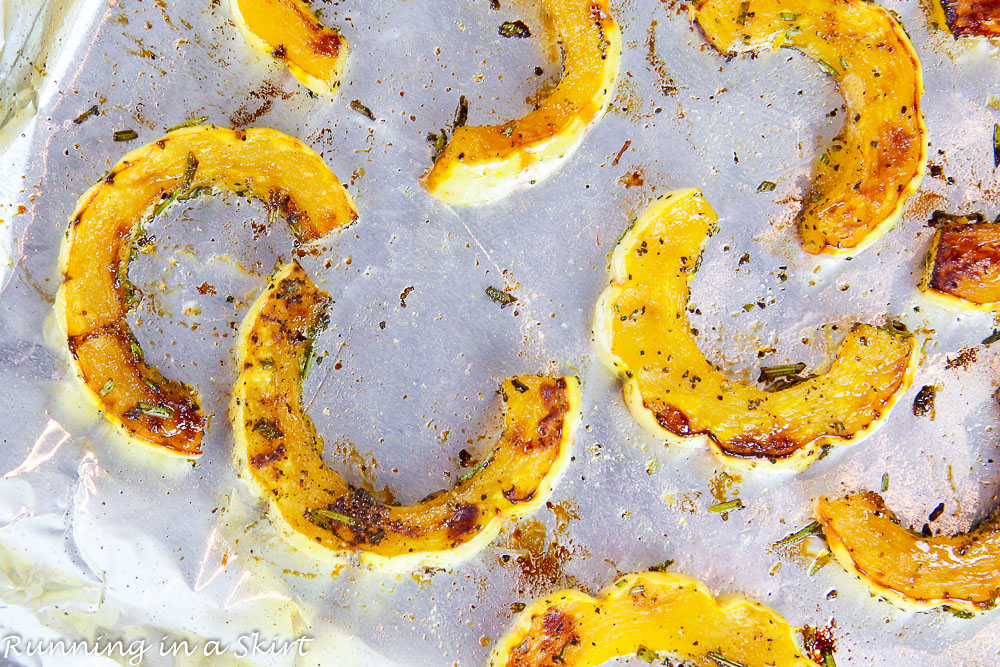 The skin turns soft and the texture of the squash flesh and skin together is so lovely. It's eyes roll back into your head good. The sweet and savory combination with the rosemary is what foodie dreams are made of.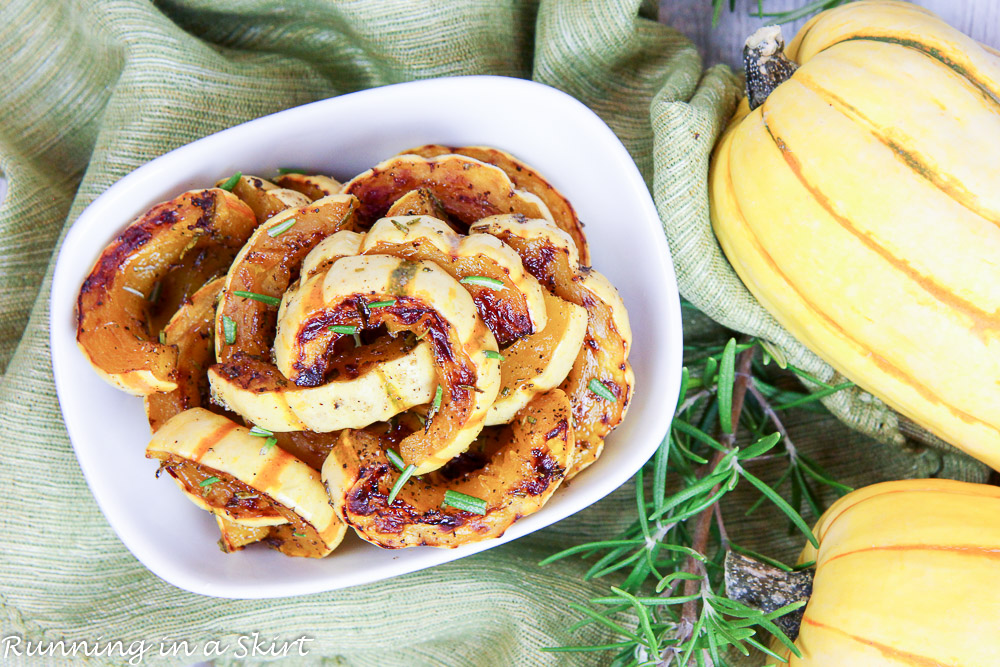 Cooking delicata squash is so easy and this is a new veggie you must try!
I found it is best eaten right out of the oven and disappears really quickly. The little bites are kind of addictive.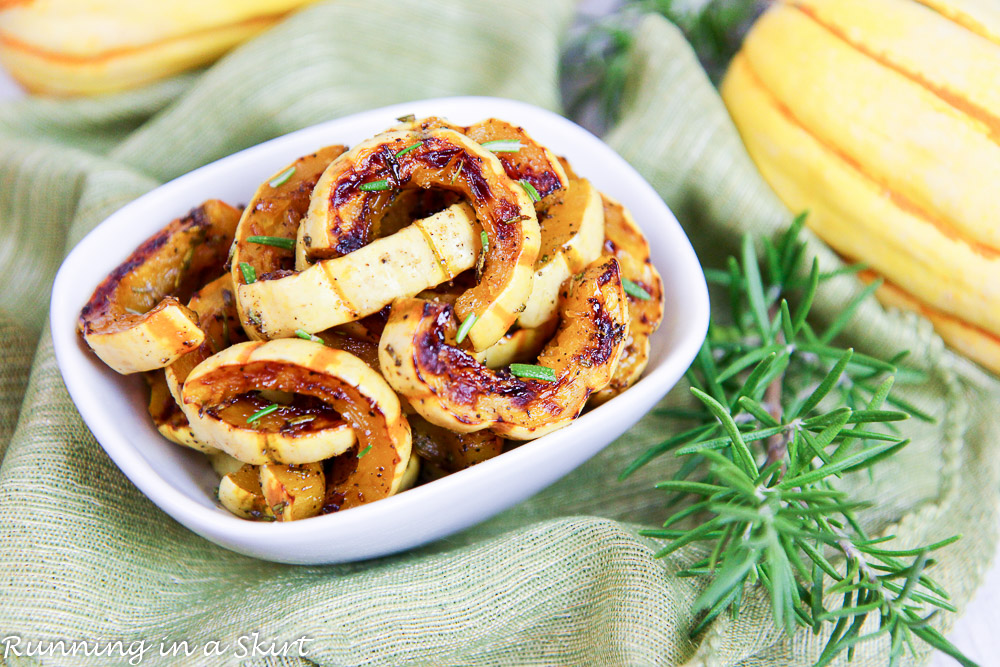 Expand your squash horizon like I did, you'll be glad you did!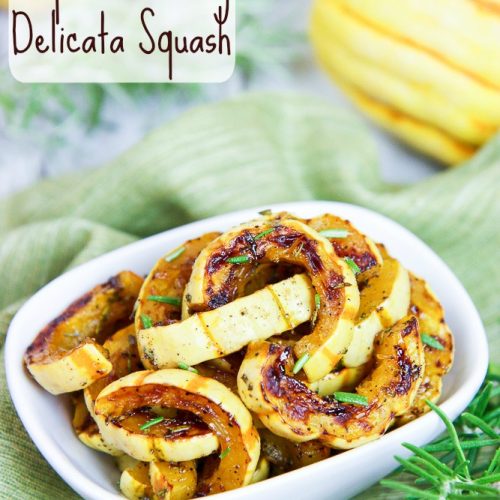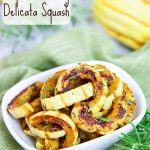 Maple Rosemary Delicata Squash
Simple and amazing 4 Ingredient Maple Rosemary Delicata Squash!
Ingredients
1

delicata squash

,

halved, seeded and cut in ½ inch thich half moons

1

teaspoon

olive oil

½

tablespoon

fresh rosemary

,

or 1/ teaspoon dried

1

tablespoon

maple syrup

⅛

teaspoon

salt

,

to taste

⅛

teaspoon

pepper

,

to taste

Cooking spray
Instructions
Preheat oven to 425 degrees and spray a foil lined baking sheet with cooking spray.

Toss the squash in the olive oil, rosemary, maple syrup, salt and pepper.

Lay flat on the baking sheet.

Roast for 10 minutes. Pull out and flip.

Finish for another 6-8 minutes or until tender.
Notes
My delicata squash produced about 2 ½ cups of cut rings. If yours is much larger or smaller, adjust the proportions of the other ingredients.
Like it? I'd love it if you could pin this to your favorite Pinterest board! Thank you so much for the support.


Thanks for stopping by today! Tomorrow I'm sharing inflammation fighting foods and easy recipes to add them to your diet. Food really can be medicine.
Your turn!
What's your favorite type of squash?
Have you had delicata squash?