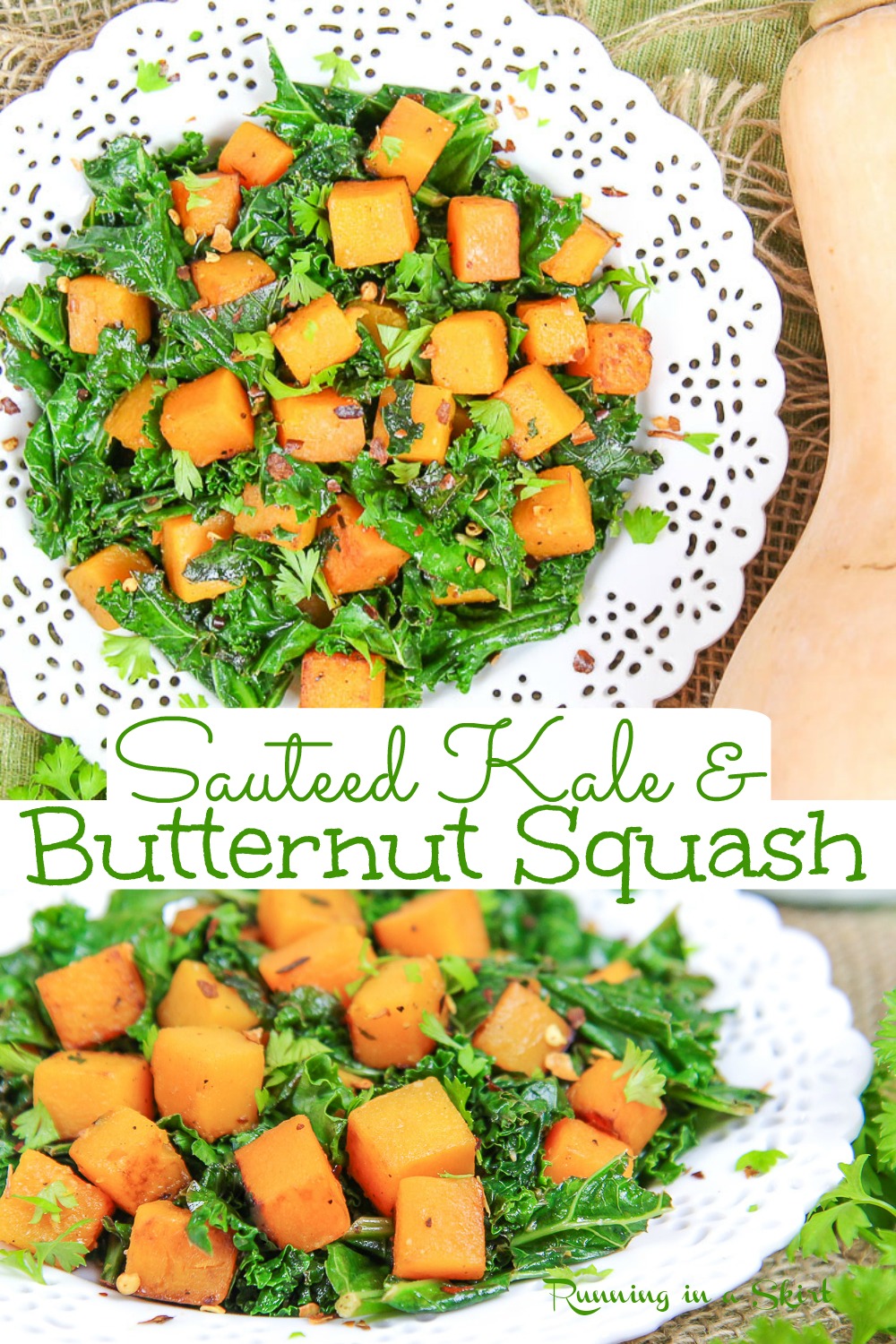 Fall flavors shine in my Sauteed Butternut Squash and Kale recipe! This easy and healthy side dish is perfect for a weekday meal but fancy enough for the holiday table.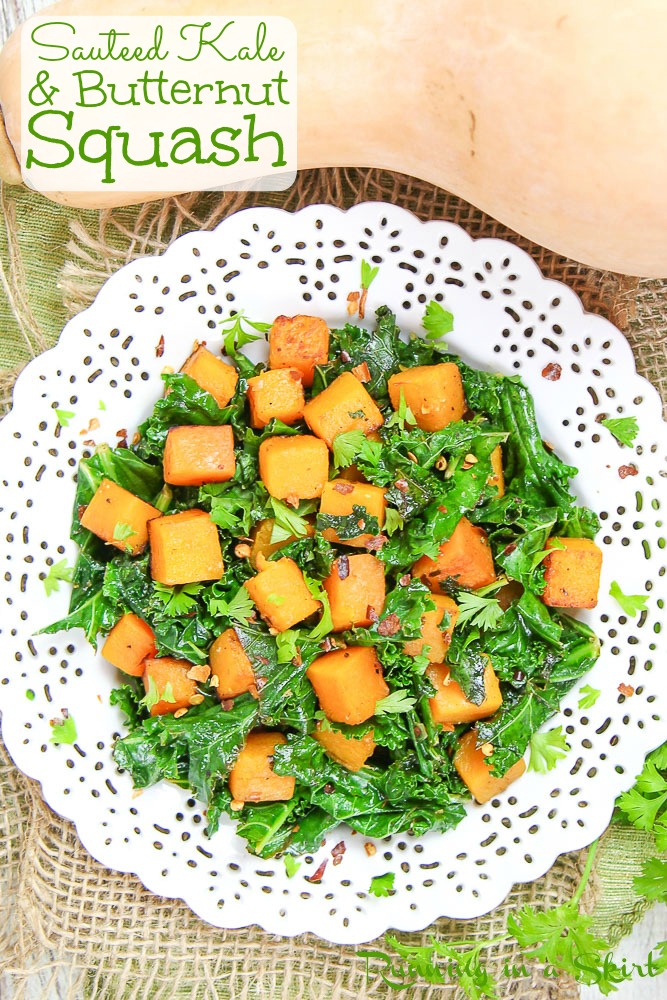 Thanksgiving seemed to arrive faster than ever this year. With the twins, I feel like I've blinked and we've gone from summer to Halloween and now Thanksgiving week. It's so true how they say the days go by slow but the years go by fast. We'll be spending the holiday with just a very small amount of family- nothing like some of the big throwdowns we've had in the past.
Sauteed Butternut Squash and Kale
I know the holiday is looking different for many folks this year (us included) so I thought I'd share a recipe that is perfect for a smaller crowd. My Sauteed Butternut Squash and Kale is super simple to make and features lots of healthy fall flavors. It's quickly made on the stovetop for a fast and easy side dish.
Can You Saute Butternut Squash?
Yes, you can, and if you are wondering how to saute butternut squash... I have the answer here!
This recipe is fancy enough for the Thanksgiving or Christmas table but fuss-free enough to also serve for any weeknight dinner. It's basically THE PERFECT simple way to cook butternut squash.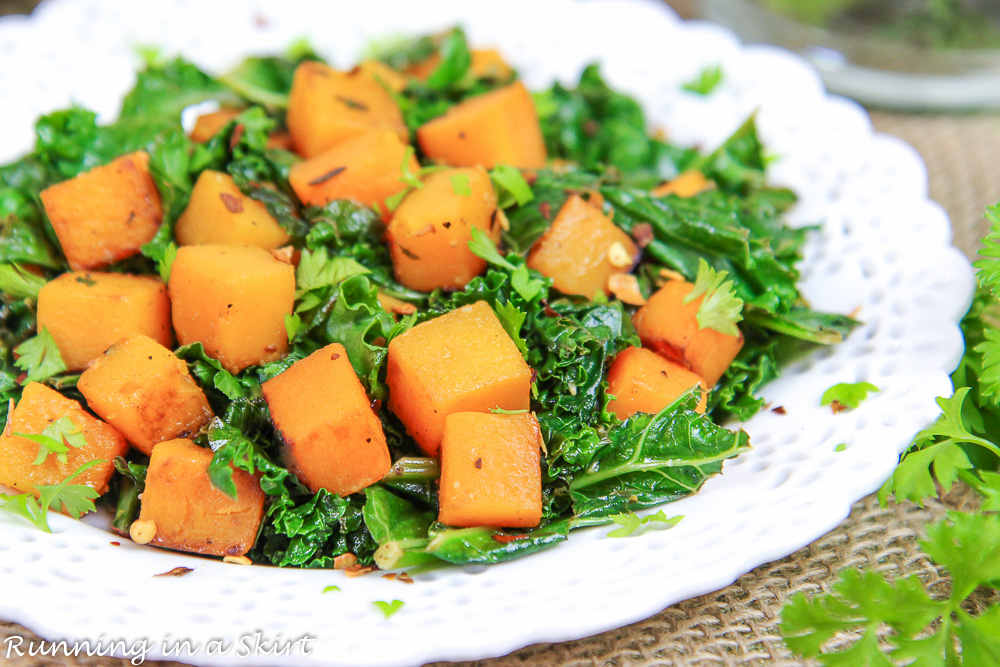 Why You'll Love this Butternut Squash and Kale...
I REALLY love the flavor combination in butternut squash and kale. The squash is slightly sweet and pairs perfectly with chewy greens. It really tastes so delicious.
And in addition to the delish flavor, this recipe is also a nutrition powerhouse. Both butternut squash and kale are full in flavor, high in fiber, and low in calories. Butternut squash is packed with vitamin A, potassium, magnesium, and calcium. Kale is an incredible superfood and actually ranks among one of the most nutrient-dense foods on the planet. It has vitamins A, K, C, and B6 amount others.
I love a dish that has the big three- it TASTES good, LOOKS good, AND is GOOD for you.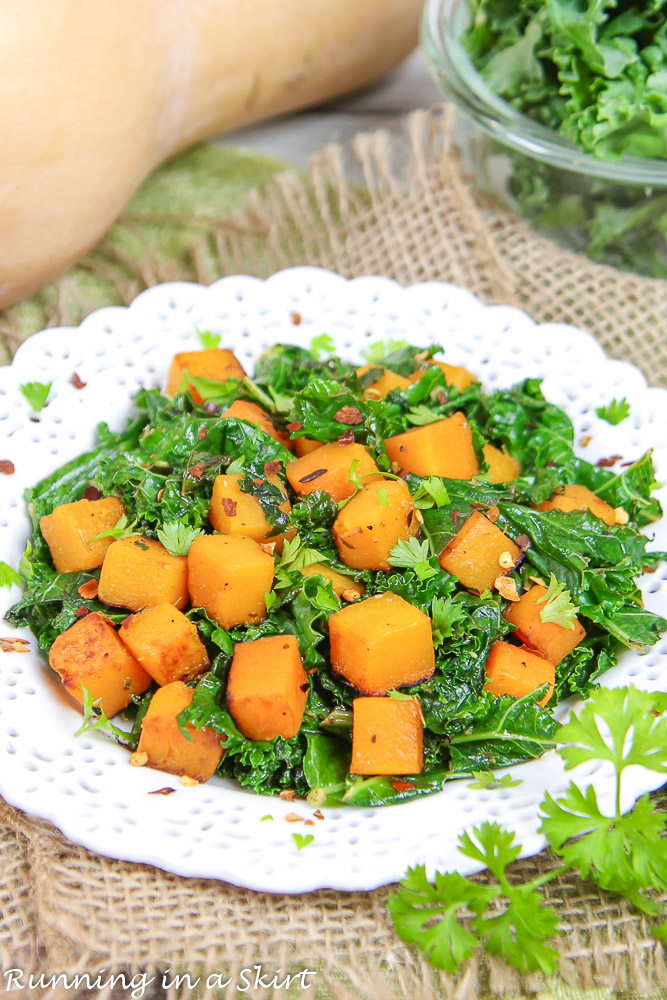 Ingredients in the Sauteed Butternut Squash and Kale:
Butternut Squash: You'll want one medium butternut squash for this recipe. You can easily cut your own or buy pre-chopped. You'll want your pieces of squash to be rather small- less than a half-inch and closer to ¼ inch cubes so they can cook faster in the pan.
Kale: I love curly kale for this recipe because it's super hearty and can hold it's own next to the squash.
Butter or Olive Oil: You'll need a little oil or butter to saute the squash and kale. I don't cook with a lot of butter but actually like to use it for this recipe. If you'd prefer olive oil also works great.
Garlic Powder: You could use fresh garlic but I like the way garlic powder coats the vegetables evenly.
Red Pepper Flakes: This is totally optional but even a pinch of red pepper flakes adds some lovely flavor to my butternut squash and kale.
How to pick a butternut squash:
You can, of course, buy butternut squash pre-cut but it's not that hard to break one down. Start by picking out the perfect squash. Here are my tips.
First, pick a squash that's heavy for its size.
Look for one that's intact, firm, and dry stem.
The best squash is rich in color.
Check the surface- it should be dull and matte not shiny.
Also look for cracks, cuts, and soft spots.
How to peel and cut up butternut squash:
My biggest trick to peel and cut up a butternut squash is to pierce it like a baked potato and put it in the microwave for a few minutes. That will make it just a touch softer and so much easier to break down.
From there you can cut off the ends so it doesn't roll around. Then use a sharp knife or vegetable peeler to get the skin off.
Then use a sharp knife to cut it into larger chunks like this. Scoop out the seeds.
From there it will be very easy to cut it up in the chunks needed for this butternut squash and kale recipe.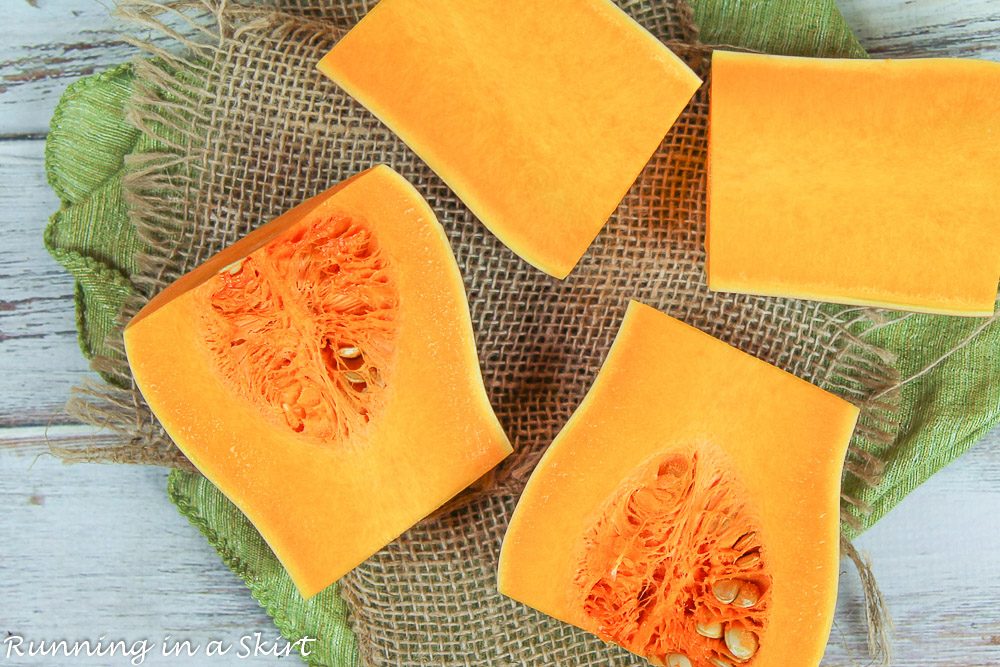 How to Saute Butternut Squash and Kale:
Chop your squash and kale.
Can you saute butternut squash? Yes! Put it in a large saute pan over medium heat cook the squash in your butter or olive oil until tender. Generously salt and pepper. This will take 5-10 minutes... sometimes longer depending on your squash and how large your pieces are. Smaller bites will cook a lot quicker. You'll want your squash to be fork tender. Remove the squash from the pan and set aside.
Add the kale to the pan. Add a tablespoon of water or broth to start steaming it. Add more salt and pepper and garlic powder. Stir it carefully until it just starts to wilt. Sprinkle with red pepper flakes.
Toss the butternut squash and kale together.
Serve immediately.
Cooking tips:
It might take a while for your squash to completely cook. Be patient with it and it's ok if it gets a little color on it. That just adds some flavor. Make sure it is completely cooked or it will not taste right.
Don't overcook your kale. It just needs a few minutes to wilt.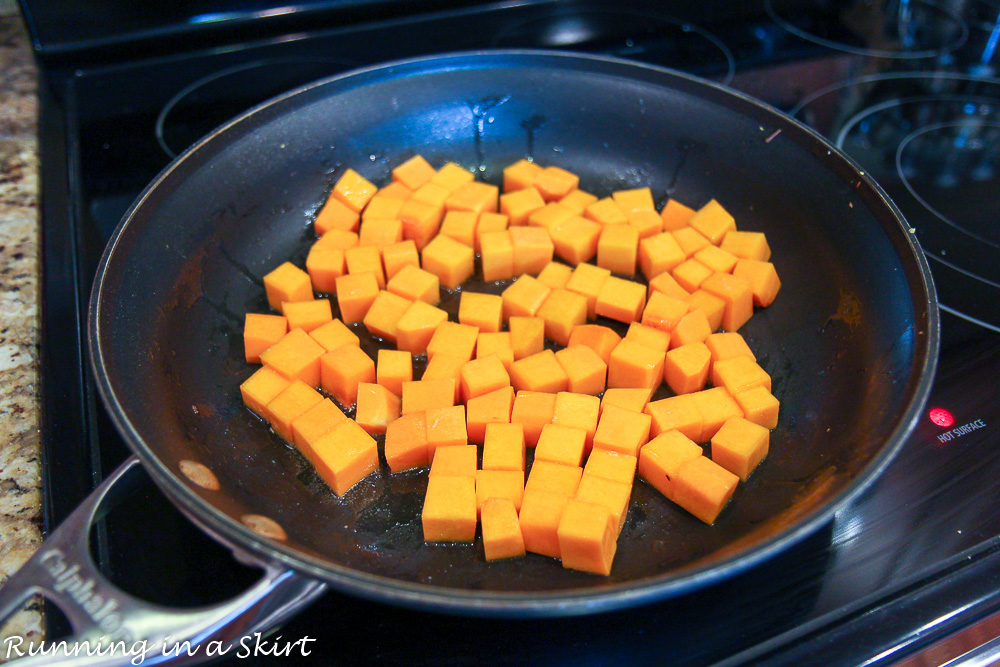 Variations on this Butternut Squash and Kale
Add your favorite spices like chili powder or even an Italian spice blend.
Add parmesan on top.
Top with dried cranberries and pumpkin seeds to bring in more fall flavor.
Ways to Serve this Dish:
You'll love this as-is for a side dish for dinner or even the holidays like Thanksgiving or Christmas.
It's also a delicious filling for a quesadilla!
On top of risotto or a grain like quinoa or farro.
As a topping for pasta. Add some parmesan!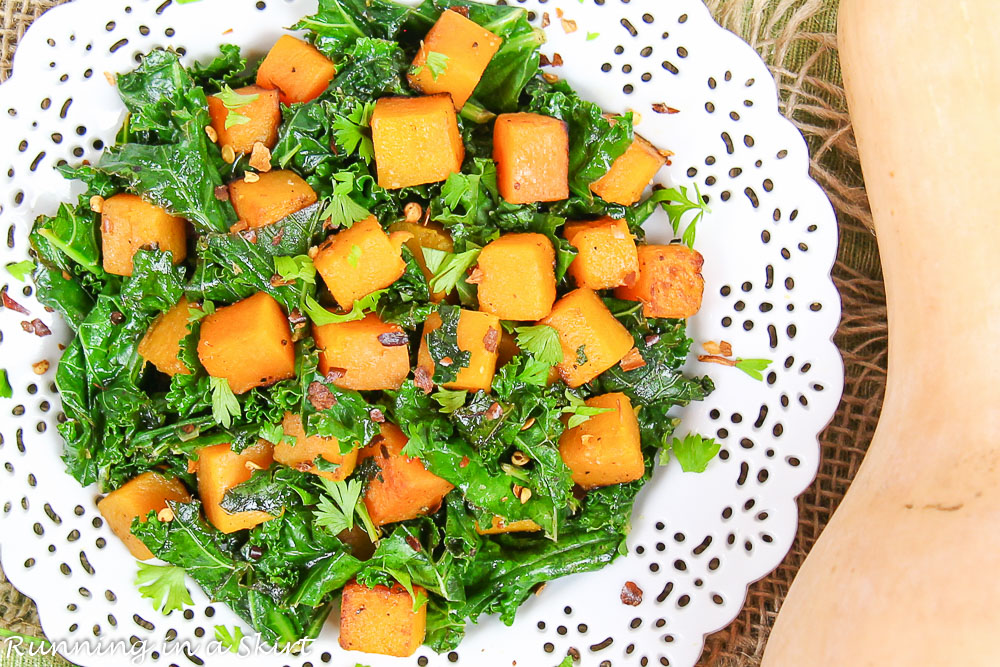 I hope you love this healthy Sauteed Butternut Squash and Kale as much as I do. Whether you serve it for Thanksgiving or enjoy it for a weekday dinner, I know you'll find the flavors spectacular. Plus you can't find a vegetable combination healthier than this.
Give it a try and let me know what you think! Have a great Thanksgiving week everyone.
More Healthy Winter Squash Recipes to Love:
If you make this recipe, I'd love to hear what you think! Leave a comment and a star rating ★ below. Make sure to follow me on Instagram, Pinterest, and Facebook too!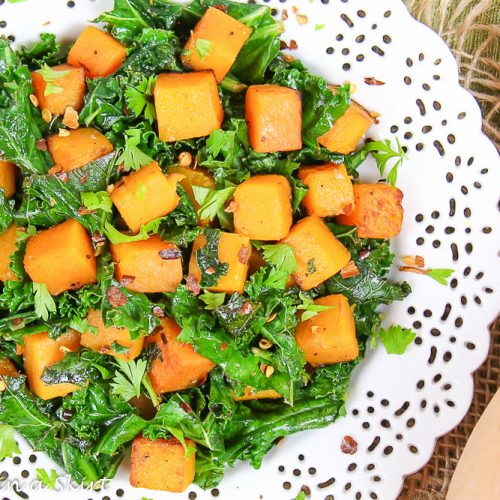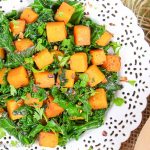 Sauteed Butternut Squash and Kale
Sauteed Butternut Squash and Kale is the perfect healthy side dish.
Ingredients
1

butternut squash

,

cubed (about 3 cups)

1

tablespoon

butter or olive oil

6

cups

kale

,

chopped

1-2

tablespoons

water or vegetable broth

pinch

red pepper flakes

salt and pepper to taste
Instructions
In a large non-stick pot over medium-high heat add the butter and butternut squash. Generously season with salt and pepper.

Allow squash to cook for 10-15 minutes, stirring occasionally. You'll want to allow it to brown a touch on the sides. Once tender put it on a plate on the side.

Add the kale to the pan and 1 tablespoon of the water or broth. Generously salt and pepper and add the garlic powder. Stir the kale until it starts to wilt and turn bright green. This should take 3-4 minutes.

Add the cooked squash back to the dish and toss with the kale. Add red pepper flakes to taste.
Notes
Serve this as a side dish along with your favorite meat or seafood dish.  It's also great on top of pasta, rice, or a grain like quinoa.
Nutrition
Calories:
122
kcal
Carbohydrates:
21
g
Protein:
5
g
Fat:
4
g
Saturated Fat:
2
g
Cholesterol:
8
mg
Sodium:
67
mg
Potassium:
863
mg
Fiber:
2
g
Sugar:
2
g
Vitamin A:
21289
IU
Vitamin C:
143
mg
Calcium:
201
mg
Iron:
2
mg
Pin for later!