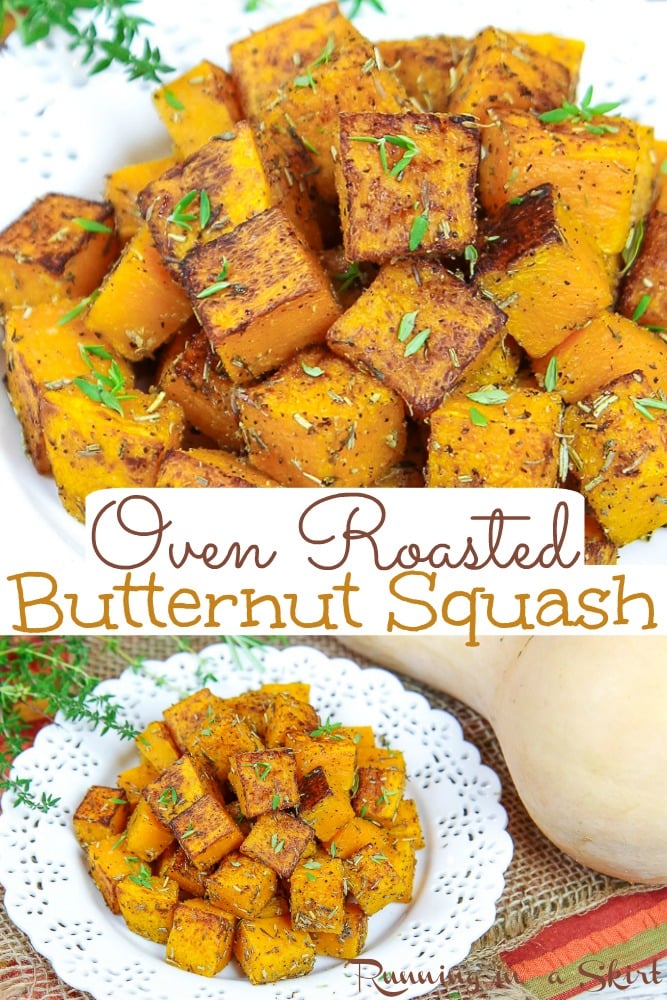 Oven Roasted Butternut Squash recipe: A simple yet inspired dish for fall that's full of flavor from thyme, rosemary, and garlic. These perfectly baked butternut squash cubes are vegan, naturally gluten-free, and will win over everyone in your family.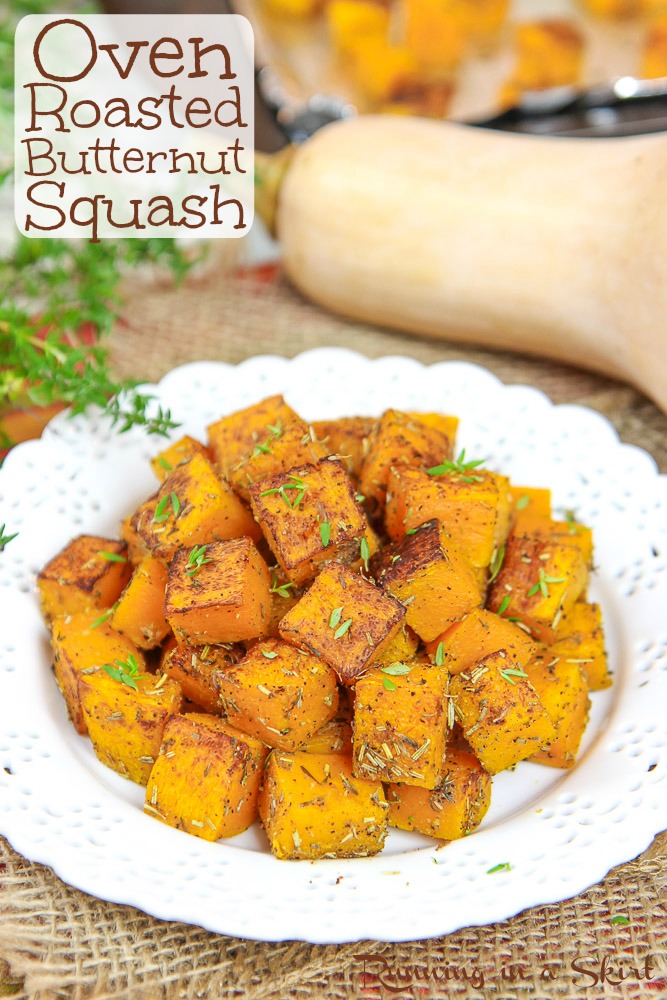 Oven Roasted Butternut Squash recipe
Fall seems to be slowly creeping into the mountains and as the leaves are just starting to turn, I'm finally embracing the new season including this Oven Roasted Butternut Squash recipe. I'm ready for all the pumpkin and fall squash.
If you've never oven-roasted butternut squash cubes before, you are missing out. The butternut squash browns a bit on the corners bringing out the natural sweetness and caramelization.
The result is a side dish that's easy enough for a weekday meal but elevated for the weekend or even a holiday table like Thanksgiving or Christmas. Those little cubes are basically fall food perfection.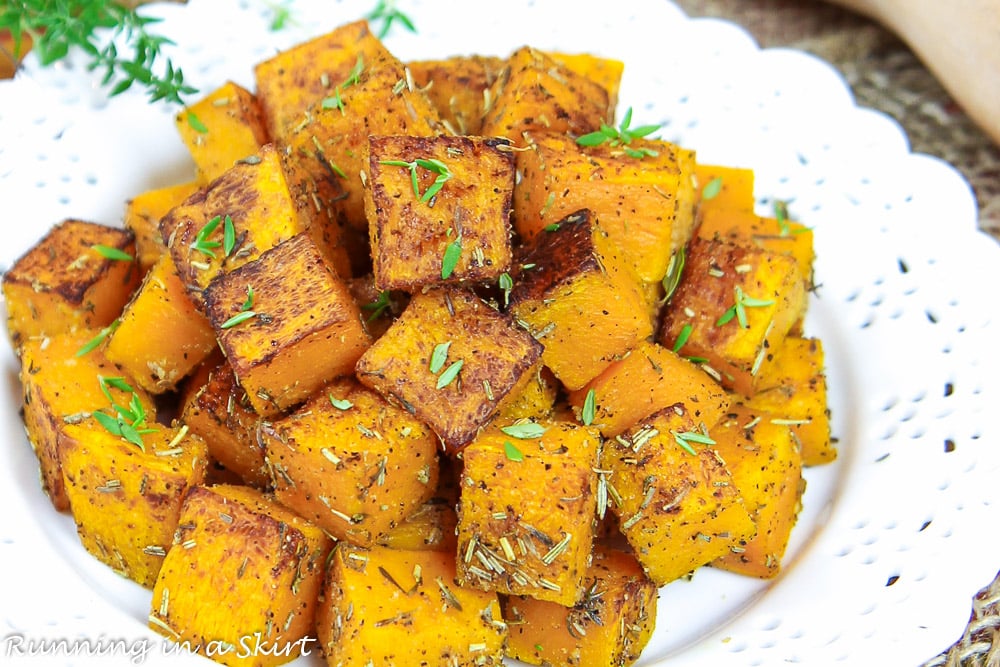 How to Cut Up Butternut Squash?
Curious how to cut up a butternut squash? If you've been wanting to make butternut squash at home, but buying a whole squash intimates you... let me help you! Don't let that be the reason you don't make this recipe... it's surprisingly simple.
My first trick is to poke a few holes in the butternut squash like a potato and pop it in the microwave for 2 minutes. A few minutes in the microwave will soften it just a touch so it's easier to touch but not really cook it.
Next, use a sharp vegetable peeler to peel the skin off.
Using a sharp large chef's knife, you can cut the butternut squash in half twice. <--- I like these knifes!
Scoop out the seeds like pumpkin.
Finally, cut it into even cubes.
It is simple, but please be careful as cutting the squash can be tricky. Keep your fingers away from the knife.
If cutting the squash still scares you they do sell already cut cubes in many grocery store's produce sections these days.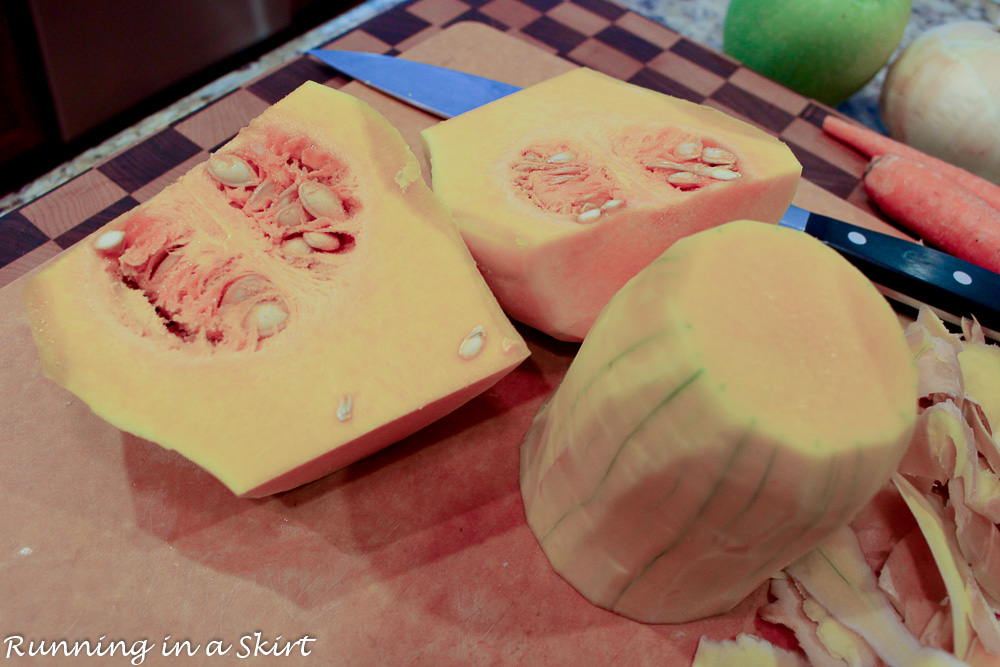 Ingredients in the Oven Roasted Butternut Squash recipe:
Butternut Squash: You'll want about 4 cups of cubed butternut squash.
Garlic Powder: You can use fresh but I like how garlic powder evenly coats my roasted vegetables.
Herbs: Thyme and rosemary is the way to go! You can use fresh or dried.
Olive Oil: A bit of olive oil provides just enough coating so the spices stick.
Herbs for roasted butternut squash...
You could easily follow the sweetness of the butternut squash and roast it with cinnamon and nutmeg but I love the savory side of this dish. Thyme and rosemary pair perfectly together and bring out the flavors of the squash cubes in a savory way.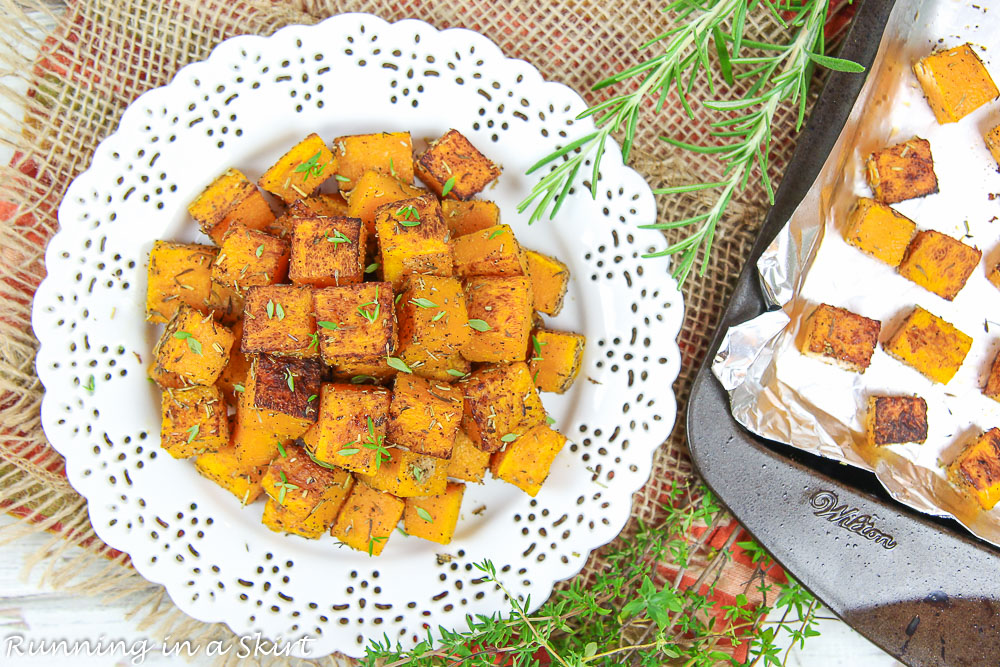 How to Roast Butternut Squash In the Oven
Butternut squash is so easy to make in the oven. Here's how:
Preheat the oven.
Cut the squash into cubes using the directions above.
In a big bowl, toss the butternut squash in olive oil, garlic, thyme, and rosemary.
Line a baking sheet with foil, spray with cooking spray and evenly distribute the squash on the pan.
Roast until the squash is tender and you have some browned edges. Check it often so you don't miss the sweet spot of the squash having color, but not actually burning.
How Long to Roast Butternut Squash Cubes in the Oven
It takes about 20 minutes to roast butternut squash in the oven.
Temperature to Roast Butternut Squash
I've found 400 degrees to be the sweet spot to roast butternut squash.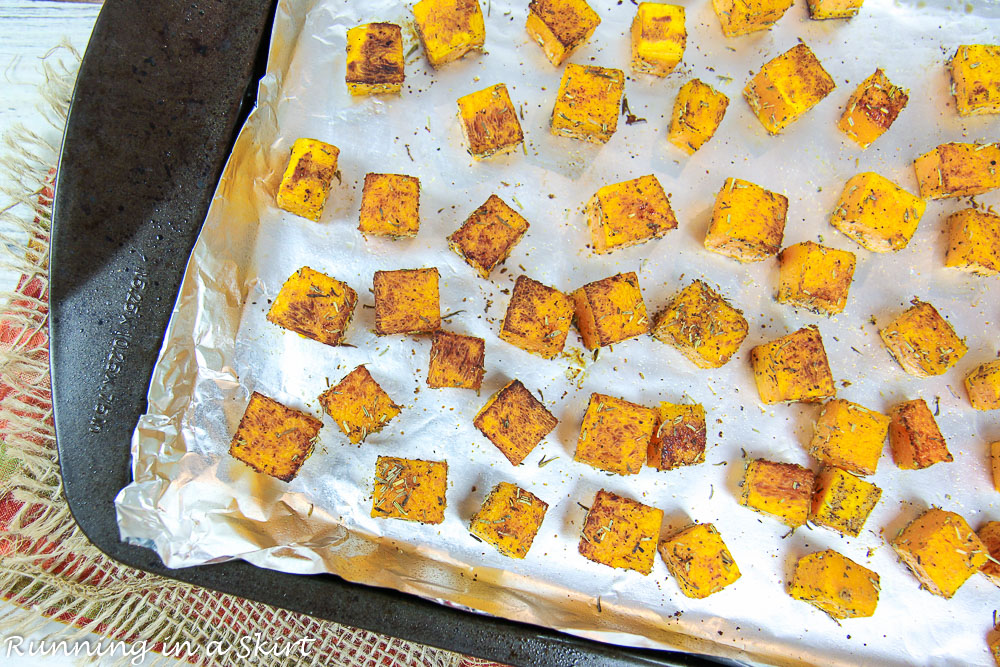 Tips & Variations:
When shopping for a whole butternut squash look for one that is darker in color with no green patches. The skin should be matte vs. shiny, heavy for its size and sound hollow when you tap it.
Cut the squash in the same size cubes so it roasts evenly.
If you want to use fresh herbs use a bit more than the recipe calls for. Use 1-2 teaspoons of both the rosemary and thyme.
For a sweet squash dish coat with cinnamon and nutmeg.
Reheating Roasted Butternut Squash
You can easily reheat butternut squash in the oven until it's warm. You can also use the microwave but the texture will not be the same.
Is Butternut Squash Healthy?
YES! This gorgeous orange superfood is filled with antioxidants including vitamins-C and b-carotene. It's also high in potassium and fiber.
This butternut squash recipe is healthy because it uses no sugar or butter and has just a touch of olive oil. One serving (an entire cup!) is only 73 calories.
What to serve with the squash:
This recipe is great as a side dish with any of your favorite dinners. It's also great in buddha bowls or salads. Anywhere you see sweet potato you can swap it for this butternut squash.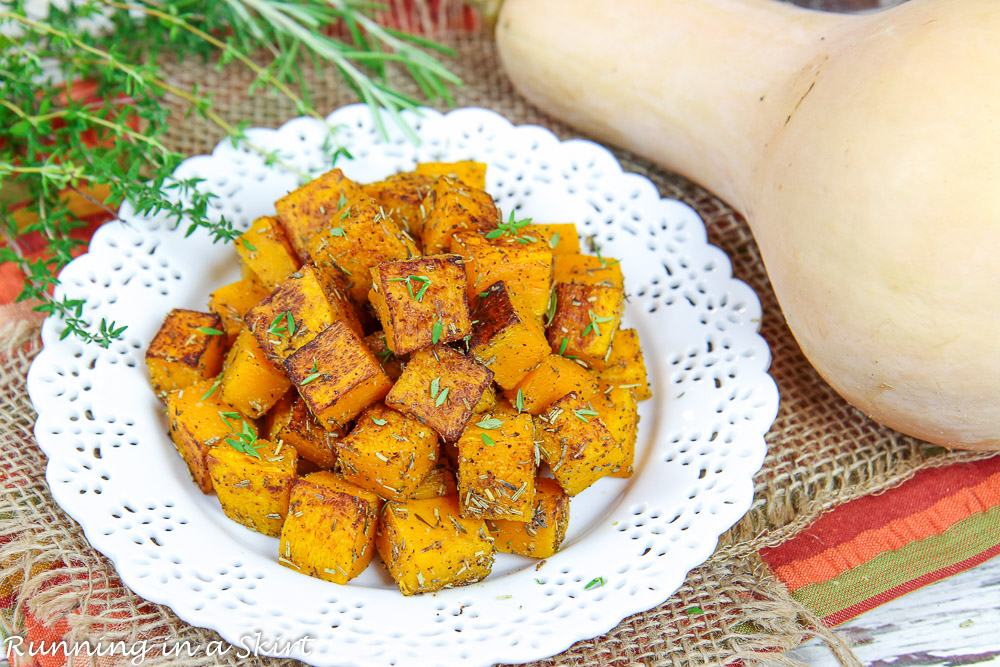 I love this Oven Roasted Butternut Squash recipe and hope you do too. Give it a try and let me know what you think.
More Healthy Squash Recipes to Love:
If you make this recipe, I'd love to hear what you think! Leave a comment and a star rating ★ below. Make sure to follow me on Instagram, Pinterest, and Facebook too!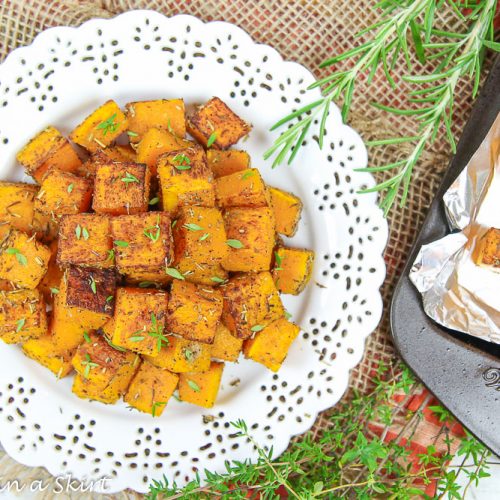 Oven Roasted Butternut Squash recipe
Oven Roasted Butternut Squash recipe: A simple yet inspired dish for fall that's full of flavor from thyme, rosemary, and garlic.  These perfectly baked butternut squash cubes are vegan, naturally gluten-free, and will win over everyone in your family.
Instructions
Preheat oven to 400 degrees and spray cookie sheet with cooking spray.

Put cubed squash, garlic, thyme and olive oil in a large bowl and mix well.

Pour coated squash on a cookie sheet and spread evenly. Try to keep the pieces from touching.

Roast in oven for 20 minutes until crispy on edges.
Notes
Follow my instructions in the post to cut up a whole butternut squash or buy the pre-cubed squash in the produce section of the grocery store.
Nutrition
Calories:
73
kcal
Carbohydrates:
17
g
Protein:
1
g
Fat:
1
g
Saturated Fat:
1
g
Sodium:
6
mg
Potassium:
493
mg
Fiber:
3
g
Sugar:
3
g
Vitamin A:
14882
IU
Vitamin C:
29
mg
Calcium:
67
mg
Iron:
1
mg
Pin for later!