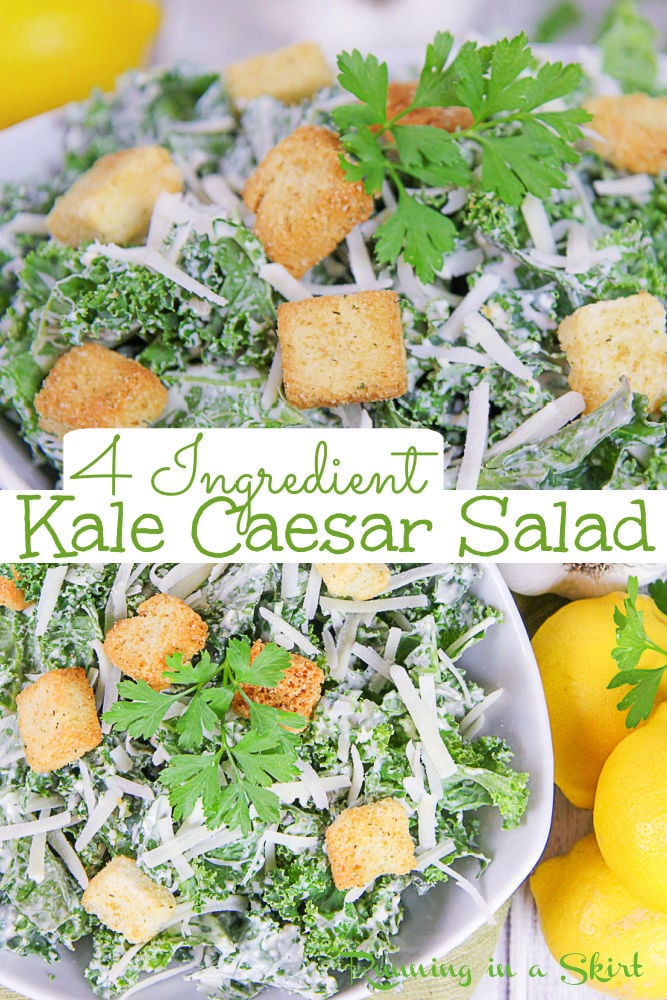 My Healthy Kale Caesar Salad Recipe is filled with massaged curly kale, a lemony and creamy Greek Yogurt Caesar Dressing, croutons, and parmesan cheese. This tastier Healthy Caesar is better for you and delicious. Serve it alone or with chicken, shrimp, or fish to round out the meal.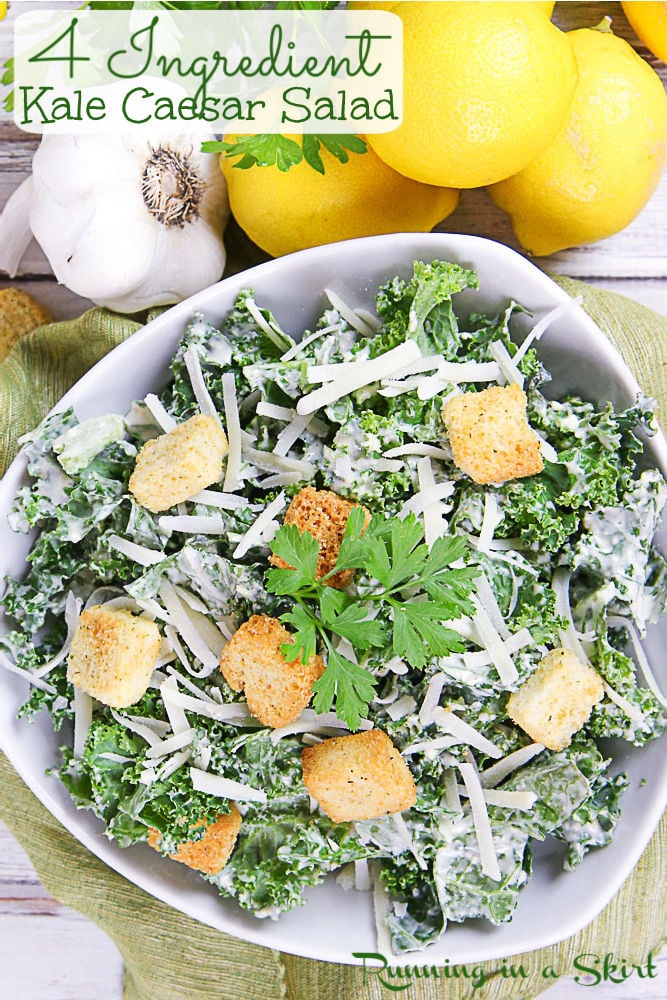 Kale Caesar Salad
This Kale Caesar Salad is special. I love a good Caesar Salad, but let's be honest it's often not the healthiest salad choice because it's filled with a high-calorie mayo-based dressing and lots of cheese. My version is different. I made a few substitutions to create a Healthy Caesar that tastes as good as it looks.
This salad is made with only a few ingredients: bunches of massaged curly kale, a super simple Homemade Greek Yogurt Caesar Dressing with lemon juice, fresh parmesan, and crunchy croutons. That makes this a simple meal to throw together for lunch or dinner.
I've shared my homemade Healthy Creamy Greek Yogurt Caesar Dressing dressing with you and now I'm kicking it up a notch with a Healthy Kale Caesar Salad recipe you don't want to miss. The piles of chewy kale, along with the creamy dressing, salty parmesan and rich croutons are a match made in food heaven.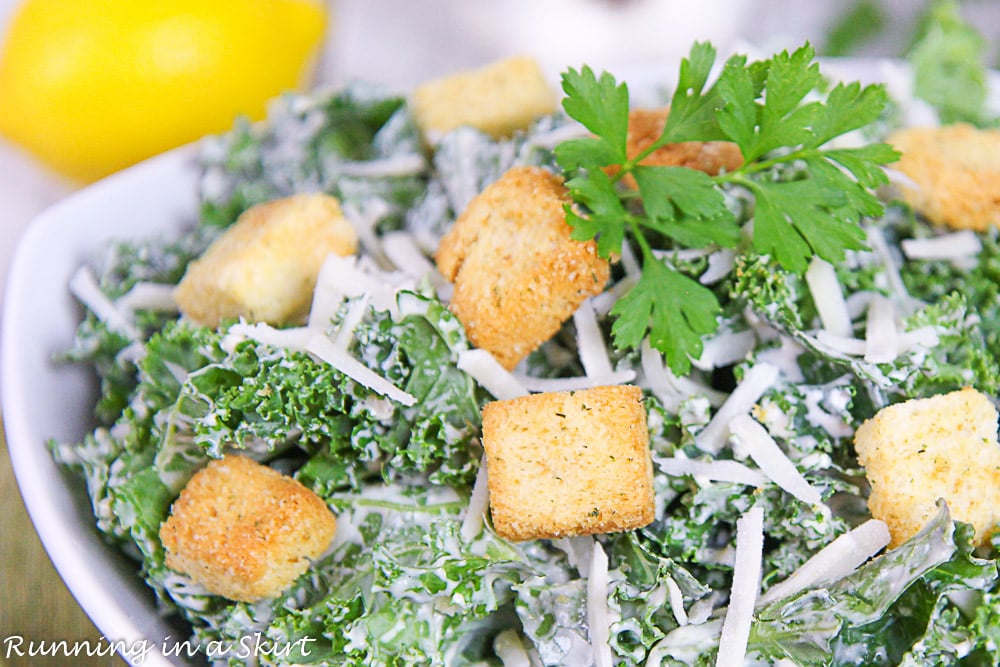 Why You'll Love this Kale Caesar Salad?
I'm one of those strange people who actually LOVES kale. I get excited to make it and eat it. I even order it at restaurants. The cool thing about this Kale Caesar Salad though is you don't have to LOVE kale to love this salad. This recipe makes kale a bit more approachable for folks who aren't as enamored with it as I am. When you coat it in a familiar Caesar Dressing and add a touch of cheese... what's not to love!
This salad subs traditional Caesar romaine for piles of vitamin-packed curly kale. Romaine lettuce is fine, but kale has more nutrients and has such a fun texture.
Plus, buying and enjoying kale is now easier than ever. You can buy it in bunches or it comes already prepped for you. In the packaged salad section of your grocery store it comes in large bags that are already prepped, chopped, and has the stems removed.
Is Kale Good for You?
Kale is one of those foods that lives up to its hype! It's a superfood loaded with powerful antioxidants. The leafy green cruciferous vegetable can help manage blood pressure, boost digestive health and even protect against cancer and type 2 diabetes. It has calcium, vitamin C and K, iron, and many more powerful nutrients.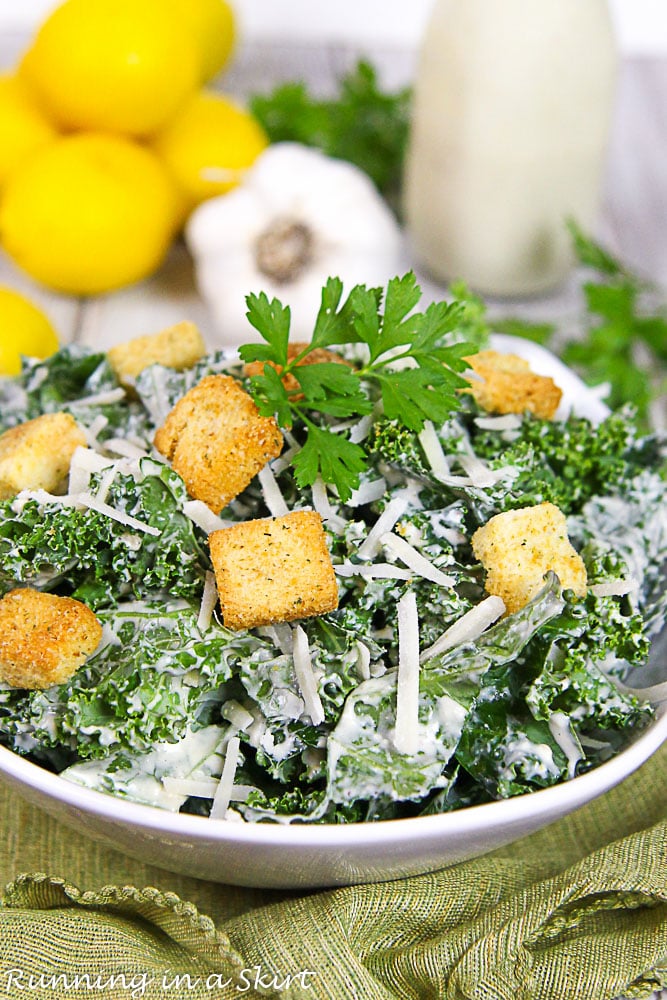 Ingredients:
For the Salad:
Kale: I perfect curly kale for this recipe but dinosaur kale will also work. To prep, the kale chop it and make sure the stems are removed. You can also buy it in a bag already processed like that. To make the kale a bit more tender massage it with a very small amount of olive oil or lemon before making the salad.
Parmesan: I like uses shredded or shaved parmesan in my salad for more impact.
Croutons: You can make this salad easier by using your favorite store-bought crouton.... or toss several day-old bread in olive oil, garlic salt, and spices. Pop them in the toaster to make homemade croutons with ease. Either way, this combination is totally addictive.
For the Dressing:
This Greek Yogurt Caesar Dressing tastes traditional but it's made with healthy swaps like Greek yogurt. It's is also egg-free and gluten free.
Plain Greek Yogurt
Grated Parmesan
Olive Oil
Anchovy Paste
Worcestershire Sauce
Minced Garlic
Lemon
Grainy Mustard
Milk
Salt & Pepper
Get my complete Healthy Greek Yogurt Caesar Dressing here. If you don't have time to make your own dressing, I also like a few bottled dressing.
Healthy Bottled Caesar Salad Dressings:
How to Make Kale Caesar Salad:
Prep your kale by putting in a large bowl and then massaging it until it's more tender.
Toss your kale with your Healthy Caesar Dressing, croutons and parmesan cheese.
Serve alone or top it with a protein for a more complete meal.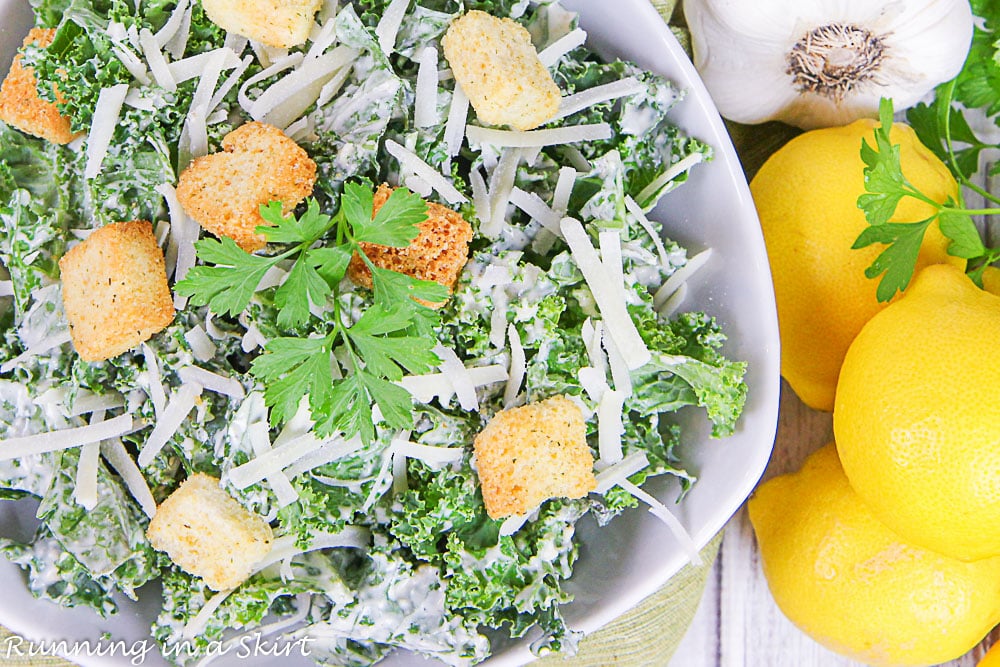 This Kale Caesar Salad is Family Approved!
This Kale Caesar Salad is loved by both the twins (yes, they eat salad!) and husband approved. The Hub's was pleasantly surprised at how tasty this salad was. He said the dressing really makes it. It has all the flavor of Caesar dressing, without the mayo. Or maybe it's the cheese and croutons he loves? Either way... it's delicious and everyone is eating kale with me!
Just don't blame me if you get totally addicted to this salad. It's one of those things that tastes so good, you'll forget there are all sorts of healthy swaps in it.
Tips & FAQ
How do you tenderize kale?
To make the kale softer, massage the salad dressing into the tougher leaves with your hands. It's a simple trick to make any kale salad taste better.
Can you make this Kale Caesar Salad ahead of time?
YES! Since kale is a heartier green you can actually make this salad ahead of time and the kale will hold up. Because kale is tough it's actually a great option for meal prep.
How do you store the salad?
Store this salad in an airtight container in the fridge for up to three days.
How do I make it gluten free or low carb?
For a gluten free or low carb version, use roasted chickpeas. My Ranch Roasted Chickpeas that would be perfect with this.
How many calories are in this salad?
This Kale Caesar Salad has just 245 calories per serving making it healthy side or main dish. Add a few protein toppings below to round out your meal.
Make it a Meal:
More Healthy Kale Recipes to Love:
If you make this recipe, I'd love to hear what you think! Leave a comment and a star rating ★ below. Make sure to follow me on Instagram, Pinterest, and Facebook too!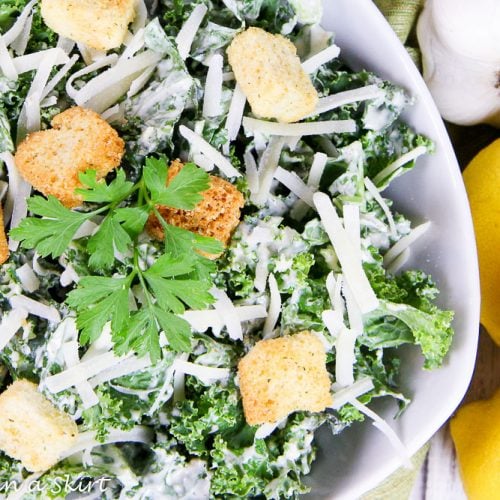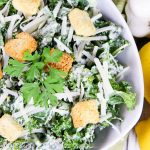 Kale Caesar Salad Recipe
My Healthy Kale Caesar Salad Recipe is filled with massaged curly kale, a lemony and creamy Greek yogurt based Caesar Dressing, croutons and parmesan cheese.  This tastier Healthy Caesar is better for you and delicious.  Serve it alone or with chicken, shrimp or fish to round out the meal.
Instructions
Toss your kale in a very small amount of olive oil or lemon juice and massage it until it's a bit more tender. This step tenderizes your kale and makes it easier to eat.

Toss the massaged kale with the amount of dressing you like, parmesan, and croutons.

Serve as shown or complete the meal by adding some protein like tofu, chicken, shrimp or fish.
Nutrition
Calories:
245
kcal
Carbohydrates:
20
g
Protein:
11
g
Fat:
15
g
Saturated Fat:
4
g
Cholesterol:
19
mg
Sodium:
493
mg
Potassium:
694
mg
Fiber:
1
g
Sugar:
1
g
Vitamin A:
13540
IU
Vitamin C:
161
mg
Calcium:
357
mg
Iron:
2
mg
Pin for later...