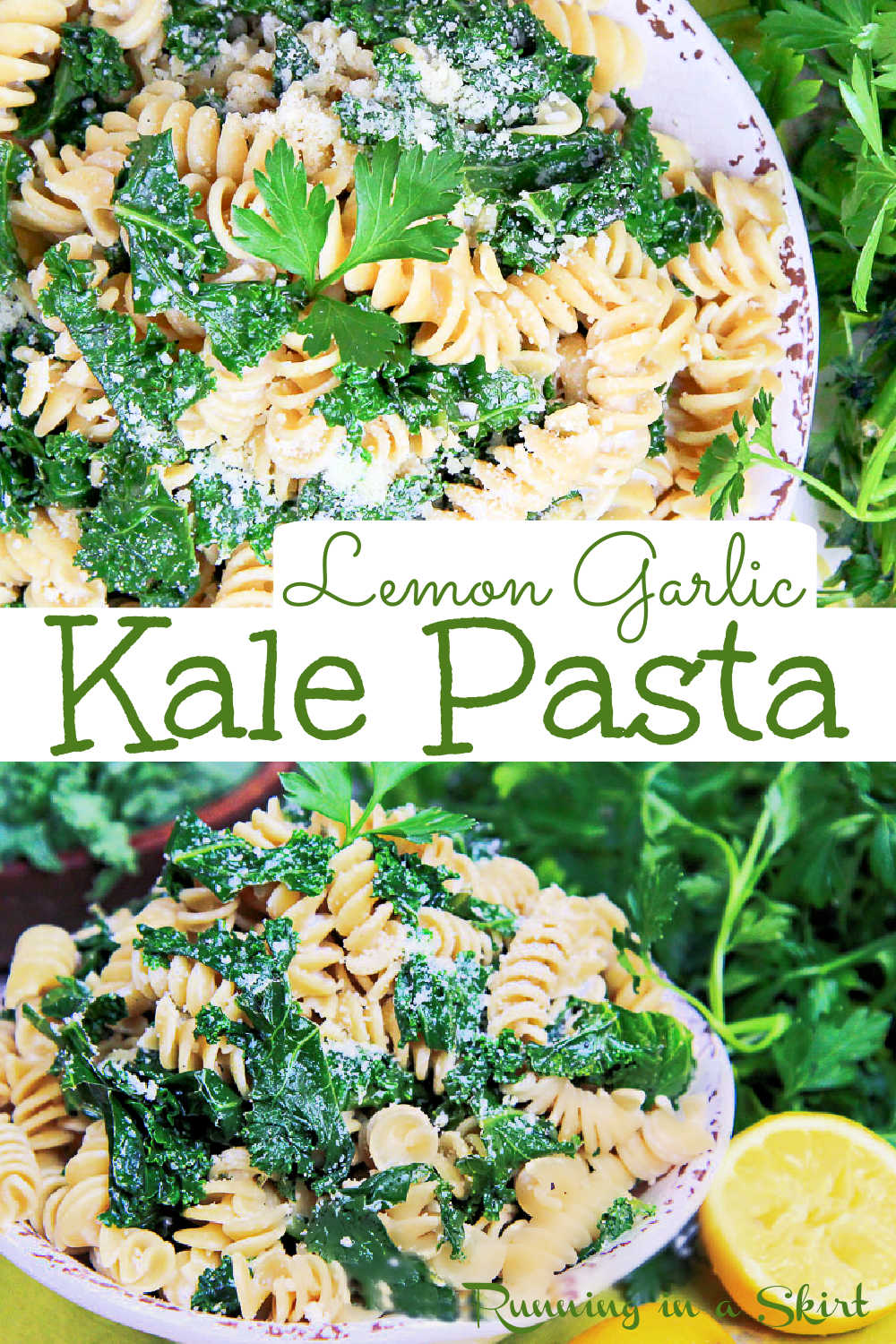 My Kale Pasta recipe is a tasty vegetarian dinner idea that is so delicious! This simple recipe lets just a couple of good ingredients shine like kale, pasta, lemon, and greek yogurt. There is a vegan option included in the recipe too. You are going to love this tried and true family favorite.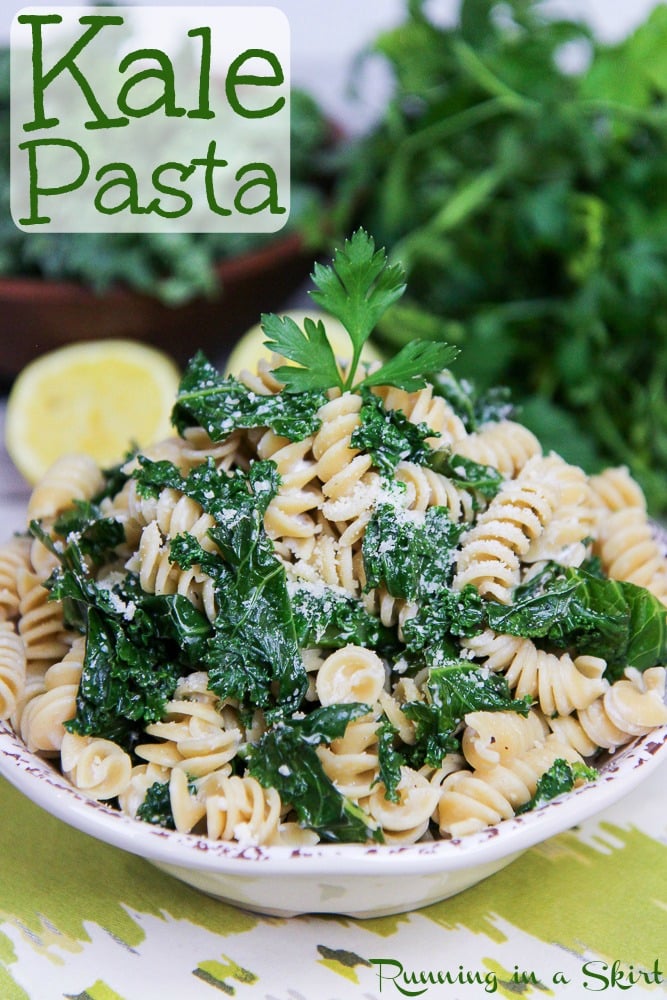 Kale Pasta Recipe
I want to share with you one of my favorite recipes.... my Kale Pasta recipe! I created this during an unexpected ice storm a few years ago when my fridge was nearly bare and I couldn't make it to the store. I somehow ended up with kale, pasta, lemon, and greek yogurt leftover in the fridge and pantry and came up with this. Over time I've tweaked it and it's now on regular rotation in the Wunder household. It's one of my personal favorite recipes that I always look forward to eating.
This combination of kale and pasta together is so dreamy! It's the best of health and comfort food rolled up in a bowl of carb-loving goodness.
If you are looking for Kale Pasta recipes, you've got to get on board and try this. Your weeknight dinner routine might never be the same.
Reasons to Love my Kale Pasta Recipes:
The highlights of this Kale Pasta recipe are pantry staples like kale, high-quality pasta, parsley, lemon, and parmesan. To make this bowl nice and creamy, I big scoop of Greek yogurt into it at the end. The lemony garlic-filled kale tastes tender and addictive. The pasta will give you all the cozy vibes you crave for a good vegetarian meal. Yes, kale and pasta are a match made in foodie heaven.
I love this dinner so much because it's kind of healthy... kind of comfort food. The pasta is so nice and cozy but the huge heaps of kale still provide lots of vitamins.
Health Benefits of Kale
The humble kale just happens to be one of the most nutrient-dense foods on the planet! It's loaded with antioxidants, vitamin C, Vitamin K and may help lower cholesterol and reduce the risk of heart disease. It's a total superfood making this recipe a must-try.
It has an earthy greens taste but when it's sauteed in lemon and garlic it honestly tastes kind of dreamy!
How to Prepare Kale
Now that we all love kale, here's how to prepare it. If you bought the full stems fold them in half and pull off the green leafy part from the woody stem. Then chop the kale into two-inch wide strips. Massage the kale for a minute to make it more tender and less bitter.
If you buy the bag of already chopped kale you'll probably still want to pull it out of the bag and remove any of the harder stems and massage it.
You'll use what looks like a ton of kale for this recipe BUT once you cook it you'll see that it wilts down a lot like spinach.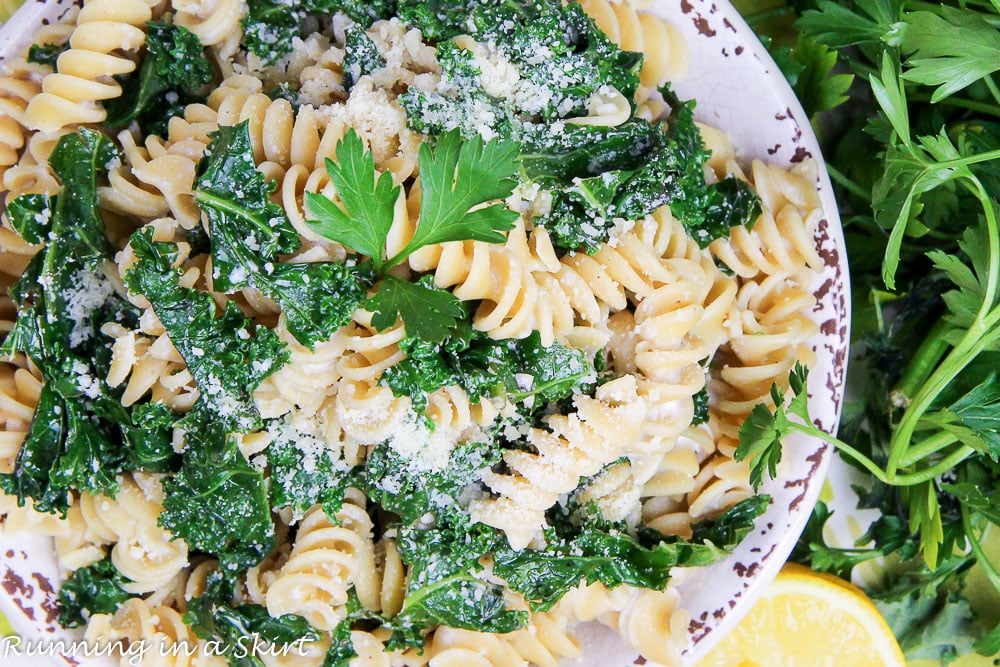 Here's What You'll Need to Make It:
Pasta: You can use any pasta to make this recipe! I used fusilli or corkscrew pasta because I like the way it holds the olive oil and butter-based sauce. I like to look for pasta with added health benefits like this protein pasta.
Garlic: You can use pre-minced garlic for this recipe or mince your own from cloves.
Olive Oil & Butter: I like to use a combination of olive oil and butter to make my kale pasta recipe because I think it brings the most flavor to this simple dish. You can use just butter or olive oil if you prefer or use vegan butter to make this dairy-free.
Kale: I use big curly kale for this recipe! I love the hearty texture of it and how it holds up to the garlic and lemon sautee. The soften the kale and reduce the bitterness you can massage it a bit before cooking it.
Lemon: A big bright lemon adds so much flavor to this dish. Don't skip it!
Greek Yogurt: I stir in a nice scoop of plain greek yogurt at the end to make this pasta dish creamy. You can leave it out.
Parmesan: A nice dose of parmesan at the end adds a bit of nutty, cheesy flavor.
Pasta Water: Pasta water is water from the pot after the pasta has been cooked. It naturally has starches in it and a scoop of the water provides the magic to bind this recipe together.
Red Pepper Flakes: Red pepper flakes don't make this dish spicy but just bring out the flavors.
How to Make Kale Pasta:
Boil the water and cook your pasta according to the package instructions. Reserve some of the pasta water.
While the pasta is cooking saute your garlic in the butter and olive oil over low heat. Allow to cook for about 30 seconds or until it is fragrant. Don't let it burn.
Add the kale to the pot and saute over medium heat. Add half a cup of the pasta water to help the kale cook.
Season the kale with salt, pepper, and red pepper flakes. Add the lemon.
Steam the kale until it's tender and just starting to wilt. It should take less than 5 minutes.
Once the pasta is cooked add it to the kale and store it.
Remove the dish from the heat and stir in the greek yogurt and parmesan. Add a few more tablespoons of the pasta water to turn the greek yogurt and cheese into a sauce.
Serve immediately.
Varitions & FAQ
I love my Kale Pasta recipes as written BUT here are some fun ways to mix it up.
This recipe is vegetarian BUT could easily be made dairy-free or vegan by using vegan butter or just olive oil. You can also substitute nutritional yeast for the parmesan. You can easily just leave off the greek yogurt at the end or substitute a vegan yogurt.
If you want more protein you can add chicken, sausage, or shrimp if you'd like. Chickpeas would be a great protein option for vegans or vegetarians.
Other tasty vegetables to add mushrooms, tomatoes, artichokes, or olives.
You can make this with any type of pasta you have.
For a crunch add some nuts on top! Pine nuts would be lovely on this Kale Pasta recipe.
Make it spicy by adding more red pepper flakes.
How do you store the leftovers?
I doubt you will have leftovers but you can store them in an airtight container in the fridge for up to 5 days. When you reheat it you might want to add a touch of water or stock to bring it back to life.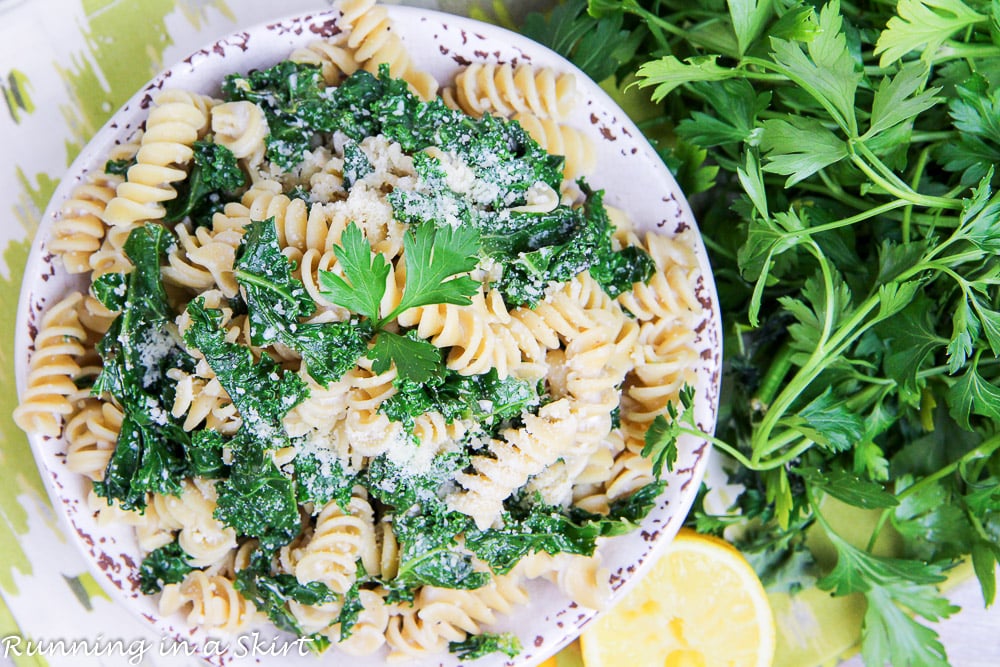 Stop here if you are looking for the best Kale Pasta recipes!
My Kale Pasta recipe may have been unplanned originally, but now it is worthy of a top spot in my regular dinner rotation... and I hope yours too. My family now eats this unexpected combination a few times a month. It's even turned into one of the twin's favorite meals! And yes, they eat kale. 🙂
More Healthy Pasta Dishes to Love:
More Healthy Kale Recipes to Love:
If you make this recipe, I'd love to hear what you think! Leave a comment and a star rating ★ below. Make sure to follow me on Instagram, Pinterest, and Facebook too!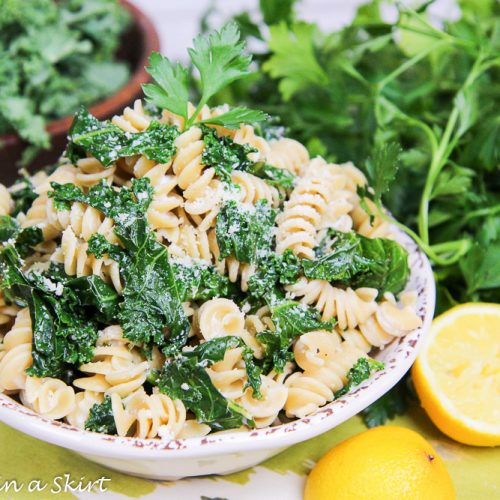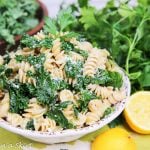 Kale Pasta Recipe
My Kale Pasta recipe is a tasty vegetarian dinner idea that is so delicious! This simple recipe lets just a couple of good ingredients shine like kale, pasta, lemon, and greek yogurt.  There is a vegan option included in the recipe too.  You are going to love this tried and true family favorite.
Ingredients
8

ounces

dried Fusilli

,

corkscrew pasta (about 3 cups)

1 ½

teaspoons

minced garlic

,

3 cloves

1

teaspoon

olive oil

1

tablespoon

butter

1

bunch Kale

,

chopped (about 8 cups)

¼

teaspoon

salt & pepper to taste

pinch

red pepper flakes

,

optional

1

cup

hot pasta water

,

divided

1

lemon

,

juiced

¼

cup

shredded parmesan

¼-1/2

cup

plain greek yogurt

Garnish: red pepper flakes, parmesan, parsley
Instructions
Boil pasta in generously salted water, following package instructions. Check the pasta 2 minutes before the box says. You are looking for a perfect al dente bite in your pasta.

While the pasta is cooking, sauté the garlic in the butter and olive oil over low heat in a big pot. Allow to cook for 30 seconds, but do not burn!

Add the kale to the pot and mix with the butter, olive oil and garlic. Turn to medium-low heat.

Season with the salt, pepper and optional red pepper flakes.

Add the ½ cup of hot pasta water from your boiling pasta (be careful!) and the lemon.

Allow the kale to steam for about five minutes or until tender.

Once the pasta is cooked, add it to the pot with the kale and stir.

Finish by stirring in the parmesan, greek yogurt and a bit more pasta water. Add a few tablespoons at a time until your greek yogurt turns into a sauce.

Garnish with the additional red pepper flakes, parsley and parmesan.
Notes
If you are calorie conscious you can leave out the butter. Serves 2 adult dinner-sized portions.
To prepare your kale to remove the hard woody stems and chopped into two-inch wide pieces.  Massage the kale for a few minutes before sauteing. 
Nutrition
Calories:
585
kcal
Carbohydrates:
99
g
Protein:
25
g
Fat:
11
g
Saturated Fat:
5
g
Cholesterol:
19
mg
Sodium:
515
mg
Potassium:
600
mg
Fiber:
5
g
Sugar:
5
g
Vitamin A:
3359
IU
Vitamin C:
69
mg
Calcium:
214
mg
Iron:
3
mg
Pin for later: