My Chopped Kale Salad will make you fall in love with this super food all over again.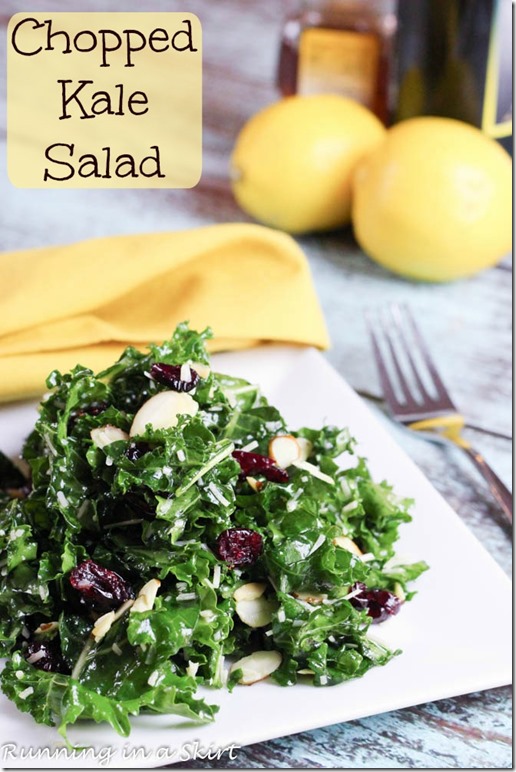 Good morning friends!
I've got great news! My ice skating driveway has finally almost melted. I still have the ice speed bump (where the freezing rain fell out of the gutters) to get out of the garage, but it has shrunk in size and does not feel as dangerous anymore. I'm just hoping we can get through these last rounds of snow without too much drama and be on our way to spring. A girl can hope right?
On to the food, because this one is a goodie.
I have been on a bit of a kale kick lately. I'm kind of obsessed with the beautiful chopped kale salads served in restaurants.
One of my favorites locally is at Well Bred bakery. Their version is full of sweet cranberries, savory almond slices and salty parmesan cheese.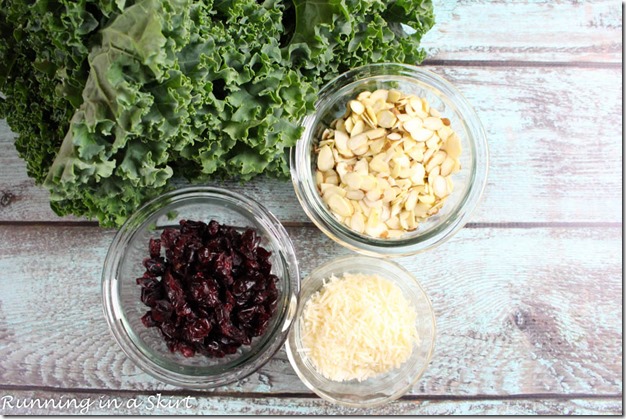 I set out one afternoon to make my own version at home.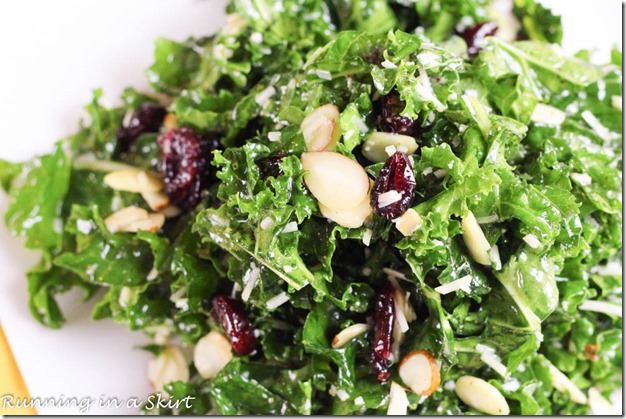 Now I'm not going to call this a copy cat salad because I did not have theirs right in front of me to compare, but I'd say I am pretty close. You guys will just have to go visit them to see if I got it right.
For my version, I started with a giant bunch of beautiful kale and sliced it into thin strips. I pat the kale dry so it will absorb the oil and lemon well.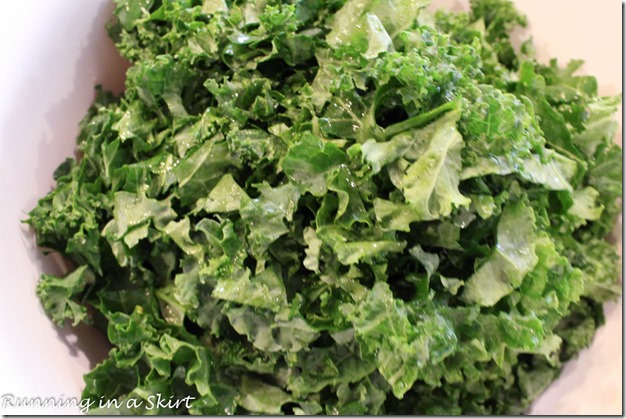 The trick is to add the olive oil, lemon, honey, salt and pepper to the kale chopped salad and then massage it. Yes, get your hands in there and coat every piece. Pretend you are rubbing someones shoulders. You want to kale to start to break down some so it is not as rough and bitter to eat.
I then let the kale and dressing sit in the fridge for at least ten minutes to do it's magic.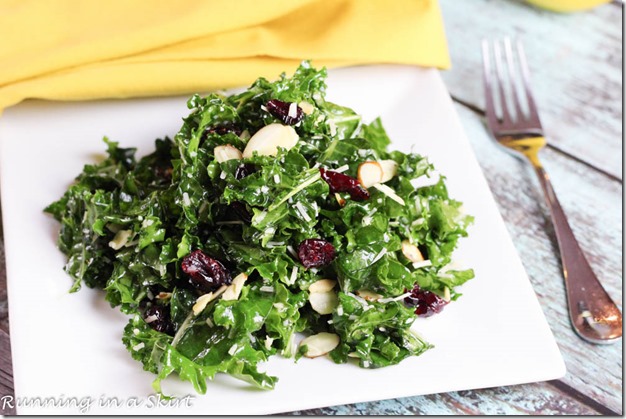 After the short wait I pull it back out and add of the yummy goodness of almonds, cheese and cranberries.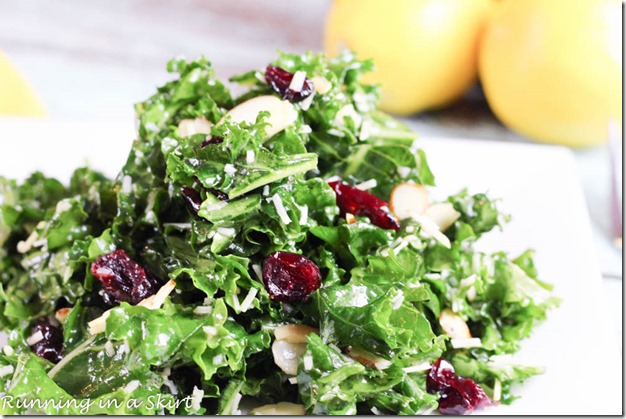 One of my favorite parts of the salad is the kale holds up in the fridge with the dressing on very well. I ate this over the next two days and it was still good by the end. A normal salad would never make it that long with the dressing on it!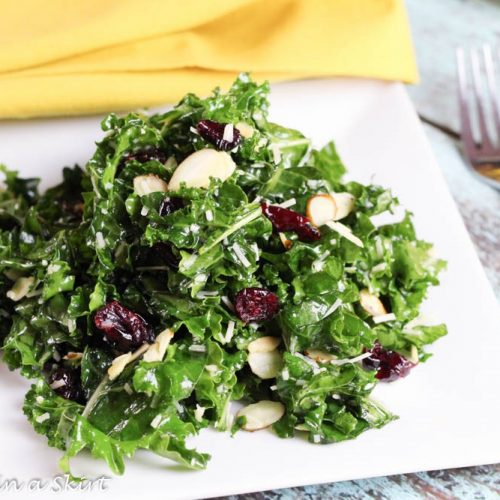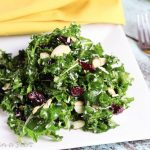 Chopped Kale Salad
My Chopped Kale Salad features tart cranberries, salty parmesan and rich almonds. It will make you fall in love with this super food all over again!
Ingredients
1

bunch curly kale

,

about 8 stems or 8 packed cups

1

large lemon

,

juiced

2

tablespoons

GOOD olive oil

1

tablespoon

honey

¼

teaspoon

salt

¼

teaspoon

pepper

½

cup

slivered almonds

½

cup

shredded parmesan

½

cup

dried cranberries
Instructions
Wash kale well and remove the hard stems from the kale.

Pat dry.

Roll the remaining leaves like a basil chiffonade and cut the kale into ½ inch strips.

Put kale in a big bowl and add the lemon juice, olive oil, honey. Salt and pepper to taste.

Massage kale well until all leaves are evenly coated and the leaves start to break down. The kale will reduce in size by a quarter to a half.

Put kale in fridge and allow to chill for at least ten minutes.

While kale is in fridge, toast the almonds in a pan for 3-4 minutes or until fragrant.

Remove kale from fridge and add the almonds, parmesan and cranberries. Mix well.
Notes
Serve immediately or allow to sit in fridge for several hours.
Nutrition
Calories:
282
kcal
Carbohydrates:
31
g
Protein:
11
g
Fat:
15
g
Saturated Fat:
2
g
Trans Fat:
1
g
Cholesterol:
3
mg
Sodium:
316
mg
Potassium:
514
mg
Fiber:
3
g
Sugar:
15
g
Vitamin A:
6713
IU
Vitamin C:
82
mg
Calcium:
239
mg
Iron:
2
mg
Have a great Tuesday everyone and stay warm!
Tomorrow I'm sharing a fun and honest post about my healthiest and UN-healthiest habits. Yup. I'm keepin' it real!
Your turn!
Is kale part of your food rotation?
Are you ready for spring?