My Dad has been in and out of Asheville several times since I've been sick to help my husband and I. He was here for the surgery and also several weeks ago to help me make a bunch of calls and appointments. It is really hard to figure out your medical care over the phone when you can't make phone calls because you don't have a voice.
Thanks Dad—You're the best!
While he was here the first time, he made his super easy FAIL PROOF Salmon Recipe. He has been throwing this together for as long as I can remember and it always amazes me how quick and easy it all comes together and how good it tastes.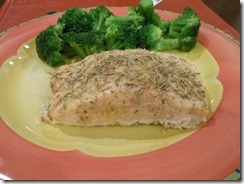 My husband and I spend so much more time marinating and preparing our salmon when we cook it. Our turns out ok, but my Dad's is quicker, simpler and turns out perfect every time.
This is another super easy, very loose recipe. It's not earth-shattering or cookbook worthy… but if you want to eat more fish and don't know how…. try this!
Salmon is really good for you. It is high in protein, high in omega 3 and high in vitamin D! YUM!
I highly suggest you make a couple extra pieces to add to a salad or pasta for a leftover makeover later in the week!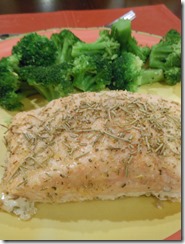 Dad's NO FAIL Salmon Recipe
What you need:
4-6 Frozen Salmon Filets – Thaw in fridge during the day
If you have a membership, we really like the SAM's club salmon!
Find pieces that are similar in size so they will cook evenly
The cooking time is for about a ¾ inch piece. If it's thinner you need to cook it less. If it's thicker, cook it just a little longer.
Most fish you are going to buy inland has already been frozen at some point, so unless you have access to truly fresh fish, I recommend just buying it frozen so you control when it gets used.
Spray Olive Oil
Garlic Salt
Crushed Dried Rosemary
Directions:
1. Heat oven to 400 degrees
2. Spray a glass pan with olive oil. Then spray the dry salmon filets with a light coating of olive oil.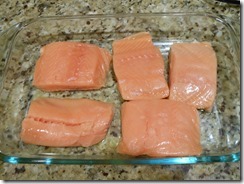 3. Put a nice layer of garlic salt & rosemary on this fish. Go heavy on the rosemary. You want to see it.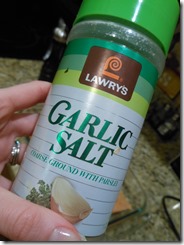 Did anyone else's Mom cook with this all the time?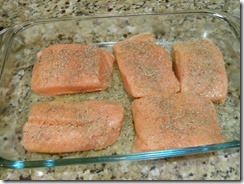 4. Put in oven for 10-12 minutes. You want the salmon to just start to flake with a fork. Do not overcook!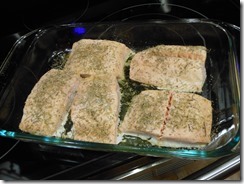 Serve with a salad and vegetable and you have a SUPER easy HEALTHY meal that can't be beat!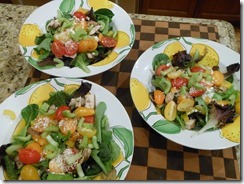 I have serious salad making SKILZ!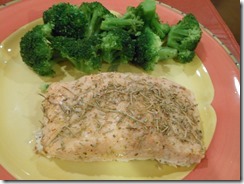 Delicious! It works perfectly every time my Dad makes it!
LOVE YOU DADDY DUDE!!! (inside joke….
)