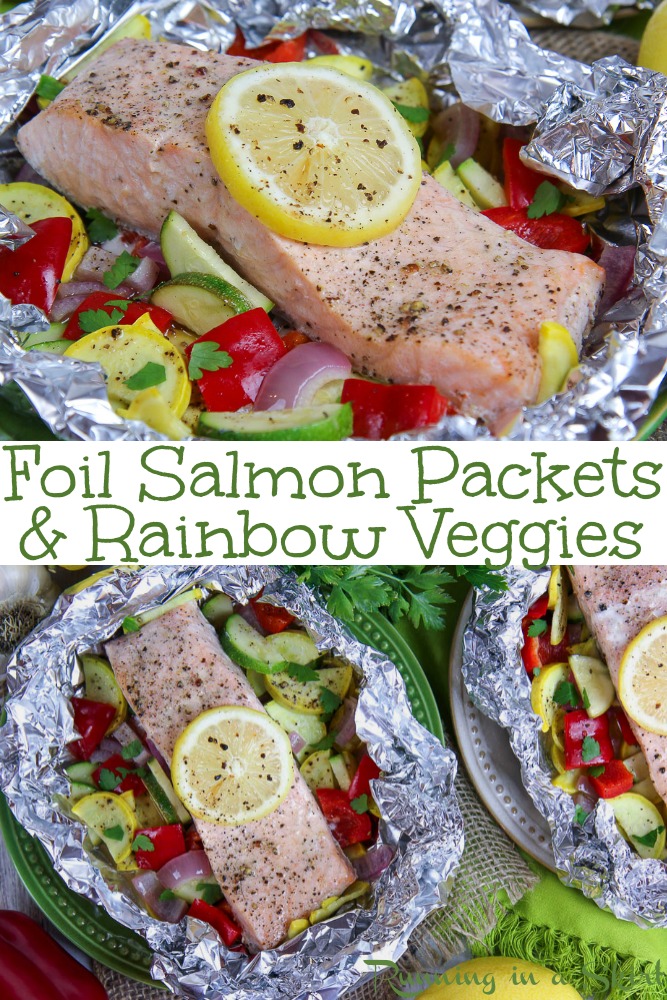 My Salmon Foil Packets with vegetables is the perfect fast and healthy dinner idea!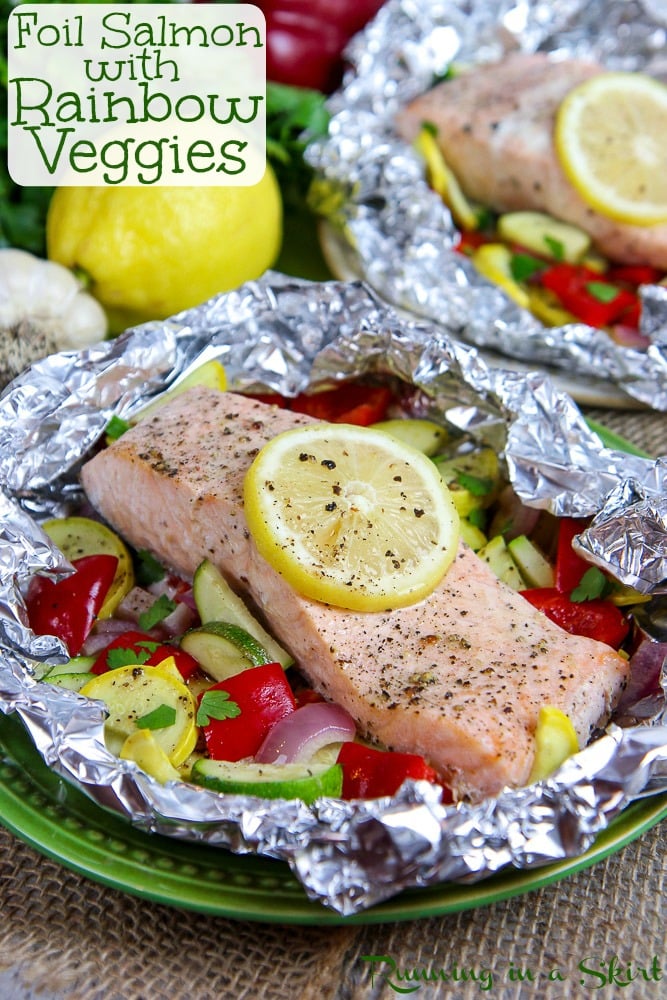 Hey guys!
I honestly don't have the luxury of making a dinner that takes more than 20 minutes most days. If it's a day I have the boys all by myself they get kind of crabby late in the day (hello witching hour!) and it makes cooking dinner with them really hard. If it's a day I have help with the nanny, I don't want to use my precious few hours I have to work on the blog/run/grocery shop making an elaborate dinner.
So I've really settled on making dinners that take 20 minutes or less AND I'm especially a fan of ones I can prep earlier in the day before the babies get too fussy and need my full attention.
That's where these Salmon Foil Packets with vegetables come in! This FAST dinner idea is healthy and delicious. It's full of protein and a rainbow collection of veggies. You seriously have to try it.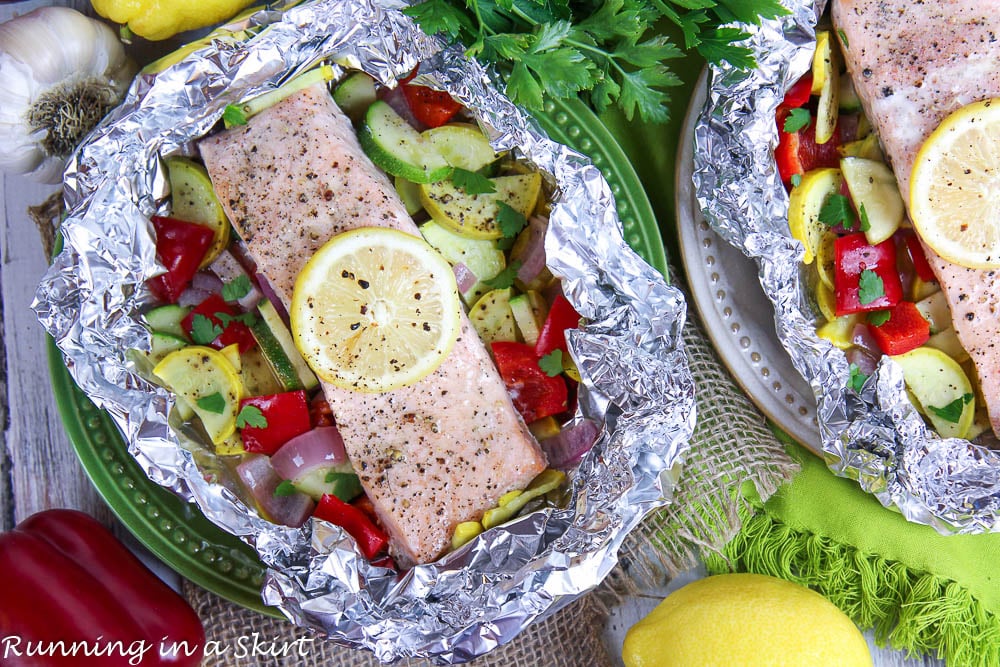 Why you'll love these Salmon Foil Packets with vegetables...
This dinner idea comes together with only 7 ingredients. It then only takes 10-15 minutes to cut the veggies and put together the foil packet and another 10 minutes to bake.
THAT'S IT!
If you are like me and love having dinner prepped early in the day, you can make the foil packets ahead of time and just pop them in the oven or on the grill at dinner time.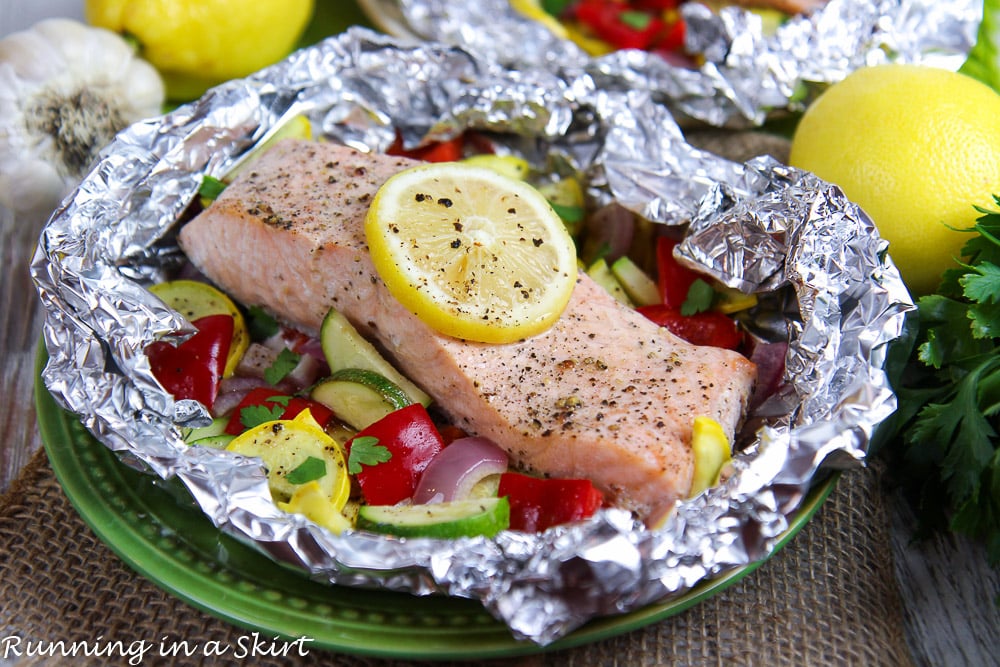 The foil keeps the salmon moist and juicy. The veggies cook perfectly and the combo makes the perfect easy meal. I love that these particular veggies (zucchini, yellow squash, red pepper, and purple onion) are in prime season for summer and just happen to create that lovely rainbow effect I strive for with my produce.
I use lemon and just a touch of butter to keep everything fuss-free and tasting ah-mazing. I don't use a lot of butter in my cooking and recipes, but I think it is worth it for this simple recipe. It really keeps everything nice and tender. It also ads a lot of flavor without a lot of fuss.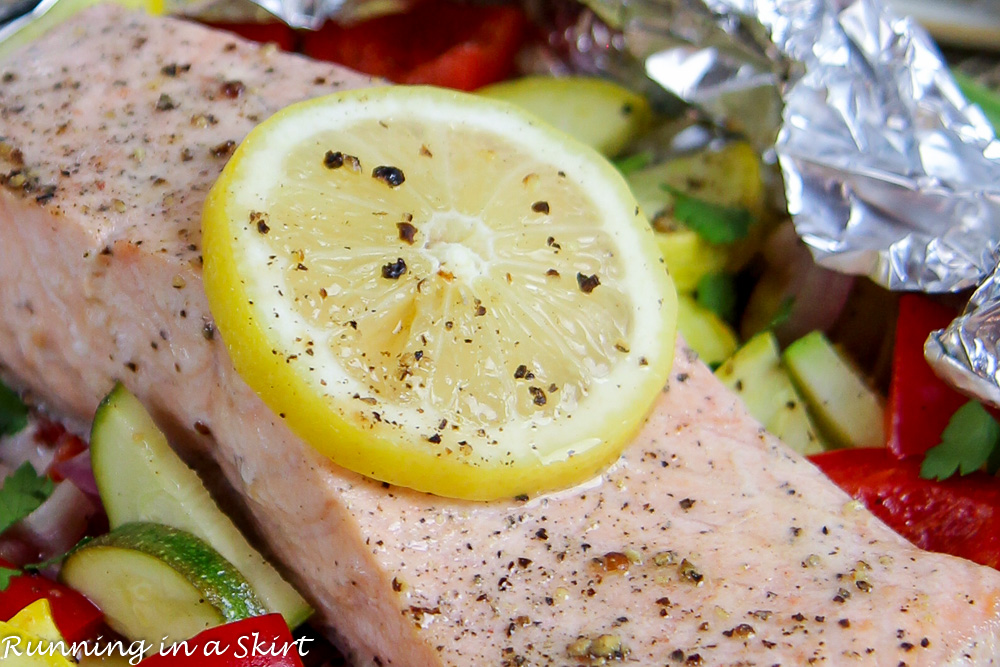 You can serve these as is... in the foil packets... for easy cleanup. The Salmon Foil Packets with vegetables were plenty to eat for the Hubs and me, but if you have a hearty appetite you could easily serve this along with rice or a potato.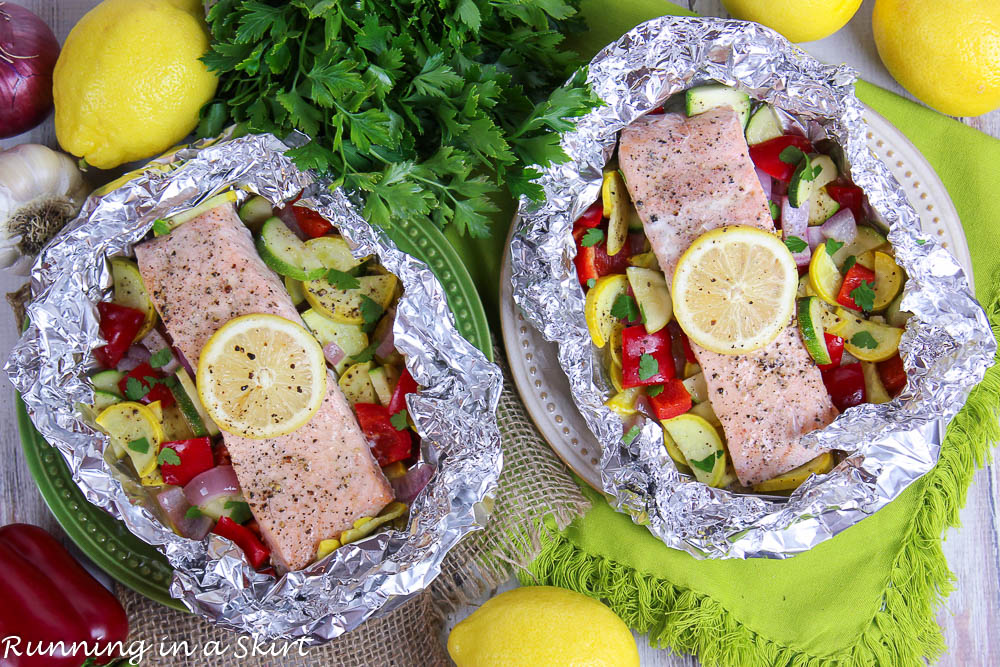 What's in my Salmon Foil Packets with vegetables...
Glad you asked!
Salmon
Fresh Veggies
Lemon
Butter (just a touch!)
Salt and Pepper
I love this combination of veggies, but you can substitute your favorites as long as they are fast cooking.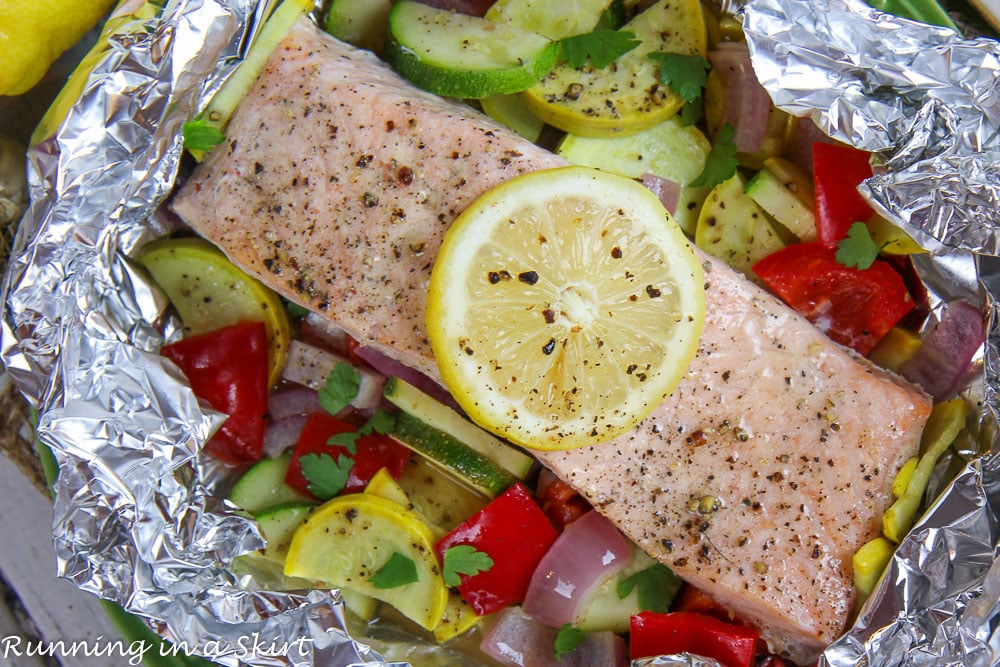 How to make Salmon Foil Packets with vegetables
Cut your vegetables into even pieces.
Get out two big pieces of foil.
Melt your butter and squeeze the lemon juice into it.
Put half the vegetables in each foil and put the salmon on top.
Brush the lemon butter mixture on both the vegetables and salmon.
Generously salt and pepper everything!
Cook for 10 minutes or until the salmon flakes.
A few recipe notes...
Cut the vegetables an even size so they cook evenly.
If you make the salmon packets ahead of time and store them in the fridge, you might need to add a minute or two of cooking time because the packets will start off cold. Just keep an eye on it.
You can also grill these! Just heat the grill to 400 degrees and cook for 10 minutes.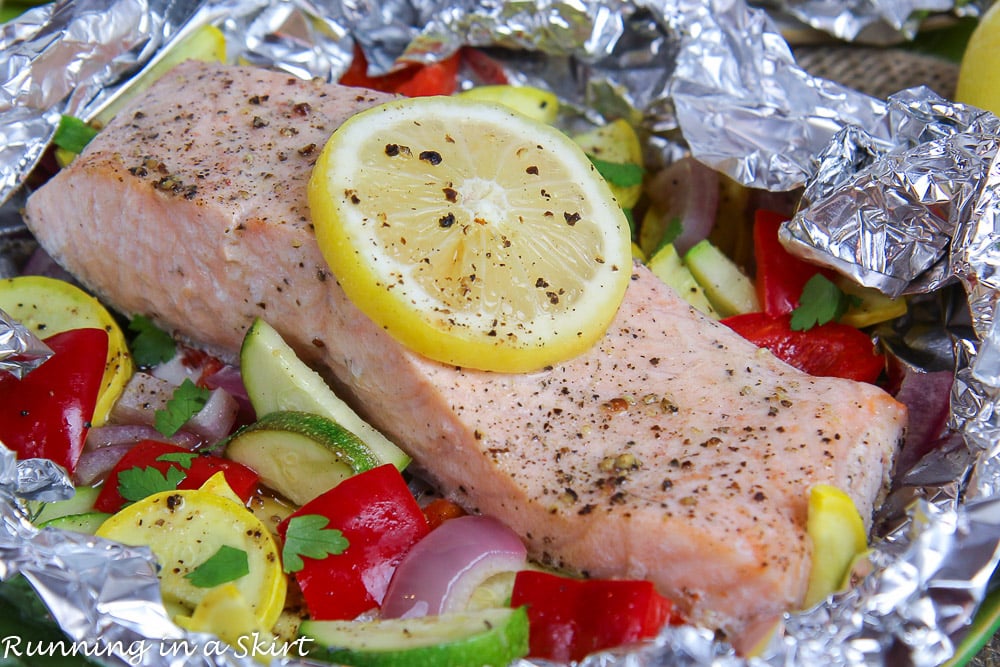 The best part about these Salmon Foil Packets with vegetables? No cleanup!!! You can toss the foil away after dinner and you don't have to scrub a pan.
Dinner could not be easier OR tastier. As always, give it a try and let me know what you think.
More easy salmon recipes...
Pin for later...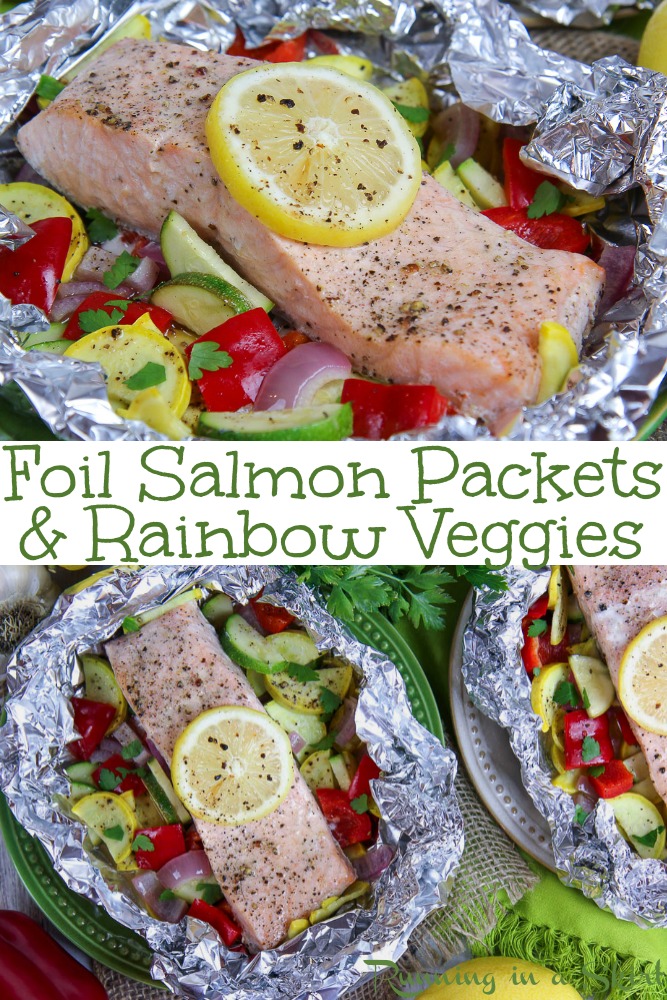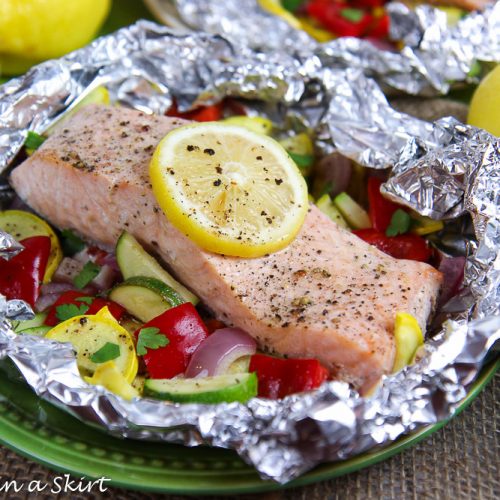 Salmon Foil Packets with vegetables
These Salmon Foil Packets with vegetables are perfect for a busy day! Use a rainbow of summer veggies for a delicious, healthy dinner in minutes.
Ingredients
2

salmon fillet pieces

,

½-3/4 pound

2

tablespoons

butter

1

lemon

1

small zucchini

,

halved and sliced

1

small yellow squash

,

halved and sliced

½

small red onion

,

sliced

1

small red pepper

,

chopped

salt and pepper
Instructions
Preheat the oven to 400 degrees.

In a microwave safe bowl, melt the butter in the microwave. Cut 2 thin slices from the lemon and squeeze the juice from the lemon into the butter.

Take a large piece of foil and put the vegetables in the middle. Place the fish on top. Brush both the vegetables and the fish. Generously salt and pepper both the fish and the vegetables.

Pull the sides of the foil up and fold together to make a tent. Fold in the sides of the foil in as well.

Cook for about 10 minutes or until the fish flakes. The thickness of your fish will determine your cooking time.
Notes
Cut the vegetables into even sized pieces so they will cook at the same time.
You can also grill these!
Nutrition
Calories:
339
kcal
Carbohydrates:
18
g
Protein:
26
g
Fat:
19
g
Saturated Fat:
8
g
Cholesterol:
92
mg
Sodium:
164
mg
Potassium:
1308
mg
Fiber:
5
g
Sugar:
10
g
Vitamin A:
2650
IU
Vitamin C:
141
mg
Calcium:
64
mg
Iron:
2
mg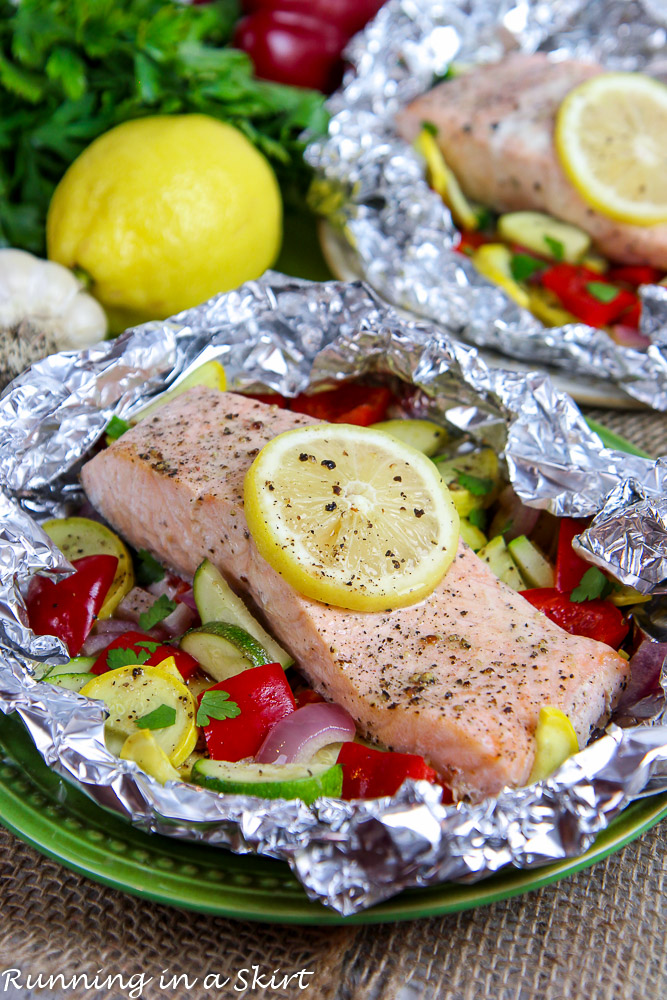 Your turn!
What is your favorite way to cook salmon?