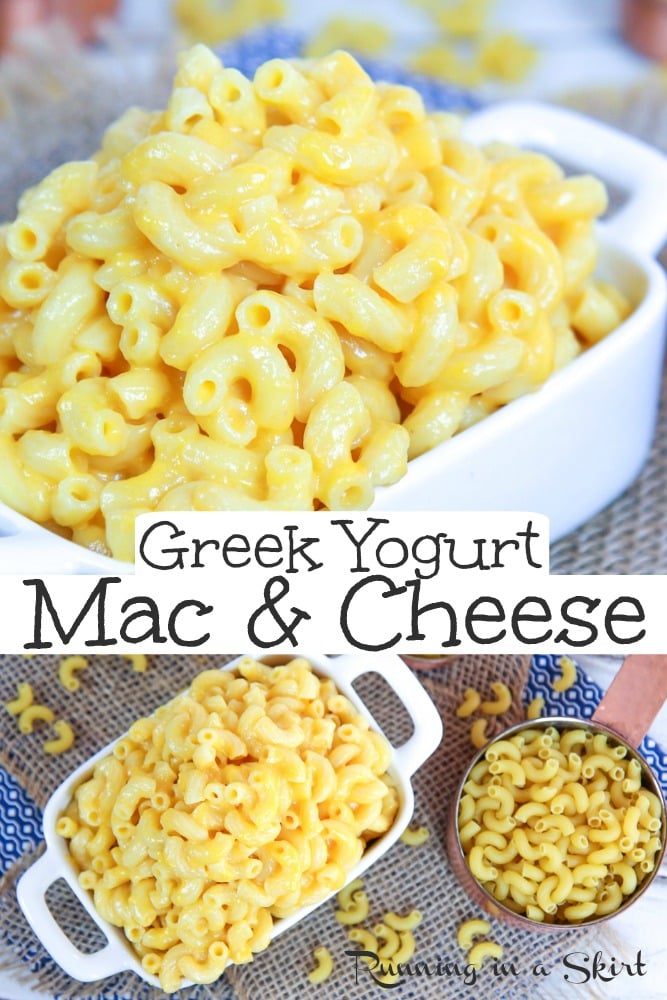 Creamy Greek Yogurt Mac & Cheese recipe: a healthy and low fat Mac and Cheese with greek yogurt, cheese, and a perfect spice blend. It's homemade in one pot and is so good everyone will want seconds. In fact, this is the BEST Healthy Mac & Cheese that's so easy to make you'll forget the Kraft box ever existed!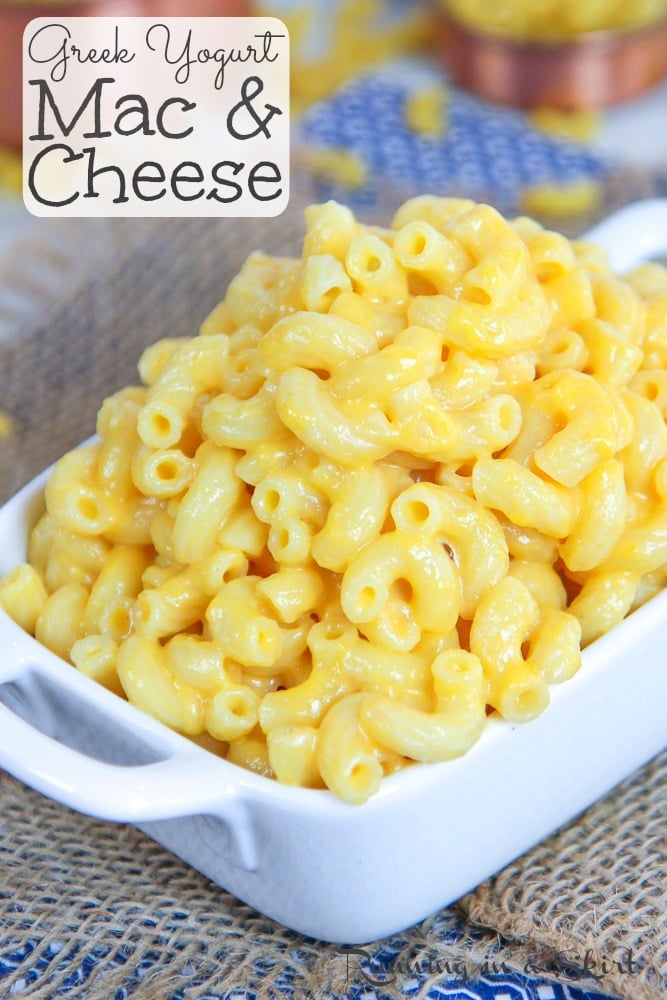 Creamy Greek Yogurt Mac and Cheese Recipe
Mac and Cheese. Just saying the words brings me all sorts of cozy feelings. It's not only my favorite comfort food... but America's comfort food as well. It's filling, comforting, and something that makes you feel so GOOD. My version is a deliciously CREAMY Greek Yogurt Mac and Cheese that is still surprisingly healthy, low fat, and low cal with a protein boost from the Greek Yogurt.
It's seriously creamy, cheesy, and with the perfect healthy spin. I added enough spices to the magic cheese sauce to make it taste like the real thing though.
I seriously think this Healthy Mac and Cheese might be one of my all-time favorites. Let's dive in!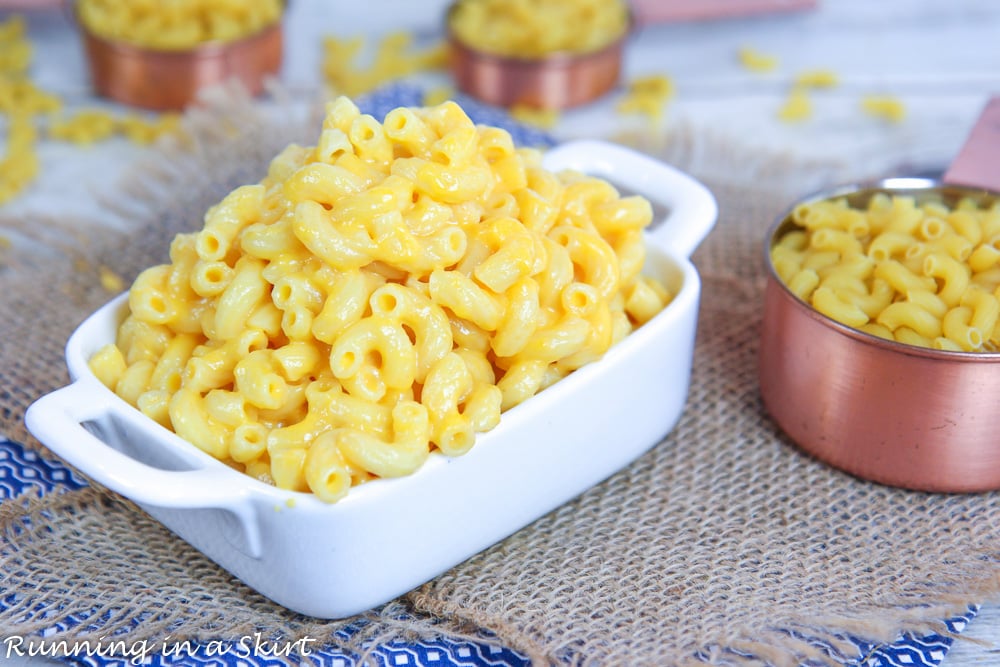 Why you'll love this Greek Yogurt Mac and Cheese...
I know making the box Mac and Cheese is easy. I honestly do it too in a pinch. BUT I swear if you keep the ingredients for this recipe around my version of the Healthy Creamy Greek Yogurt Mac and Cheese recipe can come together even faster than the Velveeta OR Kraft box. It's made in only one pot and takes less than 15 minutes from start to finish. The magic happens when you melt the cheese into the greek yogurt creating the PERFECT creamy sauce without all the full of making a roux or anything like that.
Isn't it crazy how rich that cheese sauce looks without all the work???

Ingredients in Greek Yogurt Mac & Cheese
My Greek Yogurt Mac & Cheese comes together with just a handful of ingredients and could not be easier or tastier.
Pasta: Buy your favorite kind but I love the classic macaroni noodle for this! For extra nutrition consider buying whole wheat or one with added protein.
Greek Yogurt: Pick a plain greek yogurt. For fewer calories pick a 0% or low fat but for a creamier final product pick 5% or whole milk.
Cheese: I like a quality sharp cheddar cheese for this to get that classic taste. You can pick low-fat or whole milk depending on your preferences.
Spices: Dried mustard and a touch of paprika give this the classic Mac & Cheese flavoring.
The only other ingredient is some of the pasta water you cook the noodles in. Pasta water has natural starches in it from the pasta that helps keep the sauce stay creamy and moist. It also helps the cheese melt without a fancy sauce.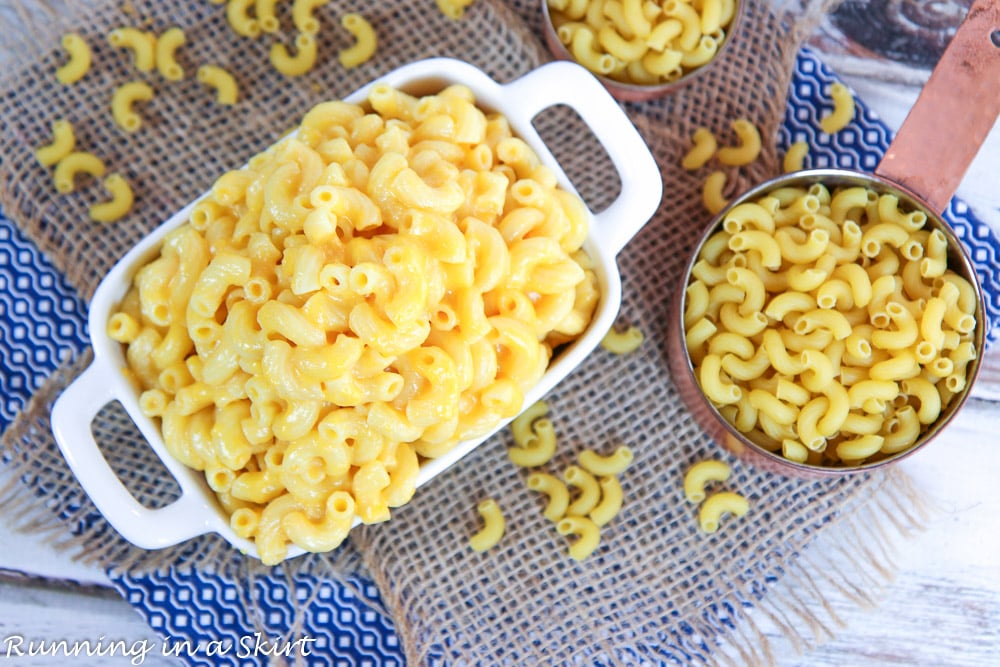 How to make creamy Greek Yogurt Mac and Cheese?
Are you wondering how to make creamy greek yogurt Mac and Cheese? It's surprisingly easy and here's a step-by-step guide!
Cook your pasta according to the directions on the box. Before you drain the noodles save ½ cup of the water the pasta was cooked in.
Drain the pasta and return it to the hot pot. Turn the burner off but leave the pot on the warm stove.
Add the greek yogurt, cheese, and spices to the pot. Add a couple of tablespoons of the pasta water. Stir until the cheese melts. If it seems a bit dry add a few more tablespoons of water. I usually end up adding about a ¼ cup.
Salt and pepper to taste.
It's that easy. Honesty I think it's just as simple as any box but so much healthier. I love knowing that I'm feeding my family something good.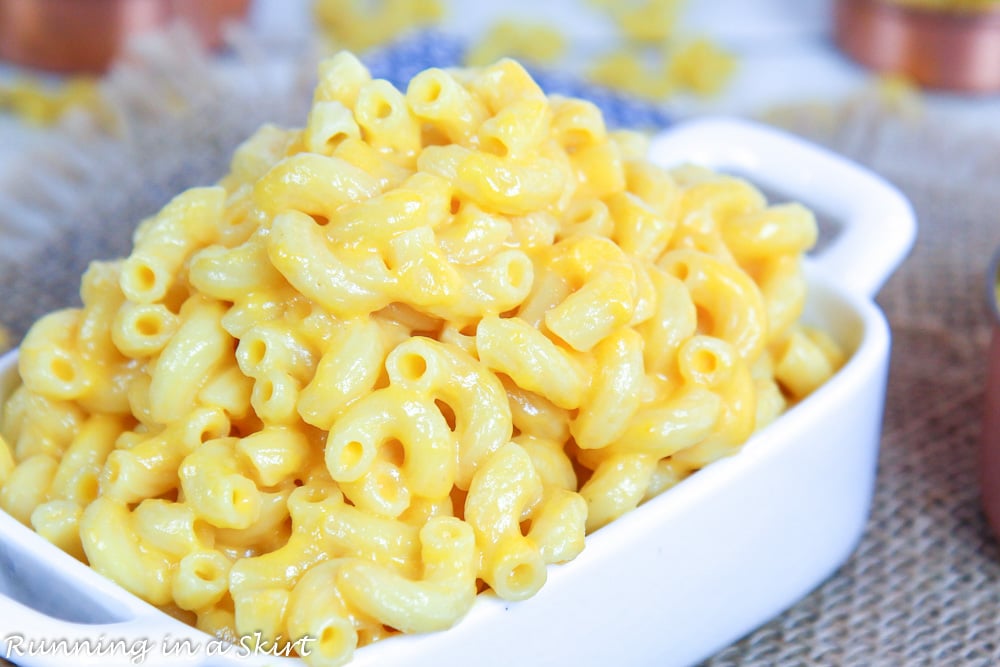 Variations on this Healthy Mac and Cheese
You can make your homemade and healthy Greek Yogurt Mac and Cheese super good for you with some of the products you make it with or a bit more indulgent. Here are low-cal, low-fat and gluten-free options.
You can pick plain pasta, whole wheat, or protein pasta. You can even make the dish gluten-free by picking a gluten-free pasta.
You can pick a higher fat yogurt for a more indulgent meal. A low fat yogurt will make a more low cal final product.
Same with your cheese! A whole milk cheese will make a creamier finished product.
I love the classic sharp cheddar cheese but you can mix up the type of cheese you use for different flavors! Gouda or mozzarella is a great one too.
For extra veggies stir in some spinach, kale, or even broccoli at the end.
Any way you make it the Greek Yogurt adds probiotics and protein!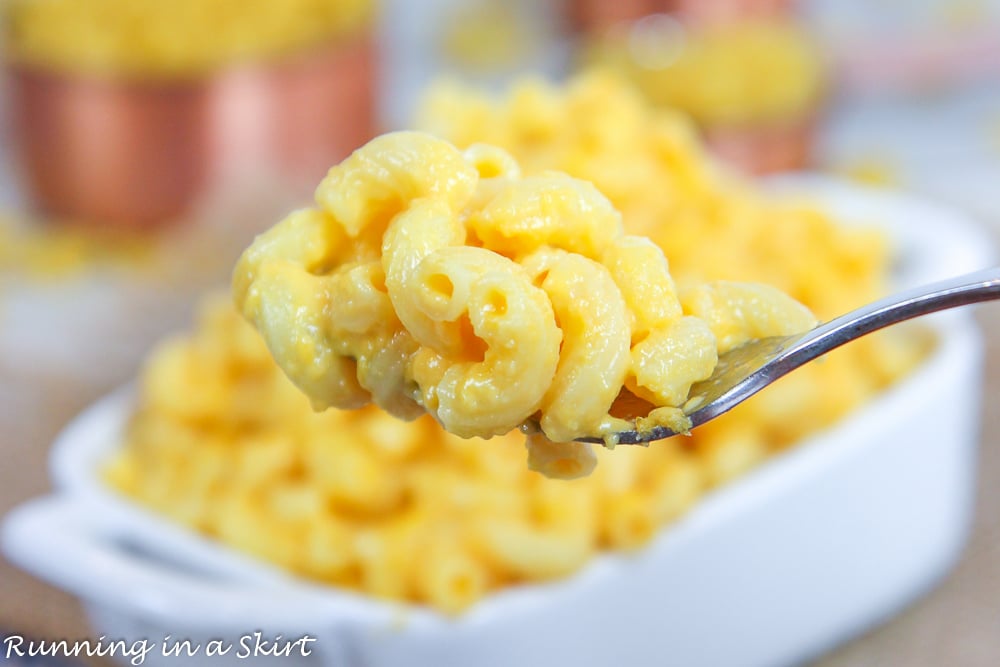 Low Fat Mac and Cheese With Greek Yogurt
To make a low fat Mac and Cheese with Greek Yogurt use the 0% greek yogurt and low fat cheese! If you are watching calories this is a great way to have your favorite comfort food without all the calories.
Can I use Greek Yogurt Instead of Milk in Mac and Cheese?
YES! This recipe uses no milk and greek yogurt instead. It allows you to get a creamy texture without making a traditional cheese sauce. It's pure magic.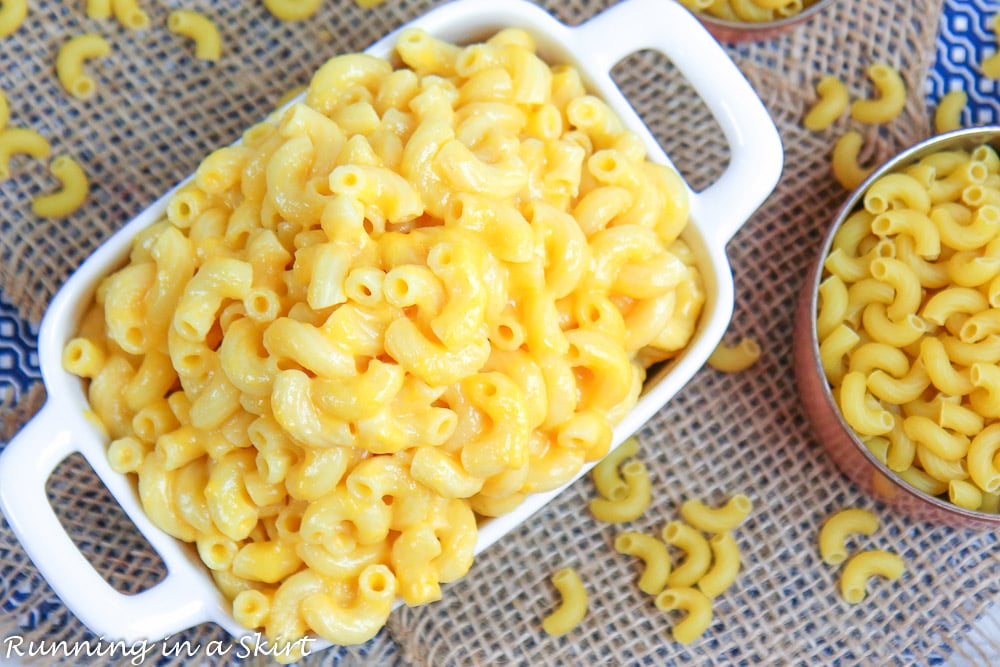 This is really a one-pot wonder! It is super easy to throw together after a run or on a busy day. The creamy Greek yogurt allows the cheese to melt perfectly without milk or even making a fancy sauce. It's such a fabulous shortcut.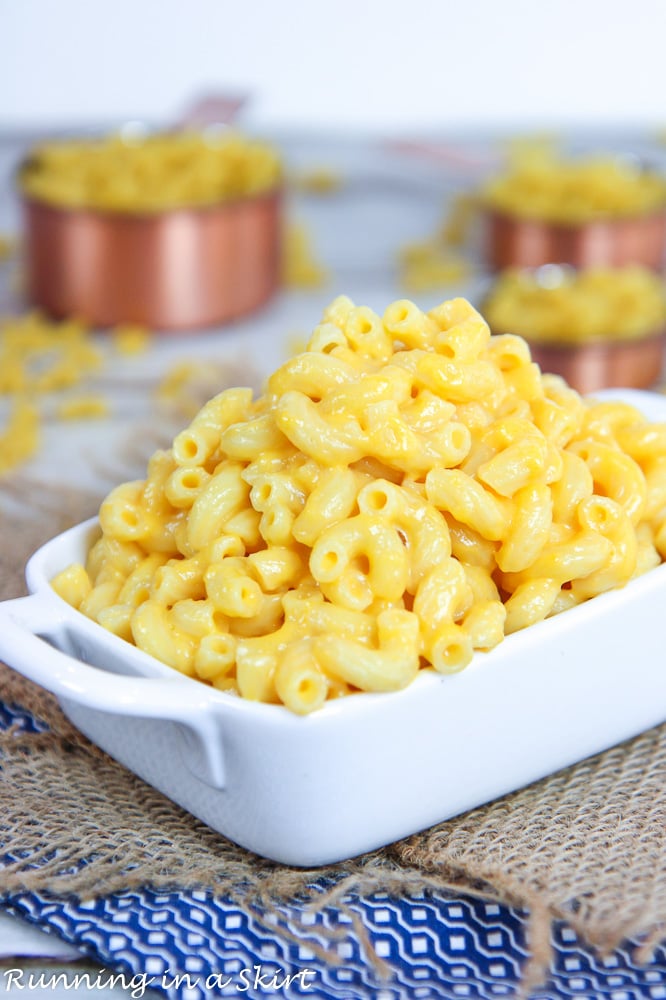 In fact, this Greek Yogurt Mac & Cheese might be the easiest Mac & Cheese you make... even as easy as the box with that questionable orange powder. But this tastes better than the box and is better for you. Just be careful with a delicious pot like this as it will be gone in no time. It's twin and hubby approved.
My family eats it all in one sitting so I wouldn't plan on having any leftovers! If you do though it reheats well in the microwave.
Love healthy pasta recipes? Also try...
If you make this recipe, I'd love to hear what you think! Leave a comment and a star rating ★ below. Make sure to follow me on Instagram, Pinterest, and Facebook too!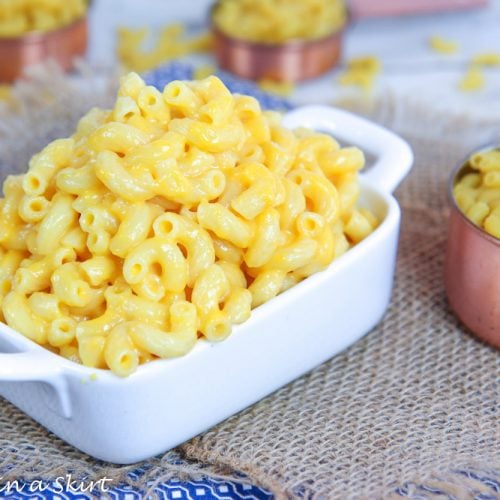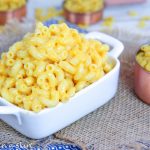 Greek Yogurt Mac and Cheese
This Greek Yogurt Mac and Cheese is easy, super tasty and surprisingly healthy for you! Look no further for the perfect Low Fat Mac and Cheese with Greek Yogurt.
Instructions
Cook the pasta according to package directions. Drain and reserve ½ cup of the water you cooked the pasta in for the sauce. Do not rinse the pasta.

Turn off the burner and return the pasta to the warm pot, and add the cheese, greek yogurt. Add a few tablespoons of the reserved pasta water. Stir until the cheese melts and the pasta is coated. Add a few more tablespoons of the pasta water as needed until you get the right consistency.

Stir in the salt, pepper and spices. Adjust to taste.
Notes
This recipe can be super healthy with whole-wheat pasta, low-fat cheese and 0% low-fat Greek yogurt. This skinny variation works well and tastes great. To make it super creamy, use at least 2% Greek yogurt and regular cheddar cheese.
Nutrition
Calories:
380
kcal
Carbohydrates:
55
g
Protein:
26
g
Fat:
6
g
Saturated Fat:
3
g
Cholesterol:
14
mg
Sodium:
363
mg
Potassium:
194
mg
Fiber:
2
g
Sugar:
3
g
Vitamin A:
195
IU
Calcium:
283
mg
Iron:
1
mg
Pin for later...