Comfort food just got a makeover with my Cauliflower Mac & Cheese recipe!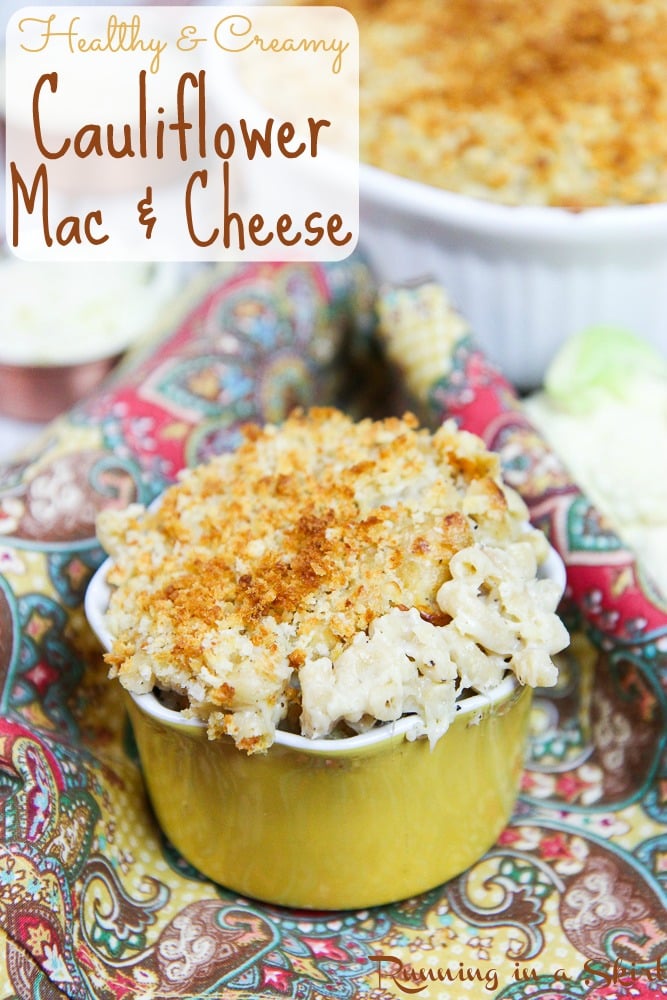 Hello! Hello!
Mac & Cheese is my ultimate comfort food vice. I like the southern baked kind, the creamy saucy kind and really even the kind right out of the box. I'm a first class, equal opportunity Mac & Cheese lover. There is not a kind I don't like! Unless you sneak bacon or ham in it... that's not fair!
Now as much as I love it, I know it's not the best for me so I do try to eat it in moderation OR eat my new made over Cauliflower Mac & Cheese recipe!
What if I told you there was an entire head of cauliflower snuck in there?!? <---Three CHEERS for veggies!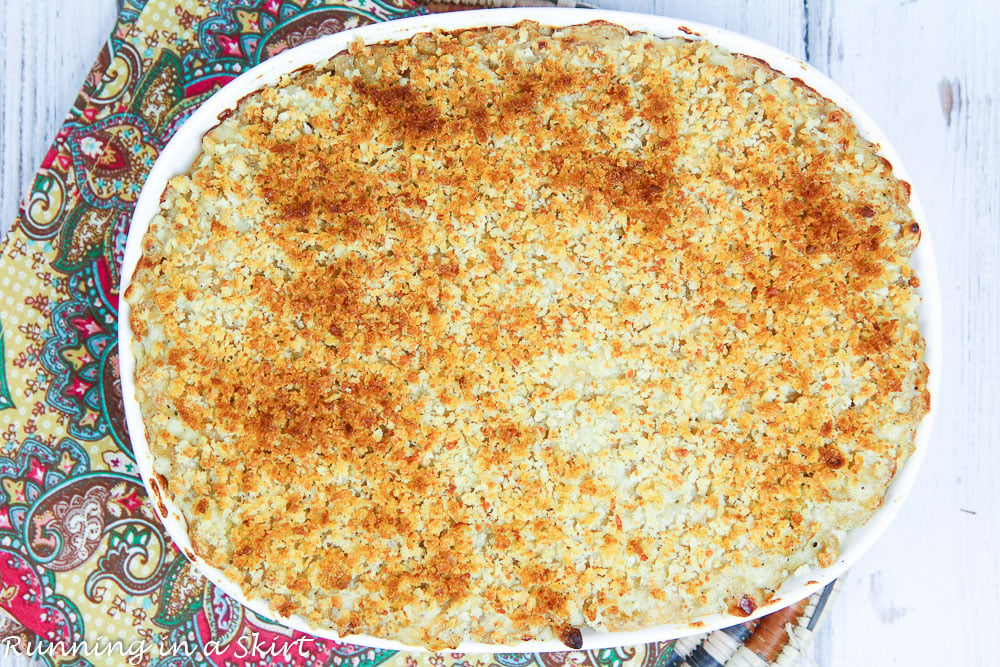 And that the cauliflower doesn't take away from the cheeeeeeesssiiii-ness... it really just adds to it? FOR REAL, friends.
I mean look at that bite! I can't even think with that kind of cheese on the table.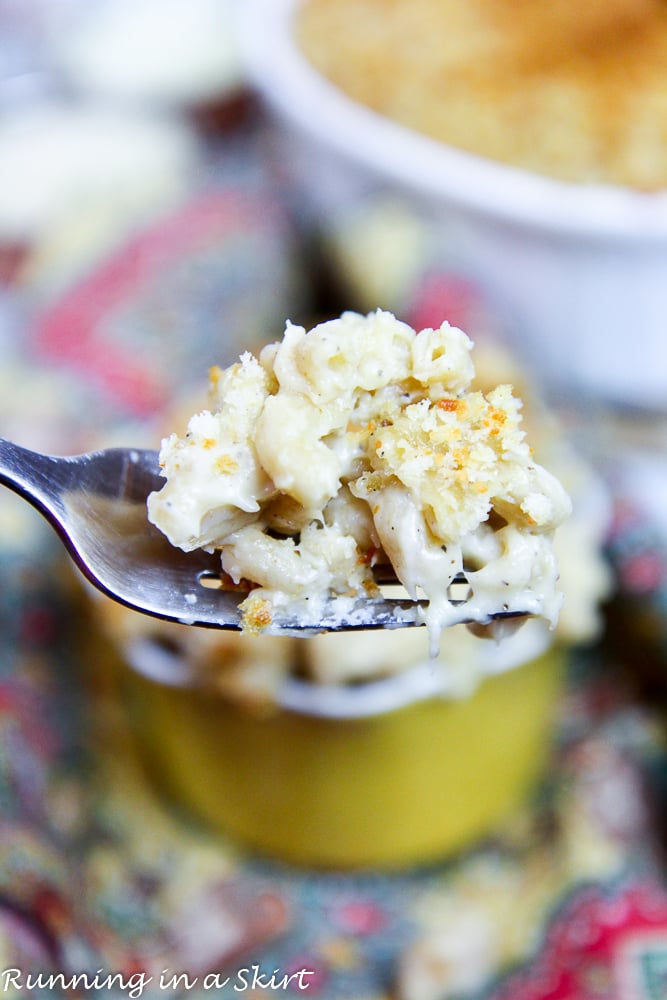 This Cauliflower Mac & Cheese recipe is really pretty simple. Turns out the cauliflower puree is actually the perfect way to combine the cheese into a sauce without having to use butter or flour. You just steam cauliflower, puree it and then melt the cheese into it. It melts right in wonderfully!
I top the casserole with panko and a little parmesan to get that golden brown color. We do eat with our eyes after all.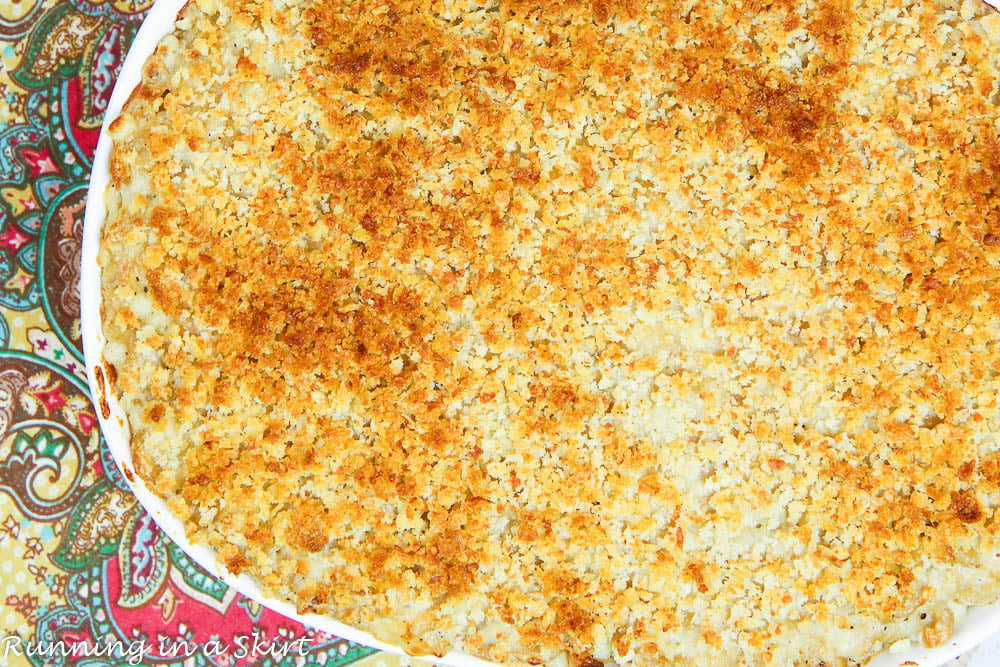 Underneath that perfectly crispy shell, the Cauliflower Mac & Cheese recipe is so flavorful. The addition of good sharp cheddar cheese and traditional Mac & Cheese spices keep you from even tasting it. I suspect you'd even be able to trick the kids and hubby with this one... just sayin!
You can bake it in a larger casserole dish or small individual ones.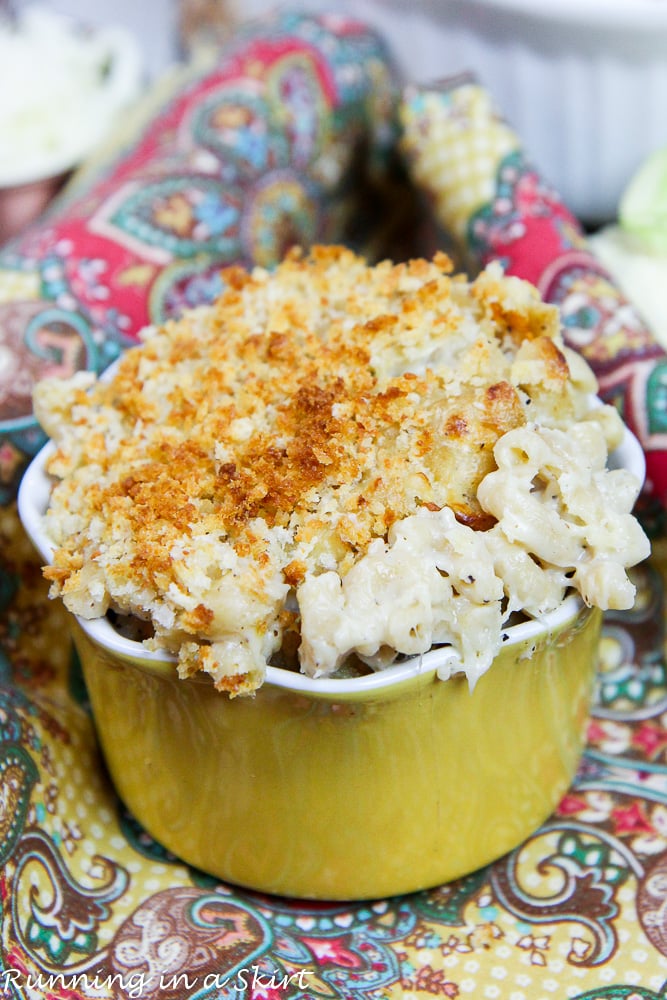 Either way, my Cauliflower Mac & Cheese recipe has got to go the top of your must-try list now! It's the kind of recipe you'll make again and again.
And we all can rejoice for enjoying healthy comfort food with a twist!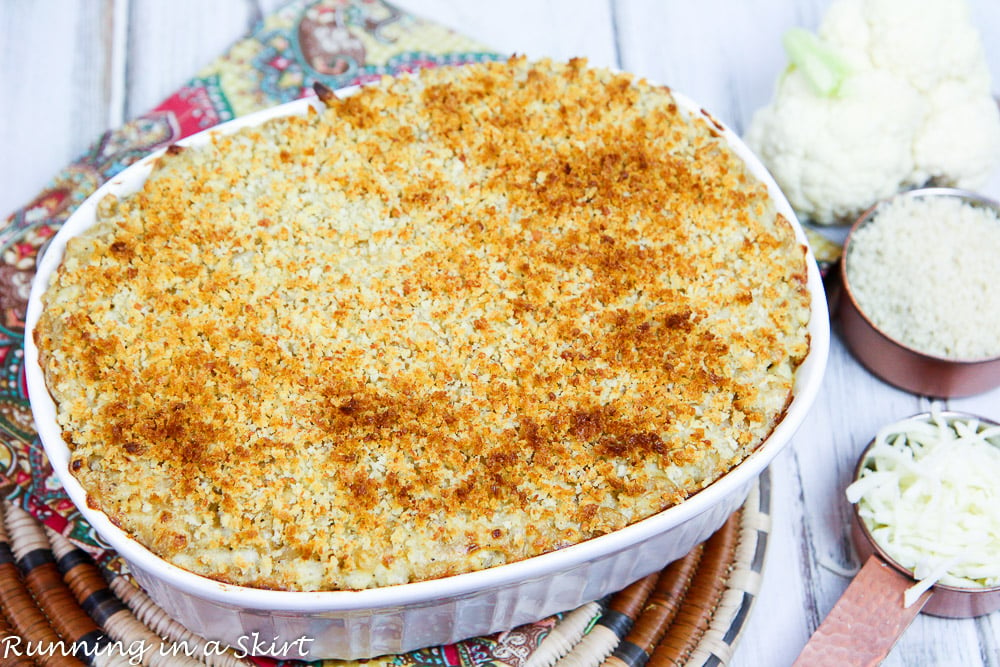 I hope you enjoy this and as always let me know what you think!
Like it? Find this recipe later by pinning this to a favorite Pinterest board! Thank you so much for the support.


Healthier Mac & Cheese- yes! Hidden Veggie Creamy Cauliflower Mac & Cheese #recipe #healthy
Click To Tweet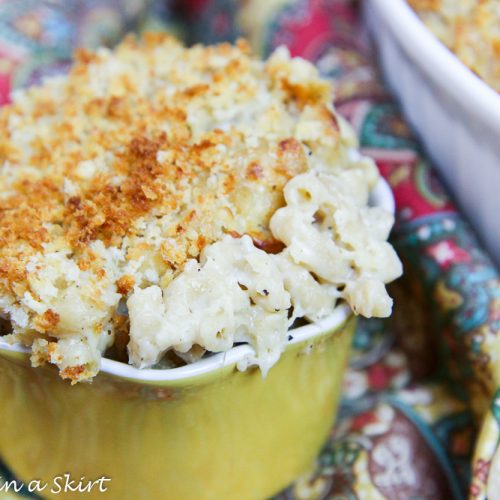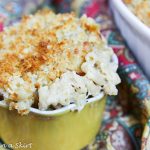 Creamy Cauliflower Mac & Cheese
Cauliflower Mac & Cheese is healthier, but still super creamy! Uses an entire head of hidden veggie cauliflower puree.
Instructions
Preheat the oven to 450 degrees.

Steam the cauliflower in a steam basket until very tender.

While the cauliflower is steaming cook the pasta in a large pot with salted water 1 minute less than the box instructions. It will be just slightly al dente and will continue to cook in the oven. Drain and set aside.

Using a blender or food processor, mix the cauliflower and milk until it's a smooth puree. Make sure there are no clumps.

Put the cauliflower puree back in your large pot. Heat to medium low heat. Start adding the cheese one handful at a time and stir until it melts. Also add the garlic powder, mustard powder, nutmeg, salt and pepper.

Once the cheese is all melted, add the macaroni back into the pot. Stir until well combined. Taste and adjust seasonings / salt/pepper to taste. Pour the entire mixture into a casserole dish.

In a small bowl mix the panko, parmesan and olive oil together. Evenly spread the bread crumb mixture on top of the casserole.

Bake in oven 15-20 minutes or until golden brown.
Nutrition
Calories:
428
kcal
Carbohydrates:
75
g
Protein:
28
g
Fat:
4
g
Saturated Fat:
1
g
Trans Fat:
1
g
Cholesterol:
11
mg
Sodium:
976
mg
Potassium:
692
mg
Fiber:
2
g
Sugar:
10
g
Vitamin A:
887
IU
Vitamin C:
46
mg
Calcium:
519
mg
Iron:
4
mg
Thanks for stopping by today! Tomorrow is Fashion Friday and I have a new look to share.
Your turn!
What's your favorite comfort food?