Happy Fashion Friday!
As you are reading this I'm getting ready to get on a plane to visit my best friend in DC for the weekend! I'll try to share some on Instagram stories through the weekend so make sure to follow along. My high school friend Rebecca is also meeting me there, so it should be a blast.
This week has gone by in a blink, which always seems to happen when travel is on the horizon. Have you been following along with Running in a Skirt this week?
Let's talk fashion... shall we? With all the unseasonably warm weather this year it feels like we are making a jump straight to spring. In fact, I've already been able to wear some of my transitional outfits and it's been nothing short of glorious. Give me spring and summer clothes any day over fussy winter clothes any day :-).
One new outfit I've picked up for this transitional period is this adorable casual look. It's perfect to wear doing errands around town, a casual Saturday morning or even traveling. It's a refreshing look after all those winter wears!
And YES that hoodie is absolutely long enough to be a tunic to wear over leggings without worrying about anything that shouldn't be seen showin'!
Can I get a woop! woop!??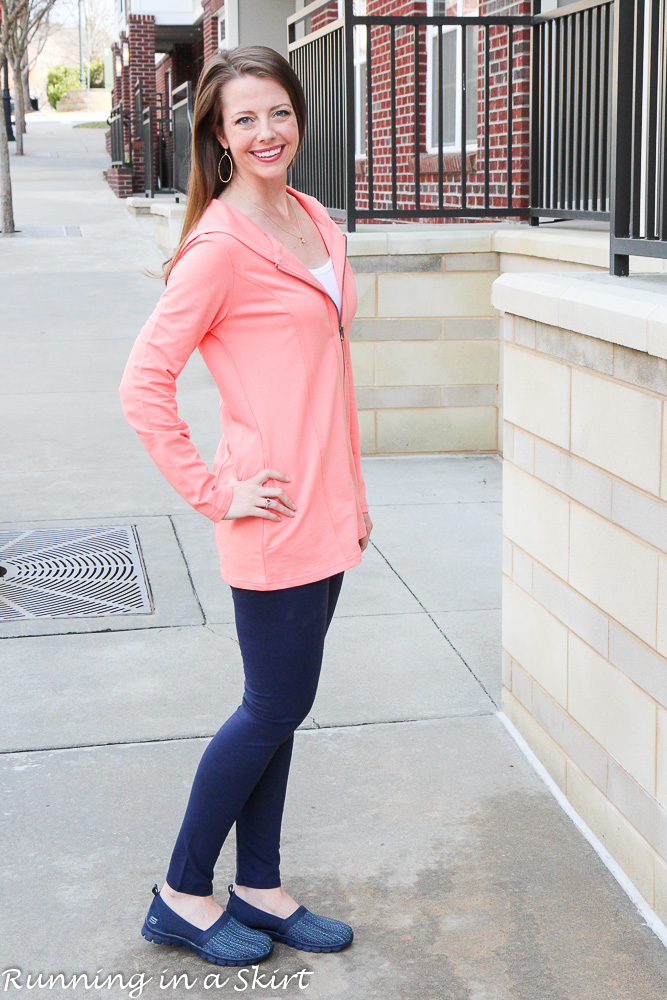 I got this outfit from Chadwicks of Boston! They are the ones who send those lovely catalogs with all kinds of super wearable and affordable clothes... including great work and casual pieces like this one. You can also easily order their items online or in the catalog.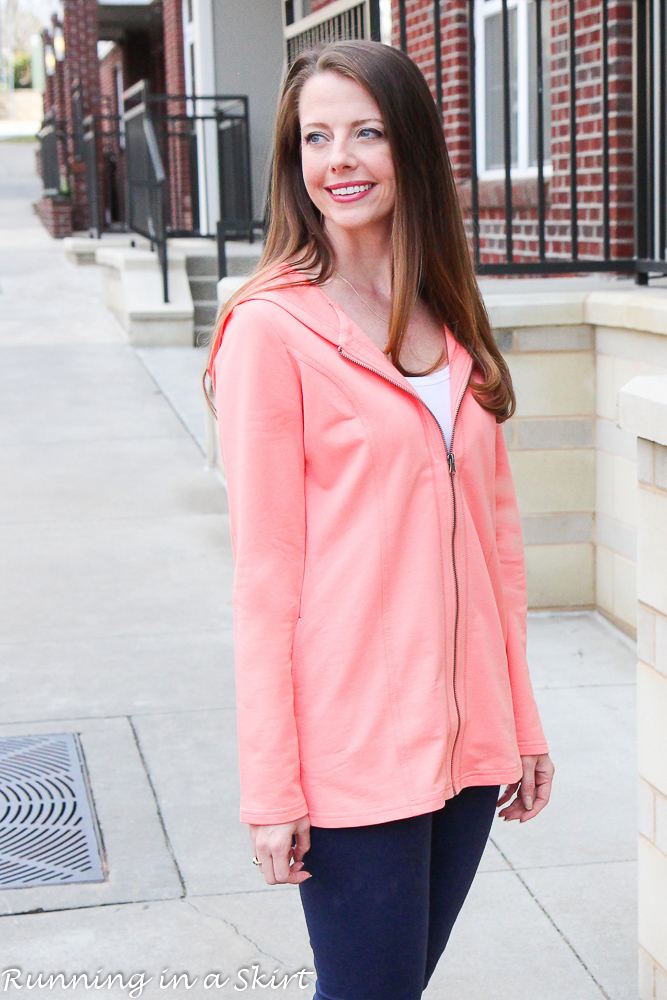 It had been a while since I had ordered anything from Chadwicks of Boston, but I'm so glad I did. The quality and affordability of these pieces are impeccable!
With this outfit the cotton is super thick and soft. So many things I buy lately seem to fall apart after a few washes and these pieces feel like much better quality. The navy leggings are thick with a super flattering thick and high waist band. And the Sketchers Slip-On tennies are super cushy! You can easily get everything you need to get done in a day without your feet hurting.
The peachy-pink hoodie is great for early spring, but it also comes in a variety of pretty colors perfect for your personality.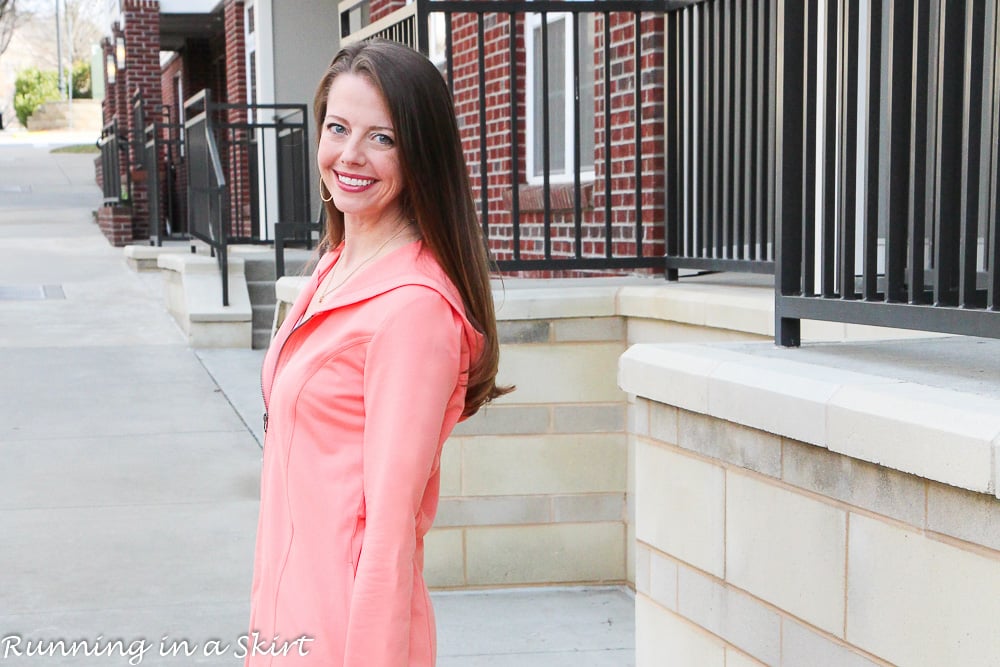 One of my favorite things about Chadwicks of Boston is many of their garments come in LONG lengths. I'm just on the taller side of average (5'8") and I can't tell you how many things I have wear the sleeves or pants legs aren't long enough. They also carry petite sizes too!
For once my leggings go ALL the way to the bottom of my ankle. This is a BIG deal in my world!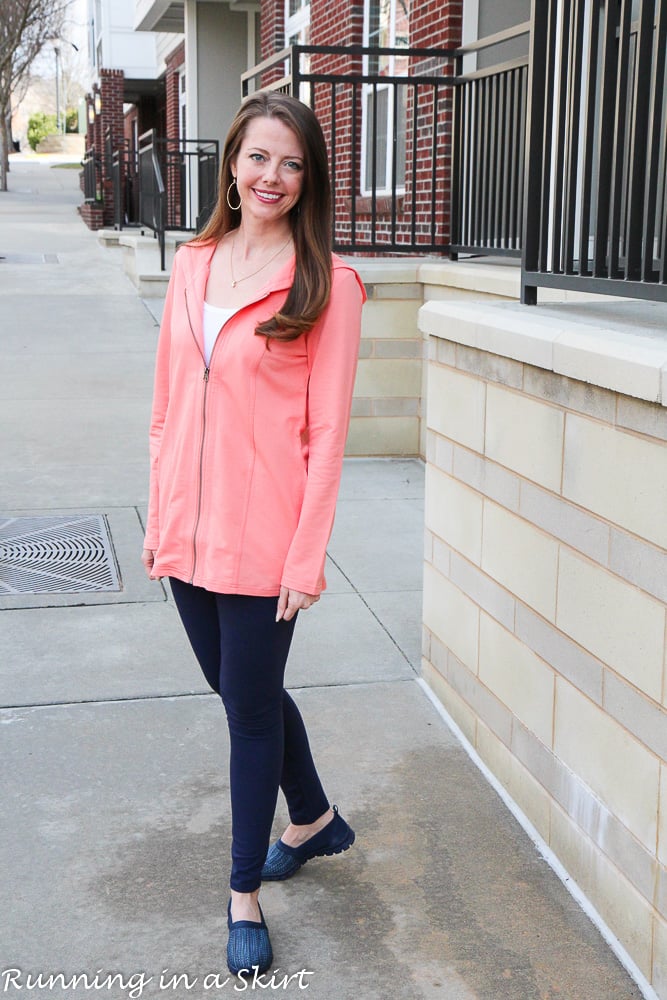 I love getting dressed up, but I'm also a fan of looking put together even when you're just running around. This is THE outfit to do that with. It looks put together without really trying... which is a total win in my book!
Have a beautiful weekend, dear readers! As always I'd love to hear what you are up to this weekend in the comments.
Shop the Look:
Chadwicks of Boston French Terry Hooded Tunic
Chadwicks of Boston Navy Leggings
Slip-on Sneakers by Sketchers from Chadwicks of Boston
Chadwicks of Boston also has some beautiful and affordable professional clothes, dresses and trendy outfits. Before you order, make sure to check Chadwicks of Boston's new fit guidelines! Even with the change, it's still the same trusted brand you know and love.
So nice to see you today. Have a great weekend and come back Monday for Things I'm Loving Lately!
I'd like to thank Chadwicks of Boston for bringing this post to you today. Thank you for supporting posts like this that allow me to publish Running in a Skirt daily! Disclousre: I am participating in a compensated campaign with this brand. The styling a written words are my own. AD
I'm linking up with: Nicole for the Fit and Fashionable, Jolynne Shane for Fashion Friday, Turning Heads Tuesday. Thank you so much for the lovely linkup ladies
Your turn!
What are you doing this weekend?