When bad weather hits, be ready to crush your workout indoors with the best treadmill workouts!
I'd like to thank Horizon Fitness for sponsoring this post about the best treadmill workouts. Thank you for supporting posts like this that allow me to publish Running in a Skirt daily. As always, all opinions are my own and I only write about products I love and think you will enjoy hearing about.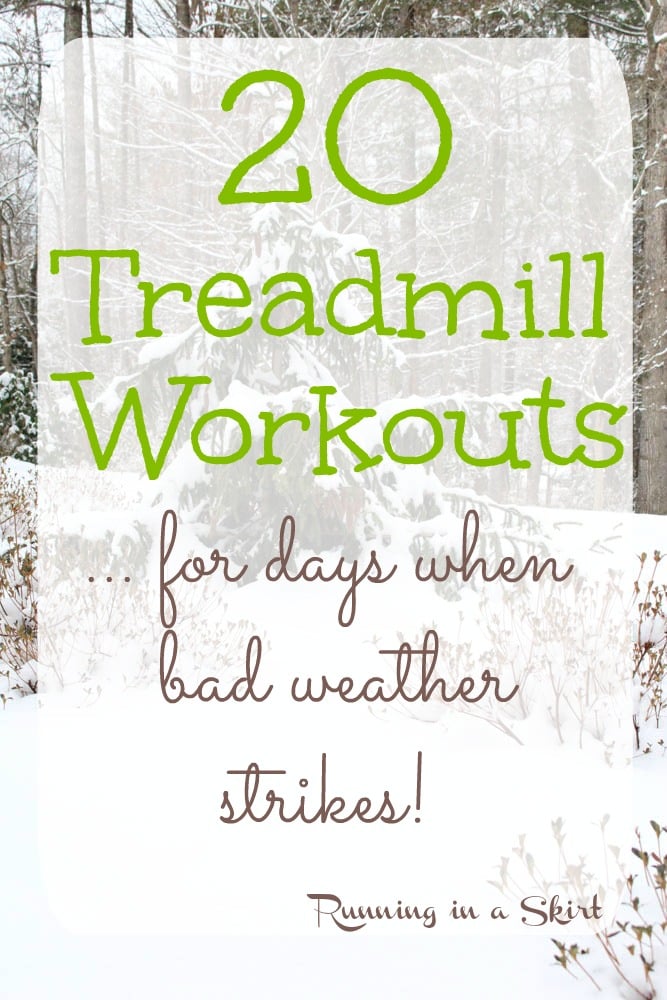 Hi everyone!
I feel like I'm channeling my former weather girl self with the title of this post! Can't you just see the tv promo??--->
When bad weather strikes.. what do you do??!! These super fancy treadmill workouts... duh! duh! duh!
Sorry, that was BAD! Regardless, I've gathered some of the best treadmill workouts on the interwebs from my favorite bloggers! And of course thrown in a few of my own too. Think you hate the mill? Try my 5 Ways to Make Running on the Treadmill Easier!
Before I get to the best treadmill workouts, I also wanted to point out that I believe that the treadmill can be a great training tool. I feel like it can be an effective way to get in speed work or tempo runs that you are having trouble hitting yourself. You can use the treadmill to get your legs used to a faster speed and then take that movement outside. I have even used the treadmill as a tool to hit my 5K PR. I believe there is a time and place for good quality indoor workout equipment. It can make you a more well rounded athlete!
I've been running on my trusty Horizon Fitness Treadmill for over six years now. I tend to run on it more often in the cold months, because well... I really dislike the cold... but it is something I am on year round!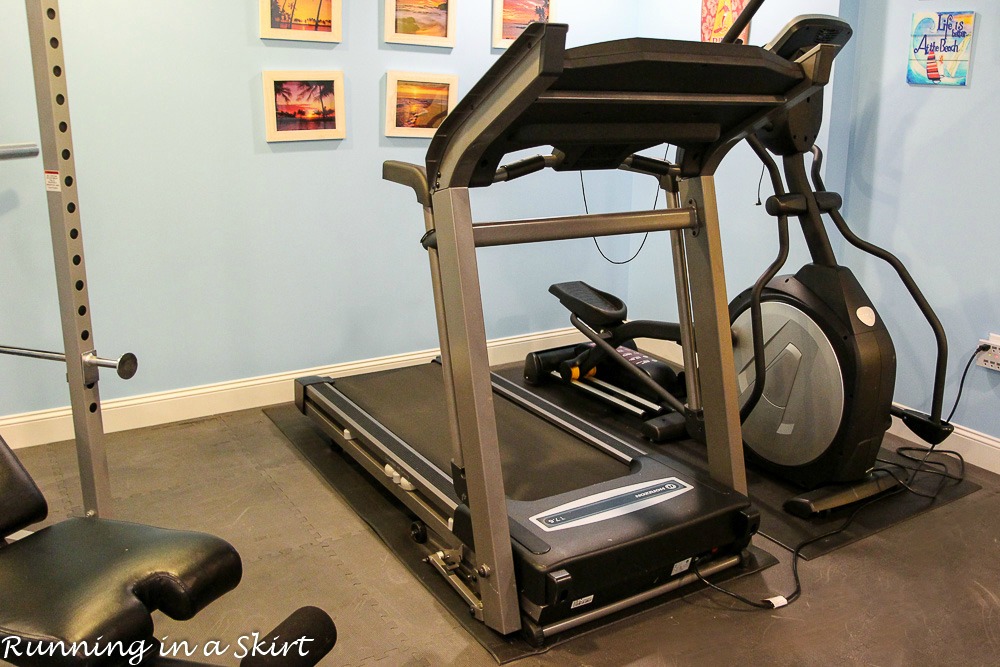 My Horizon Fitness treadmill has gotten me through everything from working on a comeback and rebounding from sinus surgery, hitting PR's and even training for marathon.
I remember one monsoon rainy Saturday morning during my marathon training cycle where I ran 17 miles on it. Needless to say, I feel very close to that machine and it's gotten some serious wear and tear! lol! I've even been known to say it's my favorite "thing" I've ever bought. (Makena even loves it!)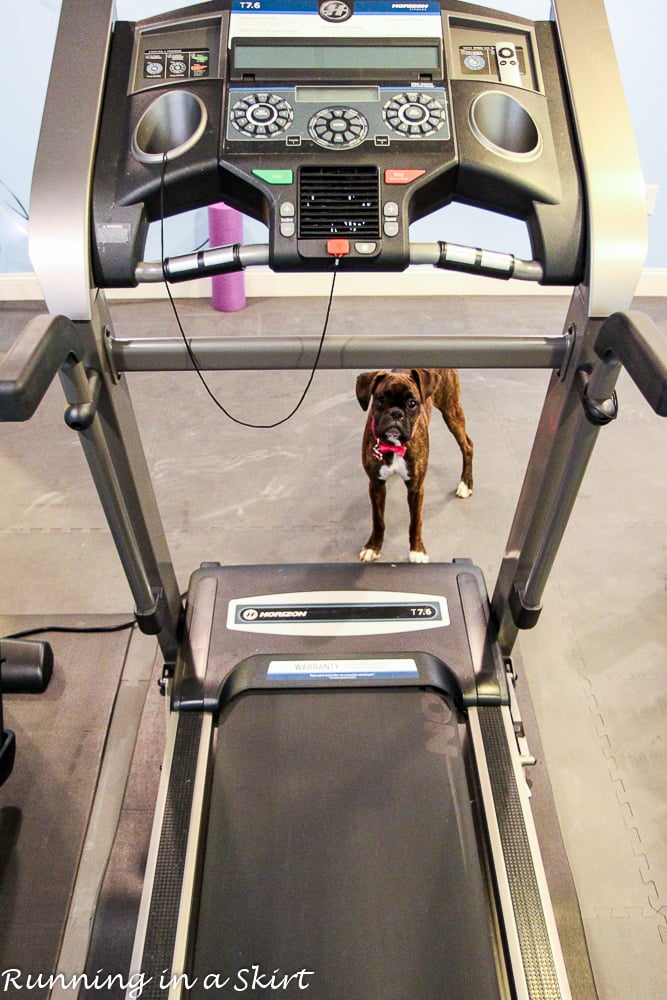 Horizon Fitness also makes some pretty legit ellipticals, exercise bikes and even rowers, making cross training super simple. Isn't this bike lovely? I'm totally crushing on it!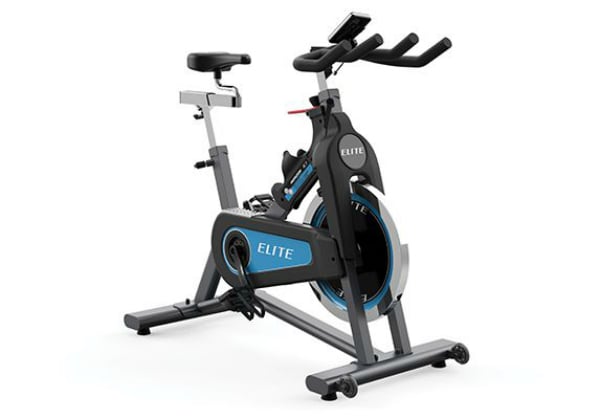 My Horizon Fitness treadmill folds up with their "Featherlight" technology which means it's a breeze to fold up. The new machines do the same thing. Isn't it a beaut?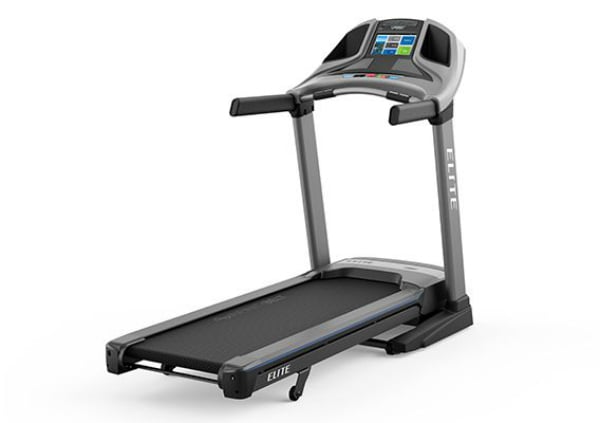 They are designed to specially fit the body, so you can move naturally while working out. If you are in the market for quality equipment to put in your home, start here.
It's time. Start falling in love with the treadmill and bad weather or not... give some of these best treadmill workouts a try!
The Best Treadmill Workouts
Basics
Warm-Up Treadmill Workout, Physical Kitchness
25 Minute Power Walking Workout, A Lady Goes West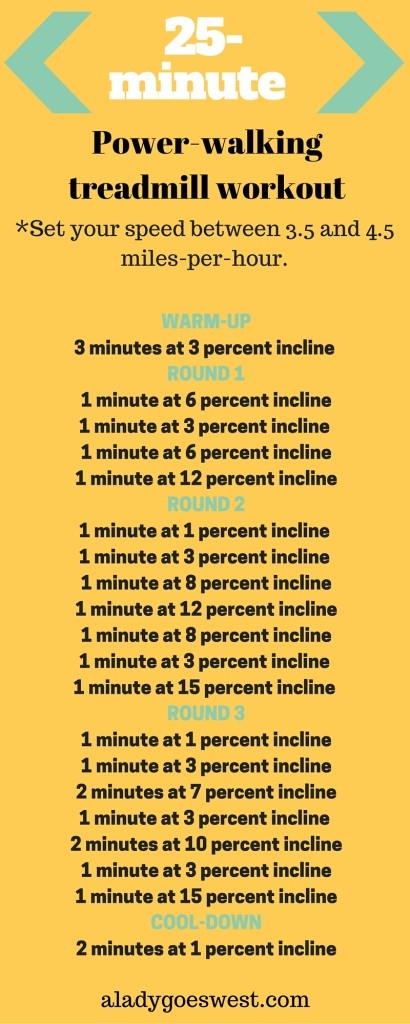 Running Hills Treadmill Workout, Suzlyfe
Back to Running Workout, Lunging Through Life
Intermediate
Rise and Shine 20 Minute Treadmill Interval Workout, A Lady Goes West
Progressive Treadmill Workout, Running in a Skirt

5K Interval Series, Eat the Grains
Let's Get Speedy Treadmill Workout, Running in a Skirt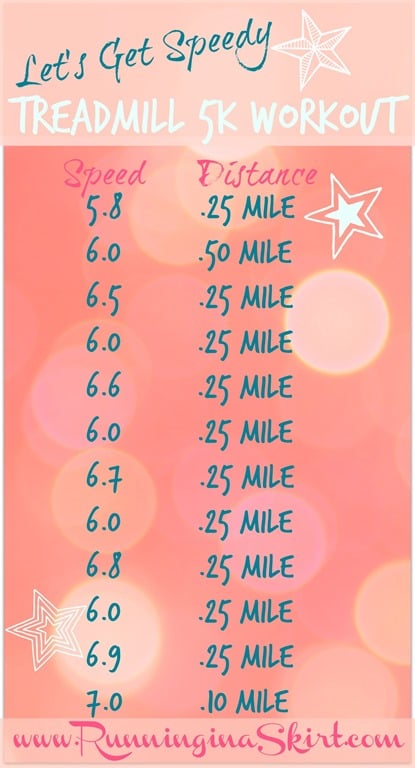 Treadmill Speed Workout, Kristin Longacre
Need for Speed Treadmill Workout, FitFulFocus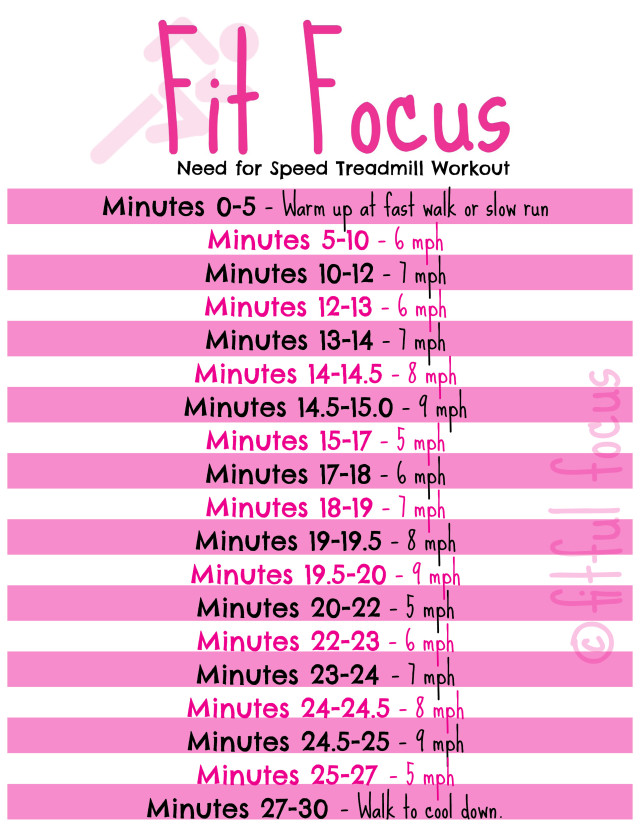 30 Minute Tone and Burn Treadmill Workout, Jill Conyers
Interval Treadmill Workout, Sweet and Strong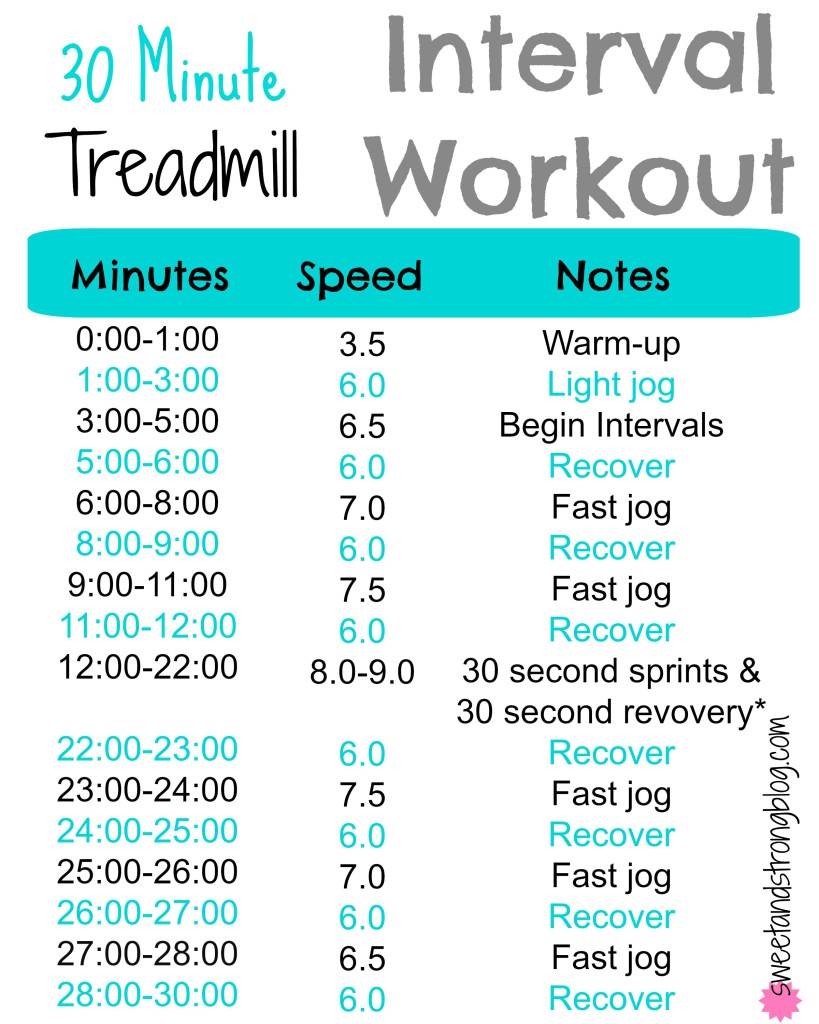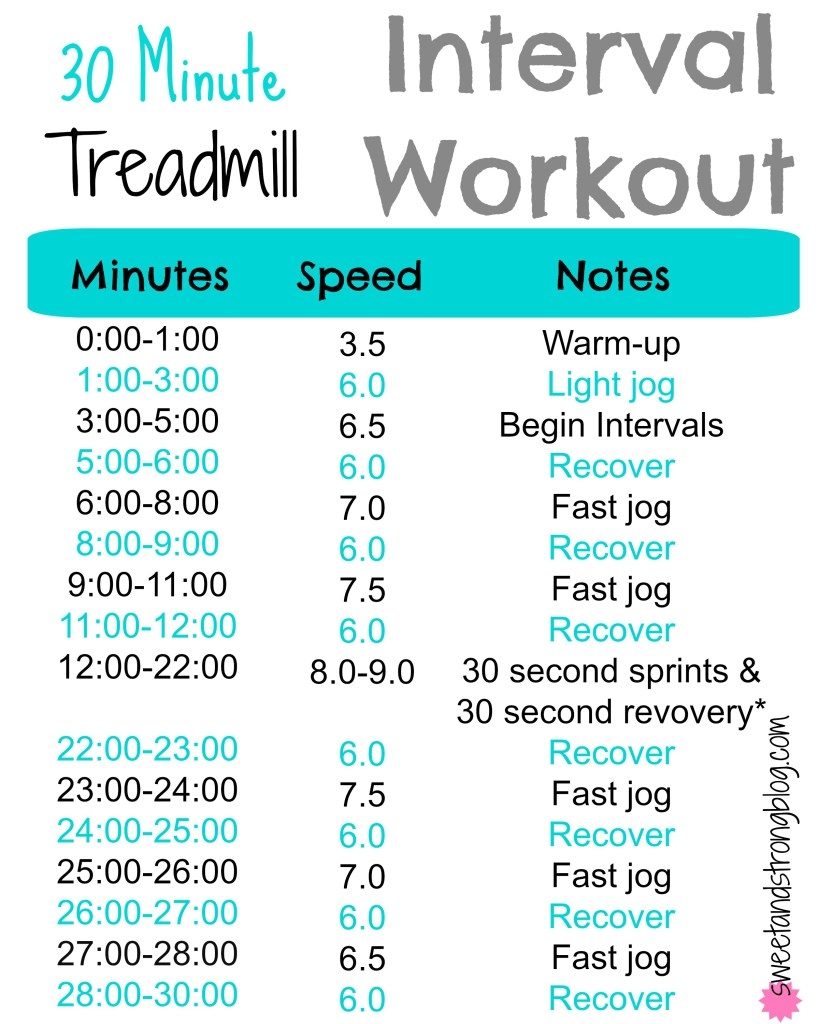 Make it Count Treadmill Workout, Lunging Through Life
Treadmill Pyramid Interval Workout, Coach Debbie Runs
Advanced
Incline Strength Workout, Vita Train for Life
60 Minute Treadmill Fartlek Run, This Runner's Recipes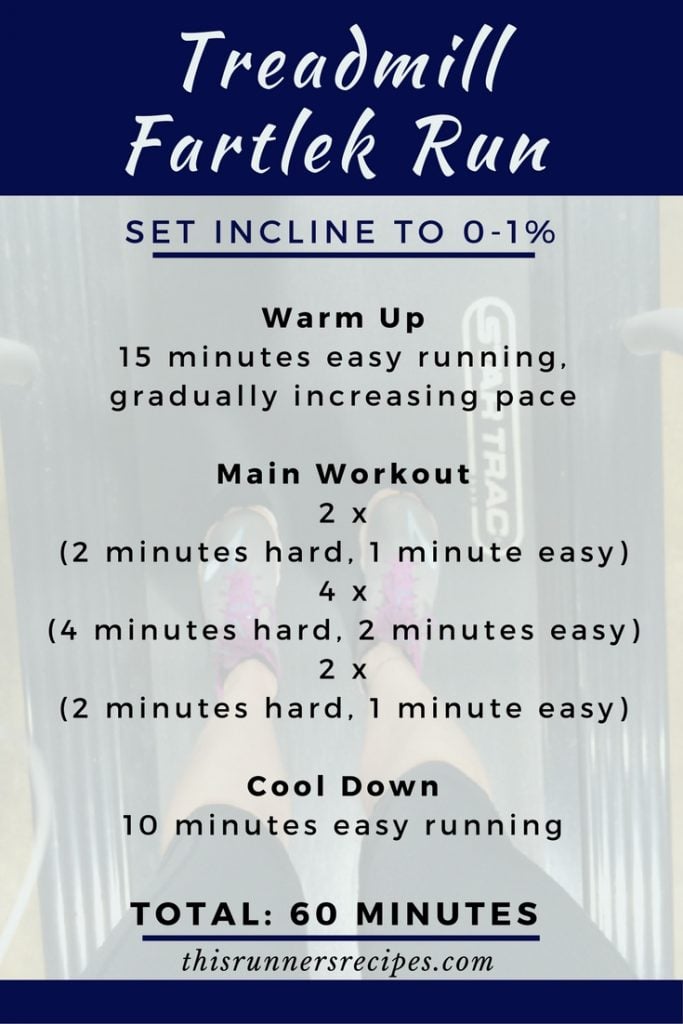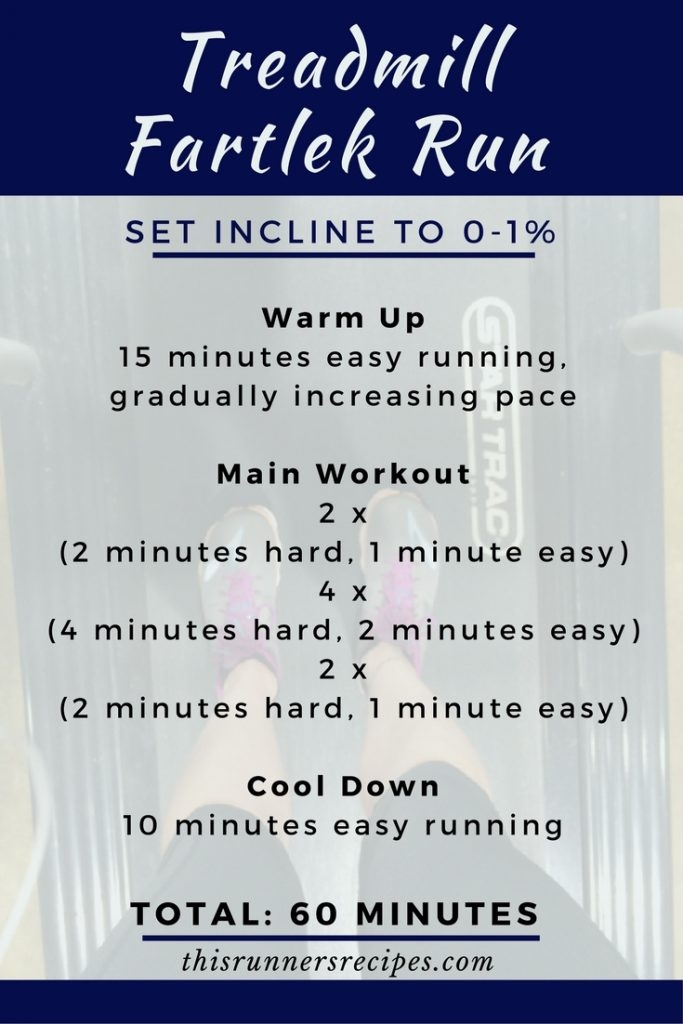 Treadmill Workout Guaranteed to Make You Sweat, Fine Fit Day
40 Minute HIIT Treadmill Workout, Lunging Through Life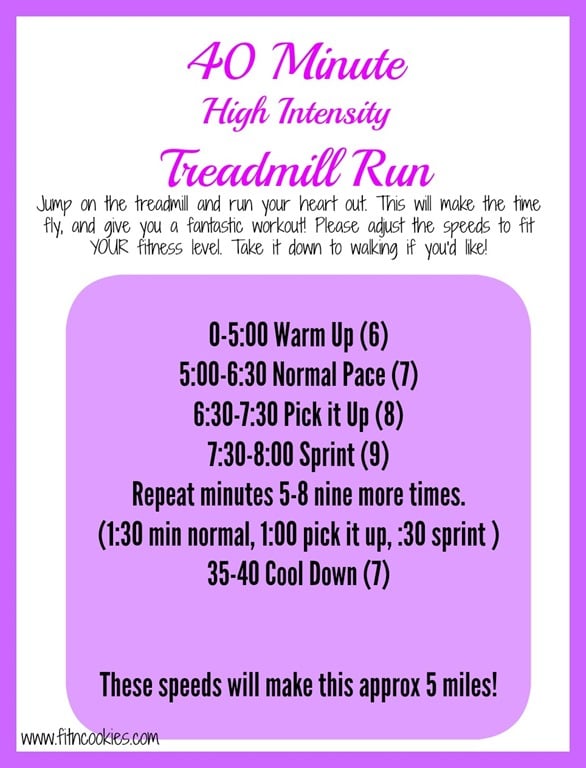 Tone and Burn with Strength and Cardio, Jill Conyers
Balls to the Walls Treadmill Workout, Kerri's Fit Kitchen
Which Treadmill to Buy?
Don't forget to look at Horizon Fitness machines, and specifically treadmills to finish off your own home gym. As I mentioned above, my Horizon Fitness treadmill is one of my favorite things I have ever bought. It makes working out a home a cinch and gives me no excuses to not get my run in. If you buy directly from Horizon, you buy directly from the manufacturer so you can rest assured you're getting a dependable machine for the best value.
Want to find these later? Pin this to your favorite Pinterest Board!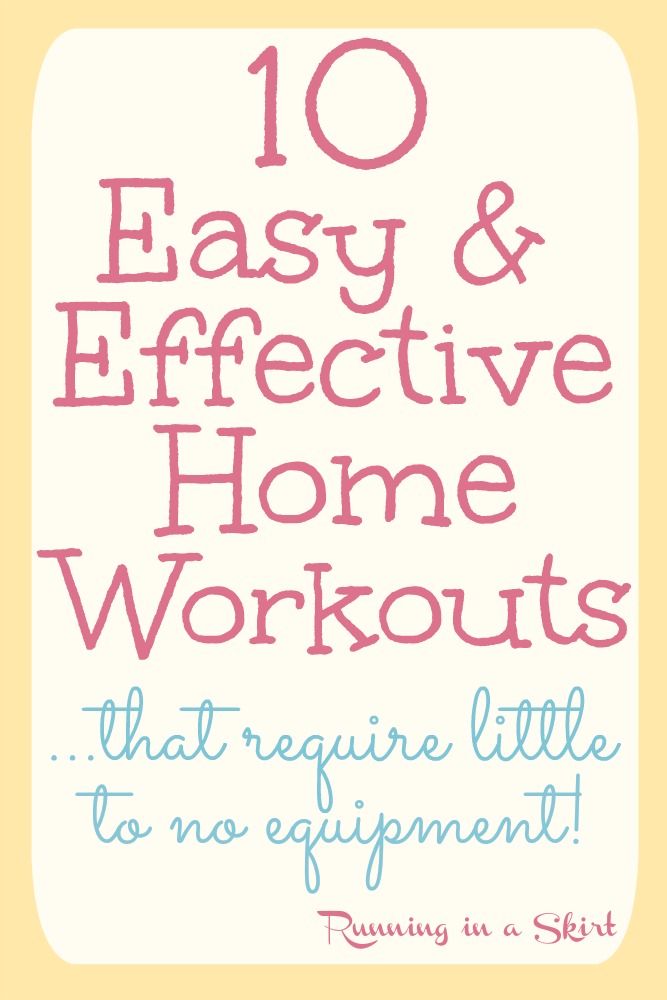 Thanks for joining me today! Come back tomorrow for a healthy twist on my favorite comfort food.
I'm linking this post with Marvelous Monday, Jill Conyers for Fitness Friday & Inspired to be Fit, Amanda for Thinking Out Loud Thursday, Coaches Corner, and Annmarie for Wild Workout Wednesday.
Your turn!
Check out the Horizon Fitness site and tell me which machine would be on your dream wish list!
Have you used the treadmill as a training tool before?