When weather keeps you from the road and trails, treadmill running workouts are the way to go. My 3 mile Progressive Treadmill Running Workouts will keep your legs engaged and burn more calories than running the same distance at an even speed.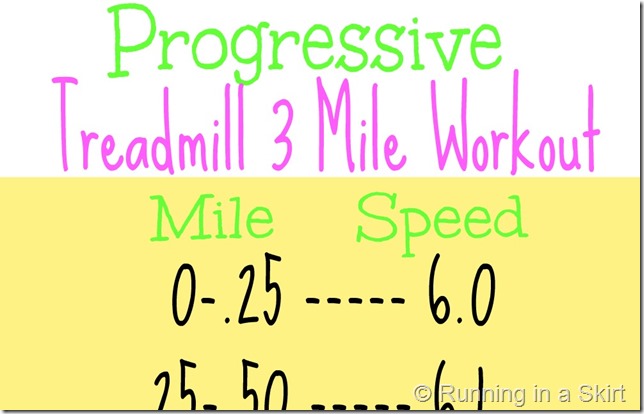 Happy Wednesday dear readers!
As you guys know, I run a fair amount on a treadmill, especially in the winter. The cold air is bad for my asthma, so I try to keep my workouts inside on the super cold days. And we certainly seem to have had our fair share of wicked cold this winter.
I've picked up some tricks along the way to make treadmill running a little more interesting, and my top tricks are to change up your speed and do some treadmill running workouts. Running at just one pace can be super boring and is not the best way to get the most out of your run.
One way I change things up is to do a progressive run where each quarter of a mile I increase the speed. My comfortable run pace is a 6.0, so I start there and go up. By the end of the workout I am running really fast and I can feel it in my legs. But I also know I am getting stronger.
I do start and finish this workout with a quarter mile quick walking warm up and cool down. To start I walk, then do some dynamic stretching, then I get back on the treadmill to do the run. Then I walk again and finish my gym time with yoga stretches and ab work. If I'm feeling really brave I'll throw in some arm work.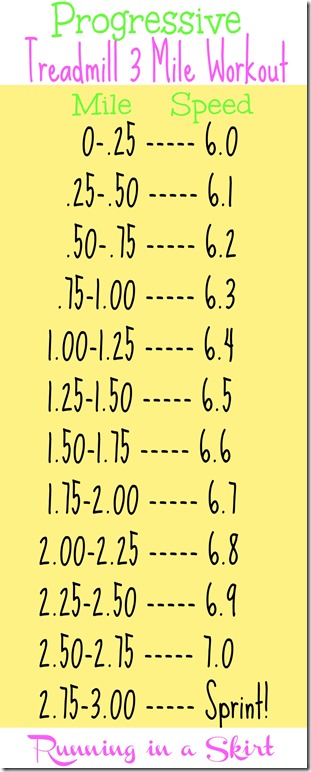 I credit workouts like this for finally getting me to run a little bit faster!
If you are looking for a tempo workout on the treadmill, don't forget about my Let's Get Speedy Treadmill Running Workouts. These are both great pins for your workout boards!
Have a beautiful day friends!
Tomorrow I'm sharing a recipe for a yummy vegetarian salad that is packed with protein. Come back tomorrow to find out the pair of ingredients that give the recipe a protein punch.
I'm linking this post with Wild Workout Wednesday and Wow! Workout Wednesdays. Also Jill Conyers for Fitness Friday. Thank you so much ladies for the link up party!
Your turn!
What is your favorite way to make the treadmill more interesting?