Happy Monday everyone!
I'm actually publishing this post from Charlotte this morning. I'm staying at my brother's house after a weekend of travel and blog conferences. The amazing team from Blogging Concentrated was in Raleigh and Charlotte this weekend so I decided to take a little state tour to hear both of their presentations. I picked up some great tips in the two days of seminars and I have some really wonderful ideas for the future of this site. I'm feeling very inspired and ready to bring even more new energy to Running in a Skirt! We have a great community here and I know there is more good stuff to come.
I'm staying in Charlotte through lunch today to see one of my college roommates, Lori for lunch and then driving back up the mountain to Asheville this afternoon.
Living to See Beauty
Today I actually wanted to talk about something that has been on my mind a lot lately. I call it living to see beauty.
I went to a yoga class the other day and the instructor talked the benefits of being at a place mentally where you can actually see joy and the beauty in the world. Basically, how you can get your body and mind so stirred up and crazy that you don't even see the gorgeous world around around you.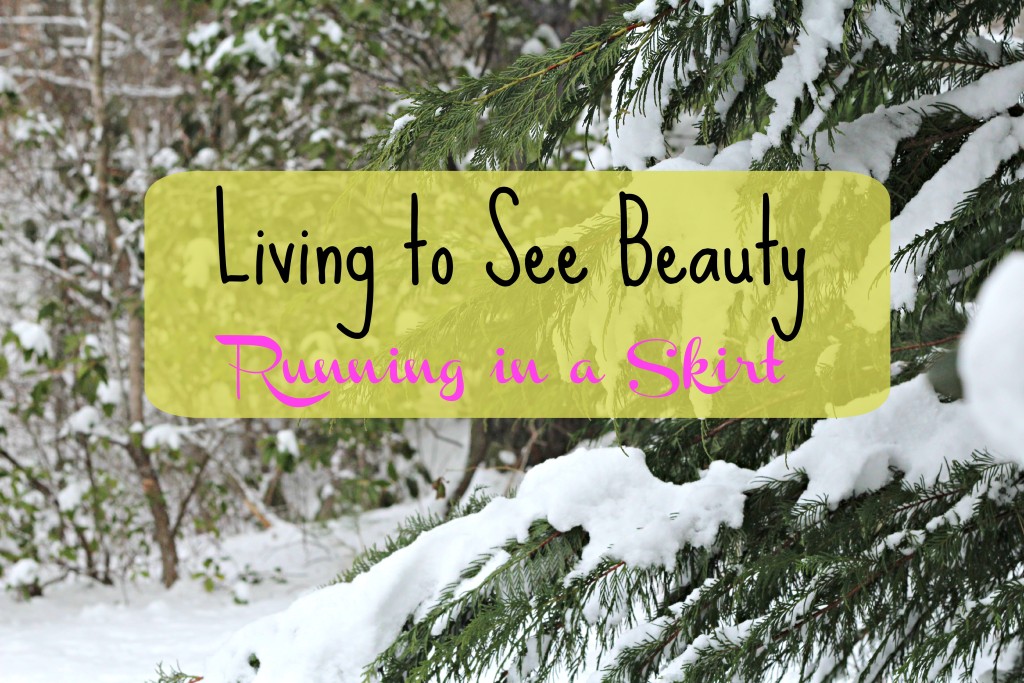 How many times have you been driving around at dusk, but totally missed even glancing at the sunset? Or landscaped your yard, yet missed the best blooms?
Sometimes our minds just aren't open to seeing all the beautiful stuff and we miss out.
I don't know about you guys, but I find myself in that stir crazy place often.
I make lists after lists trying to get everything done and I have a hard time trying to shut my mind off. Even with this new "less crazy" life I have now, I am still juggling a lot. It is easy to miss the entire point of life in this state.
Example:
I hate snow. It makes me nervous and gives me anxiety. When it starts to snow my mind is not in a good place. When we had that last big snow storm a few weeks ago, I was already burnt out of winter weather when I woke up to this: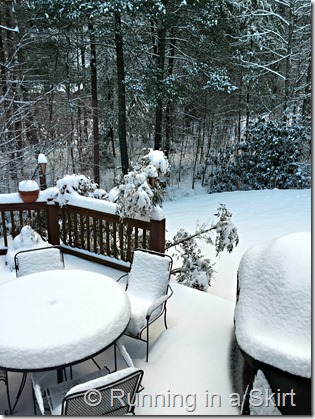 Now I know a lot of you are thinking: beautiful winter wonderland!
But my mind was just thinking of all the extras on my list because of the snow. I didn't even take time to notice how beautiful it actually was.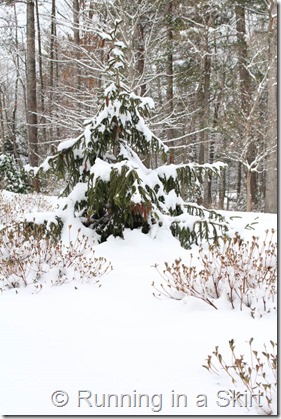 I didn't even want to go out in it.
At all.
I probably would have never left the house that day, but our driveway was a mess.
The hubs went out to shovel it because he needed to try to get to work at some point. After a few minutes I felt bad that he was working by himself so I put on ALL THE CLOTHES and went out to help him, but I wasn't happy about it.
As I am trying to figure out how to help the hubs (we only have one shovel,) I see Reina.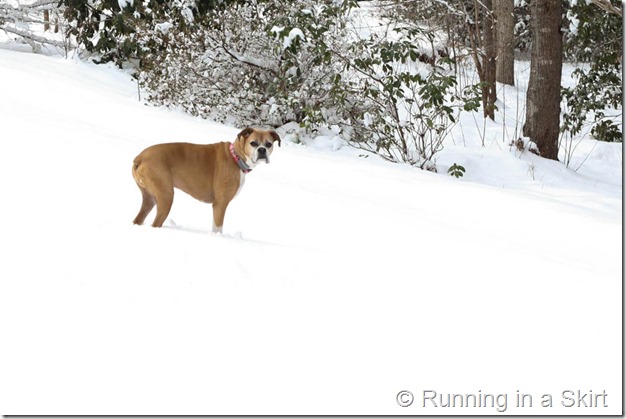 Even with her bum leg, she is running around and having the best time.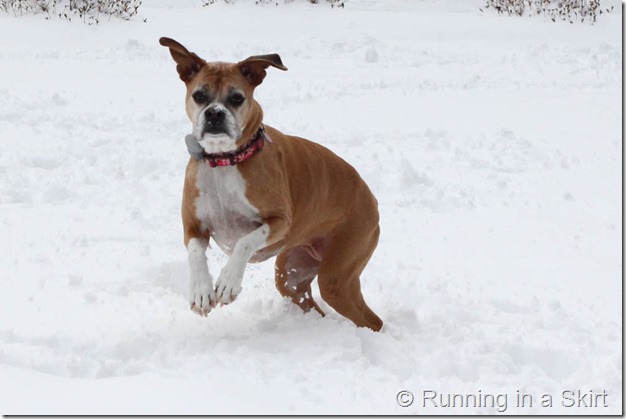 She chases snow balls like a kid and keeps going after them even though they are impossible to catch.
She clearly sees the beauty.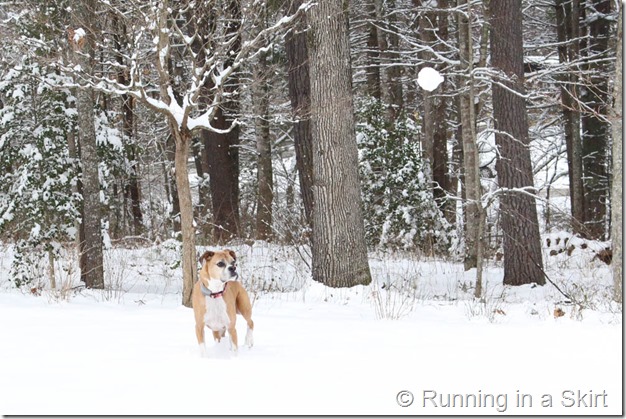 Her love of snow is infectious, so I start throwing her some snowballs. Eventually I take my snowball and start turning it into a snowman. After several attempts at not being about to get the larger ball to form the hubs jumps in and helps. Since I grew up in Florida, building snowmen is not in my bag of tricks.
After just a few minutes, we get this big guy. He is a little awkward, but so much fun.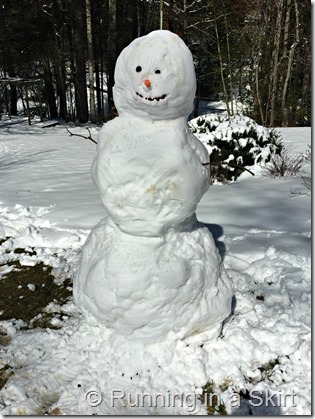 It finally hit me that by getting all stuck in my head about all the problems the snow causes, I could have missed the true beauty and joy in a snow day.
Isn't finding a way to see the beauty and joy in life the true foundation of living a healthy balanced life?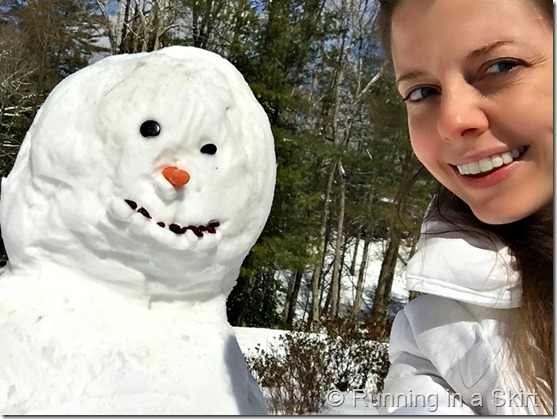 This post hopefully runs deeper than just a silly snowman, but I was just trying to make a point.
Try to find that snowman even on those days where you think you will never get caught up again. Don't be so busy with all the to-dos that you miss the real joy in this world.
And whatever you do, make time to glance at a sunset every once in while.
I want to continue to figure out what helps me settle my mind and get to that place where I can see the joy. I know yoga, running and prayer are my two biggest stress relievers and really help me clear my head and connect to the world around me. Perhaps something else works for you? I challenge you to find whatever helps you the most and do it more.
My goal is life is to look beyond the ice and live to see beauty everyday.
Not just on snow days.
Happy marvelous Monday everyone! I hope you have a BEAUTIFUL day. Tomorrow I'm back to regular blog business with a dinner that brings together the best of the Italian and Mexican flavors. You might be surprised at how well it actually works together. See you then!
And of course, have a Marvelous Monday! Thanks for the linkup Katie.
Your turn!
What are your stress relievers?
Do you ever find yourself so wrapped up in life that you miss the beauty?