Working in TV News for over 13 years gave me some pretty fun insights on how to put on makeup for TV. Some of those tips carry over to everyday makeup and can help you look your best whether you are in front of the camera or not.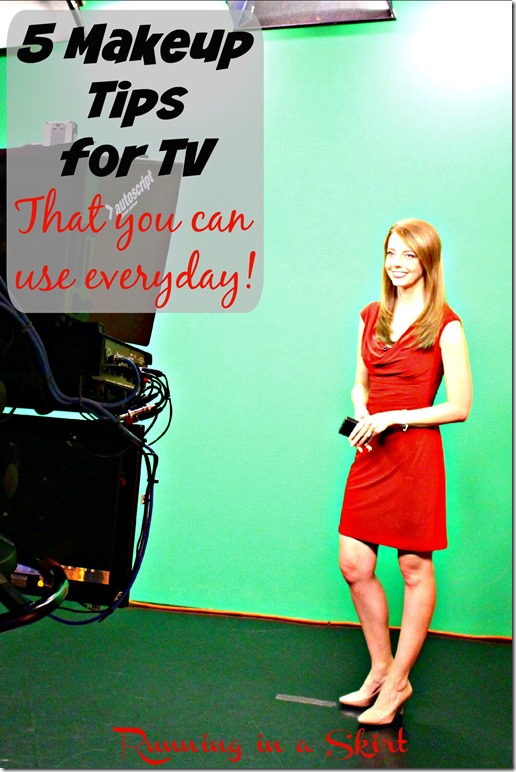 Hi guys! Happy Friday!
I'm taking a different spin on fashion today with some fun beauty and makeup tips.
I learned a lot about makeup during my time on TV news out of necessity. I was my own makeup artist and had to make sure I looked my best every day. Over the course of my career I learned from a few professionals, but I am mainly self taught on how to put on makeup. Today I'm sharing 5 Makeup for TV tips and you can use those tips everyday!
Check out my You Tube video for the tips and demonstrations. I also share some fun behind the scenes TV tidbits that are only on the video!
Makeup for TV Tips
1- Use two different concealers to cover dark circles
I am the queen of dark circles under my eyes. I've had them since I was very young and they never go away. The trick to cover them is to use two different concealers. The first one should be slightly lighter than your base makeup. You should apply it with a foundation brush in a larger triangle shape under your eye. The second one should have an orange tinge to counter act the blue. Apply that one with a concealer brush just where the dark circle is under your eye. Set it all with a powder foundation.
Some of my favorites:
Joe Blasco Corrective Highlight- Orange
2- Use two different color eyeliners
Using two different color eyeliners will allow your eyes to pop. I use a black on my upper lid. I like it to look like a gel. The bottom I use a brown. The other trick is for TV, you don't put mascara on the bottom lashes. I always felt funny about that trick and added it back after I left the station.
Some of my favorites:
Clinique Quickliner for Eyes - Intense Black

Clinique Quickline- Intense Chocolate
3- Contour (Just a little...)
I don't do any big contour action, but I do add a line of darker makeup or bronzer right below my cheekbone. It gives the face a slightly more structured look without going to far. This is a simple trick to add to your makeup at home.
Some of my favorites:
MAC Bronzing Powder- Golden
4- Fill in your brows
I cringed when big brows came back in style. Filling in my brows is just one more step! It makes such a big difference and it is totally worth it. I fill in with a pencil and blend with a brush. You can also use a dark powder. It an easy way to really make you look pop!
Some of my favorites:
Clinique Superfine Liner for Brows- Soft Brown
5. Finish with white powder
White powder came around about the time all the TV stations switched to HD. It is a great way to set your makeup and keep it from moving without getting a face of caked on powder. You can also use it midday to keep oil at bay and keep your look fresh.
Some of my favorites:
Bobbi Brown Sheer Finish Pressed Powder
I am also a huge fan of Laura Mercier's finishing powder.
Bonus Tip!
Use brushes, not your finger tips, to apply and blend your makeup. It keeps the look more structured and polished. Sometimes you fingers can ever over blend!
7 Pcs Makeup Brush Set
That's it for today! Thanks for supporting my new You Tube-n efforts. If you have any suggestions for video topics, let me know and I will see what I can do!
Have a gorgeous weekend, dear readers.
This post contains affiliate links. I receive a small commission if you buy products through the links. As always, thank you for your support.
Your turn!
Video ideas for me---> GO!
Do you have any weekend plans?