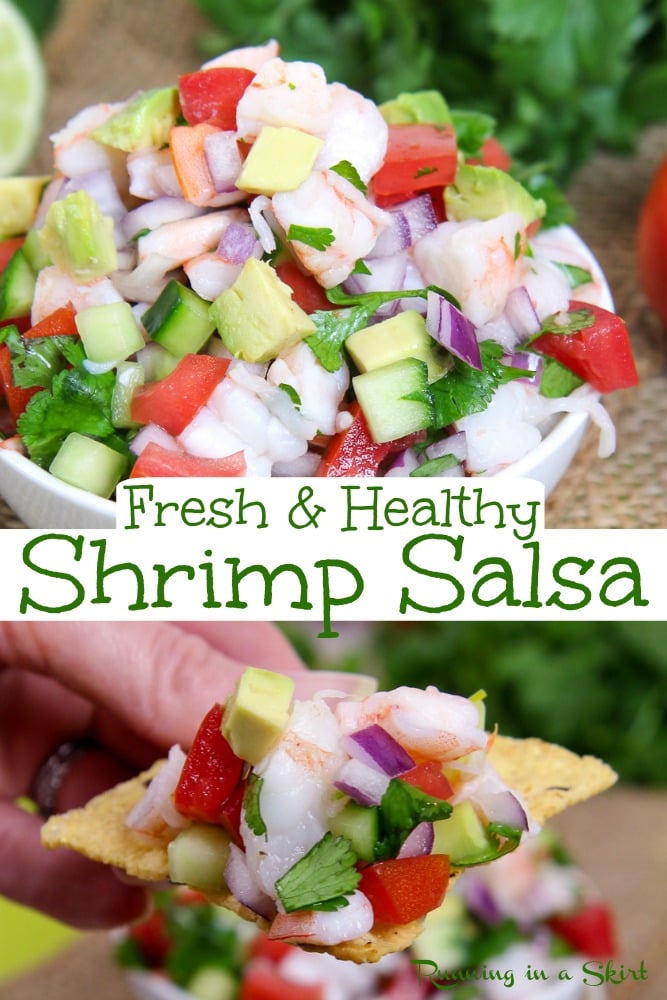 Shrimp Salsa Recipe: This fresh and easy Shrimp Salsa Recipe is the perfect no-cook appetizer dip with lots of Mexican flavor. My take on this Seafood Salsa Recipe is light, healthy and will have you dreaming of meals near the ocean.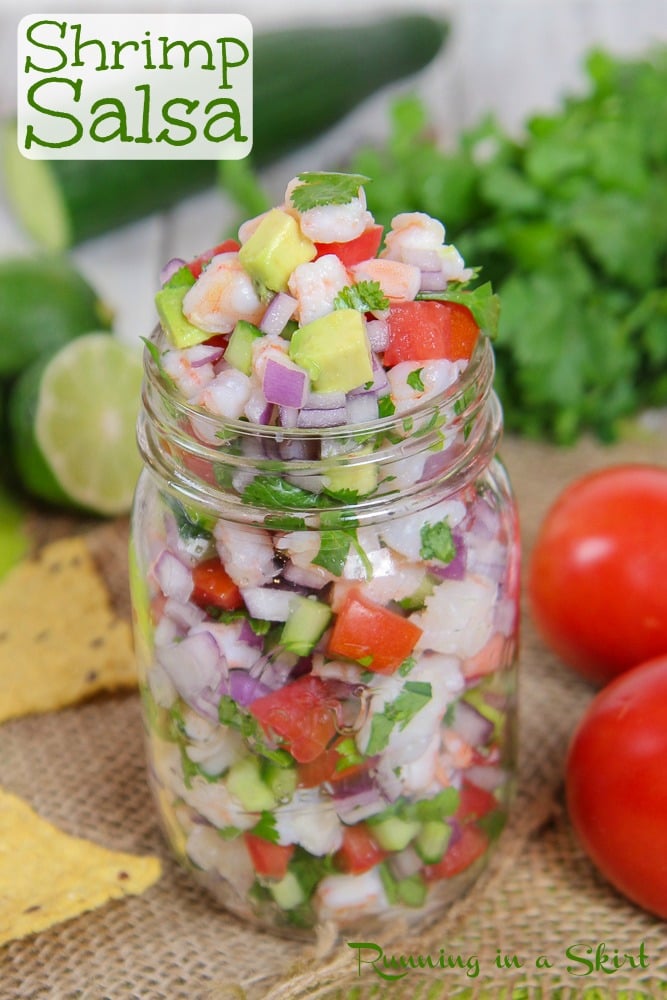 Whenever I'm on vacation I always look for any sort of fresh ceviche on the menu. Whether it's conch filled by the deep blue waters of the Bahamas or shrimp filled under Spanish moss-lined trees in Hilton Head... if I'm by the sea I crave some sort of a Seafood Salsa Recipe. I adore the combination of salty seafood with the freshness of Mexican homemade salsa.
Since two of our spring vacations had already been canceled I have been dreaming of some of my favorite vacation dishes. Ceviche was at the top of the list! To try to cheer myself up I decided to make my own EASIER version using already pre-cooked shrimp BUT still packing in all those popular flavors of ceviche like lime, tomato, and cilantro. I decided to call it a my Shrimp Salsa Recipe since we weren't technically cooking the shrimp with the lime. It's a faster and just as tasty way to get this delightful dip on the table fast.
It turned out PRETTY. DARN. INCREDIBLE.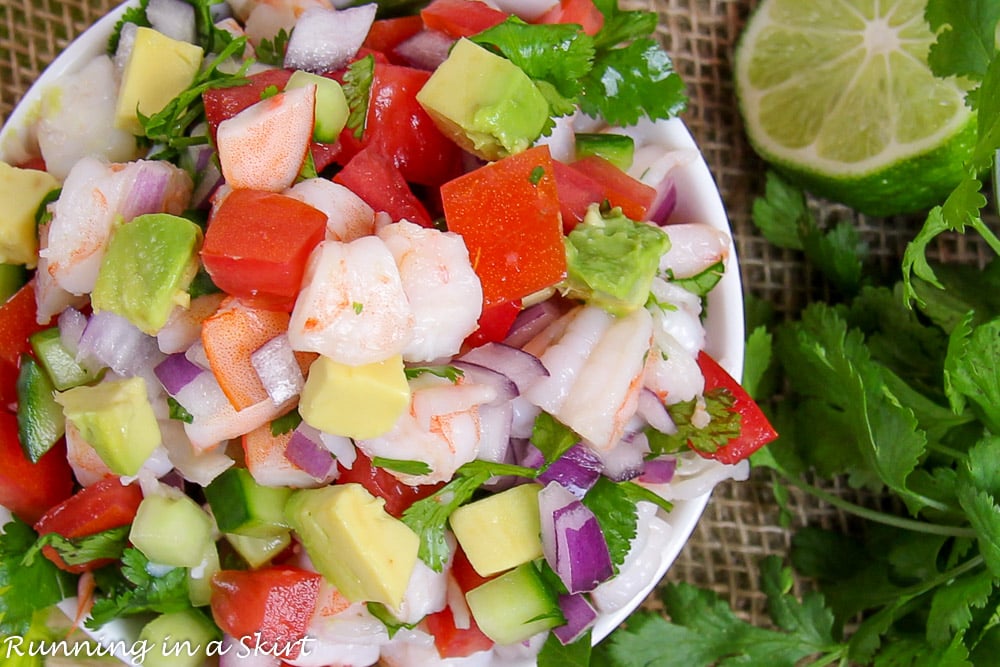 Why You'll Love this Fresh & Light Shrimp Salsa recipe...
If you love shrimp AND homemade salsa you need this Shrimp Salsa recipe in your life. It's kind of like a love child of pico de gallo, guacamole and classic shrimp ceviche. It's the BEST of all three... REALLY!
It's a great dip filled with classic flavors like lime, tomato, cilantro, AND avocado. Since you are using pre-cooked shrimp the recipe comes together as fast as you can chop and you don't have to worry if you let the lime cook the shrimp for long enough.
The flavor is ALL THERE without all the FUSS.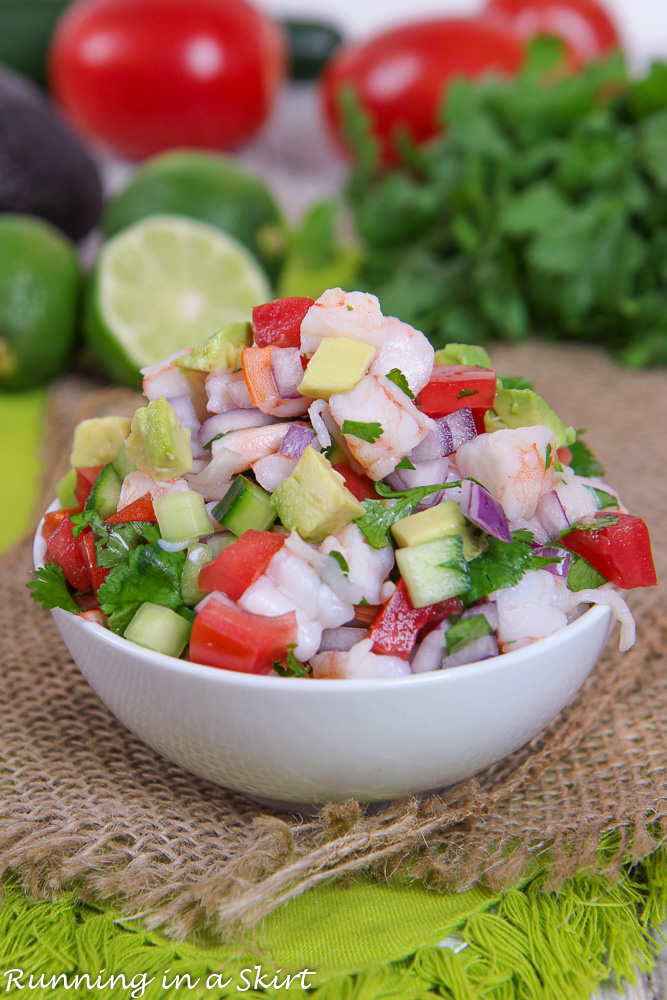 Shrimp Avocado Salsa
This Shrimp Avocado Salsa is also DA BOMB because it's low-fat, gluten-free and pescatarian.
Serve it on your favorite type of tortilla chip for a snack that will disappear in no time. The Hubs and I polished off this entire batch!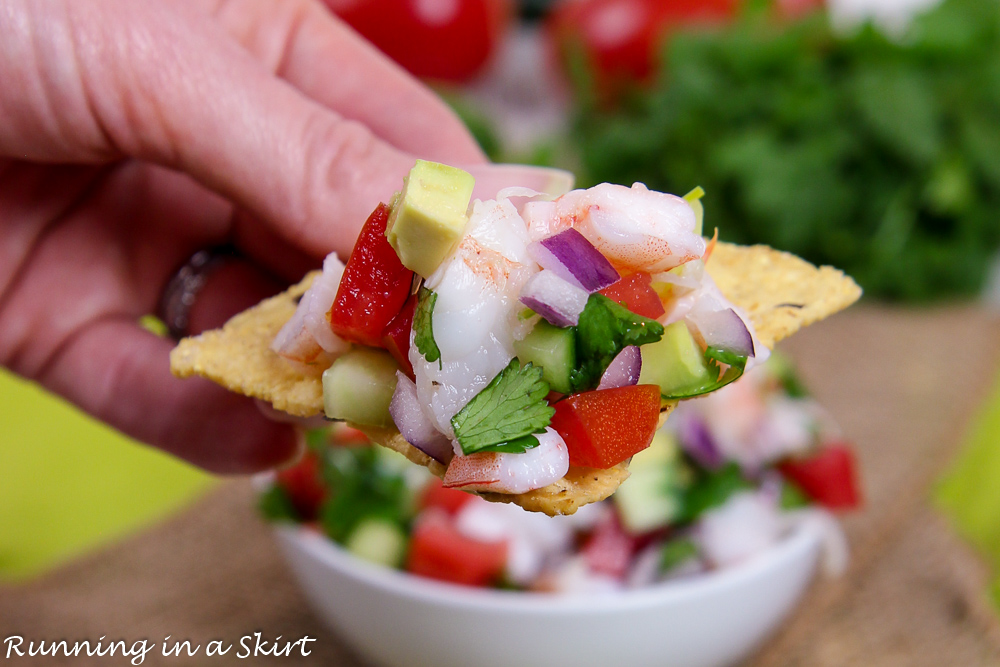 Is this like a shrimp ceviche salsa recipe?
The difference between this Shrimp Salsa Recipe and a more classic Shrimp Ceviche Salsa Recipe is my version uses those pre-cooked shrimp instead of raw shrimp. Classic ceviche uses lime juice to "cook" shrimp from the acidity. It's not hard BUT takes some time and I always wonder if it's cooked enough.
Using pre-cooked shrimp lets you make a ceviche flavored dish without waiting and wondering if the lime is cooking it correctly.
You can chop this up and serve it immediately making it the PERFECT homemade salsa.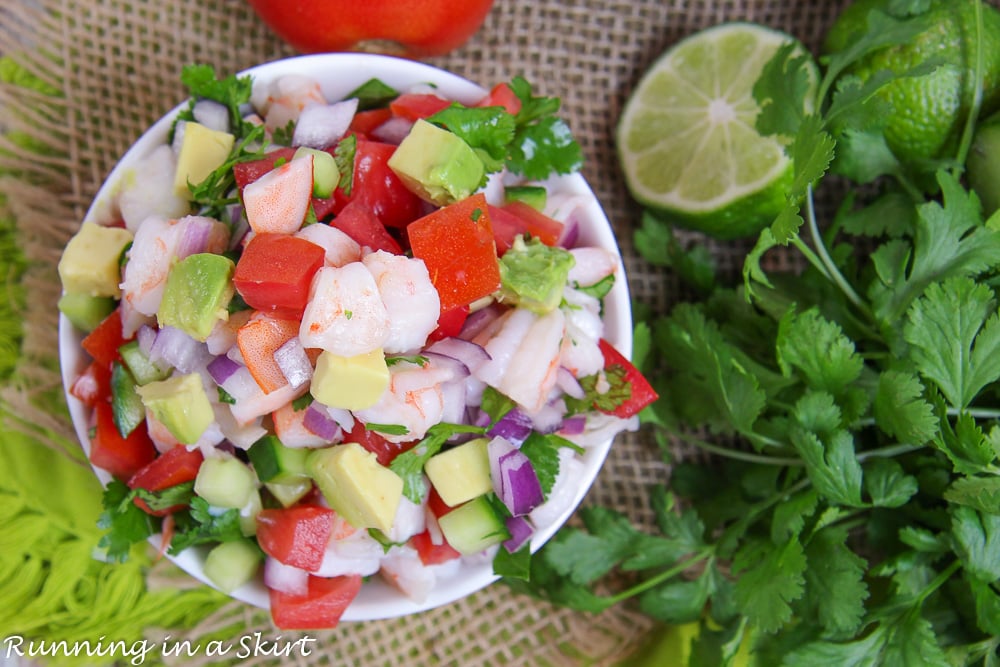 Ingredients in this homemade salsa...
Since this dish is all about fresh and light flavors make sure to grab some fresh lime juice and cilantro it makes all the difference.
Shrimp: This is a great use of those pre-cooked shrimp.
Avocado: This adds creaminess and healthy fat to the recipe.
Cucumber: Adds a fresh, green crunch to the mix.
Tomato: Use whichever type looks the freshest at the store and dice it up.
Red Onion: Every good salsa has red onion in it. It's great for flavor and color.
Lime: Lime adds a citrus punch!
Cilantro: A generous portion of cilantro gives this shrimp salsa flavor.
Can I use frozen shrimp?
If you live close to the water and have access to fresh shrimp, BUY IT. And can I come over and have some?
For the rest of us though, I always recommend buying already frozen shrimp. Unless a Seafood counter specifically says that their shrimp is FRESH, NEVER FROZEN they have most likely already been frozen. They could have dethawed it days ago. If you just skip that step and buy the frozen shrimp you can keep it in your freezer and control when you thaw it making your dish!
For this Seafood Salsa recipe, I do recommend buying the already pre-cooked shrimp.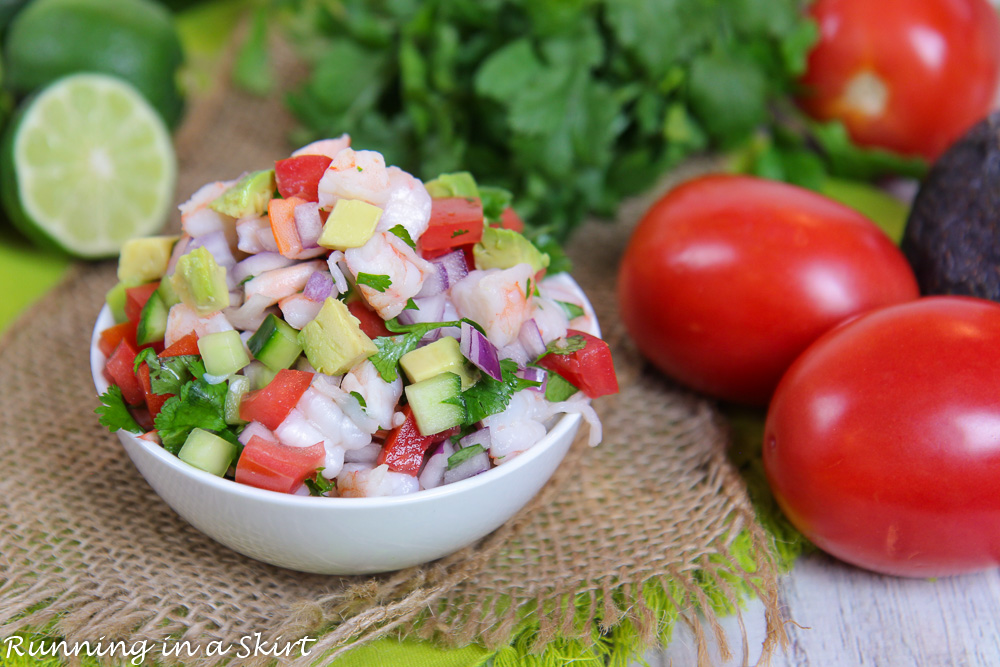 How to make this Seafood Salsa Recipe...
This entire Seafood Salsa Recipe comes together in less than 15 minutes!
Thaw the frozen shrimp under cool water and pat dry.
Chop the shrimp into scoopable bites.
Chop your veggies.
Mix everything together and generously squeeze your lime juice on top.
Salt to taste.
I always have trouble getting all of the lime juice out of fresh limes but THIS TOOL has been a game-changer. It's also perfect for making MOJITOS.... just saying...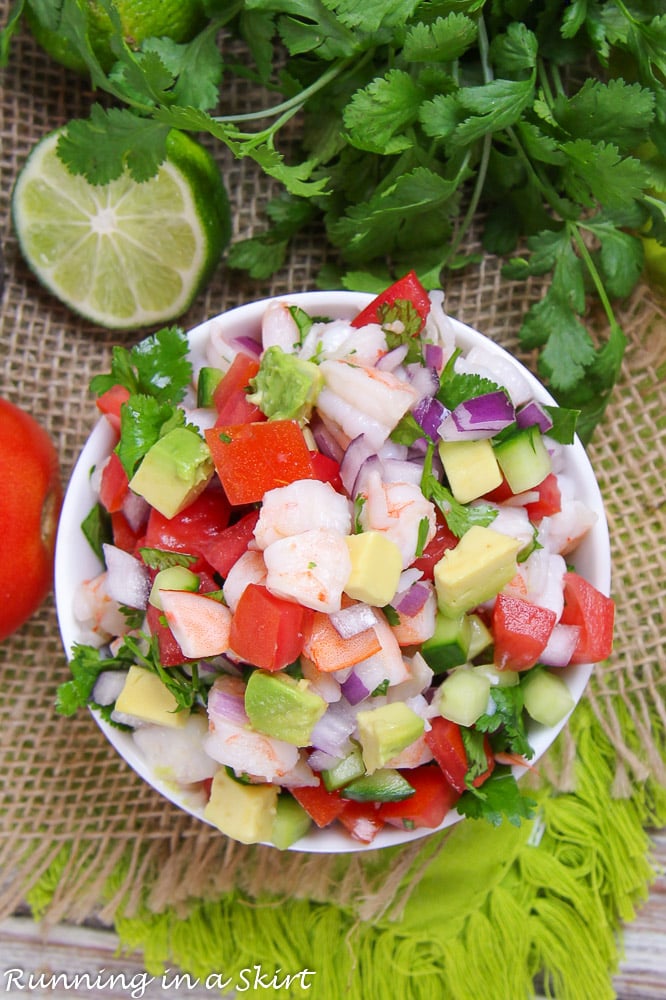 If you are longing for the beach like I am, give this tasty a recipe a try! It will have you dreaming of sunshine and sand in your toes all summer long.
If you make this recipe, I'd love to hear what you think! Leave a comment and a star rating ★ below.
Make sure to follow me on Instagram, Pinterest, and Facebook too!
Love healthy salsa recipes?
Pin for later...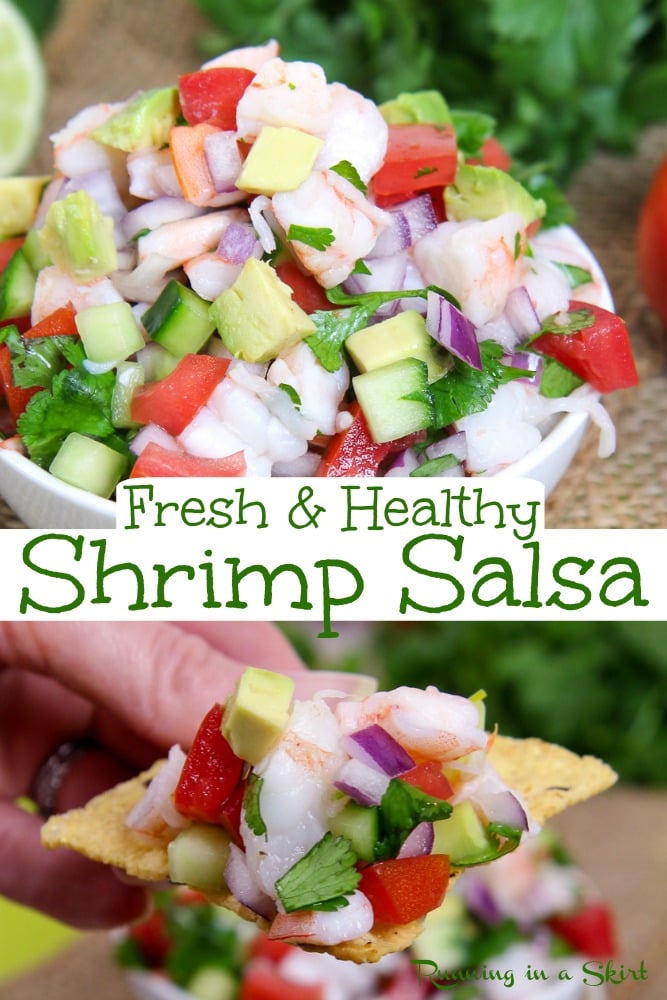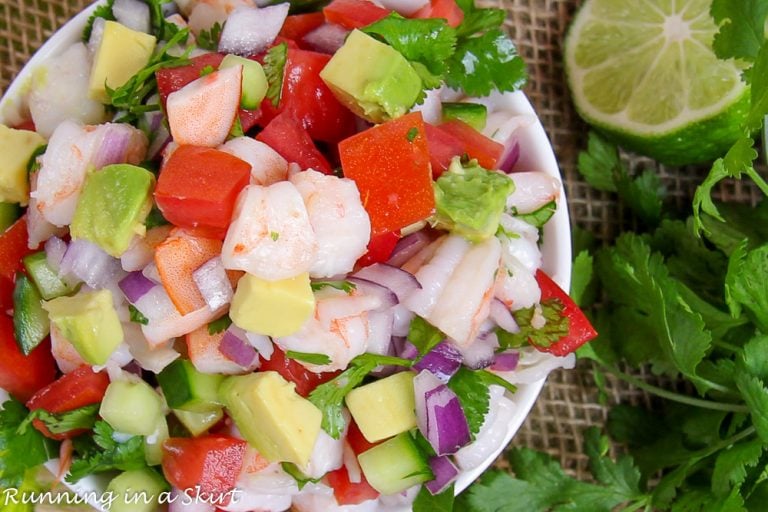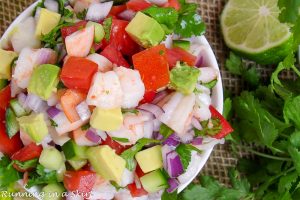 Fresh Shrimp Salsa recipe
This fresh and easy Shrimp Salsa recipe is the perfect no-cook appetizer dip. Light, healthy and super tasty.
Ingredients
½

pound

cooked shrimp

,

chopped

1

avocado

,

diced

¼

cup

cucumber

,

diced

2

roma tomatoes

,

seeded and diced

½

small red onion

½

cup

cilantro

,

chopped

2

limes

salt
Instructions
Mix all the ingredients in a bowl and toss.

Juice the limes over the top and season with salt to taste.

Serve with tortilla chips, crackers or in lettuce cups.
Notes
This recipe is best when served immediately.  If you are making it early leave out the avocado and lime until just before serving.
Nutrition
Calories:
160
kcal
Carbohydrates:
11
g
Protein:
13
g
Fat:
8
g
Saturated Fat:
1
g
Cholesterol:
143
mg
Sodium:
448
mg
Potassium:
439
mg
Fiber:
5
g
Sugar:
2
g
Vitamin A:
483
IU
Vitamin C:
23
mg
Calcium:
106
mg
Iron:
2
mg