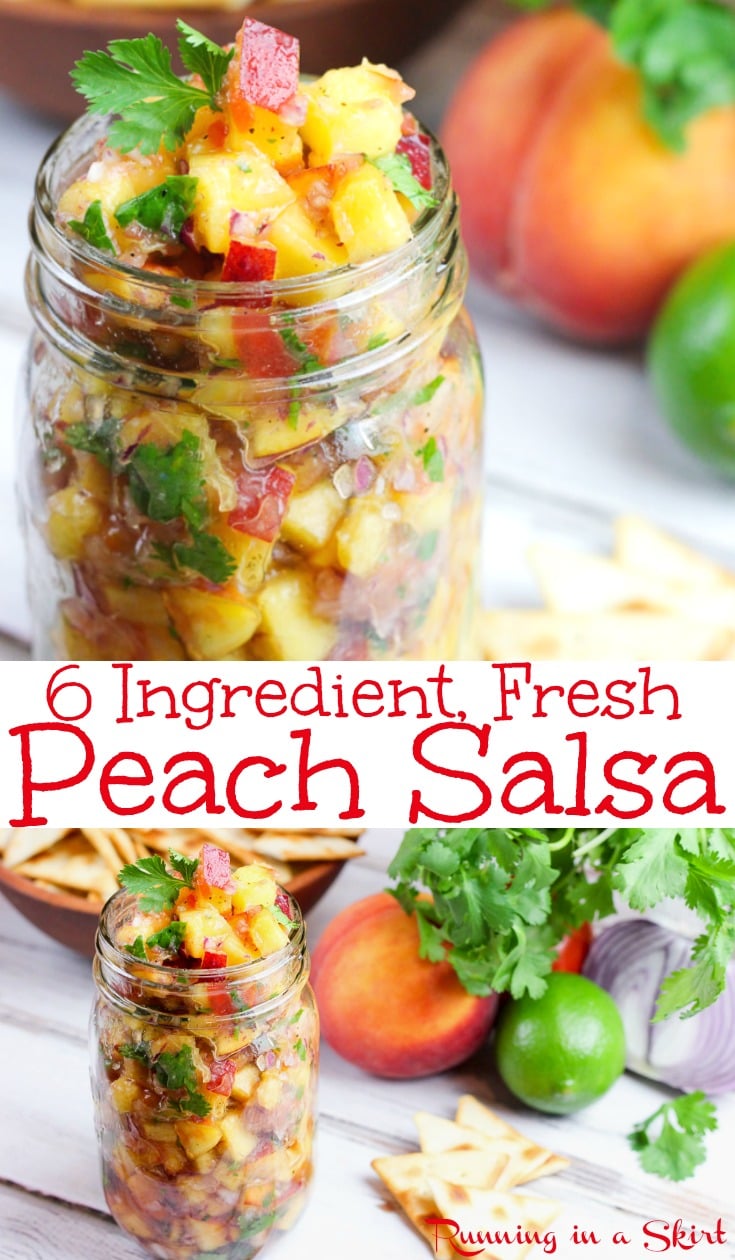 This Fresh Peach Salsa recipe uses sweet tree-ripened peaches for an irresistible homemade fruit salsa with the perfect sweet and spicy combo. This healthy summer dish is perfect served with chips, with shrimp tacos or as a topping for fish like salmon on the grill.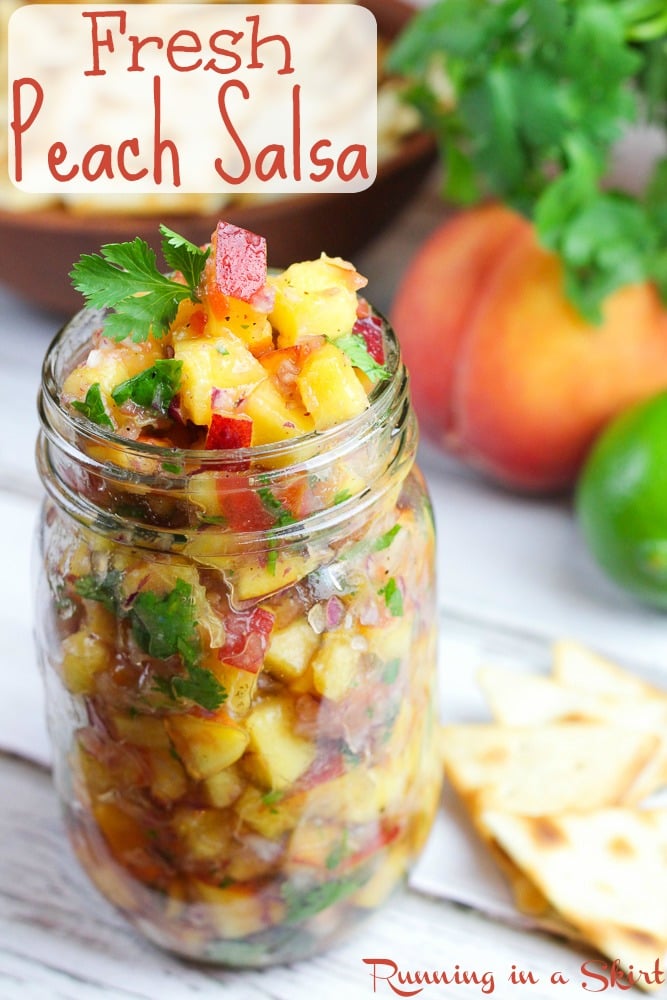 Peach Salsa Recipe
Don't you just love peach season? I do and this Peach Salsa recipe is one I love to make again and again.
Peaches are one of those foods that are really best eaten in those magic dog days summer months when they come straight off the trees of South Carolina or Georgia. Find the good ones and they are so juicy you need a paper towel to eat them. They just ooze Southern charm.
Sure... you can get them other times and from other places but they just aren't the same. The good news is the long-awaited peach season is here and fully intend on going peach crazy. The first recipe on my peach-loving schedule is my pretty darn delicious Fresh Peach Salsa recipe. It's bursting with all that peach-y goodness.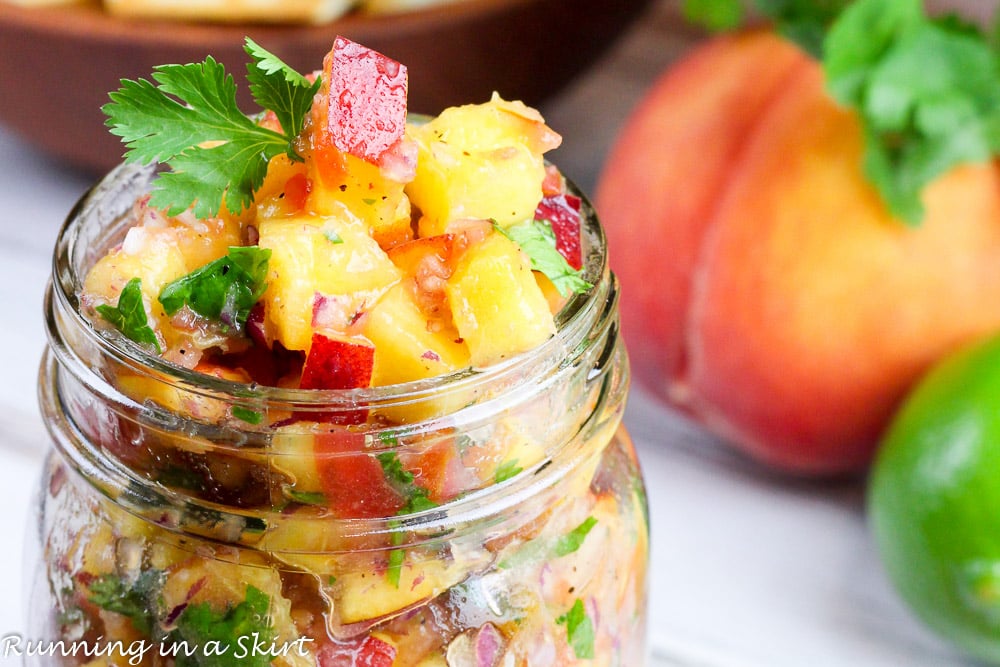 Here's why you'll love my Fresh Peach Salsa recipe...
I've shared a lot of fresh fruit salsa over the years, but it all started with my Fresh Peach Salsa recipe. I love it because it's basically an excuse for me to eat two of my favorite things at once... Mexican food and fruit!
The recipe only calls for 6 ingredients and they are simple and easy to find. It's kind of like a Mango Salsa but with a sweet Southern twist.
You will love that this recipe is perfect served with just chips or as a topping for meat (chicken, pork) or fish like salmon on the grill. I love it with this recipe... Cedar Plank Grilled Salmon with Fresh Peach Salsa.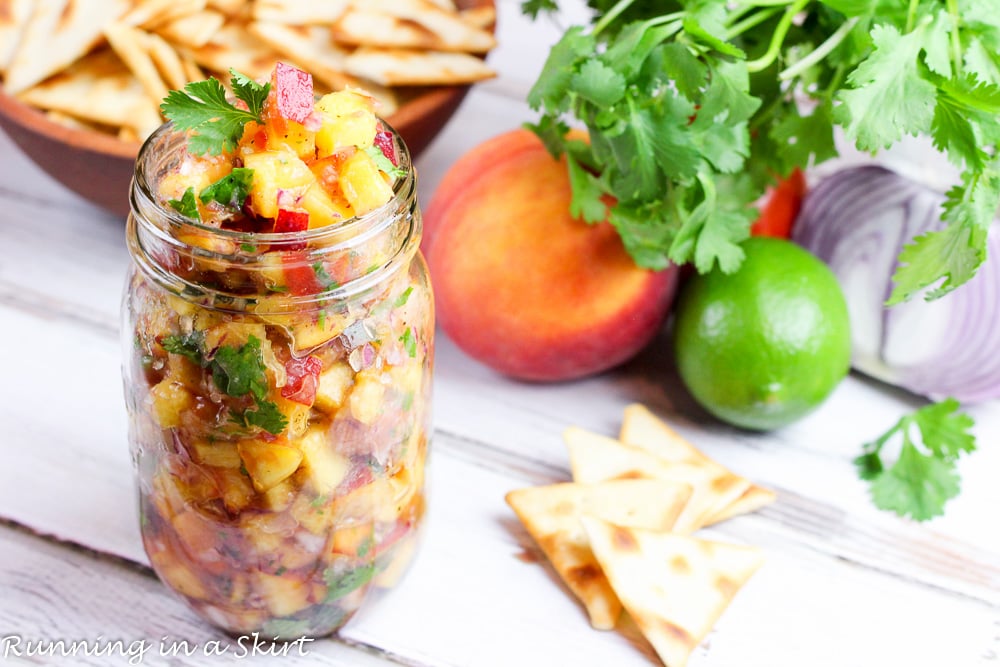 Ingredients in the Fruit Salsa:
This delightful summer fruit salsa comes together with just 6 ingredients with peaches being the star. Here's what you will need.
Fresh Peaches: Get the tree-ripened ones from the South for the best flavor. There's is nothing like them in July or August!
Tomato: I added tomato to my Fresh Peach Salsa to keep the flavors well balanced.
Red Onion: Any good homemade salsa needs the bite of red onion. This brings so much color and flavor to the dish.
Cilantro: In my opinion a good salsa NEEDS cilantro. I use a hearty dose of it in my salsa.
Jalapeno: I think a little jalapeno really adds to the flavor of this fruit salsa. To make it less spicy make sure to remove the inner white parts of the jalapeno and the seeds. If you like the spice, leave the on. If you can't handle the heat at all, you can substitute bell pepper for the jalapeno. But I think this recipe as written is just spicy and flavorful enough without being overbearing.
Lime: Freshly squeezed lime makes all these flavors POP and makes it taste like salsa.
How to Select Peaches for the Salsa:
If you aren't sure which peaches to buy at the store here are some tips.
Look for local peaches. Peaches that are grown close to where you live will often have more flavor.
A good peach should have vibrant color with no green tones.
Look for ones that aren't too hard or too soft. You'll also want to find ones without blemishes on the skin.
Store your peaches on the counter NOT in the fridge until they ripen.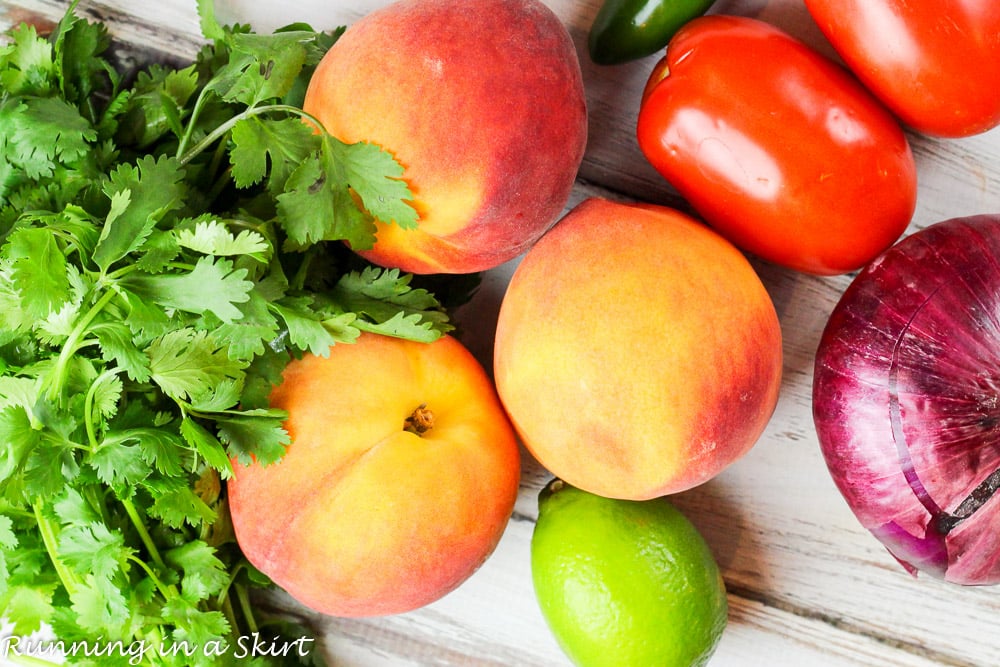 How to Make Peach Salsa Recipe:
My trick for making this Peach Salsa recipe is to keep it easy by using a small food chopper
. I put everything for the salsa in it except for the peaches. It creates a perfect finely chopped up consistency for the salsa. Just don't over chop! It also saves lots and lots of chopping time. Here's how to make the salsa step by step.
Cut your peaches into small bites. Roughly chop the rest of your vegetables.
Put the roughly chopped red onion, cilantro, and jalapeno in a food processer and chop until you get the right consistency. Add the tomato and chop again.
Mix the peaches and red onion mixture together in a medium bowl. Stir in the lime and salt to taste.
Add any extra cilantro to taste.
After I do the shortcut chop on everything else, I cut the peaches by hand in larger chunks so they really shine! This fresh Peach Salsa recipe is totally worth the time. Look how pretty it looks!
If you don't have a chopper just dice everything by hand it will taste the same.
How to use this Peach Salsa Recipe:
This salsa works great with chips or crackers as an appetizer. It also pairs delightfully with shrimp or fish! Here are some ideas.
Grilled Chicken or Pork
Topping for Fish like Salmon
Topping for Shrimp or Fish Tacos
With chips or crackers.
How do I store fresh peach salsa?
This fresh peach salsa recipe is better eaten within a few hours of making it because the peaches don't hold up well. It's best eaten within a day of making it, or the peaches break down too much.
It can store in an airtight container in your fridge for 2-4 days though.
I hope you enjoy this delicious Fresh Peach Salsa recipe as much as my family does. It's one I make again and again in the summer. This classic Fruit Salsa recipe is a total crowd pleaser and one of my all-time favorites. It is literally like a bright summer Southern day in a jar!
Enjoy!
More Fruit Salsa Recipes to Love:
More Peach Recipes to Love:
If you make this recipe, I'd love to hear what you think! Leave a comment and a star rating ★ below. Make sure to follow me on Instagram, Pinterest, and Facebook too!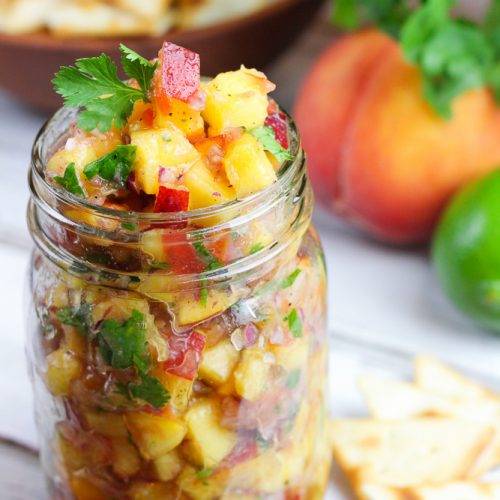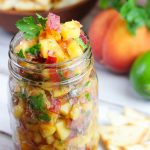 Fresh Peach Salsa recipe
Sweet southern peaches shine in my fresh peach salsa recipe!
Ingredients
3

ripe peaches

1

plum tomato

,

seeded and roughly chopped

½

jalapeno

,

seeds removed and roughly chopped

½

small purple onion

,

roughly chopped

¼

cup

cilantro roughly chopped

1

lime

,

juiced

salt and pepper to taste

Garnish: additional cilantro
Instructions
Carefully cut peaches into ¼ inch cubes

Put all the other ingredients in a chopper or food processor for a rough chop. Don't pulverize, but get the pieces pretty small.

Mix the peaches and salsa mix together.

Garnish and serve!
Notes
For more spice keep the seeds in the jalapeño or add more jalapeño.  For less spice use less jalapeño or substitute green bell pepper.
Nutrition
Calories:
116
kcal
Carbohydrates:
29
g
Protein:
3
g
Fat:
1
g
Saturated Fat:
1
g
Sodium:
4
mg
Potassium:
575
mg
Fiber:
5
g
Sugar:
22
g
Vitamin A:
1164
IU
Vitamin C:
36
mg
Calcium:
31
mg
Iron:
1
mg
Pin for later!