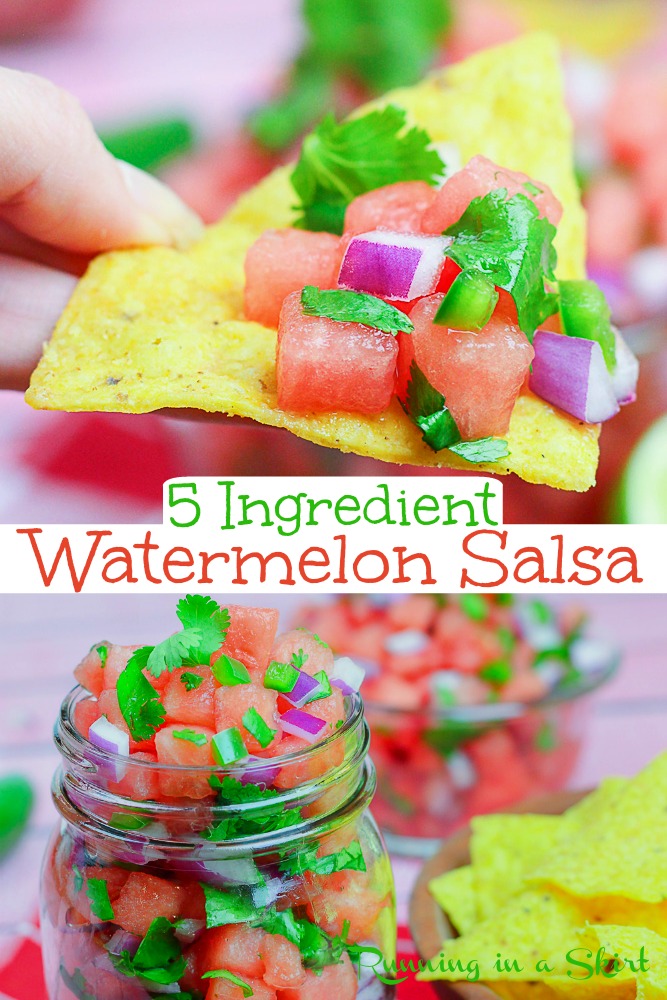 This Watermelon Salsa recipe is refreshing, delicious, and only 5 Ingredients! My addictive twist on easy Fruit Salsa is perfect on chips, on tacos, or with fish.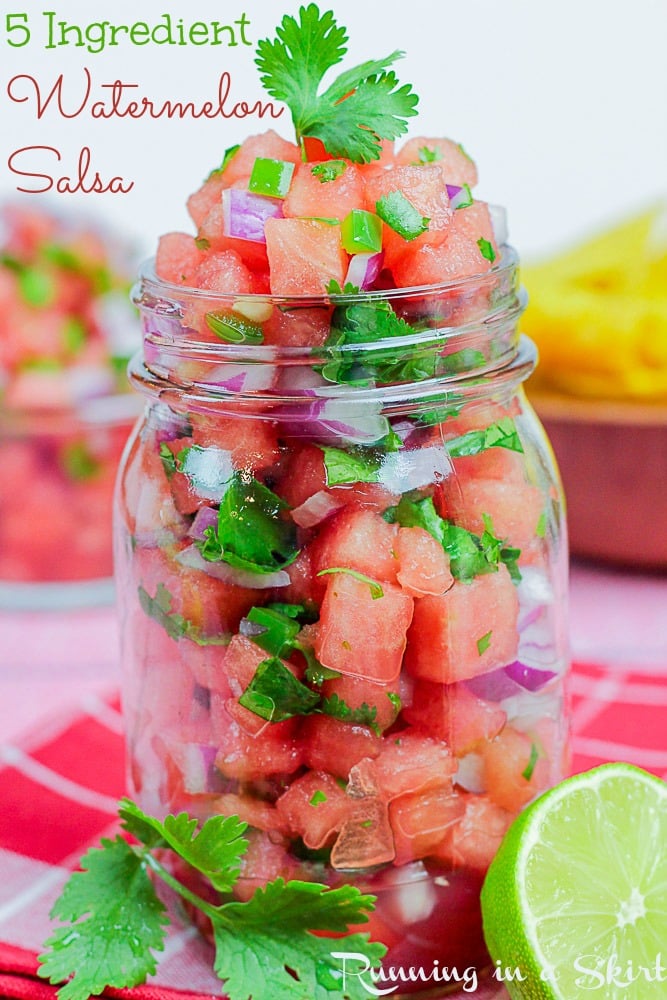 Watermelon Salsa Recipe
With summer in full swing, I've been on the watermelon train. I figure there are only a few months out of the year where watermelon actually tastes fresh and I can eat it until my heart bursts, so why not! I've been getting big ones and chopping them up in chunks and snacking on the sweet goodness all week.
In my opinion, there is nothing that says summer more than enjoying some of the rich red fruit.
The only thing that can possibly make watermelon better (other than my Watermelon Feta & Blueberry Salad, of course) is a super simple and healthy Watermelon Salsa recipe.
Once you try this FIVE INGREDIENT healthy recipe it's sure to be on repeat all summer long for you too. Plus you'll this dish is low calorie, gluten-free, vegetarian, dairy-free, and vegan!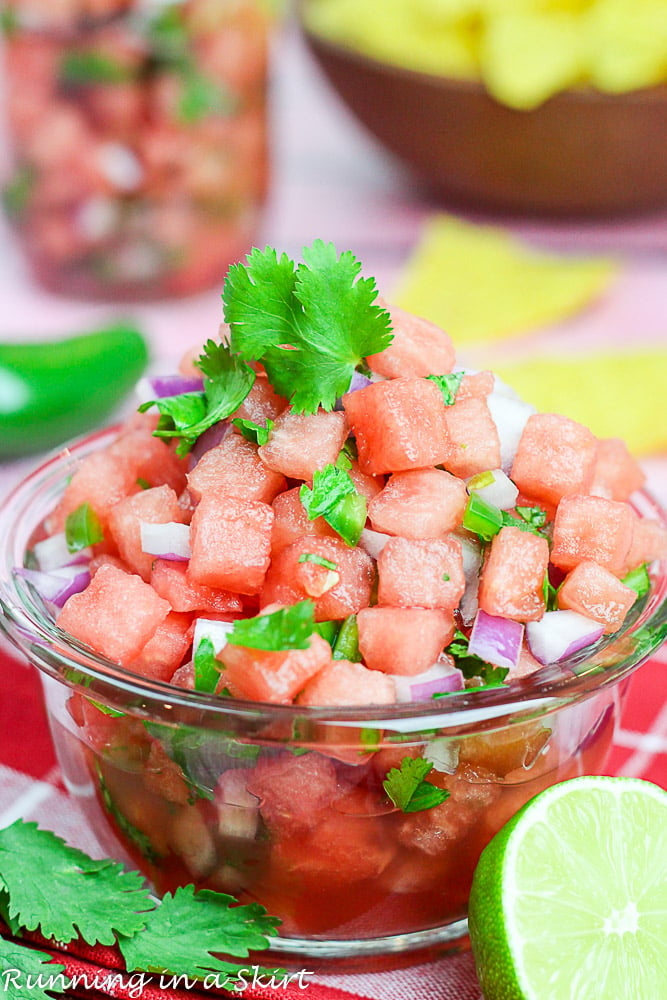 Why this is the BEST Watermelon Salsa!
Sure watermelon is great alone but have you ever thought of making it into an easy fruit salsa? The sweetness pairs unexpectantly perfectly with the classic, fresh fruit salsa flavors like lime, jalapeno, cilantro, and red onion. You'll be surprised how addictive this Watermelon Salsa recipe really is. It's like a Pico de Gallo but with watermelon.
The flavor combination... although not obvious... hits the spot. It has a salty-sweet thing going on that is simply wonderful. You are going to love it.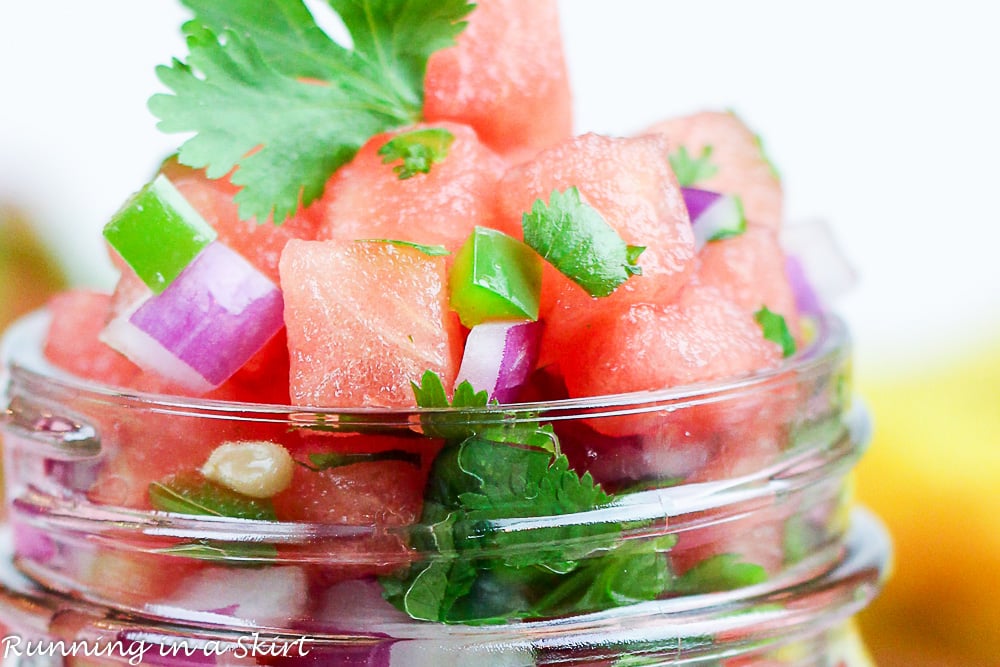 Ingredients:
So what's in this easy Watermelon Salsa? Just a few ingredients that are easy to find.
Watermelon: Fresh watermelon is perfect for this recipe. Cube it into tiny bites that are easy to pick up on a chip for the best results.
Jalapeno: The jalapeno has such a great flavor! If you don't like spicy food remove the seeds and white parts inside the pepper. You could also substitute a green bell pepper but try the jalapeno.
Red Onion: A simple red onion adds color and savory punch to the watermelon salsa.
Cilantro: For any salsa, cilantro is a requirement. I love cilantro so I use lots.
Lime: Lime brings all the flavor together and makes it taste like salsa.
Salt
All of these ingredients are basically what you'd use to make any healthy fruit salsa! Just switch out the fruit.
Can I Make Watermelon Salsa Without Fresh Cilantro?
In my opinion, fresh salsa needs cilantro. The recipe wouldn't be the same as dried.
If you just don't like cilantro you could try some fresh basil or mint but it would give the dish a different flavor profile. Both will be really good just taste different than classic salsa.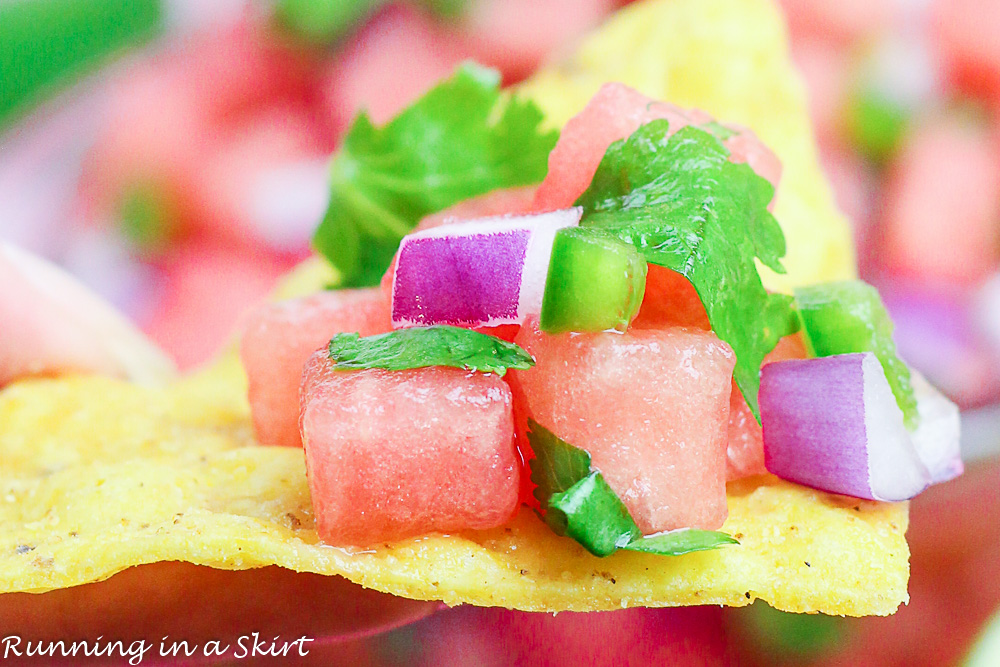 How to Make Watermelon Salsa:
Making Watermelon Salsa is easier than you might think. They only hard part is cutting the watermelon and veggies. Use my favorite knives to make it a bit easier.
Cut the watermelon into small cubes. They need to be small enough to scoop up on a chip.
Cut your jalapeno and onion into even smaller pieces.
Toss the fruit and veggies with cilantro and lime.
Salt to taste.
Serve with your favorite chips. This watermelon salsa would also be great on tacos or with fish like salmon or seafood like shrimp or scallops. The sweet salsa is great with anything on the grill too.
Is this Fruit Salsa Healthy?
Yes! Watermelon is light and naturally low in calories so it makes a great healthy fruit salsa. Watermelons are filled with vitamins and a great source of lycopene that's an antioxidant that's been shown to reduce the risk of cancer. So eat up!
Variations and Pro Tips
Variations on this salsa include adding cucumber for a crunch. You could also mix the watermelon with other fruits like mango or pineapple. Avocado would also be a great addition.
Use a seedless watermelon for the best results.
Serve right away for the best results.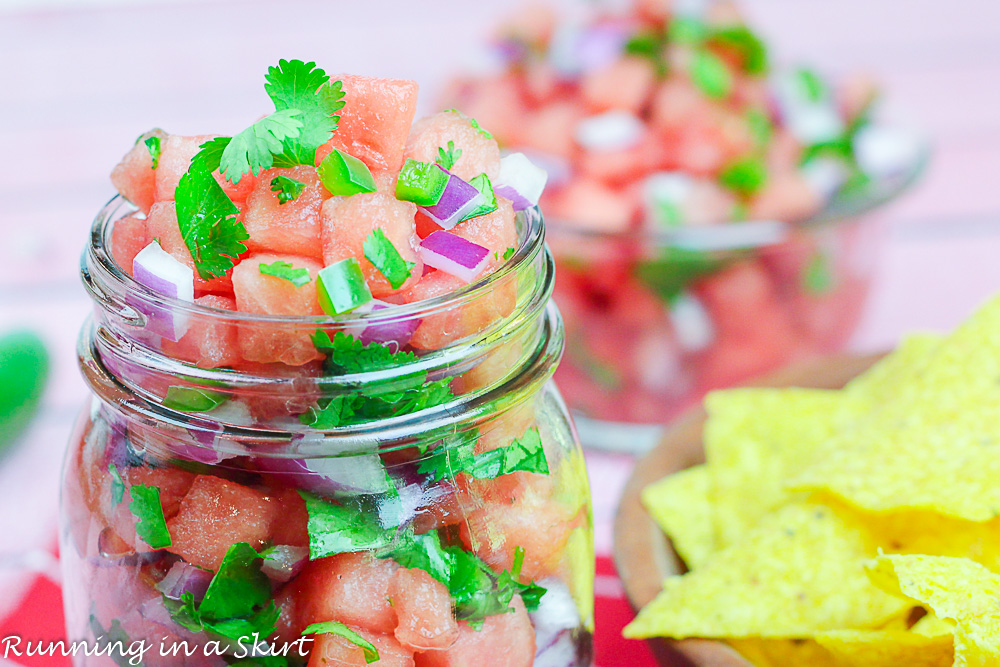 Honestly, this salsa is so yummy you could even skip the chips and eat it with a spoon. Here are a couple of dishes that would be great with.
Serve with...
I hope you enjoy this Watermelon Salsa recipe as much as I do! Give it a try and let me know what you think.
More Healthy Fruit Salsa Recipes
More Healthy Watermelon Recipes
If you make this recipe, I'd love to hear what you think! Leave a comment and a star rating ★ below. Make sure to follow me on Instagram, Pinterest, and Facebook too!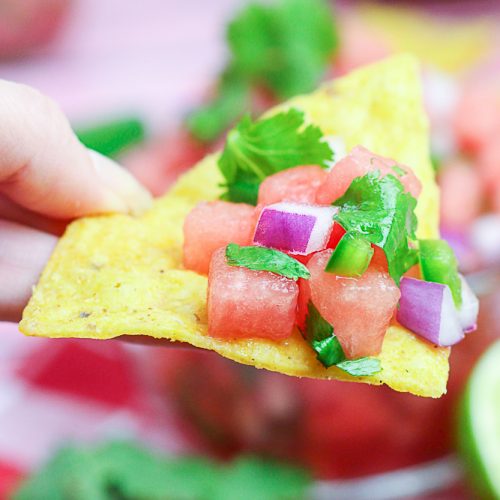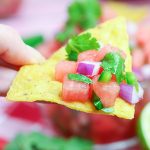 Watermelon Salsa recipe
This Watermelon Salsa recipe is refreshing, delicious, and only 5 Ingredients!  My addictive twist on easy Fruit Salsa is perfect on chips, on tacos, or with fish. 
Instructions
Carefully fold all ingredients together in a bowl.

Serve as a topping or with fish!
Notes
Serve with chips or as a topping for fish.
Nutrition
Calories:
34
kcal
Carbohydrates:
9
g
Protein:
1
g
Fat:
1
g
Saturated Fat:
1
g
Sodium:
3
mg
Potassium:
133
mg
Fiber:
1
g
Sugar:
6
g
Vitamin A:
574
IU
Vitamin C:
11
mg
Calcium:
14
mg
Iron:
1
mg
Pin for later!