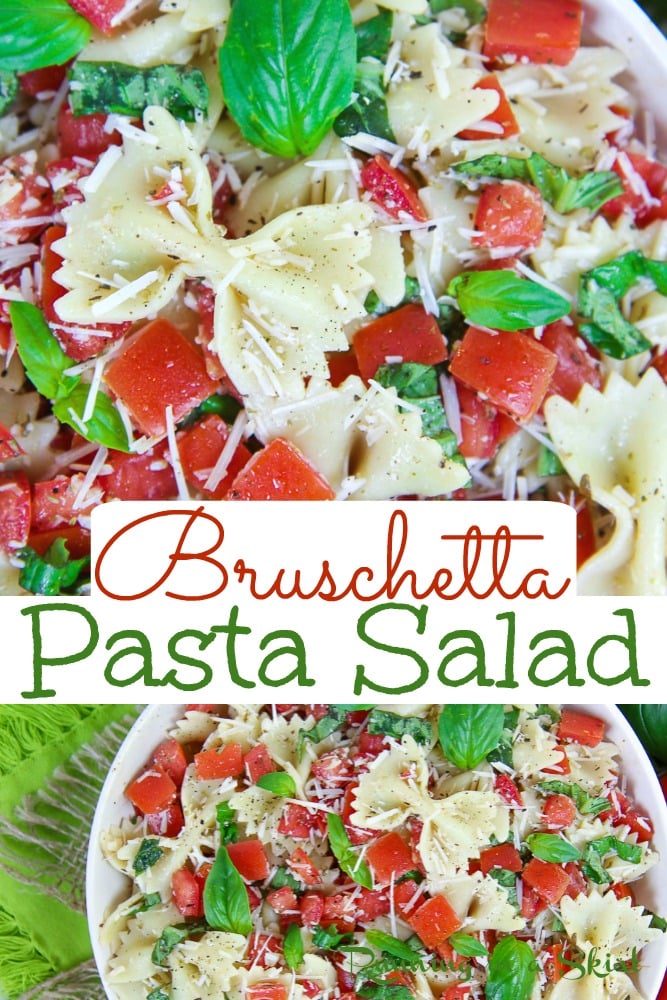 This Bruschetta Pasta Salad recipe is easy, fast, and delish. This healthy pasta salad is filled with summer tomatoes, basil, and olive oil making it the BEST Italian Summer Pasta Salad around.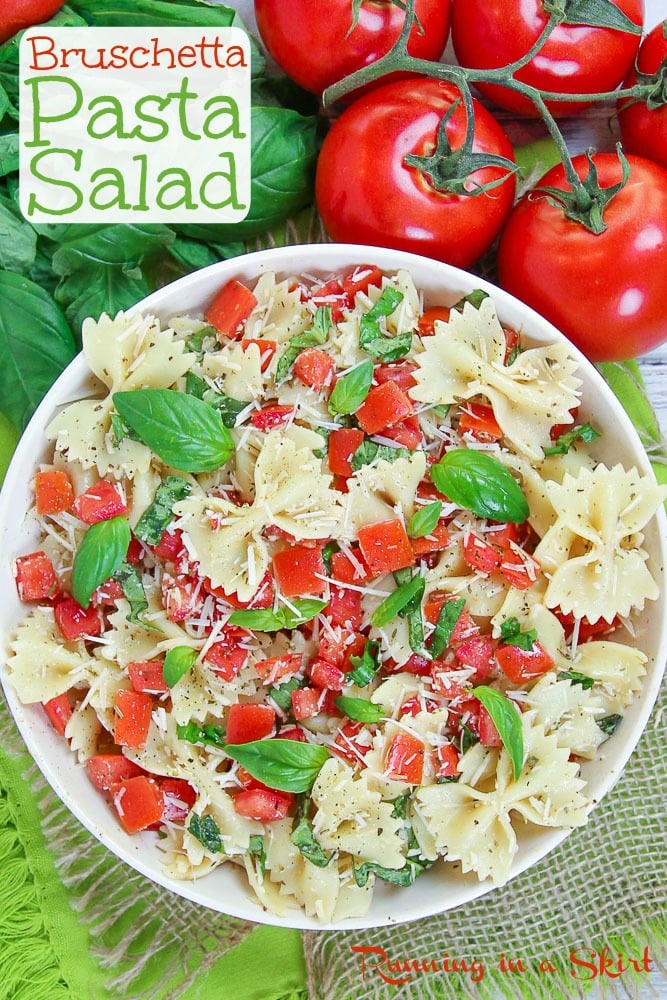 Bruschetta Pasta Salad
Has there ever been a better combination of food than tomato and basil?
With ripe tomatoes bursting off the vines and basil plants constantly popping new leaves summer is the perfect time to celebrate this dream team of foodie pairs. There is something so perfect about the way plump maters match with sweet fragrant basil. There are so many ways you could go with the tomato and basil combination (hello, CAPRESE!) but today we are celebrating another delish dish of summer... Bruschetta!
I'm taking it off the classic crostini and onto an amazing Healthy Pasta Salad including tomato, basil, parmesan, and homemade Italian Spice Mix! This Bruschetta Pasta Salad recipe comes together in a flash and is basically SUMMER in a bowl.
Why You'll Love this EASY Bruschetta Pasta Salad recipe...
For me, summer really is all about celebrating the fresh fruits and vegetables that just taste SO much better this time of year. At the top of the list is the humble tomato. Summer tomatoes have so much more flavor and color. They are honestly one of my favorite foods.
This EASY Bruschetta Pasta Salad recipe can be made in any season but really shines when you can find vine ripe tomatoes to use.
What exactly is bruschetta?
If you are new to the bruschetta game it's actually an antipasto or starter dish from Italy featuring grilled bread rubbed with garlic and topped with olive oil and salad. Most commonly tomato bruschetta is topped with a beautiful mixture of chopped fresh tomato, basil, and parmesan cheese. Sometimes you will see that premade mixture packaged and sold in stores.
This pasta salad idea was born from that topping. It uses all the fresh tomato, basil, and cheese but puts it in a pasta salad instead of on top of the bread. You still get the traditional garlic and olive oil flavors from the simple homemade dressing. The entire dish can be tossed together in less than 20 minutes and makes a great vegetarian main course or side dish for a crowd.
Is Bruschetta healthy to eat?
Yes! Bruschetta and this Brushetta Pasta Salad is healthy to eat because it is packed with tomatoes which are loaded with vitamins and antioxidants. Tomatoes are known to improve heart health, build strong bones, and perhaps even help certain cancers.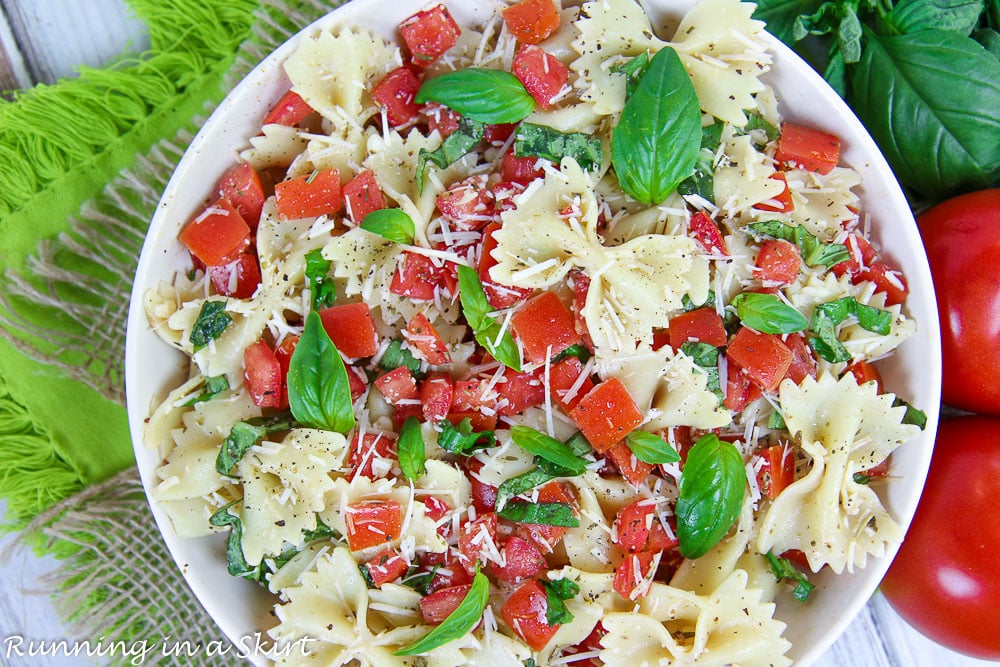 Ingredients in this Cold Bruschetta Pasta Salad recipe
This pasta salad celebrates those summer flavors with tomato, basil, pasta, parmesan cheese, and a super simple homemade Italian dressing. Here's what you will need:
Tomato: Use whatever type of tomato is the freshest with the most color and flavor. I used Roma tomatoes because they were ripe and easy to dice.
Fresh Basil: Fresh basil really gives this dish the authentic Bruschetta flavor. It packs a lot of flavor without a lot of fuss. I grow lots in my garden each summer just for recipes like this one.
Parmesan Cheese: I like the use the shredded parmesan cheese in the refrigerated section of the store and not the grated type found near the pasta sauce aisle. The real cheese really makes the flavors shine.
Favorite Pasta: You can use your favorite type of pasta including penne or even tortellini. I love the way the bowtie looks with this healthy pasta salad though.
For the simple homemade Italian Dressing you will need:
Olive Oil: Since this is a simple salad dressing, I like to use high-quality olive oil for lots of Italian flavors.
White Wine Vinegar: A white wine vinegar is mild enough not to overpower the tomatoes and has a nice clear color so the pasta salad remains bright.
Italian Seasoning: Use my homemade Italian Seasoning Mix or your favorite dried Italian seasoning blend. I like the combination of fresh basil AND dried herbs to get lots of flavor in this dish.
Garlic Powder: Garlic powder is perfect for this fast and easy dressing because it allows the garlic flavor to coat all the noodles.
salt/pepper
Variations?
Variations on this recipe include adding lemon, your own blend of Italian seasoning, or even a champaign vinegar to the dressing. You can also top the entire Italian Pasta Salad off with a nice drizzle of a balsamic vinegar reduction. Another great option would be to add a bunch of arugula for more nutrition and vitamins. The peppery greens would pair perfectly with this.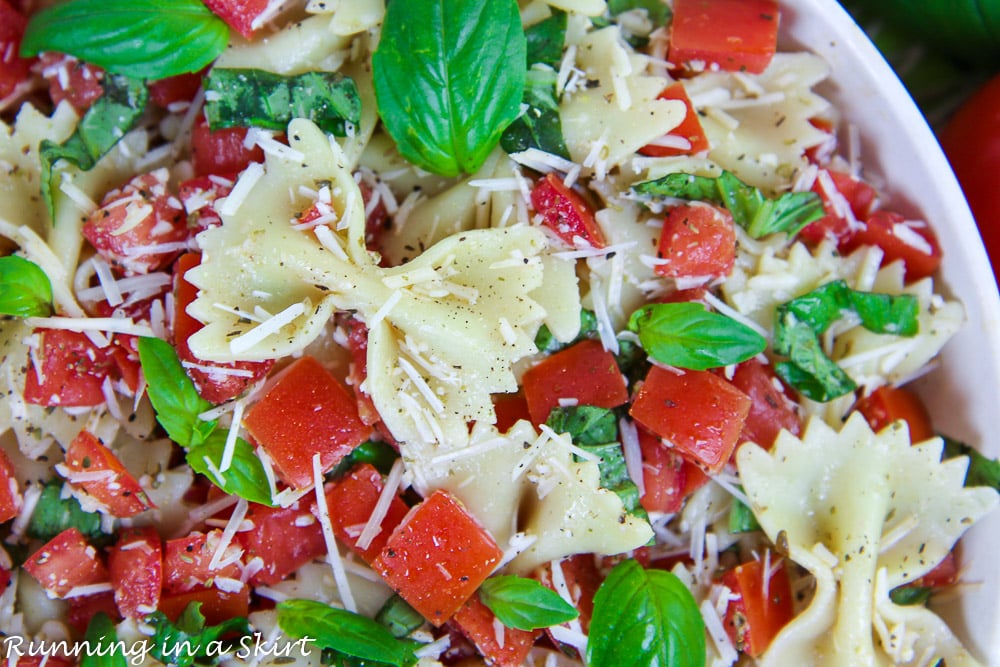 How to make the healthy pasta salad:
So how do you make a tomato and basil pasta salad? Since this recipe focuses on a few fresh ingredients, it comes together in less than 15 minutes.
Cook your pasta according to the package instructions. You will want the pasta to be al dente and still have a bit of a bite in it... not soggy.
While the pasta is cooking, chop your tomatoes and basil.
Drain the pasta and allow it to cool.
Toss the pasta with the tomato, basil, parmesan, and homemade Italian Dressing.
Serve room temperature or chilled.
This recipe is great for a vegetarian potluck dish or makes wonderful leftovers for the family.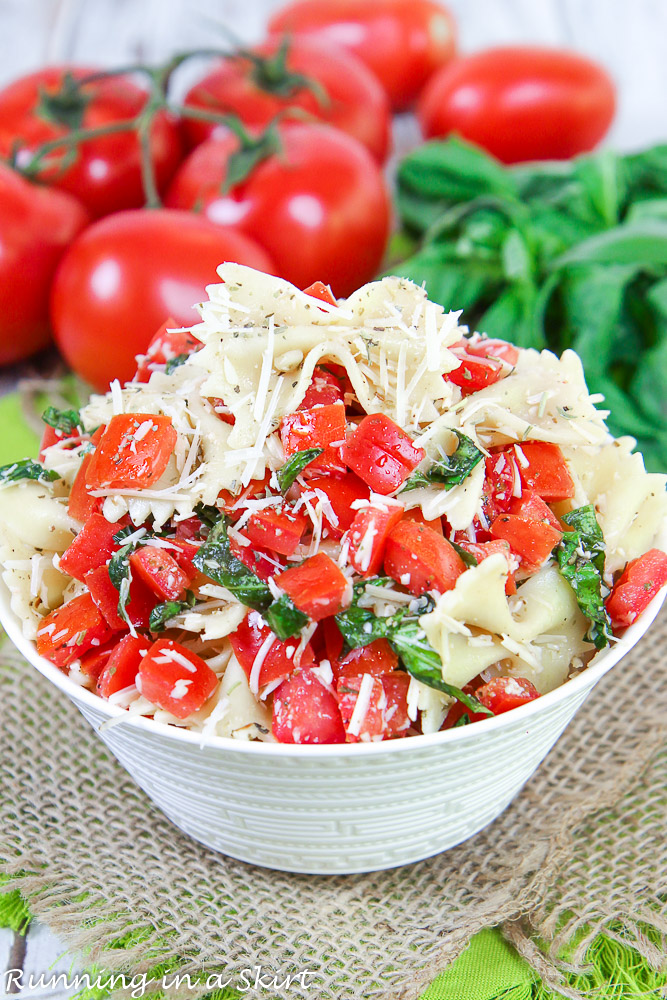 Serve it with:
I think this healthy pasta salad can be great as a healthy vegetarian main course or as a side dish with another vegetarian or pescatarian dish. Here are a few dishes that it would taste great with!
This Bruschetta Pasta Salad is simply the BEST! It's healthy, easy to make and tastes like a dream. Give it a try and let me know what you think.
More Healthy Pasta Salad recipes
If you make this recipe, I'd love to hear what you think! Leave a comment and a star rating ★ below. Make sure to follow me on Instagram, Pinterest, and Facebook too!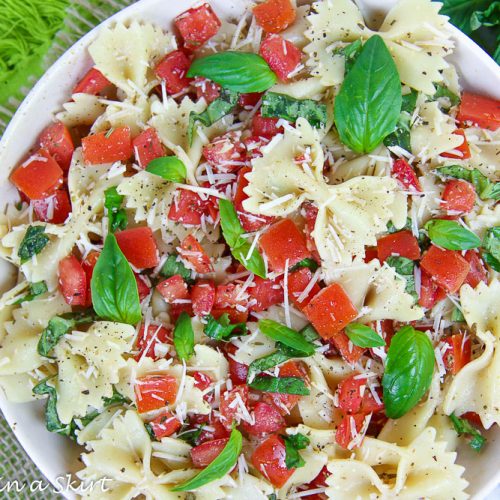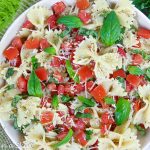 Bruschetta Pasta Salad recipe
This Bruschetta Pasta Salad recipe is easy, fast and delish. Filled with summer tomatoes, basil and olive oil, it's the BEST Italian Summer Pasta Salad around.
Ingredients
4

cups

cooked bowtie pasta

2

cups

tomato,

finely diced

½

cup

shredded parmesan

½

cup

fresh basil,

chiffonade

optional: balsamic glaze, extra basil
Instructions
Toss the cooked pasta, tomato, shredded parmesan and basil together in the bowl.

Whisk together the dressing and pour it on top of the pasta salad. Toss again.

Serve room temperature or cold. You can also top with optional extra balsamic glaze and/or extra basil or parmesan.
Notes
Serve this Italian Pasta Salad at room temperature or cold.  It's great for dinner or cookouts!
Nutrition
Calories:
288
kcal
Carbohydrates:
41
g
Protein:
12
g
Fat:
9
g
Saturated Fat:
2
g
Cholesterol:
3
mg
Sodium:
149
mg
Potassium:
318
mg
Fiber:
3
g
Sugar:
3
g
Vitamin A:
815
IU
Vitamin C:
11
mg
Calcium:
136
mg
Iron:
3
mg
Pin for later