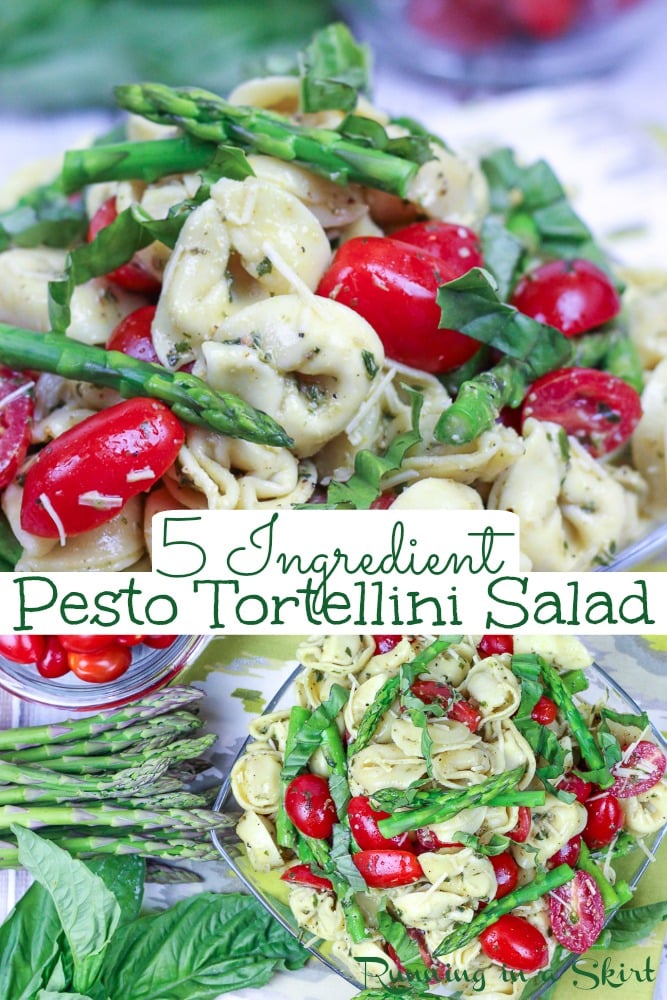 My Easy Pesto Tortellini Salad is filled with vegetables like asparagus and tomato and topped with fresh basil. It's made with just 5 ingredients and takes only 15 minutes making it the perfect vegetarian meal.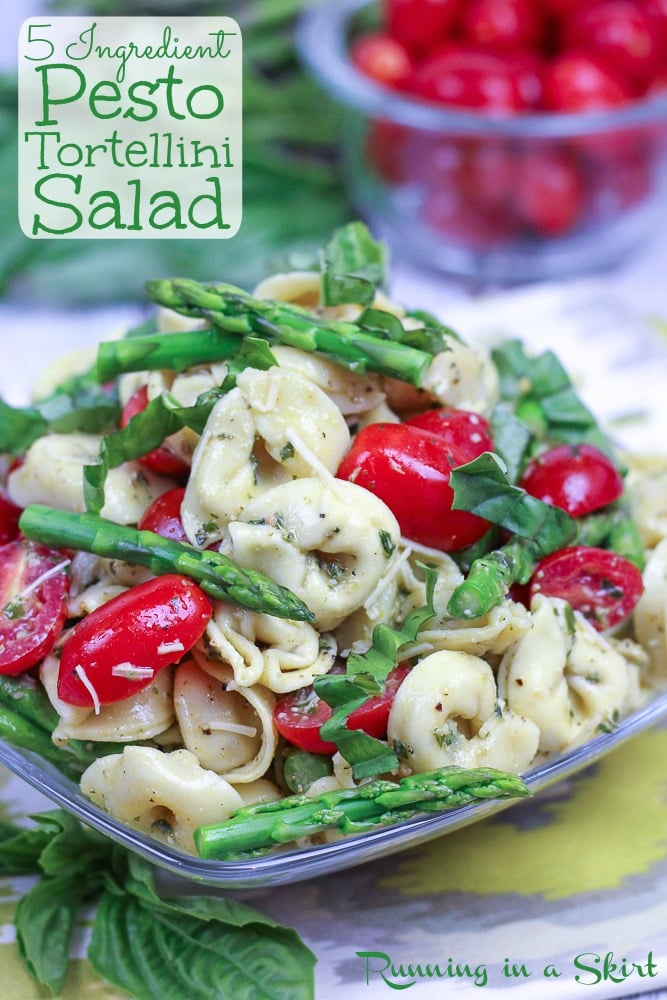 Pesto Pasta Tortellini Salad
Can you really have summer without a good pasta tortellini salad? It's really the perfect dish to make for an easy dinner or a cookout. I love a vegetarian pasta salad because it can serve as a main dish for the plant-based folks I'm serving AND as a side dish for everyone else. It can be served hot, cold, or even room temperature for a dish that's as simple as it is tasty. This healthy pasta salad has an Italian flair with pesto, basil, and fresh vegetables.
There are a lot of wonderful summery pasta salads to try on Running in a Skirt (Caprese Pasta Salad or Bruschetta Pasta Salad)... but this Easy Pesto Tortellini Salad is also at the top of the list. It's crazy easy to make with only 5 ingredients and can be on the table in less than 15 minutes. It's a staple in my house and I'm sure you will love it too.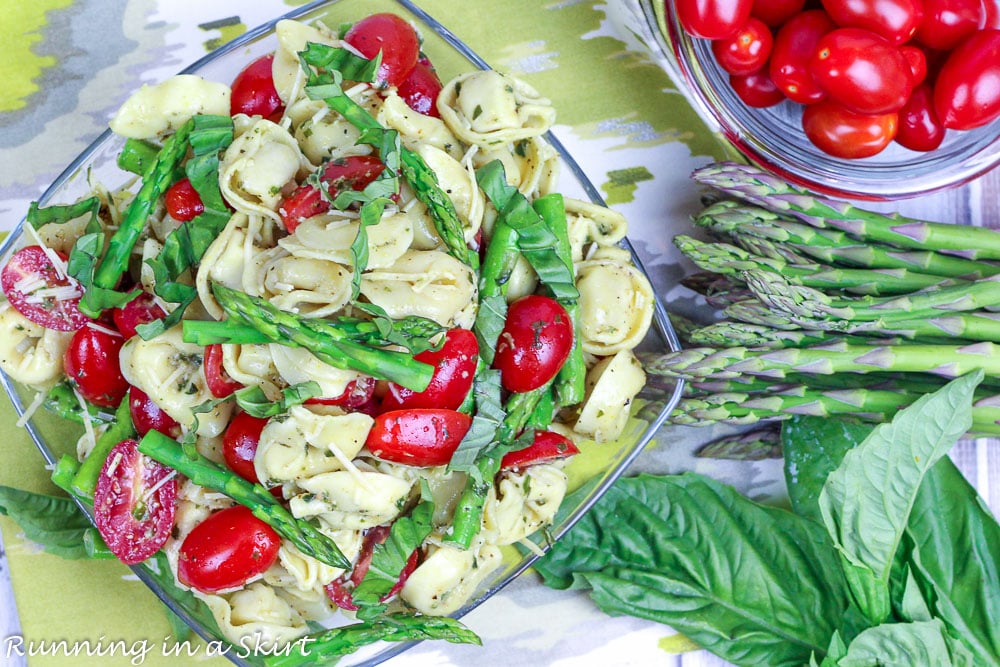 This Easy Pesto Tortellini Salad recipe is a Perfect Vegetarian Dinner!
There are a million other things to love about this Easy Pesto Tortellini Salad recipe. Right off the top are the pillow-y bites of cheese tortellini. You can buy the fresh or frozen kind. I find that both fill my need for delicious, carb-y pasta AND cheese in my life.
Next up is perfectly balanced asparagus and fresh summer tomatoes. Both veggies make this a bit healthier and tastier.
Finally, fresh basil pesto just SCREAMS summer. Any time I can use pesto in the summer... I'm game.
Plus, I love the pretty vibrant colors in the dish and I'm even more of a fan of how easy it is to put together.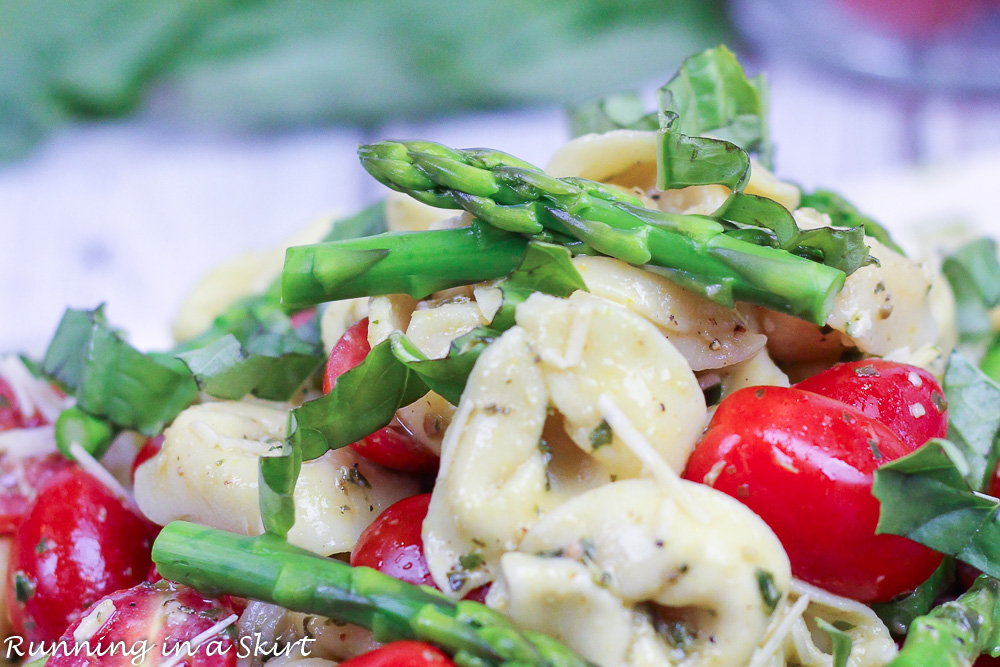 Ingredients:
Here's what you will need to make this Tortellini Pasta Salad Pesto!
Tortellini: You can use the frozen tortellini or the fresh kind in the dairy aisle.
Asparagus: Fresh asparagus adds color, flavor, and vitamins.
Tomato: Fresh tomato is the perfect complement to any pasta salad with basil pesto.
Pesto: You can use fresh basil to make your own pesto you make or use your favorite packaged kind.
Parmesan: Use the shredded kind in the cheese aisle and not the powdered type you use on pizza for more flavor.
What is the best tortellini?
I like the use of frozen tortellini for recipes like this because it's nice to keep a bag in my freezer for easy meals. I love how fast they cook and can be used in so many other ways. There is also fresh tortellini in the refrigerated aisle of the grocery store.
How do I dress tortellini?
Pesto is a great way to dress tortellini with lots of flavors and not a lot of work. Another great option for this Tortellini Salad would be to use my Healthy Greek Salad Dressing.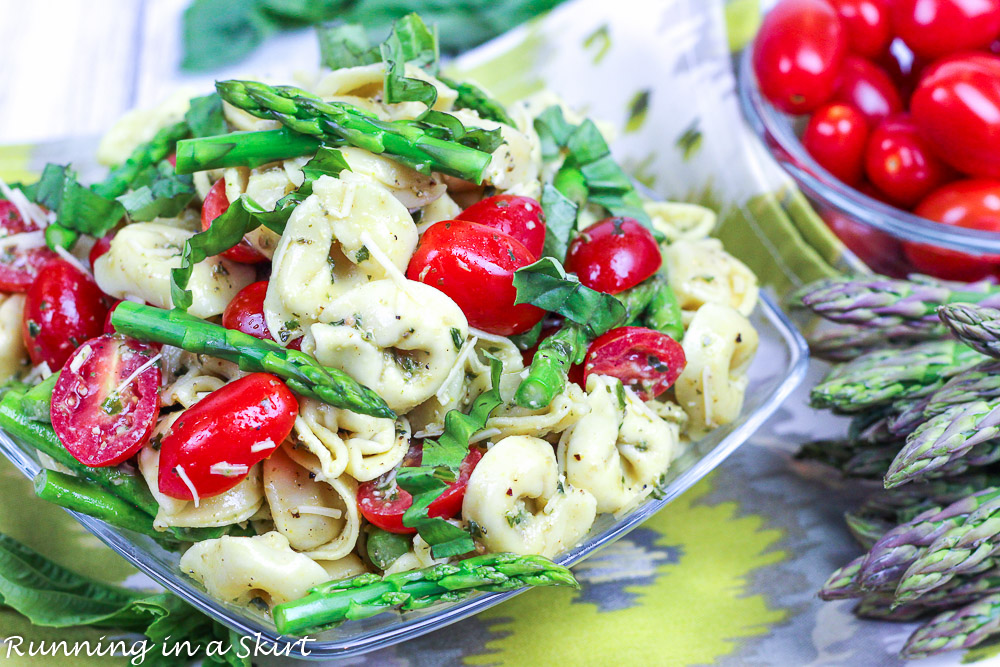 How to Make Pasta Tortellini Salad with Asparagus:
Curious how to make tortellini and asparagus pasta salad? Just follow these easy steps!
Cook the tortellini according to package instructions. Usually, that is boiling the tortellini in water for just a few minutes. Drain the pasta and allow it to cool a bit. If you are going to leave it for a while you can drizzle it with a small amount of olive oil to keep it from sticking.
Blanch the asparagus by allowing it to cook in boiling water for just 3 minutes. Immediately put the asparagus in a bowl with ice water to keep it from cooking.
Toss the pasta, asparagus, tomato, pesto, and cheese together in a bowl.
If desired garnish with extra cheese and fresh basil.
Can you make tortellini ahead of time?
Yes! This Pesto Tortellini can be made ahead of time. It stores well in the fridge in an airtight container and can be served chilled or room temperature. It's a great make-ahead dish for dinner or a cookout.
Variations and Pro Tips
You could honestly mix this up with any veggies, but I love the vibrant combination of the asparagus and tomatoes. They are both crowd favorites and pair perfectly with pesto and basil.
Use a quality pesto from the refrigerated or deli section of your grocery store or make your own. I'm hoping to make some this summer to freeze for the year from my garden.
For an extra punch of vitamins in this dish add a couple of handful of fresh greens like peppery arugula or soft spinach.
Add a squeeze of fresh lemon for some additional flavor.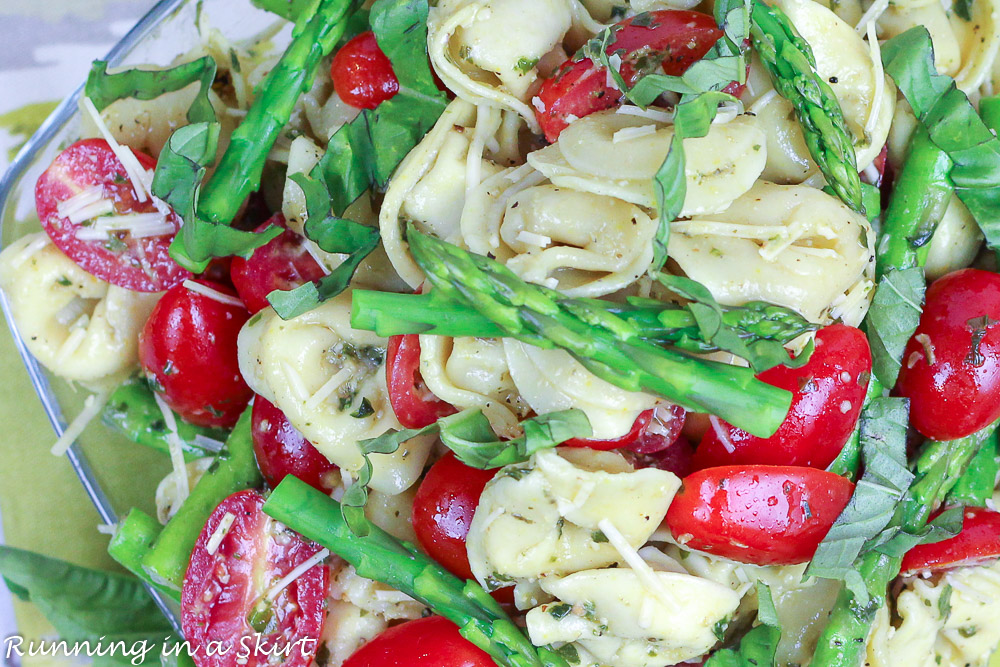 Serve my pasta salad with...
This healthy pasta salad is also great as a stand-alone vegetarian meal. I hope you enjoy this Pesto Tortellini Salad as much as my family does. It's totally irresistible.
More recipes with frozen tortellini...
More healthy pasta salad recipes...
If you make this recipe, I'd love to hear what you think! Leave a comment and a star rating ★ below. Make sure to follow me on Instagram, Pinterest, and Facebook too!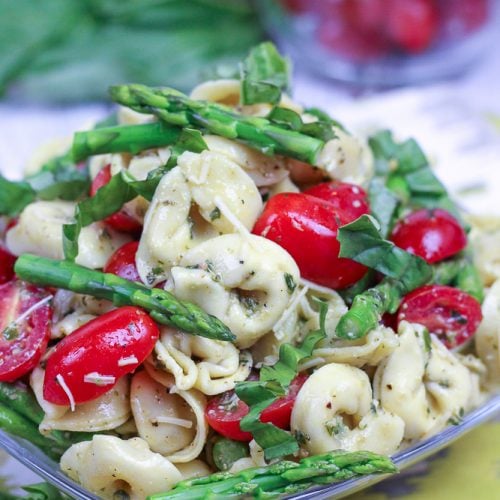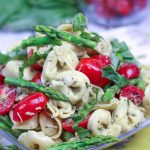 Easy Pesto Tortellini Salad
My Easy Pesto Tortellini Salad is filled with vegetables like asparagus and tomato and topped with fresh basil.  It's made with just 5 ingredients and takes only 15 minutes making it the perfect vegetarian meal.  
Ingredients
4

cups

frozen tortellini

½

bunch asparagus

,

cut in 2 inch pieces

½

cup

pesto

1

pint

cherry tomatoes,

halved

¼

cup

fresh shredded Parmesan

Optional garnish: Fresh basil
Instructions
Cook the tortellini according to package instructions.

Remove the tortellini from the water and allow to cool.

In the same pot of water quickly submerge the asparagus. Allow to cook for 3 minutes. Remove from water and place in an ice bath to stop the cooking.

Mix all the ingredients in a bowl.

Garnish with fresh basil.

Serve immediately or chilled.
Notes
For a lighter dish with fewer calories less pesto and more fresh basil.
Nutrition
Calories:
471
kcal
Carbohydrates:
53
g
Protein:
19
g
Fat:
21
g
Saturated Fat:
5
g
Cholesterol:
43
mg
Sodium:
763
mg
Potassium:
258
mg
Fiber:
5
g
Sugar:
7
g
Vitamin A:
1219
IU
Vitamin C:
27
mg
Calcium:
213
mg
Iron:
4
mg
Pin for later!