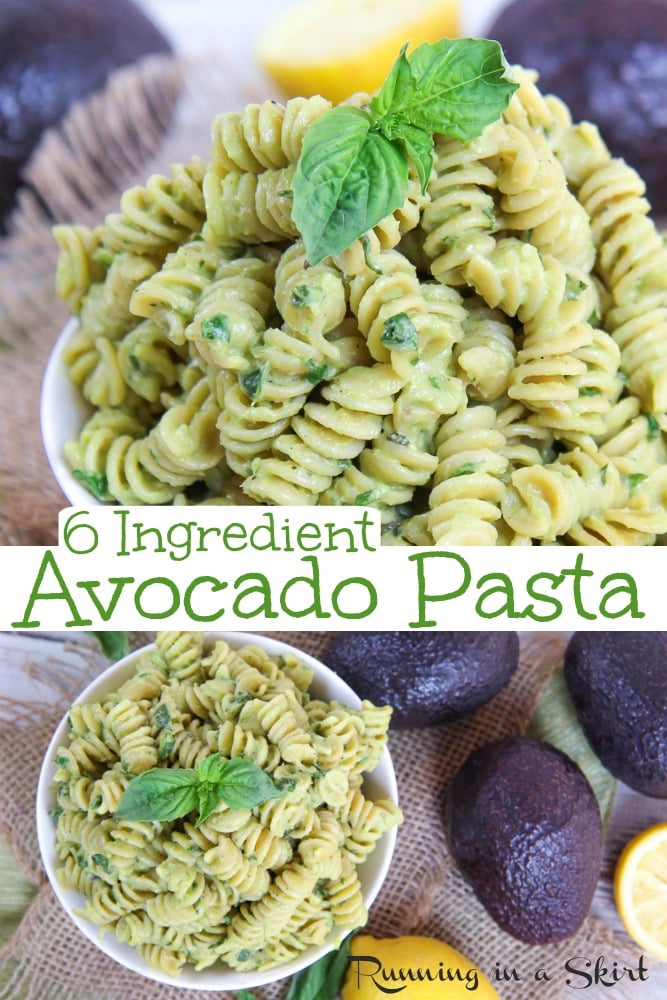 This Creamy Avocado Pasta recipe is healthy, delicious, and vegetarian/vegan friendly. It's only 6 ingredients and the perfect meal to throw together when you don't have a lot of time to cook!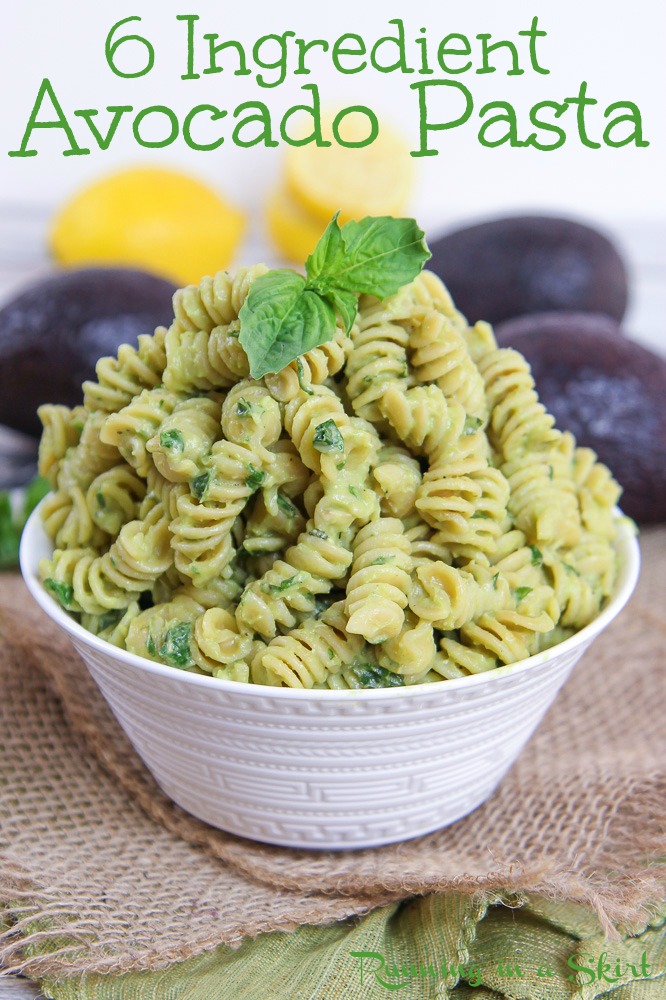 Avocado Pasta Sauce Vegan
This Creamy Avocado Pasta recipe is actually a blog post I first made and shared with you in September of 2014! I had just left WLOS to blog full time and this was one of the first recipes I shared with you guys. Now the recipe was just about perfect but the photos and post needed some help. I was pretty proud of the post at the time, but I like to think I've gotten a little better at this in 6 years??? So I decided to go back and re-do it for y'all.
I'm so glad I did because it reminded me what a delightful dinner idea this recipe is! It's vegetarian, vegan-friendly and so simple to make. The flavors in this avocado pasta sauce are incredible and now I know that this is also a toddler/ kid-friendly recipe too. It can be made vegan with no parmesan or vegetarian with a touch of cheese. Both are delicious.
The twins LOVE avocado and gobbled up this ENTIRE recipe right after I made it. They kept going YUM... YUM!
So If that's not a proper endorsement... I don't know what is!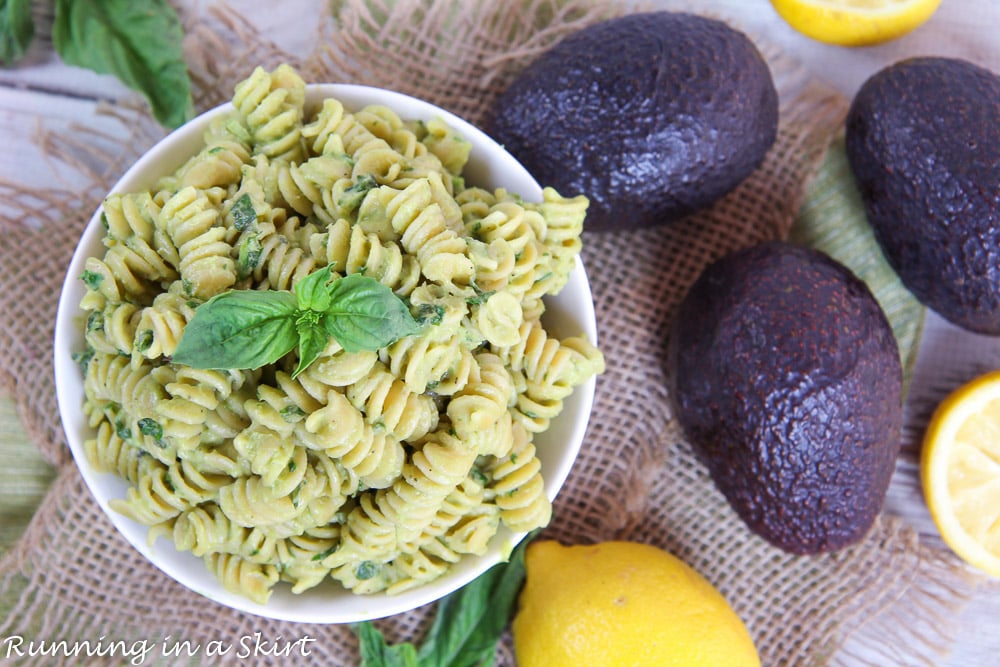 Creamy Avocado Pasta recipe
My Creamy Avocado Pasta recipe is filled with delightful foodie finds like avocado, garlic, lemon, and basil. The flavors are light, bright and so flavorful and the avocado sauce is silky smooth without any cream.
It's time we all get on the green pasta train.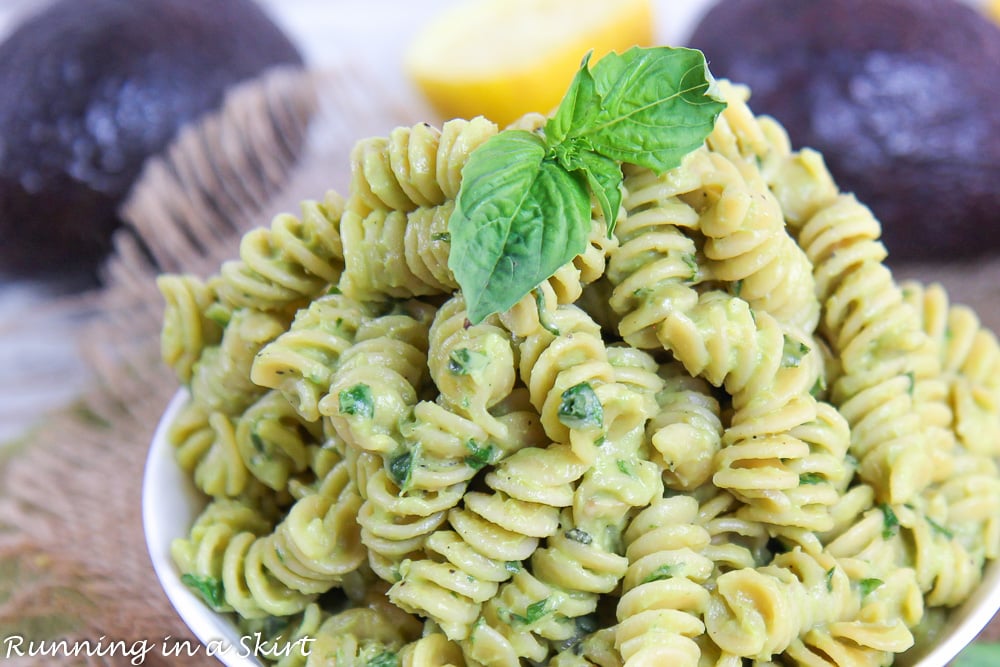 Vegan Avocado Sauce
The simple vegan avocado sauce comes together quickly and so silky smooth. It's one of those dishes you try once and wonder why you hadn't been making it forever.
The flavor and texture are EVERYTHING. You can serve this vegan avocado sauce on regular pasta noodles OR zucchini noodles for a low-carb twist. Either way is delicious.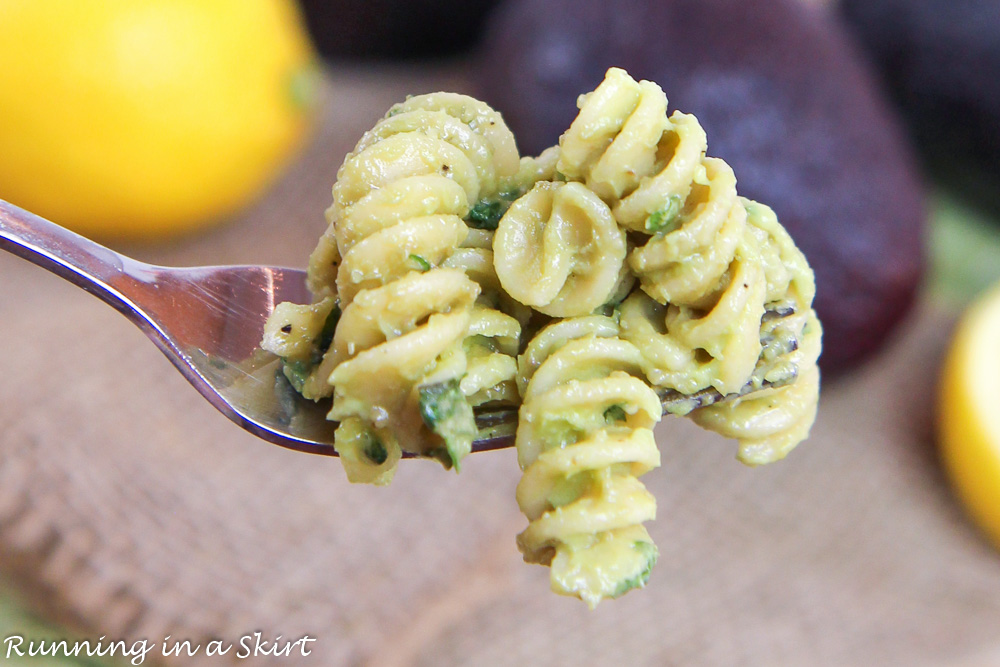 What's in My Creamy Avocado Pasta Recipe?
I love making recipes with just a few ingredients and my Creamy Avocado Pasta recipe is no exception. This is another recipe with only 6 ingredients!
Pasta: Use your favorite kind of pasta. Whole wheat, regular, or even zucchini noodles will work.
Avocado: Pick a nice and creamy ripe avocado for this. You'll want one that will blend into a sauce easily.
Basil: Basil adds loads of flavor to this Avocado Pasta without a lot of fuss. You can substitute dried basil if you must, but fresh is so much better.
Lemon: Lemon is a great and healthy way to brighten and freshens up any dish including this one.
Garlic: You'll need either fresh or jarred minced garlic.
Optional: Parmesan- Honestly this dish tastes great with or without the parmesan. Leave it off if you are looking for a Vegan Avocado Pasta.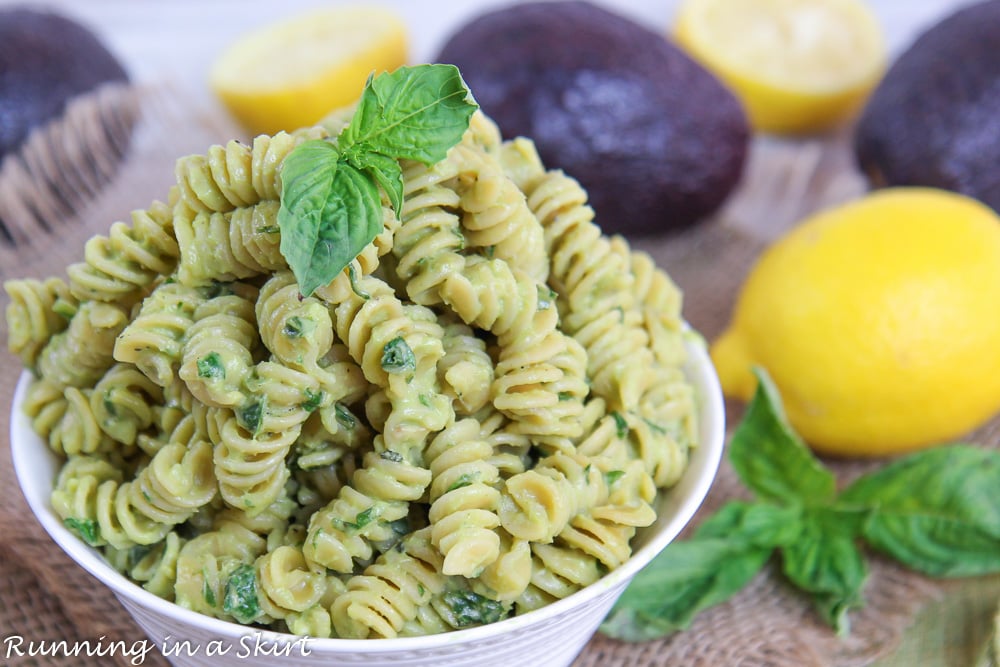 How Do You Make Avocado Pasta Sauce?
If you've never used avocado for pasta before you are missing out! All you do to make this avocado pasta sauce is follow a few simple steps.
Put your avocado, basil, garlic, lemon, and salt and pepper in a food processor.
Blend until smooth and creamy.
Boil your pasta according to the package.
Toss the warm pasta with your avocado pasta sauce.
If you aren't vegan feel free to add a sprinkle of parmesan on top, but you don't NEED it. 🙂
Eat and enjoy!
How do you keep avocado sauce from turning brown?
My Creamy Avocado Pasta recipe has an entire lemon in it! The acid from that really helps this dish from turning brown. While it didn't stay quite as bright I was able to store mine for several days without it completely turning. To help keep your avocado sauce from turning brown, even more, add an extra sprinkle of lemon juice on top after you put it in your storage container.
Can you reheat avocado pasta?
Yes! I reheat my avocado pasta! With this dish fresh is best but it still tastes good after storage. If it seems dried out add a few water droplets before reheating.
How long does avocado pasta last?
You can keep this Creamy Avocado Pasta recipe in the fridge for 3-5 days. Store it in an airtight container.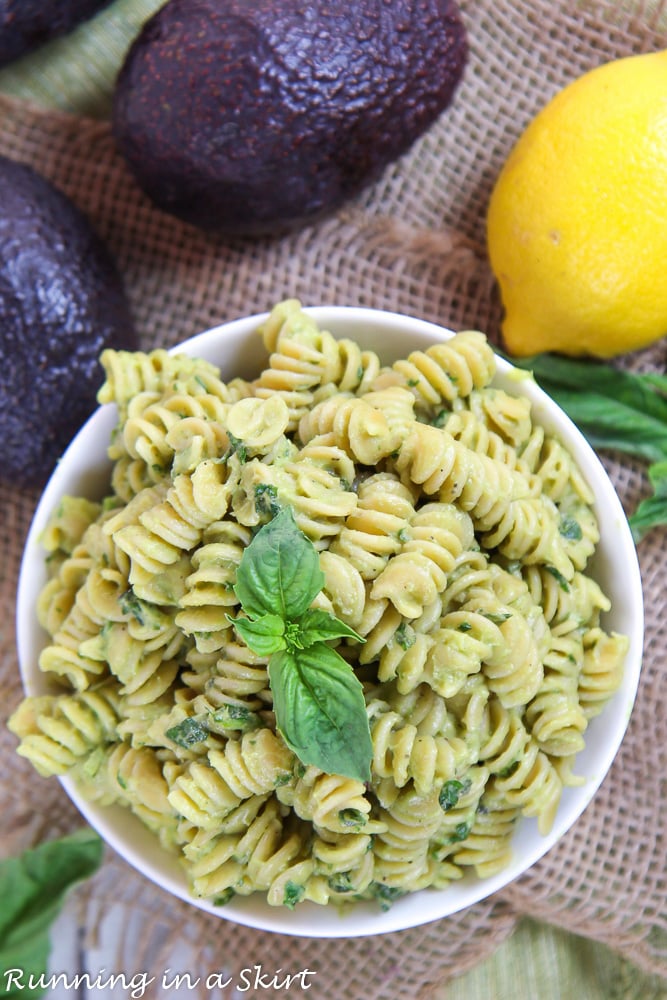 Dinner is served! These avocado noodles are now on regular rotation again at our house... especially since the twins love it so much! Give it a try and let me know what you think.
More healthy vegetarian pasta dishes to try...
Pin for later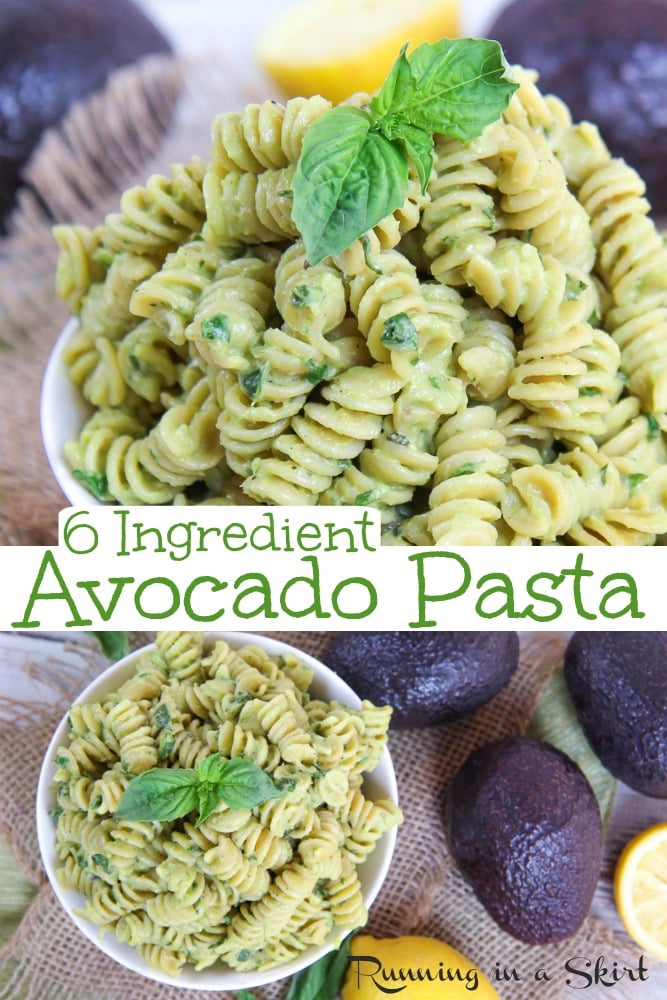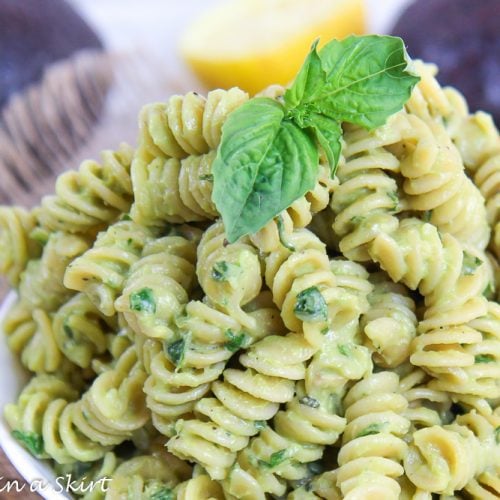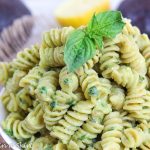 Creamy Avocado Pasta recipe
This rich and creamy Avocado Pasta recipe is beyond delicious, simple to make and family friendly!
Instructions
Boil pasta according to package instructions. Drain and put back in the warm pot.

Combine avocado, basil, lemon, garlic, salt and pepper in a blender or food processor. Combine until smooth.

Add avocado blend into pot with the pasta. Mix well until all noodles are coated.

Garnish with basil leaves and parmesan.
Notes
The lemon in this recipe keeps the avocado from turning completely brown BUT this dish is still best served immediately.
Nutrition
Serving:
4
g
Calories:
381
kcal
Carbohydrates:
54
g
Protein:
10
g
Fat:
16
g
Saturated Fat:
2
g
Sodium:
11
mg
Potassium:
660
mg
Fiber:
9
g
Sugar:
3
g
Vitamin A:
305
IU
Vitamin C:
25
mg
Calcium:
36
mg
Iron:
2
mg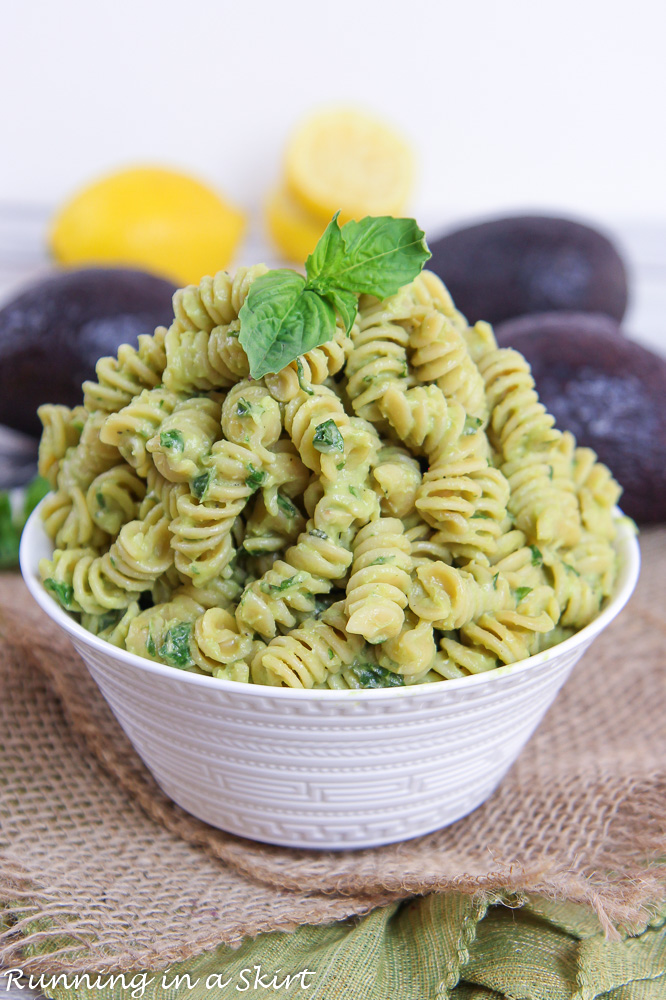 Your turn!
What is your favorite way to eat pasta?