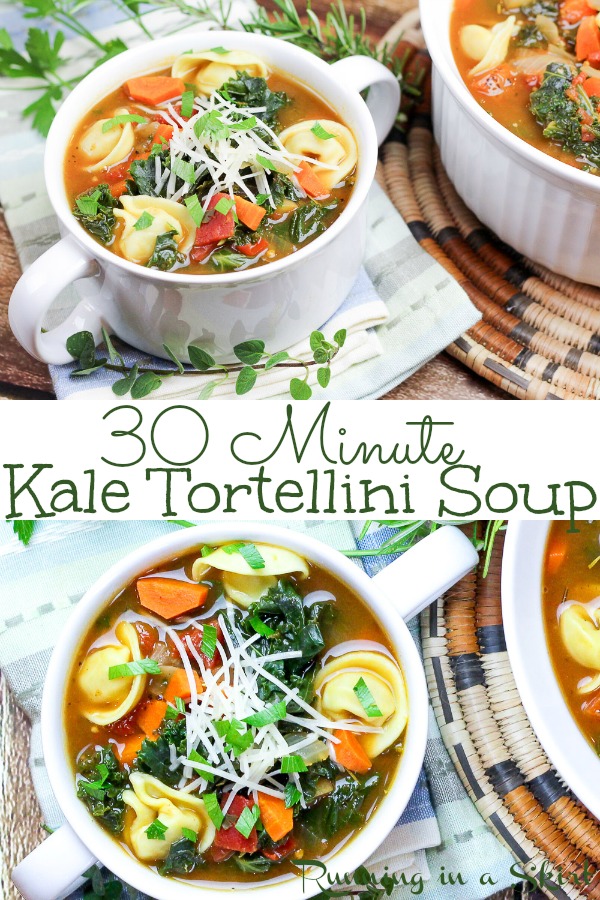 This simple dinner is on the table in only 30 minutes! Try my homemade Kale Tortellini Soup recipe today.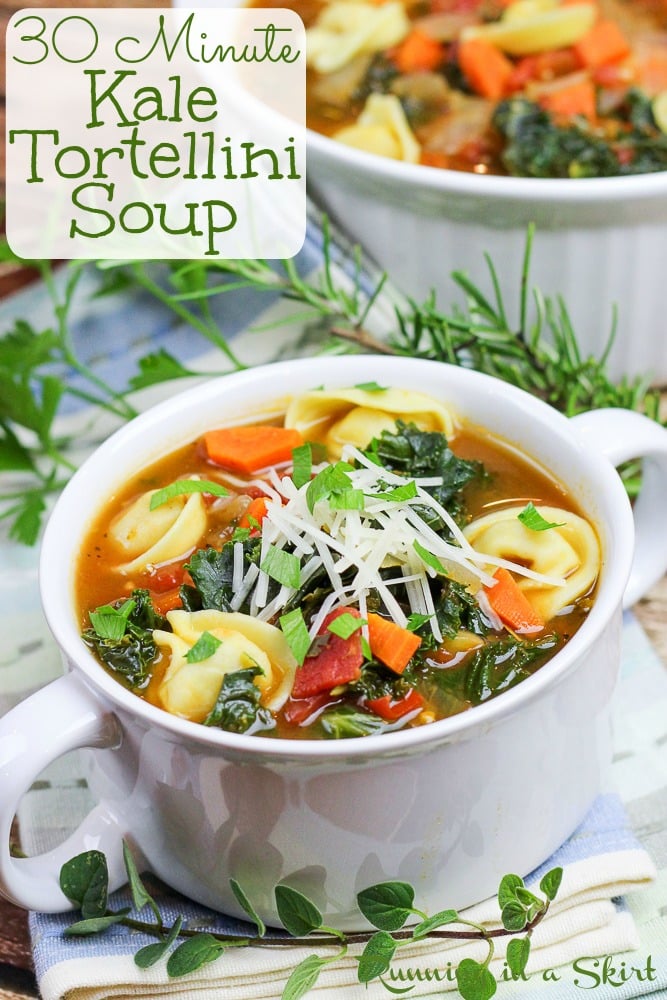 Hi guys!
The weather has been so slow to cooldown this Fall. I'm not a fan of the cold, so I'm not complaining but it has felt a bit strange. Eventually, though the weather will catch up with the season and I'll be in full on soup mode. One of my all time favorites is my Kale Tortellini Soup recipe. It's a quick stovetop soup that uses an ingredient I always keep in my freezer, frozen tortellini. I know frozen tortellini isn't fancy BUT when I bulk it up with all sorts of colorful fresh veggies in this soup I get a fast vegetarian meal that is actually pretty healthy and makes everyone happy. Yes, this one the Hubs loves too!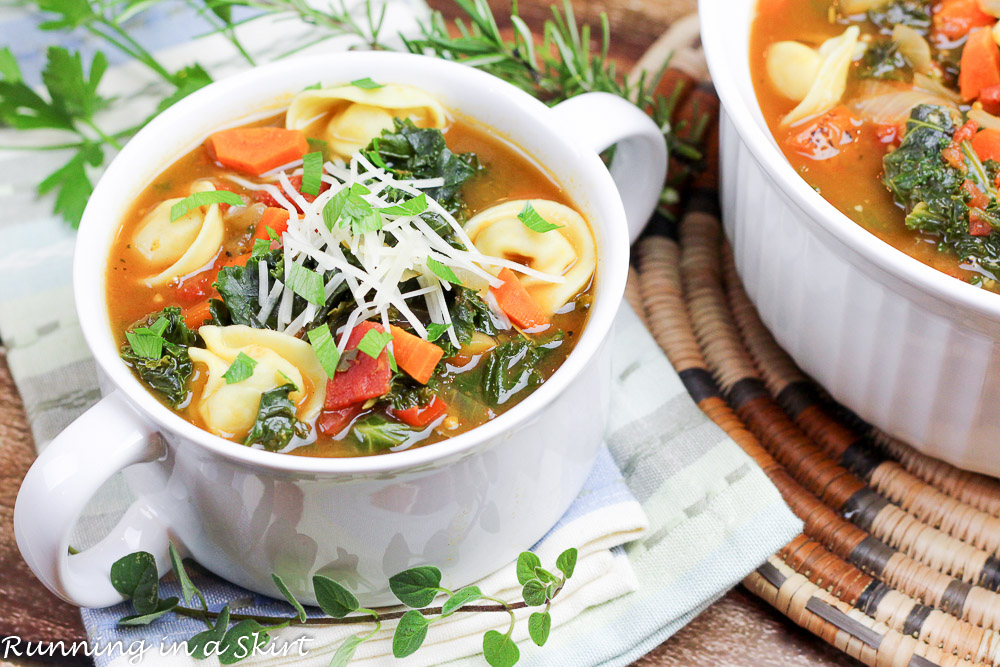 Here's why you'll love my Kale Tortellini Soup recipe...
For as much as I adore my crock pot, I don't ALWAYS think ahead enough to make it happen. This quick soup can be on the table in less than thirty minutes from walking in the kitchen. If you have longer you can let the broth simmer even longer for more flavor!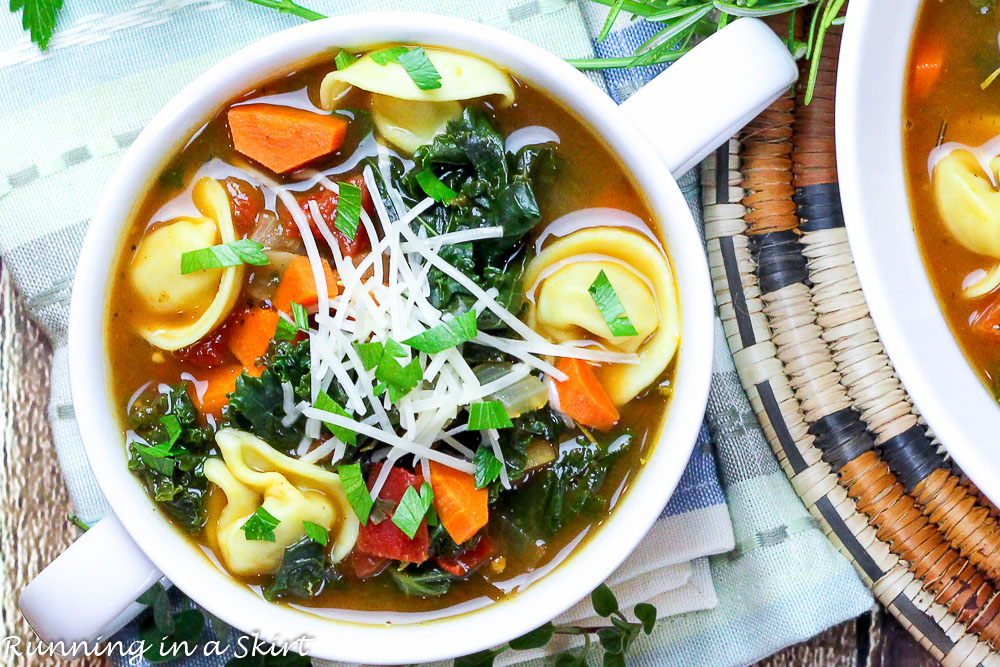 Soup is so warm and inviting this time of year, and I simply can't get enough of it. The house feels so cozy and smells good all evening. You'd never guess this Kale Tortellini Soup recipe comes together so quickly.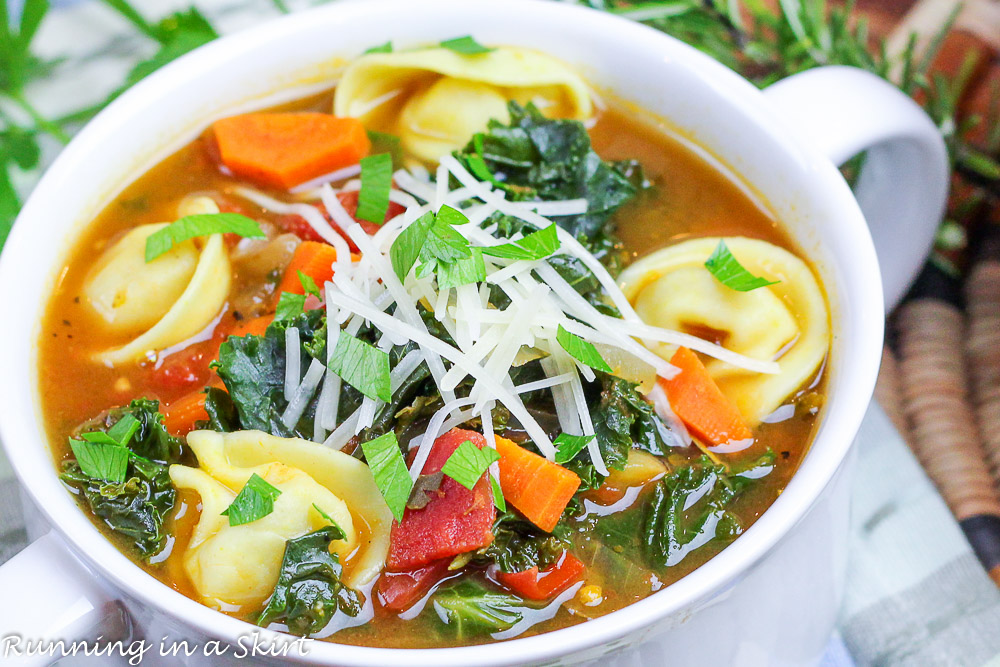 My Kale Tortellini Soup is packed to the brim with fresh veggies like carrots, onions, and kale. I even added a can of tomatoes for more color and vitamins. You can easily customize the soup to what you have though.
The only requirement is a big pile of delicious kale stirred in at the end. I just LOVE the vitamin-packed green and can't get enough.
This soup works well for vegetarians and meat-eaters because the familiar tortellini give it substance and bulk. It's very filling for a soup!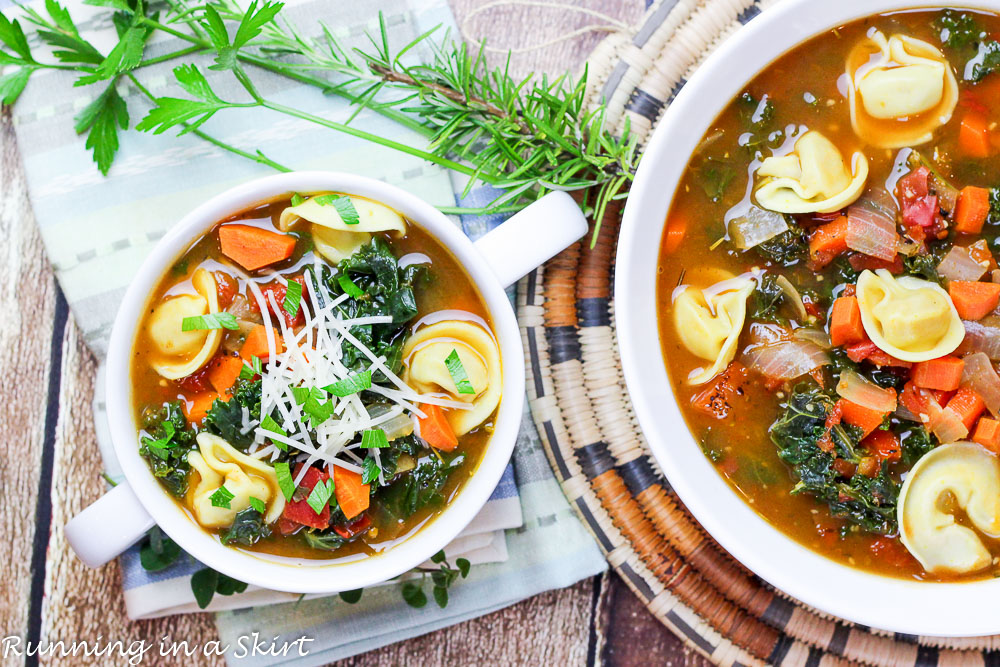 So grab a bag of that frozen tortellini and get cooking! I promise this Kale Tortellini Soup will not disappoint.
Love tortellini?
Love soup?
Pin for later!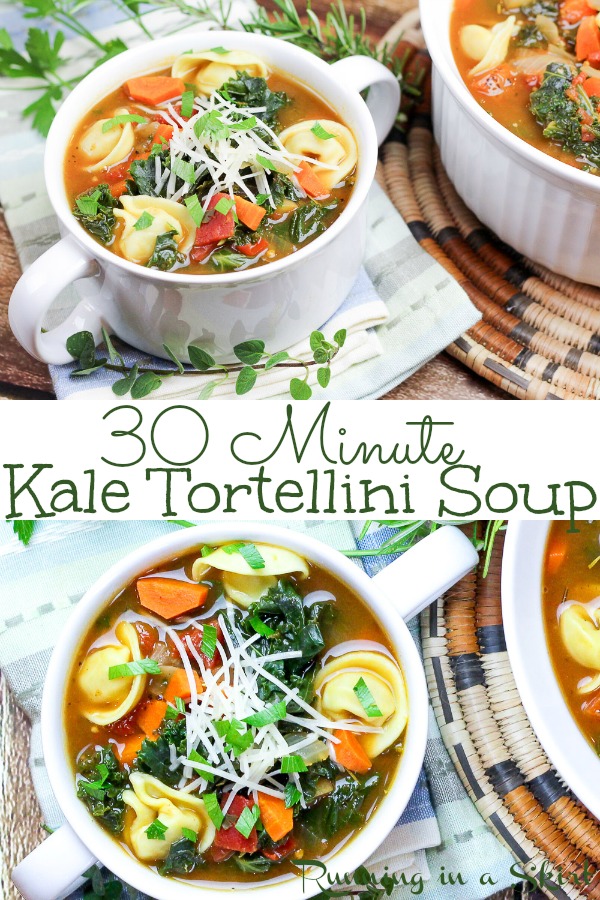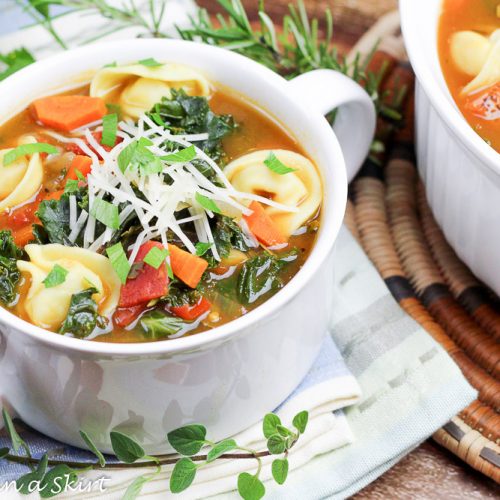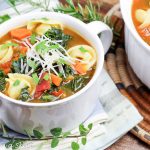 Kale Tortellini Soup recipe
Simple packaged frozen tortellini shine in this homemade kale tortellini soup recipe!
Instructions
In a large soup pot, saute the onion in the olive oil or medium heat for 2-3 minutes or until translucent.

Add the carrots and sauté for another 2-3 minutes.

Add the garlic and sauté for 30 seconds or until fragrant.

Add the broth, tomatoes, basil, oregano, rosemary, salt, pepper, and red pepper. Bring to a boil, then reduce to a simmer.

Allow to simmer for 5-10 minutes.

Bring pot up to medium heat and add the chopped kale. It will look like too much kale, but it will cook down! Once it wilts, turn pot to a simmer and allow to cook for an additional 5-10 minute or until the kale is tender.

Meanwhile, cook the tortellini in a separate pot according to package instructions.

Add serve the soup with the tortellini mixed in and with a garnish of parmesan cheese and parsley.
Notes
If you are eating the soup all at once and serving immediately, you can cook the tortellini in the same soup pot. It's much easier! However, if you are waiting to eat or keeping some as leftovers, cooking the tortellini separately keeps them from getting soggy.
Nutrition
Calories:
273
kcal
Carbohydrates:
41
g
Protein:
13
g
Fat:
7
g
Saturated Fat:
2
g
Polyunsaturated Fat:
0.3
g
Monounsaturated Fat:
1
g
Cholesterol:
25
mg
Sodium:
464
mg
Potassium:
378
mg
Fiber:
7
g
Sugar:
7
g
Vitamin A:
6650
IU
Vitamin C:
26
mg
Calcium:
191
mg
Iron:
3
mg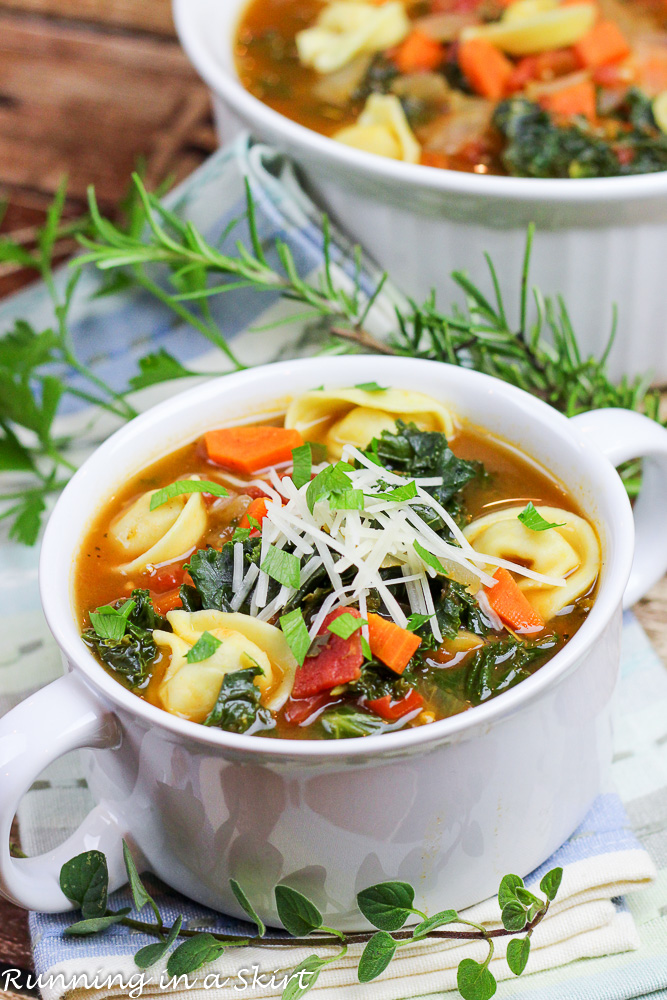 Your turn!
What do you always keep in your freezer? ---> I also always keep frozen shrimp in the freezer.