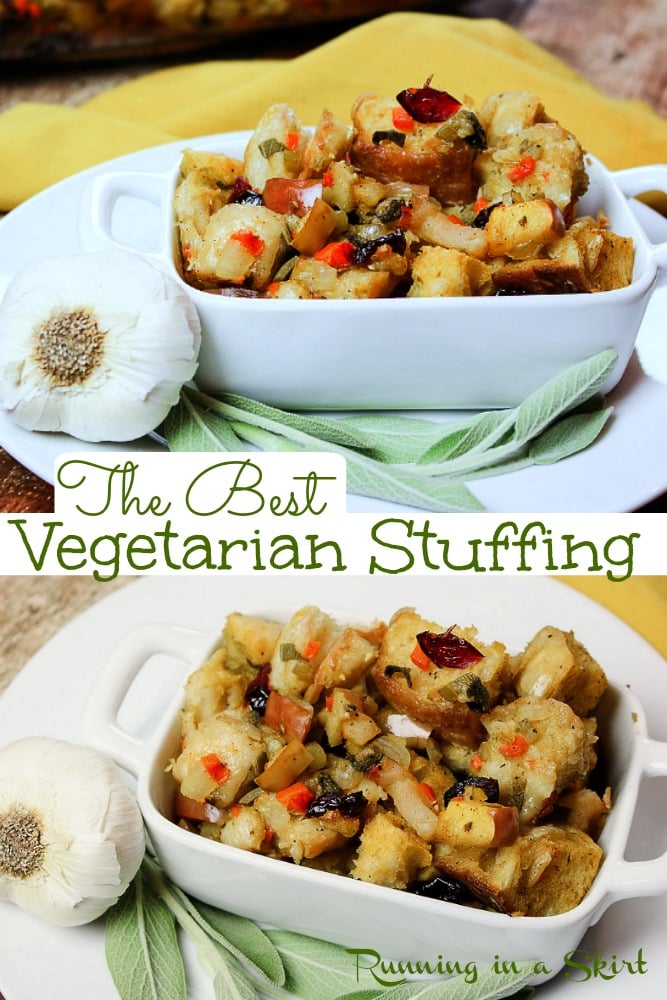 This Best Vegetarian Stuffing recipe is full of mouth-watering flavors and textures that will please both vegetarians and meat-eaters alike. It is one meatless side that is sure to be a hit at your holiday or Thanksgiving table!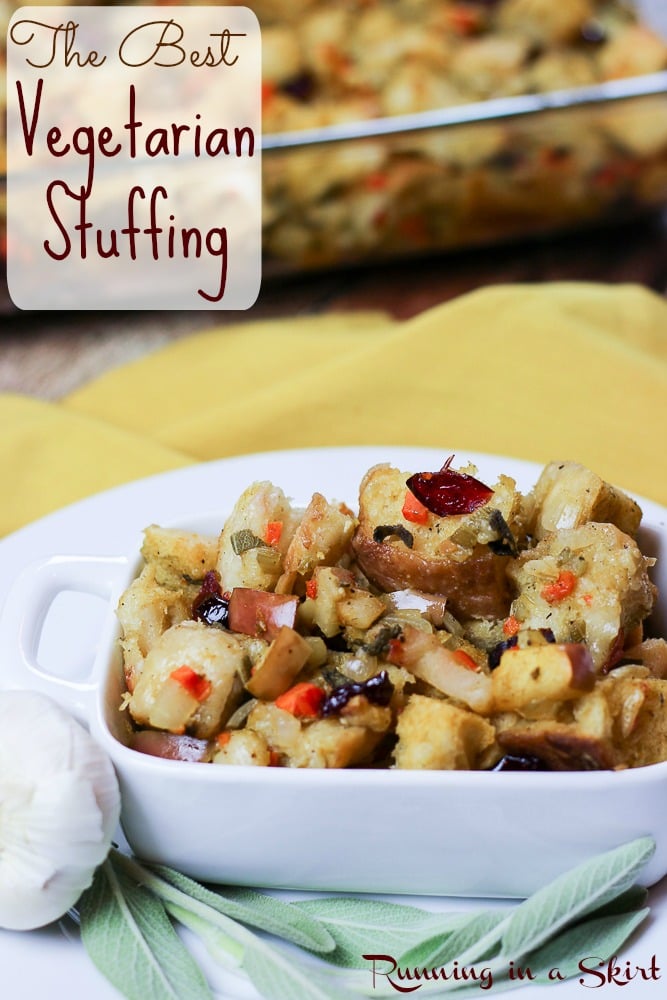 I'm so happy to be sharing this Vegetarian Stuffing recipe with you today. It is one of my tried and true recipes... one that I make for my family every year. They have come to love and look forward to it as much as I do.
This dish truly comes from the heart and I promise it will not only be the BEST Vegetarian Stuffing you've tried but it will end up being your favorite even over turkey ones.
The Best Vegetarian Stuffing Recipe
You see... I adore Thanksgiving. I've hosted a huge party at my house for years. My husband cooks two birds but since I don't eat meat the turkey is not the star of the show for me. The sides are what makes my heart swoon so I've perfected them over the years. Being a pescatarian (a vegetarian who eats seafood and fish,) this Vegetarian Stuffing recipe is actually my true Thanksgiving food love.
This fluffy, savory, flavor-filled MEATLESS stuffing is the star of my meal. It's not just a simple boxed stuffing but packed with goodies to make it stand out like cranberries, apples, celery, garlic, carrots, onions and FRESH sage.
Who needs turkey broth when you have ALL of this?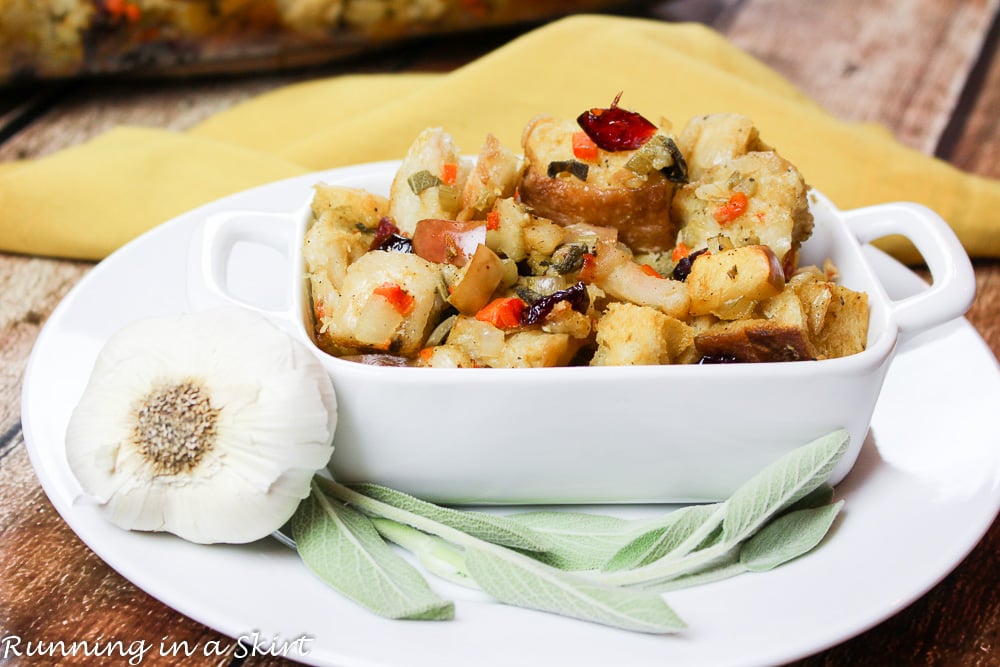 The Best Vegetarian Stuffing Ingredients
This meatless stuffing has a combination of savory and sweet flavors for the perfect flavor bomb for the holidays. To make this Vegetarian Dressing recipe you will need:
French bread: Make sure you use day-old, dried bread. Dry bread is crucial for stuffing to have texture and flavor. If you use freshly baked bread it will result in a soggy dressing.
Dried cranberries: Cranberries add a chewy texture and a sweet-tart flavor to the stuffing.
Fresh sage: Use fresh sage for the best flavor.
Sweet onion: Adds a nice, mildly sweet flavor.
Carrots and Celery: Finely chop the carrots and celery for the best texture.
Poultry seasoning: A tasty blend of herbs that helps to enhance the flavor of the dressing.
Apple: Apples are a fun twist that helps to lighten up the dish that can often feel heavy.
Garlic: No stuffing is complete without a little bit of garlic mixed in!
Vegetable broth: Finish it off with some vegetable broth to keep the stuffing moist.
Butter: I don't skimp here and go for a stick off salted butter. I'm all about healthy cooking most days, but I'm totally ok with this dish being a bit indulgent. Even with the butter though a single serving of this dish is only 200 calories.
Salt and pepper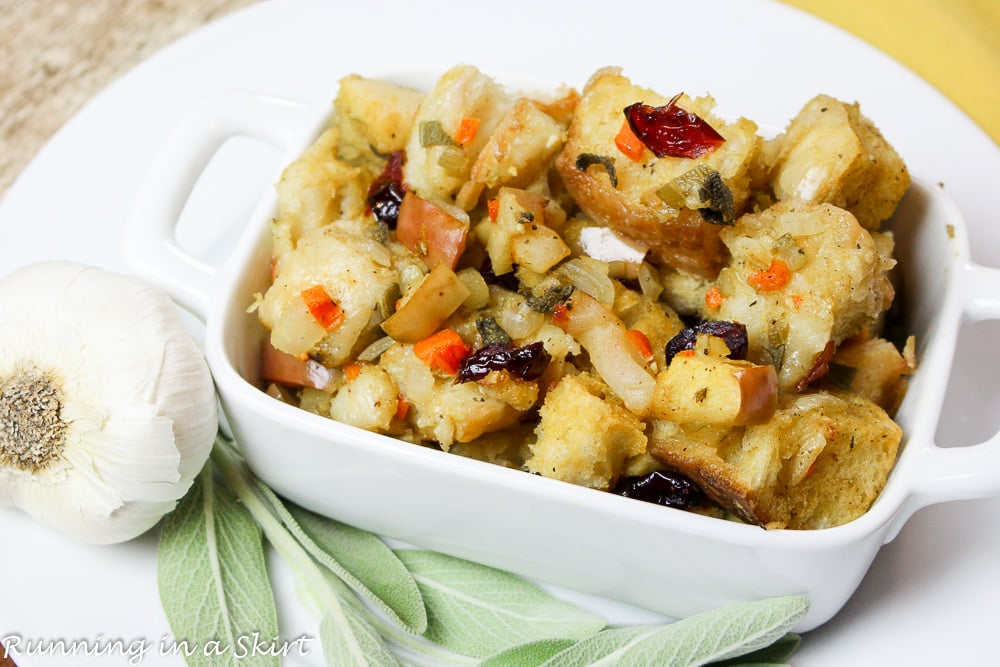 How do you make vegetarian stuffing from scratch?
Curious how to make vegetarian stuffing from scratch? Here's how...
Chop up your ingredients. Use the freshest produce you can find for the best stuffing!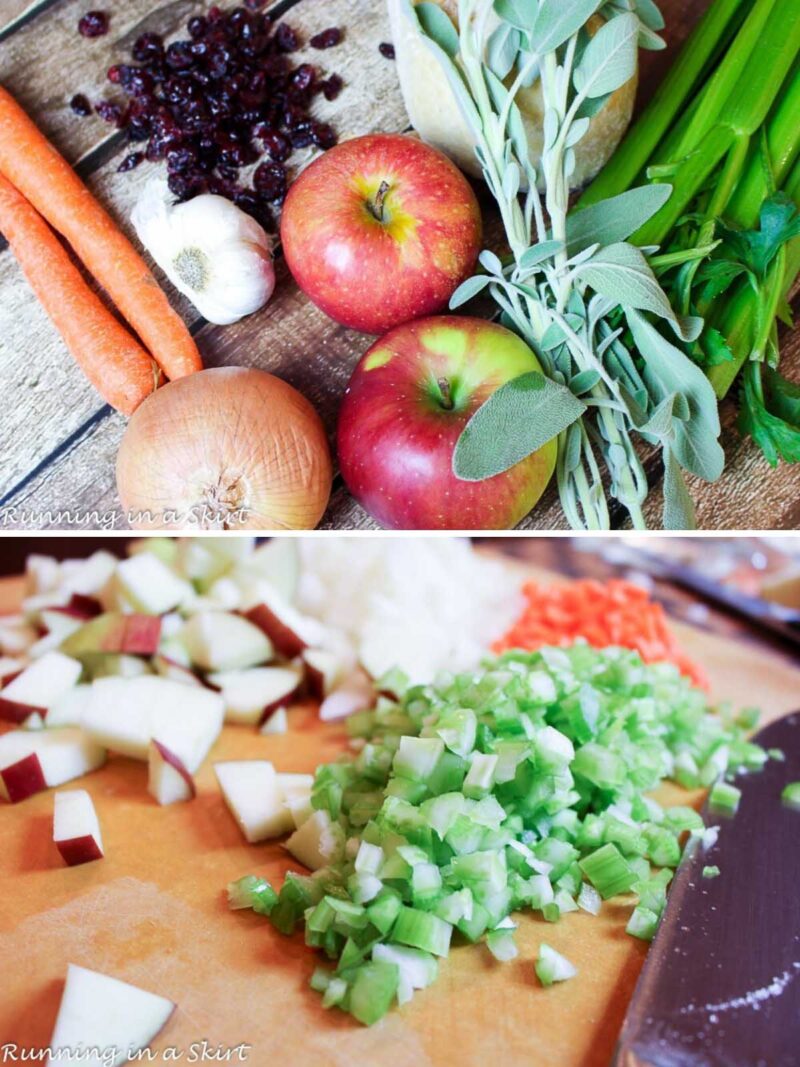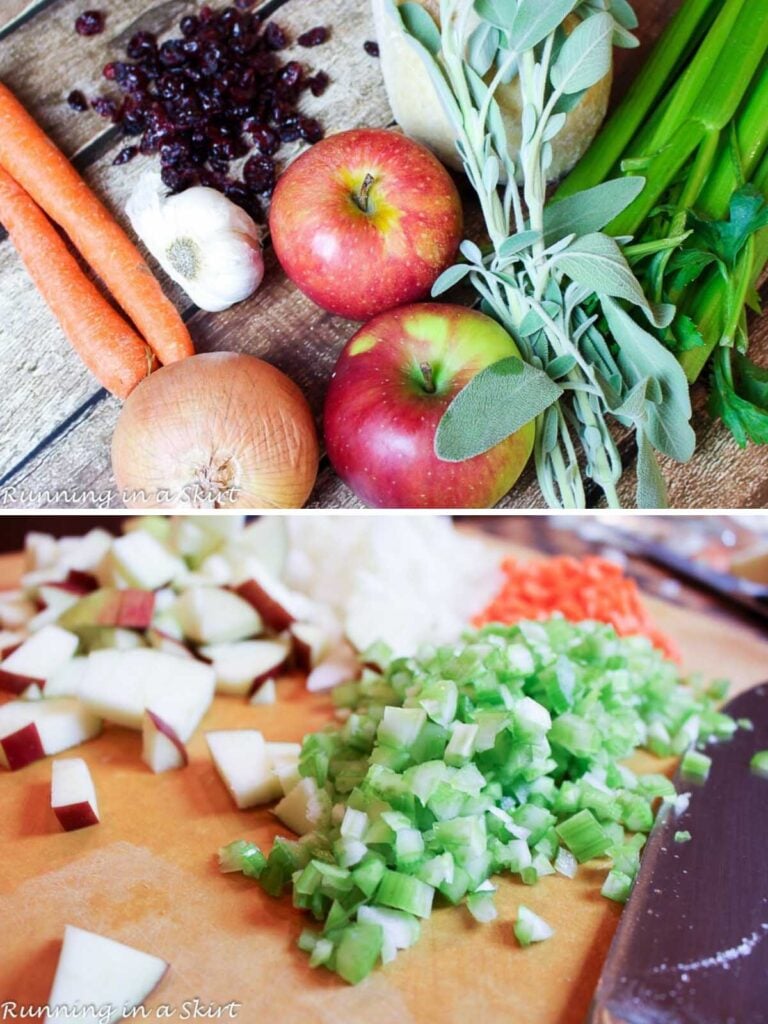 2. Place bread cubes in a casserole dish and sprinkle with sage and dried cranberries.
3. Saute the chopped veggies in melted butter. Add garlic, apples, and vegetable broth.
4. Pour the mixture over the bread cubes. Bake at 350 F for 50 minutes.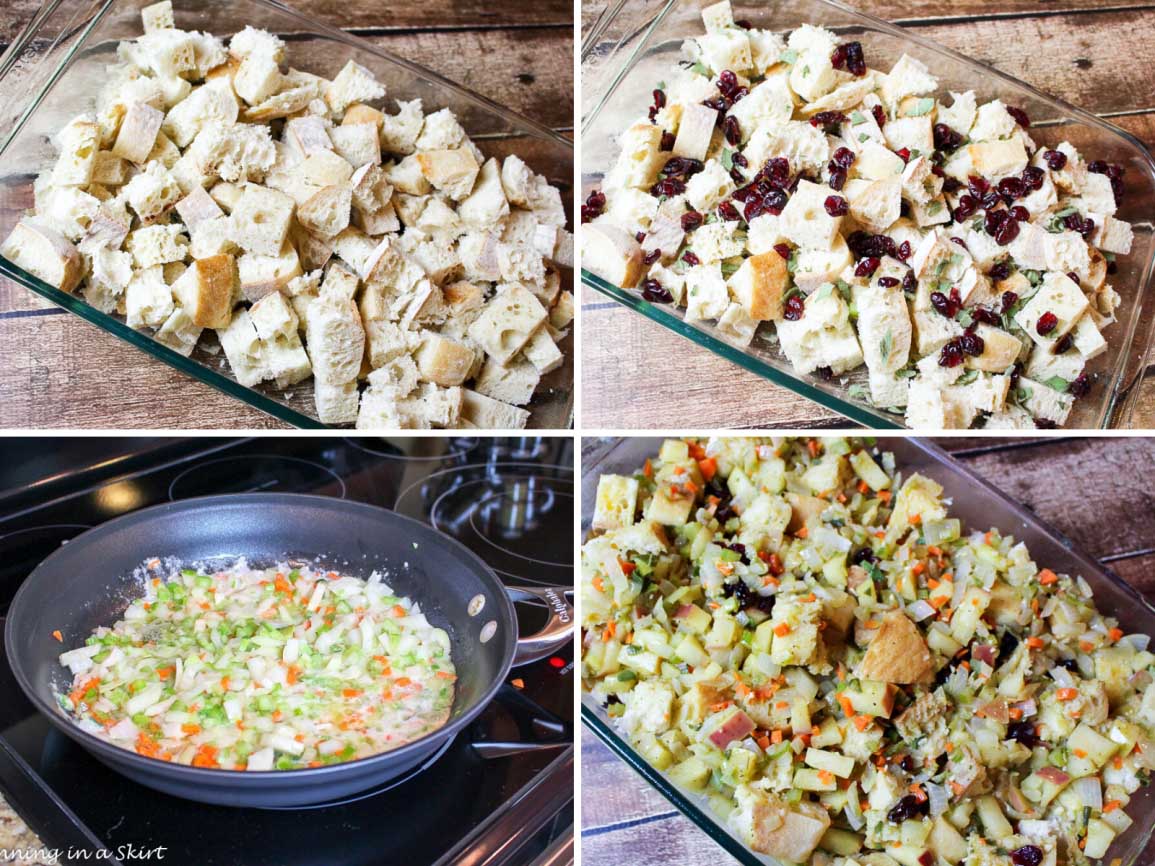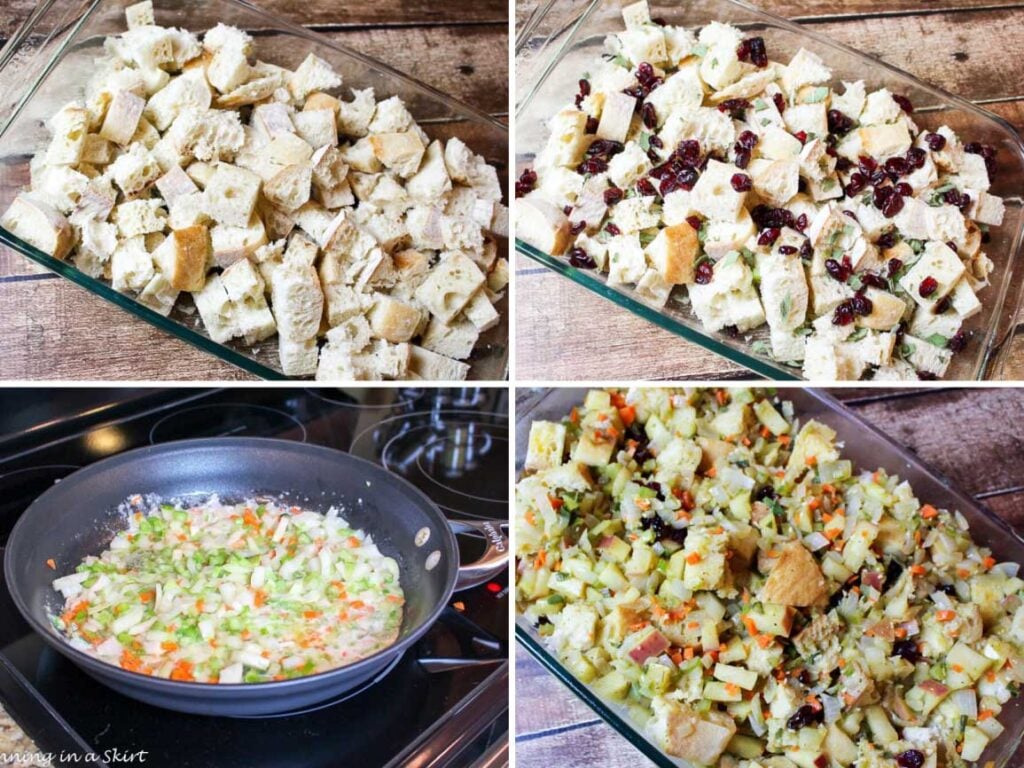 Variations and Pro Tips
You can double this recipe by using a jumbo casserole dish.
When you pour the butter, clergy, carrot, and onion mixture over the bread make sure to drizzle it evenly.
Mushrooms would be a great addition to this! You could trade them out for the apples and leave out the cranberries for less sweetness in the dish. Walnut would also be good.
If you have a vegetarian coming to your Thanksgiving this stuffing is hearty enough to be the main course for them along with other sides.
Can vegetarians eat stuffing?
It depends! Often Thanksgiving stuffing or holiday dressing is made with turkey broth, the turkey itself, or even cooked in the bird. It is really simple to make stuffing suitable for vegetarians and vegans though by switching the turkey broth to vegetable broth and using a recipe like this. This recipe is the perfect vegetarian stuffing recipe for people who don't eat meat. To make it for vegans just follow the instructions below.
Is this stuffing suitable for vegans?
To make this stuffing vegan, saute the veggies in a vegan butter instead of butter. You can also use a few tablespoons of olive oil but you will not get that same indulgent flavor. It will work though.
Can you make the stuffing ahead of time and reheat it?
If you are making it fresh on Thanksgiving day save time by pre chopping all of your vegetables except for the apple which will turn brown. I chop the celery, onions, carrots, garlic, sage and bread ahead of time and store it in ziplock bags in the fridge. That way it will take a fraction of the time to actually make on Thanksgiving day when you are trying to make other dishes.
You could also do most of the prep work by putting the bread, cranberries, and sage in a dish ahead of time. Just make the butter mixture right before you want to cook it.
You could also make the entire recipe and reheat it for dinner. It tastes great as leftovers as the flavors combine well after resting in the fridge.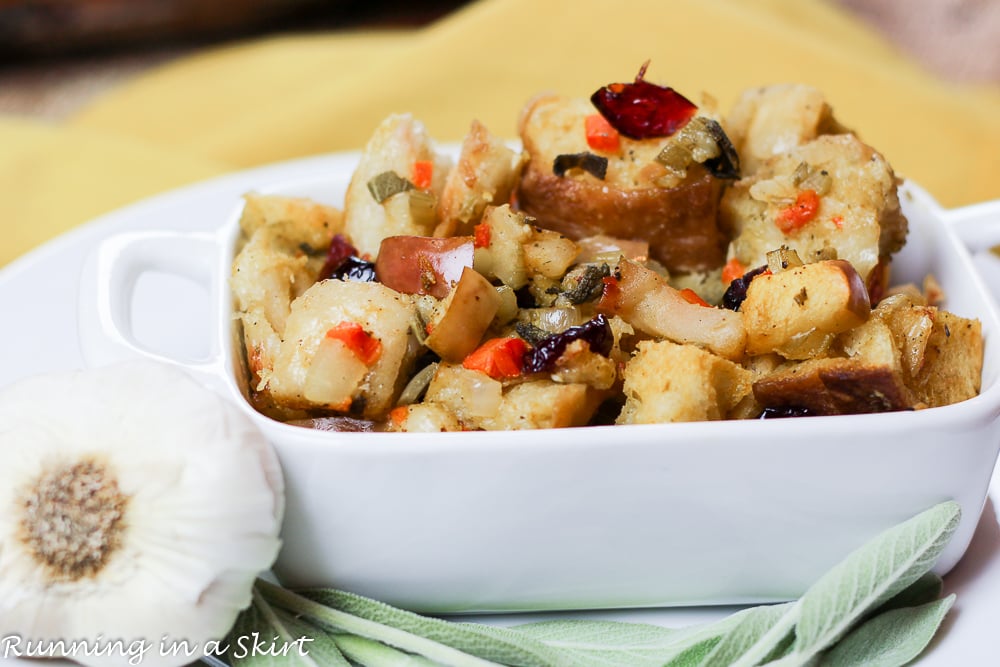 After making this a half dozen times, my Vegetarian Stuffing recipe is now a true family favorite! I hope you enjoy it as much as I do.
Enjoy!
Want More Vegetarian Thanksgiving Sides?
If you make this recipe, I'd love to hear what you think! Leave a comment and a star rating ★ below. Make sure to follow me on Instagram, Pinterest, and Facebook too!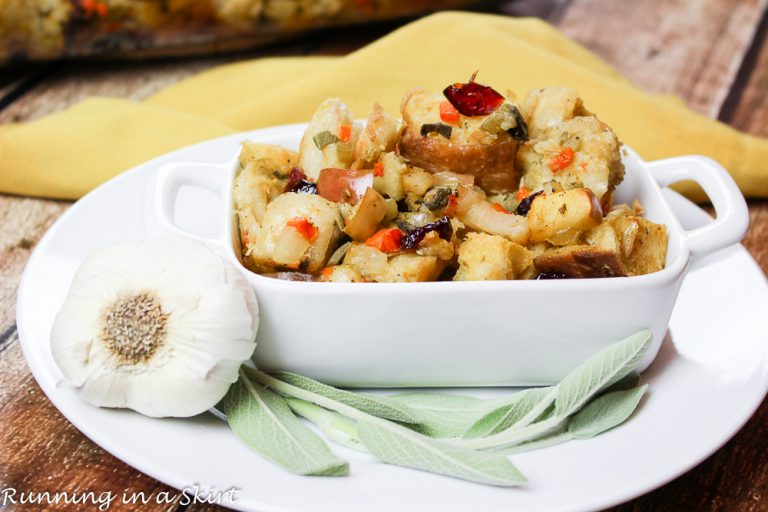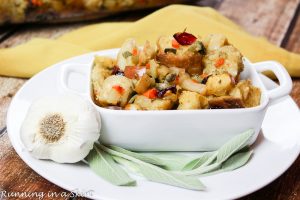 Vegetarian Stuffing
This Best Vegetarian Stuffing recipe is full of mouth-watering flavors and textures that will please both vegetarians and meat-eaters alike. It is one side that is sure to be a hit at your holiday table!
Ingredients
1

stick salted butter

1

loaf

,

approx. 16 ounces day old French bread, cut in ½ in cubes

½

cup

dried cranberries

3

tablespoons

fresh sage

,

chopped and divided

1

medium sweet onion

,

chopped (approx. 1 ½ cups)

1

carrot

,

finely chopped (approx. ½ cup)

2

stalks celery

,

finely chopped (approx. 1 cup)

½

teaspoon

poultry seasoning

1

large apple

,

chopped (approx.. 1 ½ cups)

2

teaspoons

minced garlic

2 ½

cups

low sodium high quality vegetable broth

1 ½

teaspoon

salt

1

teaspoon

pepper
Instructions
Preheat oven to 350 degrees

Spray an 8x11 casserole dish with cooking spray.

Put the bread cubes in the dish and sprinkle 2 tablespoons of sage and the dried cranberries on top.

In a large sauce pan melt the butter over medium heat.

When the butter is melted add the rest of the sage, onion, celery and carrot. Season with a healthy pinch of the salt and pepper.

When the onions become translucent add the garlic and apples. Season with another healthy pinch of the salt and pepper.

After the apples have cooked for about 2 minutes, add the vegetable broth. Season with the rest of the salt and pepper, to taste.

Allow the mixture to sauté for another 2 minutes.

Pour the mixture into the casserole dish, over the bread. Gently move around the bread to allow the broth to soak all the pieces. Be careful not to smash or break up too much of the bread.

Bake uncovered for 50 minutes. Twice during the cooking time, carefully stir to keep the bread moist.
Notes
This is great as leftovers too!
Nutrition
Calories:
207
kcal
Carbohydrates:
43
g
Protein:
7
g
Fat:
1
g
Saturated Fat:
1
g
Cholesterol:
1
mg
Sodium:
704
mg
Potassium:
172
mg
Fiber:
3
g
Sugar:
11
g
Vitamin A:
1286
IU
Vitamin C:
4
mg
Calcium:
50
mg
Iron:
2
mg
Pin for later!