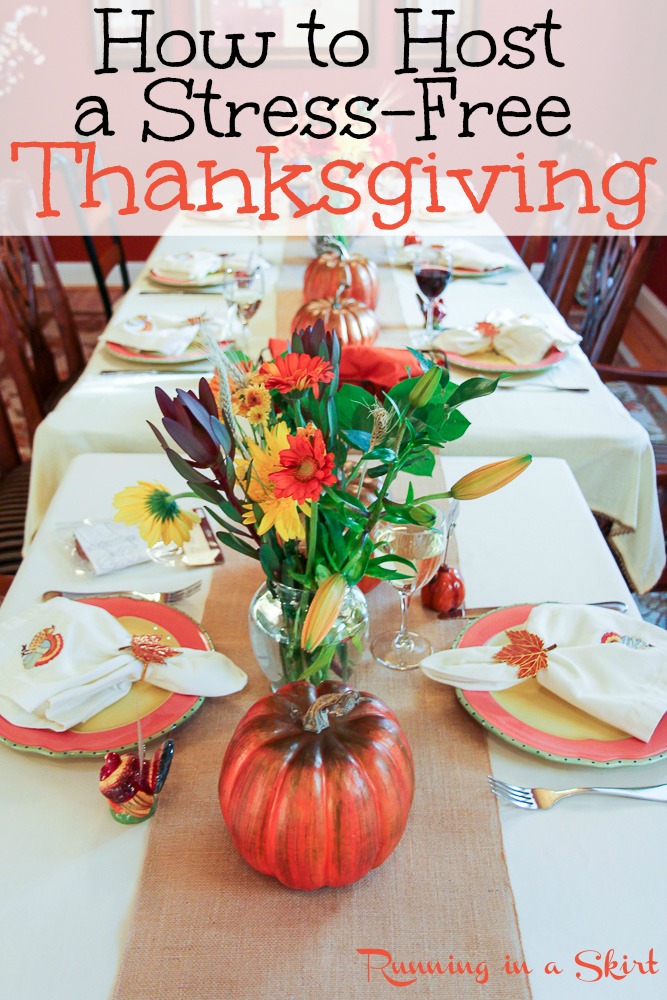 Are you hosting Thanksgiving for the first time this year? Or perhaps looking for some fresh ideas on how to host Thanksgiving? Look no further as I share some of my tips and tricks for successfully hosting Thanksgiving!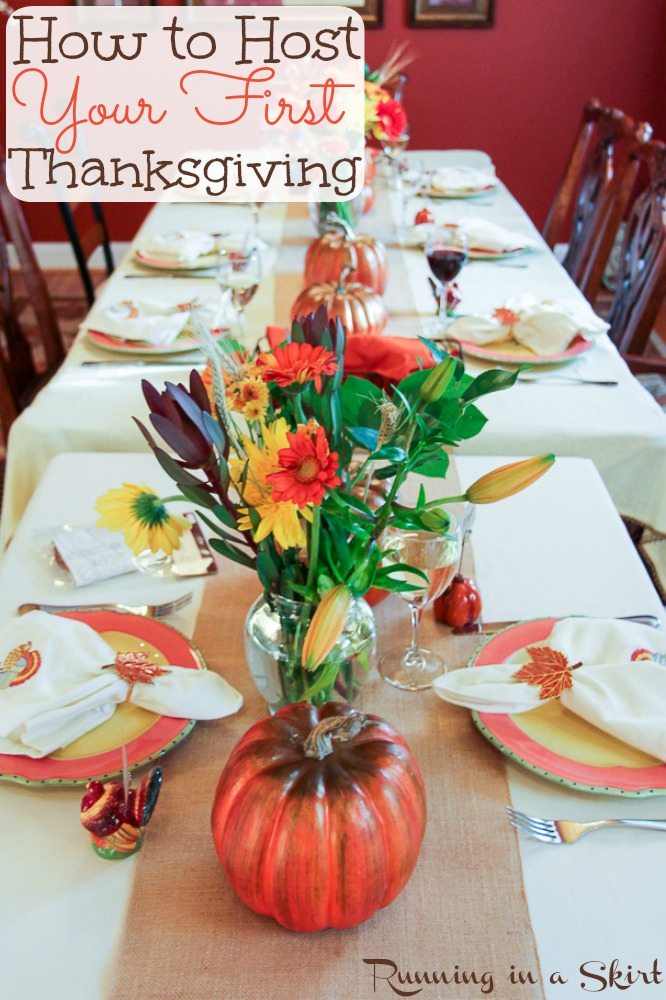 Hi everyone!
Thanksgiving is almost here! I can't wait because it is one of my favorite holidays. I'm all about holidays involving food and family. From the pretty set tables, themed turkey stuff to the delicious overindulging meal... I adore it all.
While I'm taking a couple of year break from hosting Thanksgiving, I have now hosted it five times and have learned a lot from the process. I'm hoping to start back up hosting my family next year when the boys are a little older.
Honestly, I had no idea what I was doing when I started. I was no short of clueless and really could have used some guidance, so I thought I'd create a bit of a how-to post for anyone looking to host this year or any upcoming years. I'll warn you though... this is me showing my true Type-A crazies at their best!
If you've ever been curious how to host Thanksgiving... this is your post!
How to Host Thanksgiving
Two Months Ahead
Who is Coming?
If you haven't already done this, confirm with your family and friends so you know who is coming. Extend the invitation to your dinner as soon as possible, so guests know you are hosting and can plan to come if they want to especially if they have to travel.
If people are staying at your house, make sure you have enough space. You can create extra sleeping areas in your house with air mattress and couches. Just let people know ahead of time what their sleeping arrangements will be, so they can decide if they are comfortable with it. I love the idea of having a house packed full of people for Thanksgiving, so in my opinion, the more the merrier.
Pinterest Board
Start a Pinterest board for inspiration. Pin recipes, tablescapes and cute ideas that you would like to include. Include practical ideas and dream ideas. Don't get overwhelmed and think your Thanksgiving needs to look like a magazine. It doesn't really have to be perfect, but Pinterest is a great place to start.
Check out my Thanksgiving board or Fall Food board for some starter pins! You can also pin from my 50 Healthy Vegetarian Dishes for Thanksgiving. This post is THE GUIDE to the best Thanksgiving recipes on Running in a Skirt. Most of the recipes work wonderfully along with a turkey.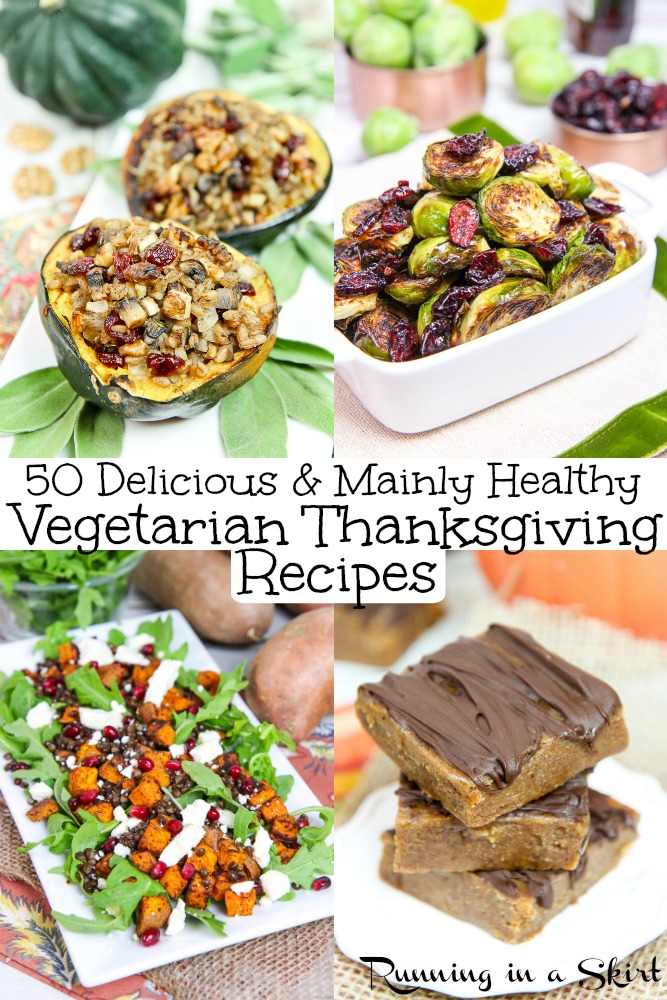 If you want to do anything crafty for the event, start doing that now. You don't want to be gluing a centerpiece together the night before the event instead of cutting onions! I created a Thankful tree a few years ago and continue the tradition each year.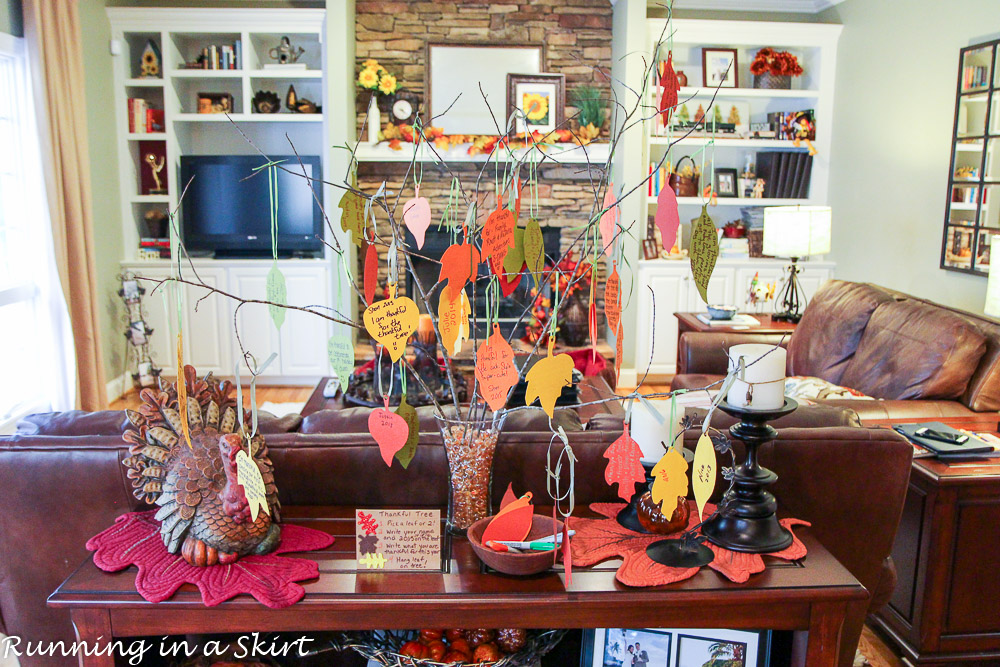 Everyone writes what they are thankful for each year on a leaf. It's fun to pull them out and see how we've all evolved over time.
One Month Ahead
Develop the Menu
Take into consideration family traditions by asking friends and relatives for tried and true recipes. You can also search online for recipes. However, If you are trying something completely new, make it ahead of time once so you know it tastes good. Use that Pinterest board and sites like this one for reference.
Decide whether you want others to bring dishes and confirm what they are going to make.
Figure out how many sides and turkeys you will need to feed everyone. I always go overboard with too much food, but this is the perfect holiday to go overboard with food.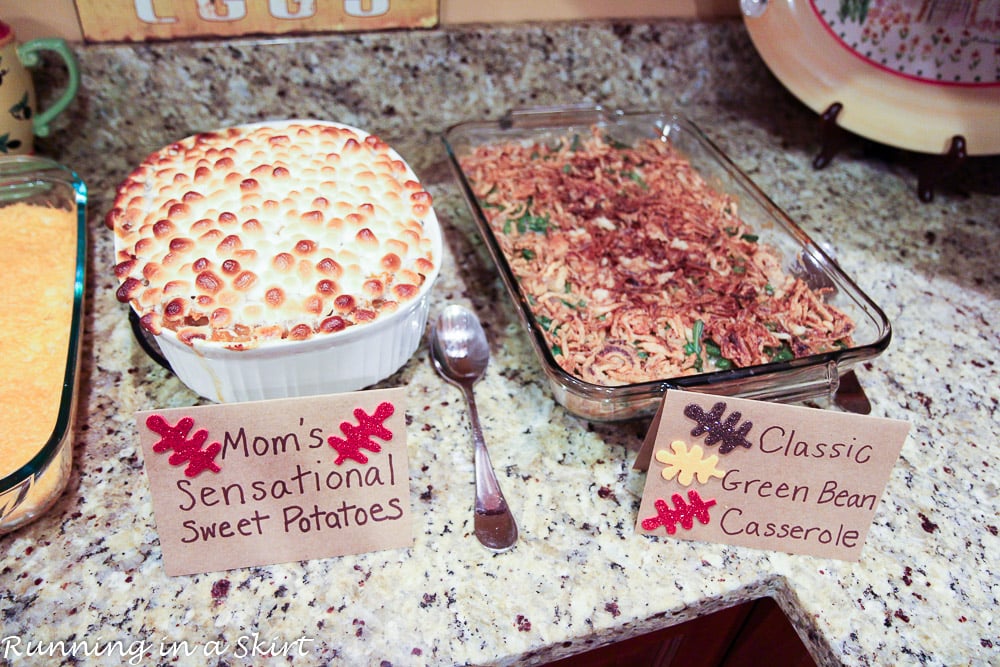 Pick recipes that are within your realistic cooking skills. Don't decide to make all gourmet recipes if you hardly ever cook dinner at home. Simple Thanksgiving recipes can be just as memorable. There is also no shame in cutting corners by buying something pre-made as well. Store bought mashed potatoes will also work. Be honest with what you can do successfully because just getting all that food on the table can be overwhelming.
Consider how you are going to cook each dish and vary the preparation styles. You don't want everything you make to have to go into the oven or be prepared on the stove top at the last minute. Even consider making a crock pot recipe to keep your oven open for the turkey.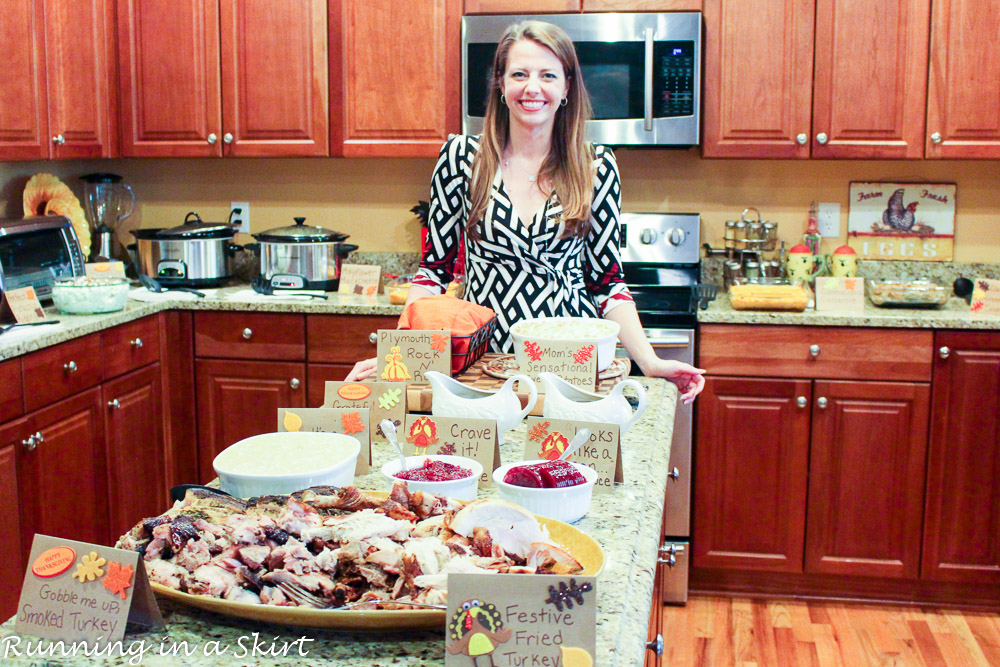 We have a big crowd and need two turkeys, so we fry one. A fried turkey is a crowd pleaser and keeps the oven less crowded.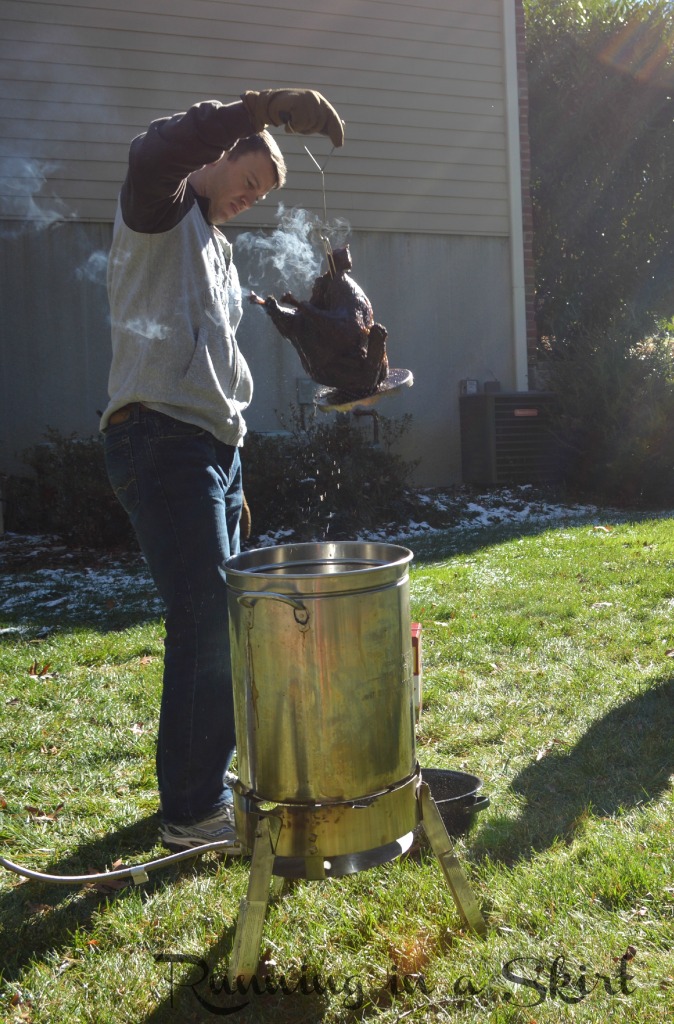 Decorate & Tablescape
Decide on your tablescape and any decorations you want for the event. As long as you are not using anything perishable (like fresh flowers,) put out as many of the decorations as you can. It's best to get all of the non-food tasks done ahead of time.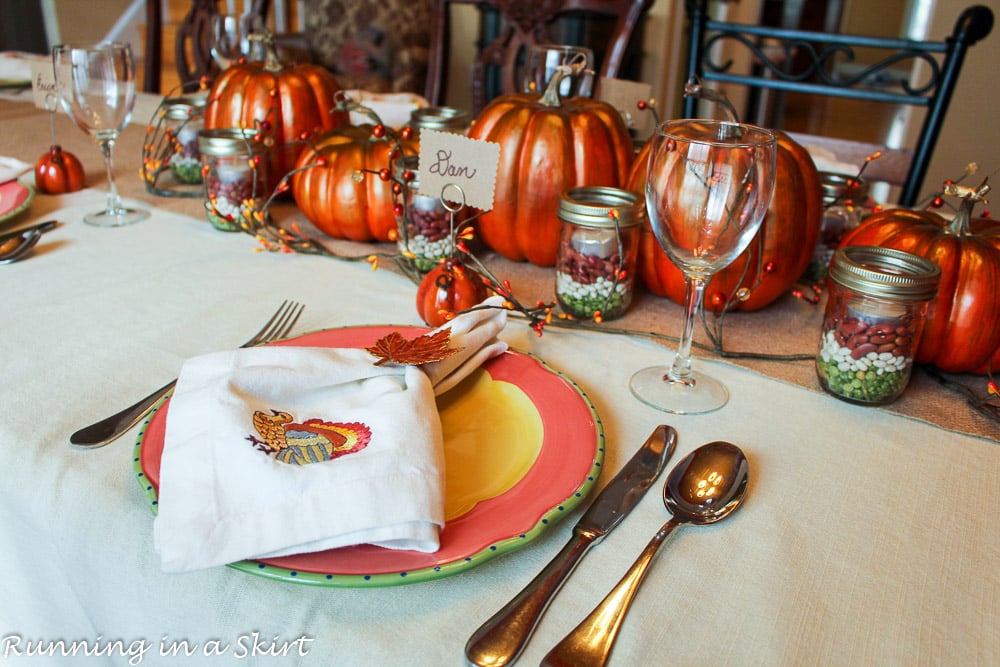 Pots, Pans & Serving Dishes
Hosting Thanksgiving requires a lot of kitchen stuff. Make a list of all your dishes and mentally go though what you will need to prepare the dishes. Do you have enough pots and pans? Do you have a giant turkey pan and turkey knife? Do you have big enough casserole dishes? Decide whether you want to serve the dinner as a buffet or on the table as a sit down meal. Do you have serving dishes and utensils?
Either borrow or buy the items that you don't have.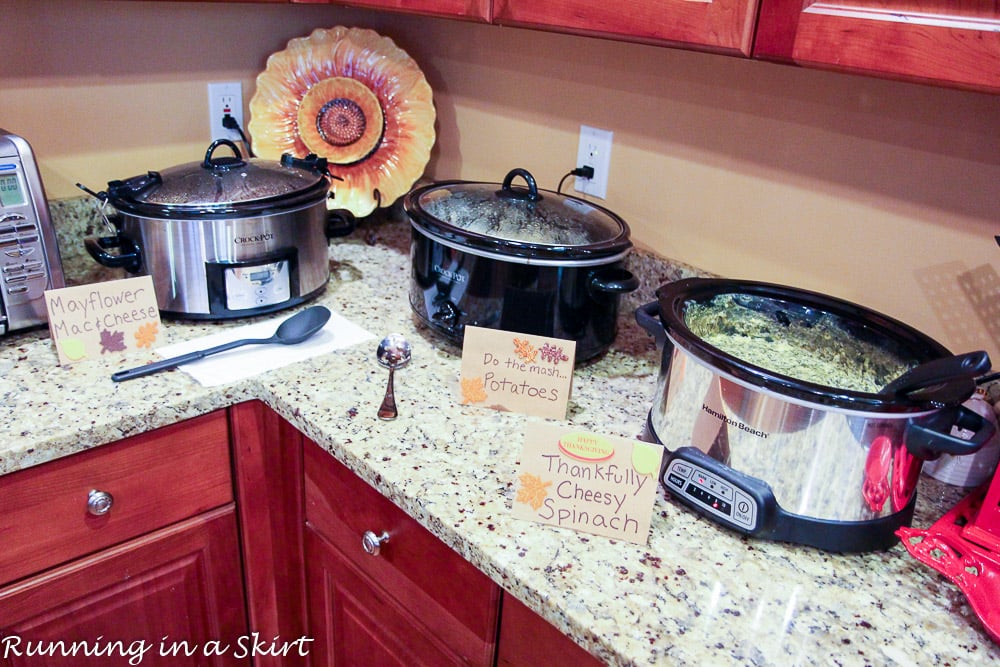 Two Weeks Ahead
Start Shopping
Make a grocery list a couple of weeks ahead of time. Divide the grocery list into items that are perishable and non-perishable. Buy your can goods and anything that will keep in the weeks leading up to the big day. Keep the items in a box separate from your regular pantry so someone does not accidentally eat them.
Remember if you are having overnight guests you will need food for more than just the Thanksgiving meal. I like to plan on easy food like sandwiches, pastries and bagels.
Clear the Fridge
Start clearing out as much space as you can in the fridge. You will need it!
Recruit Help
Recruit someone (or many people) to help you. Preparing a big dinner like Thanksgiving can be a daunting task for one person. Let them know you are just learning how to host Thanksgiving. Ask others to help you with specific tasks like cleaning dishes while you cook, chopping vegetables or pouring drinks. Is your significant other good at cooking something in particular? Give them that entire task. My husband is in charge of turkeys and I am in charge of sides. My amazing Dad comes early and helps me chop all my veggies.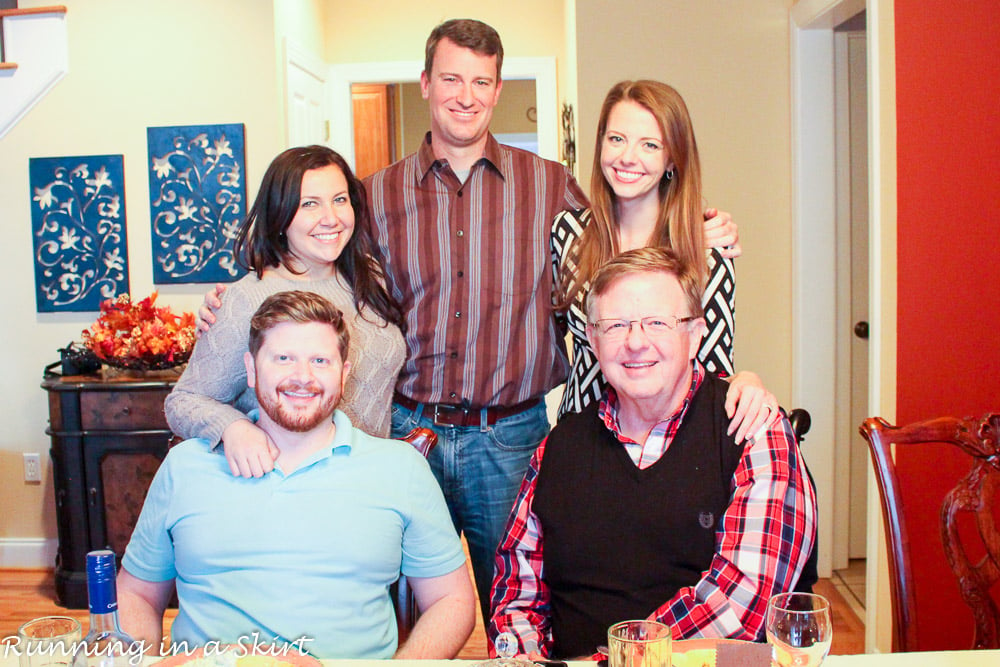 Schedule Cooking
Decide what you are going to cook when. Depending on how much food you are preparing, you will need to start doing some of the kitchen prep work early in the week. Plan to as much ahead of Thanksgiving day as you can, without sacrificing the freshness of your meal. For example, my vegetarian stuffing recipe requires a ton of chopped up vegetables. I will cut all of that up on Tuesday and put it in marked ziplock bags ready to go.
Decide what time you are having the meal and back time the entire day so you know what needs to go in the oven when. Make sure you have enough space in the oven and a way to keep the dishes warm.
Make sure you schedule enough time to take a shower and get yourself ready. <---- Tip from experience 🙂
One Week Ahead
Finish Shopping
Pick up all the perishable items from the store. Try to go on an off time of day to avoid the big Thanksgiving crowds.
Start Cooking and Prep Work
Start executing your cooking schedule and do any prep work you can ahead of time. Pies keep great and are often better on the second day!
Thanksgiving Day
Follow the Plan & Enjoy
Don't panic or actually expect perfection. Something will go wrong. Go with the flow and figure out your best solution to anything that happens.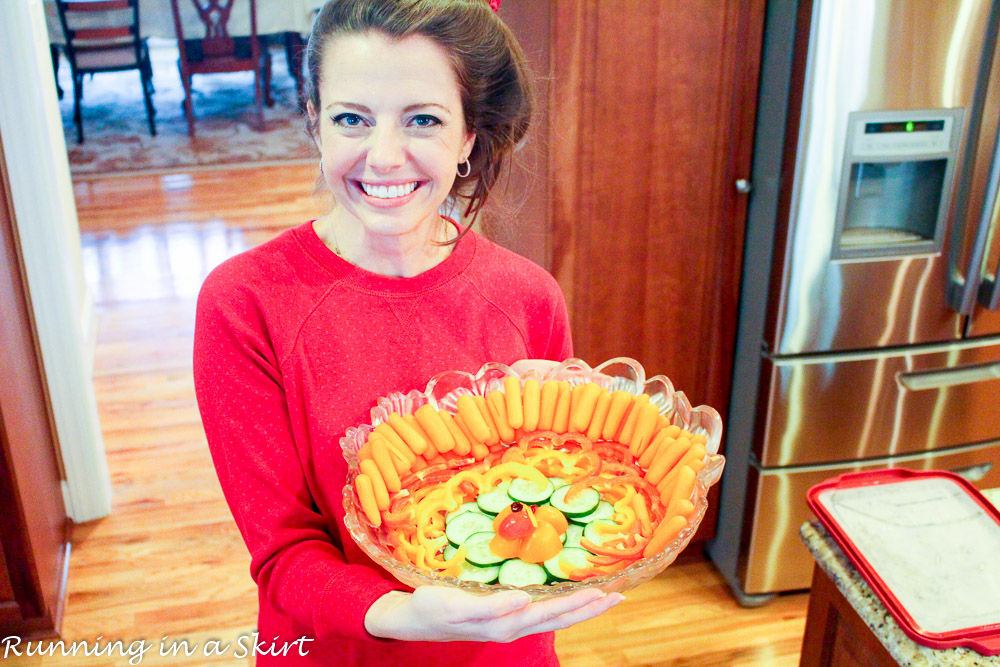 At the end of the day just being with family and friends is what is really important. Even if you mess something up, they'll still love you!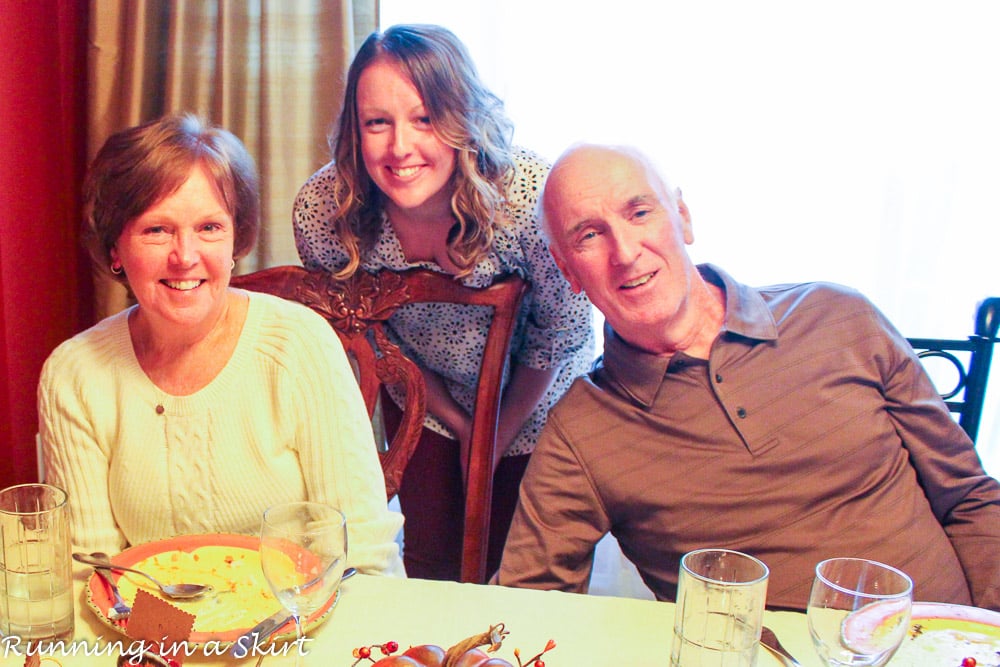 Don't forget that you are supposed to have fun and actually enjoy the day too.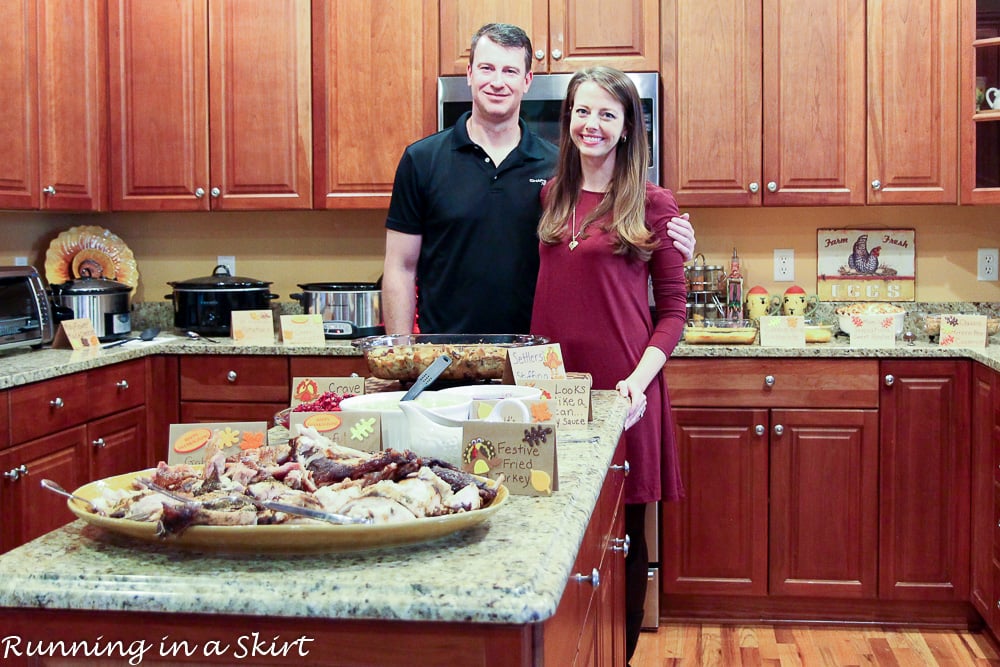 After
Keep the Plan
All of those recipes, grocery lists and timetables you made? Keep them! You can use them again if you ever host again and it will make the second time around so much easier. Trust me on that one!
I hope these tips will help you if you were wondering how to host Thanksgiving! It can seem like a daunting task, but with a little planning you can pull it off!
Thinking about how to host Thanksgiving? Pin this to your favorite Pinterest Board!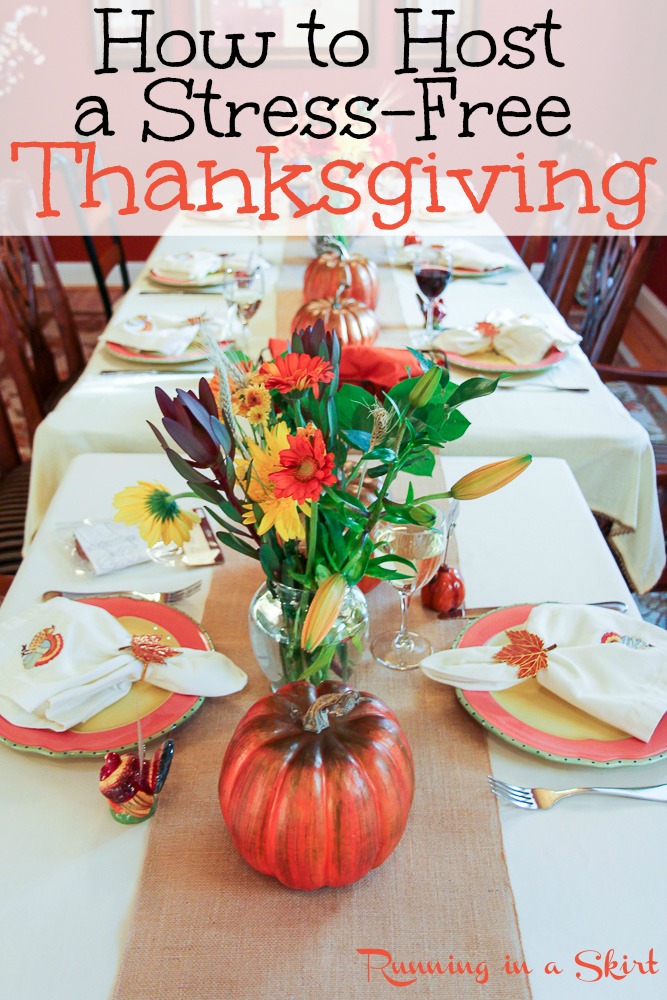 Your turn!
Have you ever hosted Thanksgiving?
Do you have any tips or tricks to add?