My Little Pumpkin First Birthday Party for Twins was everything I dreamed of!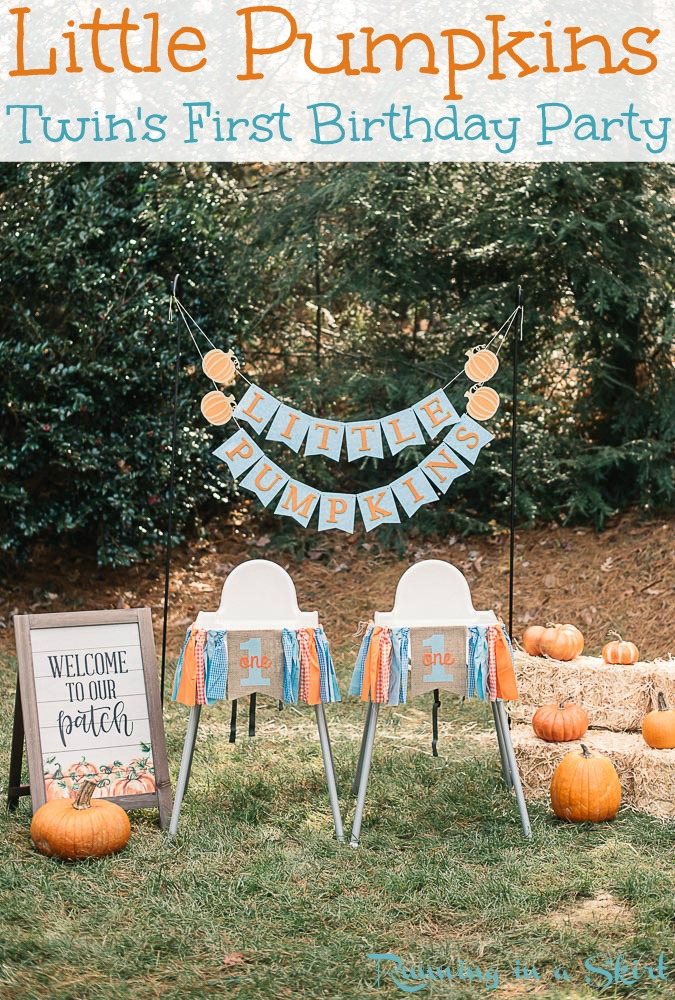 Hey guys!
I'm so happy to be able to share highlights from the boy's birthday party with you today. I had planned to have this post for you last Friday but my family had the stomach flu and strep throat last week and I just didn't have a chance to put it together. We are very slowing putting the pieces back together after a really bad week. I'm hoping this week will be a million times better.
The birthday party was the weekend before last and was so much fun. We had the Little Pumpkin first birthday party for twins on Saturday and the boy's Christening on Sunday.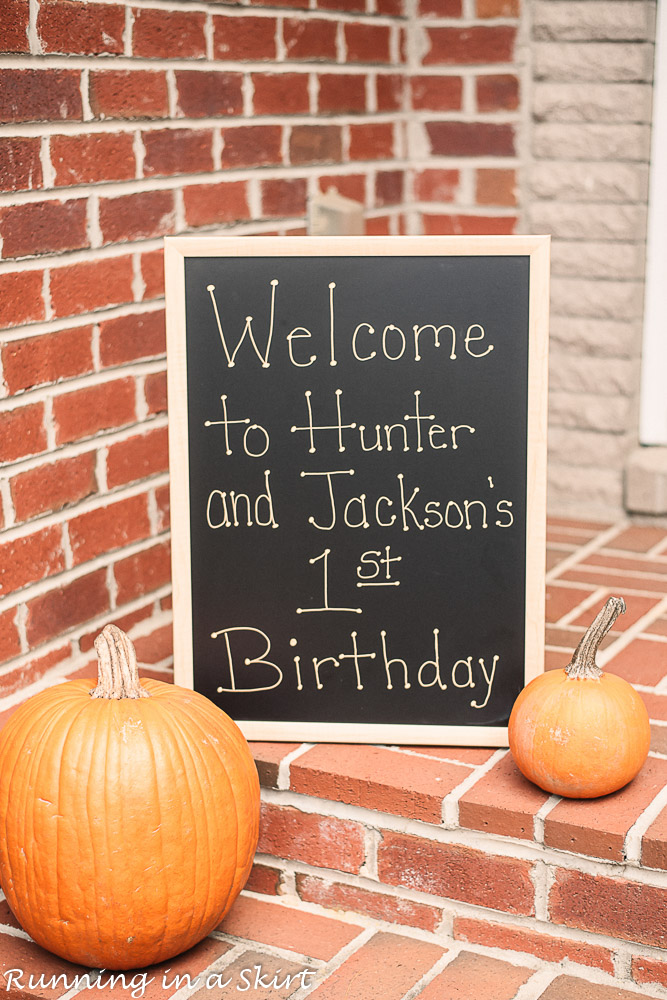 Little Pumpkin First Birthday Party for Twins
With a fall birthday, I couldn't help but go with the Little Pumpkin first birthday party for twins theme. There were so many fun details that were easy to add because of the season.
The party was around 11 o'clock just after the twin's morning nap.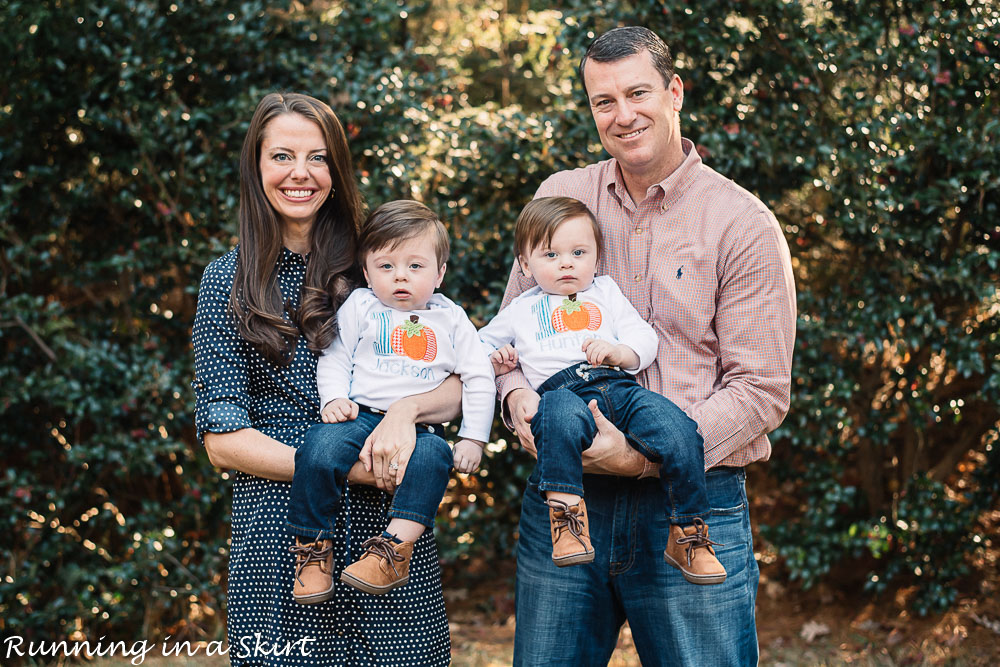 My friend Michelle from Michelle Huston photography came over to take some photos for me so I could enjoy the party and not be so stressed about capturing the moments.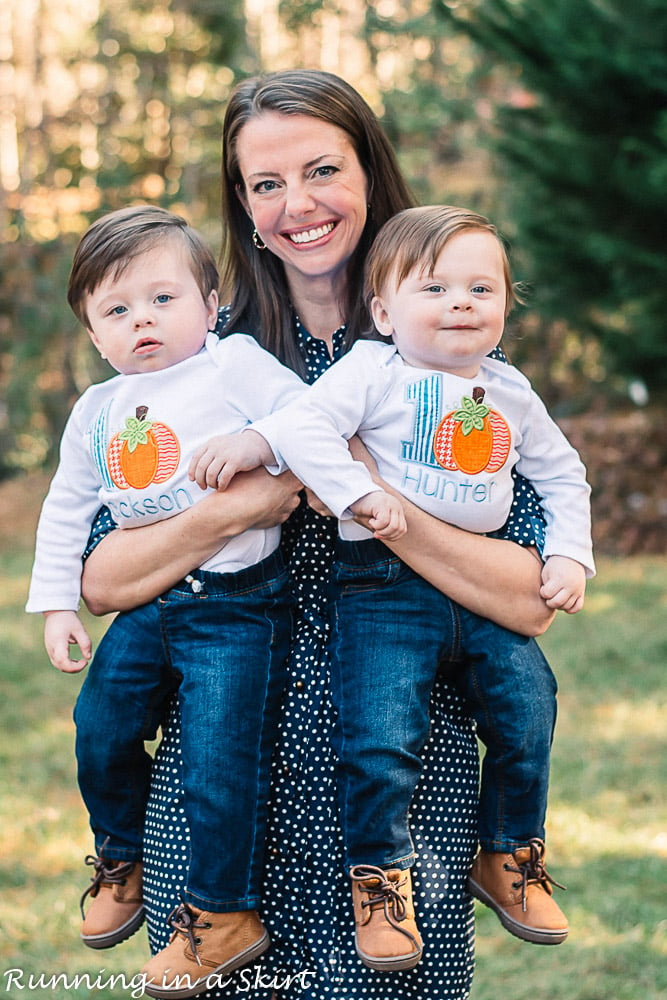 Since my free time is super limited these days, I had been chipping away at the to-do list for the party since August, so I was so happy to see all the details come together.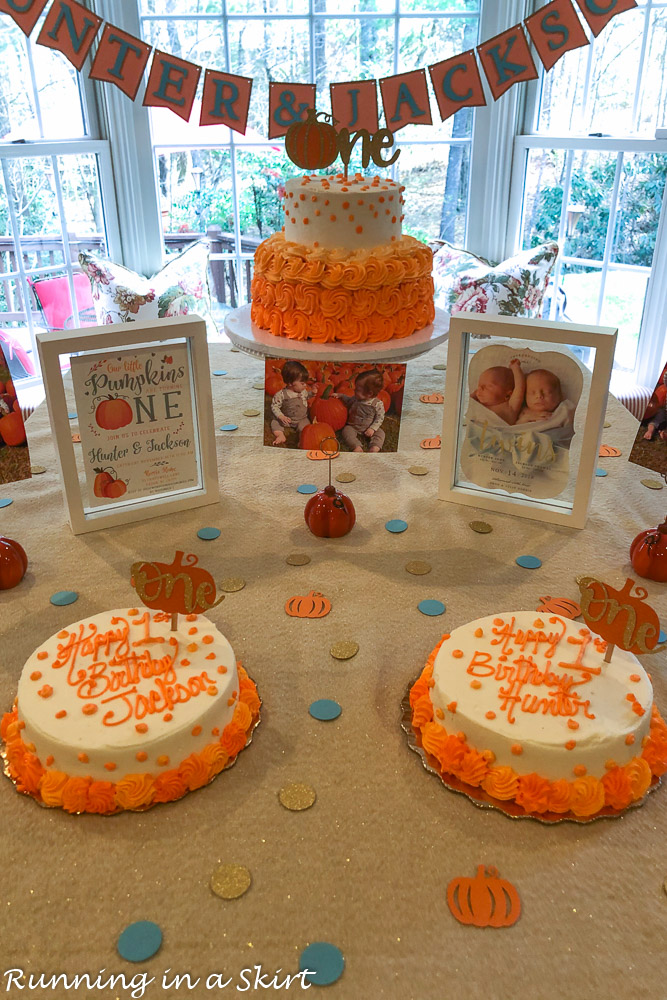 I loved the way the cake table came out!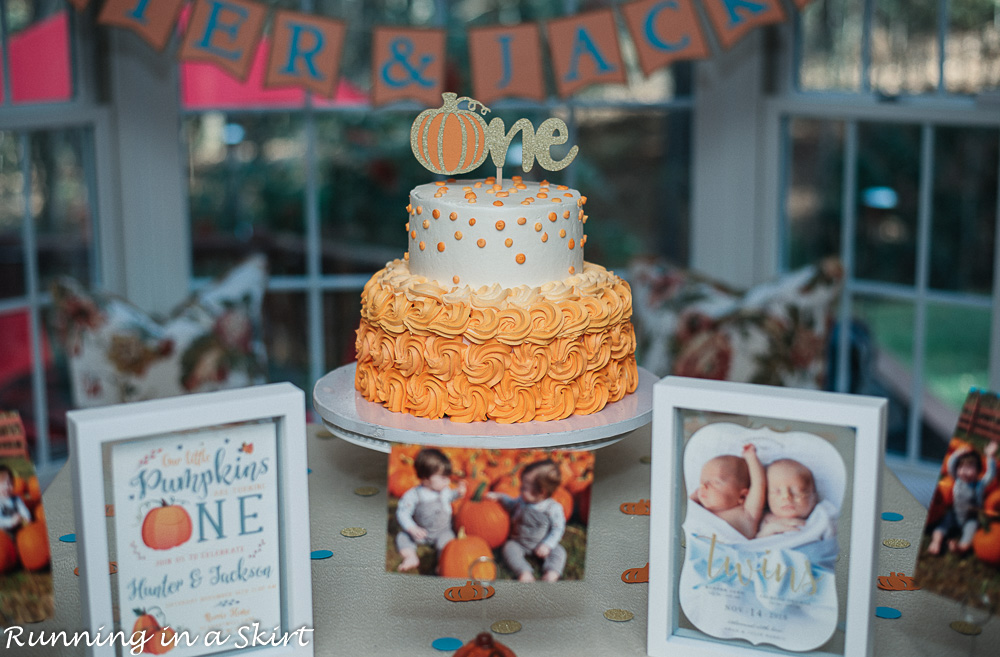 I got smash cakes for both the boys but at the last minute (I'm not 100% sure one or both of them doesn't have a dairy allergy!) I went a specialty bakery and got them vegan ones to actually eat. I decided with all the weekend festivities, it wasn't worth risking giving them something they might have a reaction to.
These pretty cakes ended up being more for photos, but I thought they were adorable.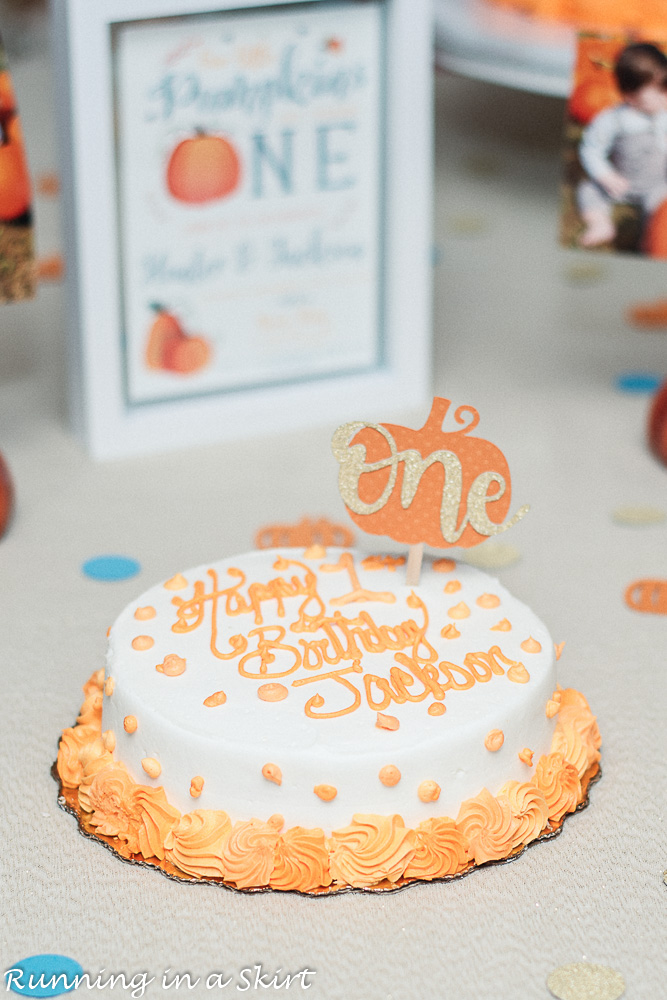 My friend from High School, Andrea, worked with me for months creating the perfect banners and cake toppers for the party. She made them and shipped them all the way from California. She is a special person and the party would not have been the same without her efforts.
I had a lot of fun putting together boards for each of the boys. As twins they are grouped together in so many ways, I wanted to highlight them both as individuals too.
Here's Jackson's board. He's actually 34 inches tall! I guessed at 11 ½ months how tall they would be at 12 months and I was off. We took them to the doctor on Friday for their 12-month visit and he checked in just under THREE FEET TALL.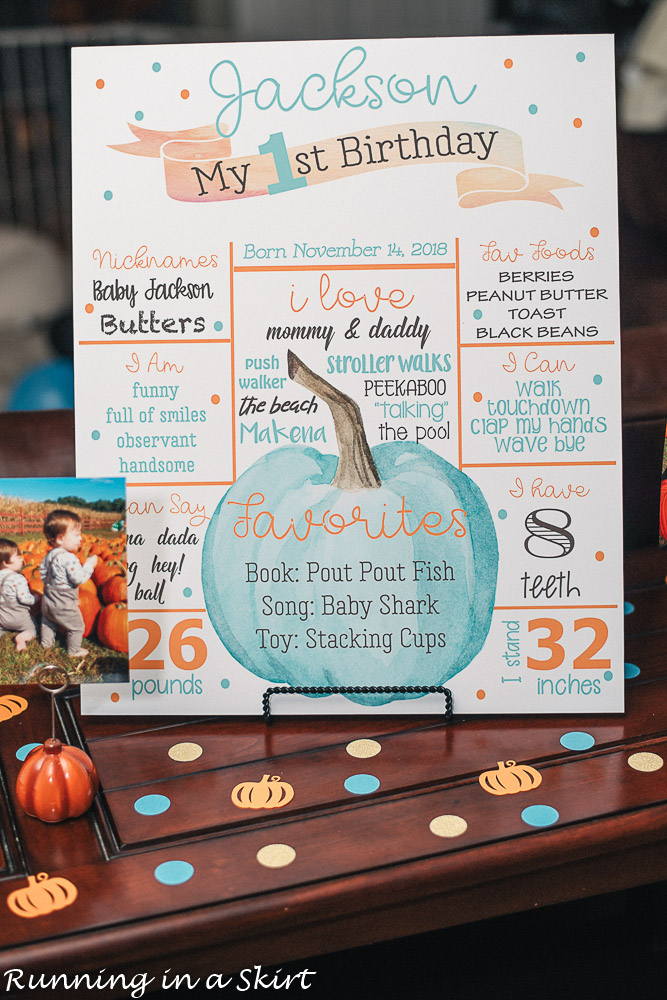 And here's Hunters! He was also taller than I guessed at 32 inches.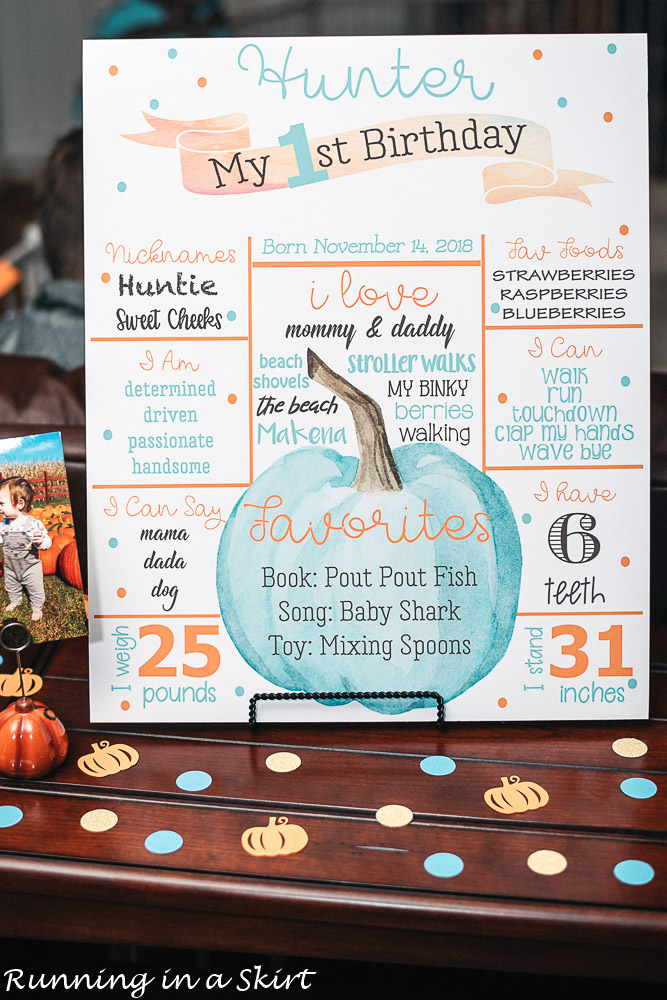 I'm not super crafty, but I did make these Little Pumpkin first birthday party for twins decorations for my windows featuring the boy's photos.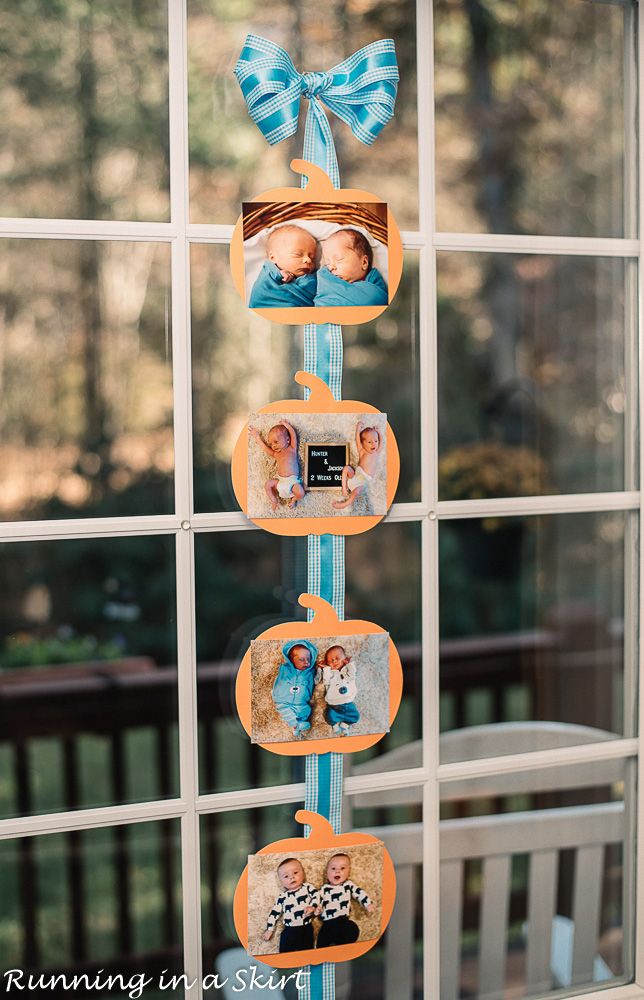 I decorated my fireplace with more traditional fall colors.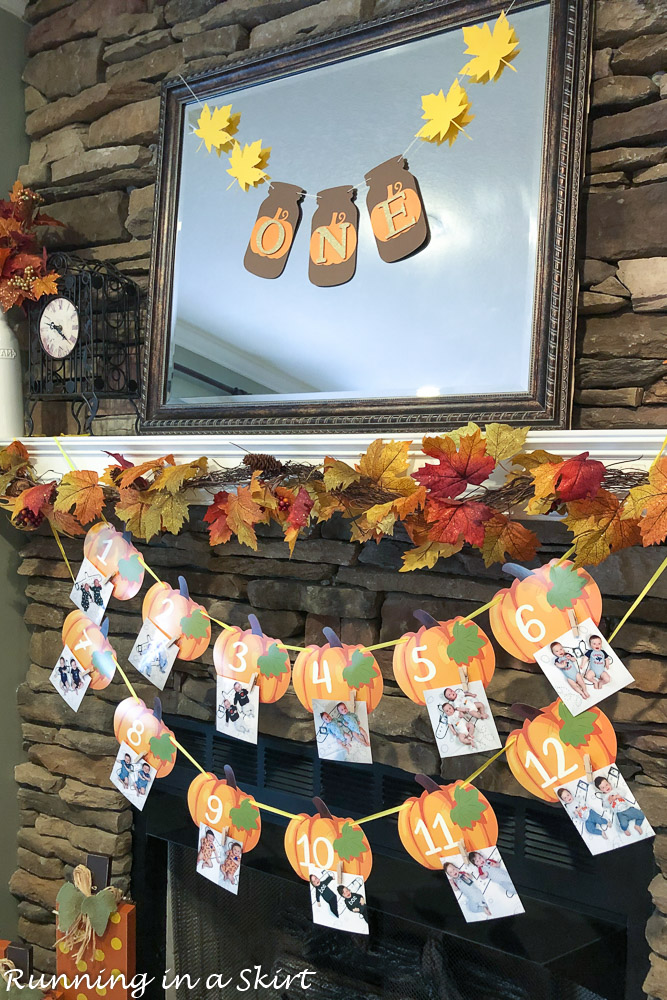 One of my favorite parts of the decor was this pumpkin milestone banner (Amazon affiliate link) my SIL Megan gave to me. I printed out all of their milestone photos and it was much fun to see the twin's growth month to month. It still amazes me how much they changed in such a short amount of time.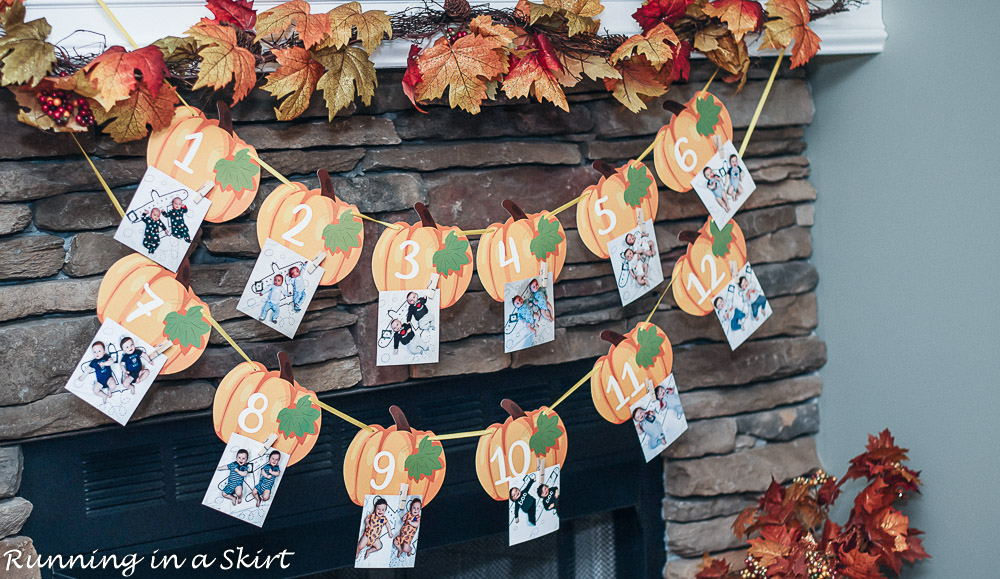 I had hoped to have more of the party outdoors, but it was a bit too cool outside so we cleaned up our garage, put a heater in it and used it as eating space.
For decor, I made posters with the twin's photos. I had some featuring them individually and then together.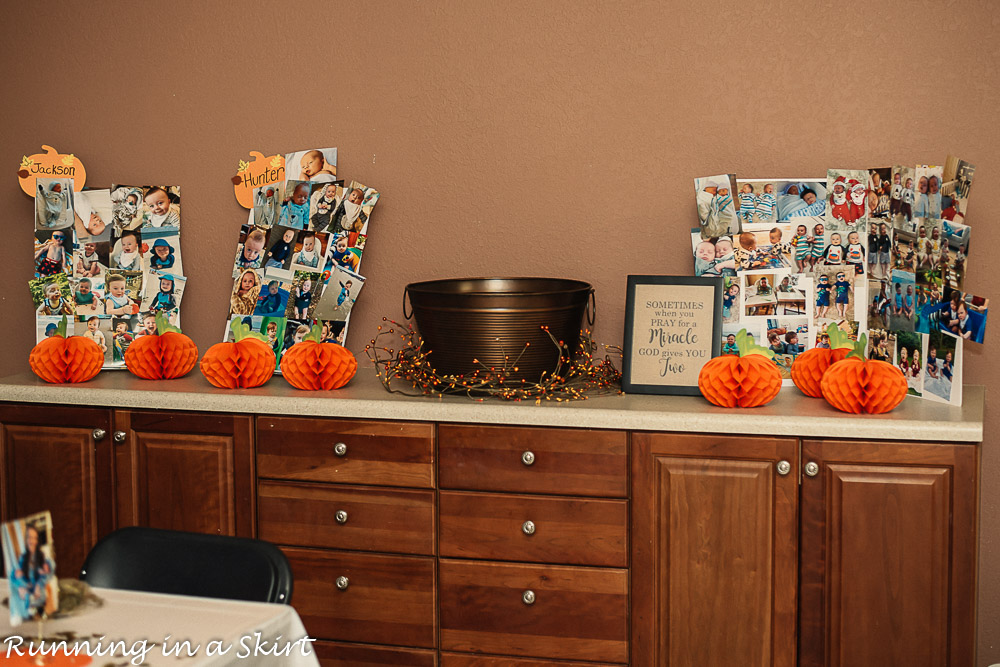 I ended up renting tables and chairs so everyone could enjoy lunch without having to stand up. I did some more DIY decorating to keep them looking cute without a lot of fuss.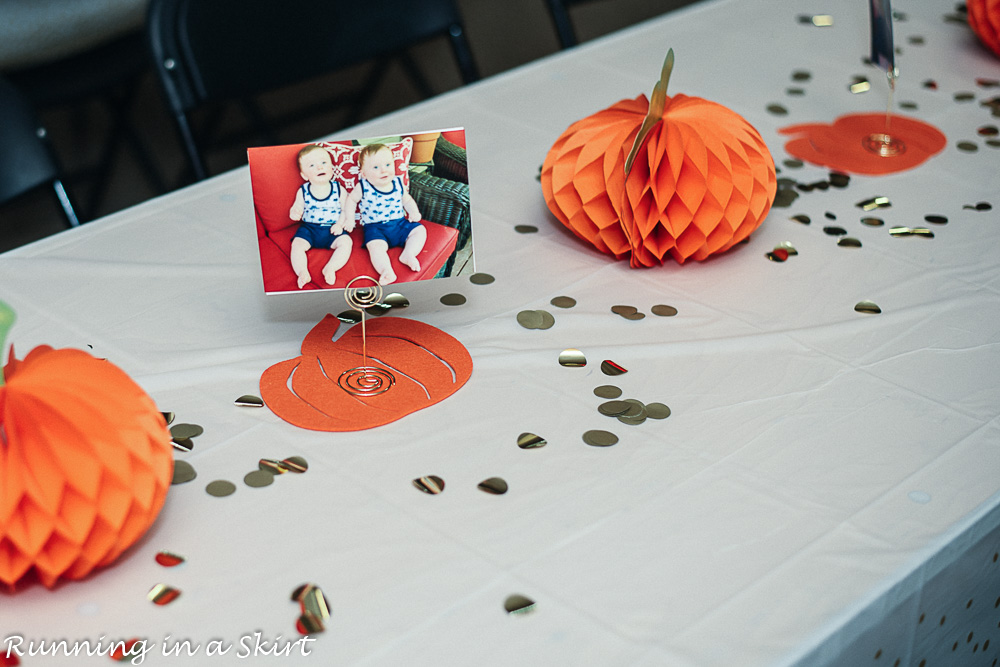 I got the food from a local bbq restaurant to keep myself from going crazy cooking for the group.
Another fun detail I put together was a craft table for the older kids.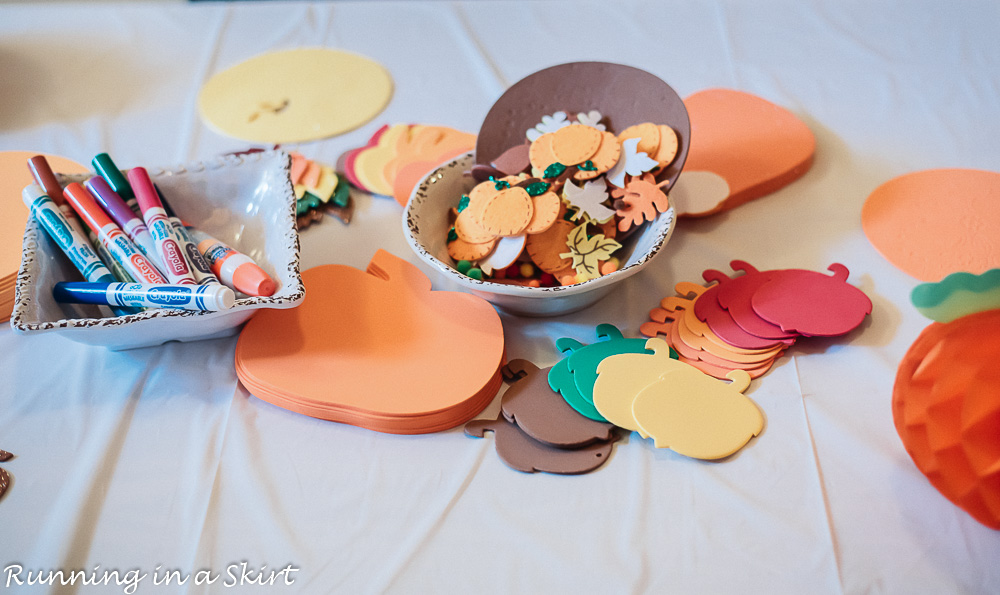 They all seemed to love it and they made lots of fun cards for the boys.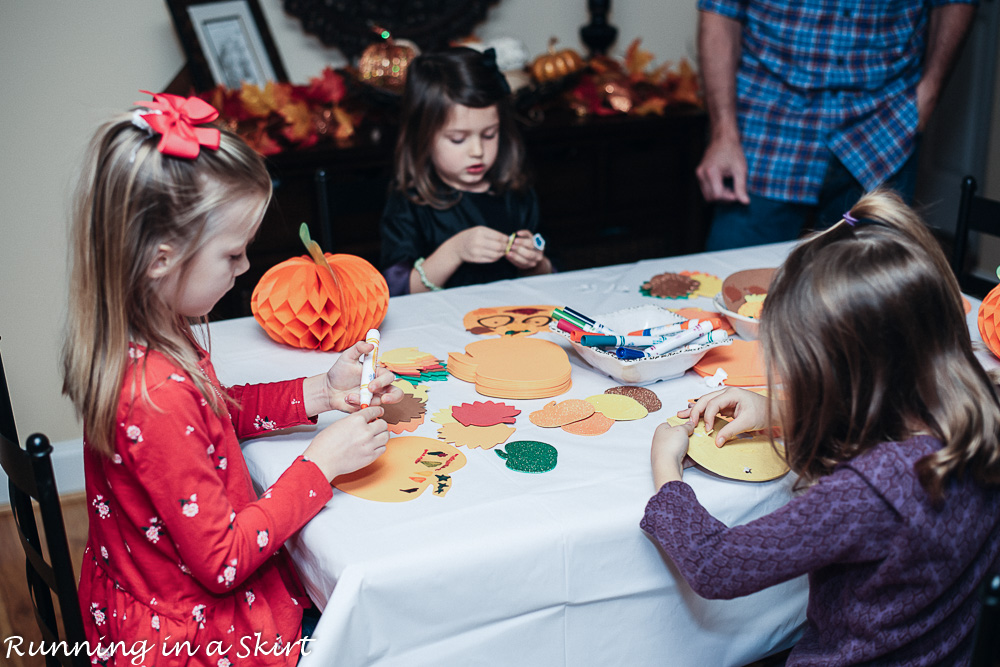 The boys were a little unsure about the crowd of people in their house, but it was still so nice to see so many of our friends and family.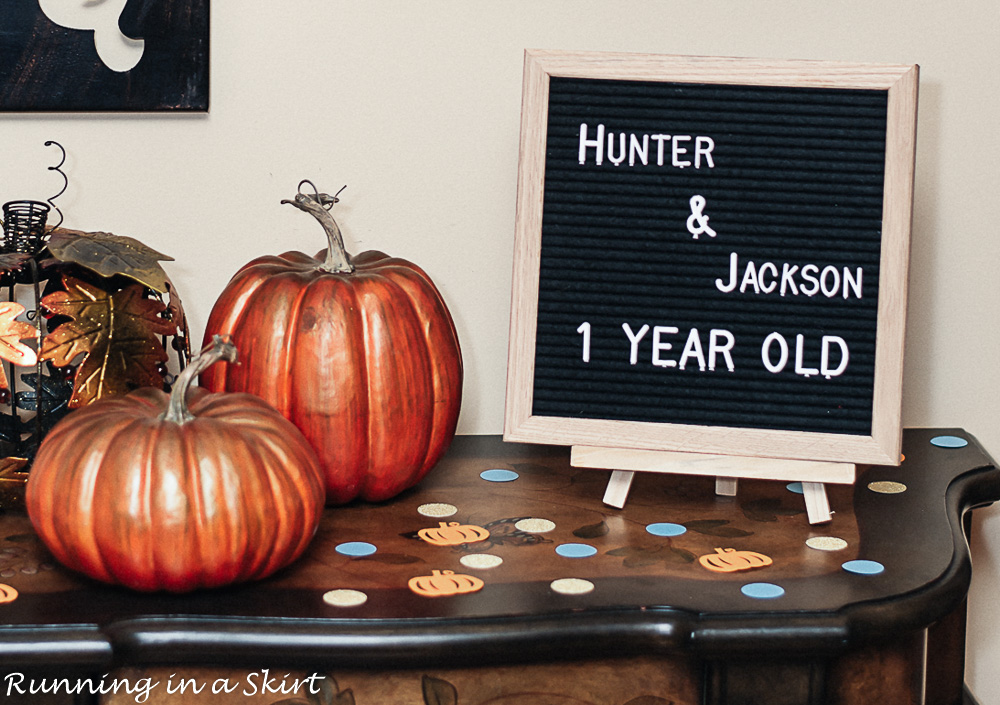 Both mine and the Hubs families traveled to Asheville and it was so special to have them there.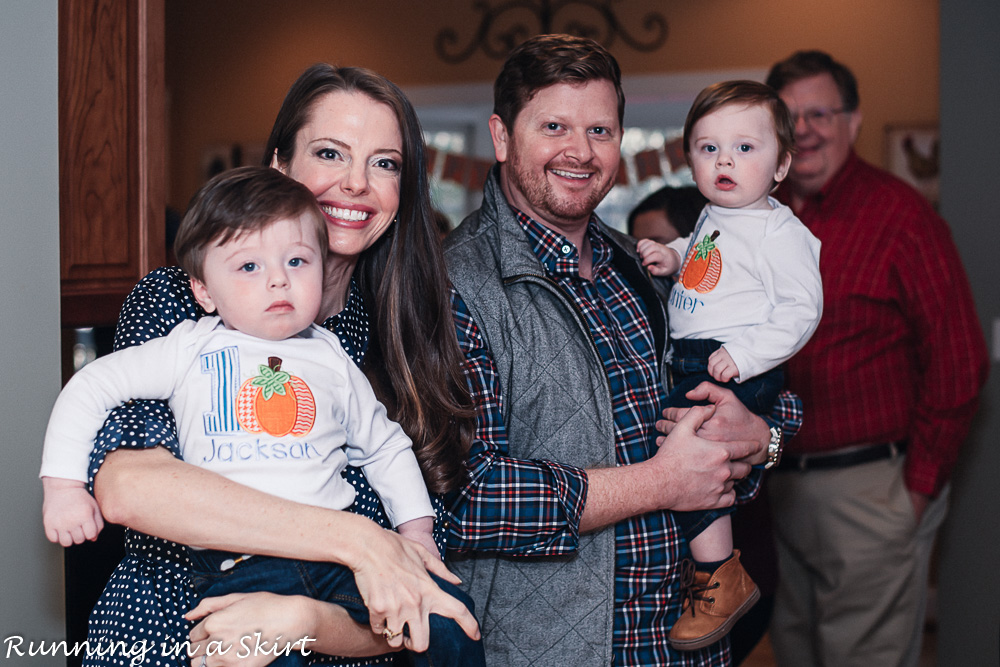 Most of our good friends were able to make it too!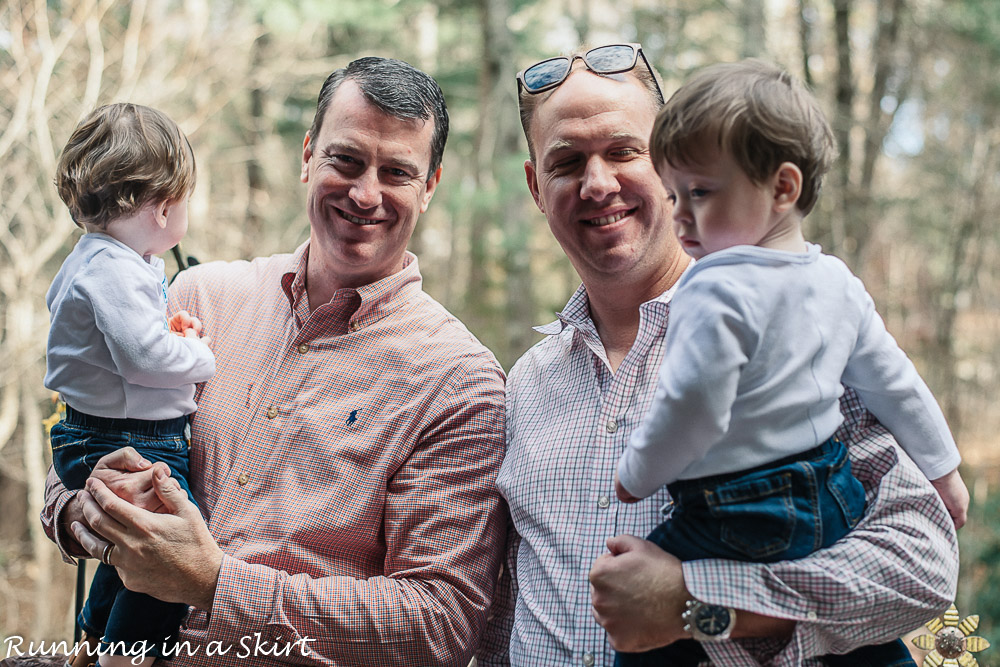 My favorite part of the whole party though was the smash cake area. I had this vision to create a pretty backdrop for their smash cake photos. I had hoped we would have some fall color behind what I put together, but our yard went from green to brown this year... skipping most of the color.
Regardless though, I love the way it turned out.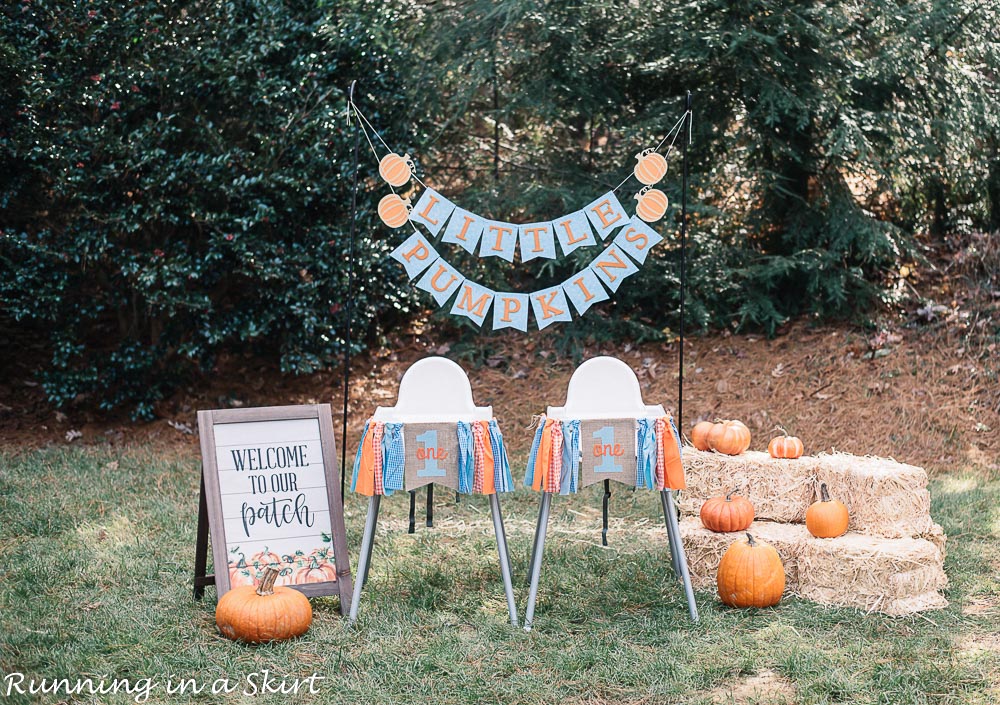 The Little Pumpkin first birthday party for twins details were so much fun.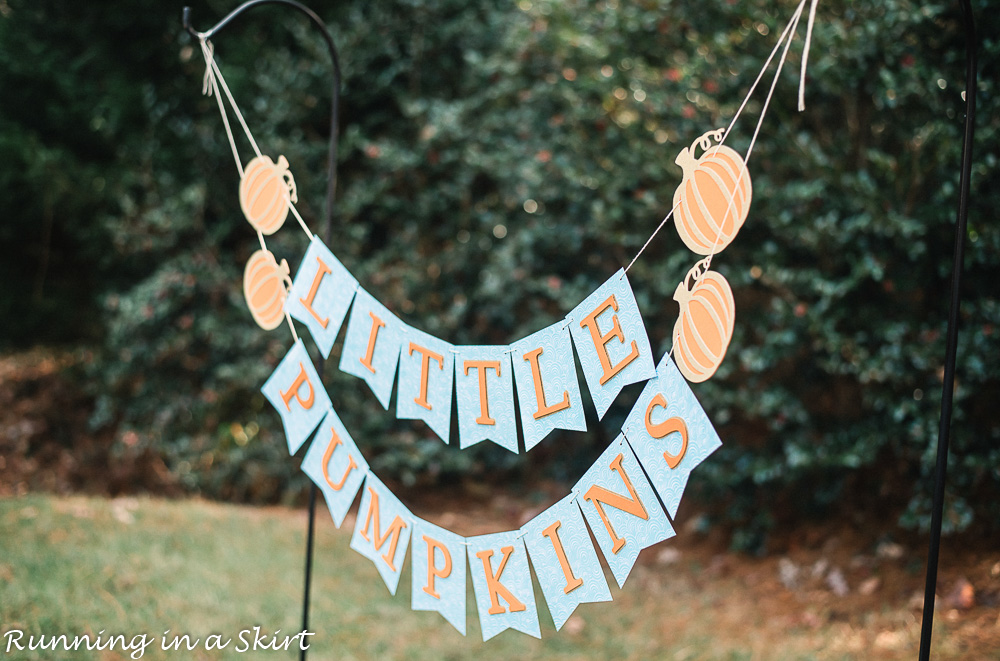 After everyone ate, we pulled the crowd outside and sang happy birthday to the boys.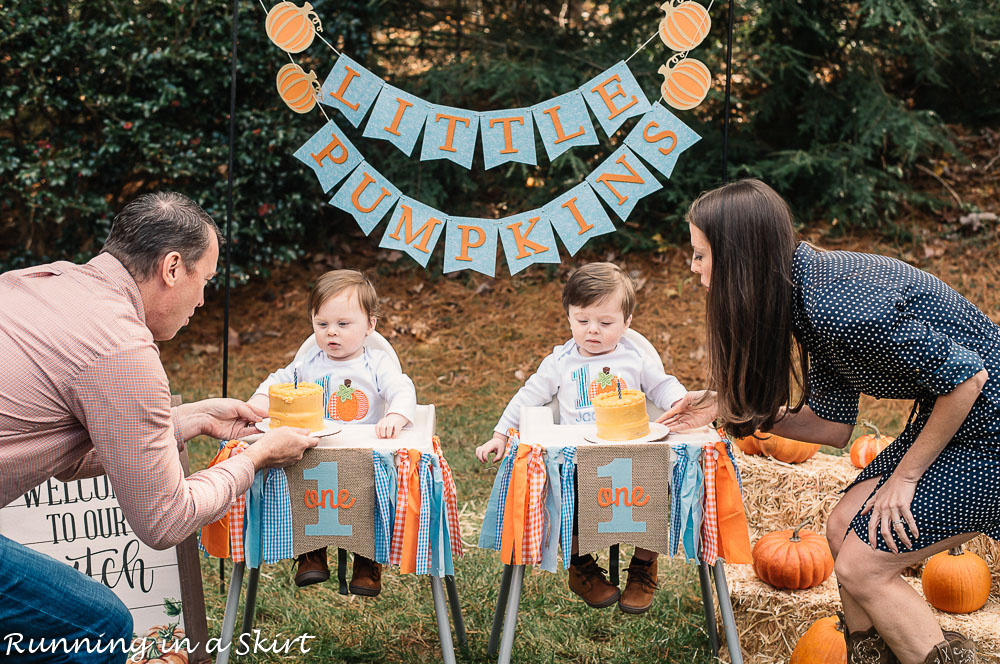 They hadn't had any sweets up until this point, so at first, they had no idea what to make of the cakes.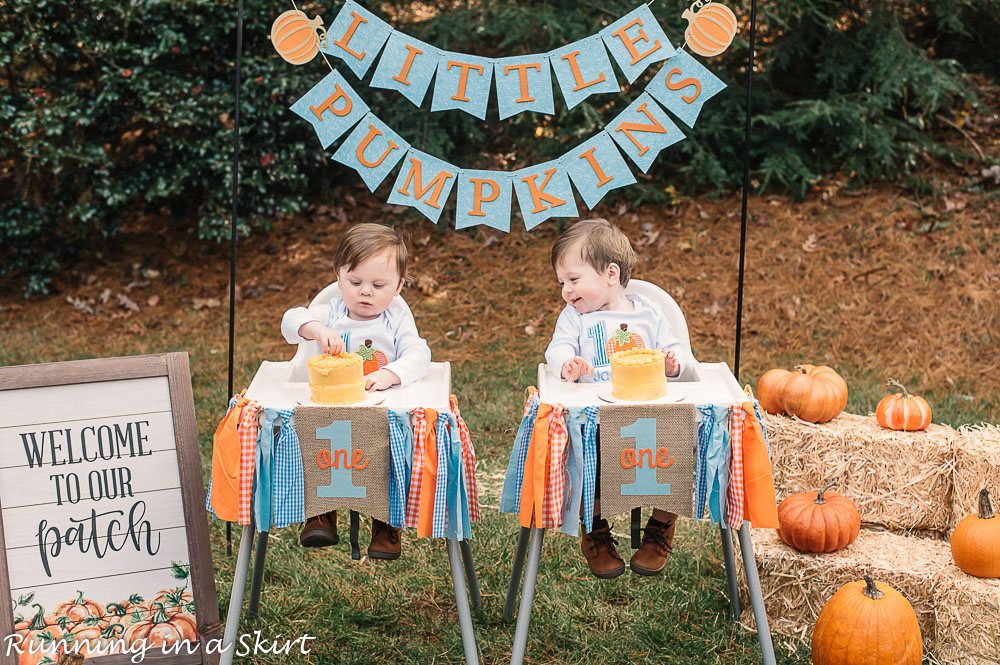 It took a while for them to get into it but eventually, Hunter started playing with his cake with his hands and Jackson started to take a nosedive with his face.
Just as we were about the get a face in the cake the group went "ahhhh!" and Jackson stopped cold before he actually hit the cake! It was so funny.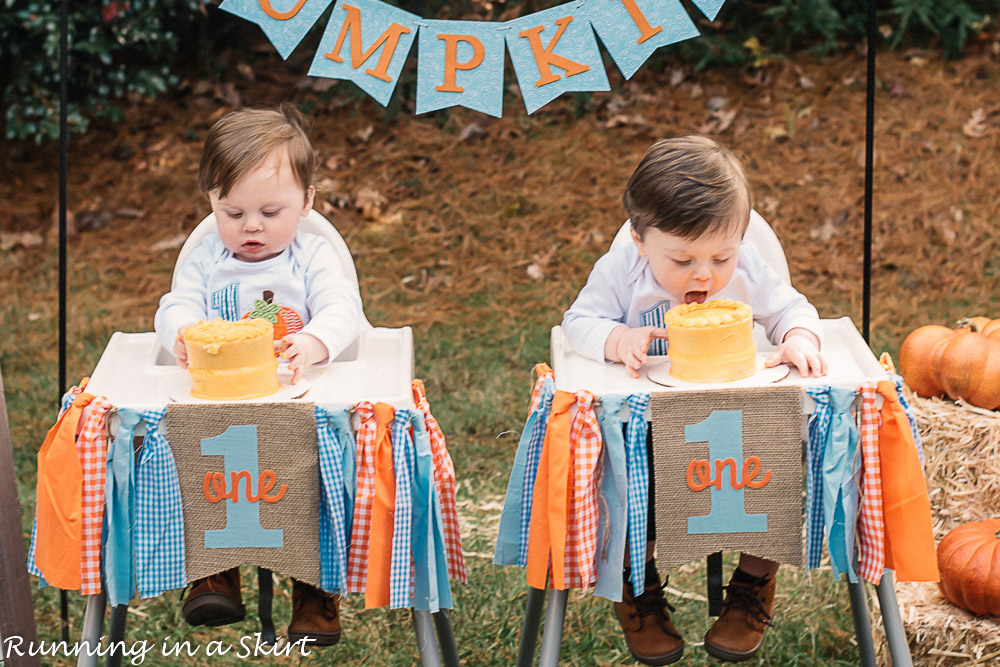 Once Hunter got a small taste of the icing he was all smiles.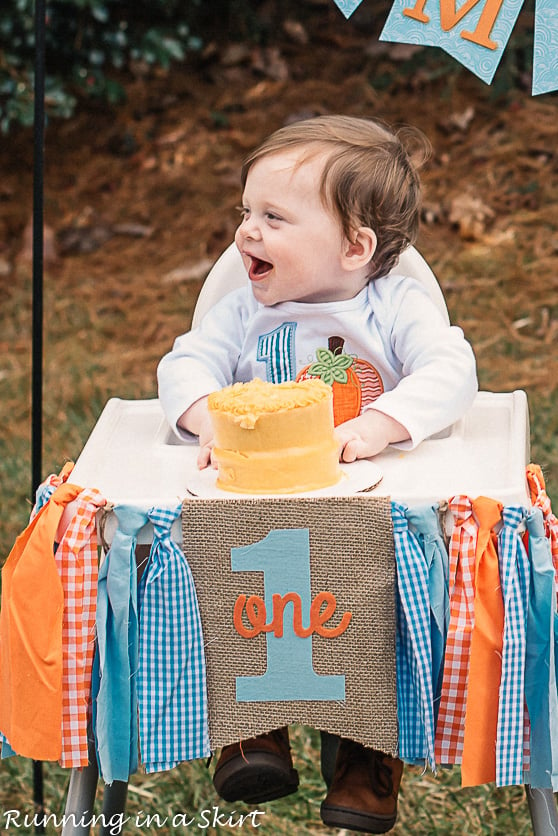 He seemed to like the orange icing but was still pretty delicate about it... which was surprising if you've seen how messy they get from eating on a day to day basis.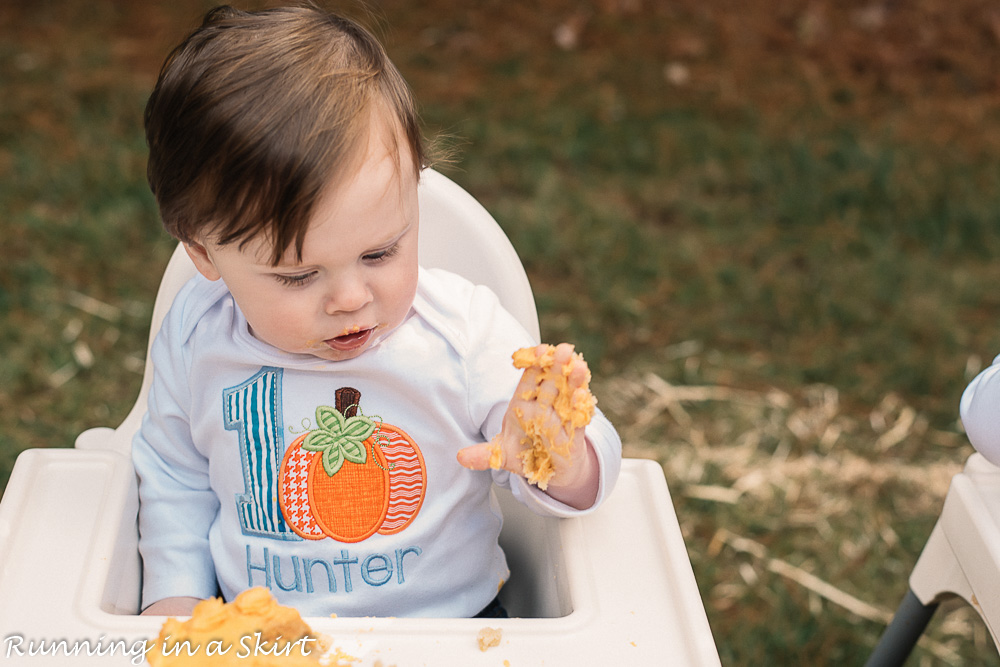 Jackson did the same thing... finally carefully touching the top of the cake.
And the verdict on the icing...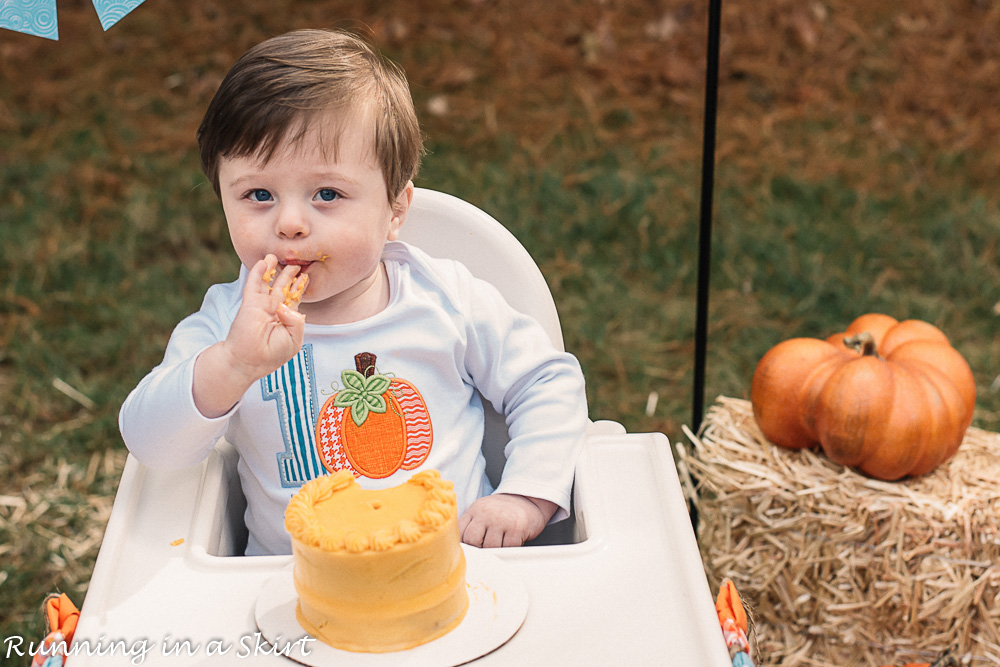 ... big smiles from Jackson too!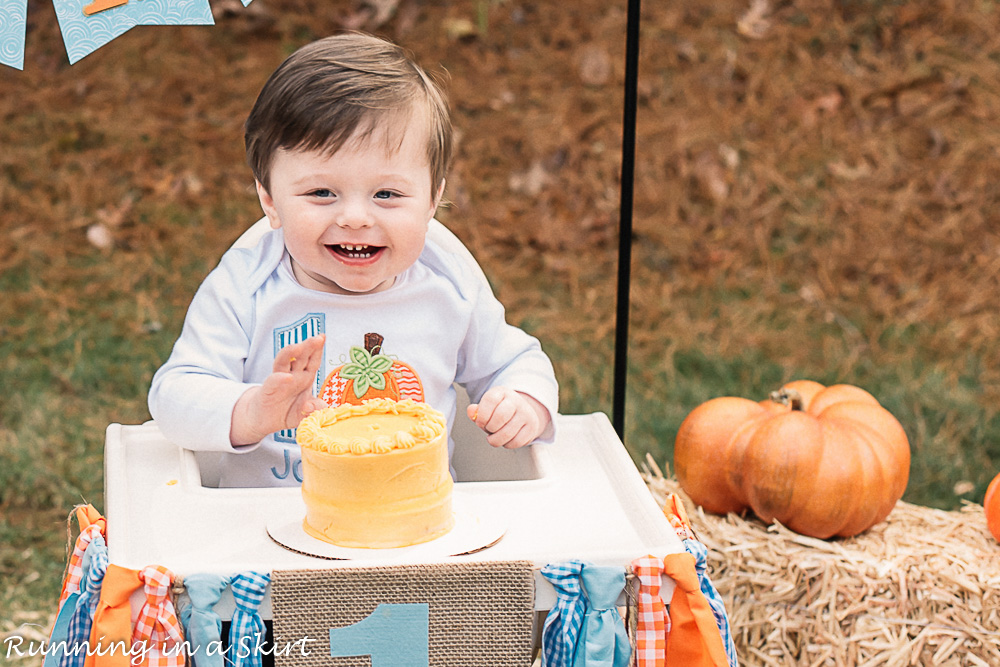 The smash cake finally got fun when Hunter discovered it was sitting on a cardboard circle.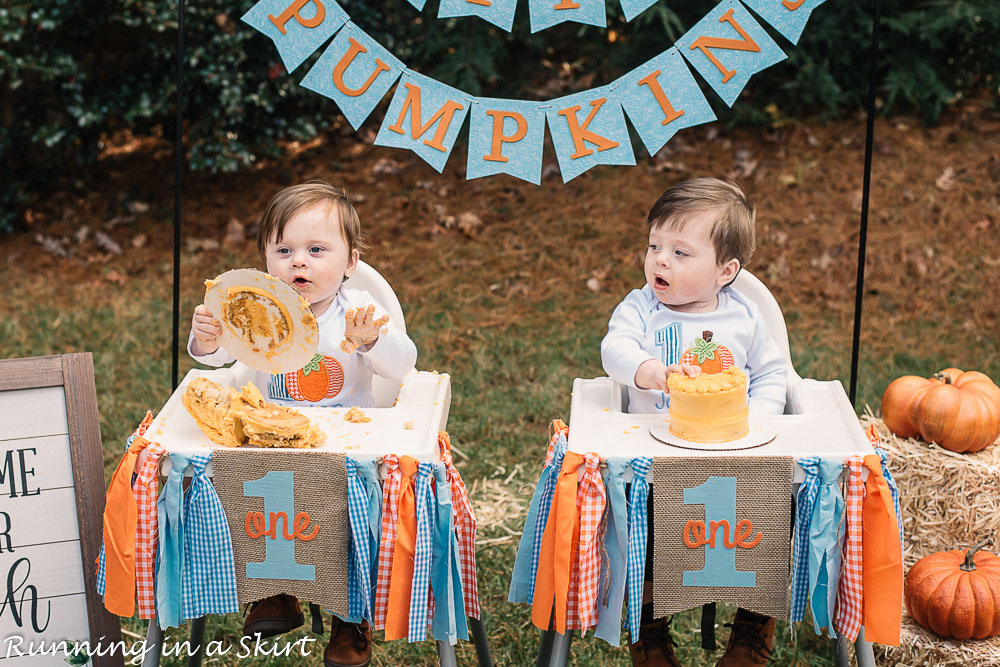 Cardboard and boxes are the boy's favorite! I think he liked it more than the cake.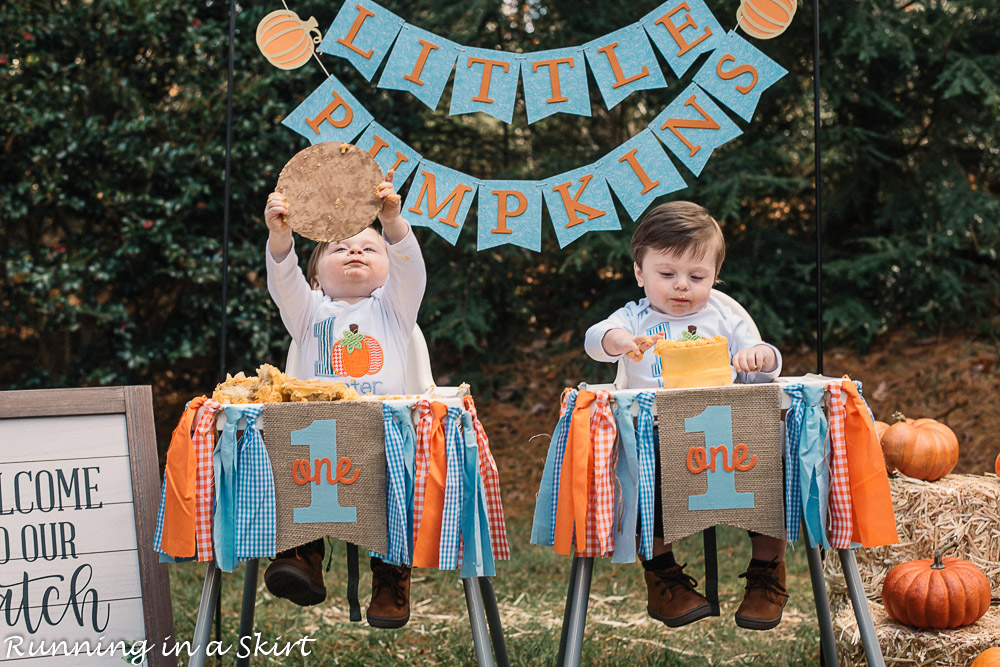 Jackson even tried to take it from Hunter.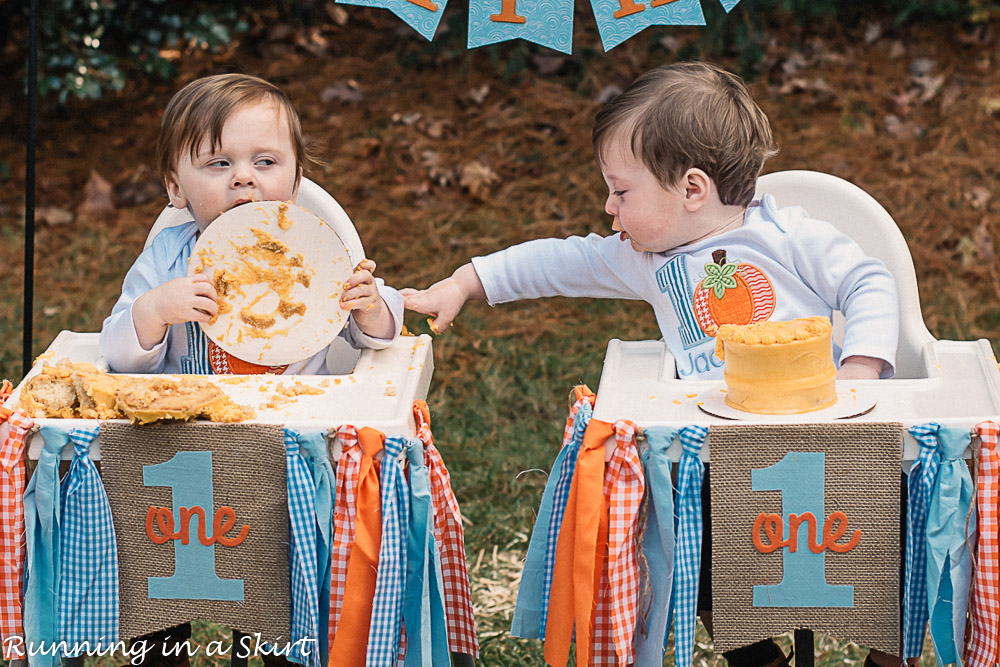 Eventually, both Hunter and Jackson got more into it!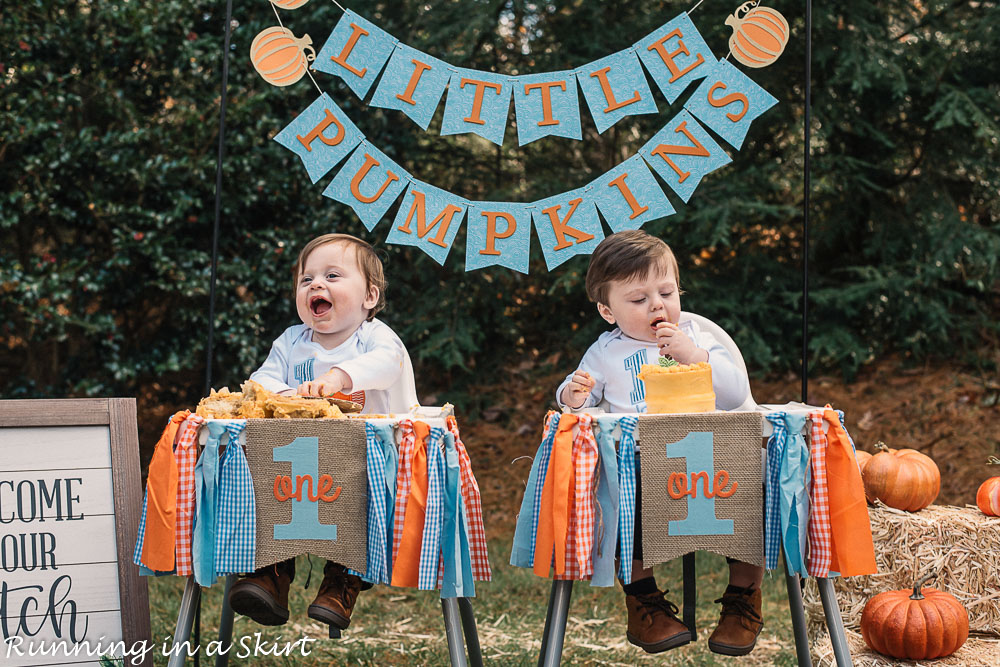 I'd say Hunter did a lot more smashing than Jackson though.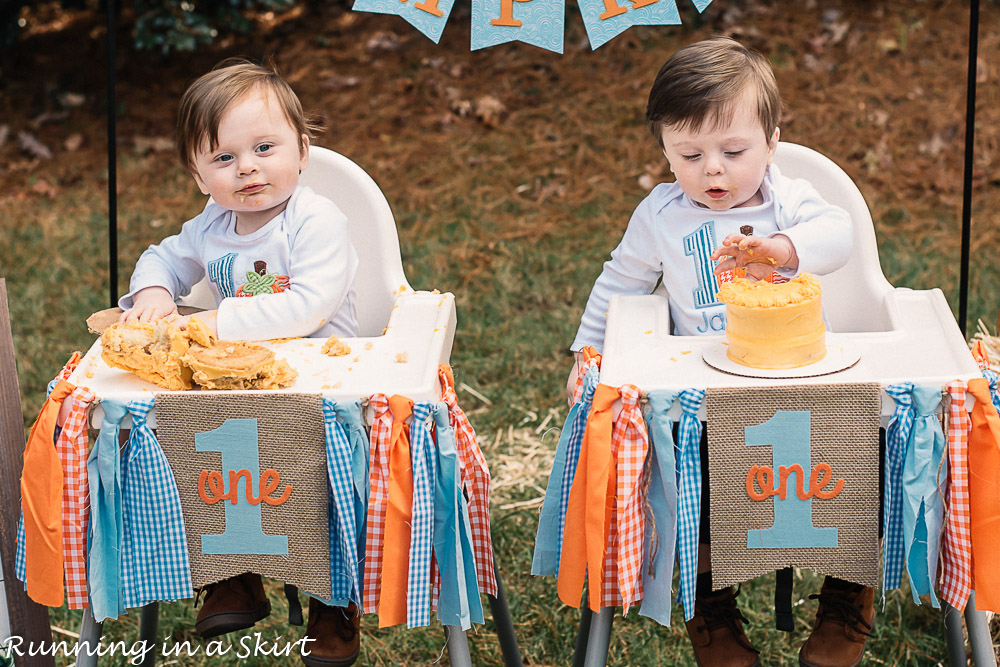 This is one of my favorite pictures of Hunter from the smash cakes.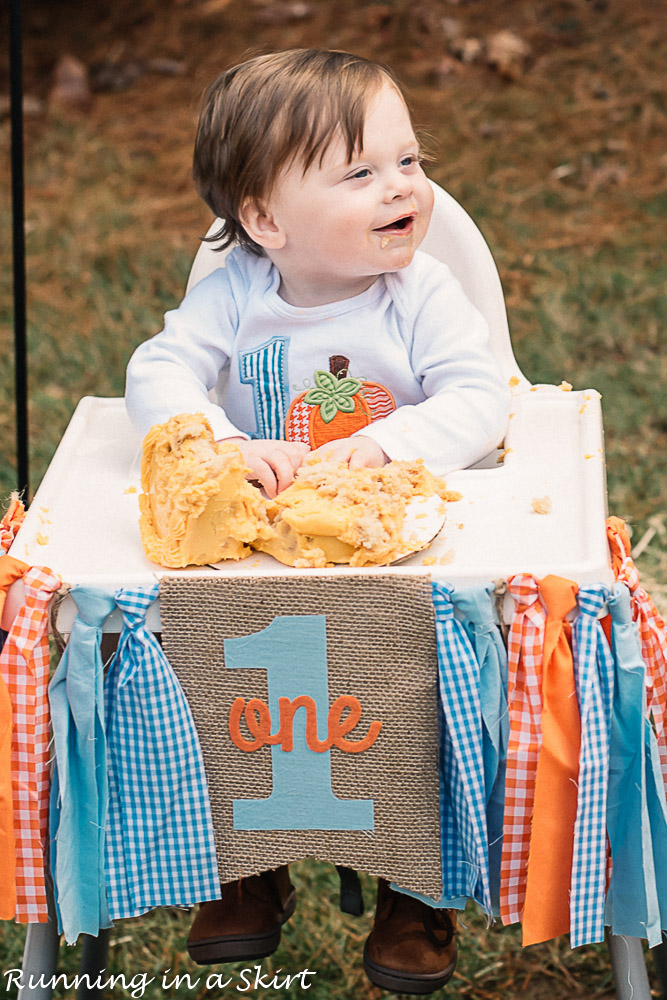 And this is one of my favorite from Jackson!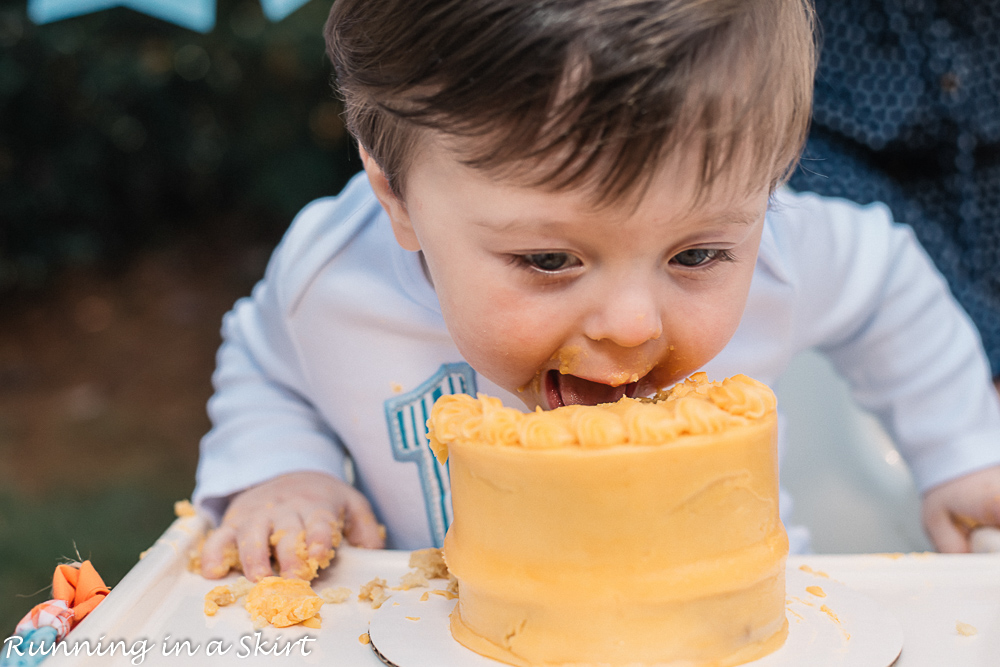 Both the boys had a great time and were all smiles by the end.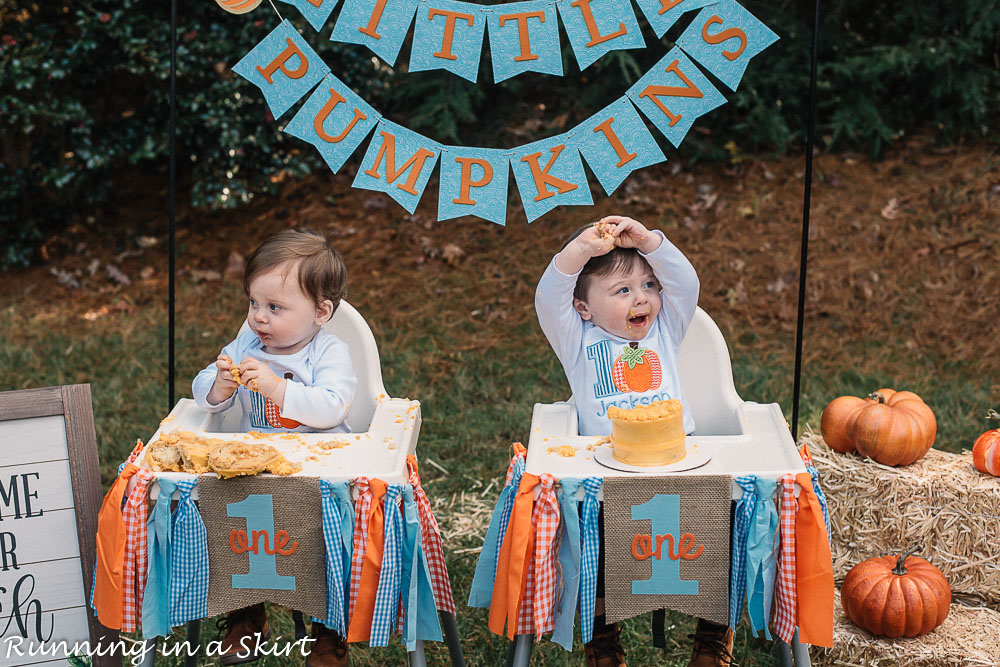 The months of planning were all worth it for a moment like this...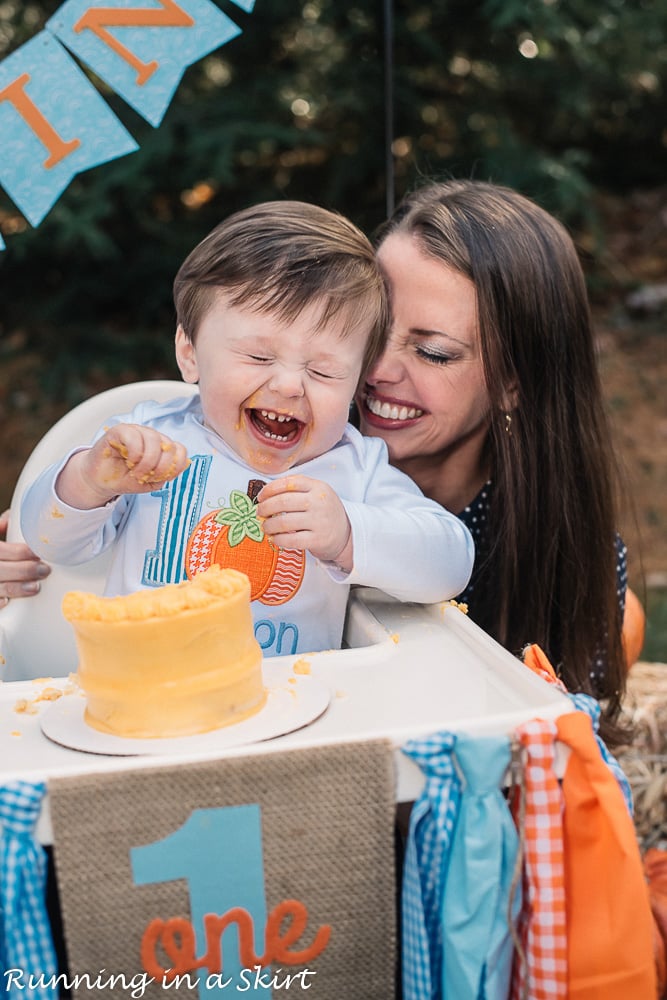 The birthday party was over so quickly but our family stayed around and helped with play with the babies and open presents for the rest of the day.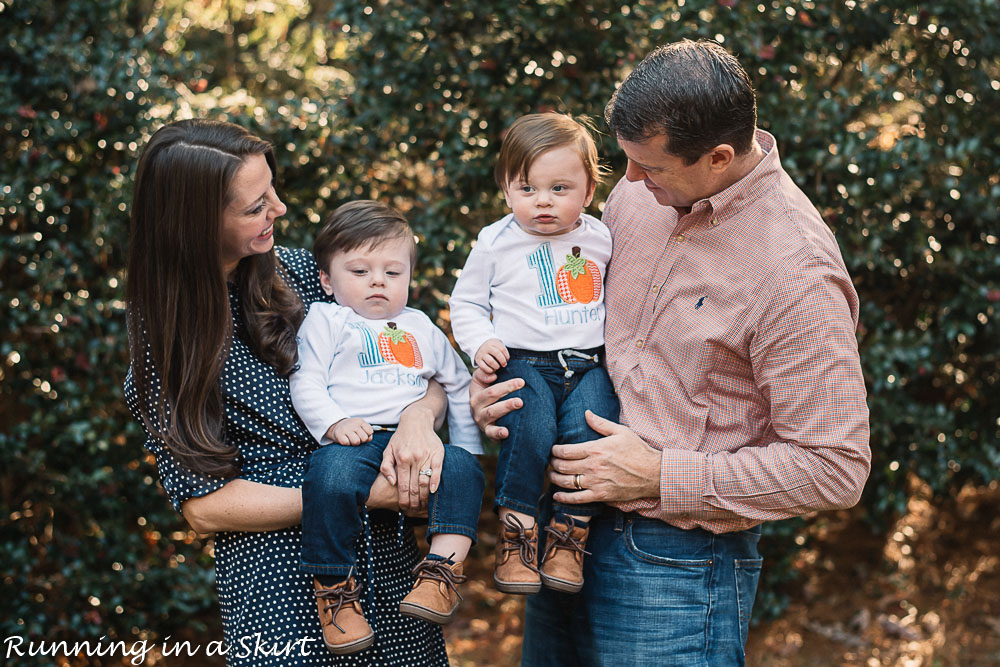 We've had quite a year raising these gorgeous twins and I was so happy to be able to celebrate with all our friends and family who helped us along the way. There is no way we could have done it alone.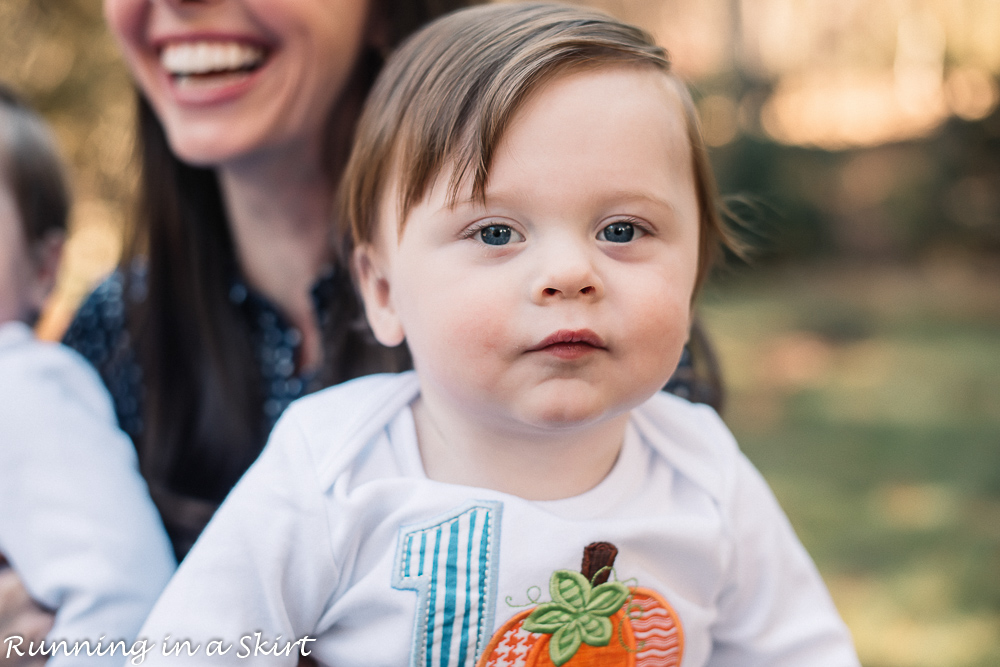 Happy 1st Birthday Hunter and Jackson! We love you to pieces.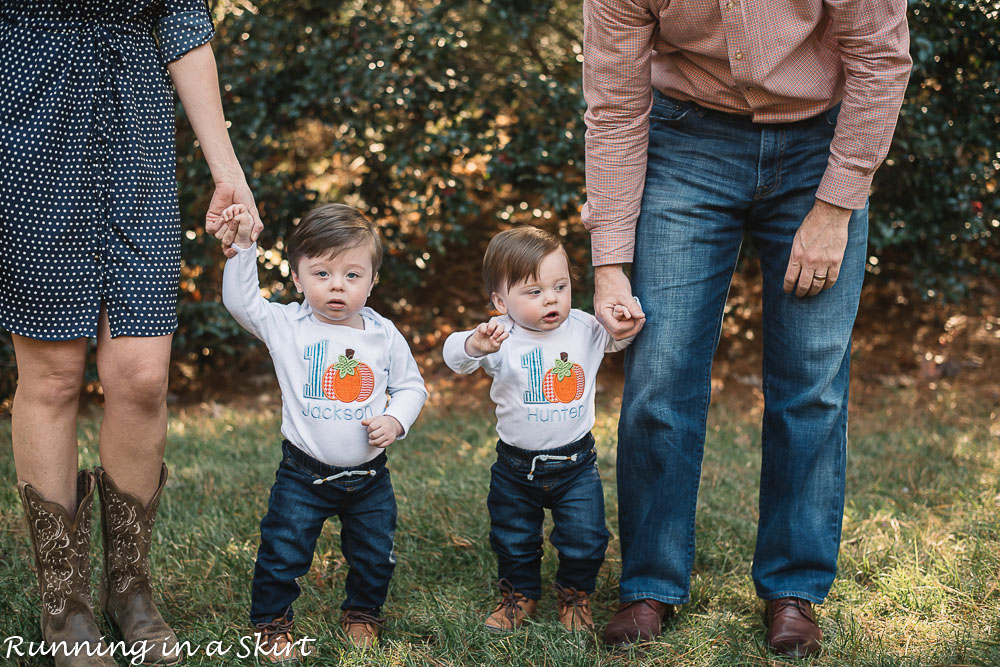 In case you missed it... here is the story of their first year from the blog! I'm so happy I have this to look back on. I think I'm going to turn it into a mini-book for us to have.
Once again, thank you Michelle Huston for taking these photos! She does all different kinds of photography including weddings, family photos, and food styling photos and videos for blogs. Make sure to check her out and tell her I sent you.