Dealing with holiday stress doesn't have to be a reason to dread the holidays. Today I'm sharing my plan to have a carefree holiday season.
I'd like to thank my friends at Pure Protein for sponsoring this post. Thanks for supporting companies like Pure Protein that support Running in a Skirt. As always, all opinions are my own.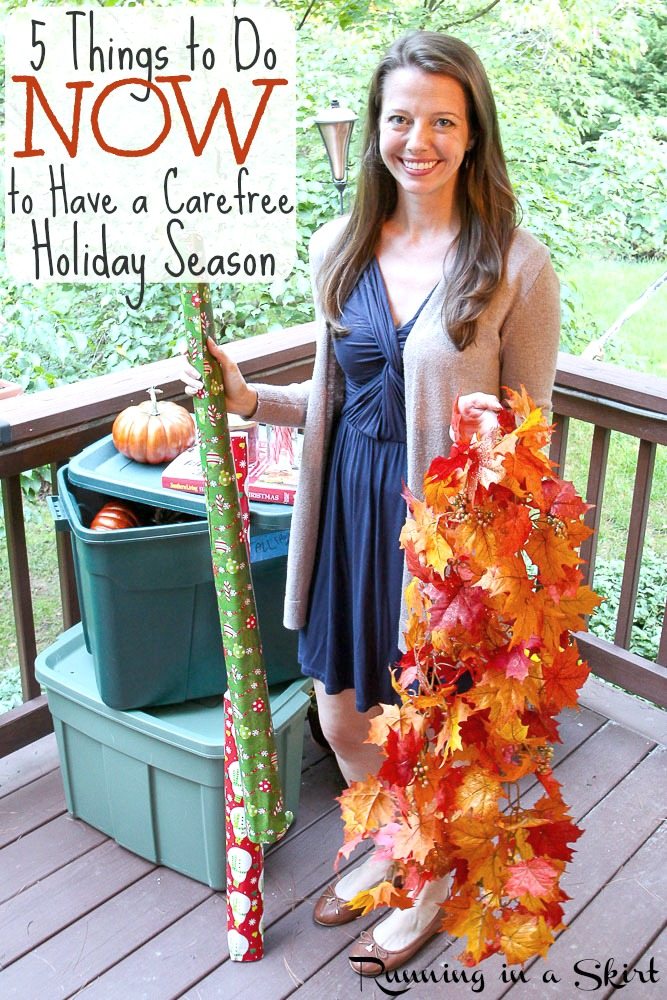 Hi everyone,
So I KNOW it's just mid-October and it might feel a little early to be talking about the holidays. But if you're a slave to a planner like I am, Halloween is just around the corner and Thanksgiving is less than 40 days away. And the time between Thanksgiving and Christmas feels like it gets shorter and shorter with each passing year. Sadly, I start thinking about the upcoming holidays and the older I get the more they stress me out. There is so much that needs to get done that I've honestly started thinking about how nice it would be to just skip to January. Isn't that awful?
This year I want to do things differently. I've decided to put together a plan to start chipping away at tasks now so once the actual holidays roll around they aren't that stressful and I can actually go back to enjoying the season. Hopefully it will make dealing with holiday stress a cinch this year. Bring on all the ELF movie repeats.
I had a feeling many of you might feel the same way, so I thought I'd share my plan with you.
5 Things to Do Now to Have a Carefree Holiday Season
Get Back on Track with Fitness & Healthy Eating
Summer travel had my workout and fitness routines all over the place. And then on top of that I broke my elbow, so I wasn't cooking or working out as much as I'd like. So I'm using Fall to get back on track with fitness and healthy eating before the holiday rush hits. I've also been falling back in love with running.
This may not seem directly related to having a carefree holiday and dealing with holiday stress, but I know that when I'm feeling my healthiest, I'm much more capable of handling all the extras Thanksgiving and Christmas throws at me. Getting healthy doesn't happen overnight, so it's best to start now. I'll also feel less stressed out about enjoying all the extra holiday eats if the rest of my diet is where it needs to be.
As I'm getting back into running longer consistently, I know I also need to increase my protein intake post run. Pure Protein® bars are a great fueling option to keep on hand because they are packed with high quality protein, an essential ingredient for recovering after long runs and getting stronger. They are perfect for a post run refuel on the go.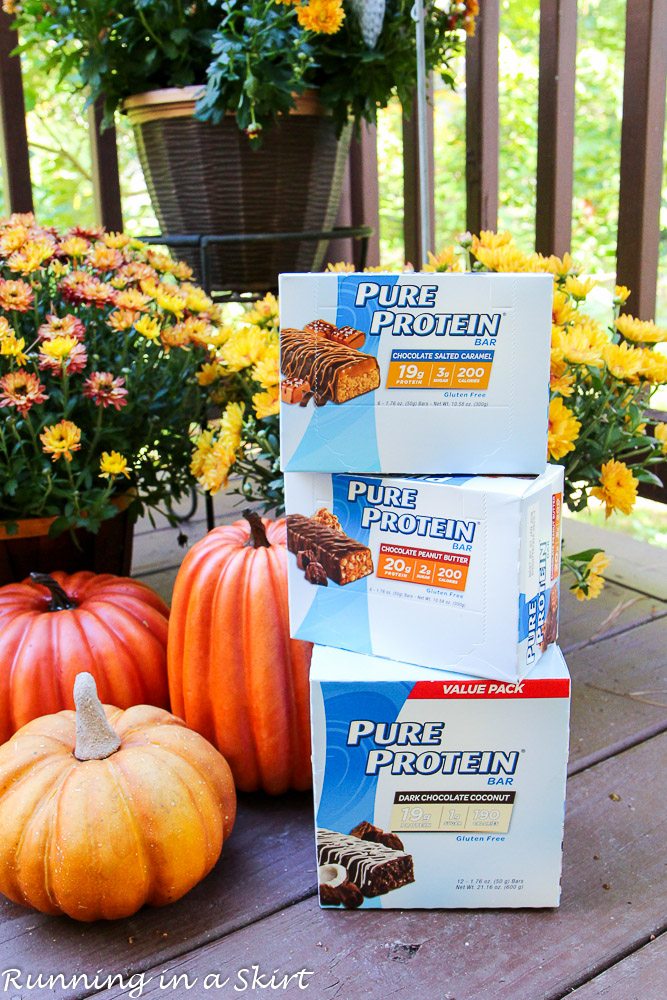 They come in fun flavors like Chocolate Peanut Butter...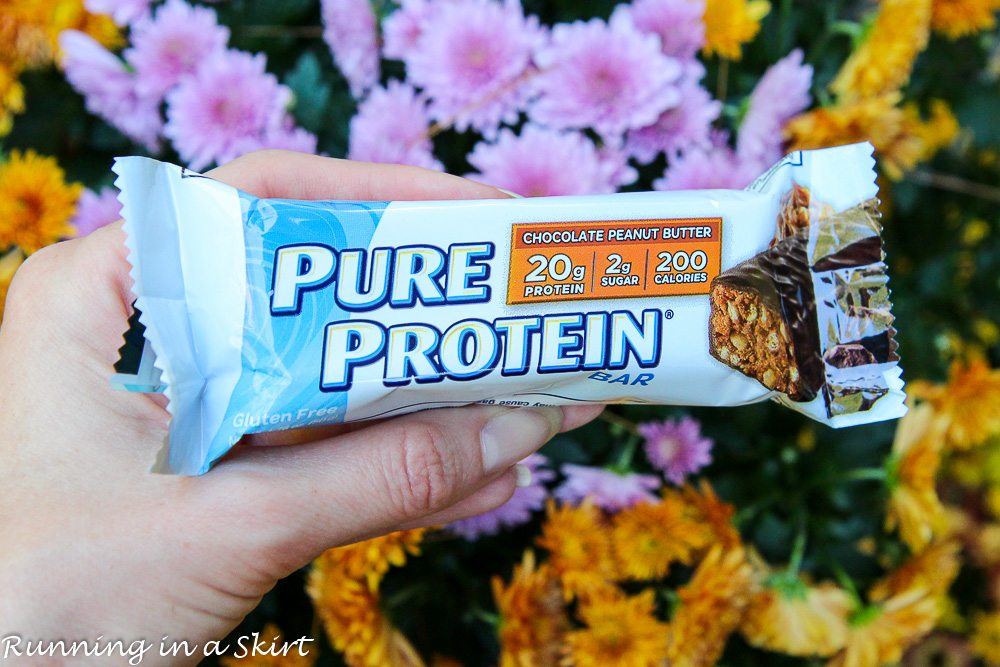 ... Chocolate Salted Caramel, Dark Chocolate Coconut, Chewy Chocolate Chip, Chocolate Deluxe and Chocolate Peanut Caramel.
Having them on hand is a great way to keep full and deal with runger. Pure Protein® bars are versatile and perfect for when you are busy and don't have time to make something homemade. Each bar has 19-21 grams of protein with 6 grams or less of sugar, which is just what I'm looking for in a bar. They are also gluten free. The Dark Chocolate Coconut Bar only has 1 gram of sugar.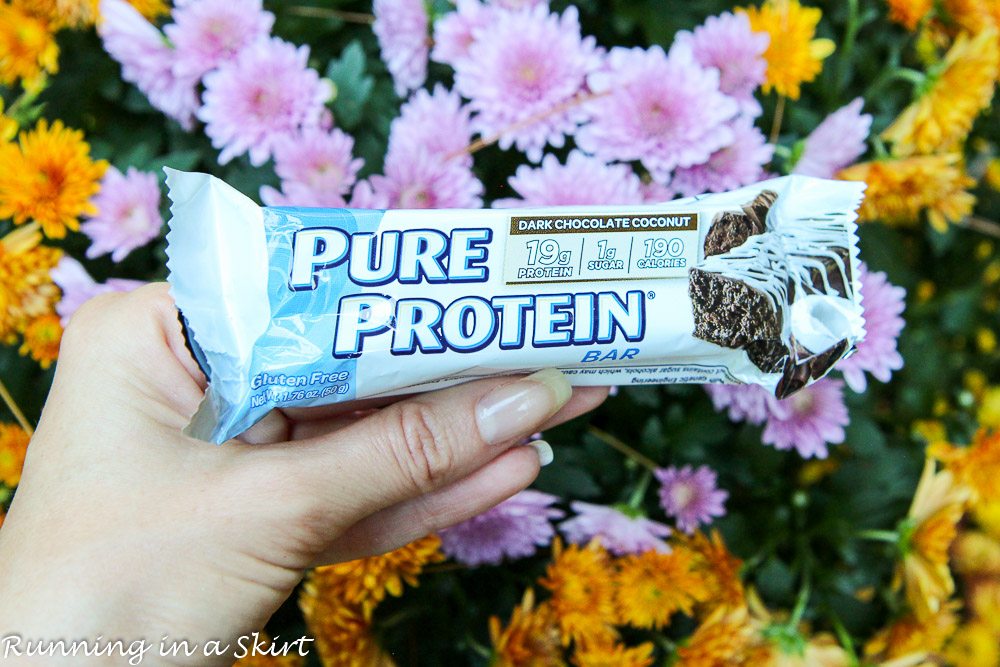 Making small changes in your diet and exercise plan now can go a long way in helping you deal with holiday stress later.
Christmas Shopping
I know.... I can't believe I just typed that either but Christmas shopping is the one thing that stresses me out the most during the holidays. Despite my best efforts, I always seem to be getting and wrapping gifts at the last-minute. This year my goal is to get the shopping done before Thanksgiving AND do the wrapping in the first week of December.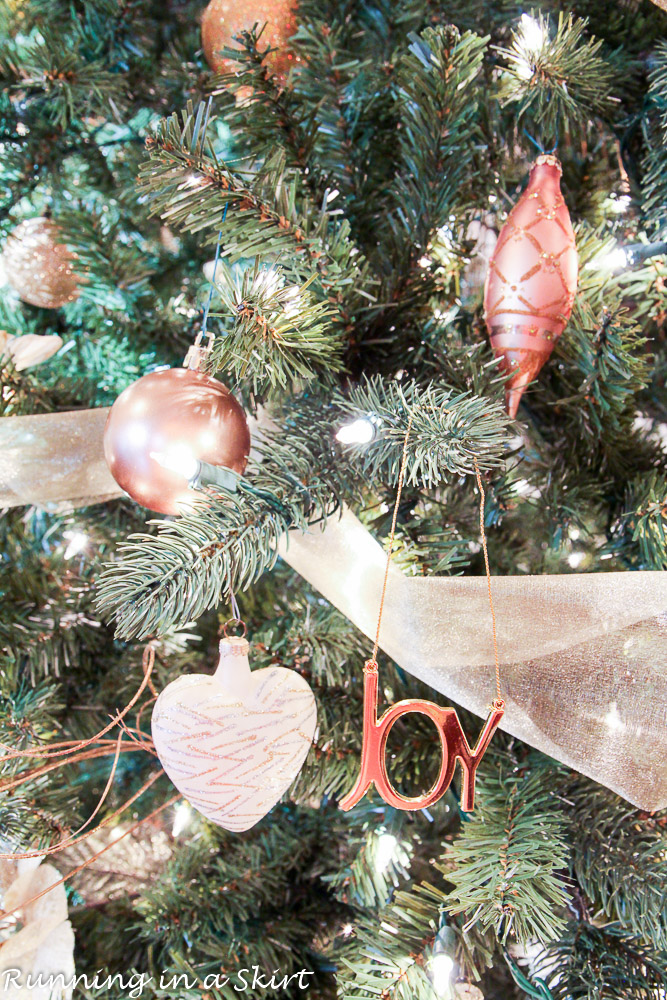 Who wants to accept this challenge with me? Let's find the joy in the whole process again. So basically this is my notice to my family that I need your Christmas lists now. 🙂
Confirm Your Travel Plans
It might feel early to make holiday travel plans, but now is the best time to decide what you are going to do this year and where you are going to travel. Planning ahead means everyone knows what is going on and there are no surprises or last-minute hurt feelings... which is a big cause of holiday stress.
Make Christmas Cards
I feel like as organized as I am about some things, I should be on top of Christmas cards, but I'm not. I'm embarrassed to admit how many of my cards have gone out closer to New Year's than Christmas. This year I'm going to decide on a design and get them printed early so I don't have to worry about it in December. Once again... who's with me?
This is last year's card, which is making me so sad!
Block off Downtime & Be OK with Doing Less
One of the reasons the holidays ends up being so stressful is how many commitments I say yes to. It's my own fault and it's got to stop. Between hosting Thanksgiving and having some sort of holiday party to attend every few nights, the season quickly gets overwhelming for me.
This year I'm making some changes. The first is I'm taking a one year break from hosting Thanksgiving. I love doing it, but last year I felt more stress about it than joy... which is not like me at all. I've done it five times and the Hubs and I decided a change of pace was in order this year.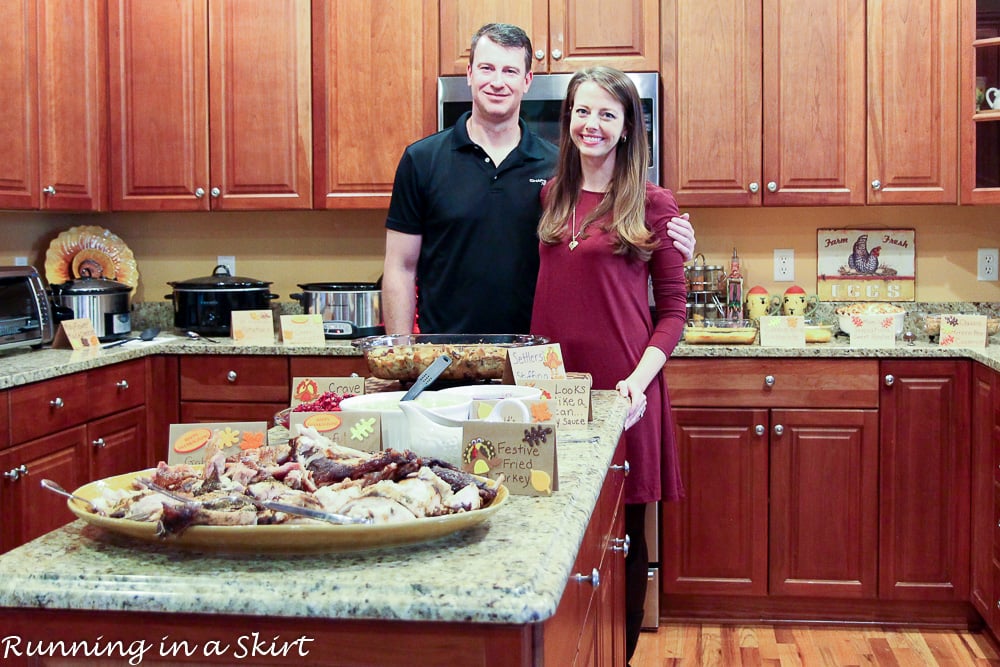 So we talked our crew into renting a beach house at Hilton Head and eating out instead of doing the normal routine. Doing less is already working out great for me. I feel like a year off from hosting is just what I need to find the joy of Thanksgiving again and feel excited about doing it again next year.
And I'm hoping to talk a group into running the Turkey Trot with me, so I'll be bringing some Pure Protein® bars to enjoy!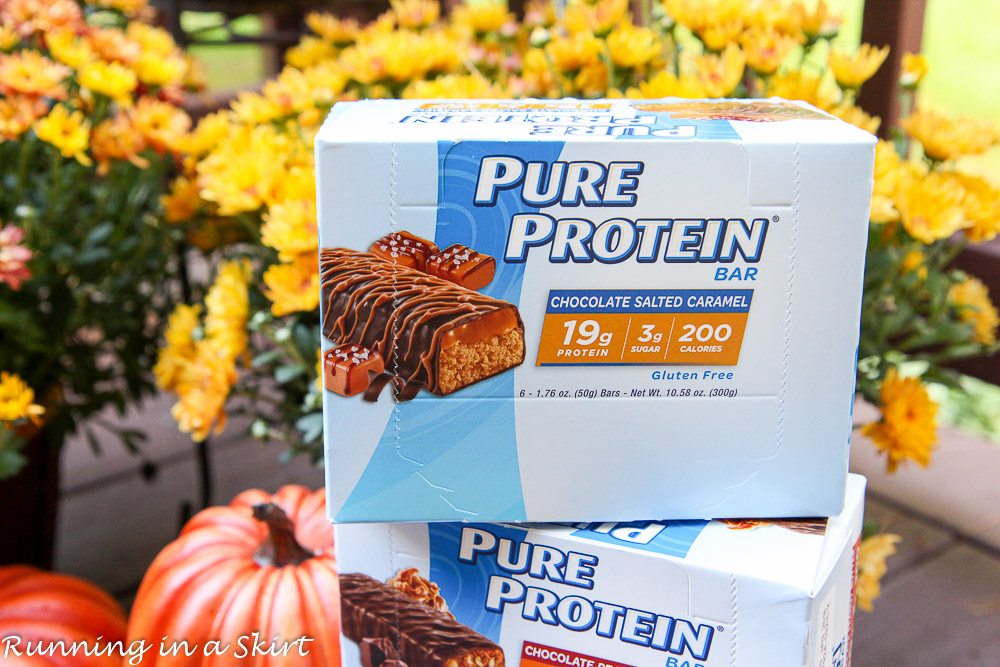 I'm also committing to only doing two holiday events a week. If more than that come up, I will politely decline.
AND, if you want to save on Pure Protein® products, use coupon code PPSAVE17 for $1 off on Amazon.
So that's how I'm dealing with holiday stress NOW to make the season more carefree! I hope some of you will join me on my quest.
Like this post? Pin this to your favorite Pinterest board.


Pure Protein Bars
Don't forget to check out Pure Protein® bars the next time you are in the store. I love how easy they are to find at most retailers and how you can even order them on Amazon. If you are trying them out make sure to use my coupon code, PPSAVE17 for $1 off Pure Protein products.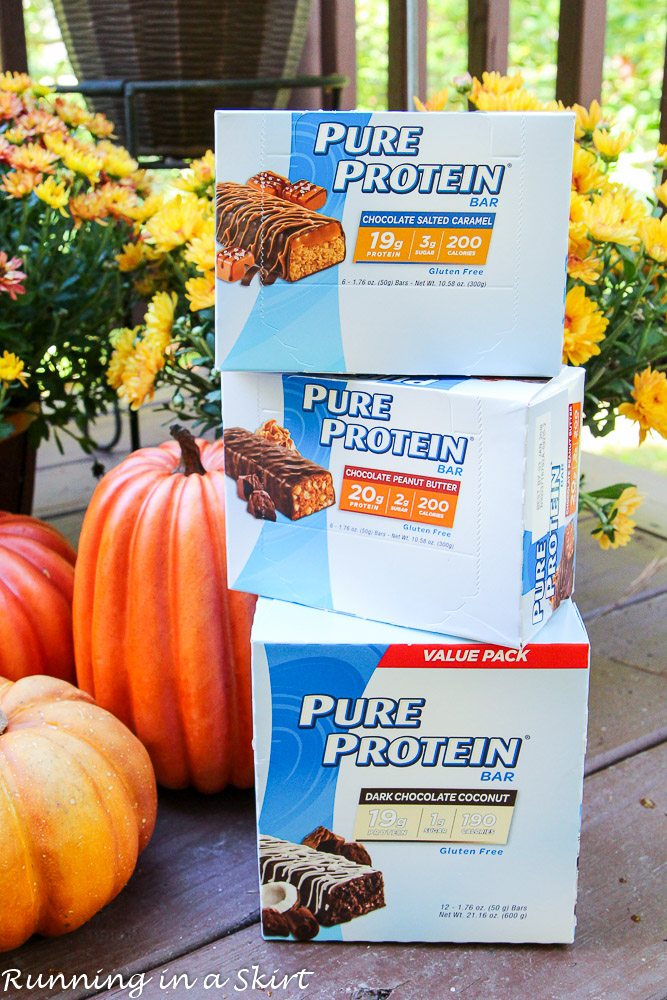 If you need high protein, low sugar bar... Pure Protein Bars are just what you are looking for. Stock up now and put them in your purse and car so when the crazy holidays hit you'll be armed with on the go high protein snacks!
Thanks for stopping by today and supporting posts like this. Come back tomorrow for my super easy 4 ingredient Chocolate Covered Pumpkin Fudge.
Your turn!
Check out the Pure Protein site and let me know which flavor you like the most?
Who's with me to get the holiday stuff done early this year?
This is a sponsored conversation written by me on behalf of Pure Protein. The opinions and text are all mine.