Dealing with holiday stress can be awful! Today I'm sharing simple ways to conquer the holiday with grace, style and a smile.
Thank you to Mirum Shopper for sponsoring this post on combating holiday stress. As always all opinions are my own and I only write about products I believe in. Thank you for allowing me to share posts like this that allow me to publish Running in a Skirt!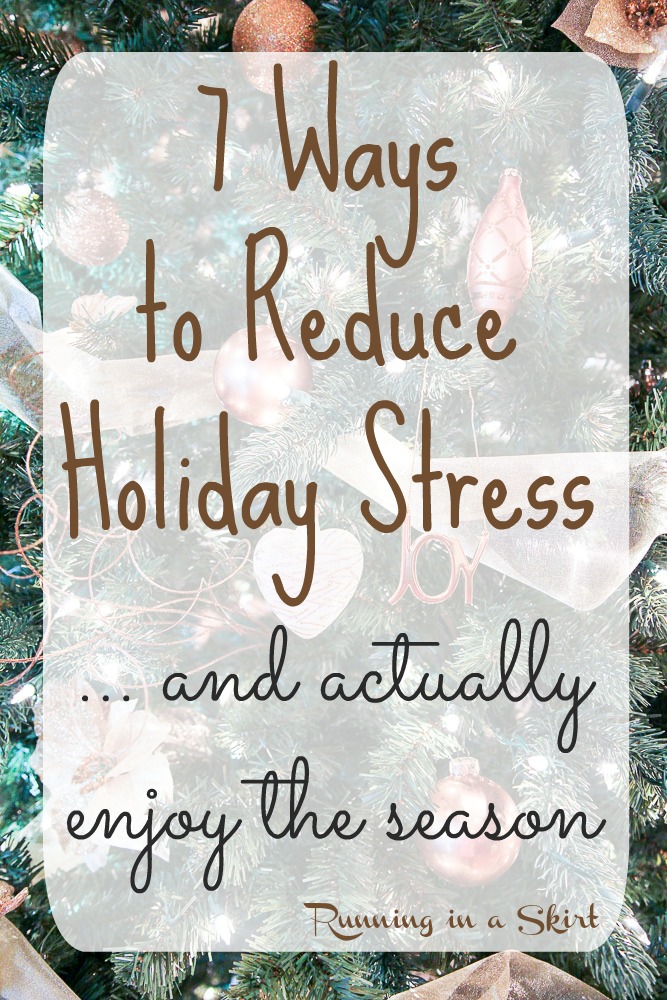 Hi everyone!
I love the holidays, but I'm the first to admit they can stress me out. Dealing with holiday stress can even give me pretty bad anxiety. Between the shopping, cards, gift wrapping and parties I don't always handle all the "extras" this season brings well. I want to just relax and have fun, but my Type-A-ness sometimes takes over and keeps me from living in the moment.
This year I want to really embrace the holidays and not just DO ALL THE THINGS. I actually want to enjoy the things... even if it just means I'm only doing some of the things. I put together a little list of ways I'll be dealing with holiday stress. Hopefully they will help you too, because I know I'm not the only one who feels the stress this time of year.
[fusion_builder_container hundred_percent="yes" overflow="visible"][fusion_builder_row][fusion_builder_column type="1_1" background_position="left top" background_color="" border_size="" border_color="" border_style="solid" spacing="yes" background_image="" background_repeat="no-repeat" padding="" margin_top="0px" margin_bottom="0px" class="" id="" animation_type="" animation_speed="0.3" animation_direction="left" hide_on_mobile="no" center_content="no" min_height="none"]Don't let the holidays stress you out! Here are 7 Ways to Actually Enjoy the Season. #stress Click To Tweet
Dealing with Holiday Stress
Shop Now
One of the biggest holiday stressors is holiday shopping. If you haven't already started, make a list and a budget and get going. I used to really enjoy going out to the mall to shop for Christmas, but now I find ordering gifts online to be a big time saver and stress reliever.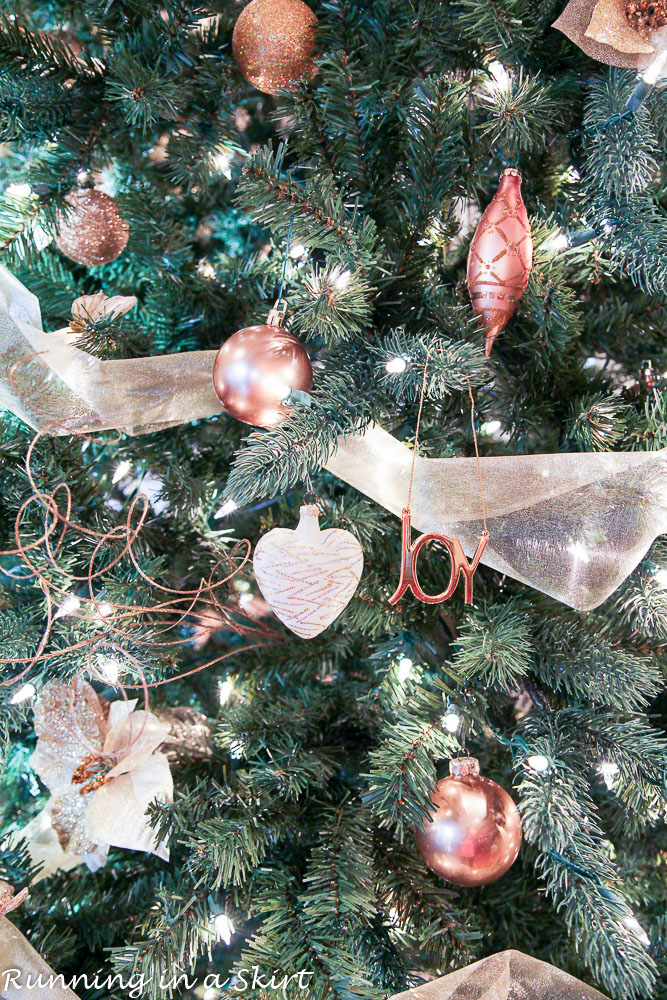 Check off a few gifts a night until your list is done. Bonus points if you can mail them directly to the recipient. Go this weekend to finish any loose ends that you actually need to go to the store for. Don't forget cards, gift wrap and ribbon.
Wrap it all and put it under the tree. It's more work early on, but you'll feel so much better than waiting until the last minute. If you stick to the budget, you'll have less financial reasons to worry after the holidays.
Say No
This is a big one for me, but say NO this holiday season. Decide on a few events to go to and decline the rest. The holidays don't have to be about running around like crazy.
Plan to use January and February as time to continue to connect with friends. You don't have to do everything now. They will be there later.
Be Prepared for Parties
Even with saying NO, there are still some holiday parties you have to or want to go to! The trick is to be prepared for those parties.
Plan what you are wearing now. Consider a nice little black dress with different accessories if you are short on clothes.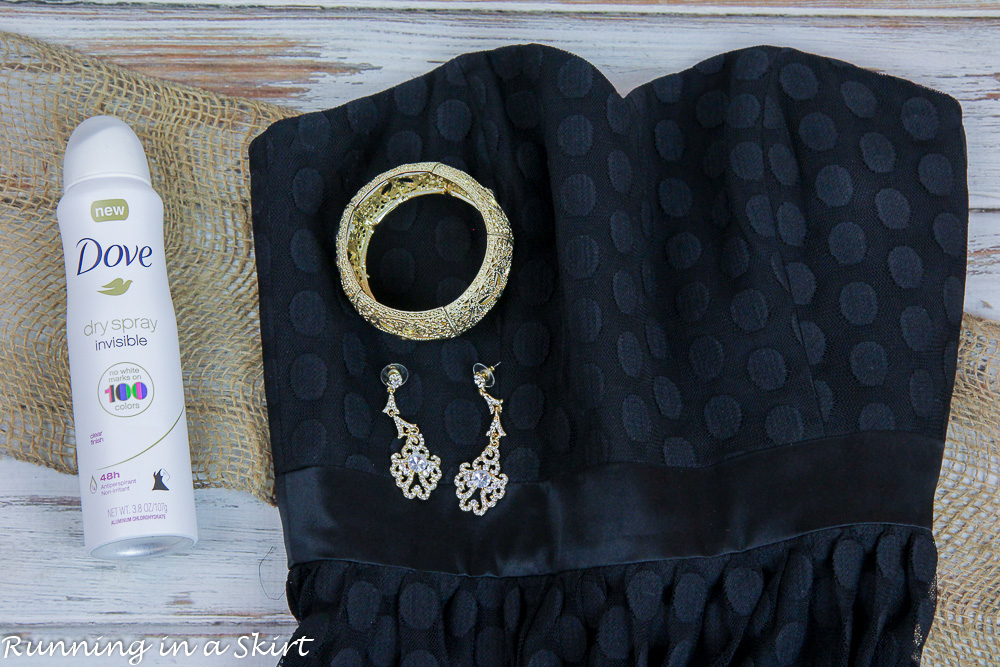 If you are wearing a little black dress you don't want to forget your Dove Dry Spray Deodorant. I love how fresh it feels, how dry it keeps me and most of all how it doesn't make white marks or yellow stains on my clothes.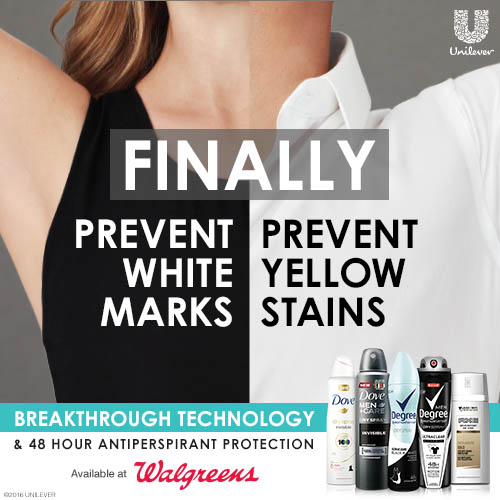 These dry sprays are a wonderful new way to do deodorant!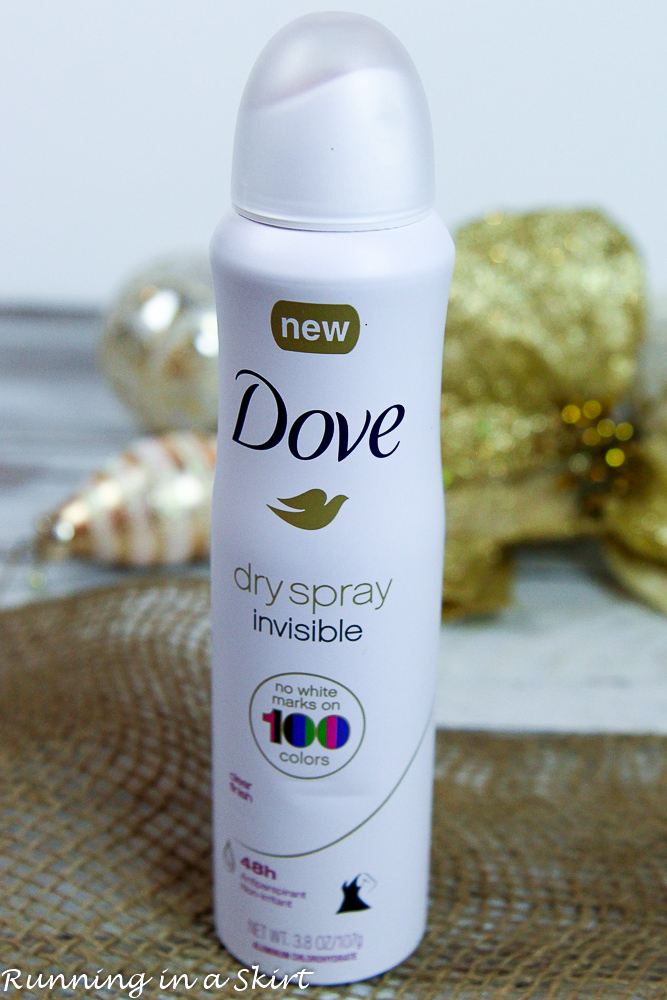 I also like to create a party rescue pack to keep in my purse! It's a little beauty arsenal, which could handle almost any issue that comes up at the event.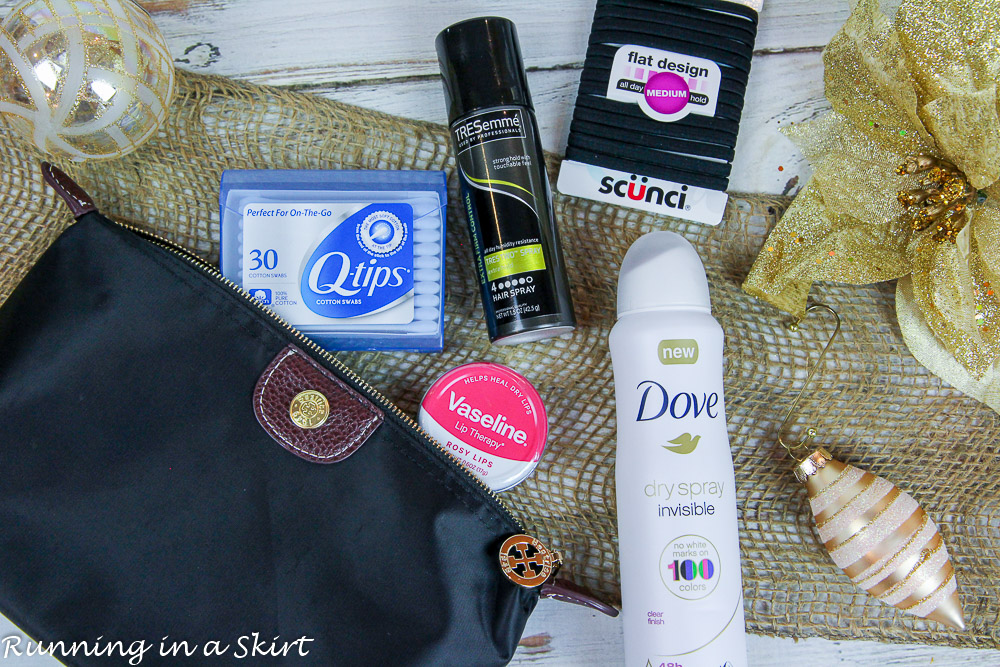 In my Party Rescue Pack I include more Dove Dry Spray deodorant, Q-tips for any make-up fixes, and a Vaseline lip tin to keep my lips moisturized. I also throw in a travel size TRESemmé hairspray and hair ties to keep my hairstyle looking sleek. You want to look and feel great at a party and this kit can really help.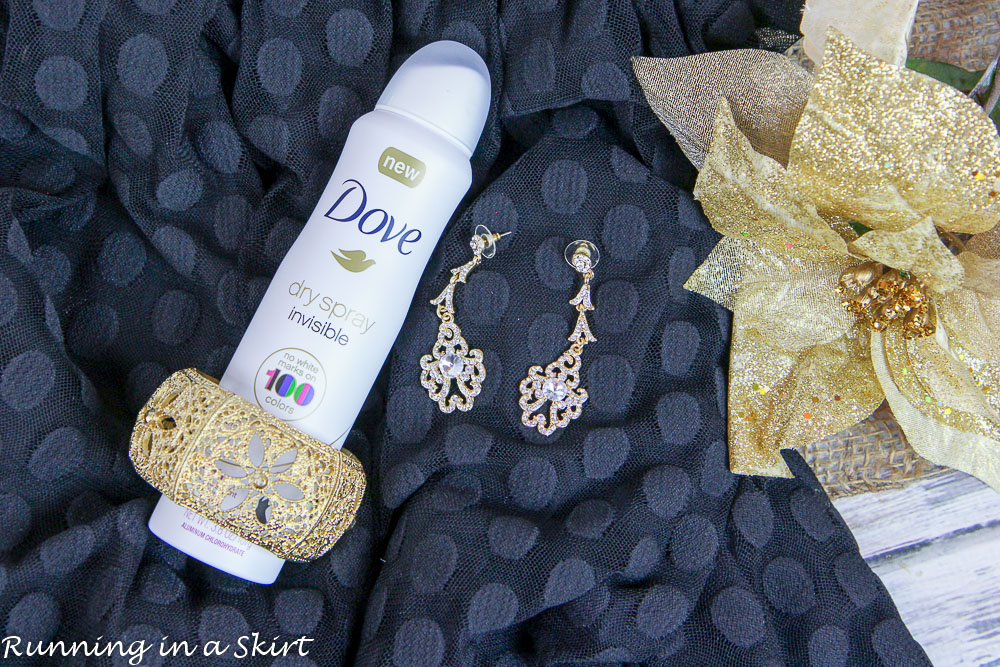 When you have a busy day traveling between events this kit could be a life saver keeping you from a sweaty situation, smudged makeup or a hair disaster.
These are products I stock up on at Walgreens, including the adorable tote, and keep in my beauty arsenal year-round. And you should too... especially with the great offers Walgreens has going on right now! I'll share those deals and how you can win your own party rescue pack below. There will be THREE winners, so stick around.
Don't Overindulge
There is so much food and alcohol around this time of year. I'm not saying not to have fun and eat your favorites, but don't do it everyday. If you over eat and over drink more days than not you will put on weight, not feel good and regret those decisions.
Choose to only indulge on the weekend, or just at select parties, but not all the time. Find a balance in enjoying the holidays and not over doing it.
Make Time for Self Care
This time of year can get so busy that we take care of everyone but ourselves. Don't forget to schedule time for self care!
Sleep with help you deal with stress and any unexpected problems. If you haven't slept sometimes they can seem much worse or less manageable. Also don't forget to honor your exercise routine. Are you a runner, keep doing that. Try yoga and meditation to find your zen in all the chaos.
Keep it Simple
Sometimes we are our own worst enemy around the holidays. We try to do too much and make it too complicated. I am SOOOO guilty of this.
Try just making one type of cookies this year, or use gift bags instead of paper. There are ways to keep it simple and cut corners without sacrificing the joy of the holiday.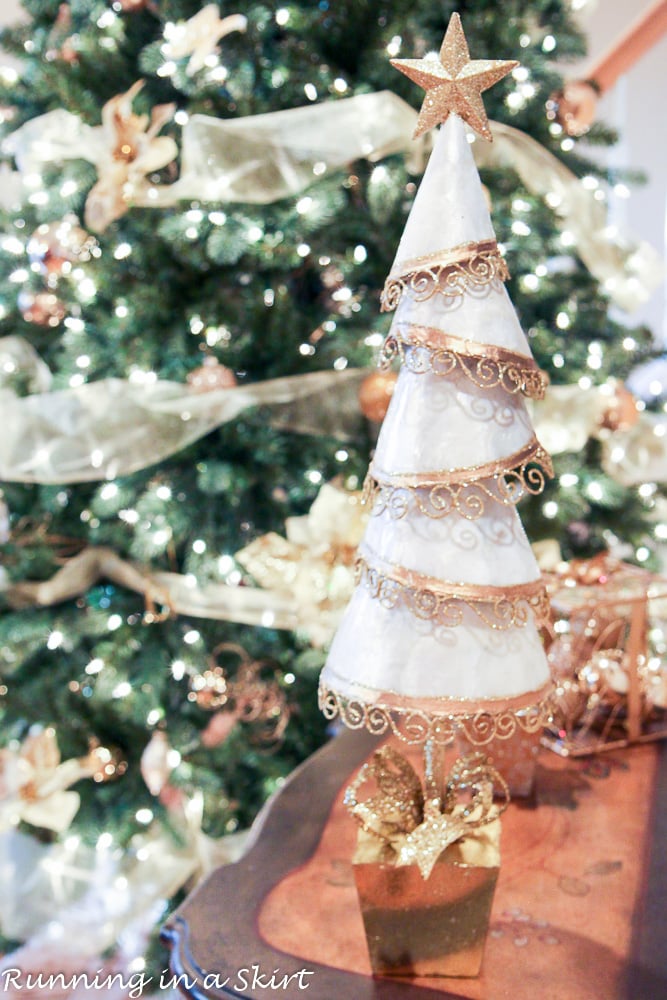 Set an Intention of Joy
And that brings me to the most important way to help with dealing with holiday stress. Often times our negativity can take over without realizing it. Meditate and set an intention of joy this holiday season. We all KNOW this time of year is busy and brings all sorts of stressors out. Some of those we can control and some we can't.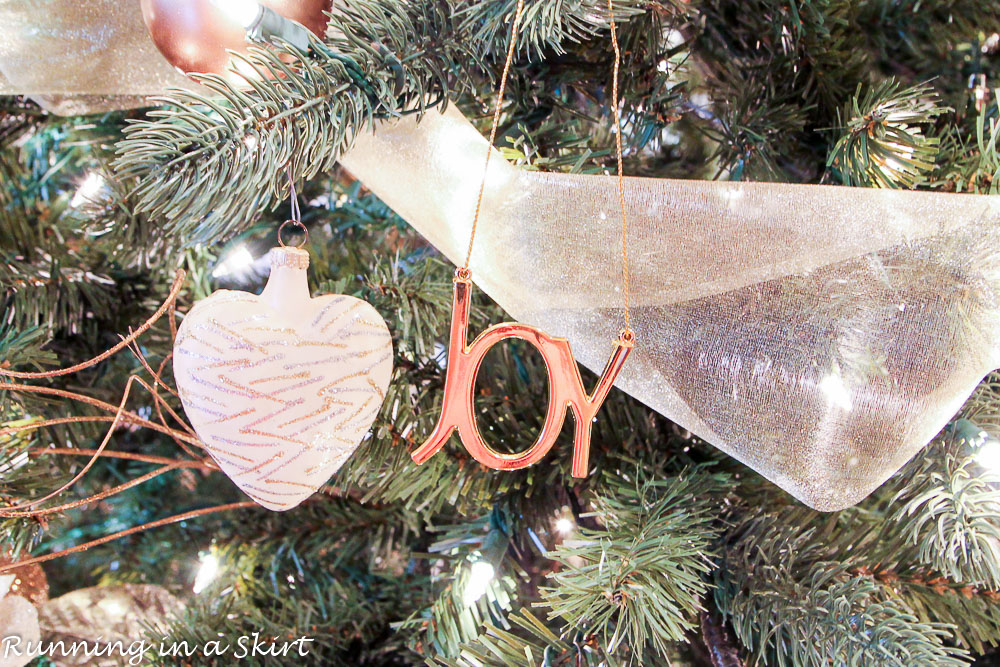 Decide to embrace the chaos with joy and do your best to make your decisions surrounding that. I call it "fake it 'till you make it."
Now I know this doesn't always work and that life isn't always fairy tales and happiness. The holidays can cause all sorts of family stress and even bring on true depression, but on some level I believe this can help. If you are feeling completely overwhelmed and feel you need more help, don't be ashamed to reach out and get that help!
Hopefully these tips can help with your holiday stress!
Party Rescue Pack Giveaway
Now here's the fun part! Three of you will win your own Party Rescue Pack from Walgreens featuring Dove deodorant, Q-tips, Vaseline lip tin, travel size TRESemmé hairspray and hair ties. What a perfect addition to your purse this holiday season. Comment below to enter!
Here's the official contest rules.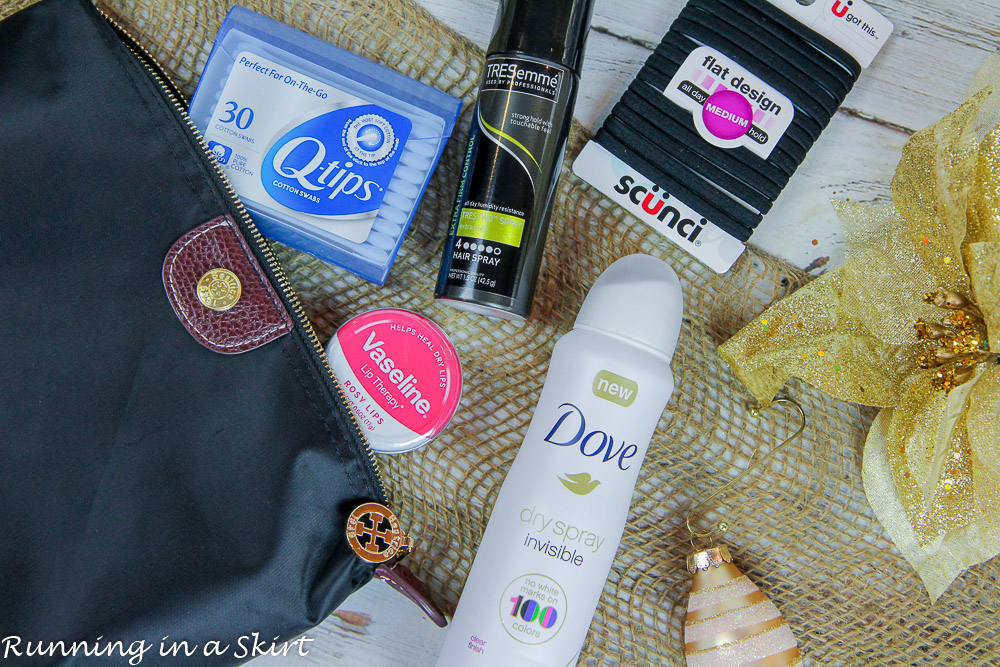 And don't forget Walgreens is the place to shop for all your holiday party must haves.
Right now they are featuring $1.50 off any ONE (1) AXE, Degree or Dove antiperspirant or dry spray (excludes trial and travel) until January 13th. They will also be Buy One, Get One 50% off December 18th through December 24th!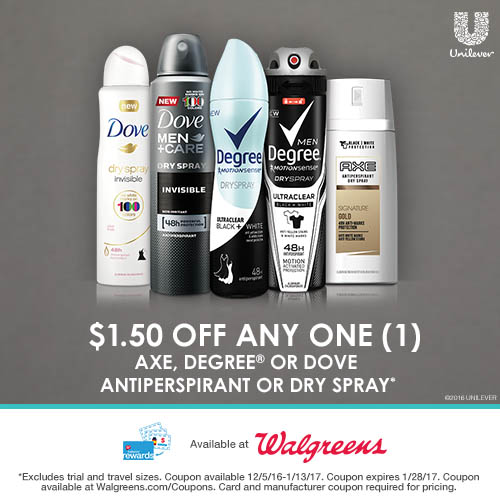 Need to find these tips later? Pin this to your favorite holiday themed board!

7 Ways to Reduce Holiday Stress... and actually enjoy the season!
Click To Tweet
I'm linking up with Marvelous Monday, Wild Workout Wednesday and Thinking Out Loud Thursday.
Thanks so much for reading today! Come back tomorrow for a fun and healthy Dark Chocolate Peppermint Popcorn recipe. <--- it's da bomb. 🙂
Your turn!
What kind of dry spray (pictured above) would you add to your Party Rescue Pack? Comment below for the chance to win your own pack![/fusion_builder_column][/fusion_builder_row][/fusion_builder_container]