This no bake recipe could not be easier! You'll love my Healthy Pumpkin Fudge recipe.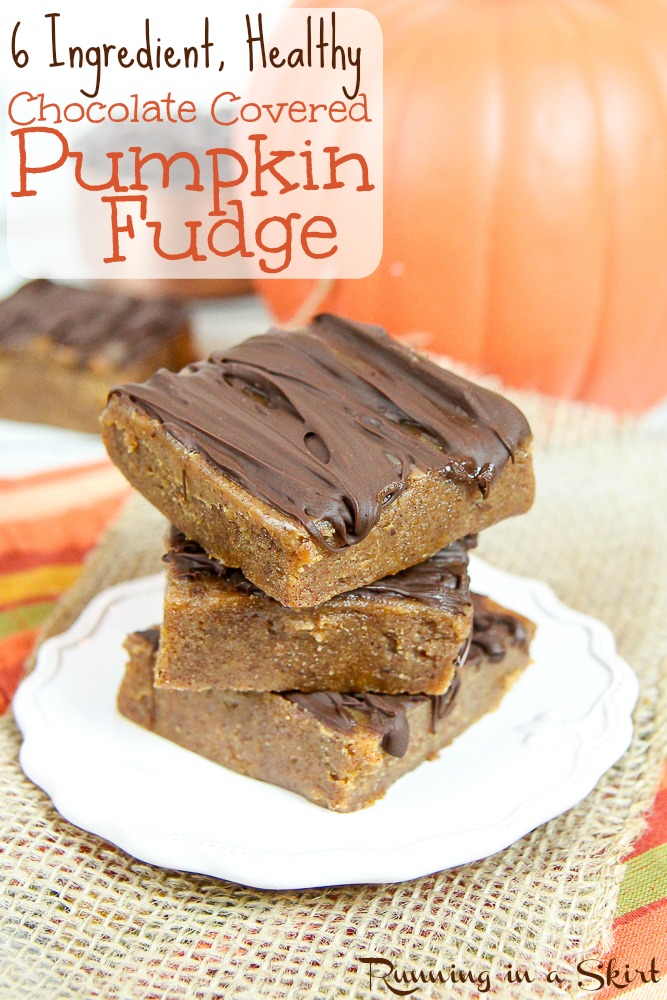 Hi everyone!
Every year pumpkin season rolls around and like every good blogger I start brainstorming all the things I can make pumpkin-y to fill the pumpkin mania void. Last year I went all out with Pumpkin Pie Overnight Oats, Pumpkin Pie Smoothie, Savory & Creamy Pumpkin Pasta, 3 Ingredient Pumpkin Muffins, Crock Pot Healthier Pumpkin French Toast and No Bake Pumpkin Energy Bites. I don't think I realized I did so much until I went back and looked! I guess I'm a total pumpkin fan.
Since I kind of blew up pumpkin season last year, I've been a little slower in new ideas this year. So far I've come up with 3 Ingredient Pumpkin Nice Cream and Crock Pot Pumpkin Spice Granola... BUT this Healthy Pumpkin Fudge recipe has actually been the star of pumpkin season in my house.
Probably because I decided to cover it in chocolate... ya know?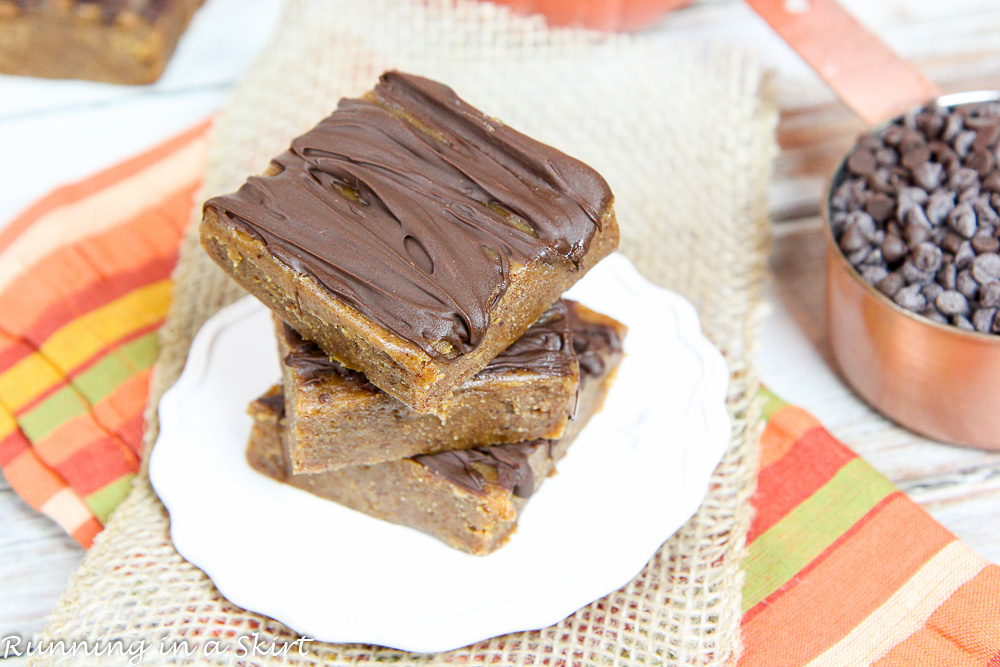 This recipe is so easy! It's no bake, super simple and only 6 ingredients.
Plus it's naturally gluten free, paleo friendly and kind of magic. (To make completely paleo you can leave of the chocolate or sub a low sugar dark chocolate bar.)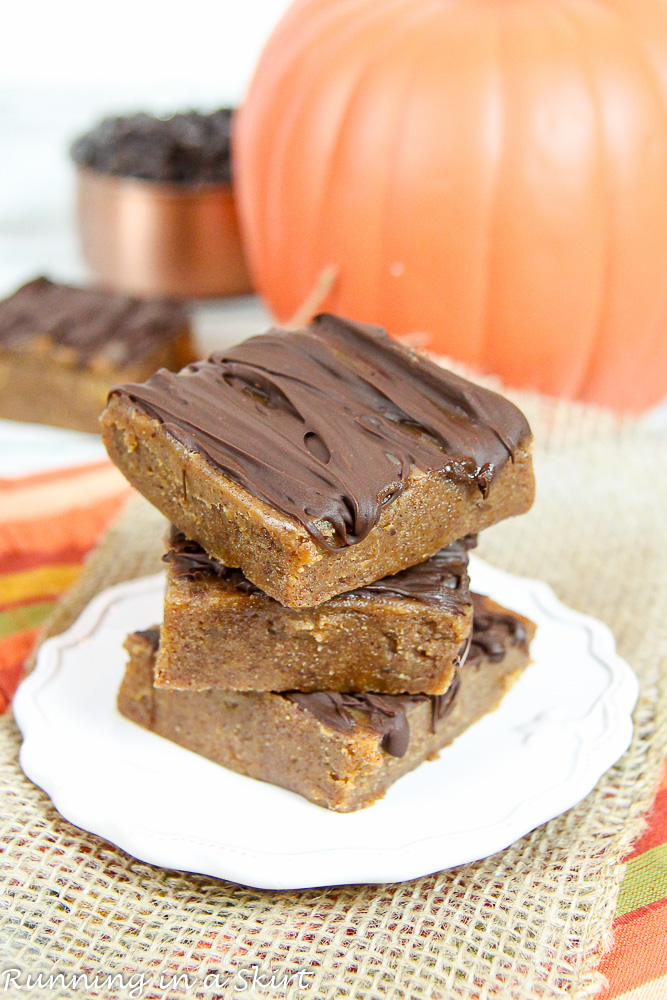 It's made by melting your favorite nut butter, coconut oil and pumpkin puree together! You can add some maple syrup and pumpkin pie spice for sweetness and flavor. The coconut oil allows the combination to firm up in the fridge and turn fudge like.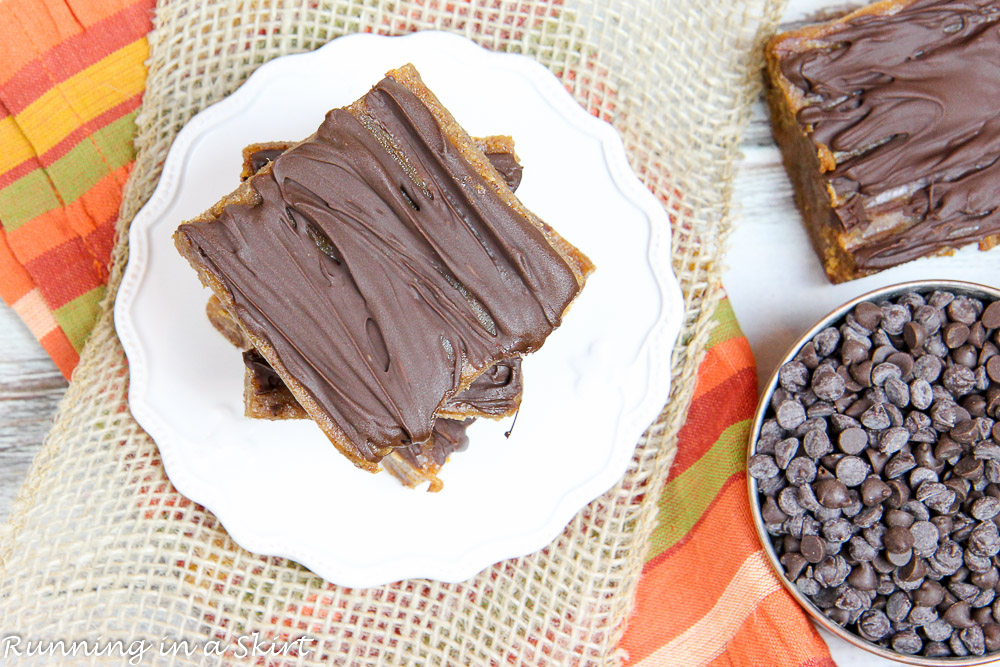 The chocolate drizzle goes on as an extra step at the end and in my opinion it is totally worth the effort. The darker the chocolate, the better.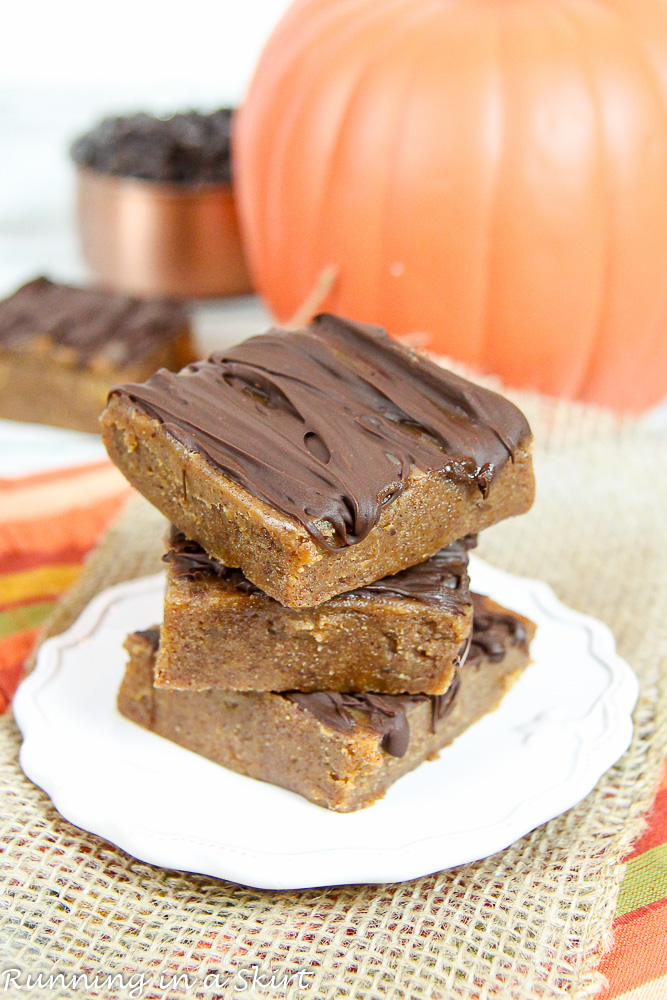 I was a little afraid this was going to be one of those recipes that was a little healthy for the Hubs taste... but he ate it right up and asked for "those pumpkin-y dessert things" the next night. So I'll consider this one a success!
I hope you will give it a try and like it as much as I do!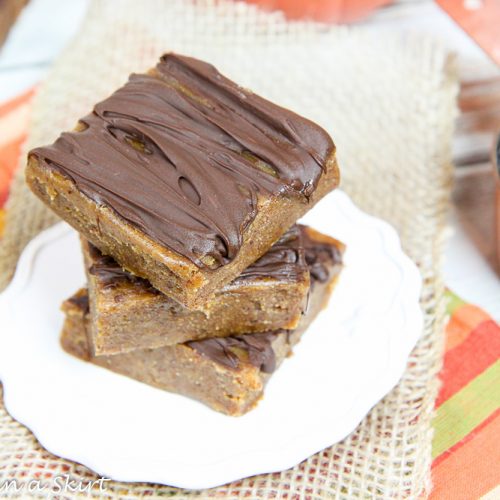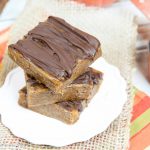 Healthy Pumpkin Fudge recipe
NO BAKE 6 Ingredient Healthy Pumpkin Fudge recipe using pantry staples. Chocolate covered for fun!
Instructions
Line a 8x8 pan with parchment paper.

Melt the nut butter and coconut oil in the microwave starting with 30 second increments until loose enough to combine.

Mix in the pumpkin puree, maple syrup and pumpkin pie spice.

Pour the mixture into the pan and allow to harden in the freezer.

Once hard melt the chocolate chips in the microwave. Heat for 30 seconds at first and then 10 second increments until it's melted.

Drizzle the melted chocolate over the fudge and then pop back into the freezer!

Serve frozen or allow to thaw for a few minutes for a creamier texture.
Nutrition
Calories:
179
kcal
Carbohydrates:
8
g
Protein:
5
g
Fat:
15
g
Saturated Fat:
6
g
Polyunsaturated Fat:
3
g
Monounsaturated Fat:
5
g
Trans Fat:
1
g
Cholesterol:
1
mg
Sodium:
97
mg
Potassium:
152
mg
Fiber:
1
g
Sugar:
5
g
Vitamin A:
767
IU
Vitamin C:
1
mg
Calcium:
17
mg
Iron:
1
mg
Like my healthy pumpkin fudge recipe? I'd love it if you could pin this to your favorite Pinterest board! Thank you so much for the support.


Also try my No Bake Pumpkin Chocolate Chip Energy Bites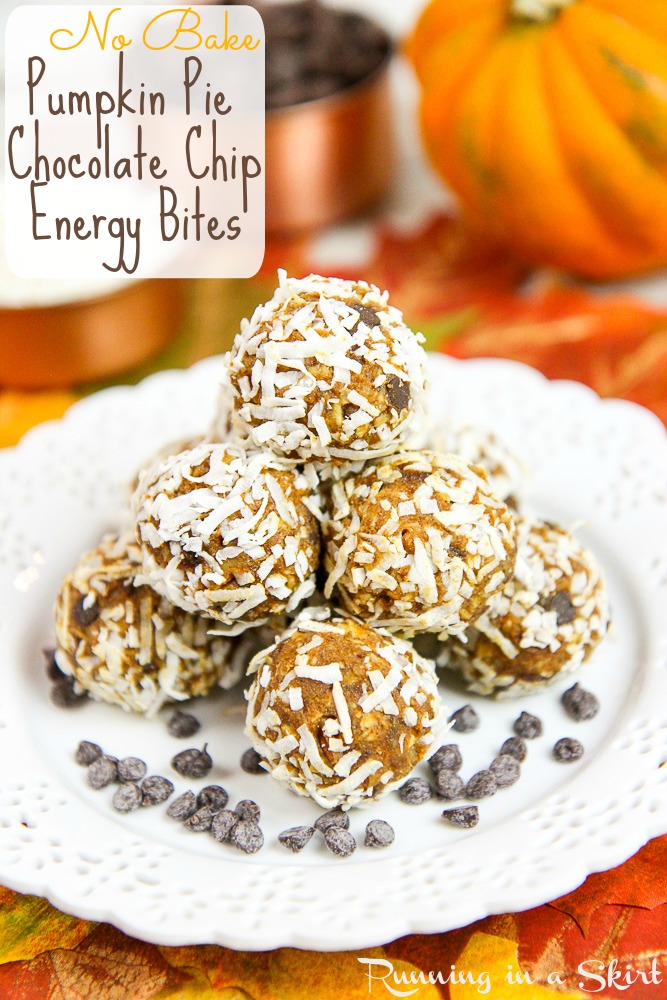 Thanks for stopping by today! Tomorrow I'm sharing my favorite walking workout for when you can't or don't feel like running.
Your turn!
What's your favorite pumpkin treat?