Hi everyone,
So this weekend didn't go exactly as planned. Friday and Saturday were fun, but Sunday I fell off a brick wall in my garden and broke my elbow. One second I was picking cucumbers and the next I was falling straight back about 4 feet off the ground. I hit my left arm and elbow just right and I immediately knew something was wrong. I spent Sunday with Urgent Care and Monday with an orthopedic doctor.
I might be the only person ever to have a severe gardening injury.... I feel really silly.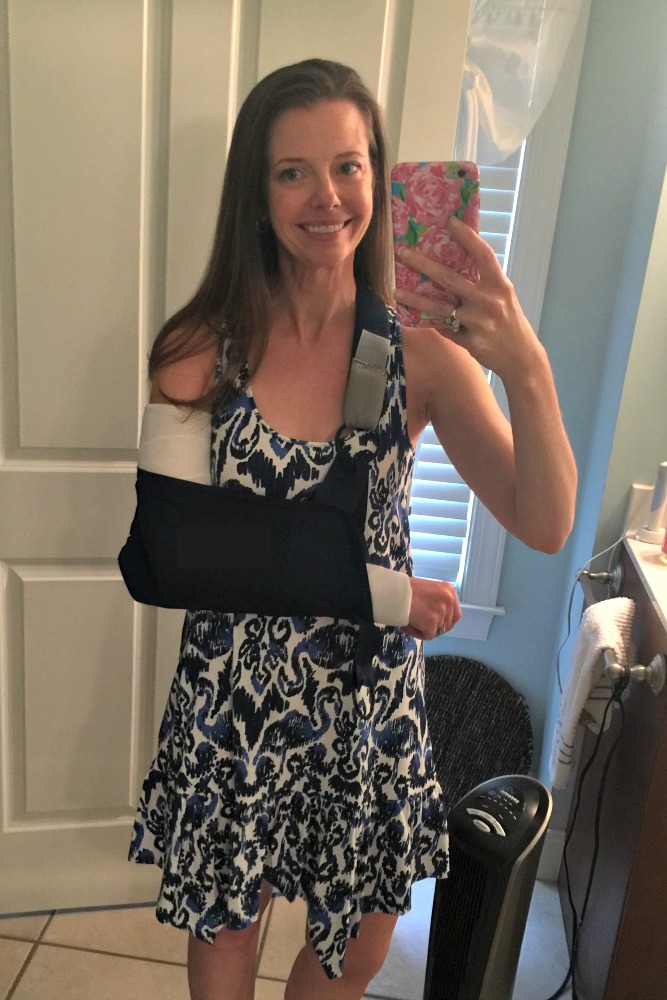 This is me trying to put on a brave face while I'm freaking out inside.
The good news is it's a minor break, but it's on the radial head which is apparently pretty painful. It honestly hurts bad as I'm slowly one arm typing this. Anything other than keeping it still is cringe-worthy right now. Luckily my treatment plan involves first a fixed, large splint and then a sling... no cast or surgery. The doctor said I'm going to have trouble doing work stuff for at least a month because it will need to stay still and it will take 6-8 weeks to completely he heal. I'll also need PT. I'm a little unsure of how I'm going to cook, write and take all the photos for my blog. The Hubs has offered to help though, but he is also very busy.
The doctor also said no running for at least a month (maybe 6 weeks) because I'd jar it... not that I feel like running with the pain today anyway. I'm going to be trying to figure out what I can do once the initial shock wears off, because the thought of sitting around for around for a month or more makes me the maddest.
So basically this really stinks, but I'm trying to remember it could be worse... although today I'm feeling really blue.
I have some finished blog posts to schedule for the rest of the week (Including more from Switzerland, a new recipe and my 5th Blog Birthday giveaway- $250 value!) and hopefully after that the pain will be better and I'll have a plan on how I can do this stuff one handed. You don't realize how much you use your arm until you can't. Contacts and eyeliner are nearly impossible- just fyi. I'm open to any suggestions/ advice though.
For now though I'm going to take the rest of the day off. One handed typing is for the birds!
Love,
Julie
I'm linking up with Thinking Out Loud Thursday.