Get ready for an epic day trip above the clouds of the Berner Oberland to Jungfraujoch, the top of Europe.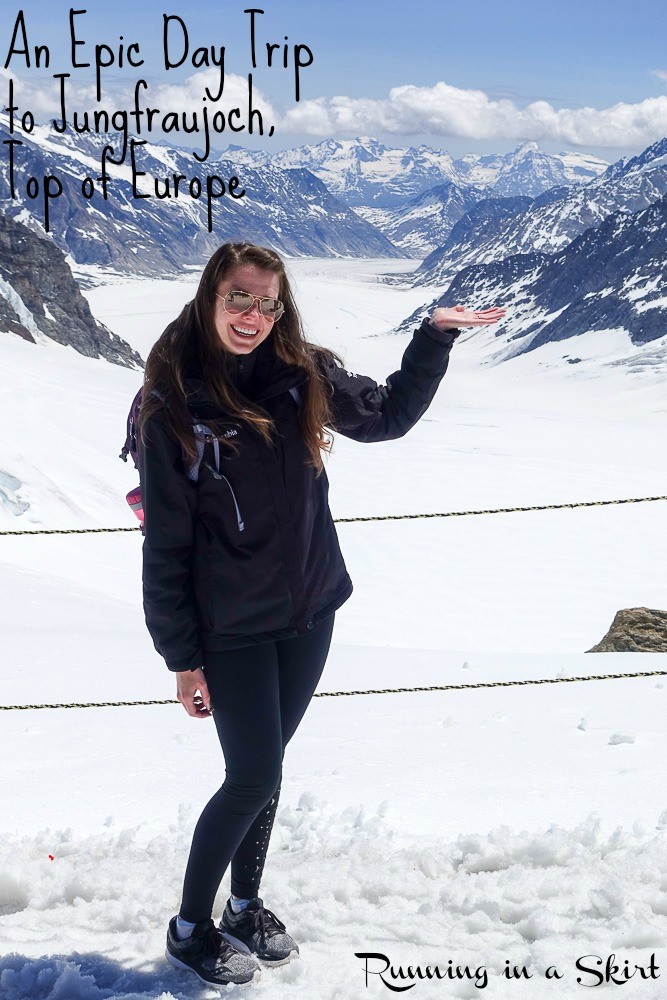 Hi everyone,
Thank you so much for the kind words and support about yesterdays post. I still can't believe I'm dealing with this, but you guys are amazing and always make me feel better.
One of the most memorable days on my trip to Switzerland was my day trip to Jungfraujoch, the top of Europe. I did this in the middle of my time in the beautiful Murren, but I had enough pictures to make it a post of its own. Plus, it was pretty enough to justify its own time to shine. If you are just joining me, feel free to catch up here with the rest of my trip including my Switzerland Travel Guide! --->
Junfraujoch, the Top of Europe
The Berner Oberland is a stunning part of the Swiss Alps where green meadows are flanked by stark white-capped snowy mountains. It's the home of many cute alpine villages including the one I stayed in, Murren. One of the biggest tourist attractions in the area is going to Jungfraujoch, the top of Europe, where there is snow and glaciers year round. The journey involves taking a train through the Eiger Mountain to the saddle of Jungfrau and Monch mountains at 11,333 feet. While it's not technically the highest point in Europe it is the highest train station... so it's probably the tallest point I'll ever get to!
The day started off by taking the train and gondola down from Murren and then picking up the larger Jungfraujoch train in the valley of Lauterbrunnen. Once again just getting to the destination was just as fun.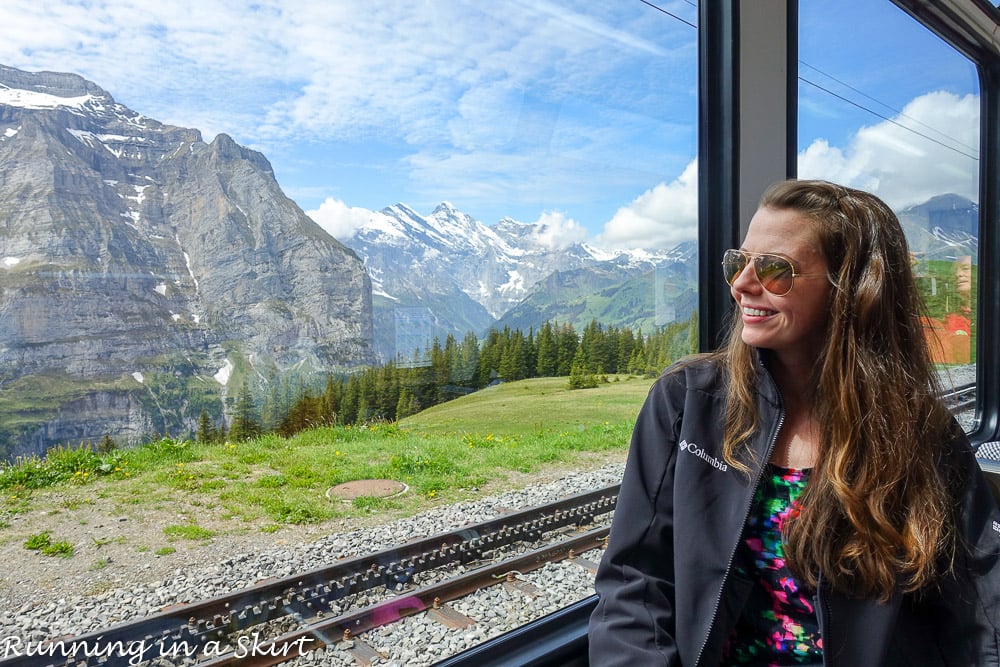 The Hubs and I changed trains again and started to gain some elevation.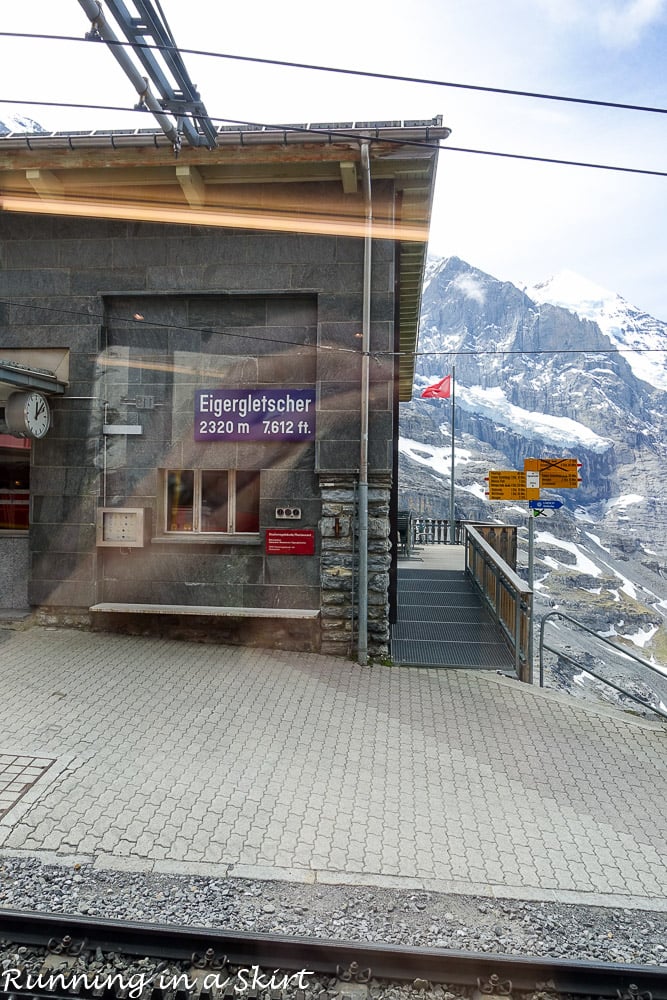 The train then went into a tunnel that took us through the Eiger mountain. It seemed like such a feat to build a rail line like this, but I was dumbfounded to learn that it was constructed in late 1800's and finished in 1912.
After several hours we get out of the train and are at the tunnel at the top of the mountain. Since the elevation is so high, the air feels heavy. I have asthma I have to move pretty slow to keep from feeling faint.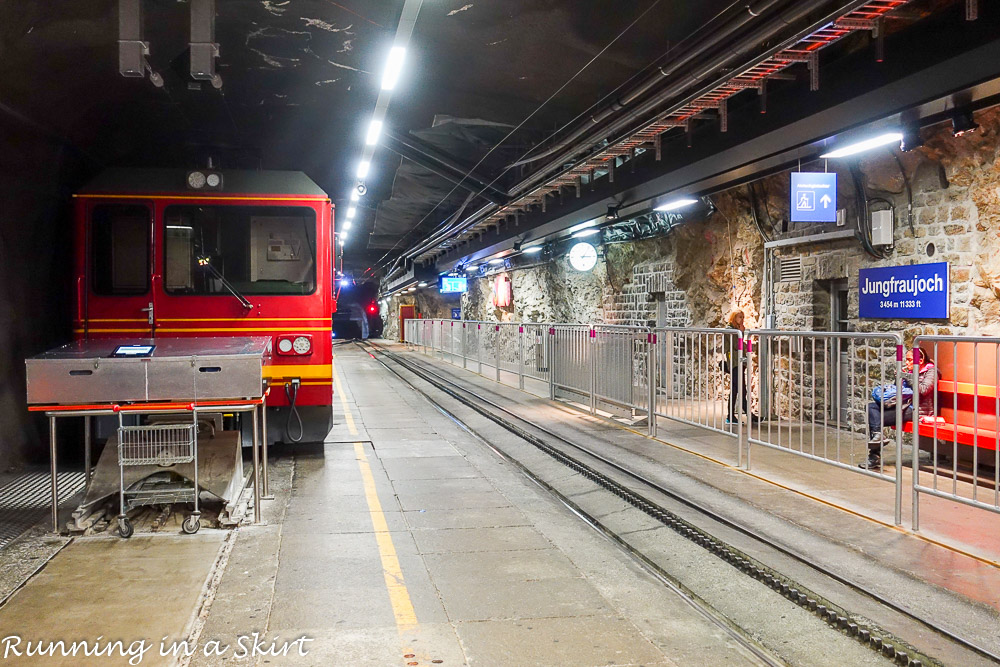 We leave the tunnel and find ourselves in a building with a restaurant, shops, and bathrooms.
But our attention is quickly drawn outdoors to the views. Holy SNOW in June!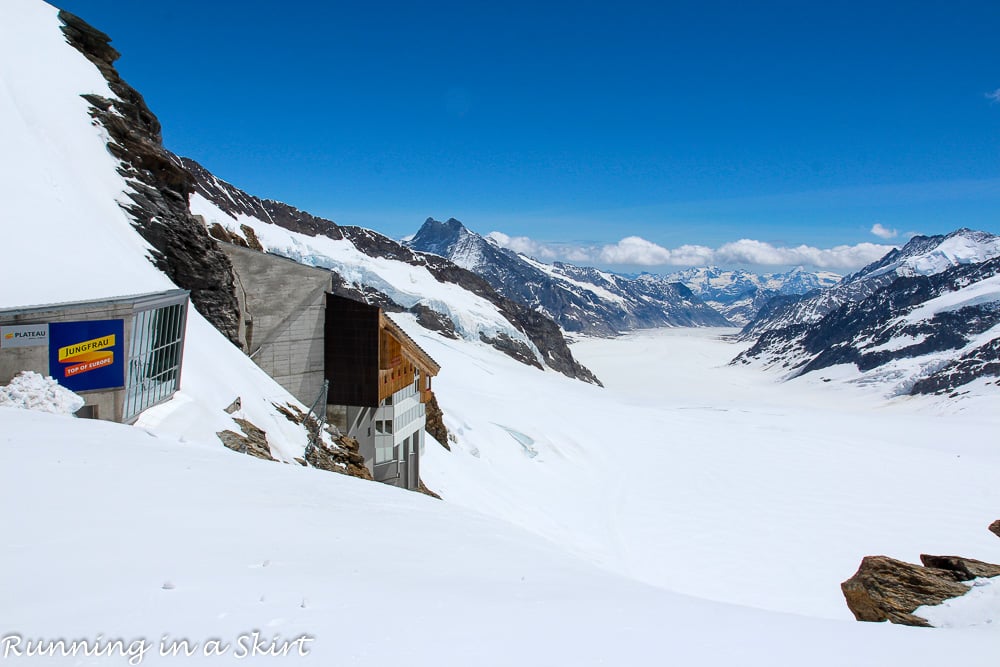 That is actually a glacier in between the mountains too.
There is a platform to walk around and take photos.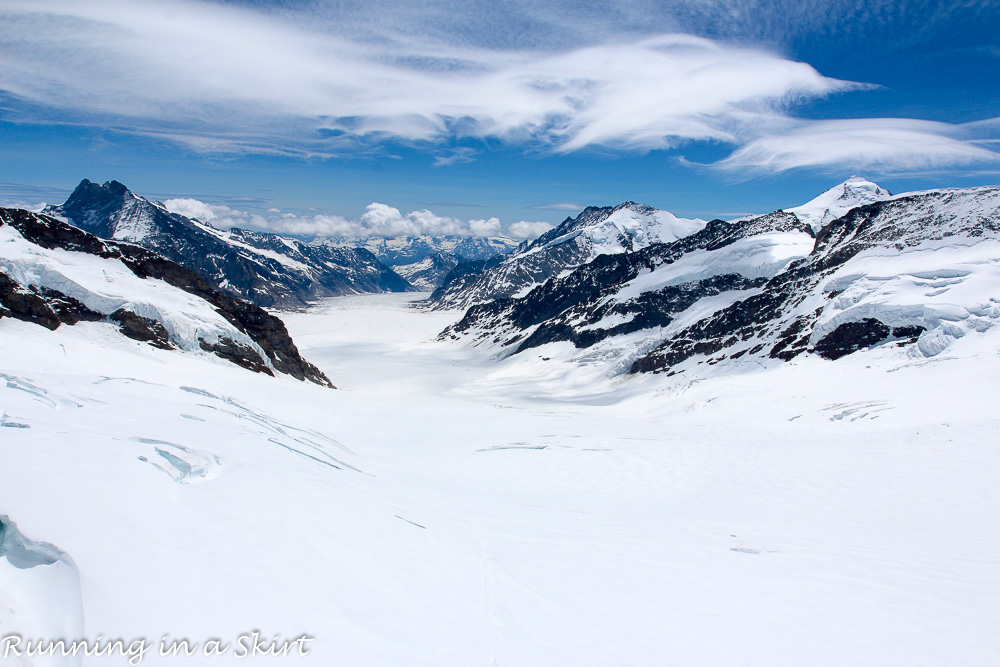 It's cold and windy... but oh so magical.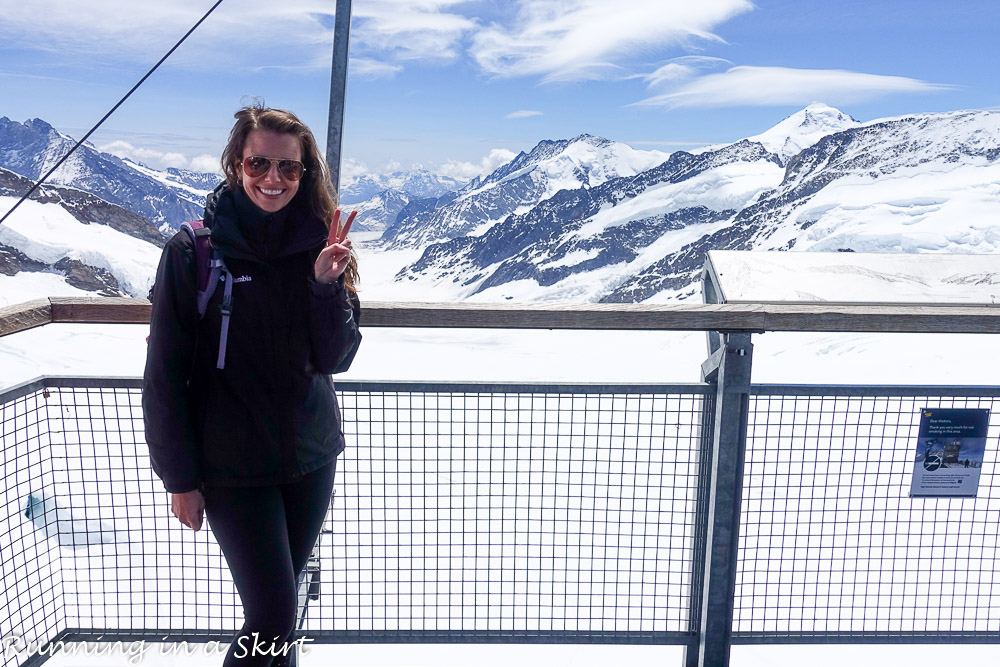 The mountains are so close you feel like you can touch them.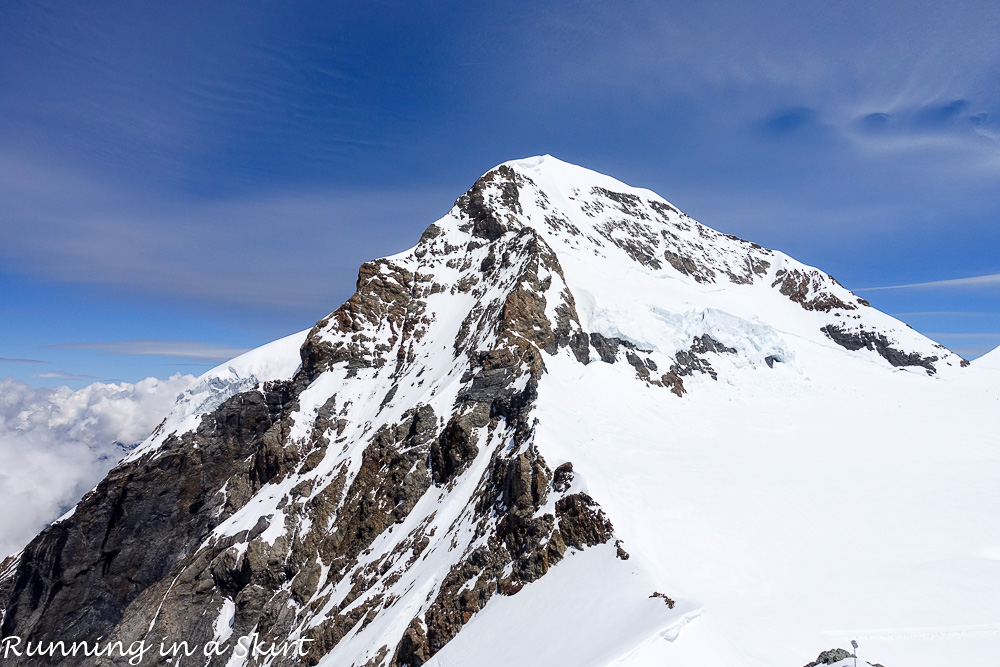 After spending some time on the platform we go back in the building and follow the crowd through the ice palace.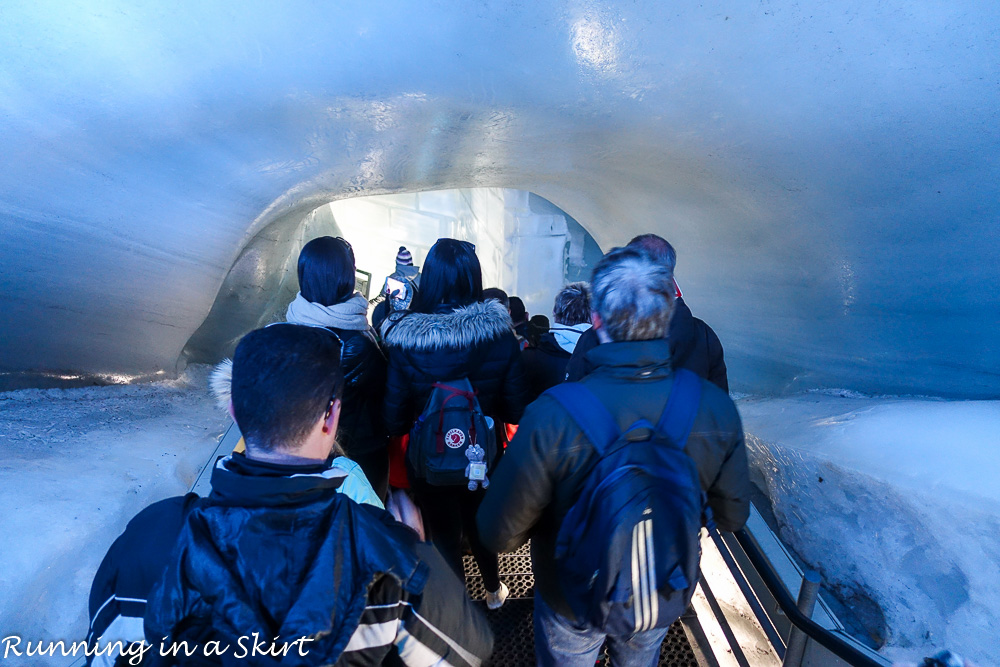 They had some cute ice sculptures, but after seeing nature show off outside it wasn't that interesting.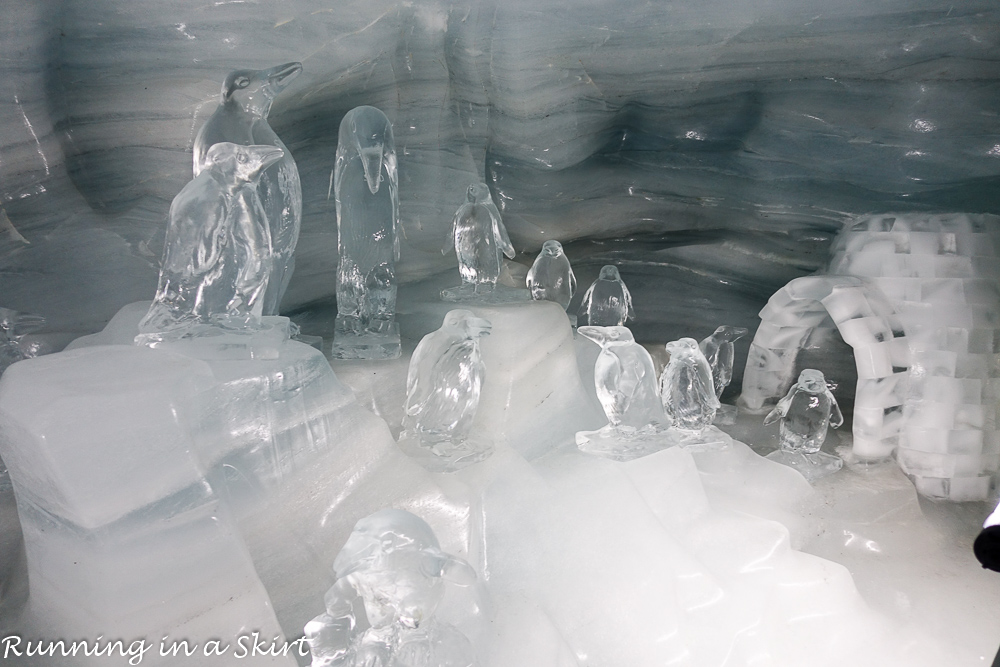 Past the ice palace is an exit that took us right out onto the mountain and snow.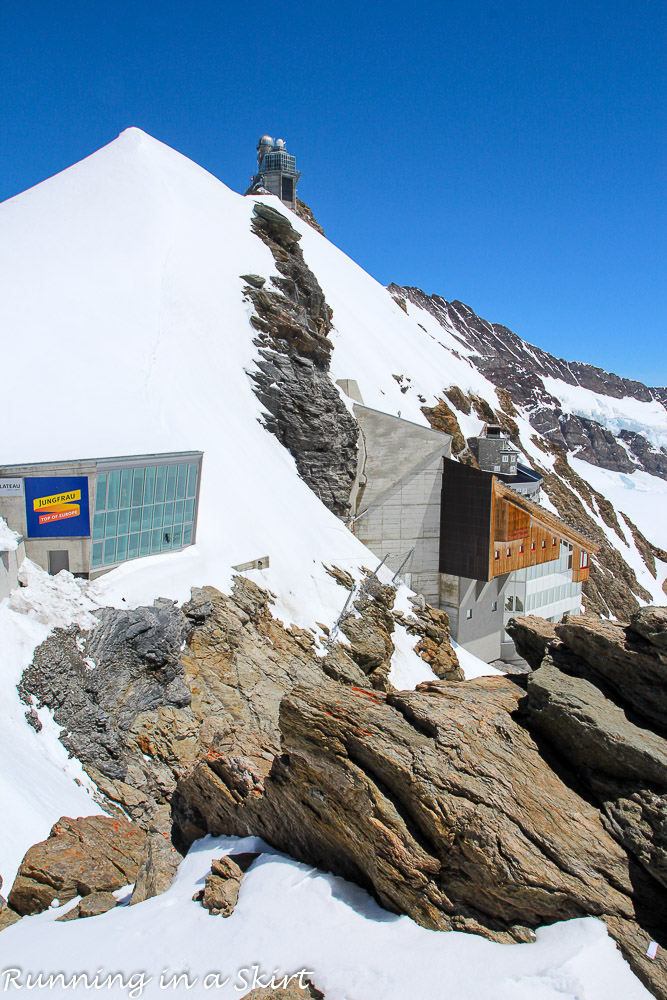 This was even cooler because I felt like I was a real adventurer. I was telling myself here... DON'T SLIP!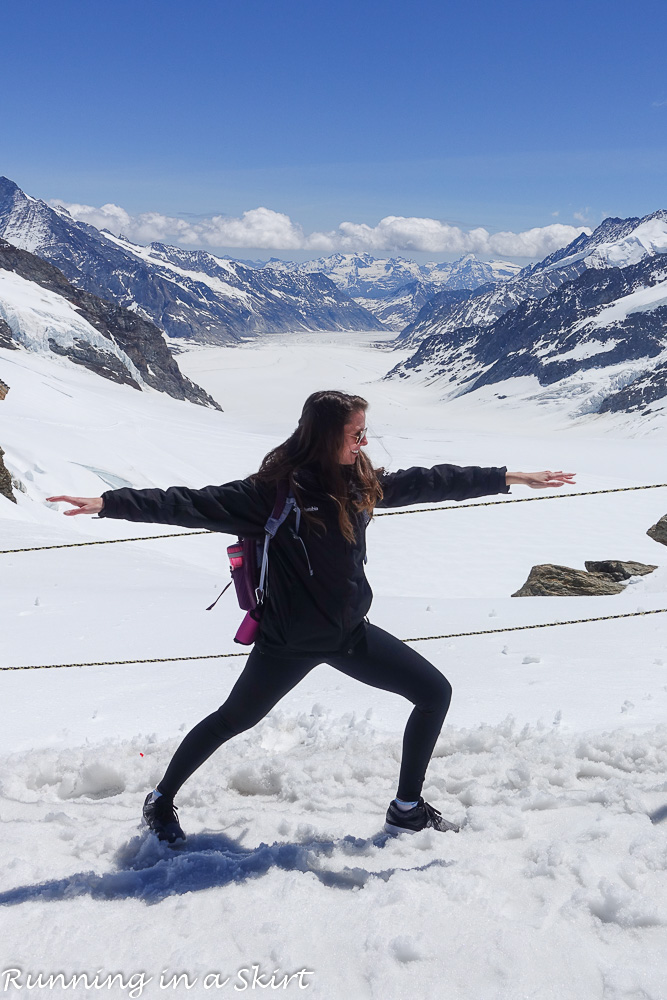 It literally felt like we were on top of the world!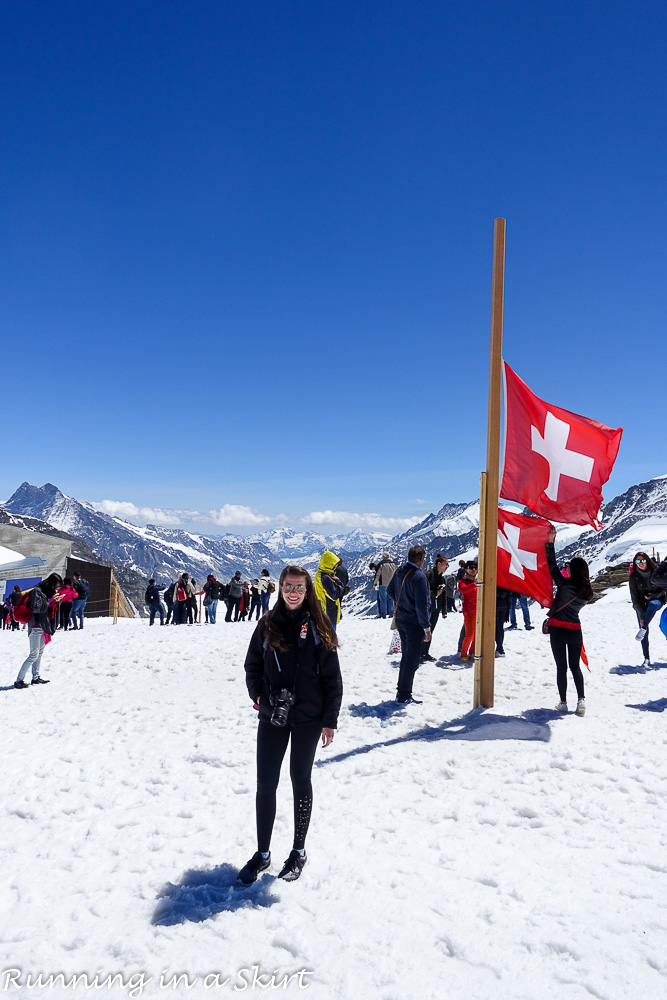 The sun was just warm enough and we stayed outside as long as we could before we got too cold. It takes a bit of effort to get here, but it was worth the work. I can't ever imagine seeing something as crazy as this again.
After taking ALL THE PICTURES we went back inside and stumbled on another swiss treat... the Lindt Swiss Chocolate Heaven. It was as cheesy and ridiculous as it sounds, but they did have some amazing chocolates. There is nothing like real Swiss chocolate. It really is in a class of its own.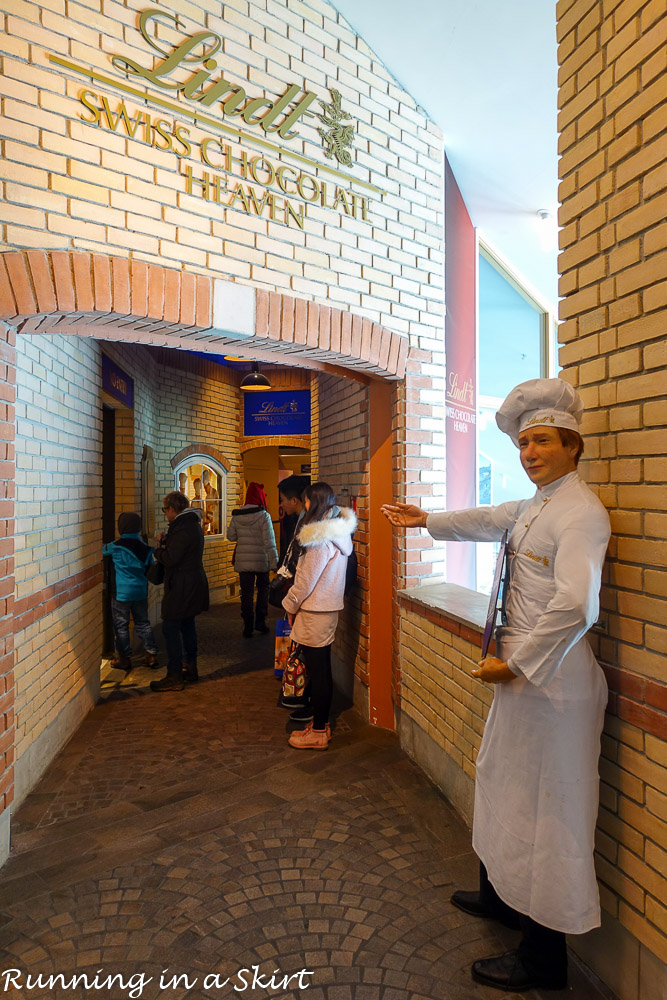 We picked out a few favorites and had a snack before catching our scheduled train back down the mountain.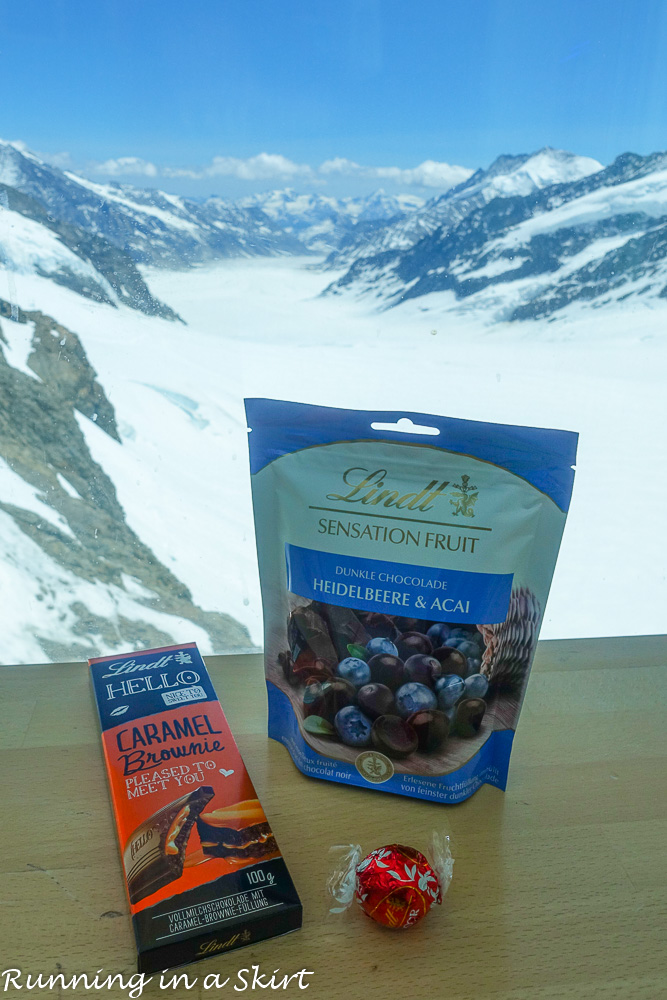 On our way down we decided to stop in another well-known mountain village, Wengen.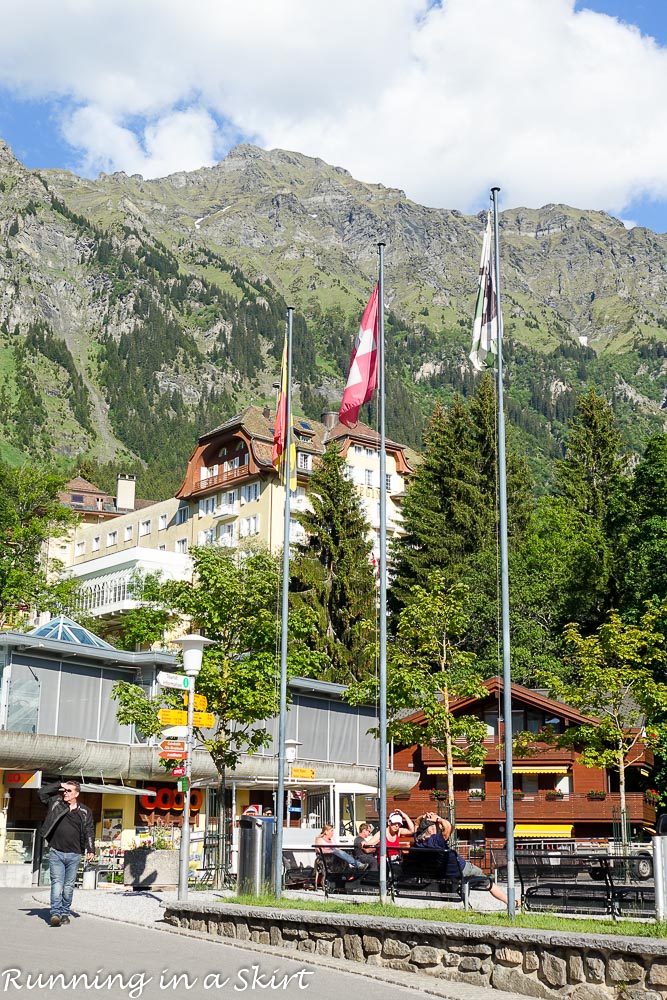 It is a little larger and more developed than where we stayed, Murren... but still really cute and charming.
They had a few more hotel, restaurant and shopping options...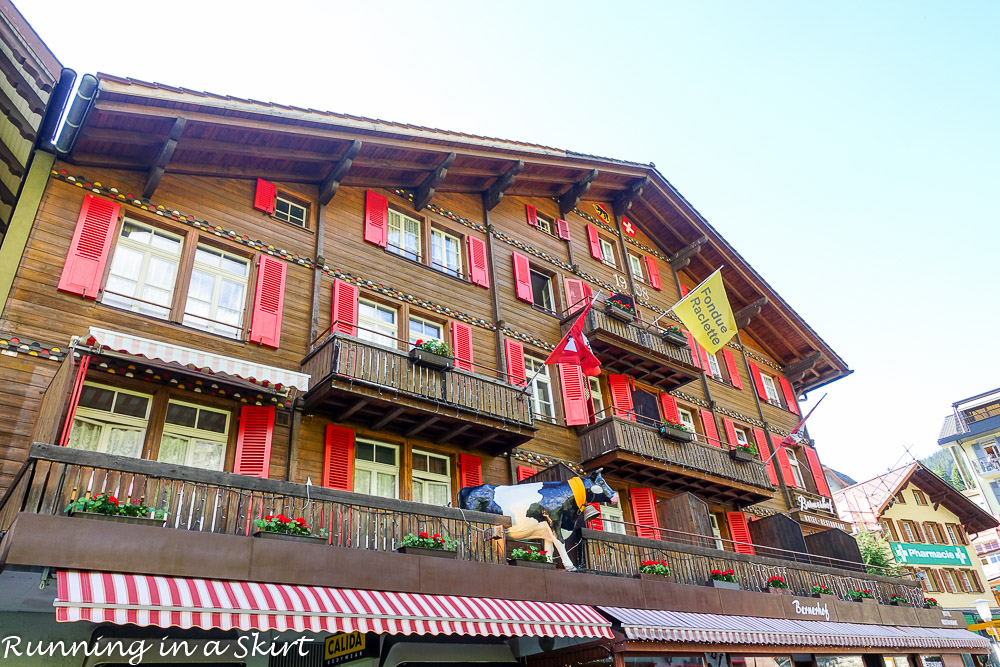 ... but I still loved the quaint feeling of Murren.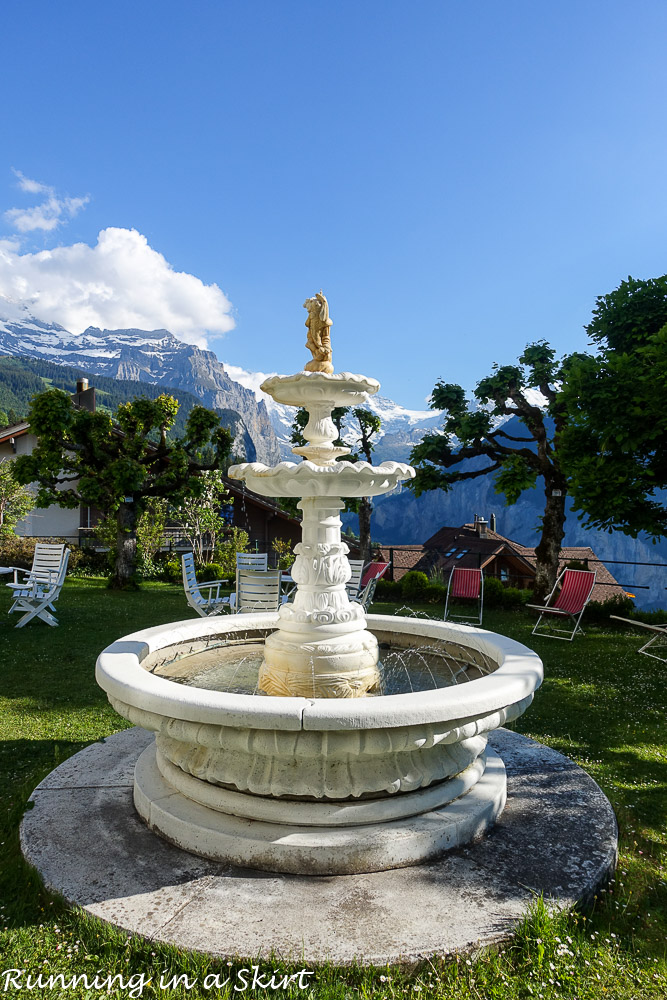 You can't deny these awe-inspiring views though!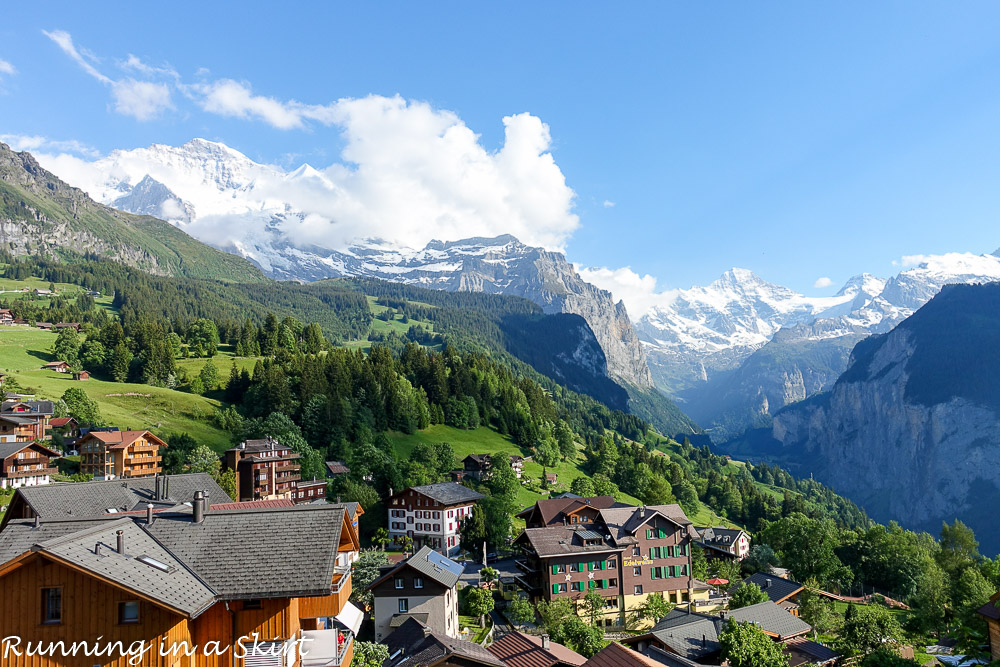 To cap off our perfect day we relaxed at a local restaurant with a Spritz...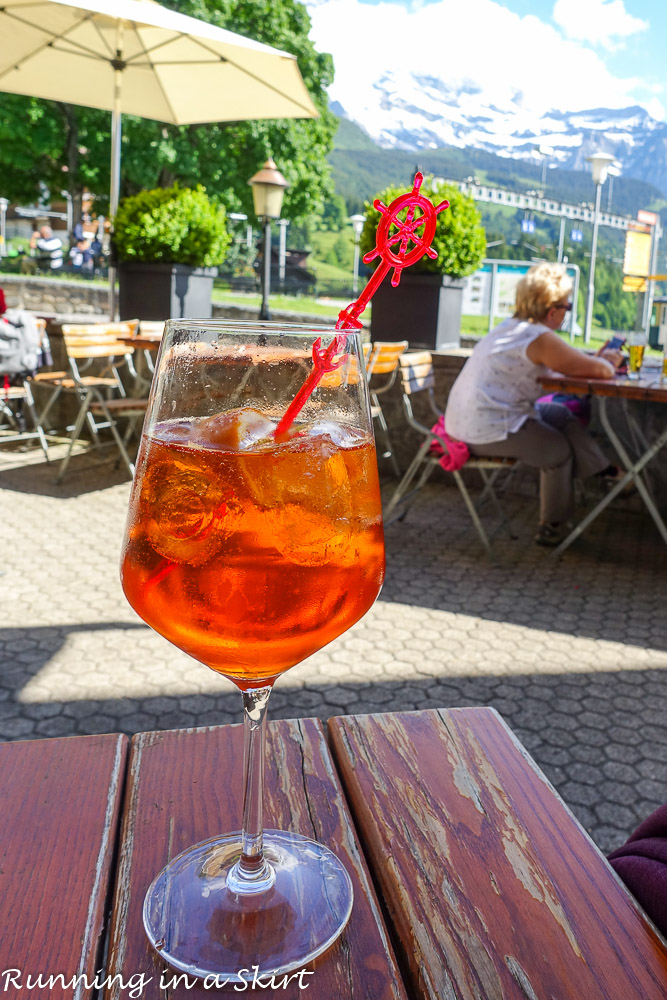 ... and a vegetarian swiss specialty - Rosti. It's hashbrown, potatoes and fresh vegetables topped with cheese. It was so good!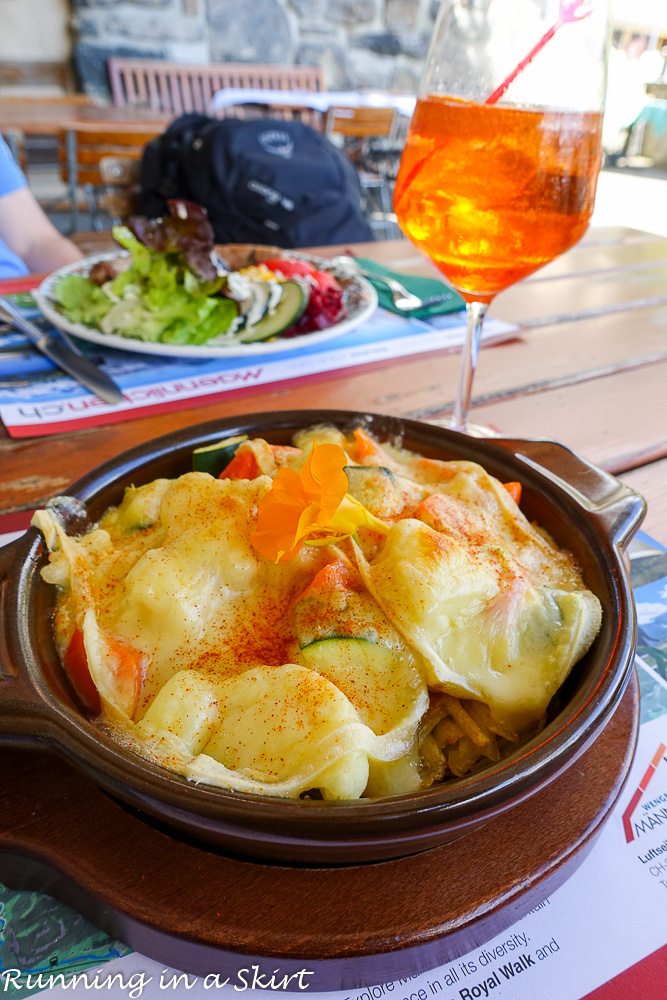 After dinner, we caught the last train back to Murren for the day. Exhausted... but oh so happy about the trip.
Thoughts about Jungfraujoch, The Top of Europe
While Jungfraujoch isn't exactly the top of Europe, it is the highest train station, making this destination pretty remarkable. I had the best time during this entire journey seeing the green pastures turn to a winter wonderland. The snowy landscape is like something off a post card. If you can afford it and have the time, it's a must see for any trip in the area
Also, check out the rest of my trip including my Switzerland Travel Guide! --->
Like this post on Jungfraujoch, the top of Europe? Pin this to your favorite travel board.


An Epic Day Trip to Jungfraujoch, the top of Europe! #berneroberland #jungfraujoch #switzerland
Click To Tweet
Your turn!
Ever been on snow in June?